Jordan
Before I crossed the Jordanian border I quickly checked on Google if drones were legal in Jordan. The first article that pops up confirmed that it's fine to bring drones into the country. Sweet! Nothing to worry about, I thought. So I left my drone in my top box and drove on to the border crossing.
The first question the immigration officer asks:
"Do you have a drone?"
"I sure do" and opened the top box to point to it.
The look in his eyes right away made me realise I'd made a massive mistake!
I tried for over an hour to convince the officers to let me in with the drone, but no luck! The drone was confiscated and I was given a piece of paper assuring me that I'd be able to get it back when I exited the country. But that wasn't going to work for me as I wasn't planning to go back to Israel, but rather I was going to catch a ferry from Jordan to Egypt to finally enter Africa. I was seriously worried that I'd lost my brand new drone forever.
So did I get my drone back? Yes, but it was a miracle! Later on, thanks to Maya and her important friends who knew people at the border, it was arranged to transfer my drone to the Aqaba port just before my departure to Egypt. I was very lucky this time. Lesson learned! Never admit you have a drone at the border!
Ok, now here are some details about the border fees. Again, I was a little bit disorganised and hadn't done much research beforehand, so I paid 40 JOD for the visa and 33 Euro for a month's insurance. But there's a better way! You can purchase online a Jordanian Pass for 70 JOD which includes a visa and a days entry into Petra which is normally 50 JOD. So you can save some money there and when you're in Jordan, Petra is a must!
Aqaba
Aqaba is Jordan's main harbour and gateway to the sea. It's also a low-tax, duty-free town! Its status of Special Economic Zone is slowly converting the city to one of the top leisure travel destinations in the Middle East.
I'd decided to spend 6 nights there just to have a long-overdue rest and to explore the surrounds. The better standard hotels are quite pricey, but I managed to find a cheapish hotel for 22 Euros a night. The Aqaba View Hotel had a not so good standard of cleanliness, but a good location right at the sea. Hotel manager Zaid looked after me pretty well though and he even took me for a little knafeh dégustation in town.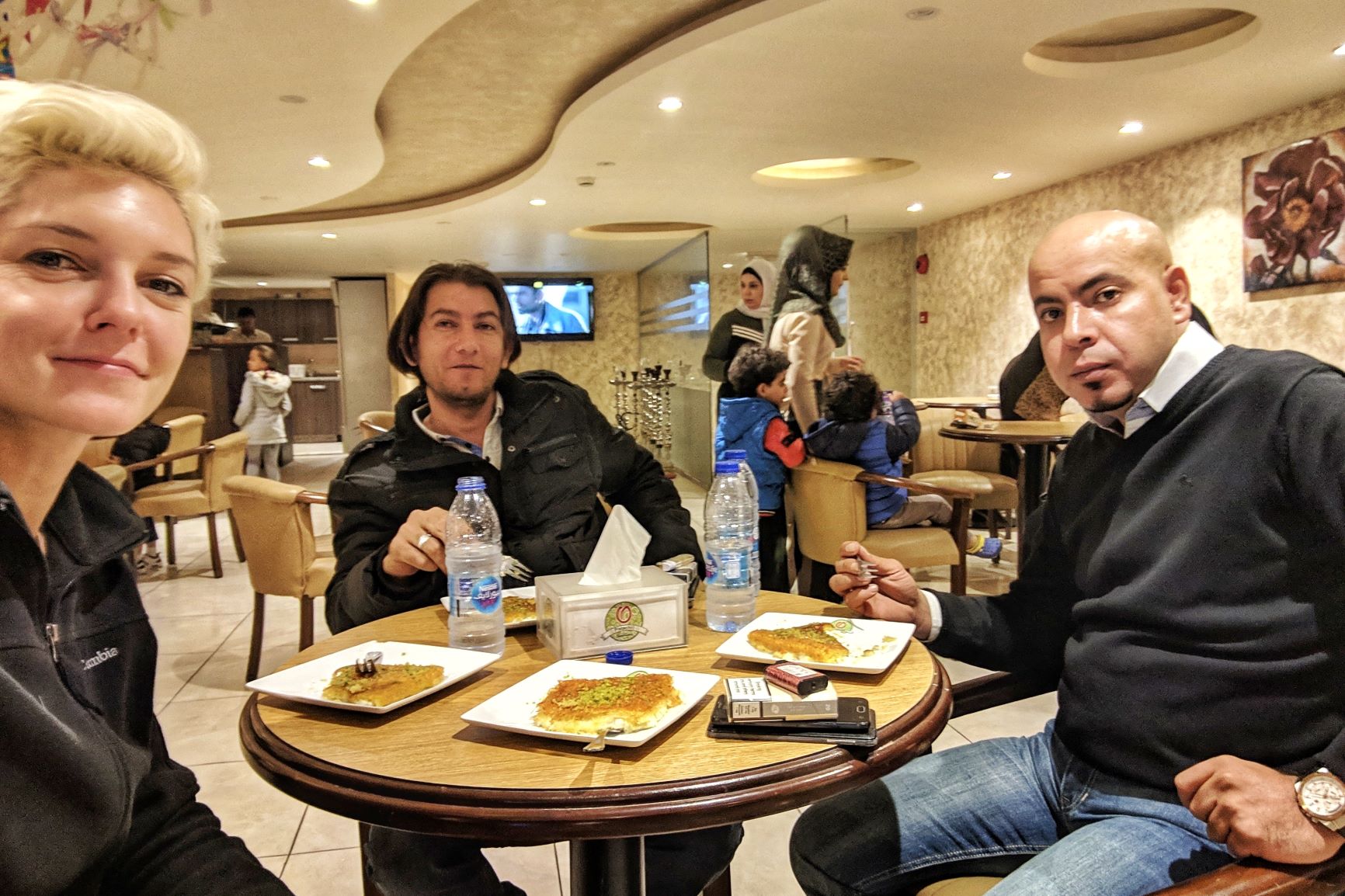 Aqaba has one of the best coral reefs in the Red Sea and I really enjoyed these peaceful days by the sea, with a bit of swimming and snorkelling. Unfortunately, there won't be any underwater shots as I drowned my GoPro, grrrr…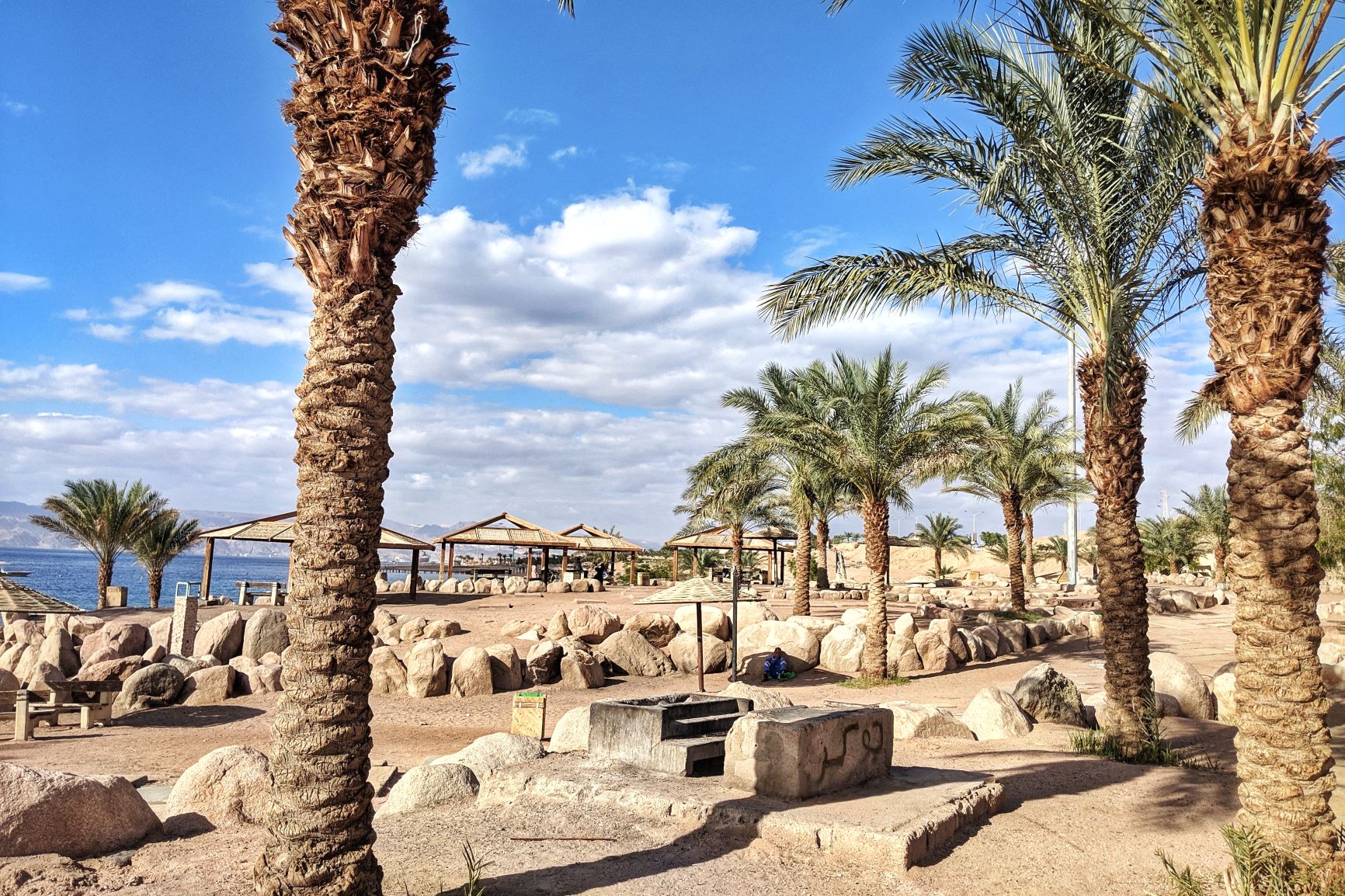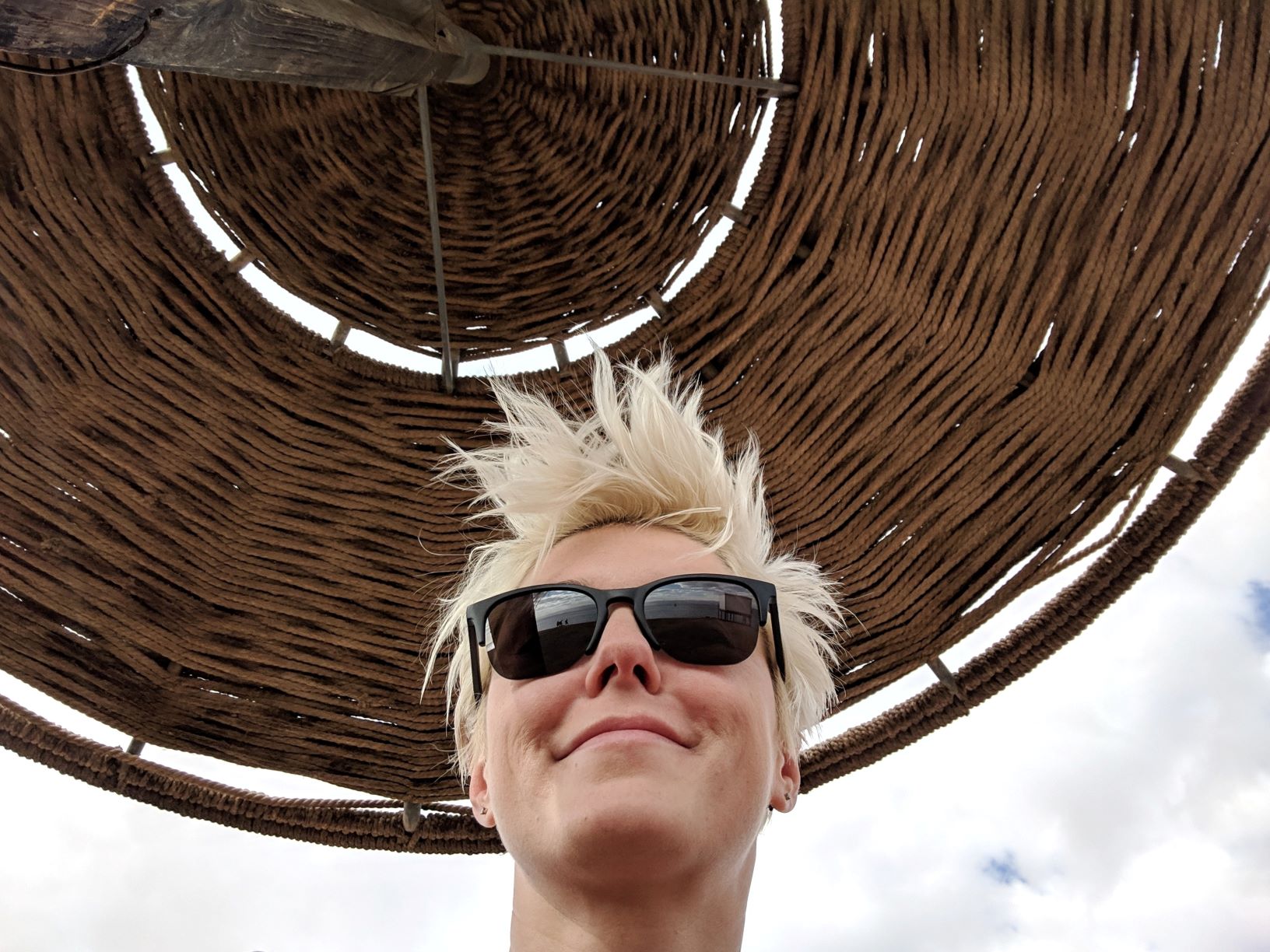 The most southern point of Jordan is the closest I ever got to Saudi Arabia. Unfortunately, as a single woman, I can't get a visa there. Although the laws are changing these days, I still think it will be a while before they let a solo woman on a motorcycle in there.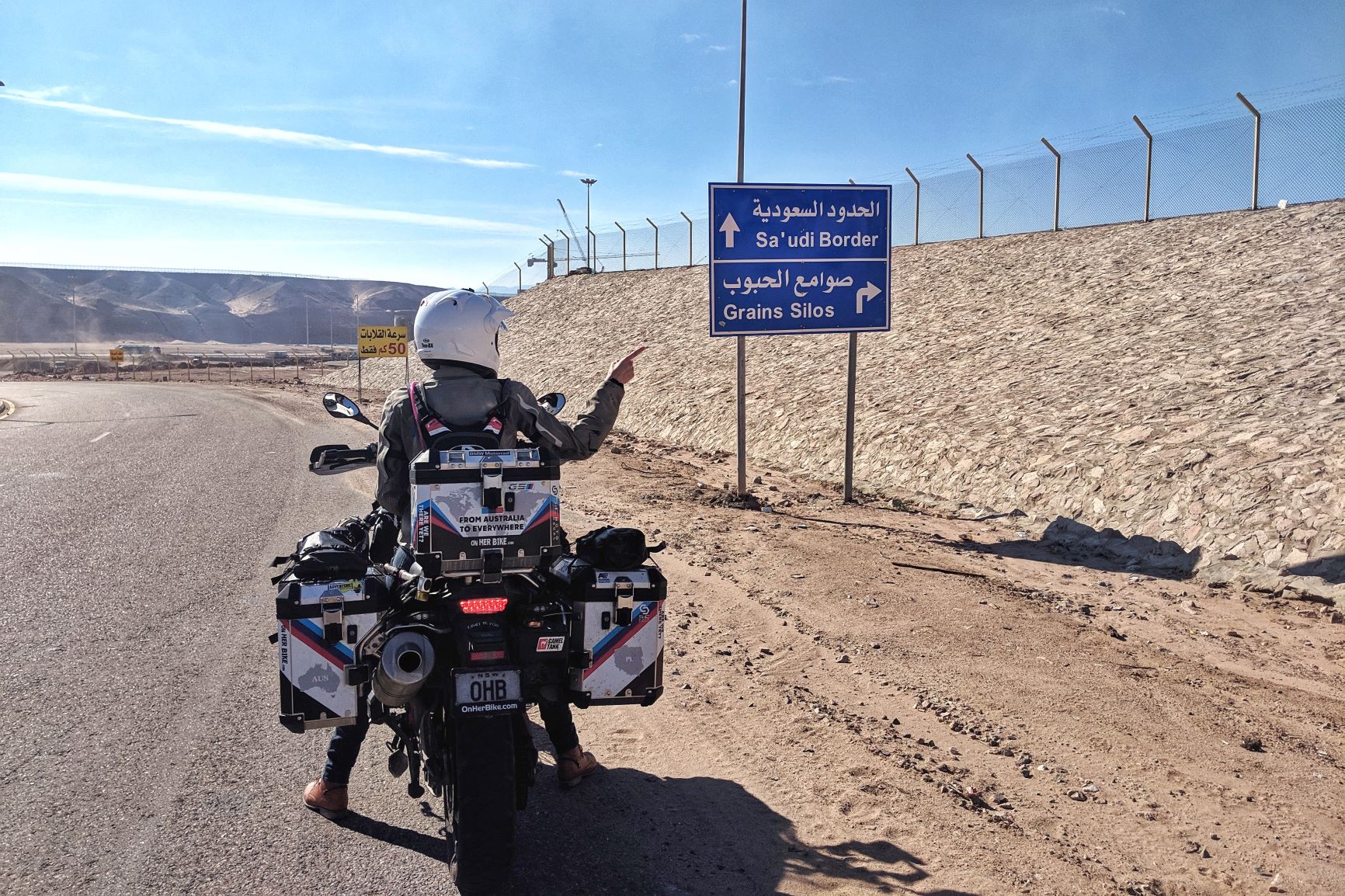 After 7 days my batteries were finally recharged and it was time to go up to Amman. I took the road along the Dead Sea coast. Now I regret a little that I didn't spend at least one night at the Dead Sea – it would be interesting to compare it with the Israeli side. But time was running out and Xmas was just around the corner.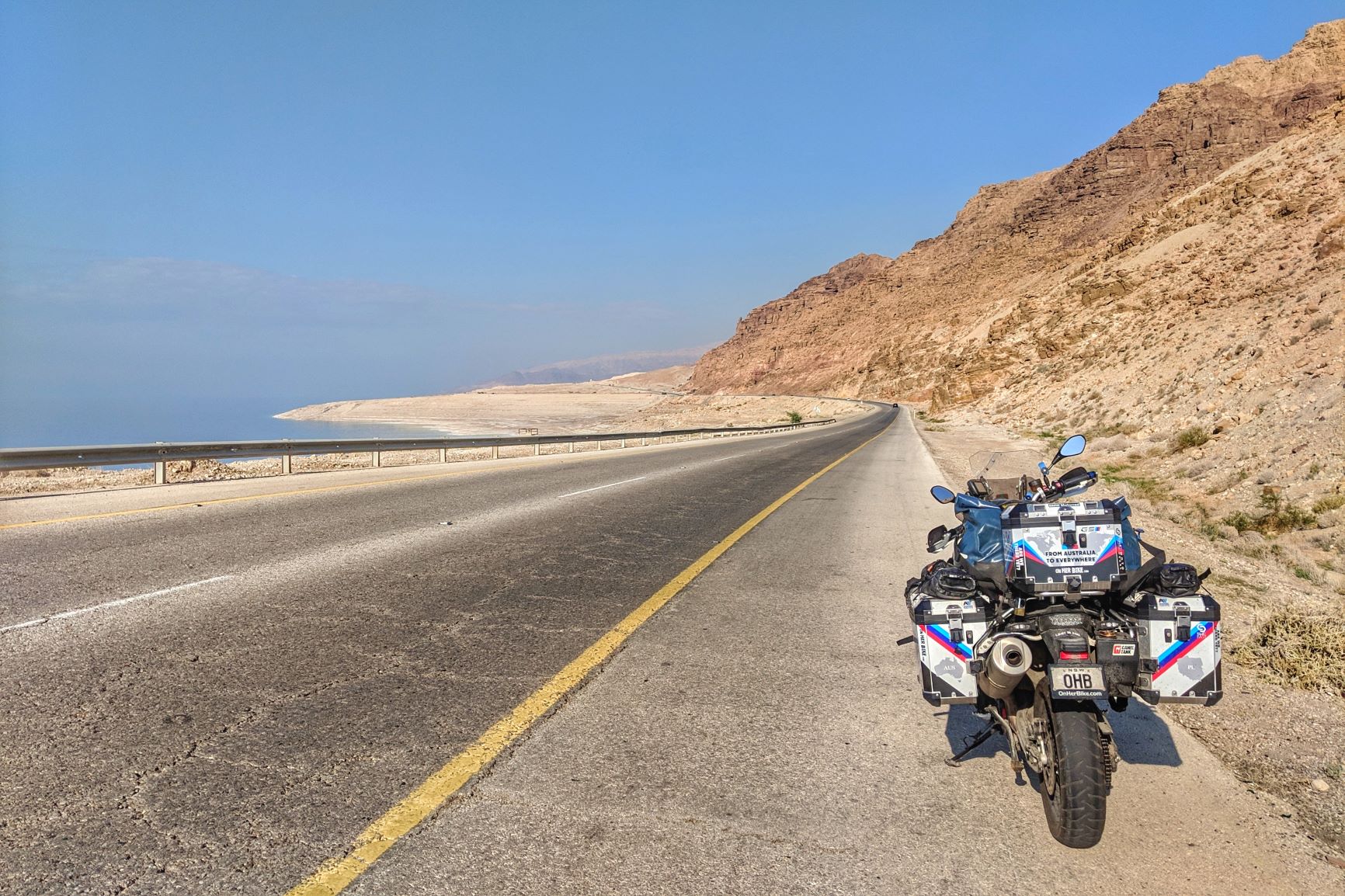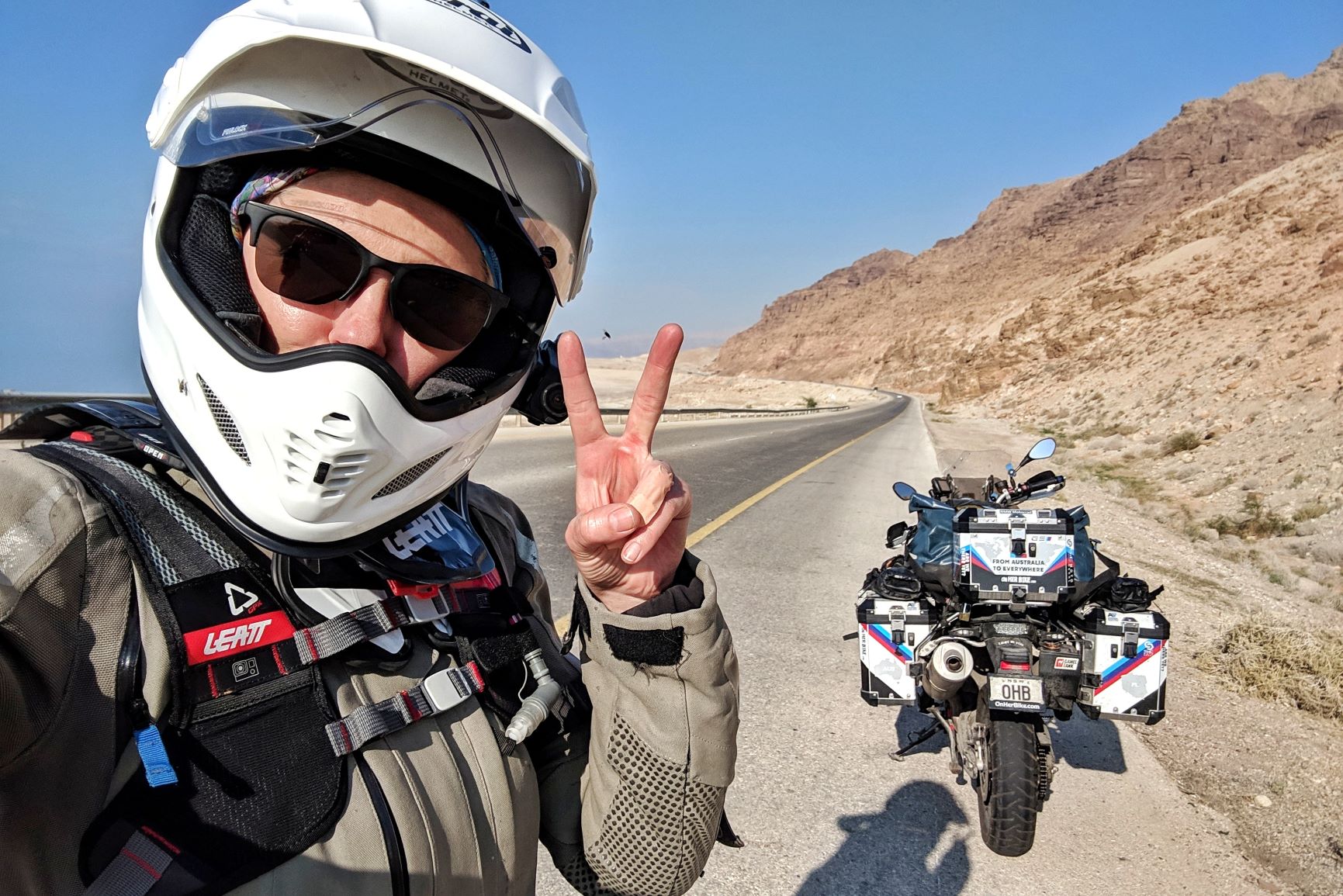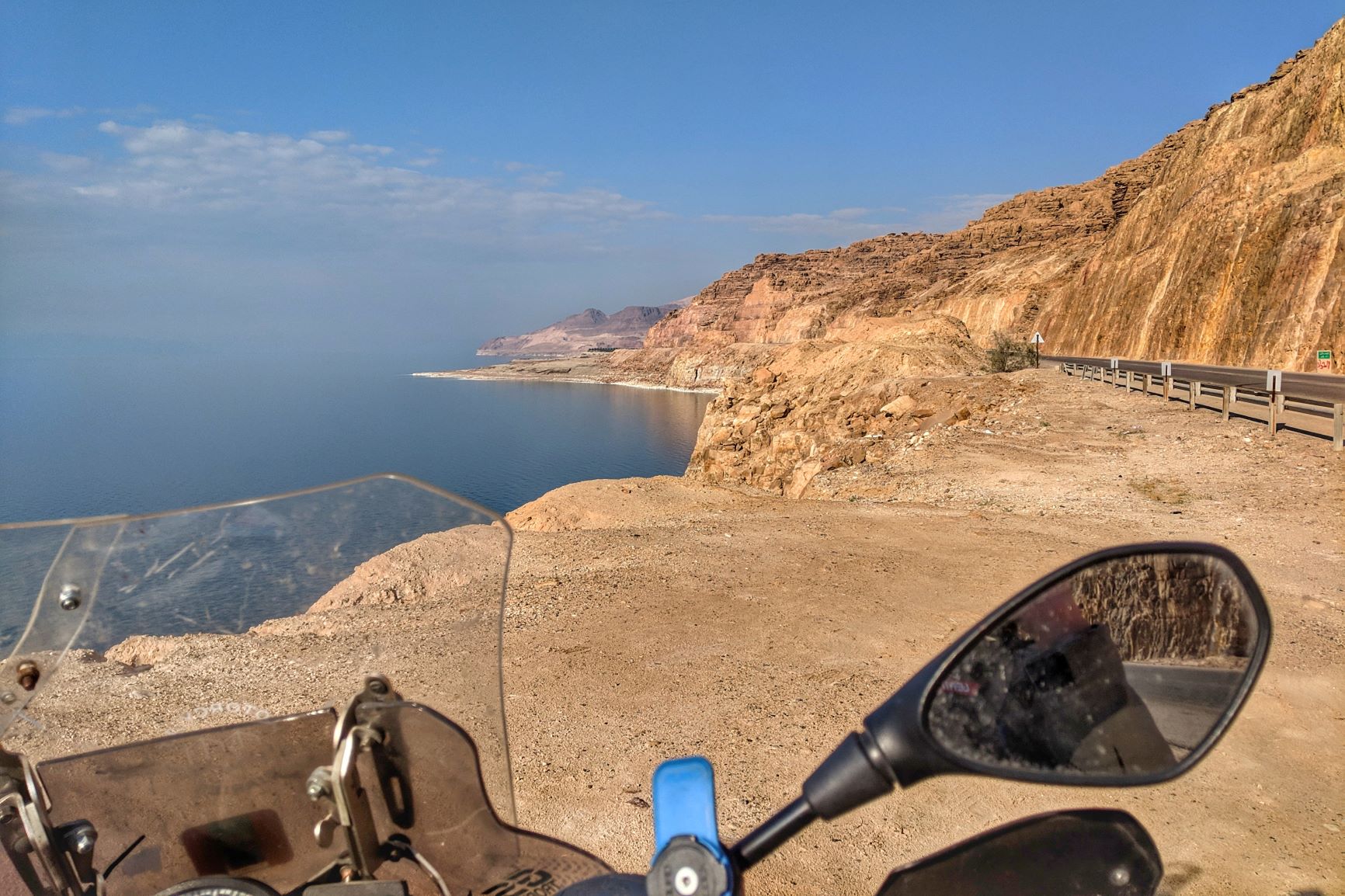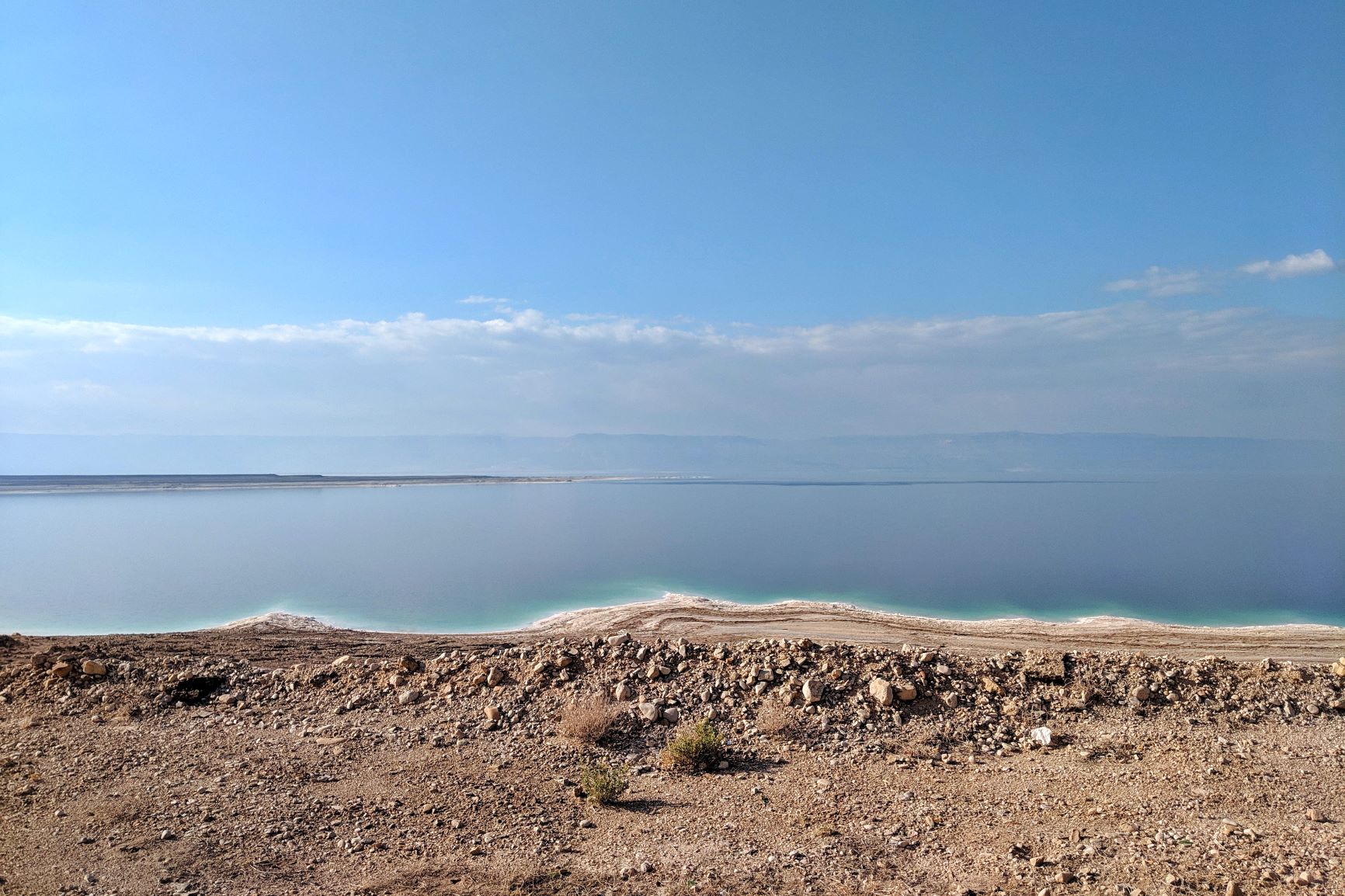 Amman
Adventure riders Maya and Bishr invited me to their place in Amman and they were the best hosts ever. From the moment we met, we got along like a house on fire and became very close friends. Maya got involved in my drone rescue and also helped me big time with my border crossing into Egypt, but that will be in the next post. She's like my guardian angel looking over me and making sure I was safe. These two are just incredible people.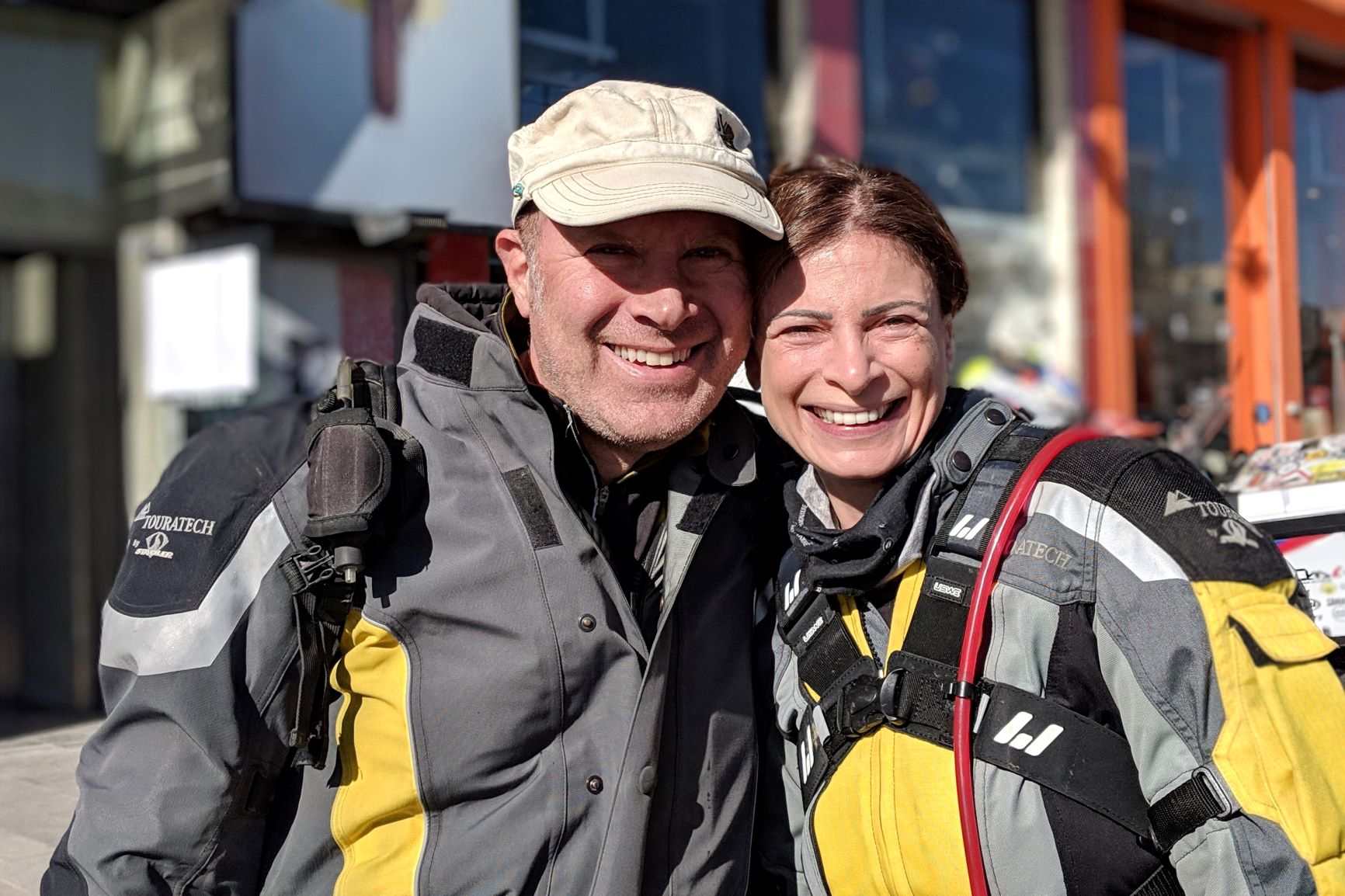 For the first time, I experienced a Xmas in a Muslim country and I was very surprised to see that the majority of Jordanians regardless of their religion celebrate it. For Xmas, I joined Maya's family for lunch. It was a special moment to be a part of their day.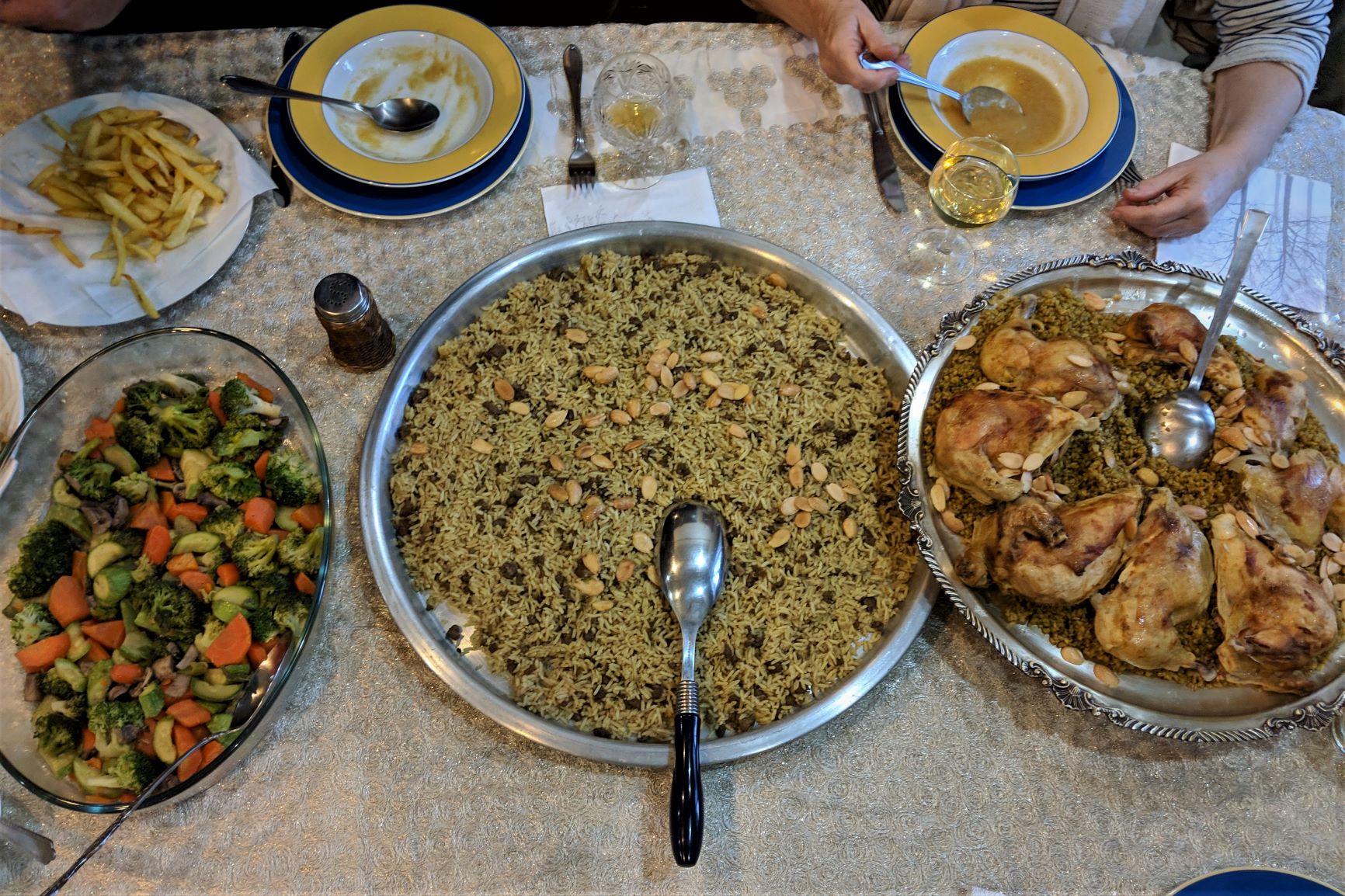 As for boxing day, Maya and Bishr had ordered the Jordanian tradition dish "mansaf". It was a massive feast!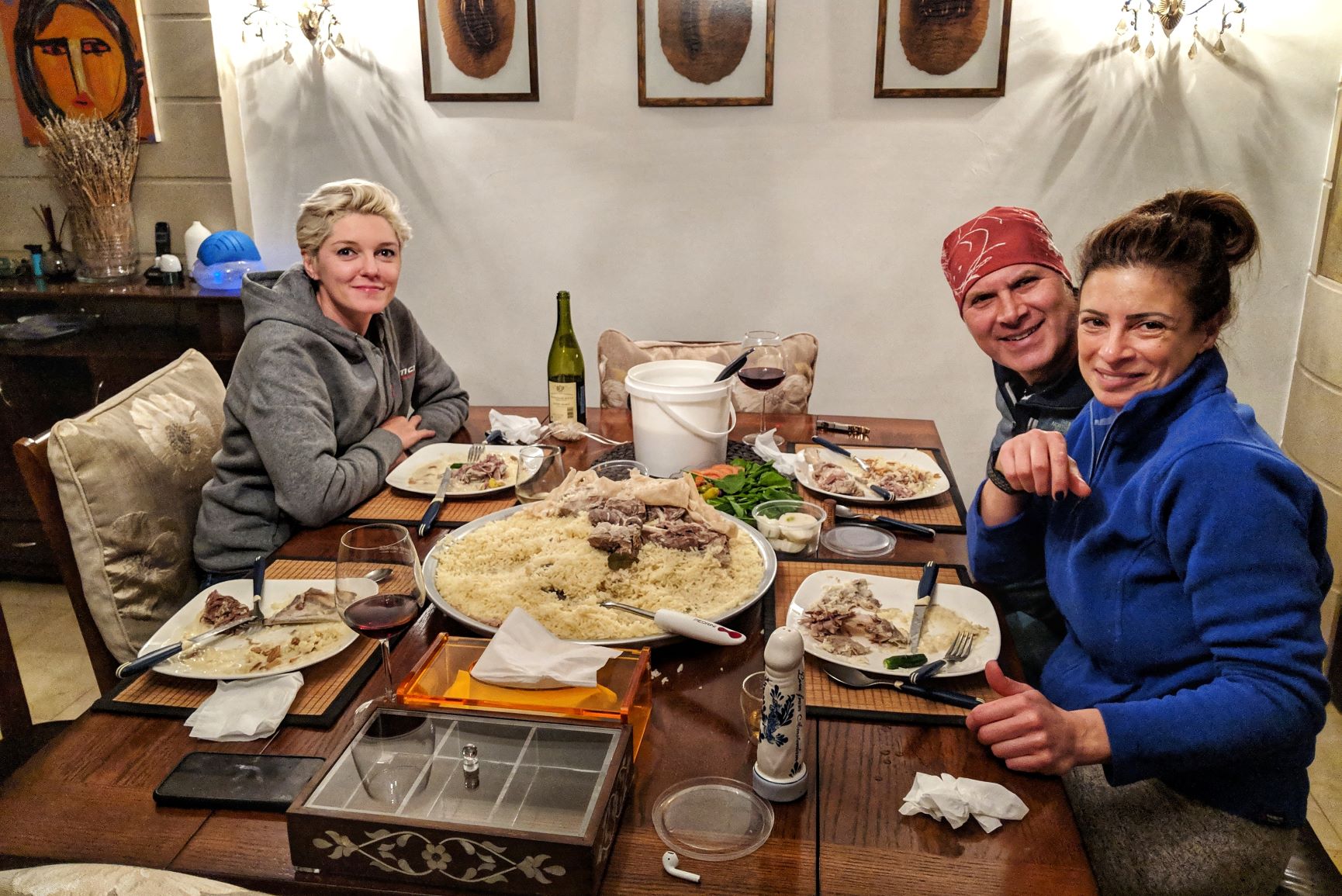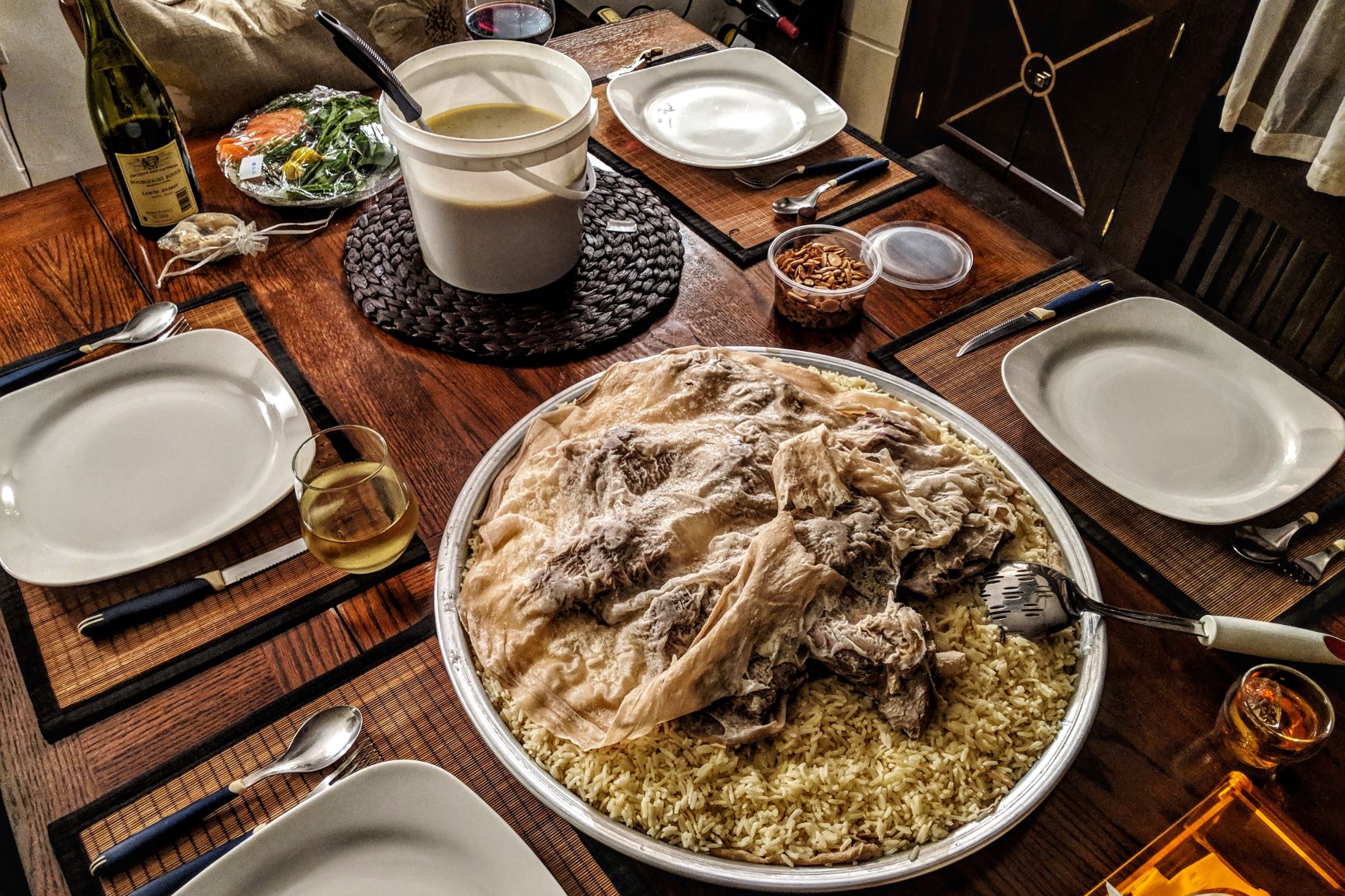 And in between all this socialising, I did a little sightseeing around Amman. It's a unique city, a blend of old and new, modern buildings, hotels, art galleries and boutiques mixed with traditional coffee shops and old school workshops.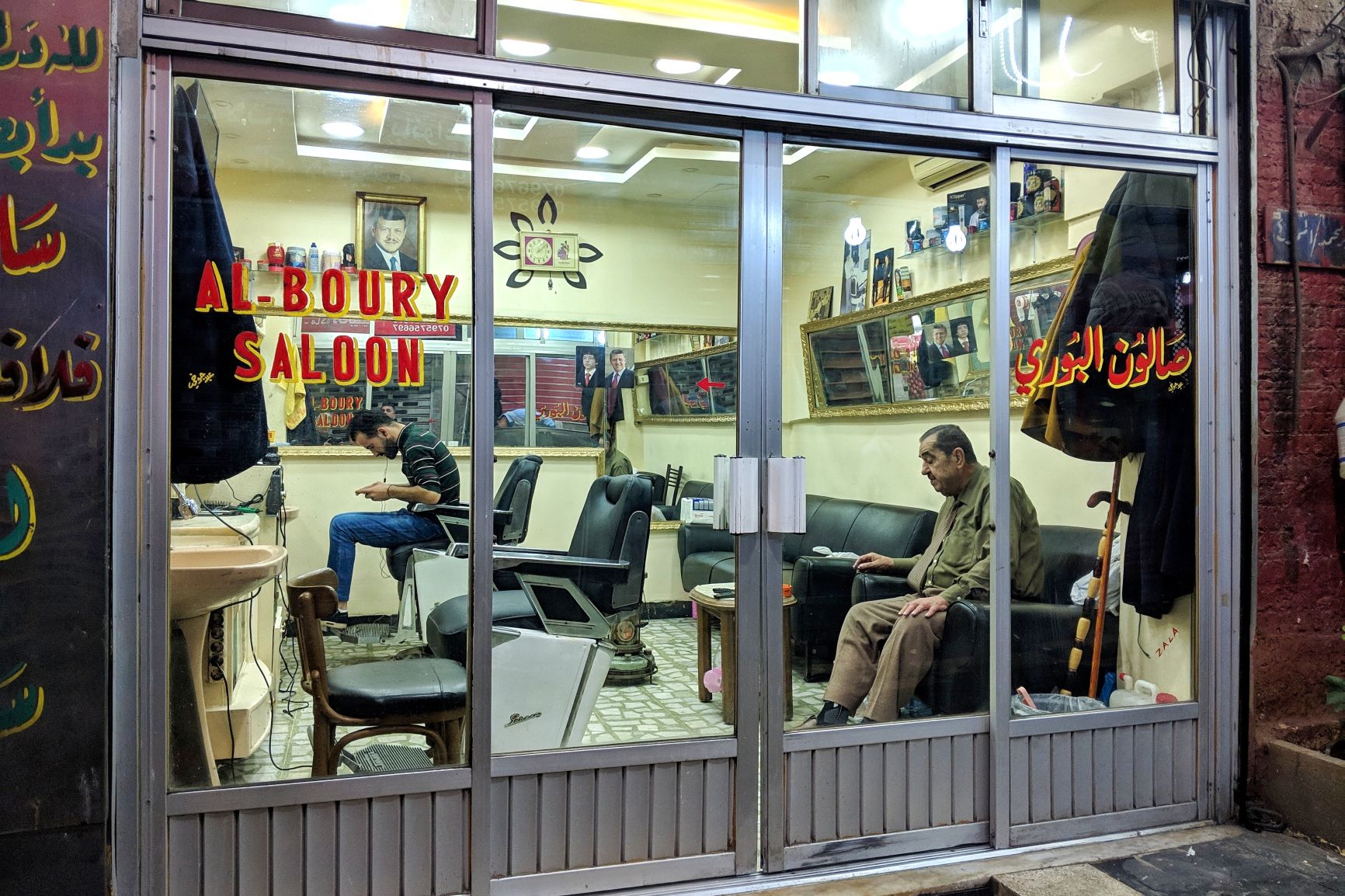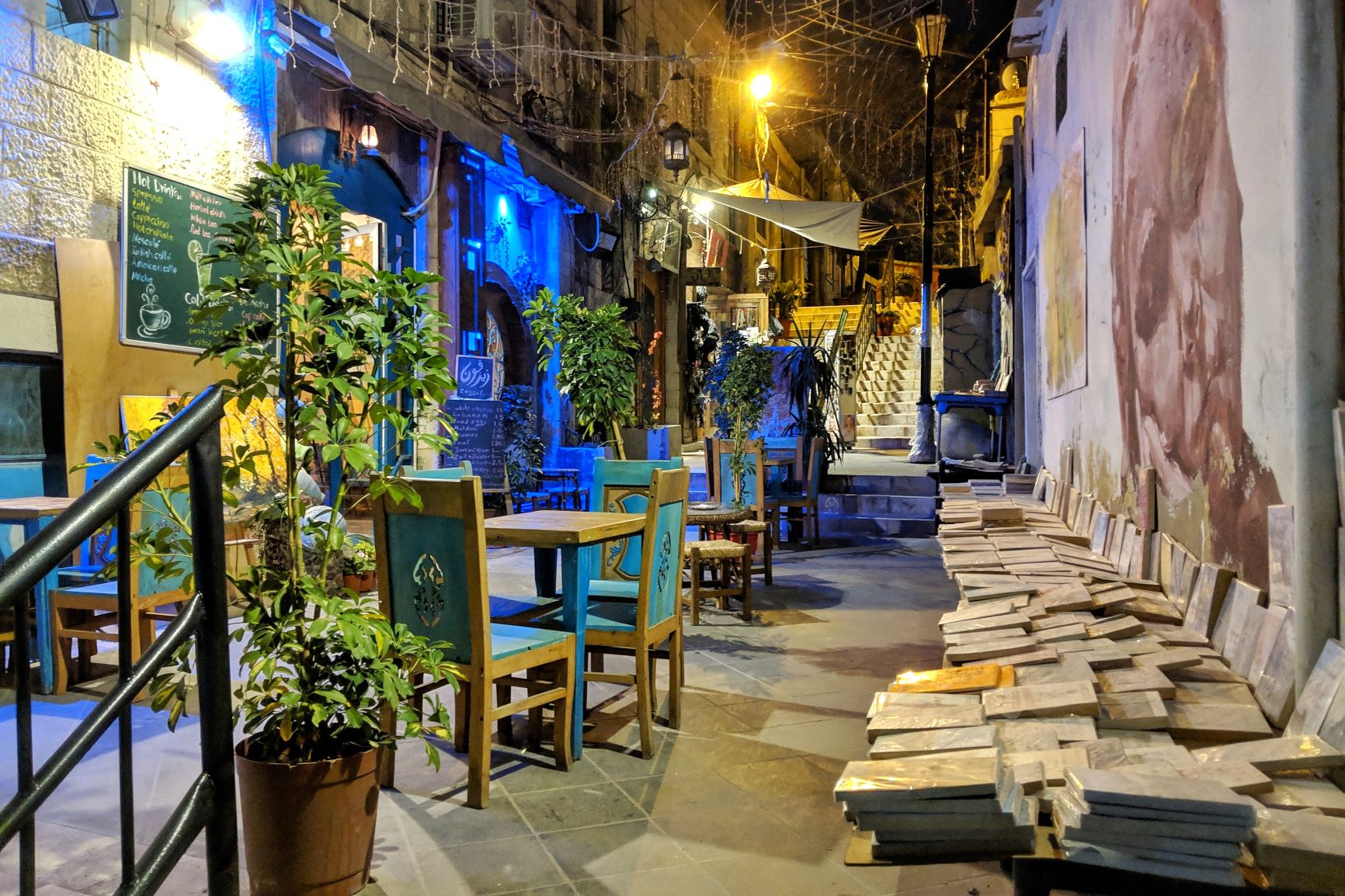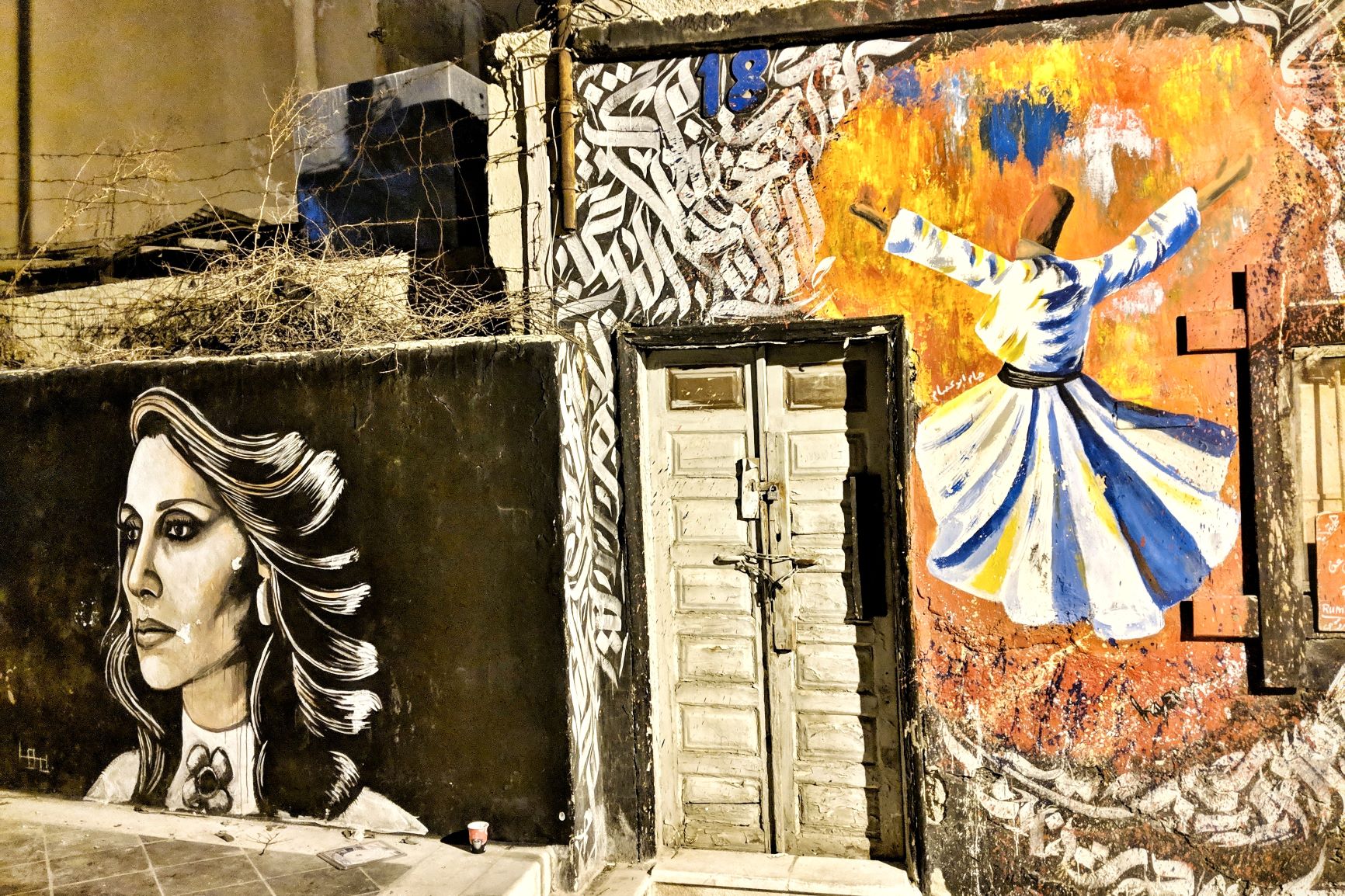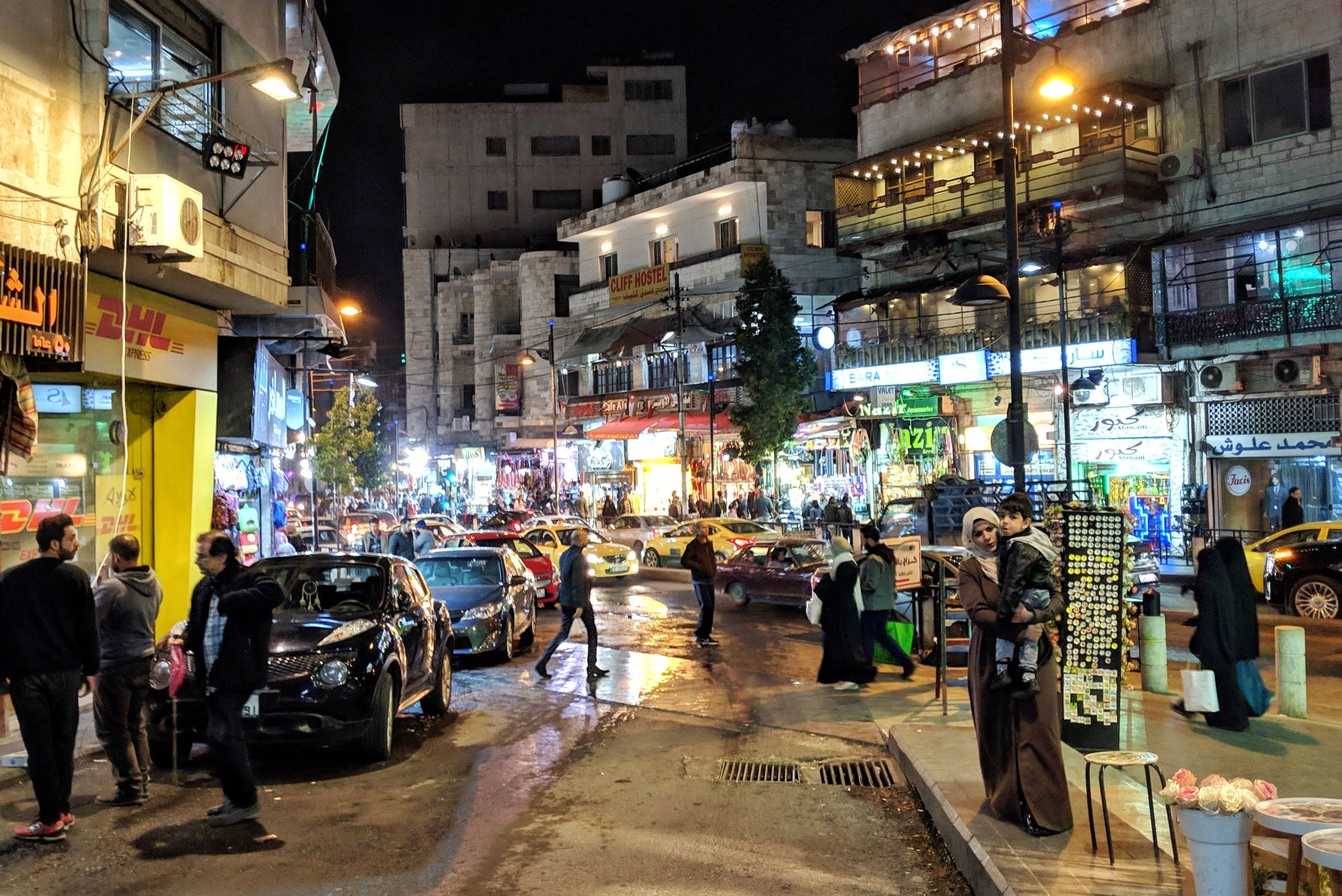 Every big intersection in Amman has these security measures, a bit shocking at first, but after a while, you just get used to them.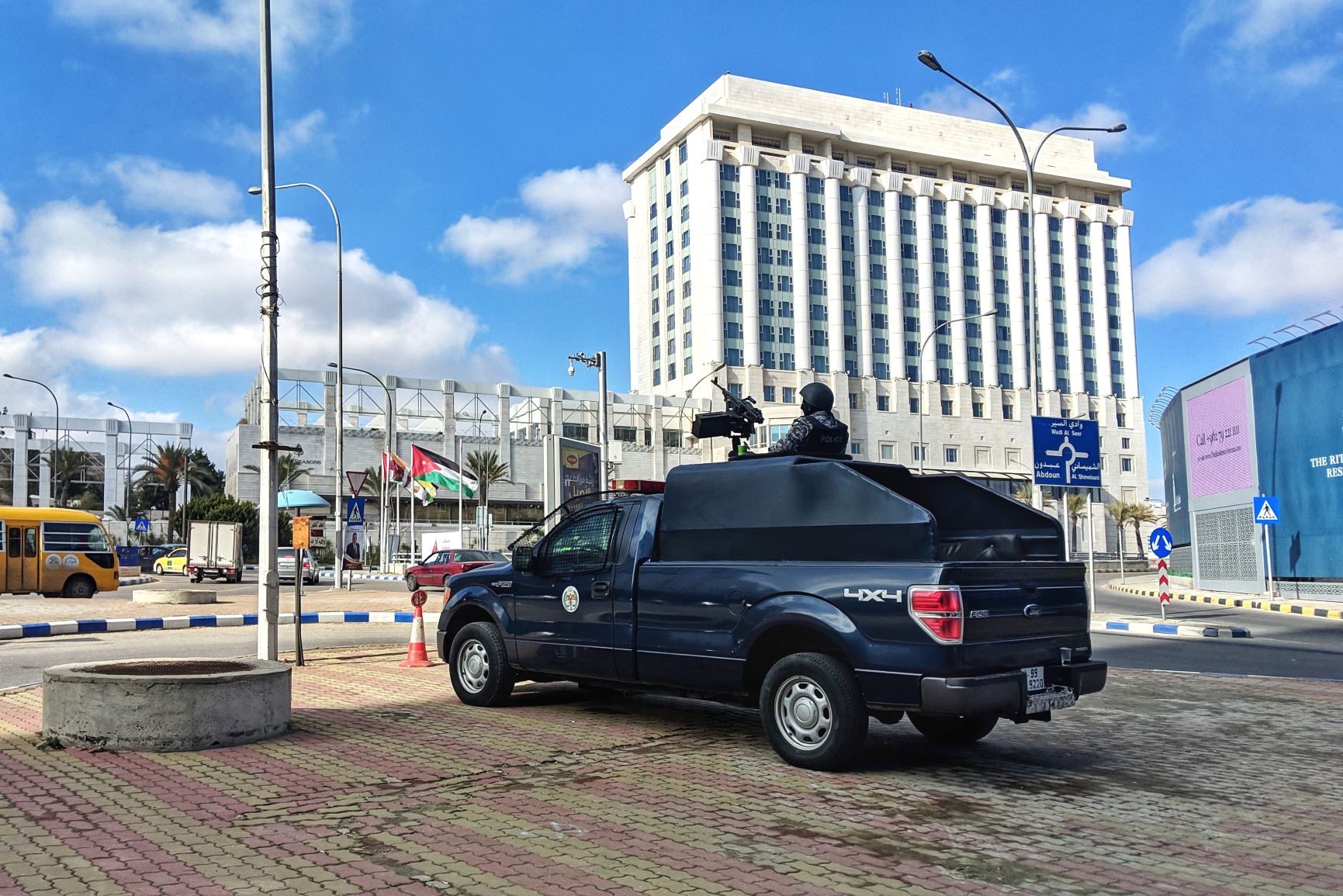 Meanwhile, Chillie was getting her last service before Africa at KTM Amman – a big thank you to these guys, they were very professional. She also got new decals from S&C Motodecal showing off my new sponsors for 2019 and a new set of tires from Bridgestone. Their new knobbies weren't available at the time, but I got to test the Battlax Adventure A41 which are a little bit more road focussed and I had a blast on them… even on the sand in the Wadi Rum desert. Chillie also got a major upgrade – a TFX Suspension 140 mono shock-absorber which was set specifically to the weight the bike carries and designed for recreational use and long-distance touring. This modification has been the most important one I've made. I no longer need to stress that I might blow my shock again!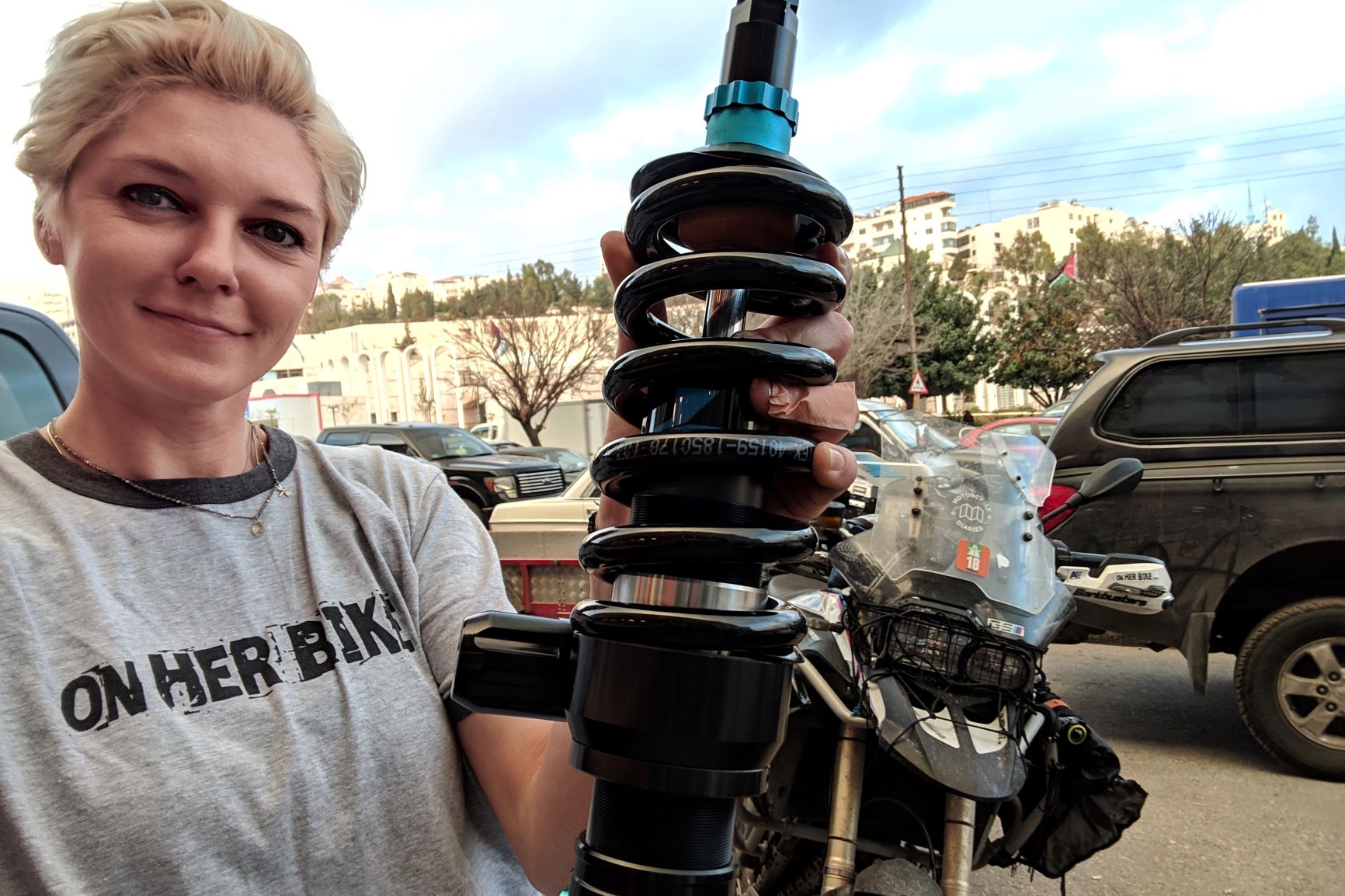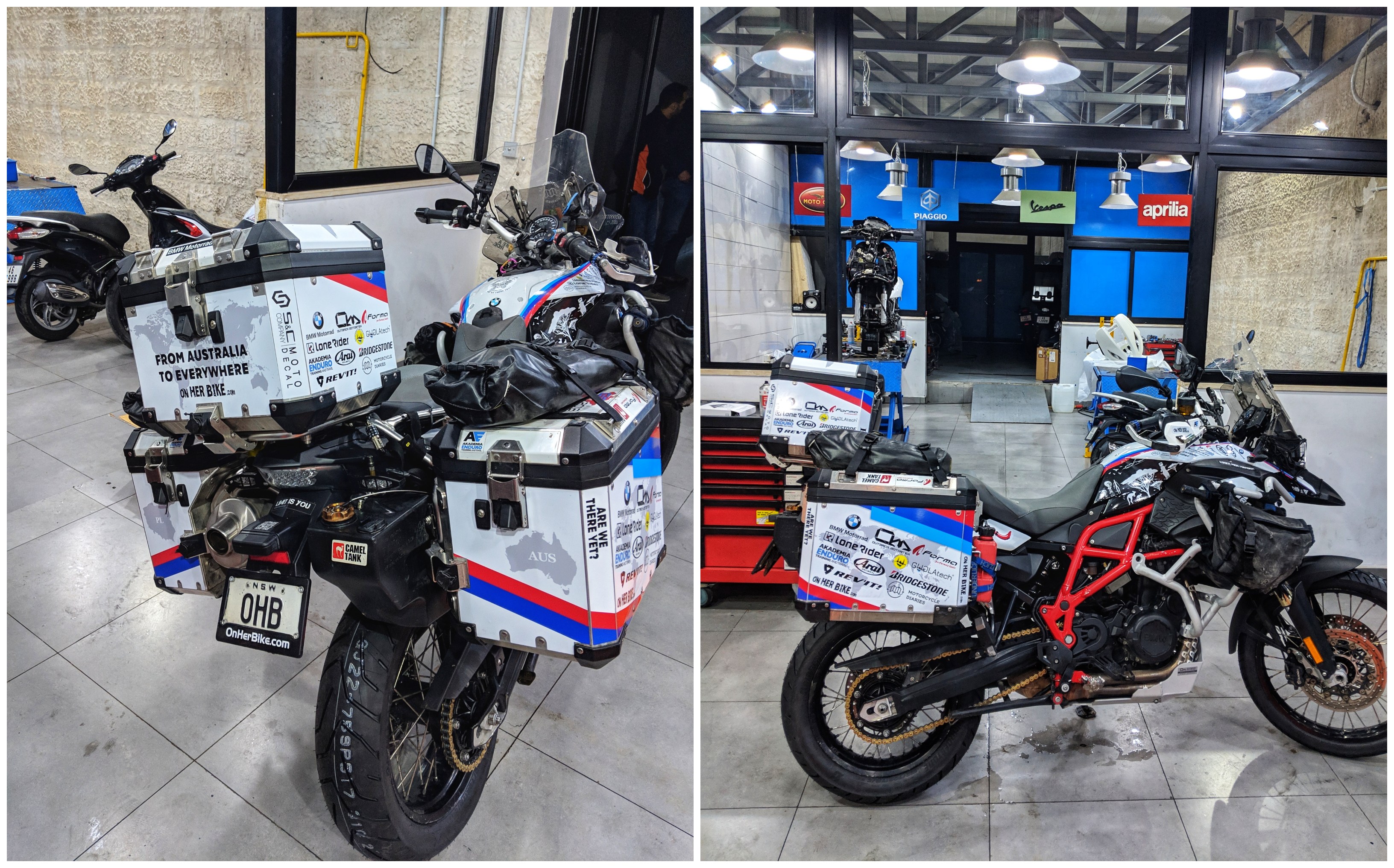 Petra
A few days before NYE I left Amman and headed down south to check out 2 must-see places in Jordan – Petra and the Wadi Rum desert.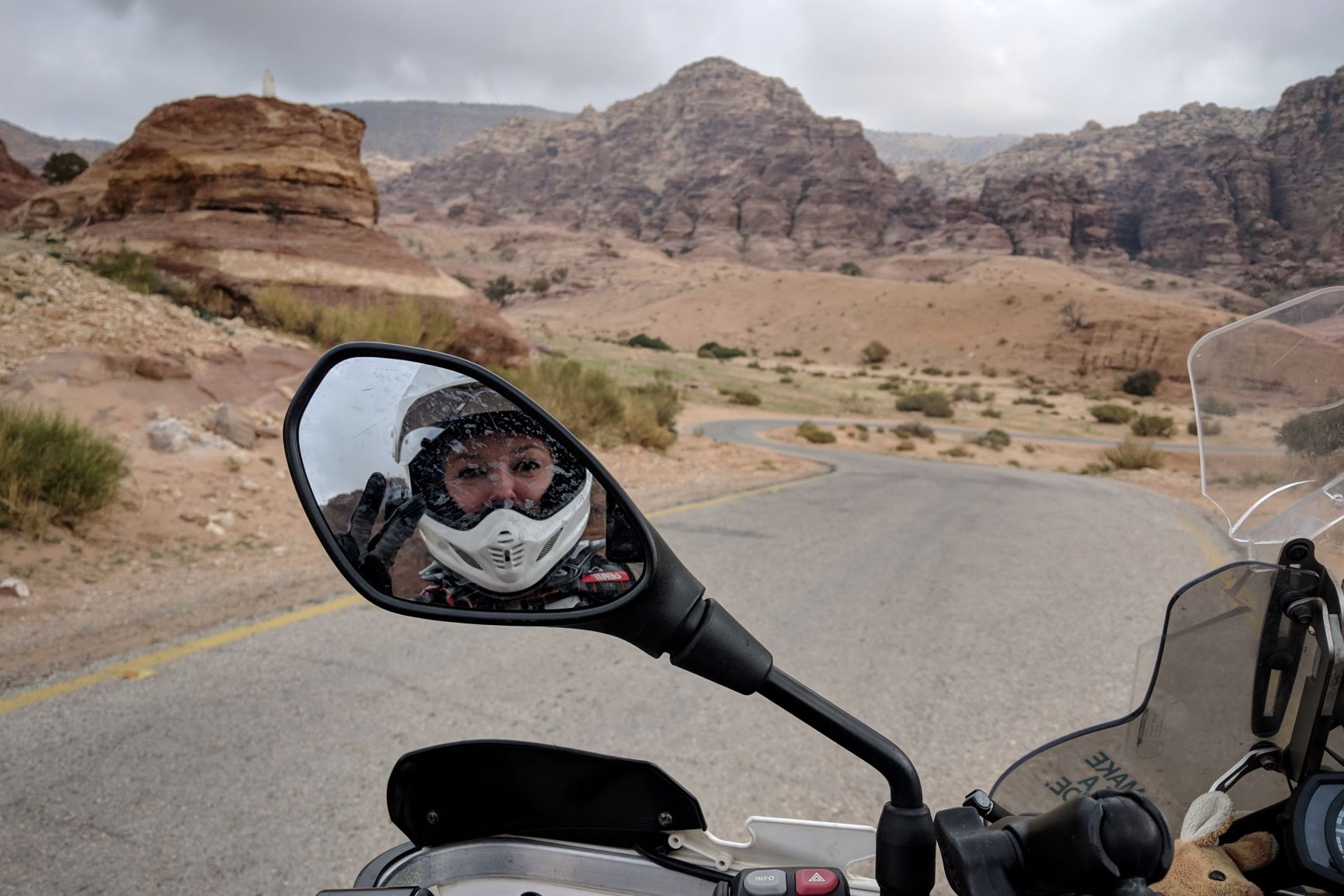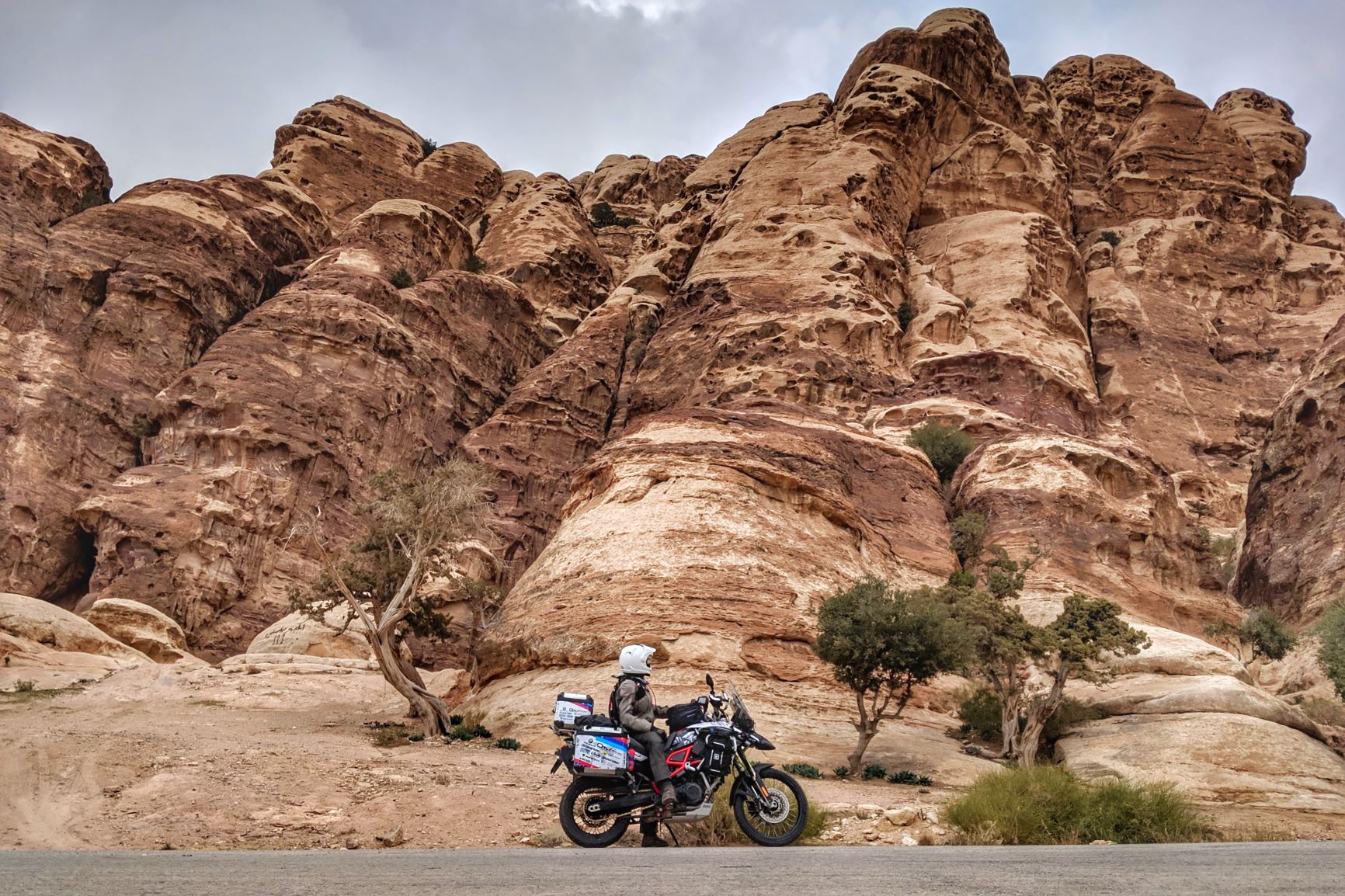 I left Amman about lunchtime and decided to do some wild camping somewhere near Petra and came across this spot not too far from the road. Just perfect!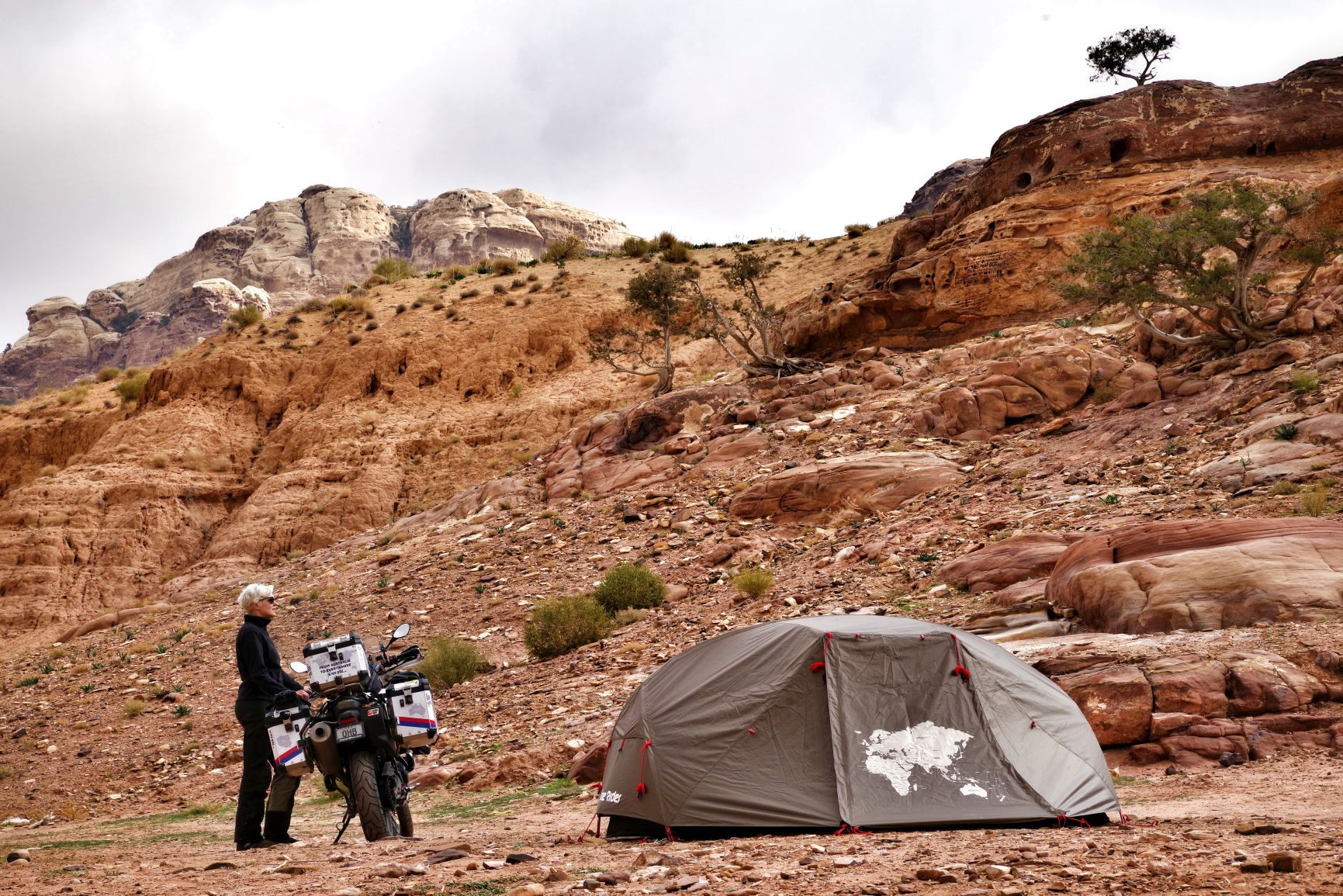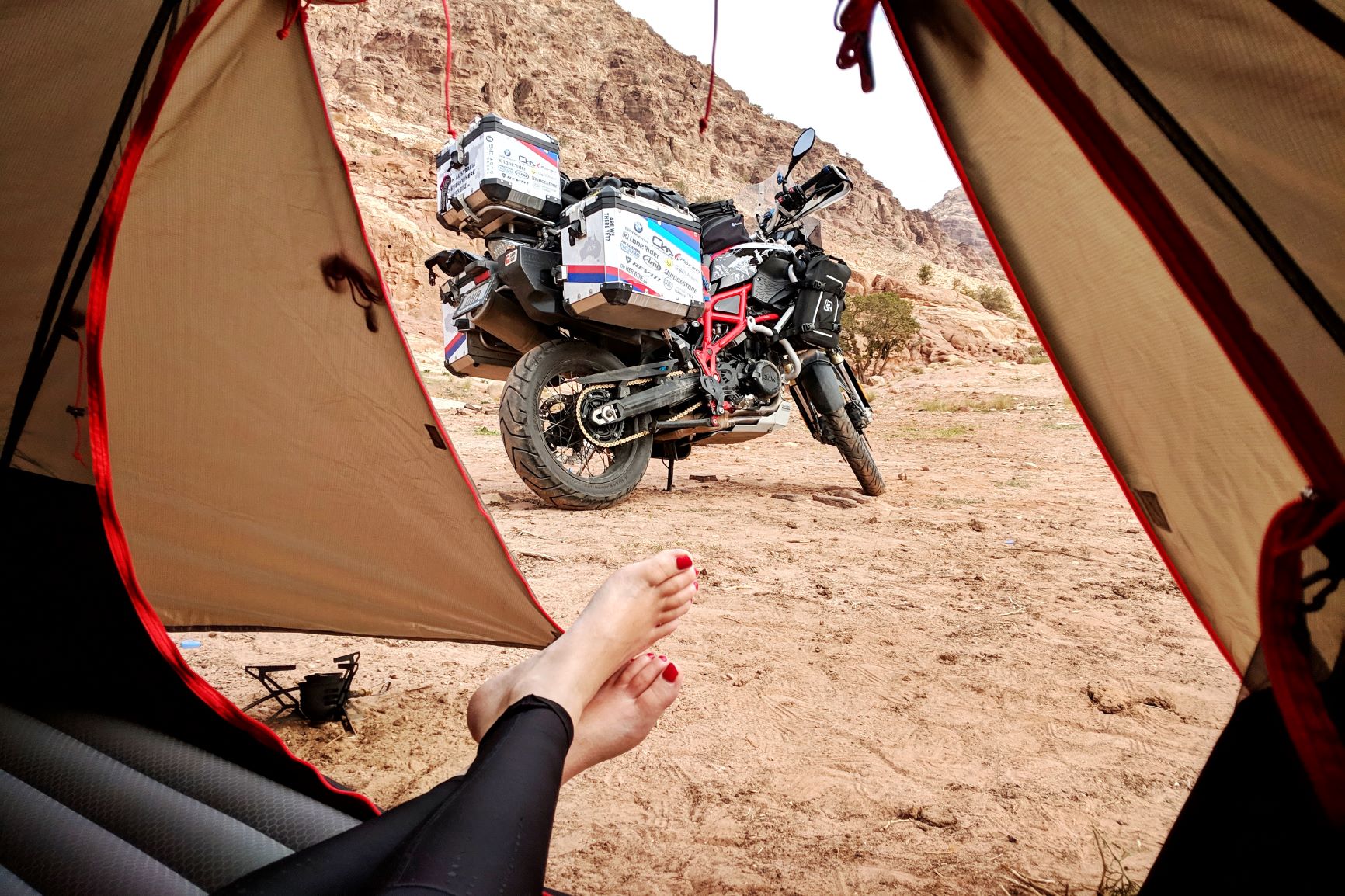 On this special occasion, I cracked this special 18 % beer. Damn it was strong! I had no idea 18 % beers existed! It's like having 4 beers in one.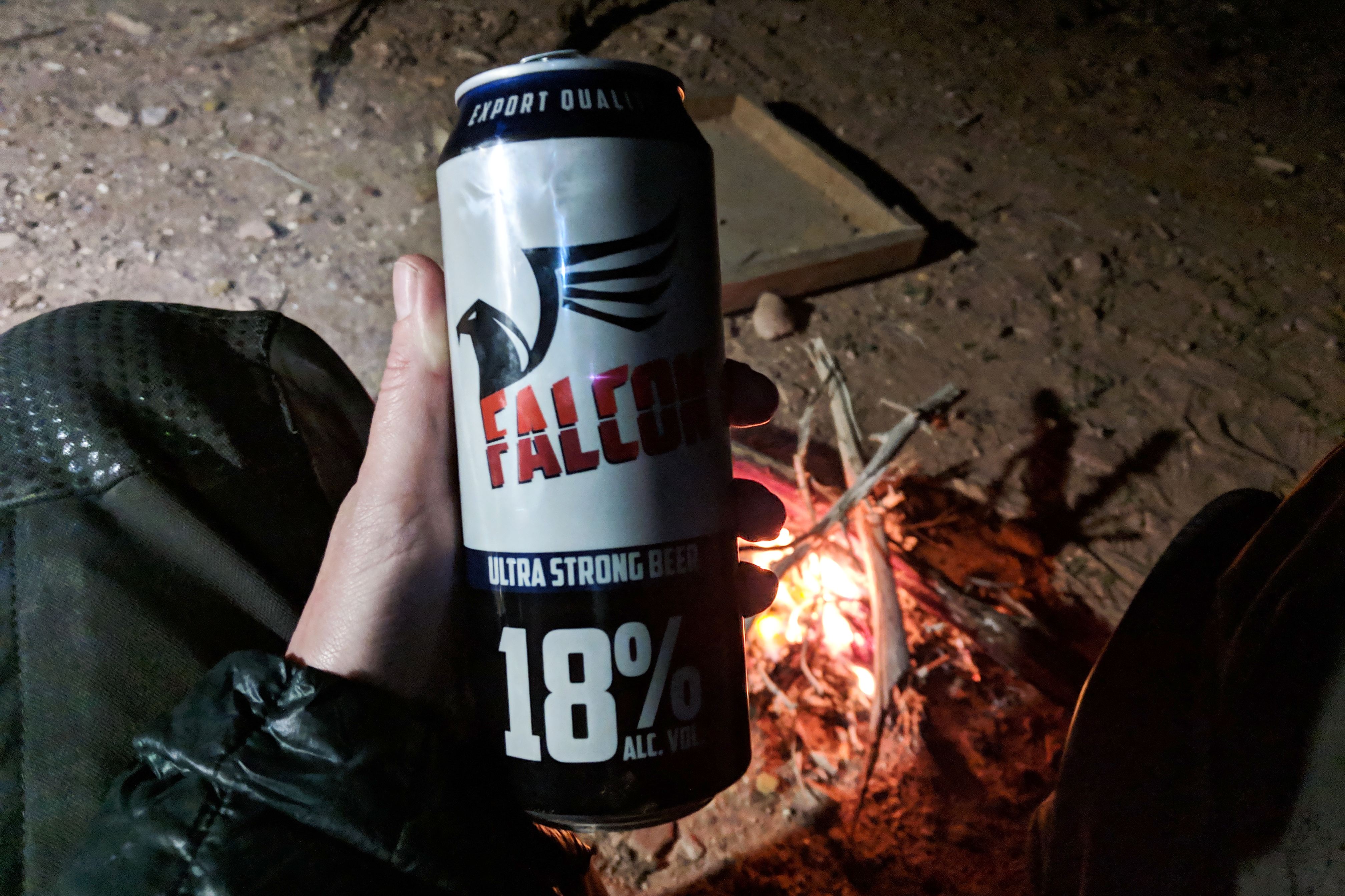 The next day I dedicated to Petra.
The ancient city of Petra in Jordan is one of the 7 New Wonders of the World. The city is famous for its rock-cut architecture carved by the Nabataeans, an industrious Arab people who settled here more than 2000 years ago. In its glory days, Petra was an important junction for the silk, spice and other trade routes that linked China, India and Southern Arabia with Egypt, Syria, Greece and Rome. Nowadays Petra is Jordan's most valuable treasure and biggest tourist attraction. There is something very special about this place that is very hard to describe. Walking through the narrow canyon in search of the old hidden town was surreal.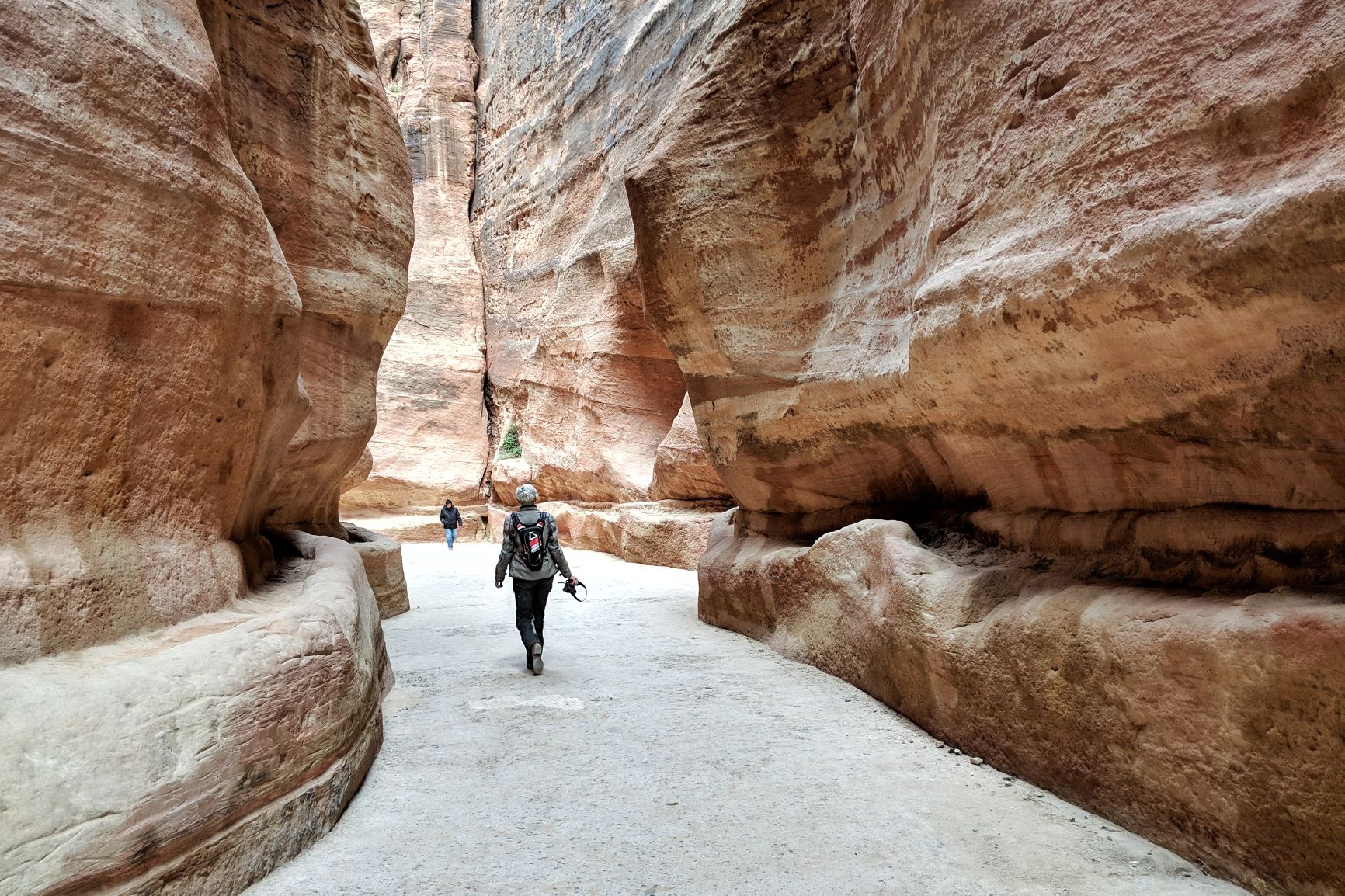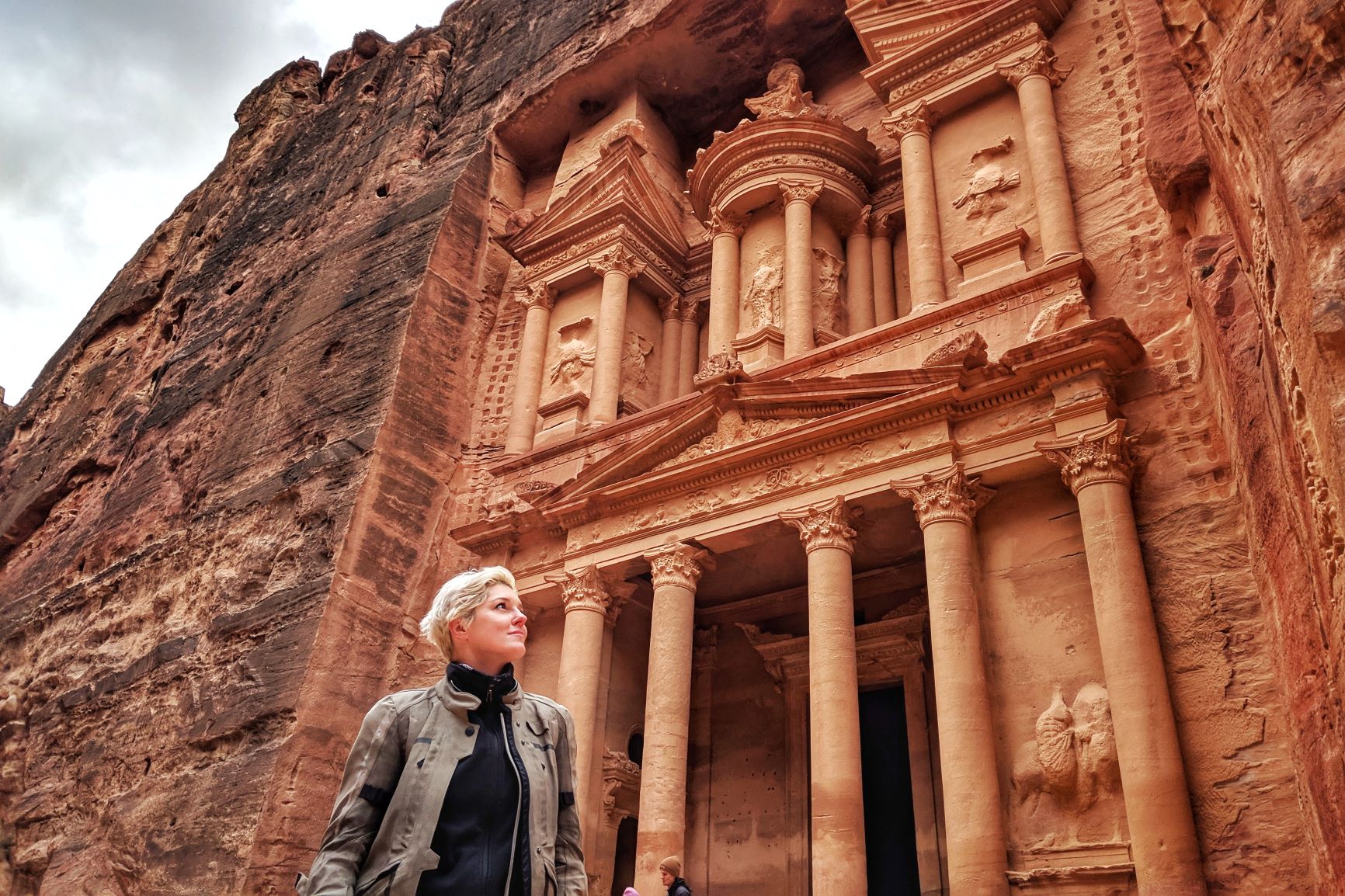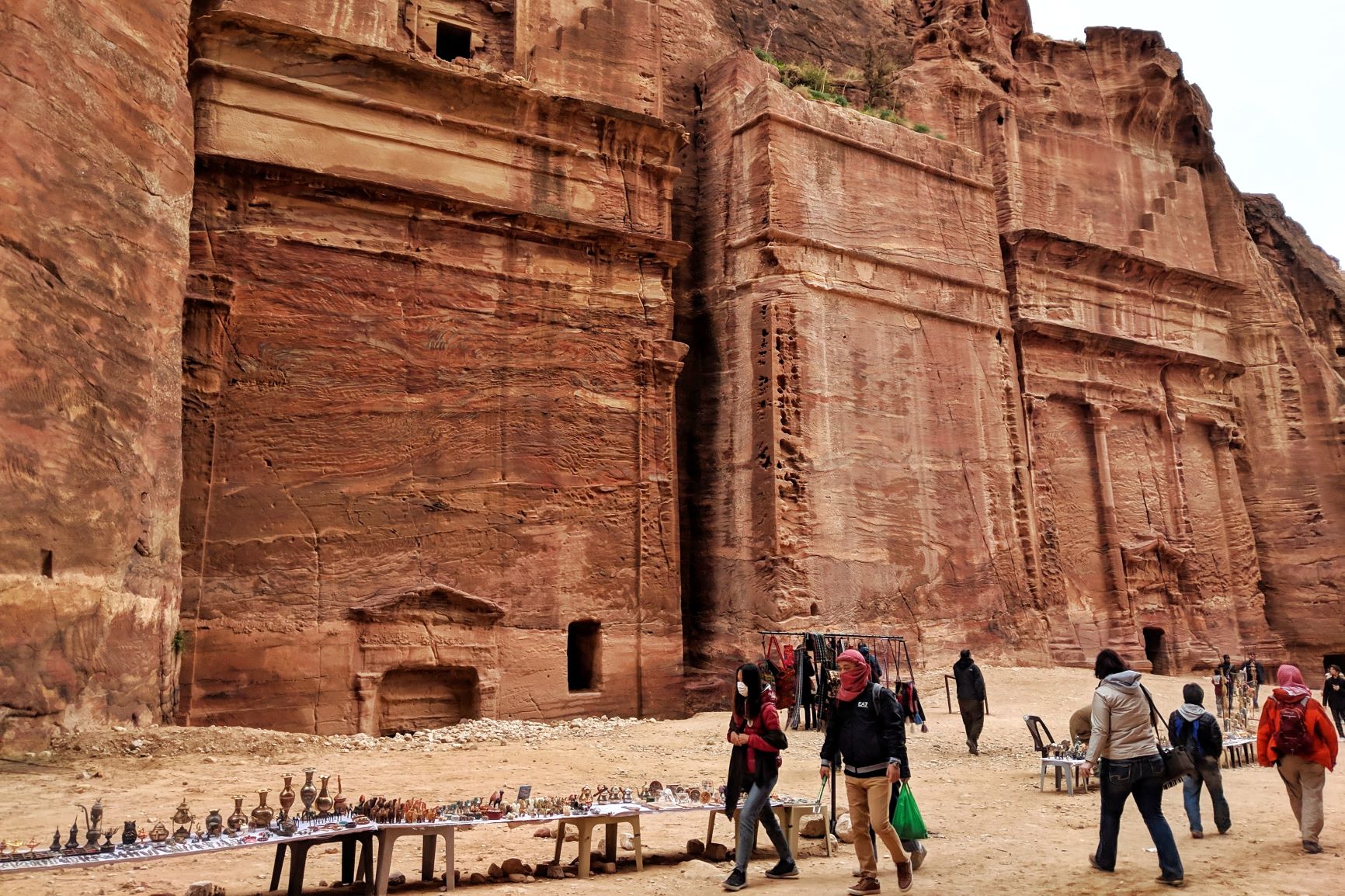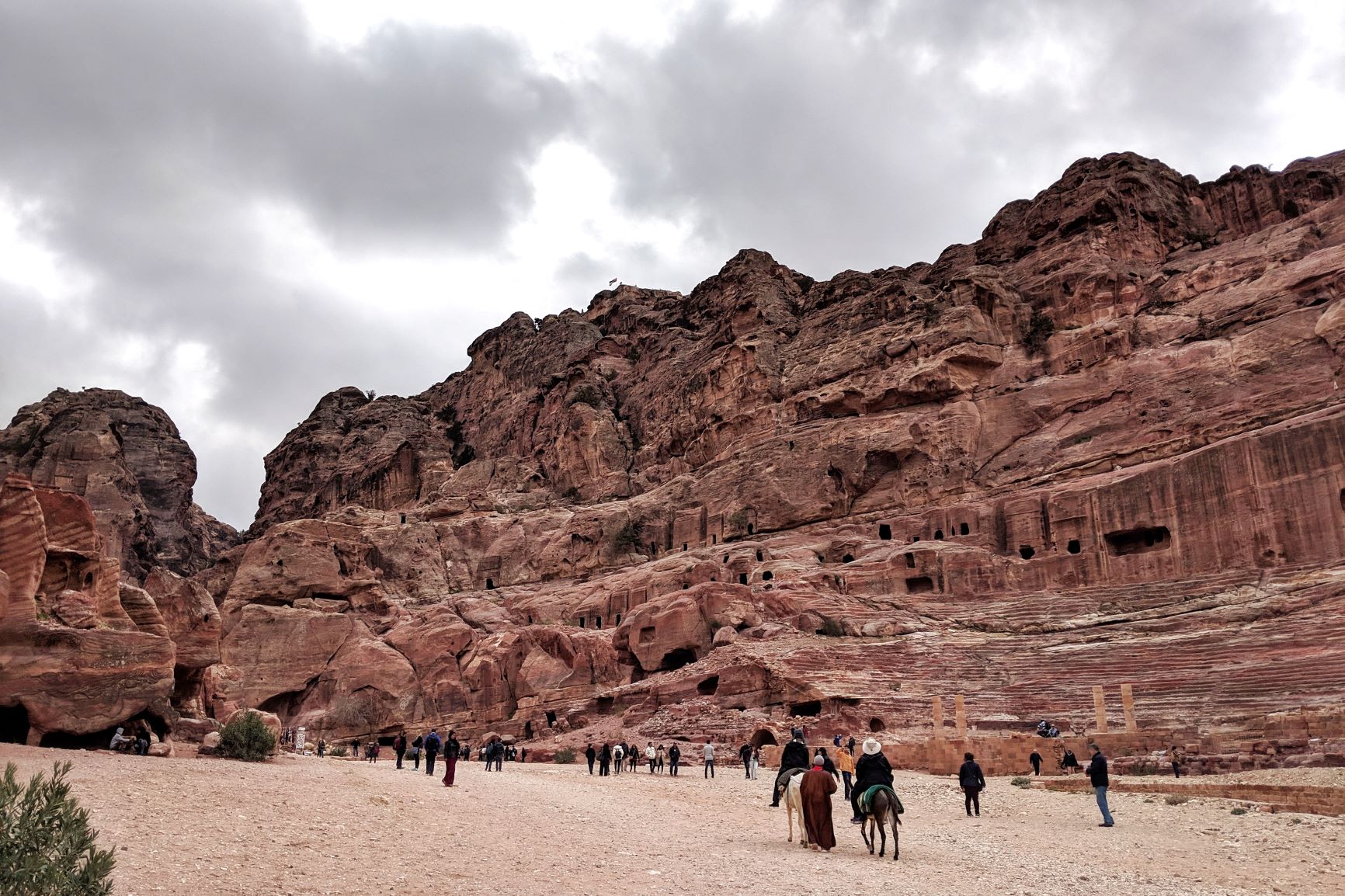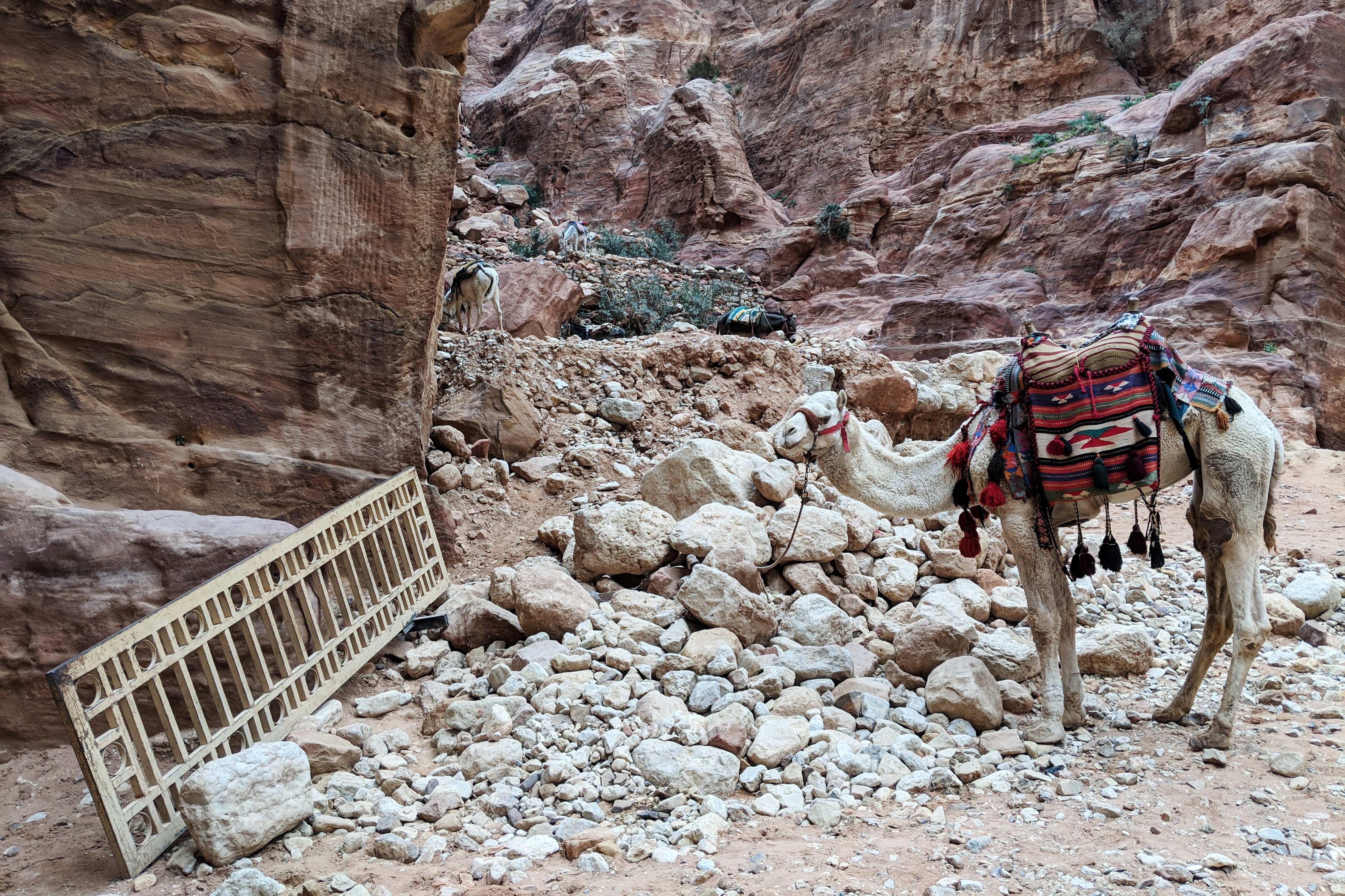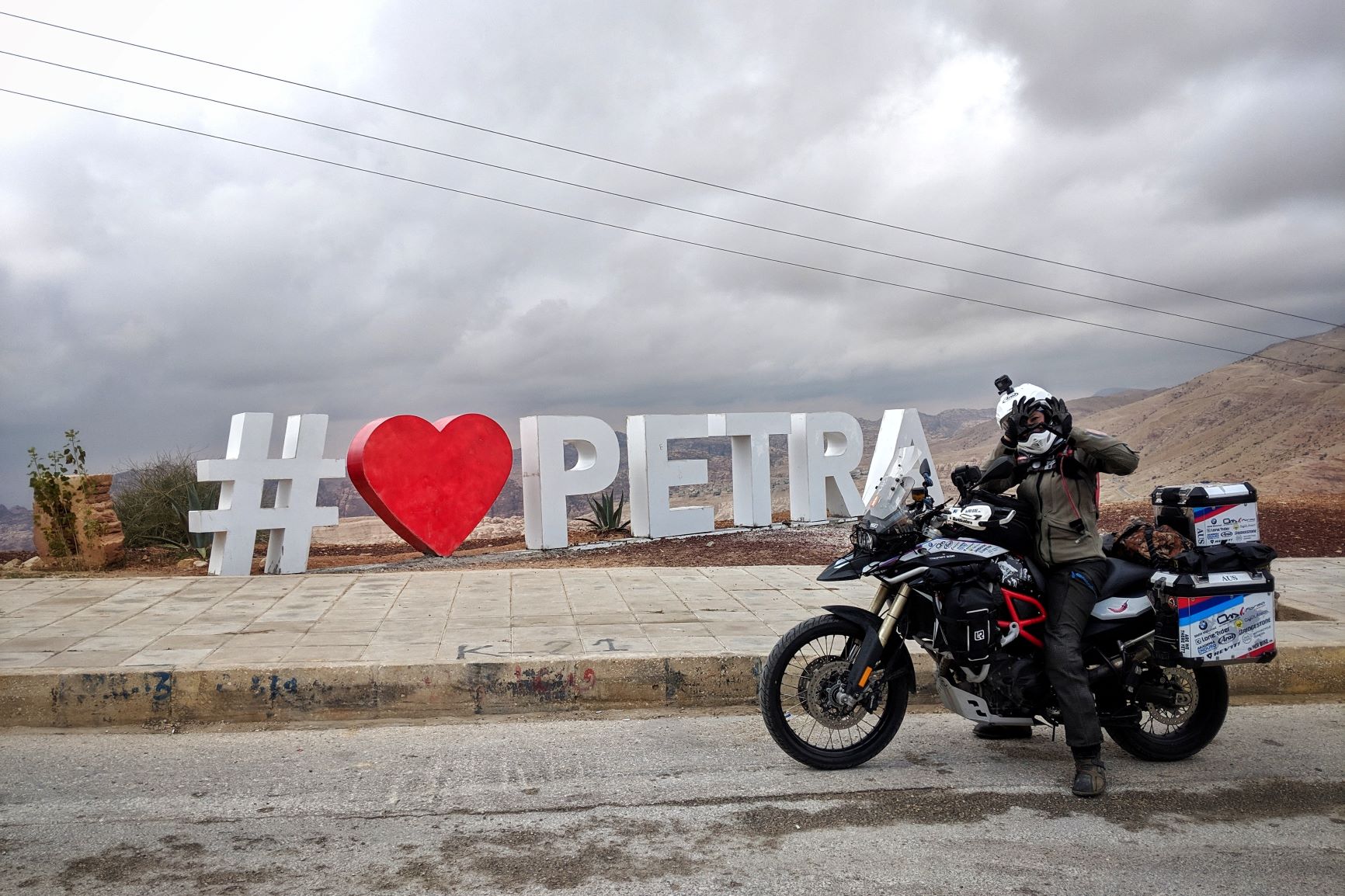 Bait Ali
The Wadi Rum is also known as the Valley of the Moon and is one of the most incredible deserts I've ever seen. It's home to nomadic Bedouin tribes who run the camps and tours and know the desert like the back of their hand.
Being completely obsessed with deserts and wanting to take my time in the area worked out perfectly with it being time to welcome in 2019! For this very special NYE, I was invited to the Bait Ali Lodge.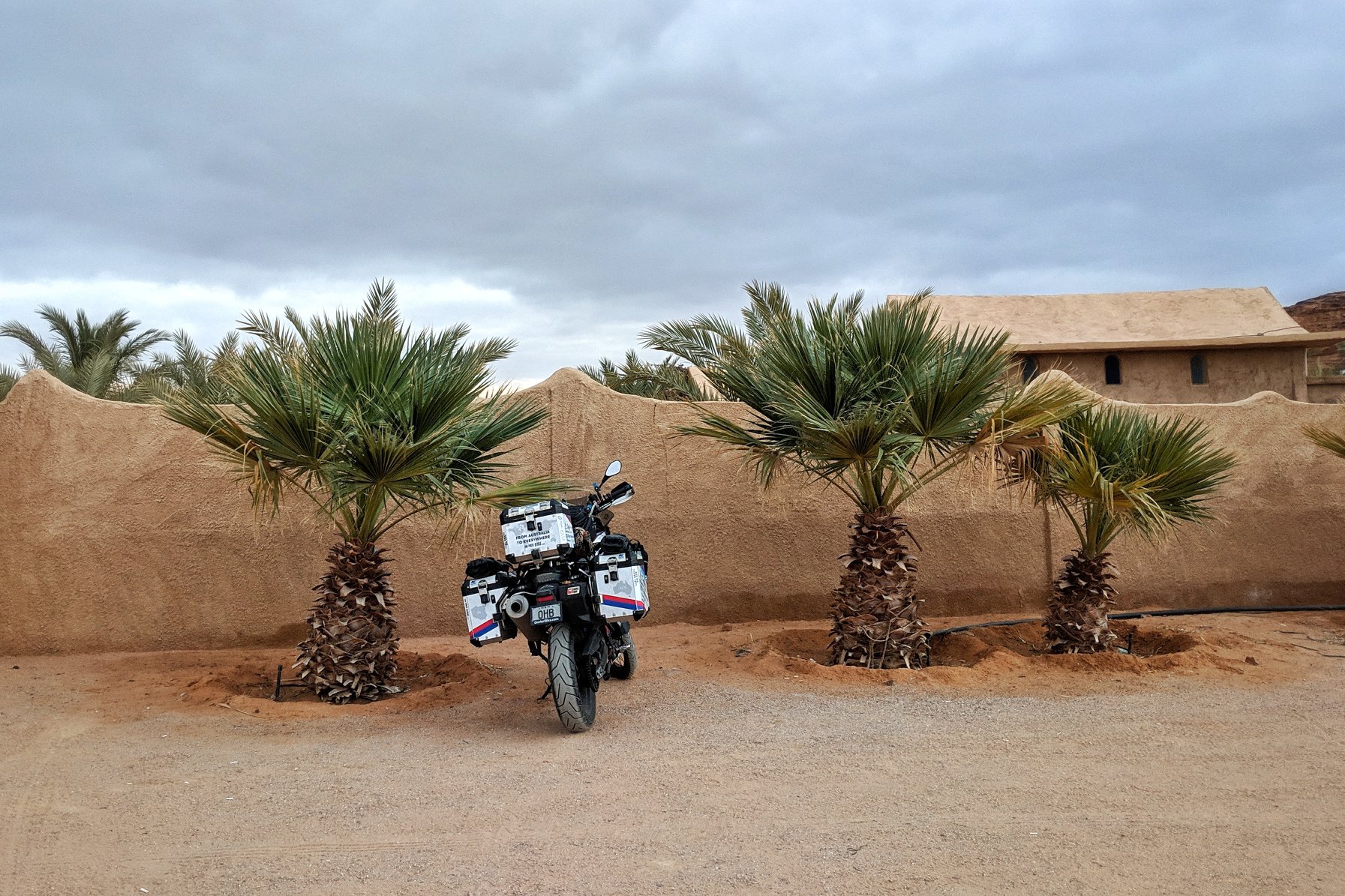 Bait Ali is run by a family who put their heart and soul into the place. This incredible oasis was built on the edge of the new Wadi Rum Nature Reserve. From the hill next to the camp you can admire the sunrise and sunset over the Moon Valley.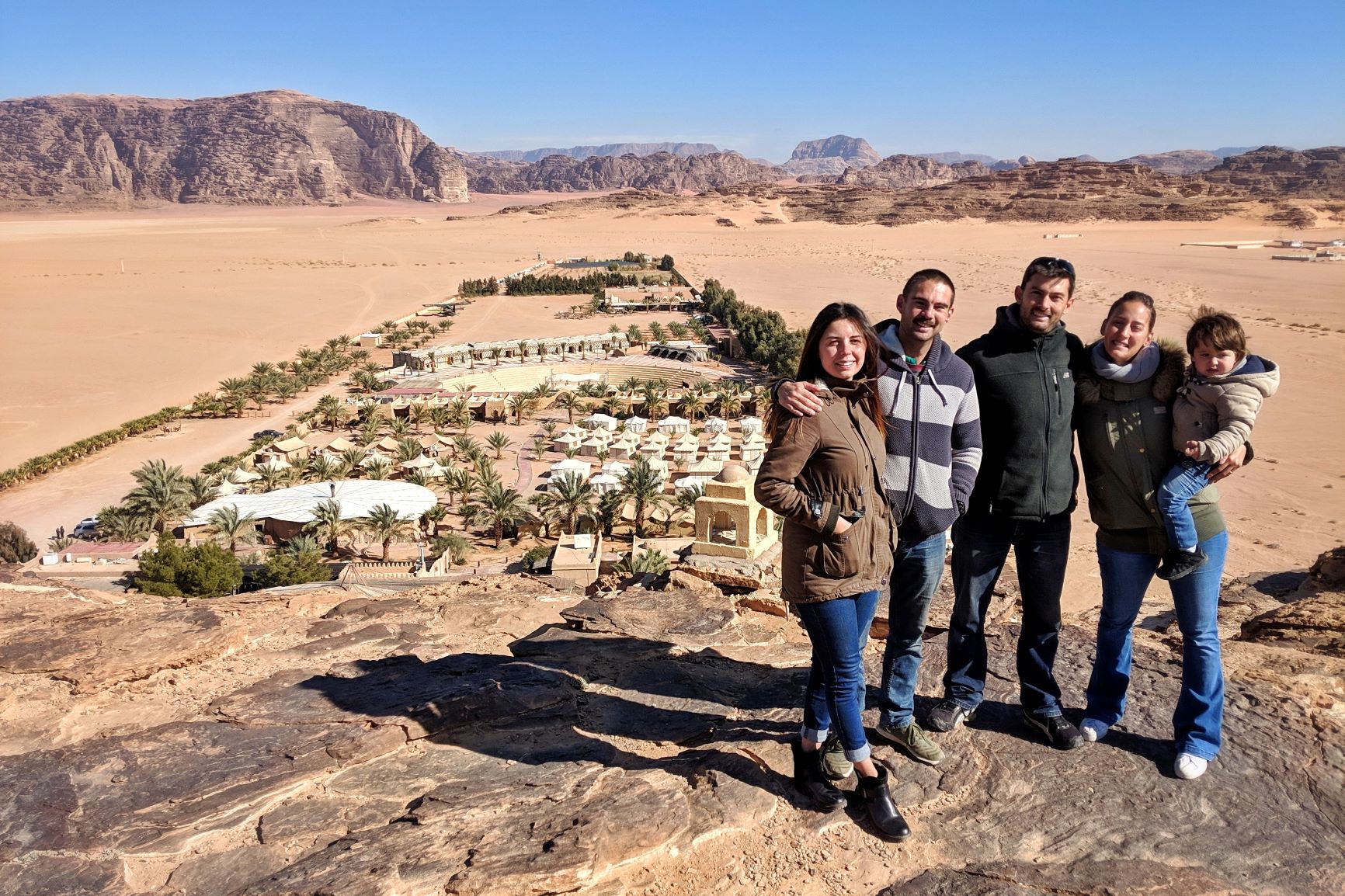 It's so impressive how self-sufficient this place is considering it's in the middle of nowhere. There are a variety of tents or chalets with proper beds, clean sheets and warm blankets.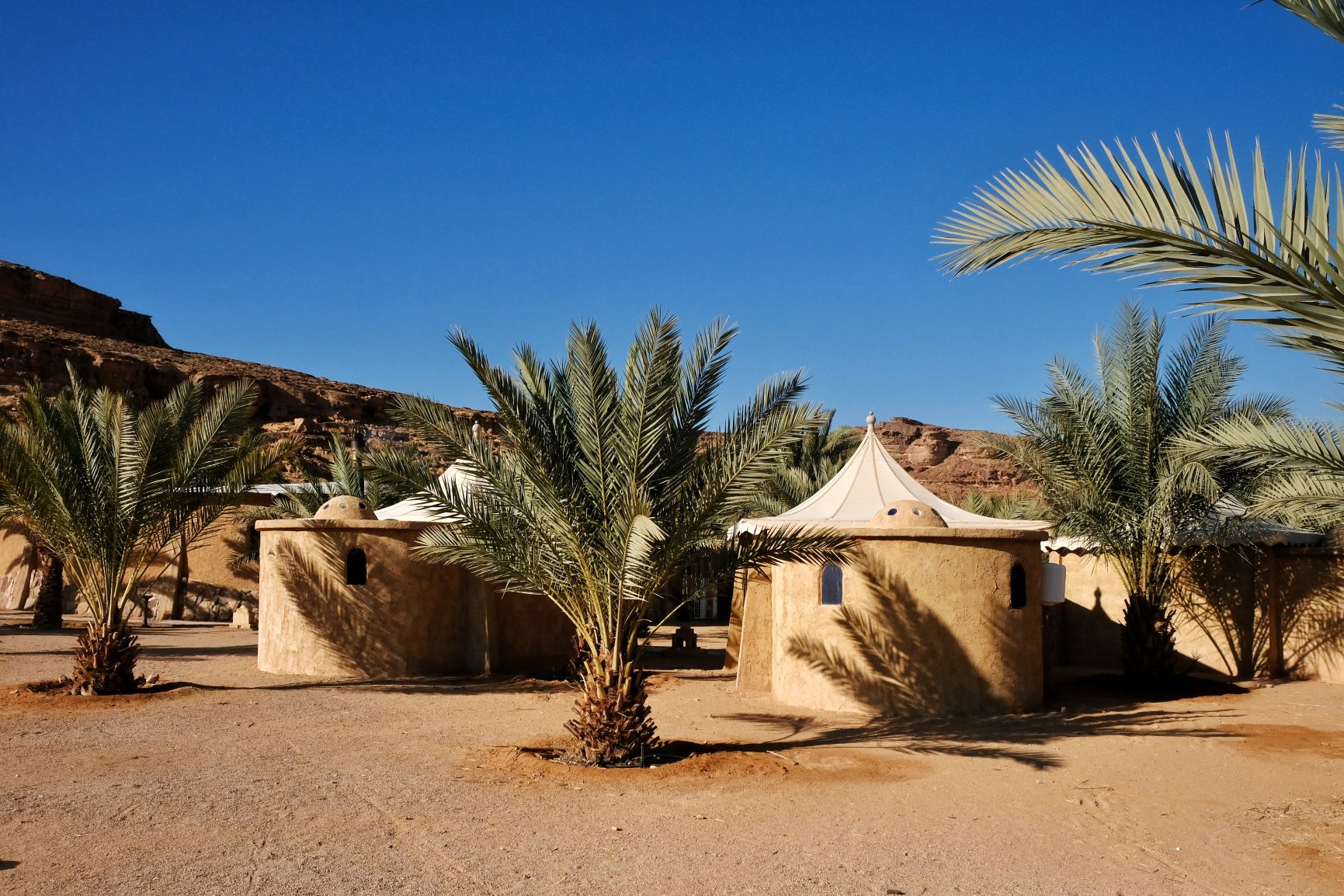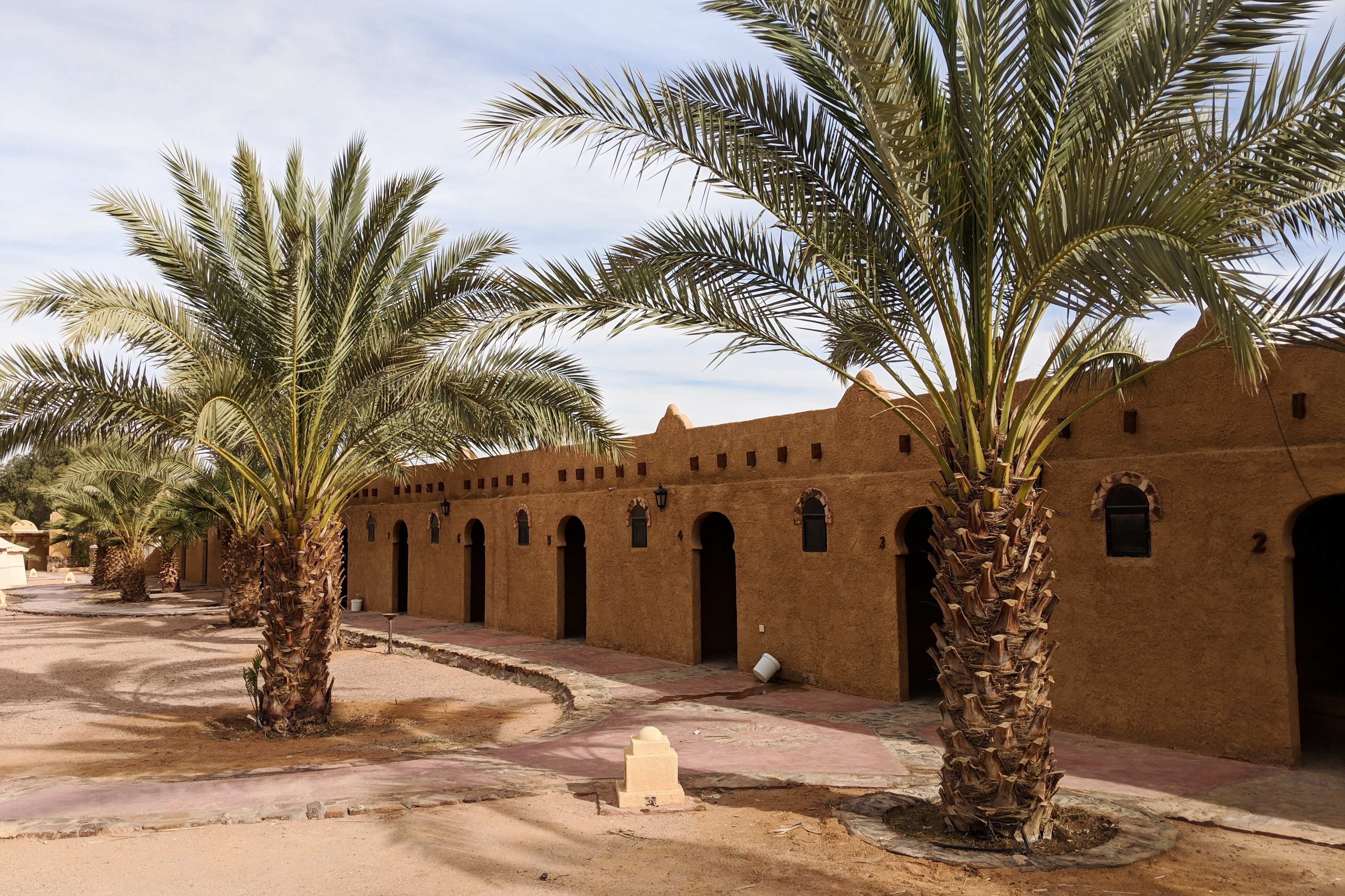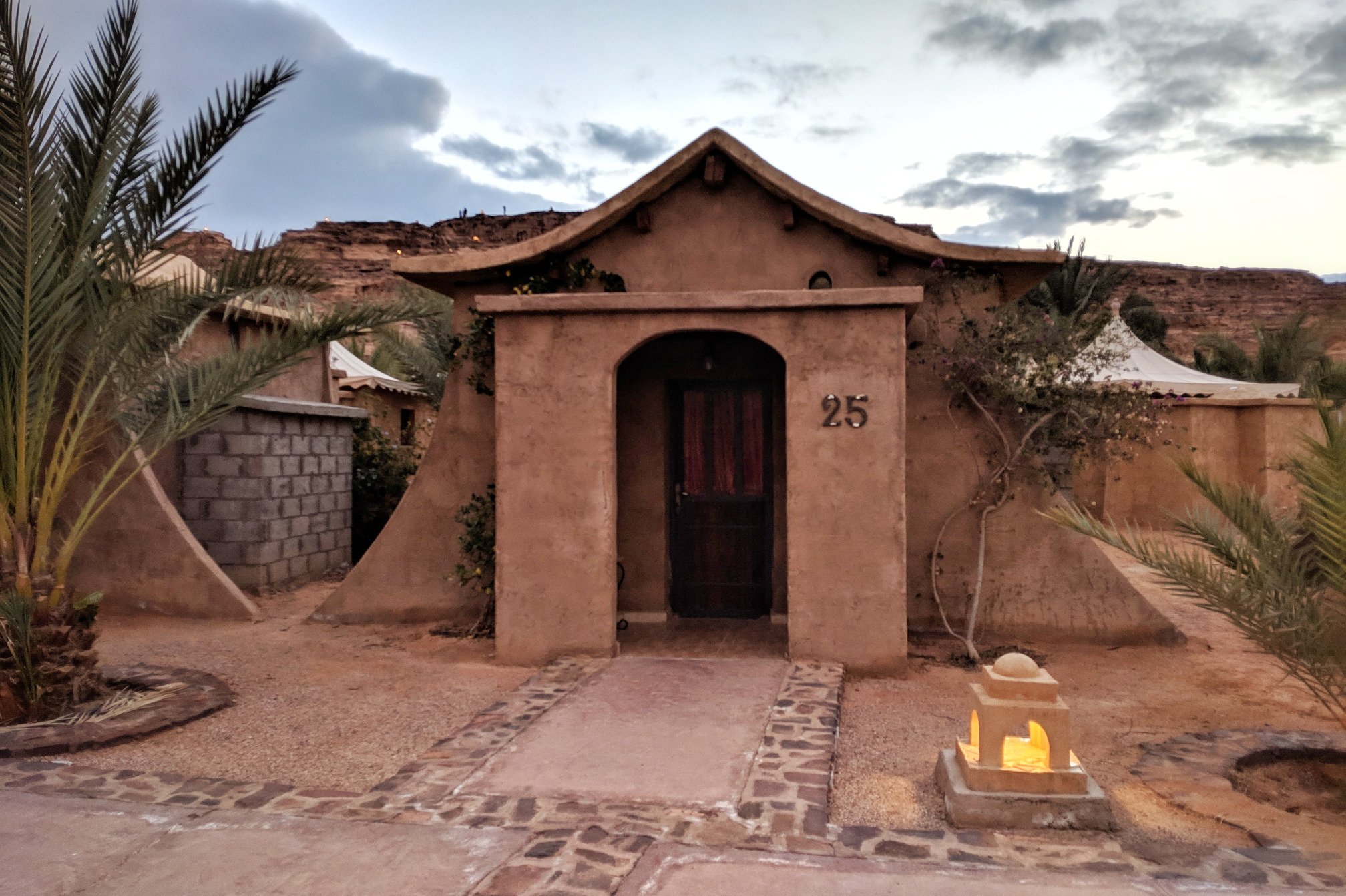 Bait Ali's amphitheatre was the first private amphitheatre in Jordan. Up to 3000 people visit here for theatre presentations, festivals, fashion shows and discos.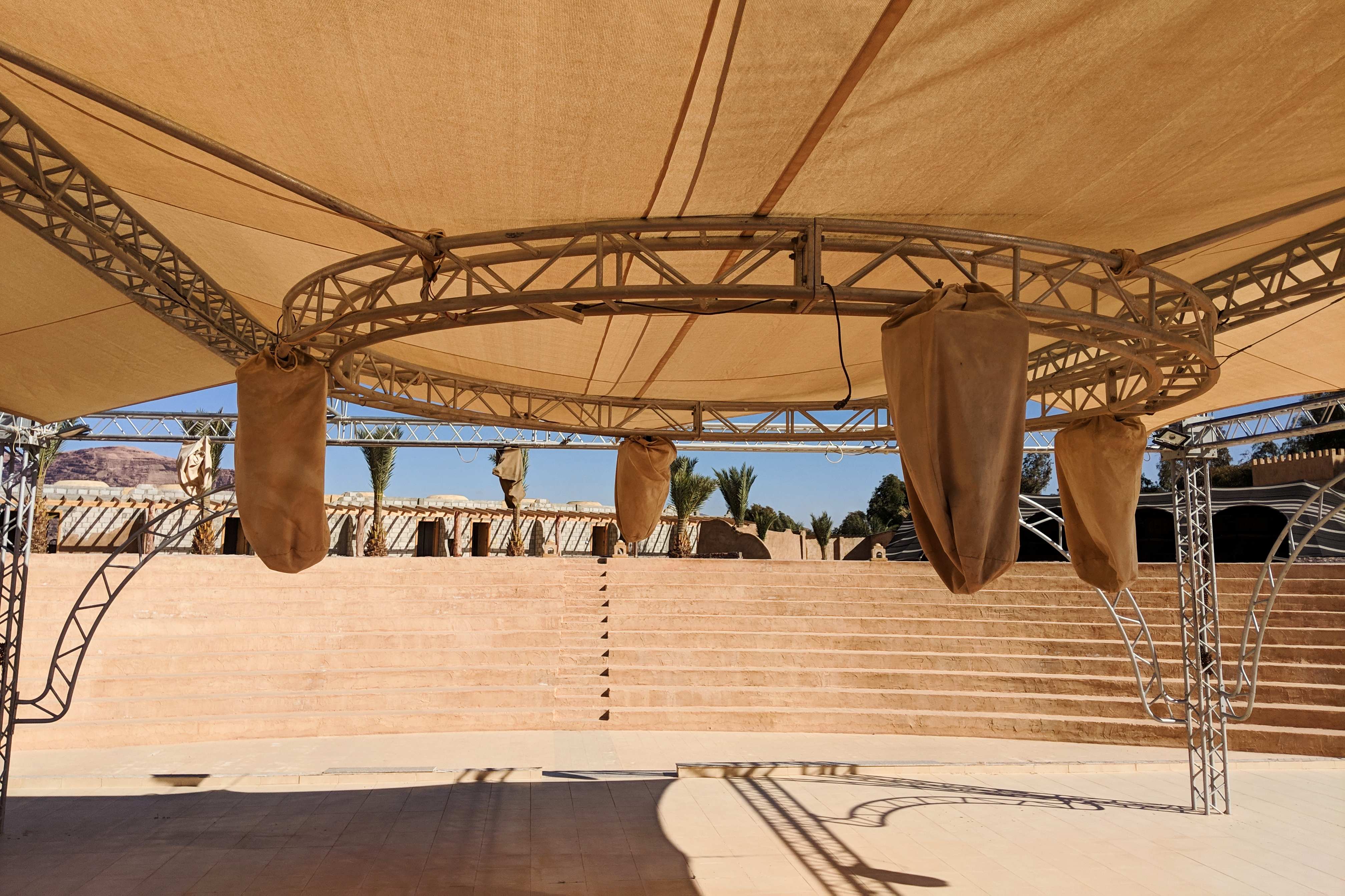 And there is a swimming pool too! It just paradise in the desert, a real oasis!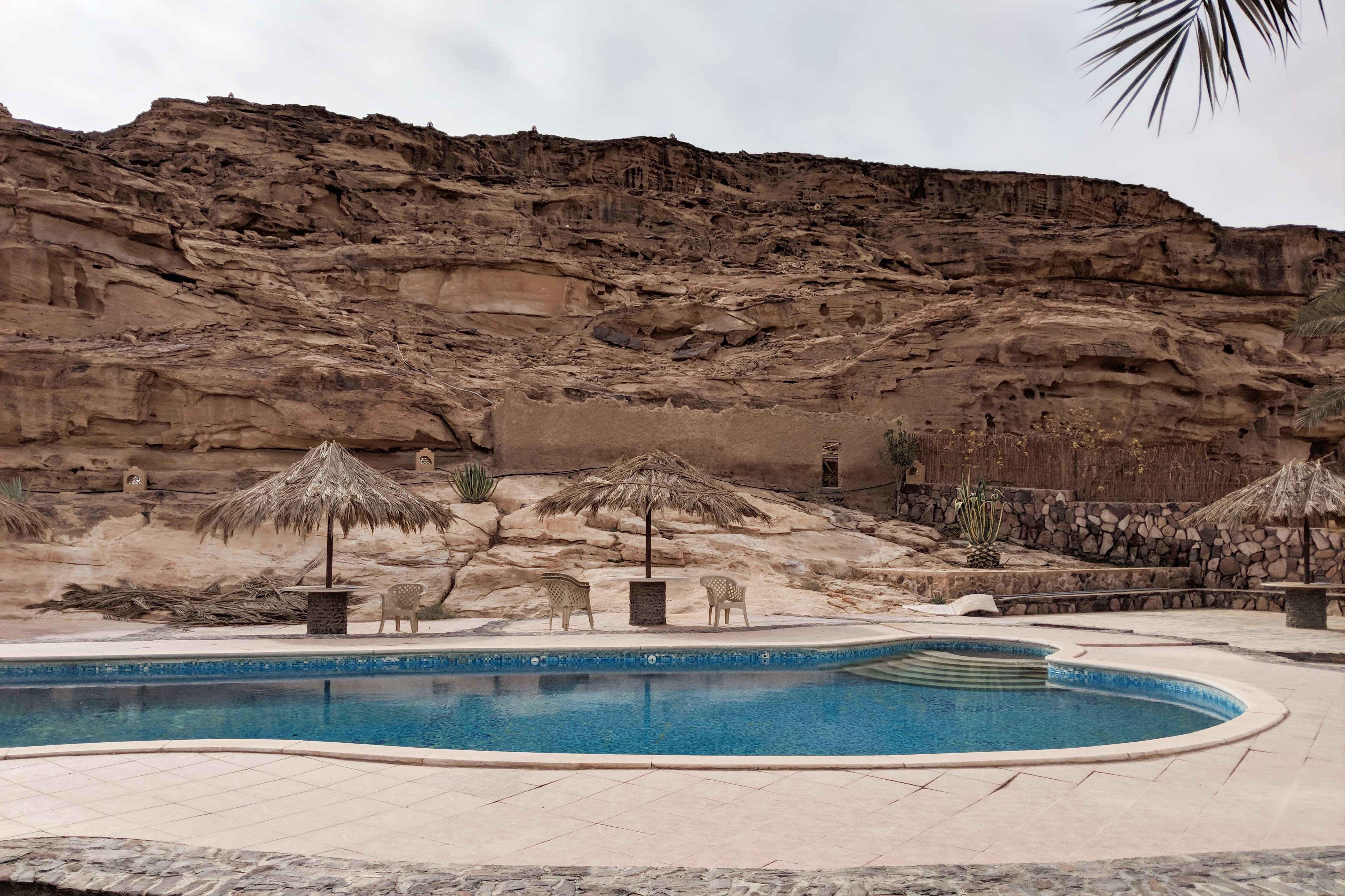 As for NYE – well it was a night to remember. People from all over Jordan came for this special night. Great food, modern and traditional music and we danced our way into the New Year.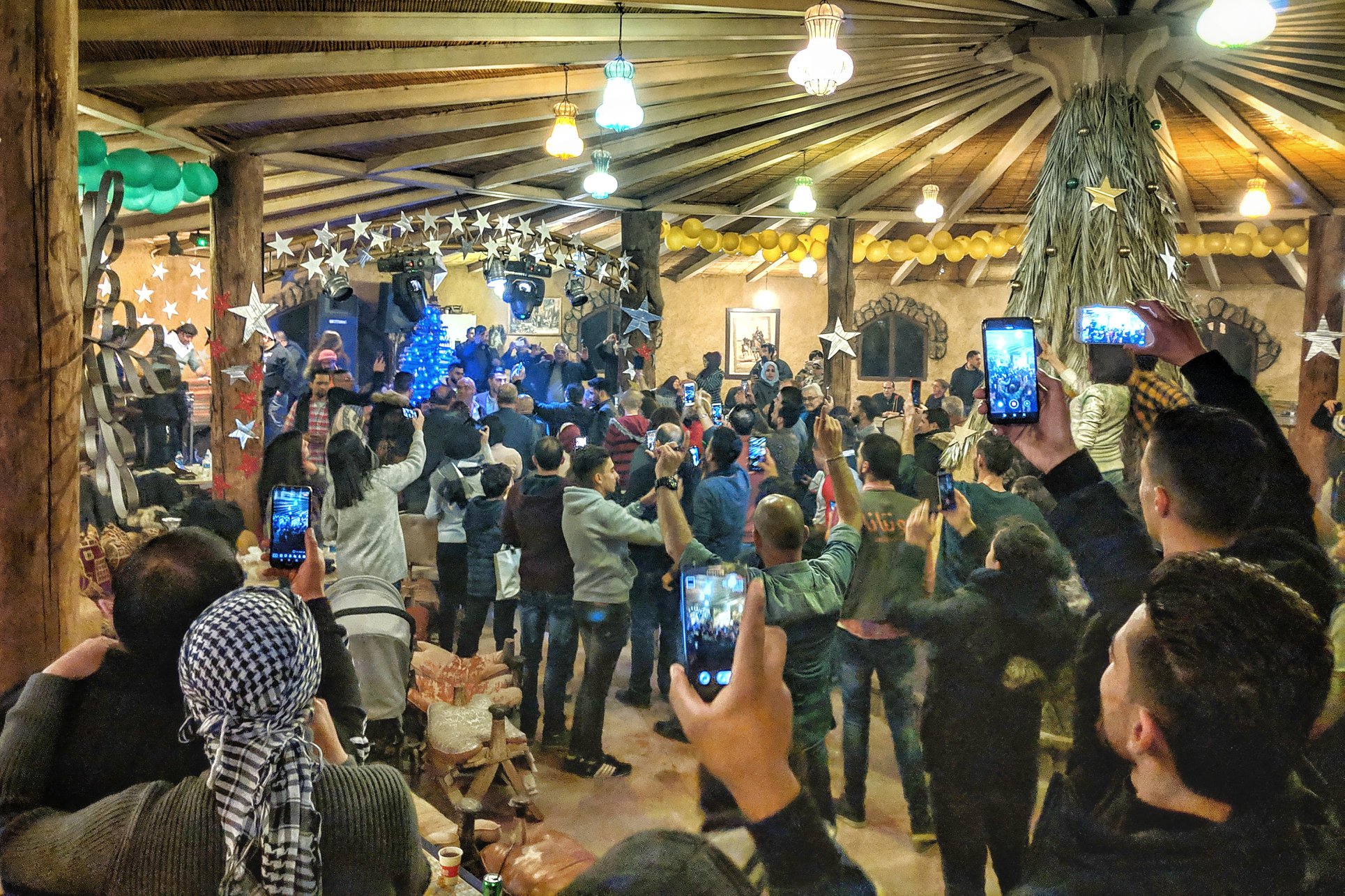 Bail Ali can also arrange a jeep tour that takes you off the beaten track into the deep desert. And this experience I could not resist. I felt like we had landed on the moon, it's no wonder Hollywood chooses to shoot so many films here.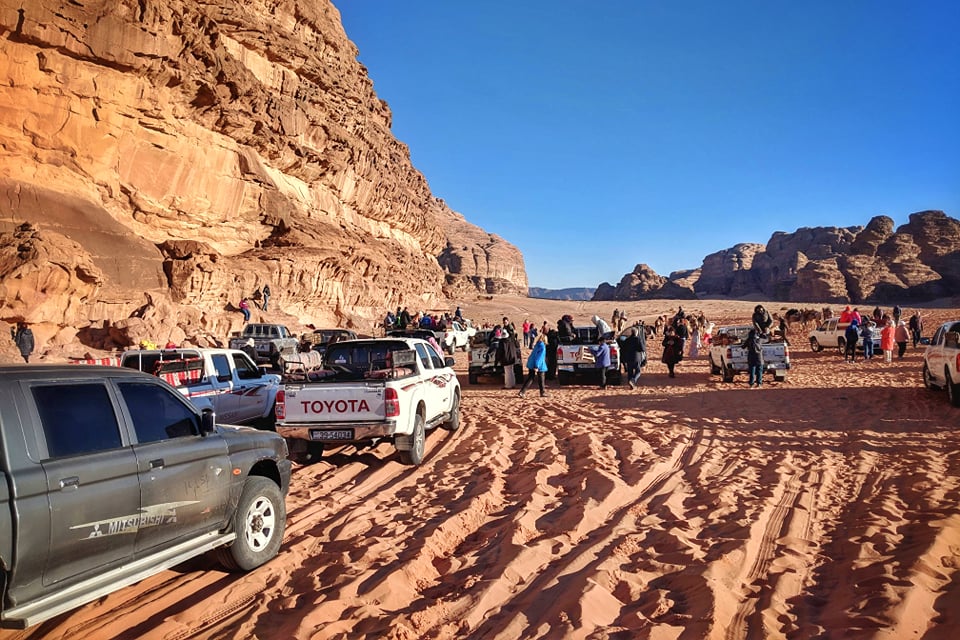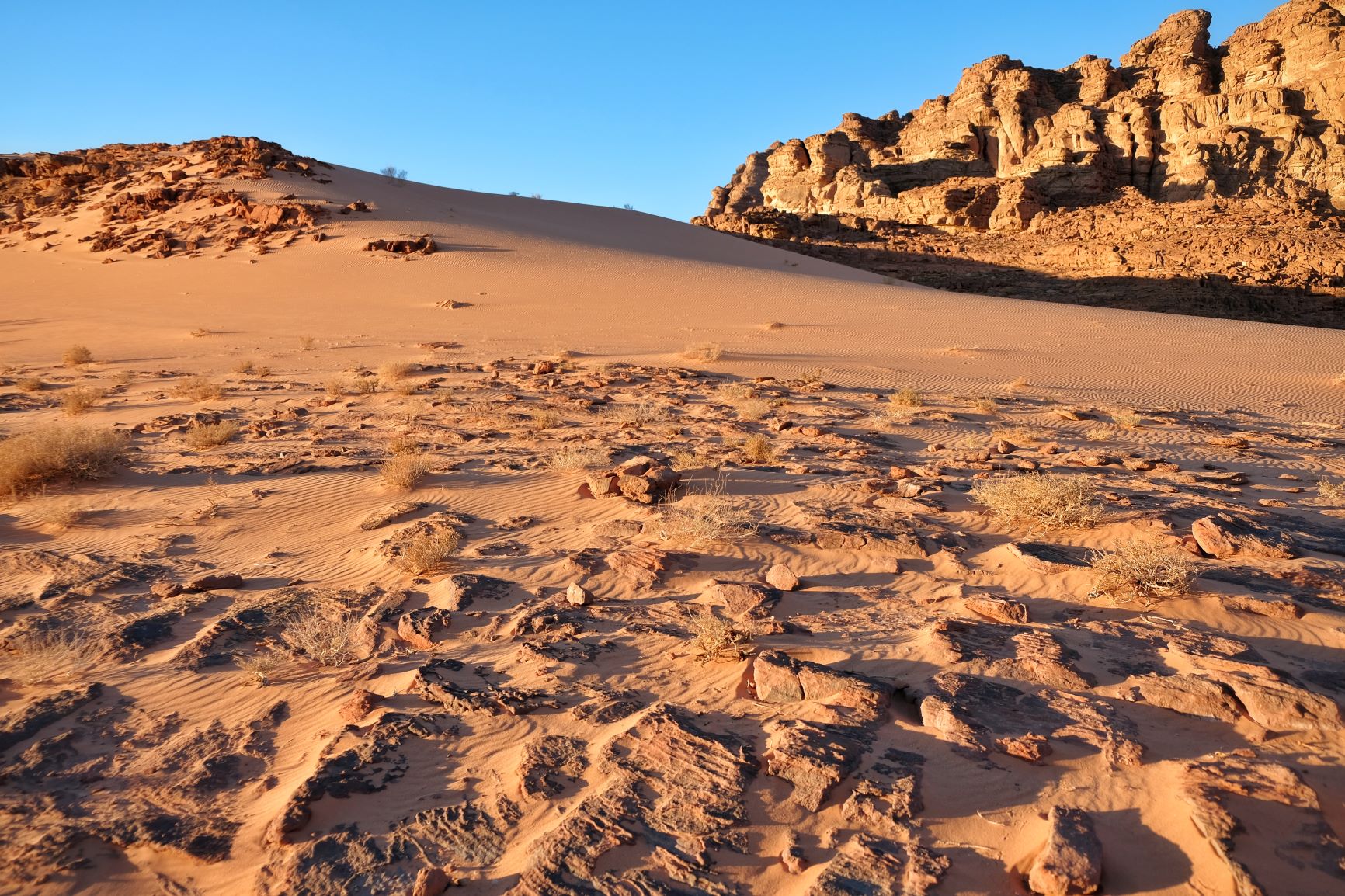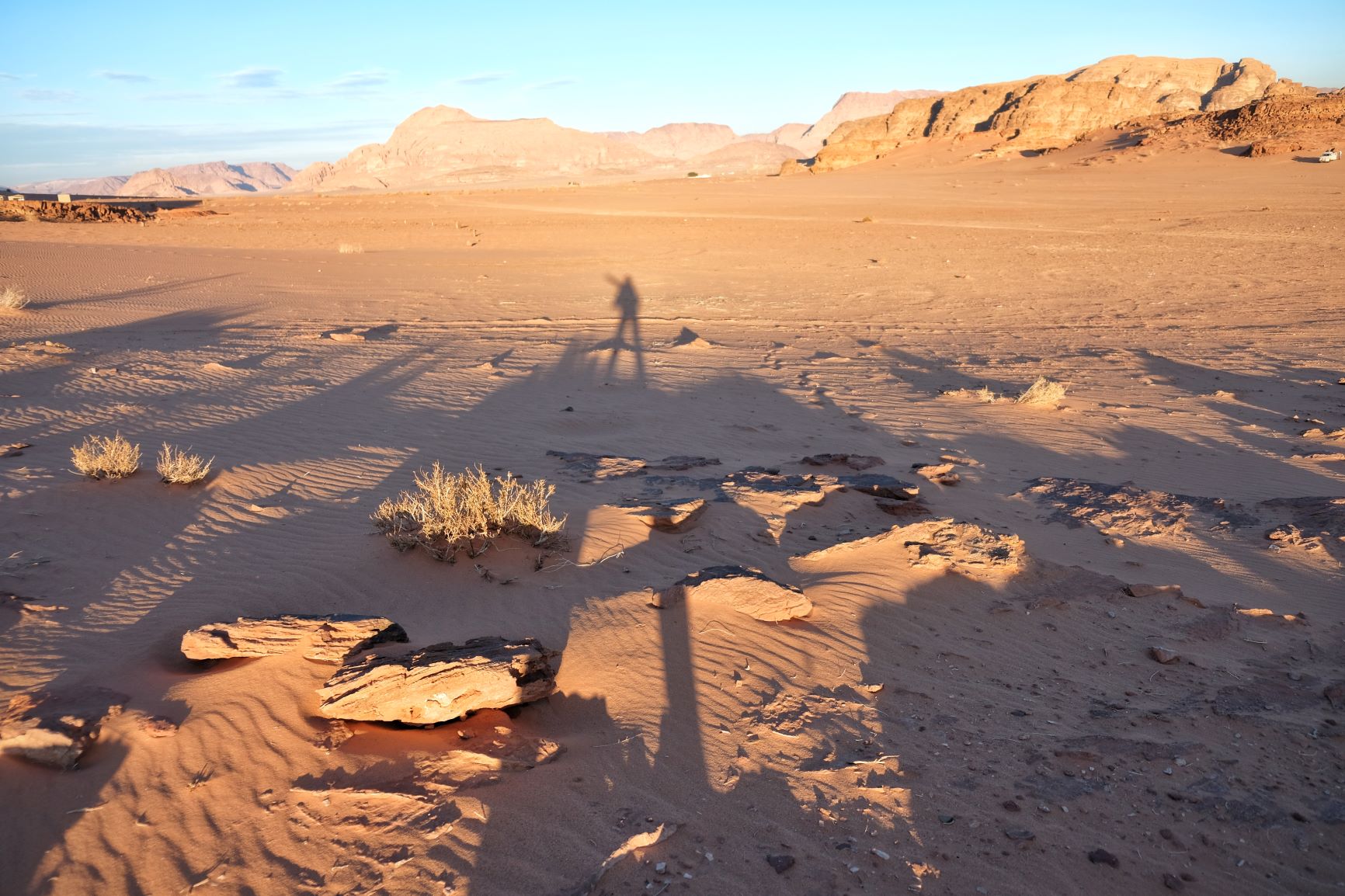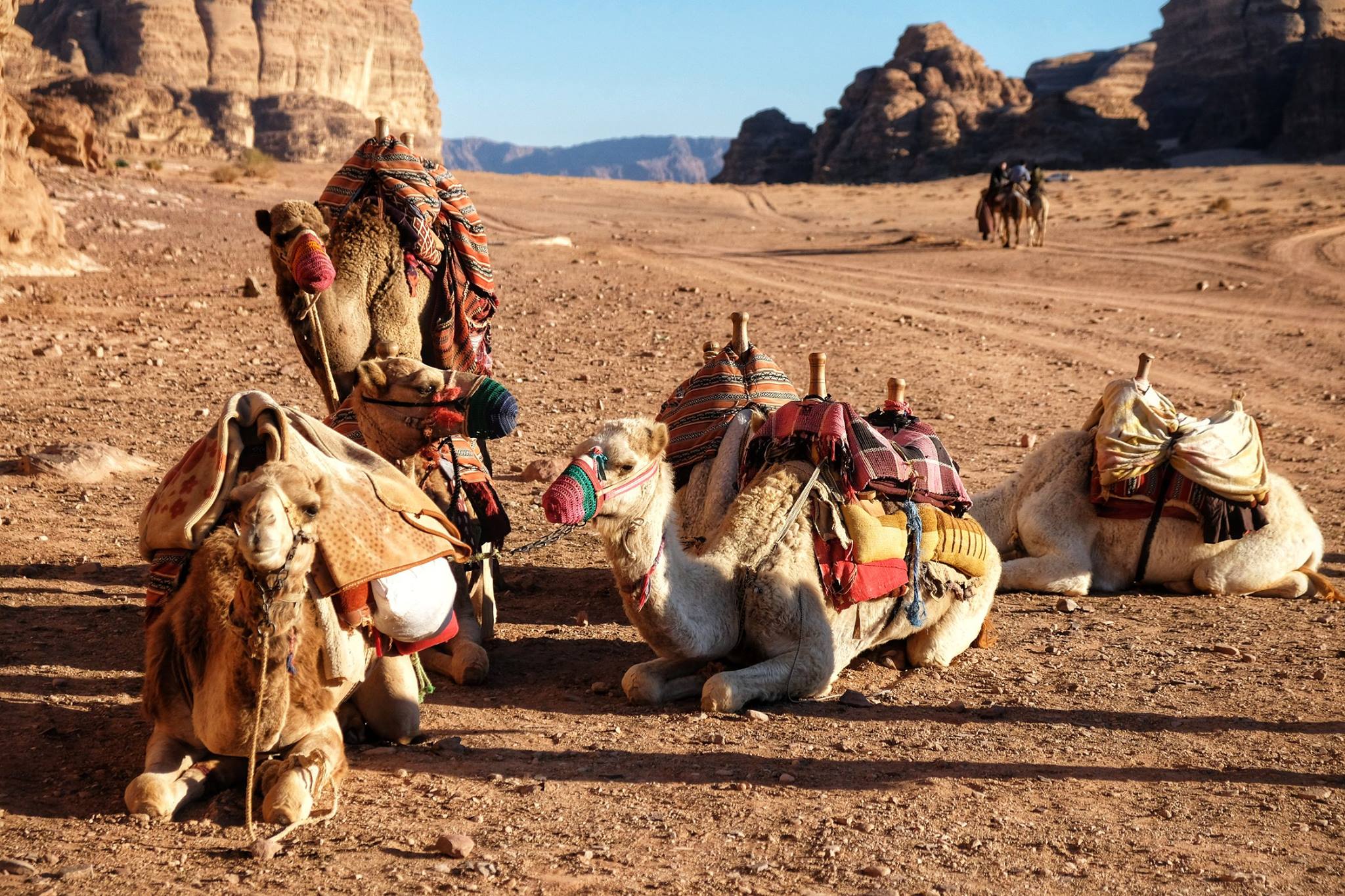 The petroglyphs and inscriptions are all over the desert and illustrate over 12 000 years of human inhabitation here. It's quite surreal when you think about it.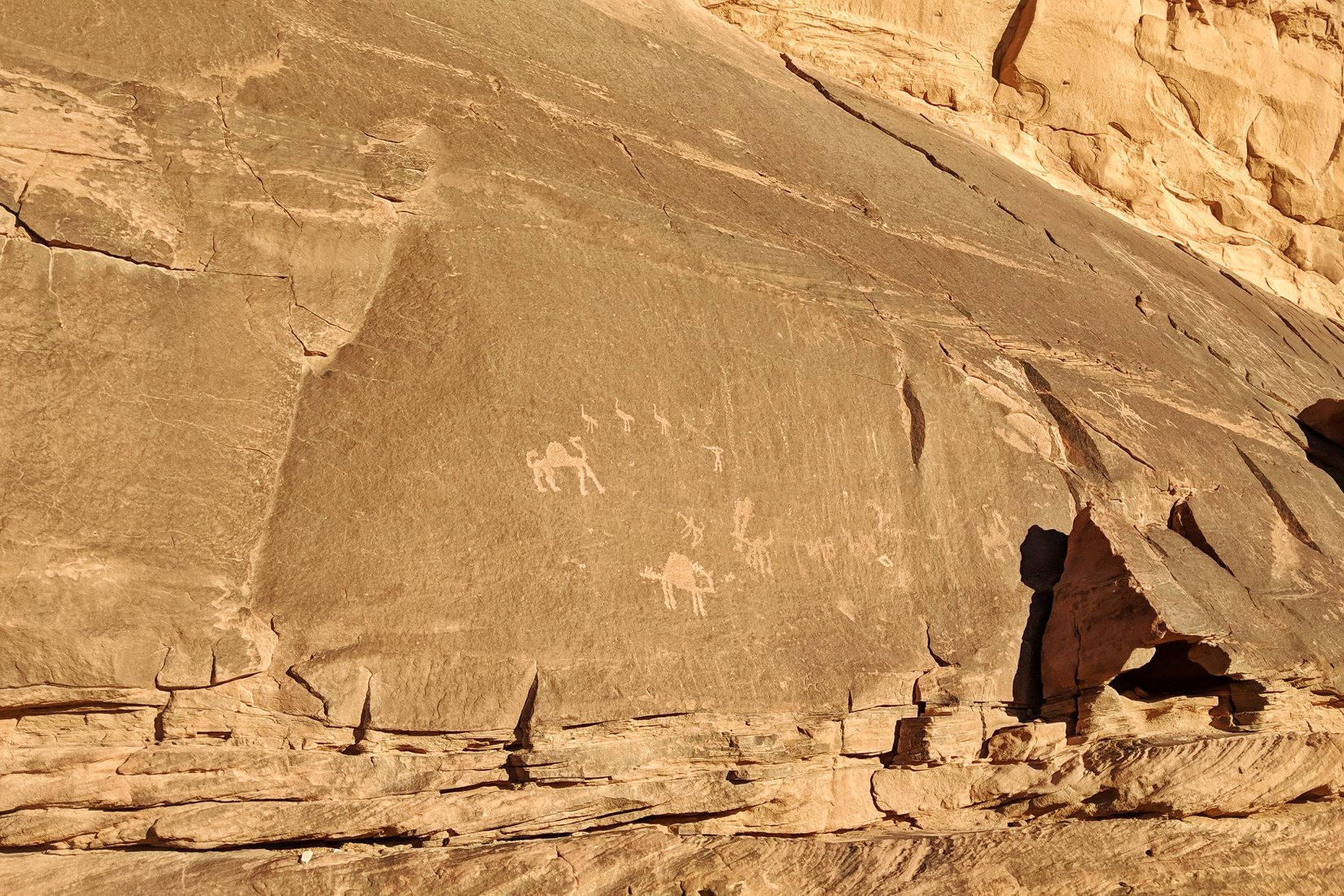 Camping in Wadi Rum
It's been a long time since I'd done any offroad riding and my leg was still healing after my misfortune at the GS Trophy. I had developed some paranoia that falling again would cause the titanium rod inside my bone to shatter the bone.
But it wasn't the time or the place for paranoia. I was in Wadi Rum and I had to ride into the desert no matter what! This ride was a turning point, finally, I got my mojo back!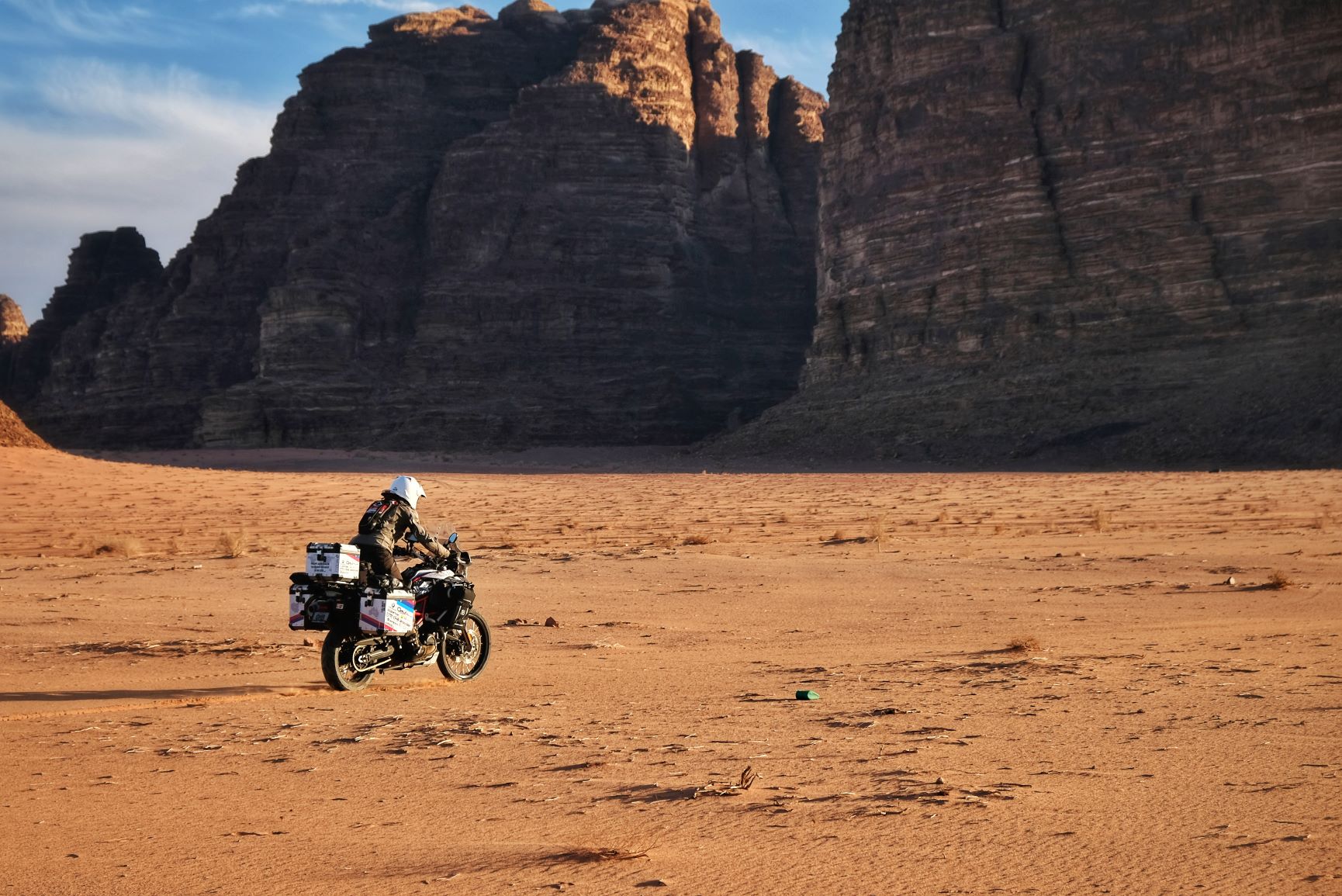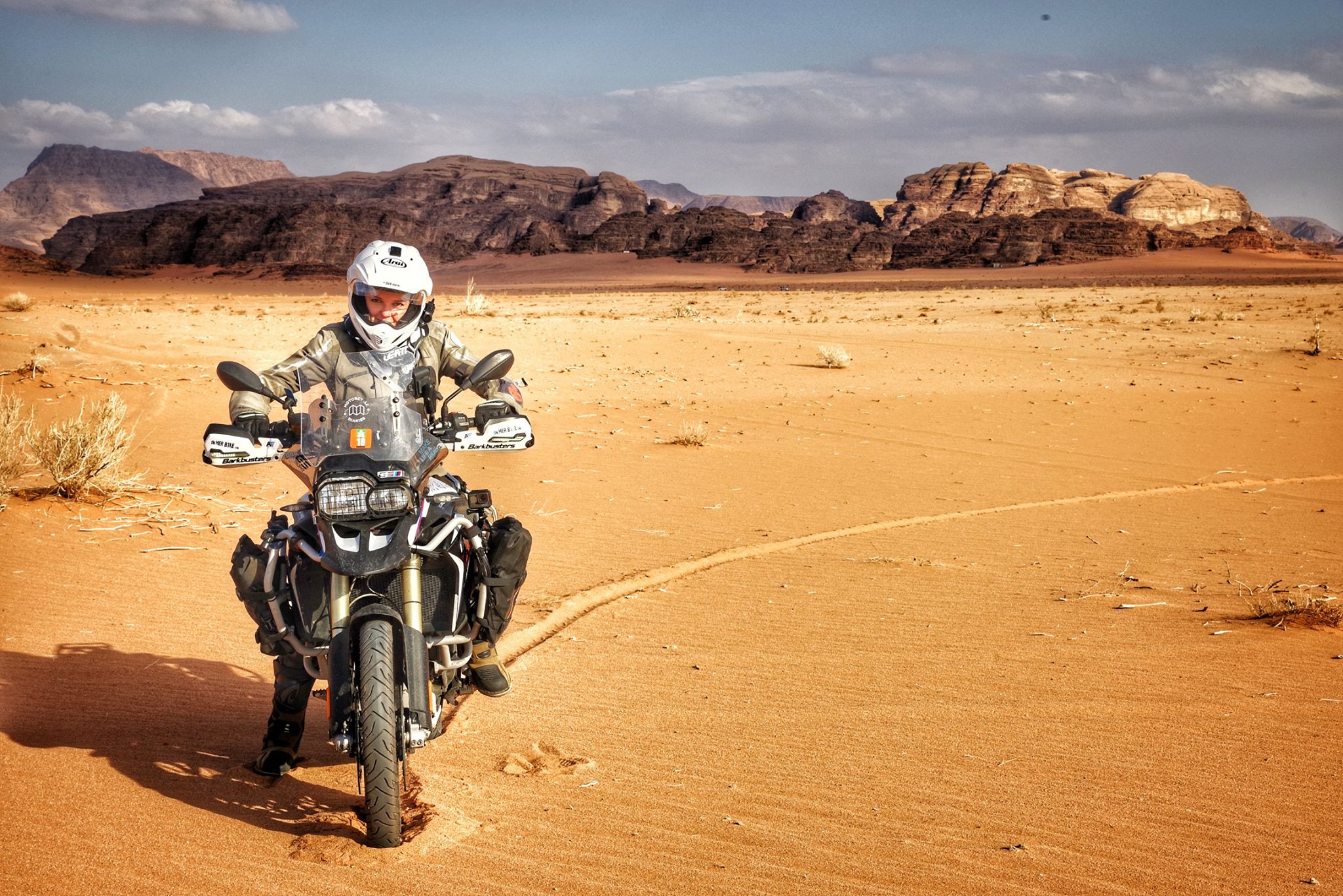 And when I dropped it, I owned it 😉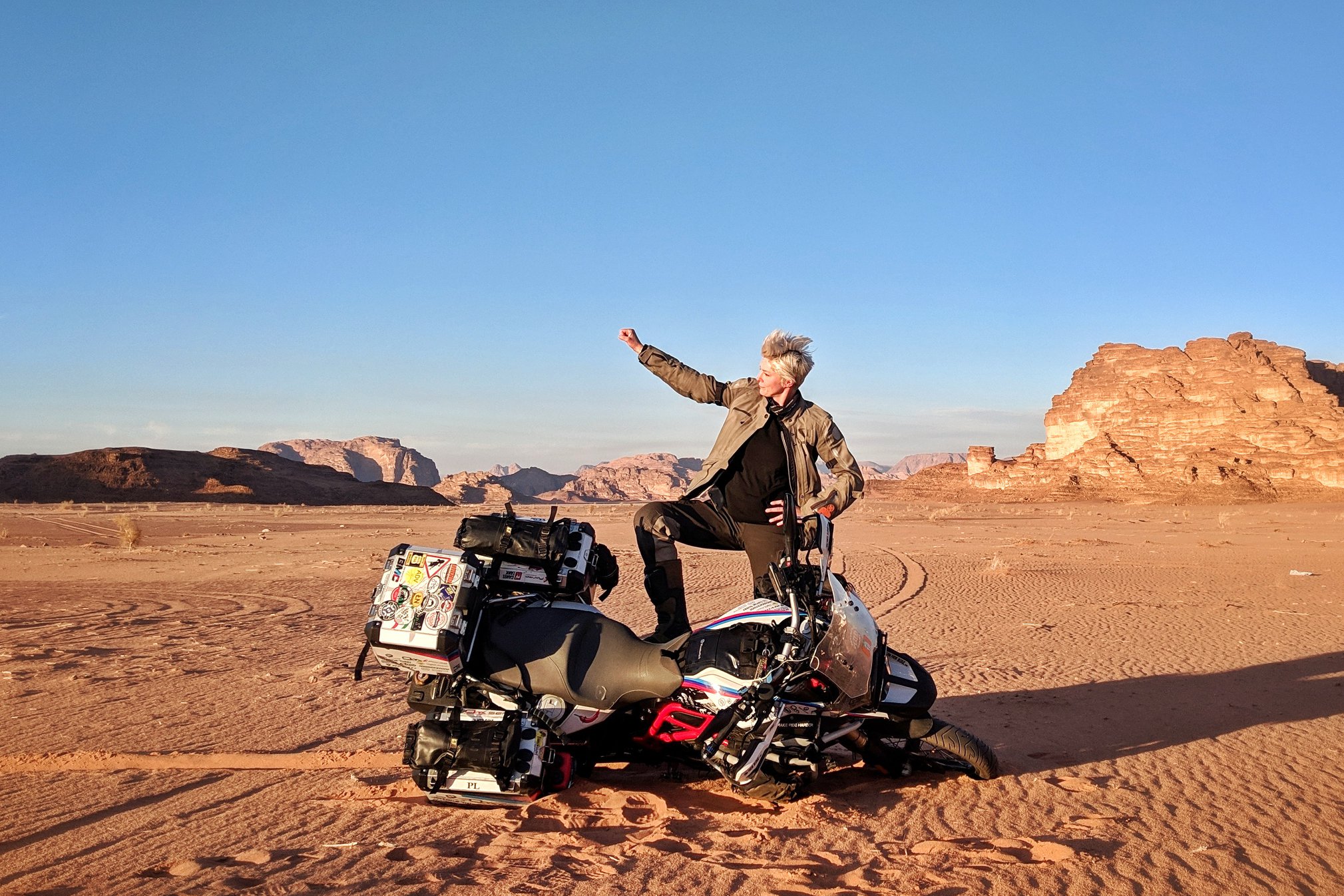 And of course, I had to camp in the most perfect of circumstances. So I parked Chillie for the night, set up my tent and picked up some dry bushes for a fire, cooked a meal and admired the billions of stars in the sky. An unforgettable moment.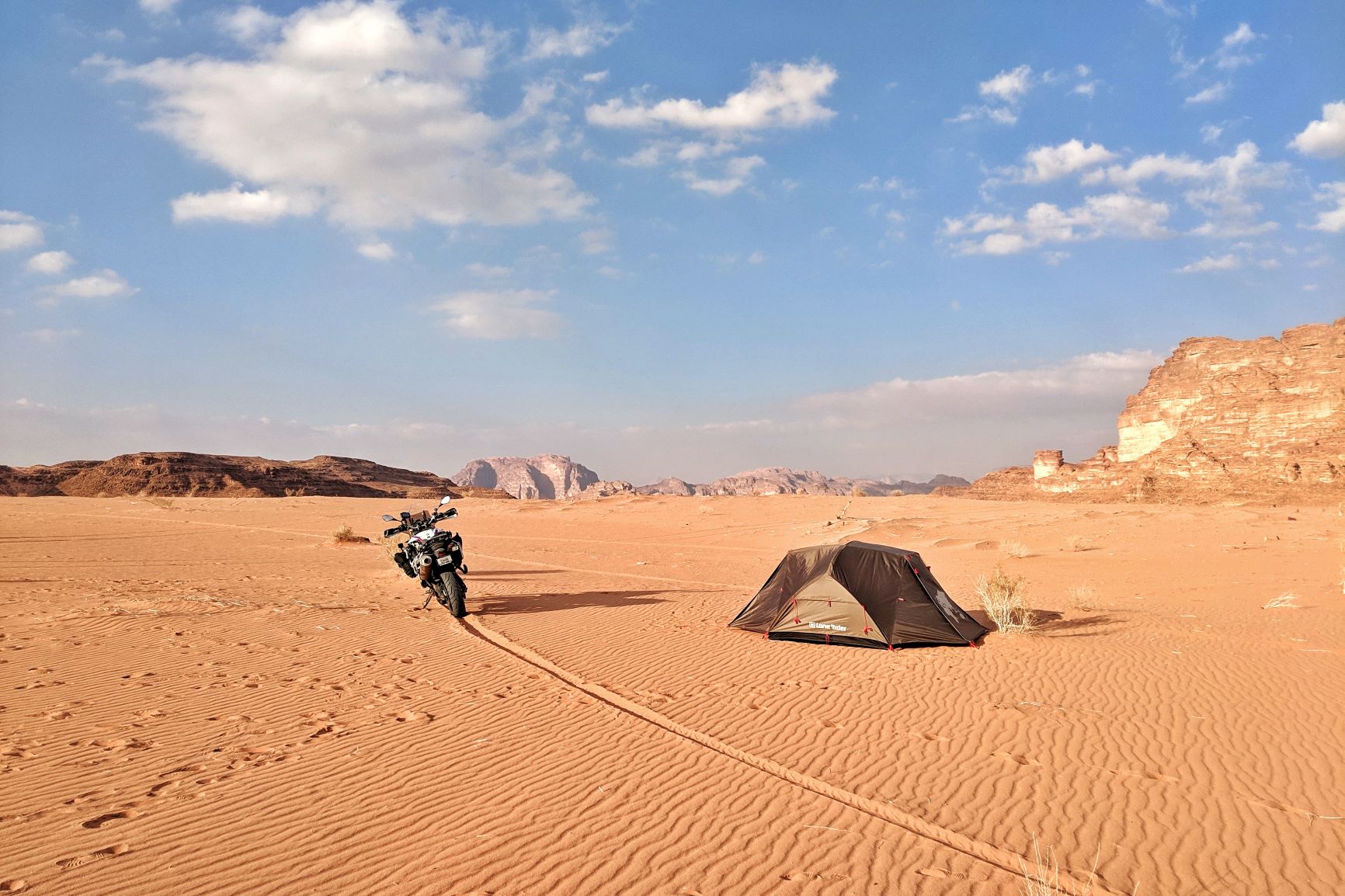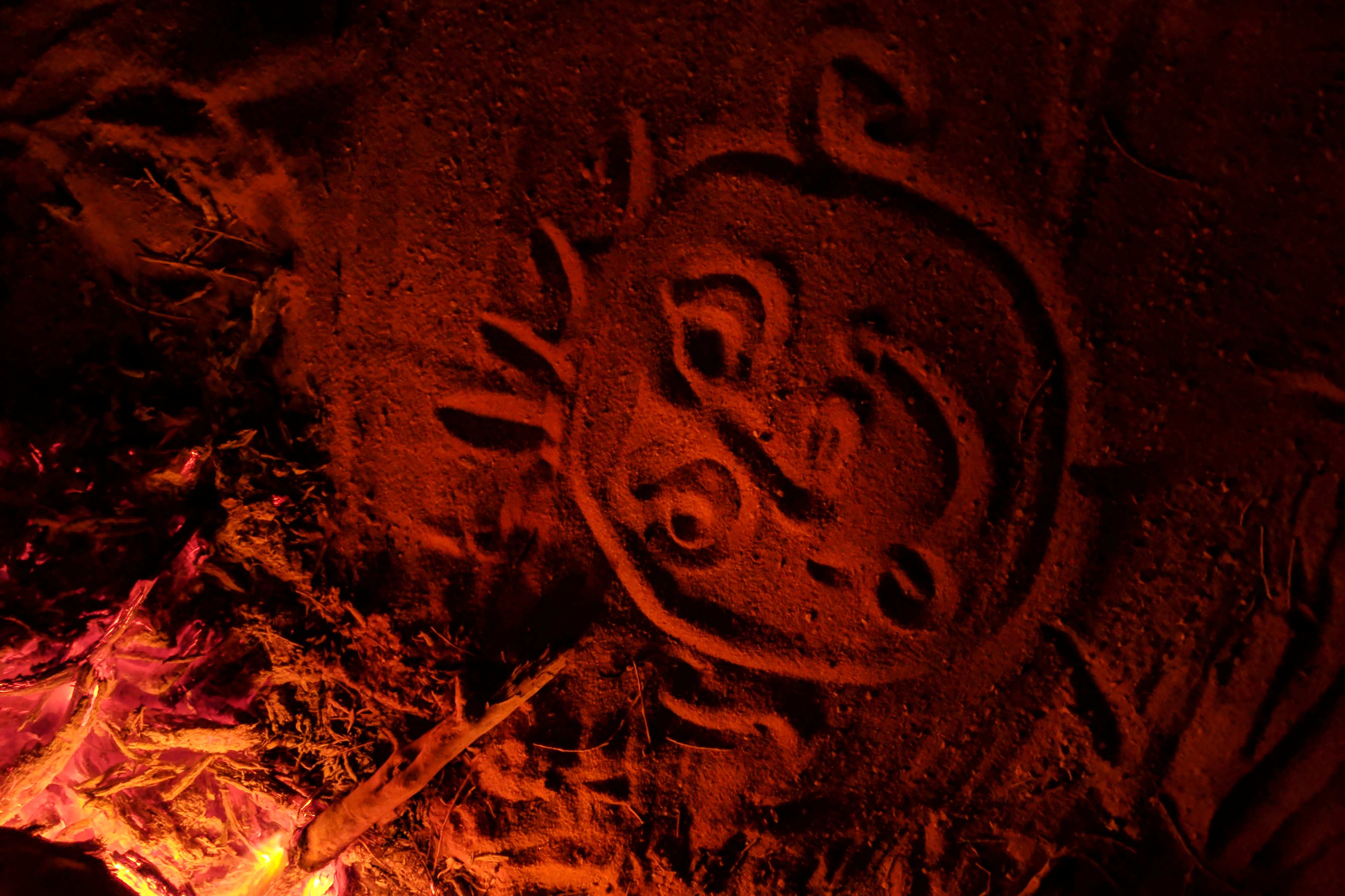 KTM Ride
After these blissful days in the desert, I went back to Amman to join some ADV riders for a little social ride. The ride was organised by KTM… so yeah I went to the dark side… just for one day though 😉 I was offered a ride on a KTM 1190 Adventure R for the day and who was I to say no! It was a great day with great company and it was a very interesting experience riding such a beast (compared to my Chillie).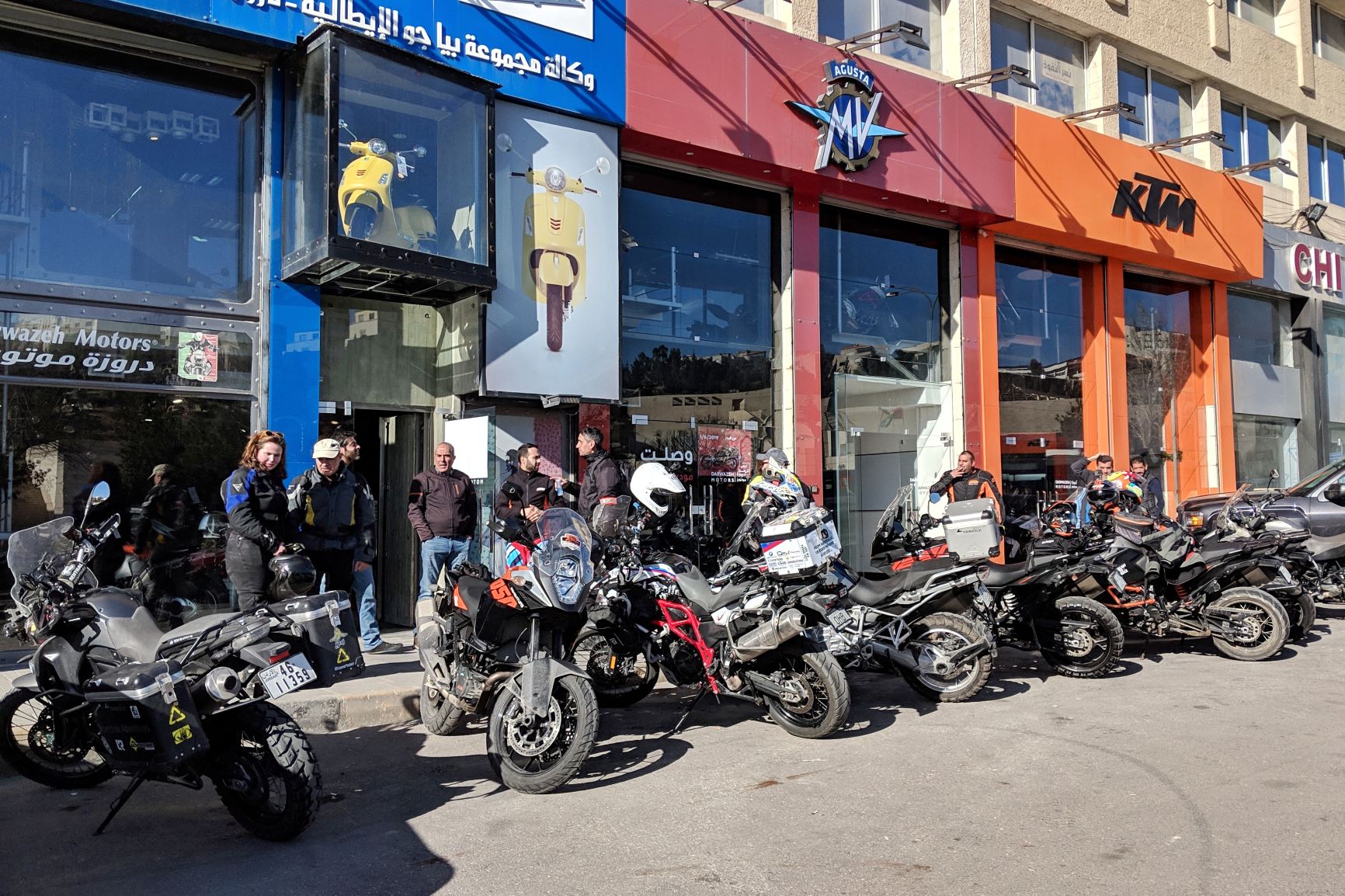 We did a route through Northern Jordan along the Jordan Valley and close to the border with Palestine.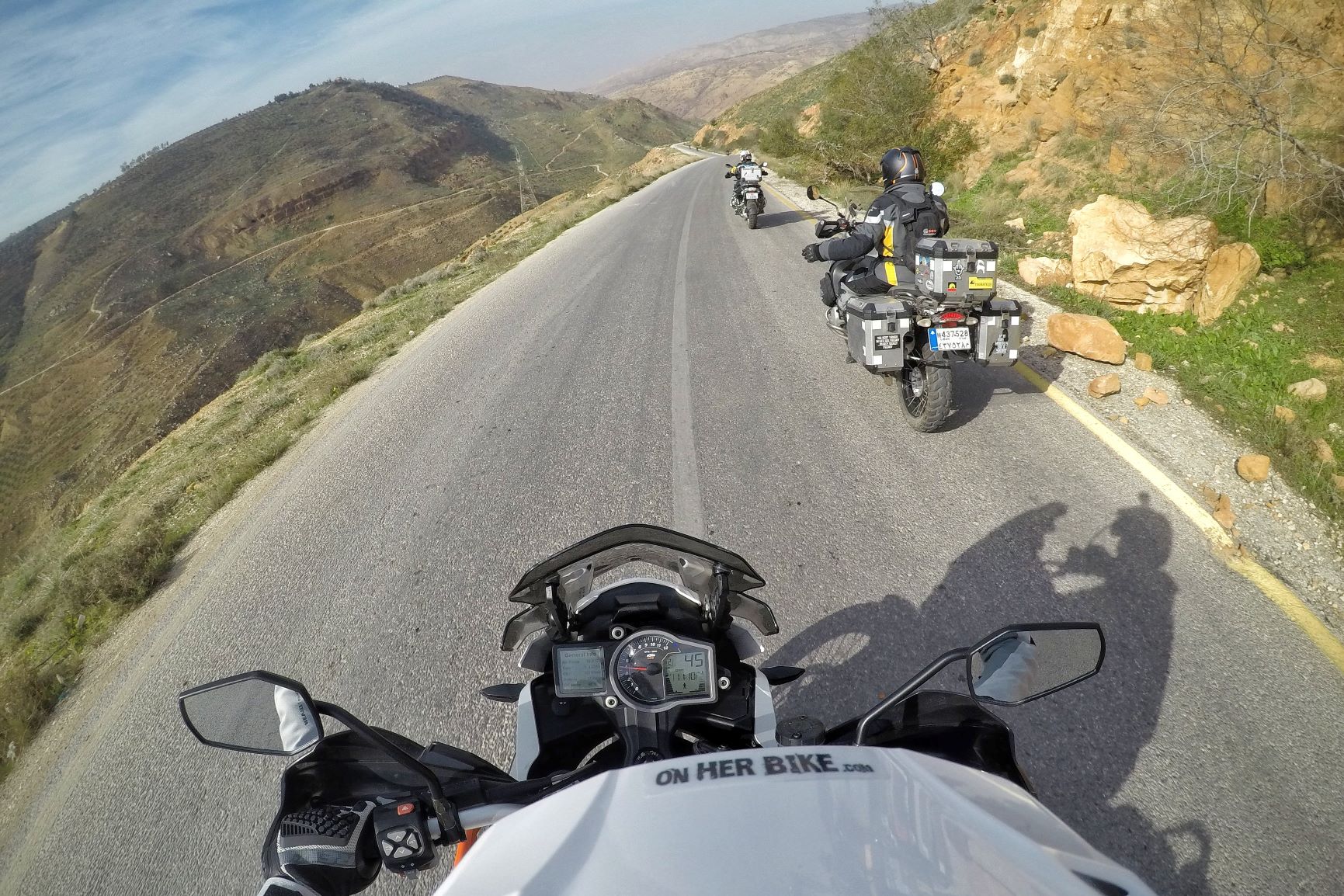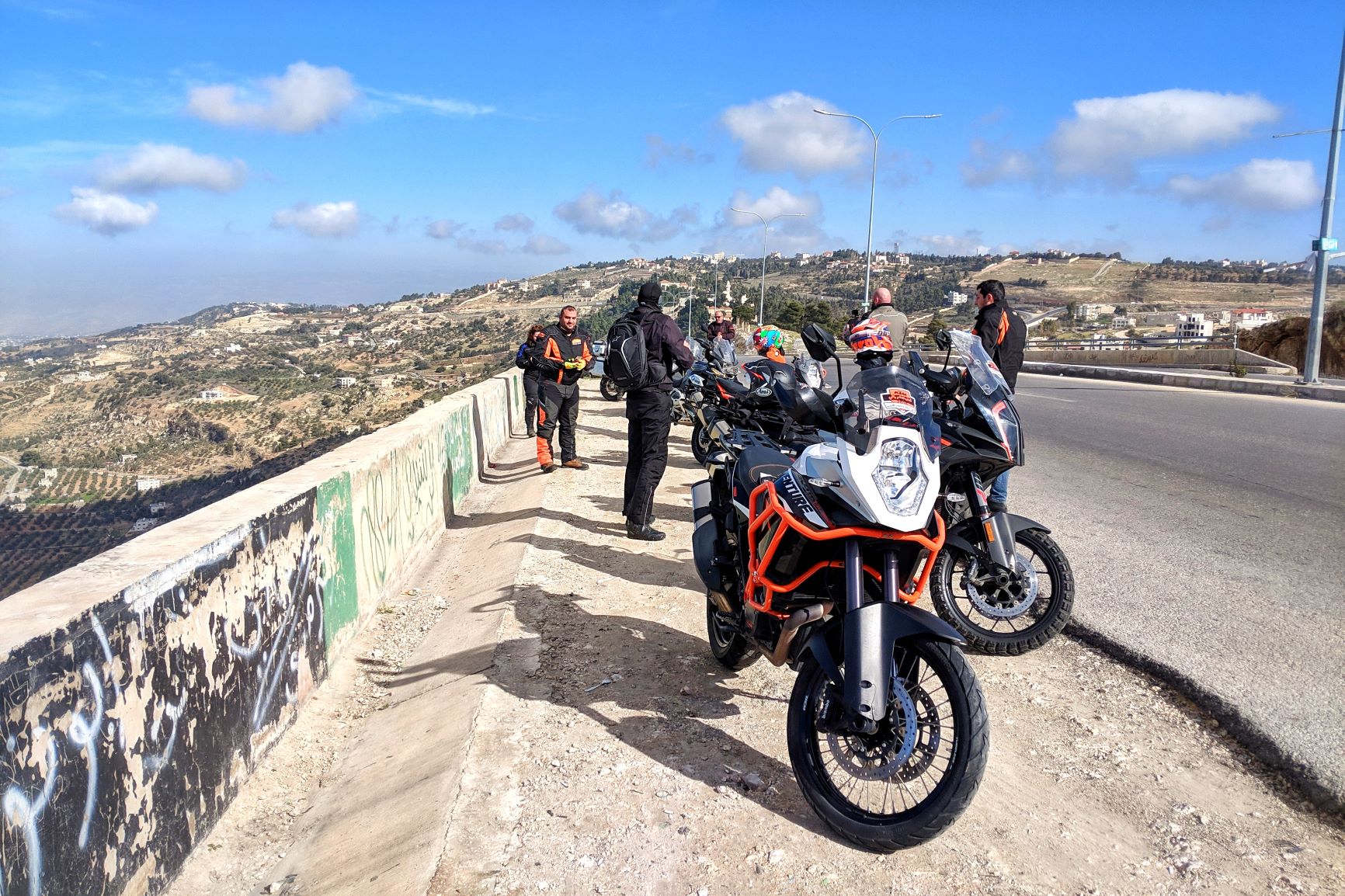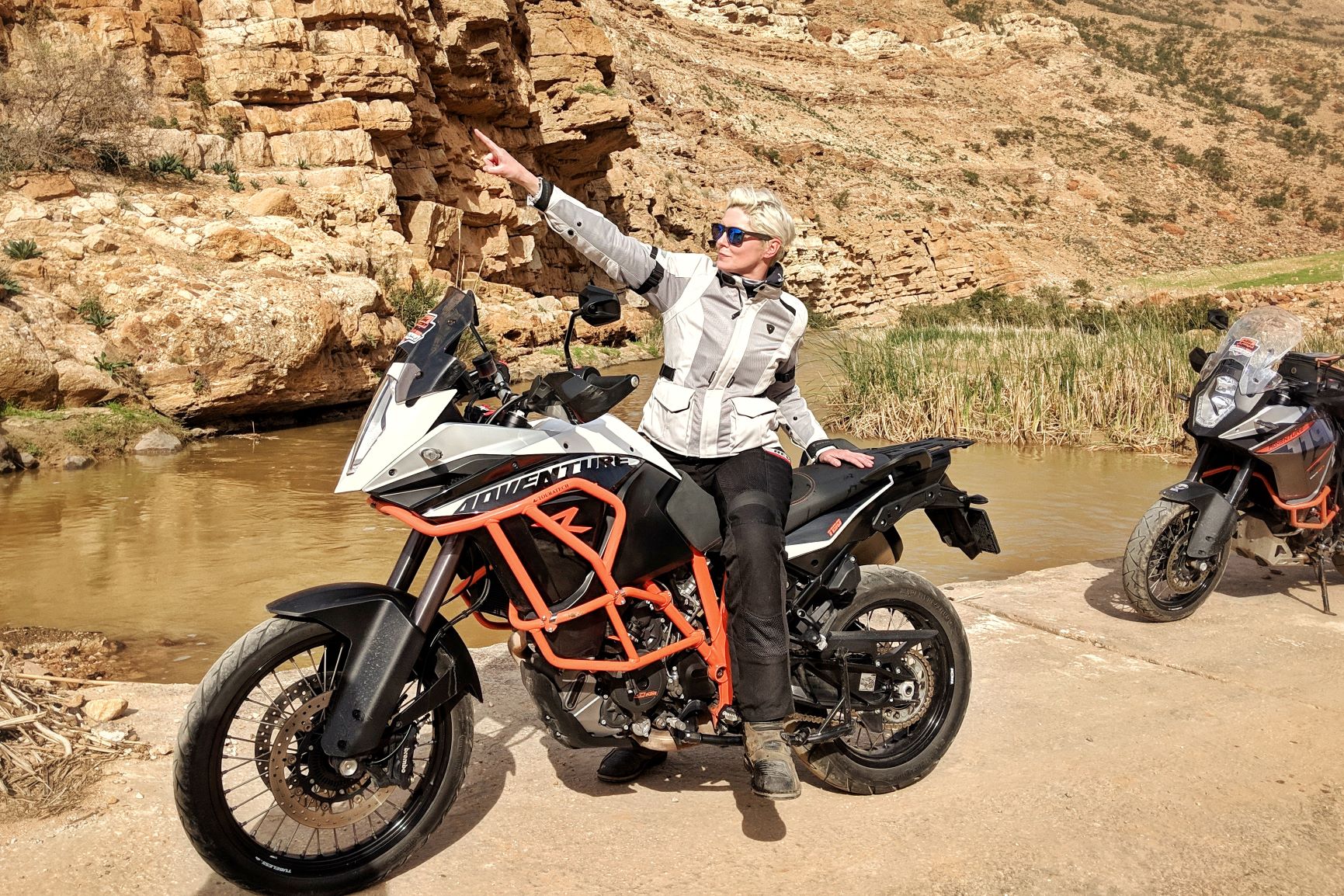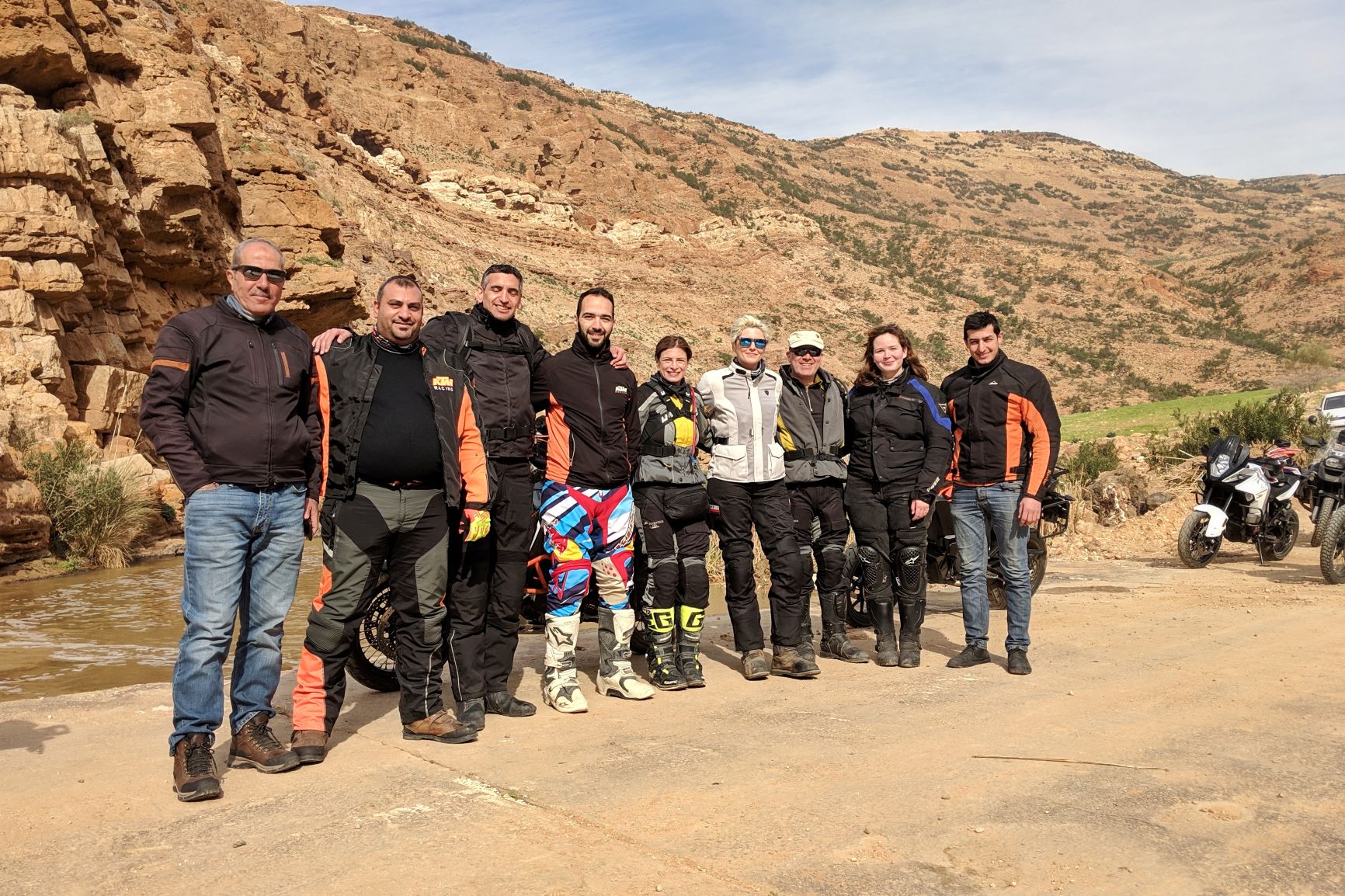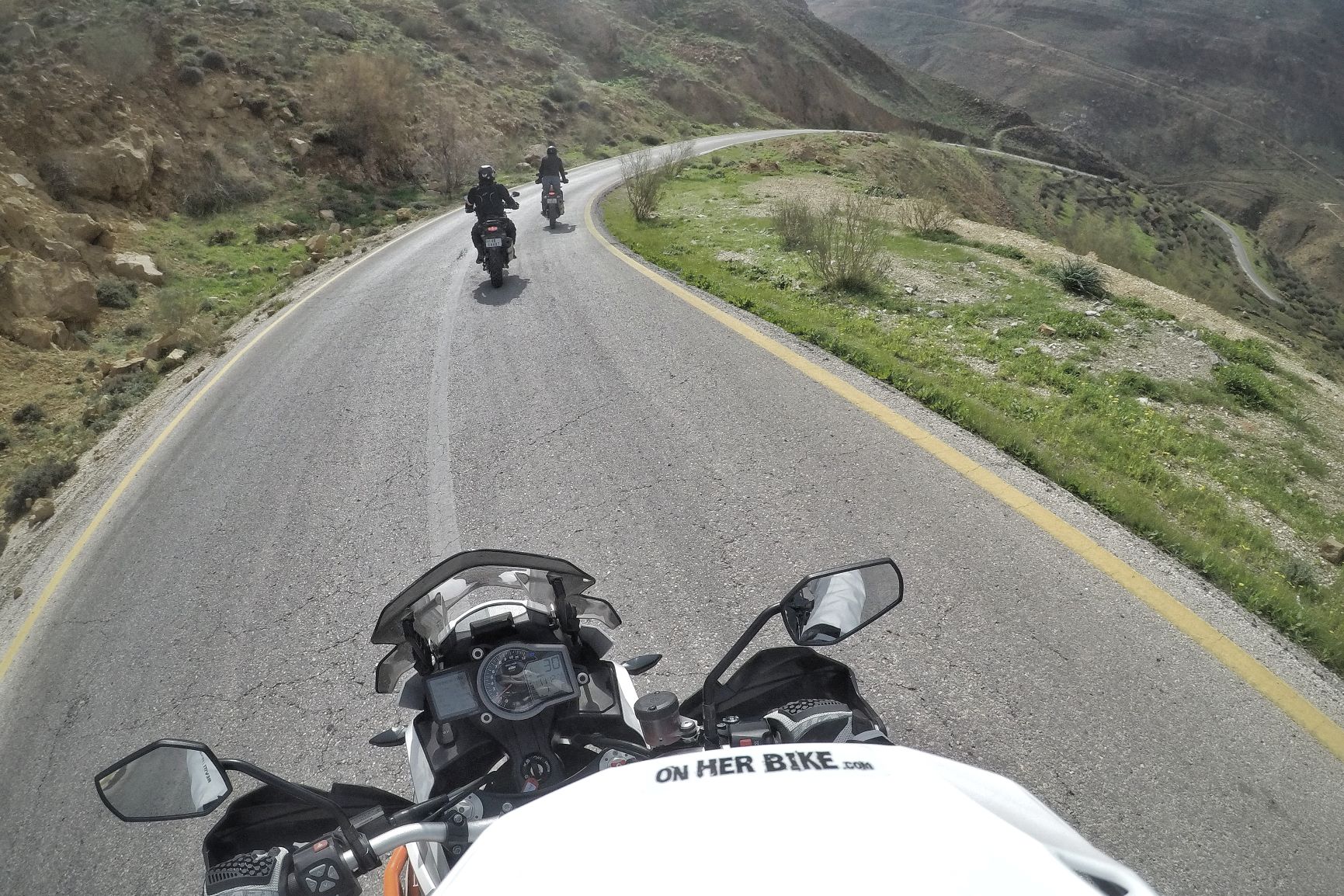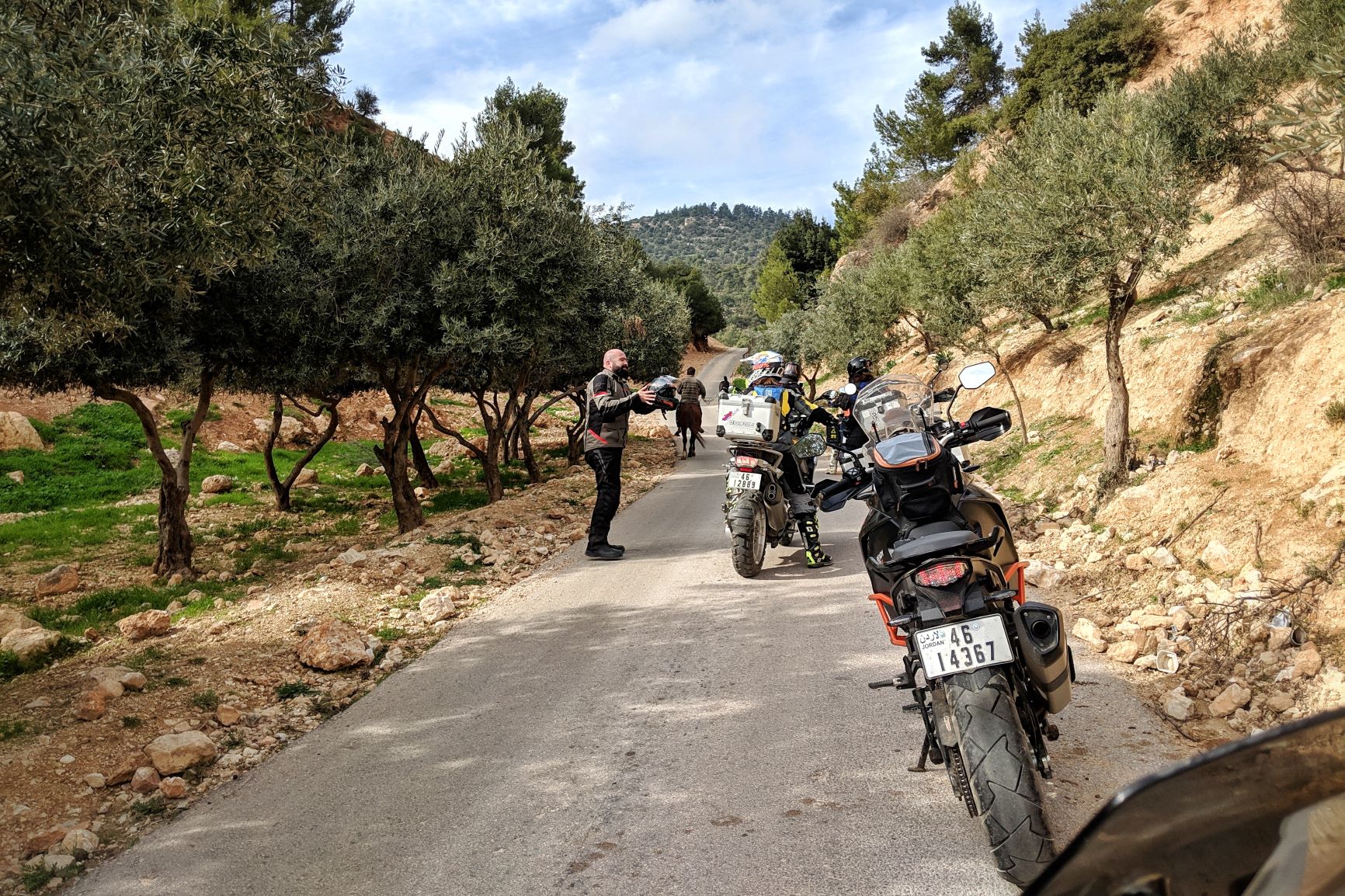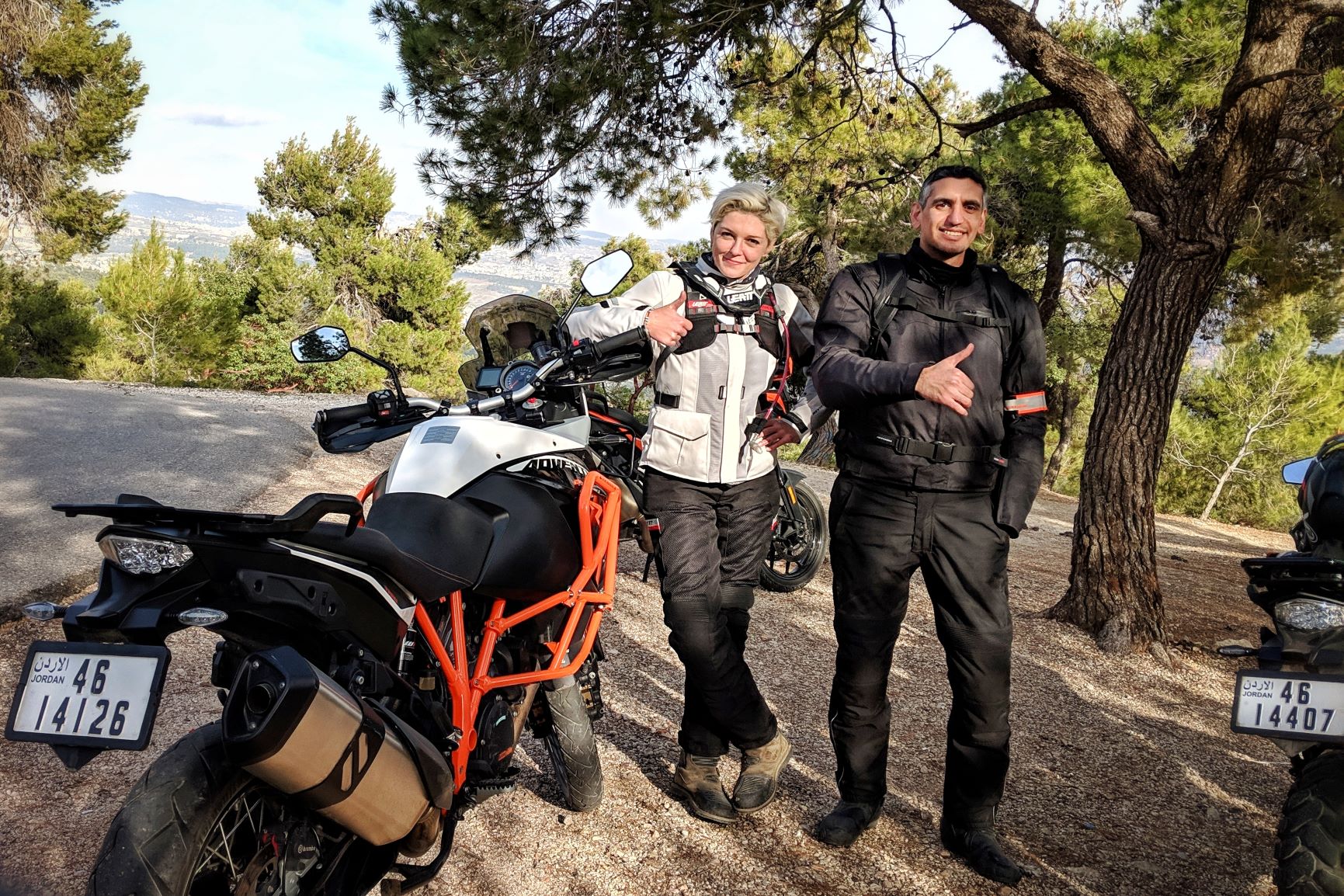 And of course, there's always time for wheelies!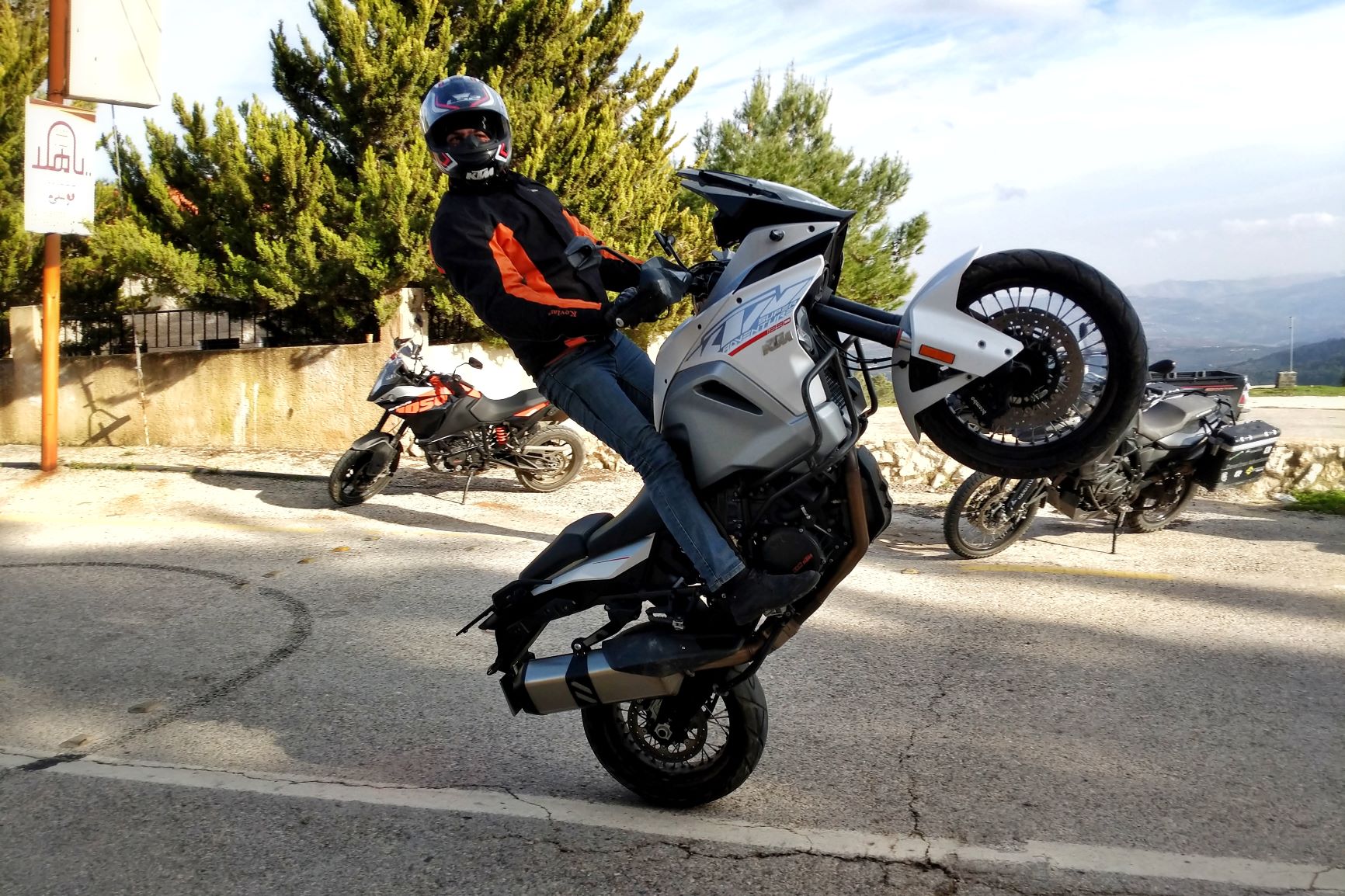 It was a great day with great company and it was a very interesting experience riding such a beast (compared to my Chillie). Thank you KTM Amman for organising this great day and giving me the opportunity to meet all these wonderful people.
Bye Bye Jordan
I sadly had to say goodbye to Maya, Bishr and their 7 cats. Maya did a final ride with me to the Dead Sea, where we said Goodbye. And again it wasn't easy…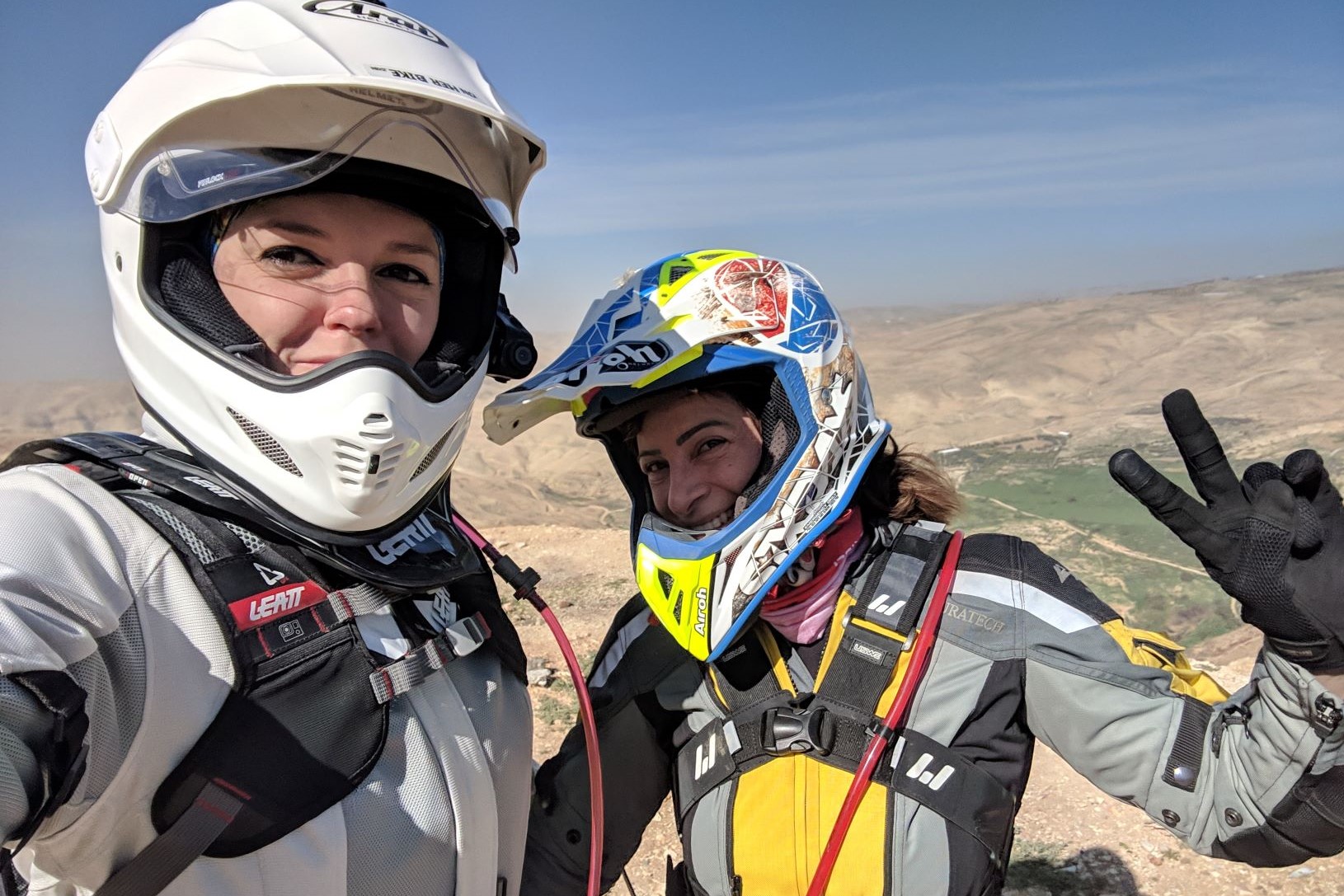 I rode down to Aqaba – it felt like I'd done this road a hundred times already. Back to the same Aqaba View Hotel. Zaid welcomed me at the door, happy to see me. Lot's had happened in his life since my last stay. He'd got engaged and bought the hotel with his partner. We had a nice chat about his vision for the place and I really hope he can make it all happen. (If any of you are down there you must pop in and give me an update!)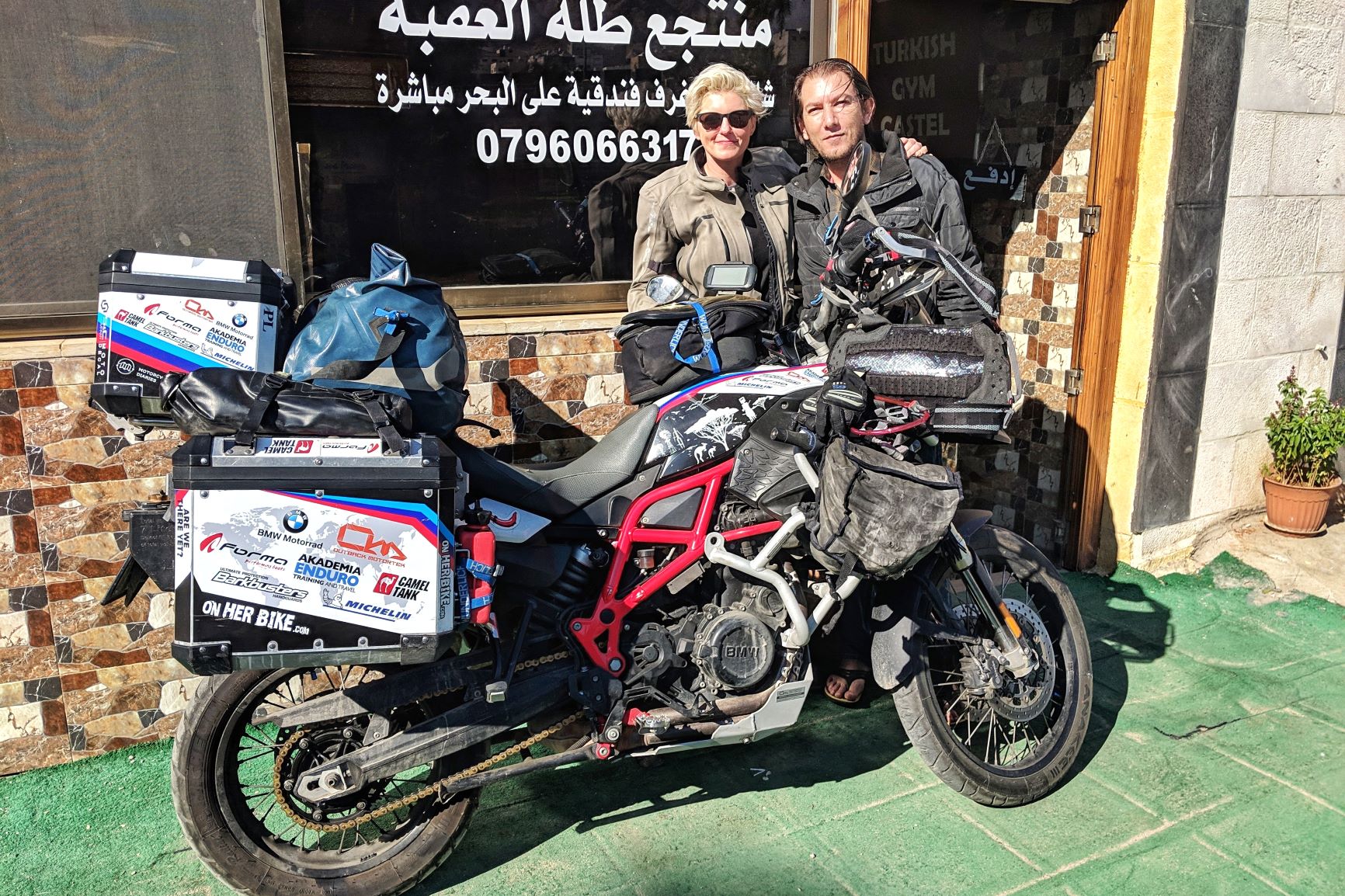 My ferry to Nuweiba in Egypt was departing at 1:00 am. Ouch! And seriously that's the only option, there are no other ferries at any other times. But you have to arrive much earlier at the port. I had arrived there at 7:30 pm to pick up my drone and do all the customs procedures which took 3 hours! Yep, it's kind of a disorganised place.
In terms of fees, well it's the most expensive ferry I've been on, taking into consideration it's only a 3h ride. A passenger ticket was $75 plus $75 for the bike. Also, there were exit fees at customs, 25 JOD ($35) for me and 10 JOD ($14) for the bike. So yeah it's not a cheap procedure, but it's the best and least problematic way to enter Egypt.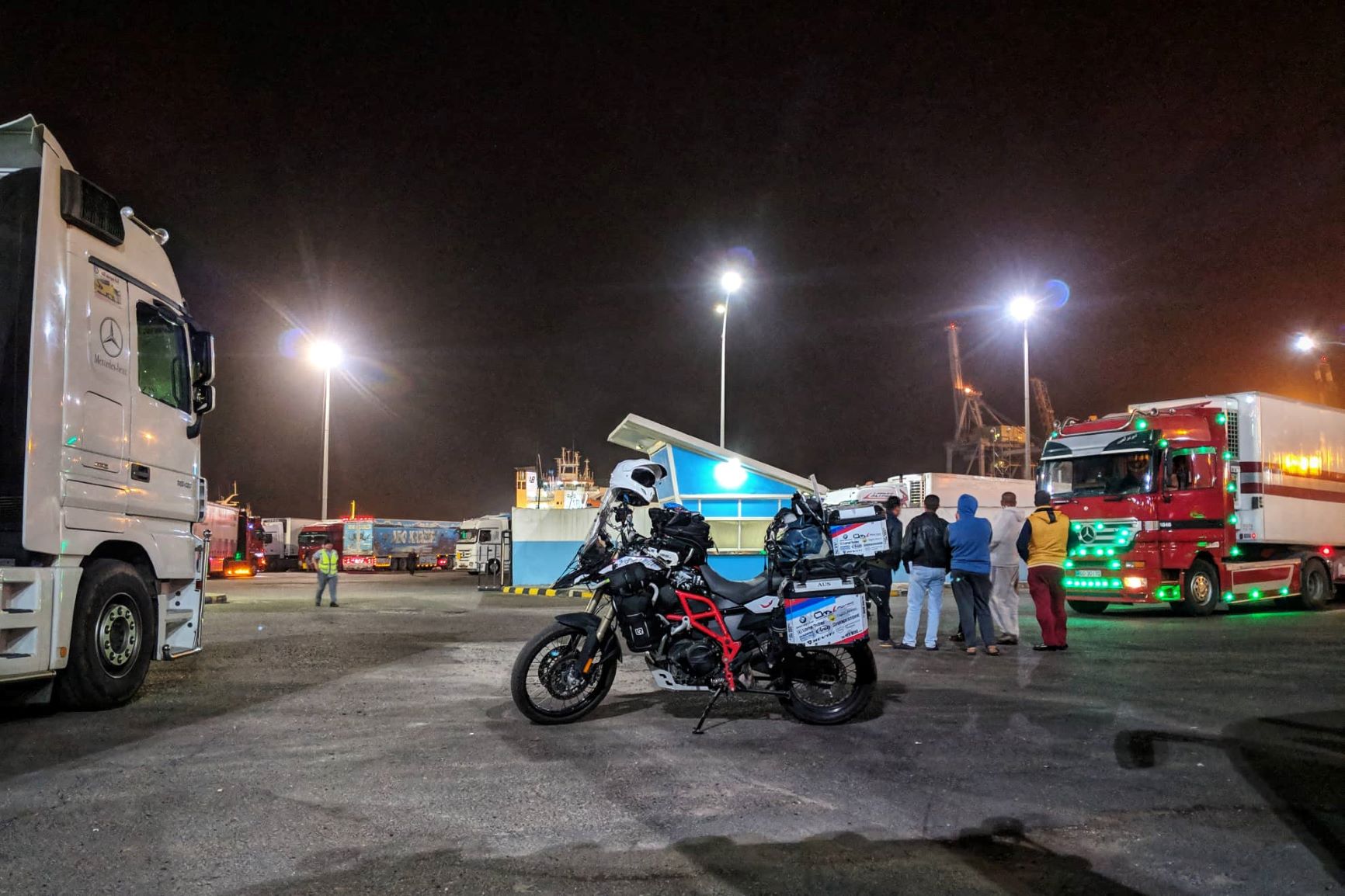 So this is how I entered Africa, a completely different continent…
In Numbers:
Duration:  13 days (16th December 2018- 3rd January 2019)
Total km's: 1181km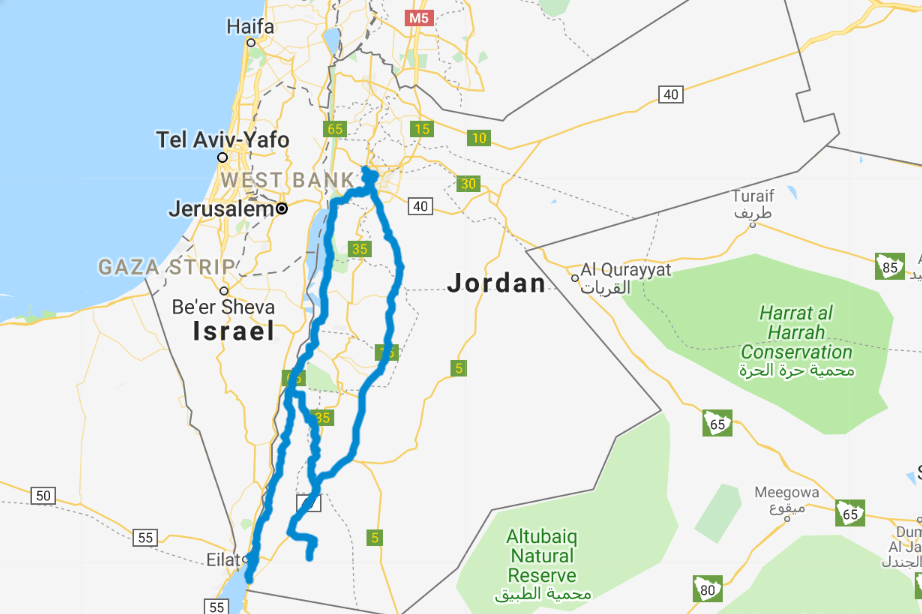 The "Are We There Yet" World Tour is about more than just me seeing the world on a motorcycle. Throughout my journey I'm raising money for a young disabled child in Poland named Franek. Franek was diagnosed with cerebral palsy (weakness of the entire right side of the body) and he will require constant rehabilitation for the rest of his life. All the money raised will go directly to helping Franek and his family lead as normal a life as possible so please donate  generously:
www.gogetfunding.com/arewethereyet
Check out my videos from Jordan!