Review – BMW Tank Bag
My tank bag and I have been through a lot together … we've gone right around Australia – and beyond. We've endured torrential rains, braved extreme temperatures in the outback, copped the occasional fall, and even survived a head-on collision that wrote off the bike … yep, I'm still using the same tank bag!
I can easily say that this is the one piece of equipment I use most. I mean, I might not take my side cases for a ride, I might choose between different jackets, but I always have my tank bag with me.
Why? Because it's handy and easy to access.
According to their site, it 'has an expandable capacity from approx. 12 to 17 litres' … I haven't had a chance to fill it with water and check that yet, but there's plenty of space if you need it.
Speaking of water, it's waterproof – BUT you have to use it properly. If you're riding in heavy rain, make sure you zip it up completely and also tighten the interior liner. It's pretty simple, and if you do it right, you don't have to worry about your cameras and other gadgets.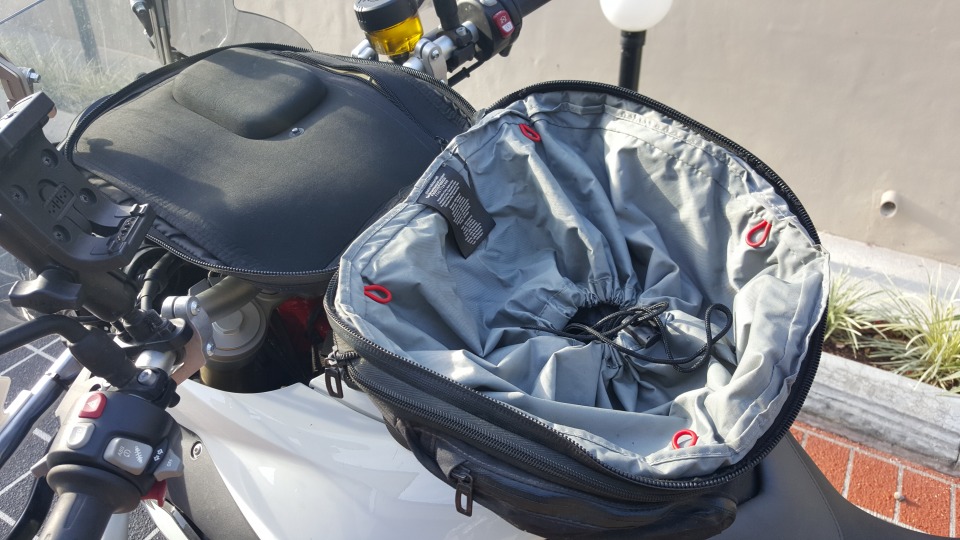 It also has a transparent, waterproof, A4 sized 'map pocket' on top, as well as a smaller cradle for mobile phones. Handy!
Finally, the bag also features 2 stowage compartments on the sides, but note that these are 'spray-proof' and not waterproof, so don't use these for electronic gadgets if you do go chasing waterfalls, please stick to the liners and the pockets that you're used to …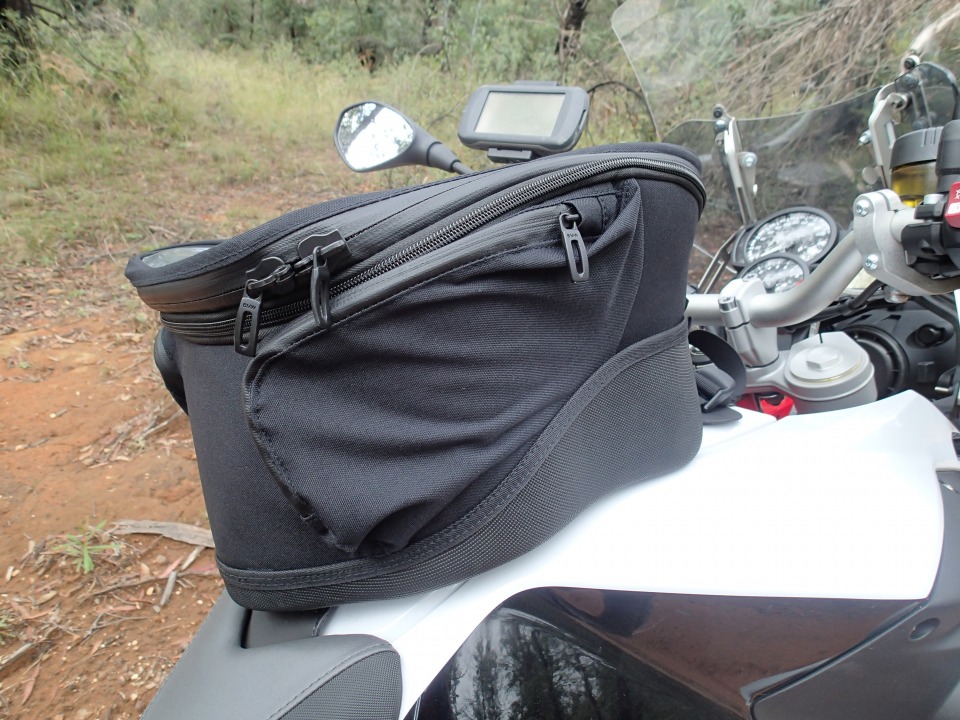 To be critical, I have had one issue with it: the little handle thing that attaches to the zipper snapped off … but in fairness: after constant use and a trip around Australia. BMW were great about it – I just took it in to my local dealer and they replaced it. The zipper itself was fine.
Other Features:
Compact design (it's not in my way when standing up)

No straps needed on the side of the bike (which would annoy me, and it doesn't look the best)

Washable nylon surface material (for mud hunters like me!)

It has a carry handle. Hooray!
​And here is a comparison of my legendary 3 year-old unit, and a brand new one which was kindly given to me by BMW Motorrad (I'm saving it for a big adventure that's in the works) …
​