The Great Ocean Road, 2016
If you're asking me (and you are!) the Great Ocean Road is one of the best motorcycle rides in Australia.
It was built between 1919 and 1932 by over 3,000 returned Australian soldiers as a memorial to their fallen World War One comrades. Conquering steep cliffs, rugged terrain, and dangerous weather, they battled on so that communities in isolated towns along Victoria's western coastline could be connected.
In this article, I'll be taking you along for the ride, telling you about the 'must sees' and the 'must rides' – as well as a few unexpected turns …
Let's start at the beginning …
So what got me to hit the road and visit this landmark again?
I rode the Great Ocean Road during my trip around Australia, but time restraints meant that I could only stop at the main tourist attractions for a photo or two. And I remember thinking: "Gees, what's the big deal? I wish I had more time …"
Since then, I've wanted to go back, so when the good folks at Off Track Motorcycle Rentals offered to support my little adventure, it was a date with destiny! You see, they (and I quote) "offer motorcycle rentals to a wide range of customers … for on-road or off-road" … so all I had to do was fly in 🙂
Also, this meant that I had the chance to try my hand at something a bit bigger than the 800 I'm used to …
Eeny, Meeny, Miny, Moe …
It was a busy weekend in Victoria (the Superbikes were on) so most of Off Track's bikes were hired out … but there was still a complete range of off-road bikes to choose from! Grant even happily picks up his customers from the airport …
Hmmm, so much choice!
… I just had a go with the R 1200 GS, ooh yeah!
---
Part 1) The Must See
What's there to see? Plenty. There's plenty.
Here's a select list to get you started – especially if, like me, you don't tend to like long walks, and prefer to do it most on your bike:
Twelve Apostles
This is the most famous attraction: it's an absolute must. It's like, if you go to Vegas, you have to visit a casino, right? Formed some 20 million years ago as the sea eroded the soft limestone cliffs, these massive, marvellous structures tower 45 metres above the ocean and make for some amazing photography!
There's only 8 left, the other 4 just got up and left … just joking! They fell into the sea …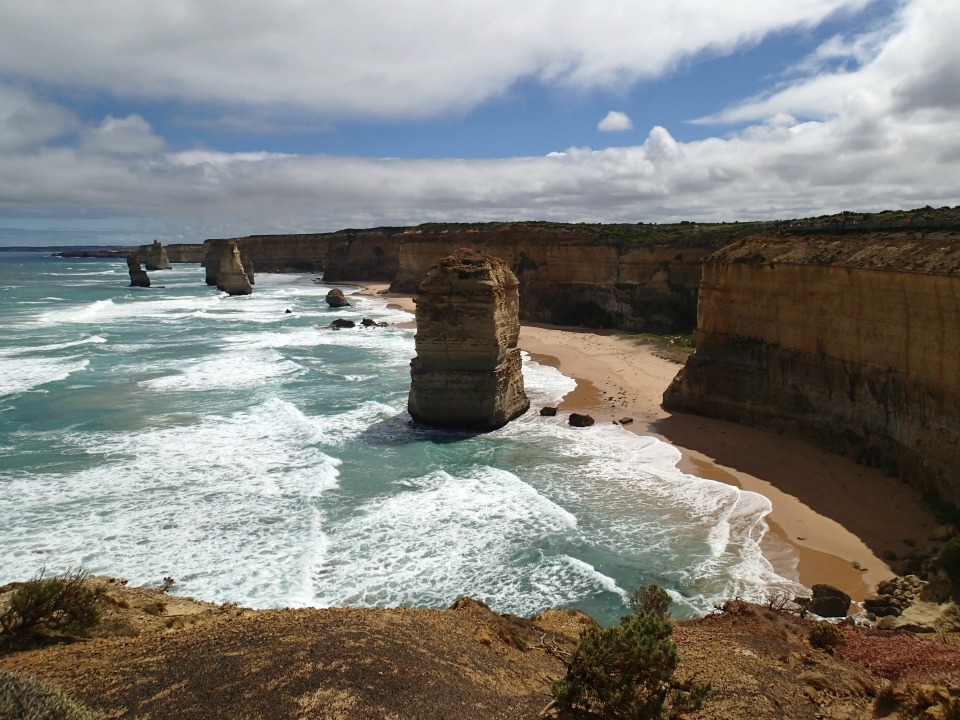 Gibson Steps
Far from being a humble staircase, the Gibson Steps are an adventure in themselves. Facing out to the Tasman Sea, the journey down leads to beautiful beaches and a side-on view of two of the Apostles.
Cape Otway Lighthouse
Australia's longest continuously operating mainland light, with an impressive construction method dating back to 1846 that didn't required cement! Tough on them, easy on the eyes for us, and particularly photogenic by sunset.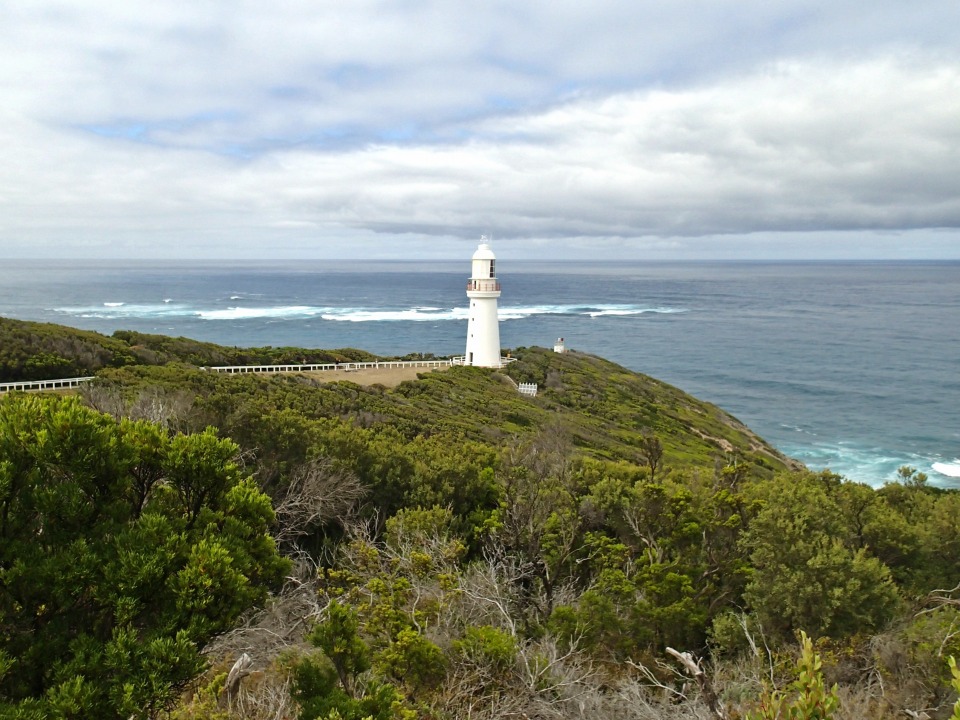 Power Tip: when travelling along Cape Otway Lighthouse Road, keep a lookout for koalas – they tend to hang just above the roadside: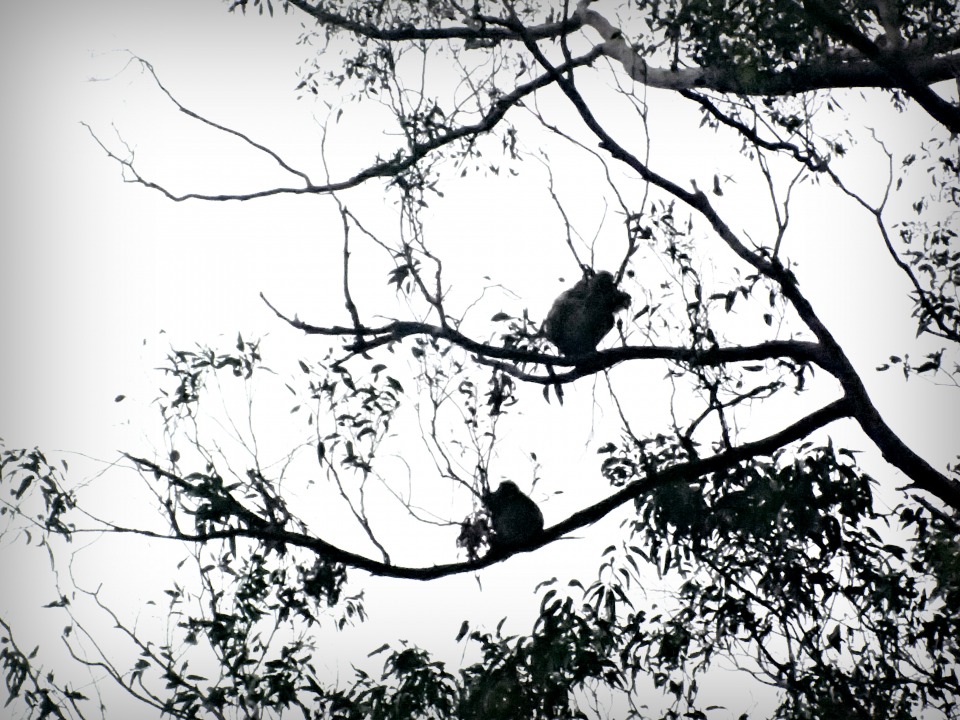 Carisbrook Creek
OK – this is an odd one. Here you'll find an unusual field of stacked river stones. Maybe. If it's still there. No one seems to know what the meaning of it is: someone just started it a few months ago and it's quickly become a remarkable part of the Great Ocean Road. People stop here and build little stone towers, and leave. The next visitors do the same, and on it goes. By the time I visited, there were over a thousand – in fact, probably thousands – of these unique, spontaneous, quirky arrangements …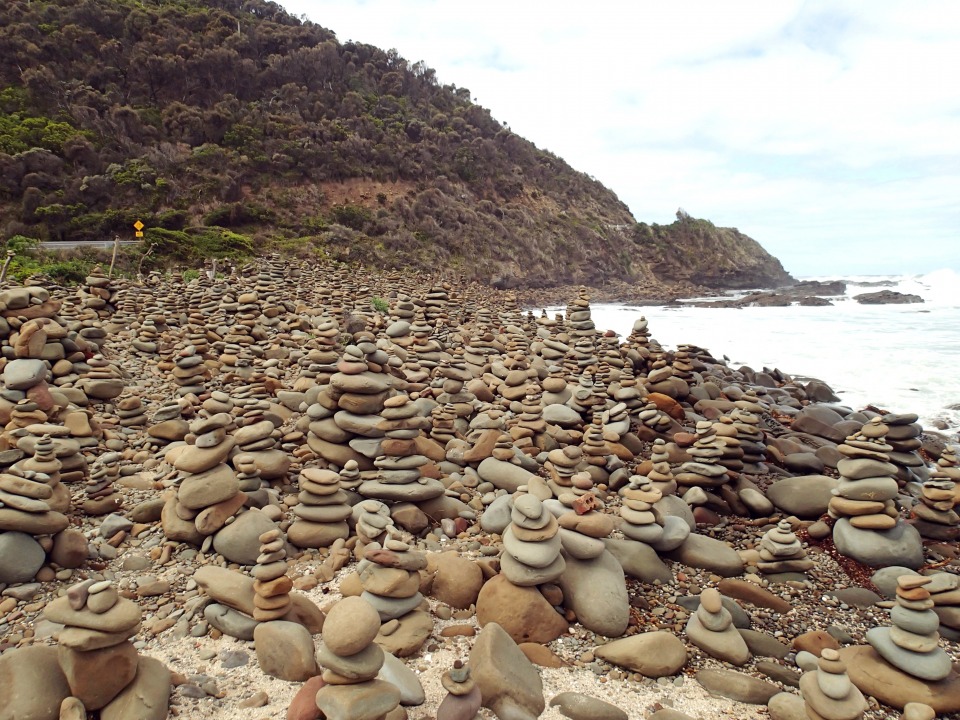 I even tried to become one: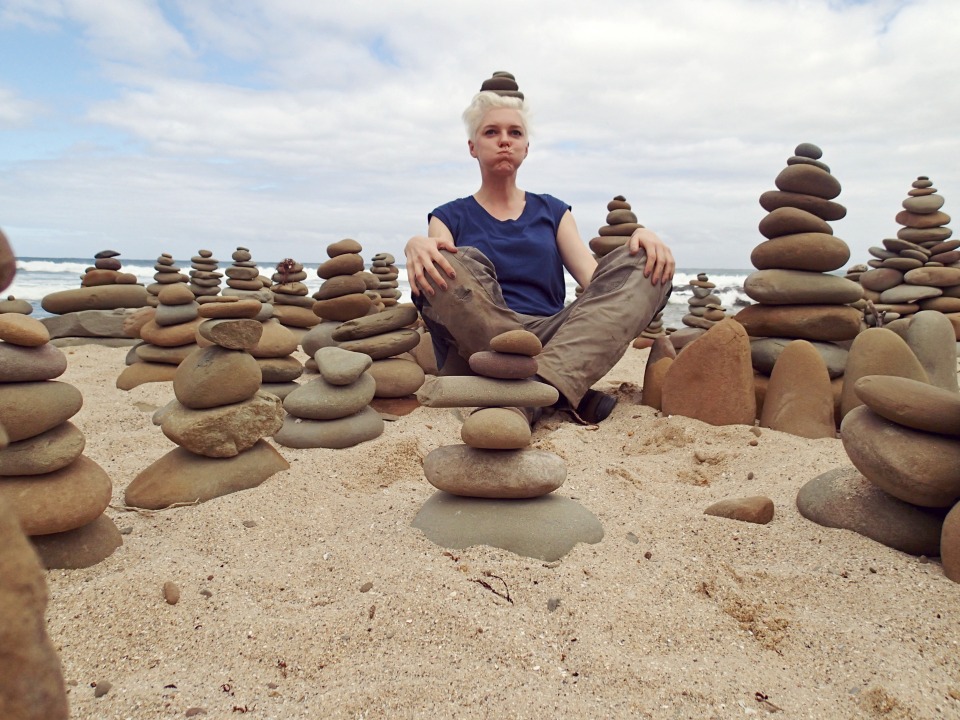 Californian Redwoods Plantation
I love camping: everywhere, anyhow, I will camp. BUT this place. This place gave me the chills. I got there about 5pm. All excited about seeing some really big trees. Not having calculated that, in a forest of really big trees, there's really little sun. A few slithers of light crept in here or there, but even they seemed reluctant to stay.
It was like walking into a forgotten Gothic cathedral. And you know me: there's nothing I love more than riding and camping solo. Well, there was something mysterious about this place. I knew pretty quickly I couldn't stay there for a night.
Turns out, you're not allowed to camp there. Fine by me.
OK. Enough ghosts stories 🙂 it was an amazing experience and I couldn't help but to explore it for a while … this place makes for some cool photography. Planted as a softwood logging experiment in the 1930s, they shot up but were never cut down, now standing at an impressive 60 metres tall …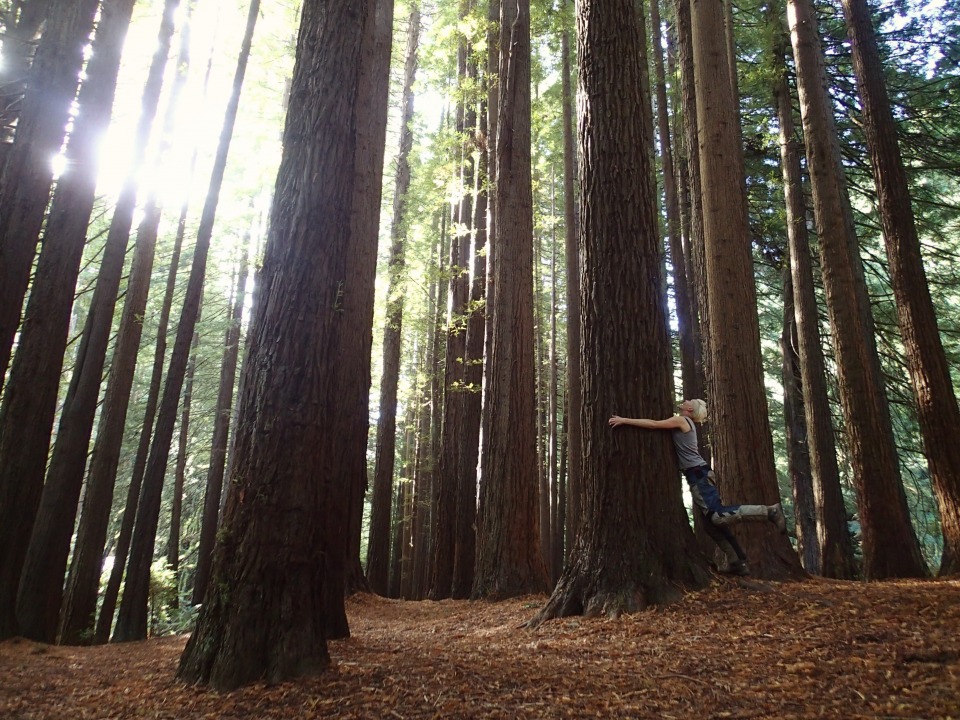 We hugged it out – they're not so mean after a`ll
---
Part 2) The Must Ride
You've got options – lots of options, and so I've collected for you some of the highlights, divided into on-road and off-road riding:
On-Road
Anglesea to Apollo Bay
This is the real deal: the bit of the Great Ocean Road that actually runs along the ocean, along scenic cliffs, offering long, gentle twisties that, on a clear day, are some of the nicest I've known!
Here's a hint but: don't do it during the school holidays, or any 'peak season' … the 80km/h limit is also heavily policed, if you get up to such speeds thanks to the tourists and traffic!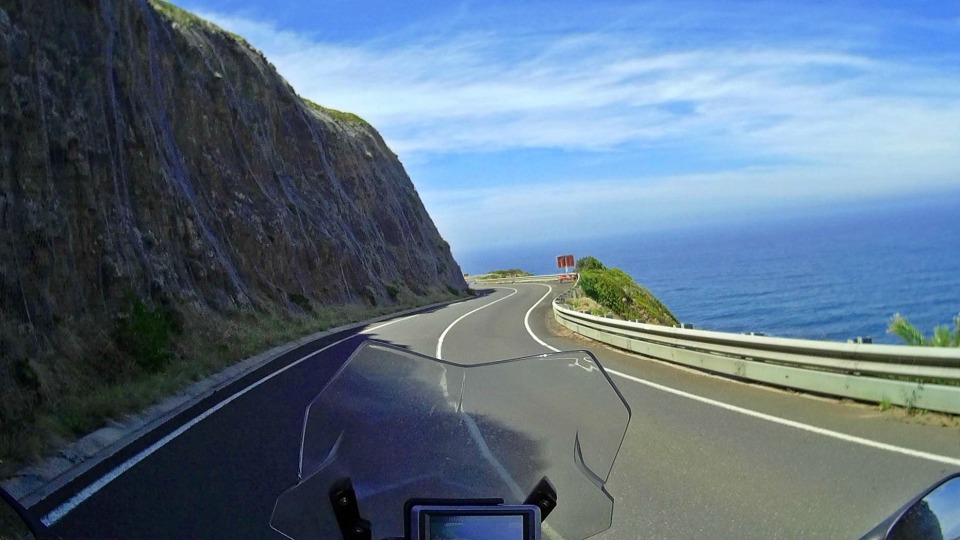 Apollo Bay to Princetown
OK. This bit is inland. It's still nice, with some bits of lush rainforest along the way. I myself didn't stop much, but there are lots of things to see and do, such as scenic lookouts and beautiful bushwalks.
Princetown to Port Campbell
And we're back on the coast again, with more stunning cliffs, and the famed Twelve Apostles, making this stretch of the road a must see. After Port Campbell, the road keeps going west, but I didn't go that far on this trip.
On a tangent …
If you're planning to be in this beautiful part of the world, and have a day or two spare, then make some time for the inland ride from Beech Forest to Skenes Creek: it's an absolutely gorgeous ride through the rainforest.
Off-Road
… so I mentioned above that the inland stretch of the Great Ocean Road between Apollo Bay and Princetown has lots to see and do – right? Well, I didn't do the touristy stops, BUT did I ever go exploring! This is where the good, off-road stuff happens!
This region boasts 'Great Otway National Park and Marine Park' which covers 103,000 hectares, and features tall, wet, ancient rainforests and sandy beaches. Make as much time for this as you can. I was there for 5 days and it wasn't enough. You could be there for two weeks, and it still wouldn't be enough – so much beauty to explore!
Of the bits and pieces that I got to see, here are the highlights:
Dirt Riding Heaven: 'Otways'
Leave the stretch of Great Ocean Road between Apollo Bay and Princetown behind, and go exploring. There's a tonne of dirt roads and lots of terrain types to choose from, something for all skill levels. Get your gear and food ready (in case you get stuck / lost) and just go for it. The area is known as the 'Otway Forestry' (so watch out for those logging trucks!) and the roads aren't even on Google Maps, but here's a really helpful map from Parks Victoria:
… but a diagram of how I took it would look more like this: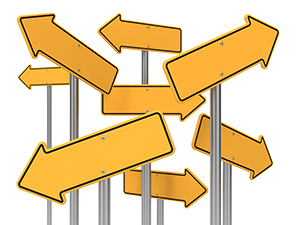 … yep, I can't stress this highly enough: make as much time as you can and explore this amazing piece of the world. There's lots of camping spots and facilities too.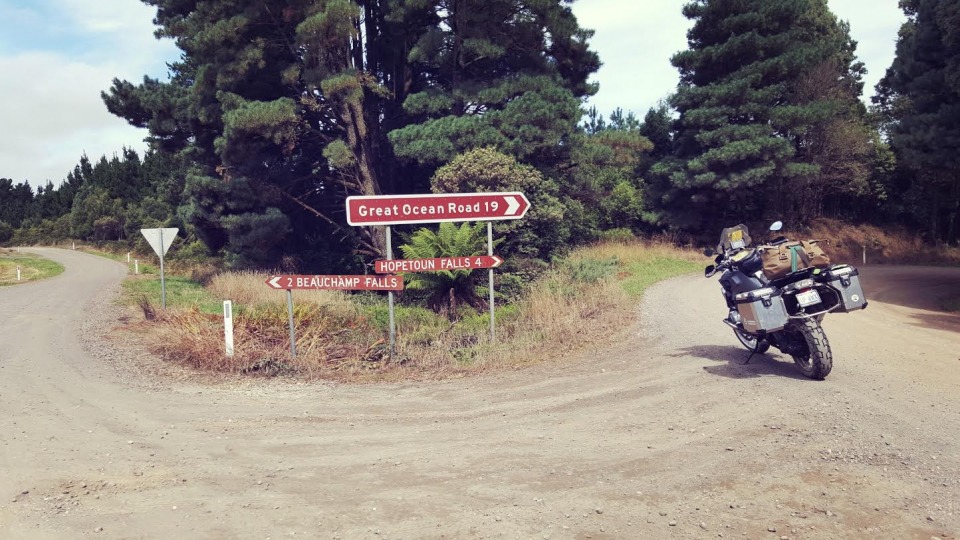 Cape Otway Lightstation to Aire River
Well, when I saw sign saying "4×4 only" I thought "yep, let's get stuck in!"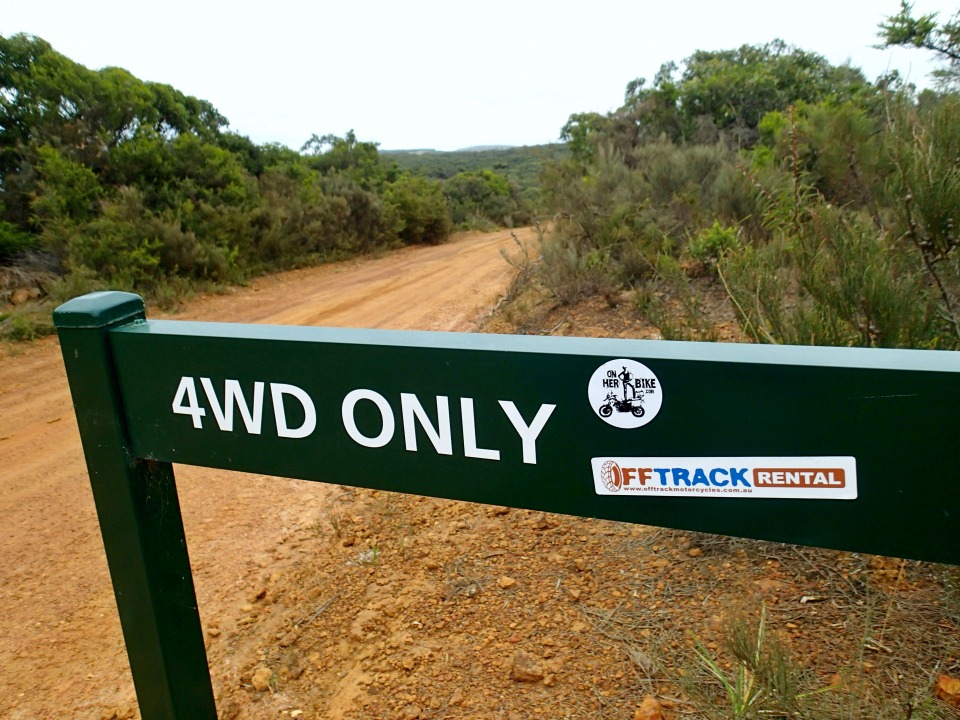 … but if I knew it was going to be so sandy, I might not have gone … you see: I literally got stuck in! But I regret nothing! It was 10km of pure fun and luckily there were friendly 4×4's passing by about once an hour, who happily helped me out!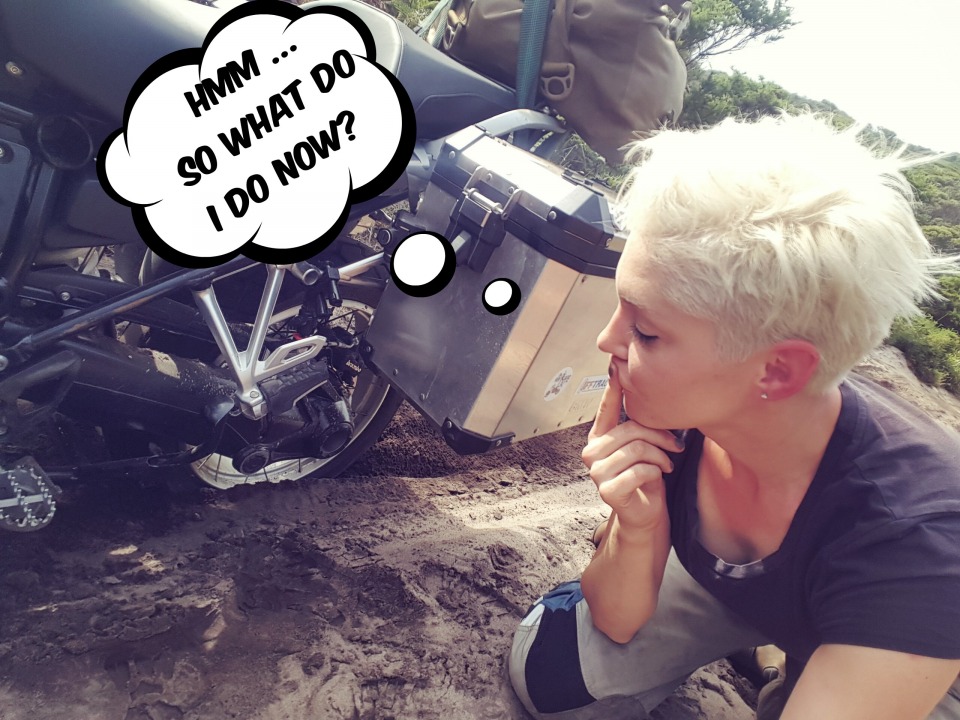 One gentleman, Brian, and his partner, saved me on two occasions!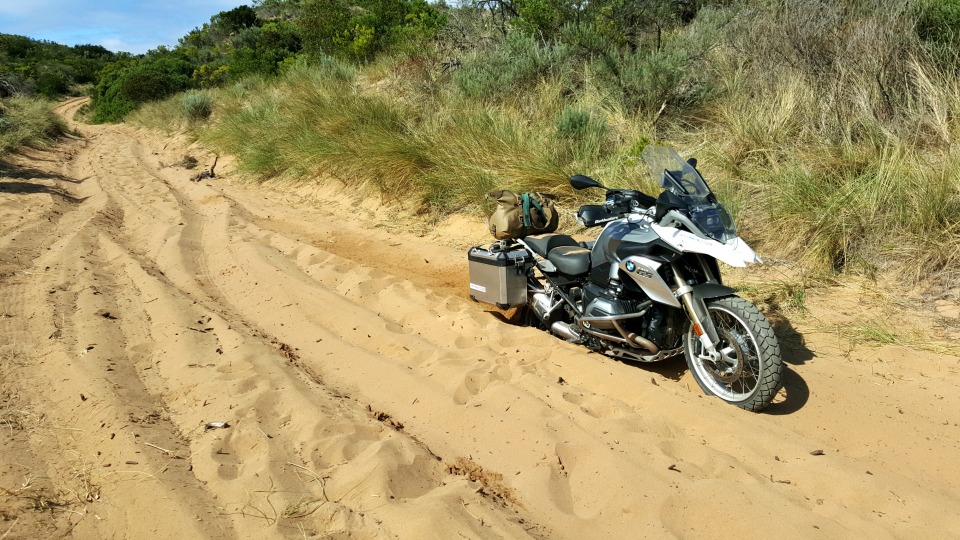 The track is not marked on Google maps but it goes along the coast, somewhere around here: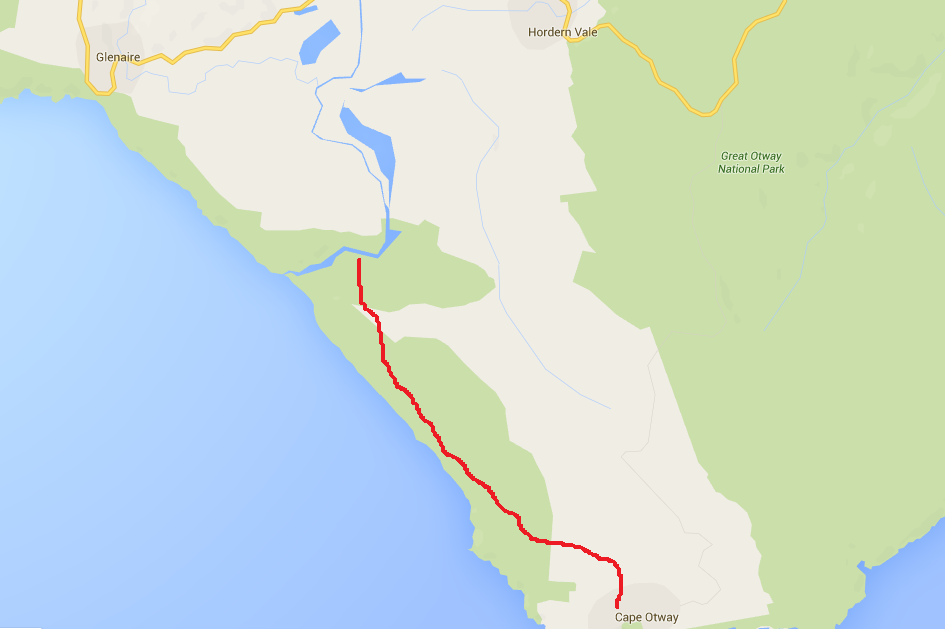 Wait-A-While Road
I don't normally like shortcuts: I prefer to meander and get the most out of each area. But I'll make an exception: this little road is just beautiful. It's 15km of dirt-road twisties through the forests, and who am I to say no?
It's well maintained and easy on the knees, just a cruisy ride …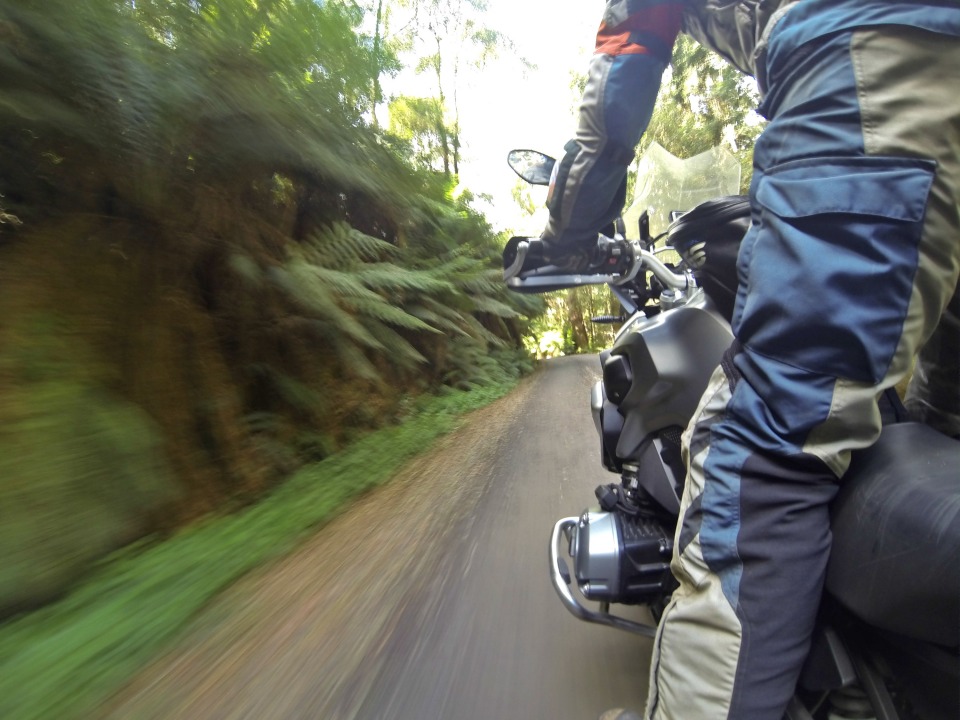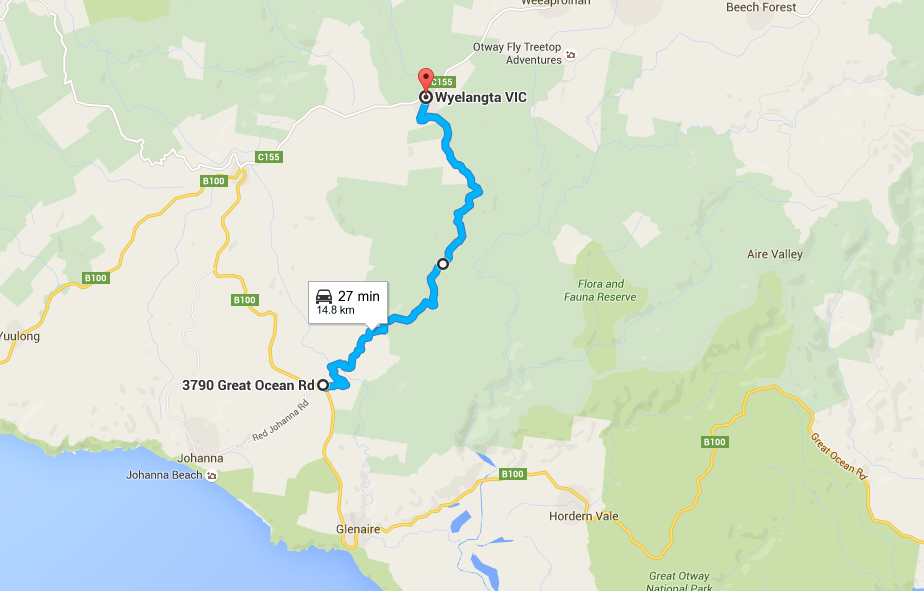 ---
Part 3: Where to stay?
My favourite kind of accommodation, as you may already know, is camping. The moment I'm out of the city, I just want to be alone, surrounded by nature.
Here's a few spots I found:
Parker Hill Camping Area (on the coast at Otway National Park) – there's plenty of shade and a basic toilet. And it's well priced, at FREE
Somewhere on the 4×4 track along the coast from Cape Otway lighthouse to Aire River – I set up camp on a patch of sand, on a cliff, a bit ad hoc, but somehow, one of the best places I've ever camped! Again free, but PRICELESS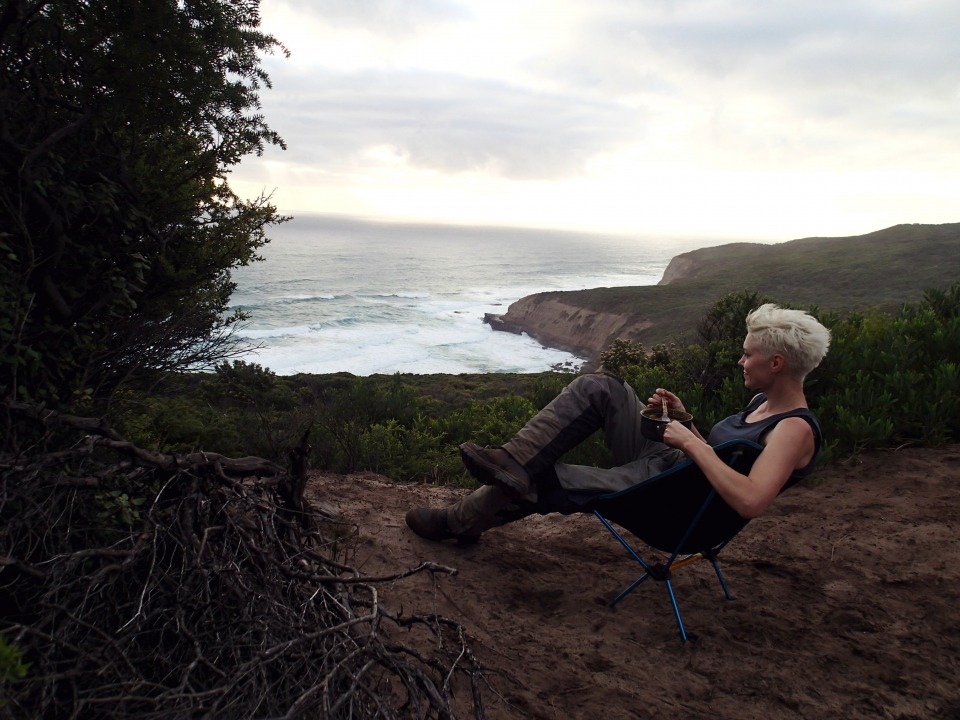 I'm calling it Camp Kinga 😉
Port Campbell Recreation Reserve – at $35 for an unpowered spot, it's pretty overpriced for what it is. But after a whole day of riding in the sand I dreamt of a hot shower and a cold beer so I decided to stay in town. The good thing is that I had the whole place to myself! Come to think of it, it was WORTH THE MONEY


Beauchamp Falls Camping Ground – a great free spot located 3km from the waterfalls. I'm not keen on walking long distances, so I didn't explore it as much as one might, but I'm sure there's nice bushwalks to be had. Also, there is a basic toilet and fires are permitted, so HOORAY!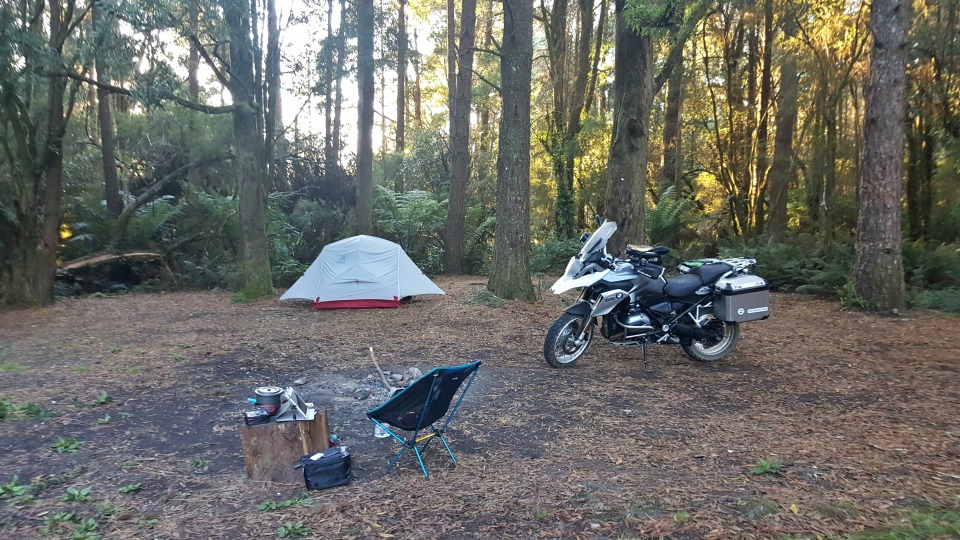 The bike
Now I understand why the R 1200 GS is so much dearer than 800 GS. Not only is it more powerful, but this is a seriously super-intelligent bike with more features as standard, and more optional extras. You can really have a bike that's 'got it all' …
The unit that I borrowed came with lots of riding modes, tyre pressure monitoring, an adjustable windscreen, cruise control, and truth is: probably lots more, but I didn't even get to wrap my head around it all! Very impressed.
Last but not least: it's such a well balanced bike Going from the 800 to the 1200 felt easy and comfortable, and I didn't have to change my style one bit. Having said that, I'm sticking to my 800 for now: deep sand is still a bit of a struggle, although the recent training courses I've done have improved my skills. I'll be doing 'sand training' soon, and looking to improve this part of my riding.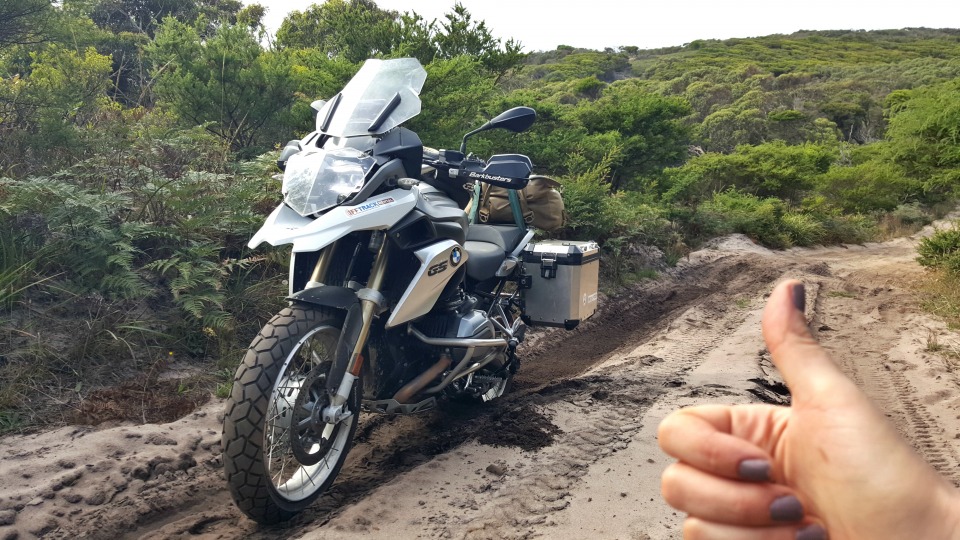 Thank you
Well, that's one off the bucket list – to do the Great Ocean Road and surrounds properly – and I've got Off Track Motorcycle Rentals to thank for it. So a big 'thank you' to Grant for the opportunity, and if you're travelling from afar, I can highly recommend Off Track and their friendly rental services.
In Numbers
Duration: 5 days
Total km's: 761km
Fuel cost: $50
Camping: $35
– See more at: https://onherbike.com/content/adventure-riders-congregation#sthash.mgiqA7h5.dpuf