Boom Crash Opera
I've been looking forward to this weekend for a long time: I finally get to go to the famed Scrapheap Adventure Ride, a brilliant event where participants restore an old motorbike and ride it from their sheds to a set destination to raise money and awareness for Down Syndrome NSW.
Farkles, New and Shiny
Just before the ride, I installed some brand new farkles from one of my new sponsors, Outback Motortek. Crash bars and a skid plate to be specific, and they were a breeze to install!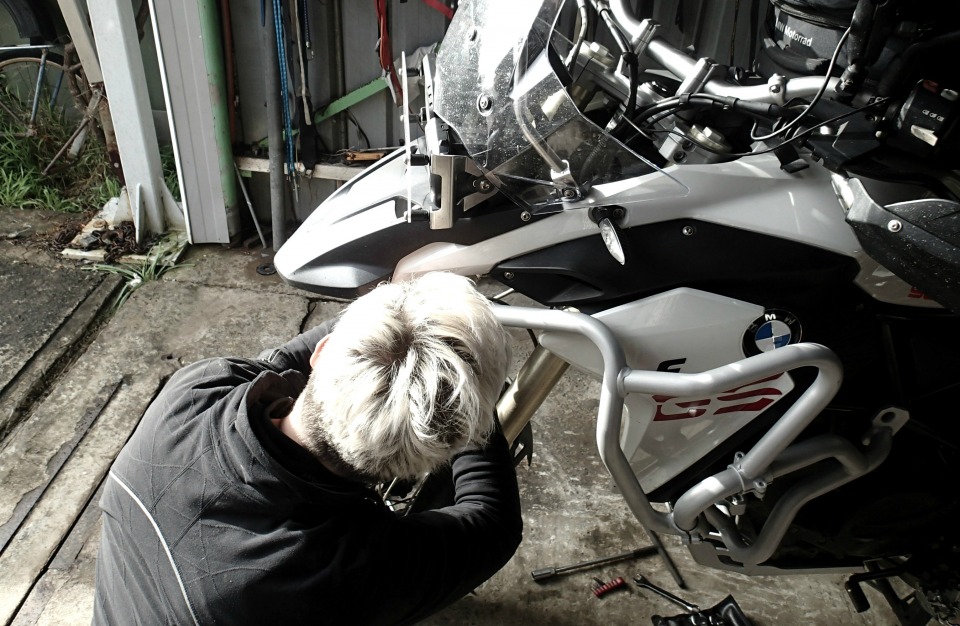 "These'll do a great job protecting the engine, but hopefully I'll never have to find out!" I said to Graeme, something like that, after he helped me put them on.
Well, find out I did, as I was suddenly and reluctantly volunteered to become a crash test dummy!
Farkles No More
We headed off to the rally, and not even 30 minutes had passed when, as we were going through Macquarie Pass on the Illawarra Highway, very slowly (30km/h) I might add, but on a sharp right corner, a car coming from opposite direction lost control, joined my side of the road, and hit me head on!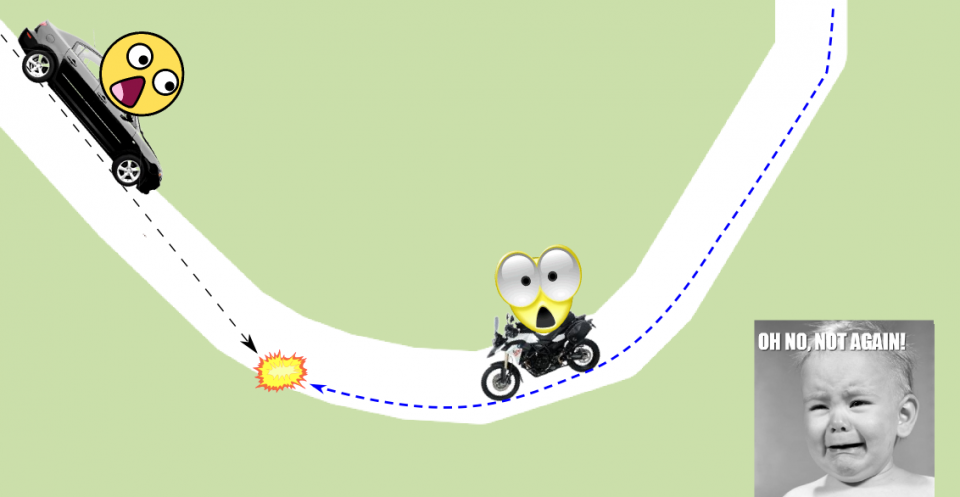 I seriously thought: "This is it. This is how I die."
But I was lucky. Sort of. I came off my bike and landed on the other side of the road, but there weren't any other cars there. Thus why I'm here to write this. I lifted myself up quickly and headed for safety.
And my bike. I looked around and saw her there, and thought " … after all we've been through together, travelled all around Australia , this was our the very last ride."
Greame, together with other drivers who had stopped to help, picked up and all the bits and pieces. As for me, I was taken to hospital by an ambulance, and had a play date with something called a 'green whistle.' Now, I never do drugs, and would never do an ad for them normally, but gee wiz that green whistle! I immediately went from being in shock, in pain, and devastated about my bike to being, well, high. I was high as a kite. Made for a very interesting call to my husband. Apparently. So again: I'm not endorsing drugs. Let me make that clear. But if you find yourself hit by a car with fractures and what not. I'm just saying. Green whistle.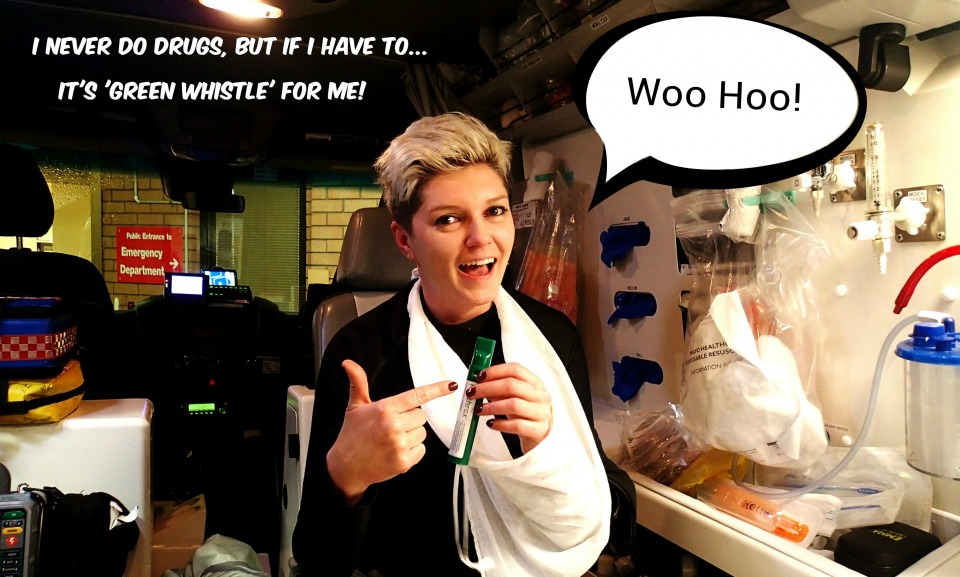 Once the green whistle wore off, I started to feel the pain again, all over, and knew immediately that my left wrist and right knee were stuffed. The x-rays didn't show any broken bones, and I was discharged, but they did say that the places in pain can be difficult to detect. Well, two weeks later, and MRI scans confirmed it: fractures in both.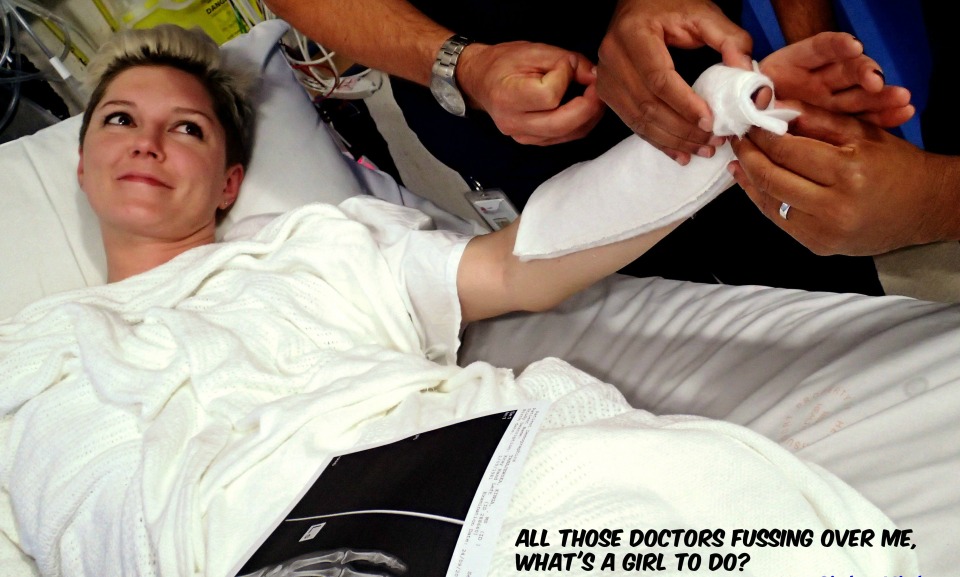 Oh, the humanity! I've gone from working full time in a job I love, riding around on the weekends, to being grounded for at least 6 weeks!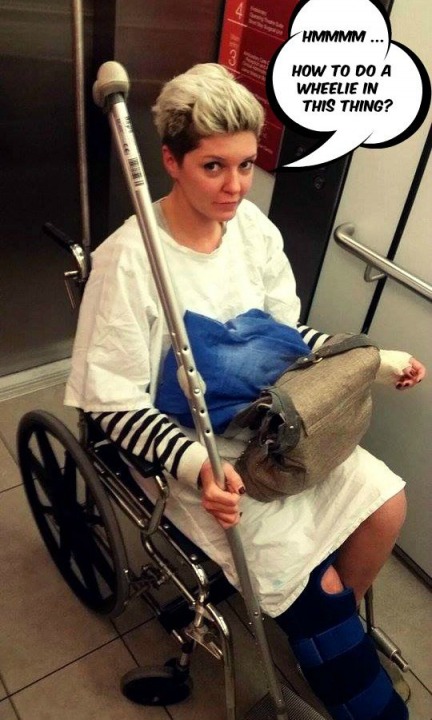 It does make me appreciate the good health that I have had throughout my life, some people never have, and being in a wheelchair temporarily has really opened my eyes to accessibility issues around the house and the city, and how much more effort / distance / trouble every little, simple thing can be. Hopefully I'll be able to make a full recovery, and as soon as possible, as it's getting rather depressing to be frank.
As for the bike: that has me real down too, something all riders will understand. They're like a friend, or a horse or something. You know what I mean. And after almost 40,000km of unforgettable adventures together, my beloved GS has been officially declared a write-off … she's 'right off' to bikie heaven.
I have to say at this point: The Outback Motortek crash bars and skid plate performed very, very well. The car hit the front of my bike, tearing it apart, thus why it was written off, but the engine was very well protected by the OM gear. They did what they were designed to do and did it really well. I'll be writing a full review on them soon – stay tuned!
I went to the wreckers to say goodbye: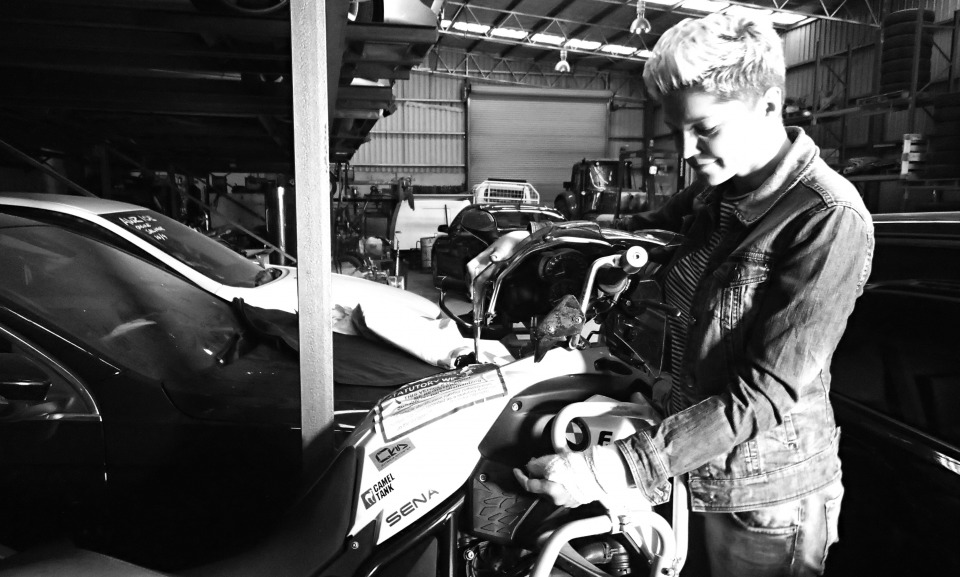 Not one to end the article on a sad note: I have to say a great big hello and thanks to all the lovely well-wishers on facebook.com/onherbike, and everyone who has sent cards / called / emailed! I'm humbled and it's really appreciated. And last, but certainly not least: I finally won my first Australian rally trophy – The 'Hard Luck Award' from the Scrapheap Adventure Ride crew, awarded in recognition of not actually making it to the rally!
Above: "get well" message from the Scraphead Crew 🙂
… and a card from the Illawarra Classic Motorcycle & Car Club