Review: Camel Tank
No more fuel bladders, no more frequent stops at the petrol station. This auxiliary 7 litre fuel tank (by my sponsor, Camel ADV Products) gave my F800GS a range of 485km! I wish I had it back when I circumnavigated Australia … would've come in real handy!
The installation process only takes about 2 hours and once it's on, it's on. And that's including stripping off the pannier racks and fairings from the bike. The instructions with pictures are included but it's worth checking out the installation videos online:
https://www.youtube.com/watch?v=LSblZFiAnmE​
There's no need to drill the main fuel tank but you have to drill two holes in the plastic faring under the seat to run fuel and vent lines.
I'm very impressed by how clever, robust, and simple it all is. The Camel Tank is emptied first meaning you only carry extra rear weight for the first 150 km, which doesn't mess up the fuel gauge on the dash.
It's easy to fill up and luckily it comes with a wire for the cap – otherwise I would lose it for sure!
I've used it for 10,000 km and it worked perfectly, and will use it for many more I'm sure, but for now am dealing with the whole 'got hit by a car and lost my bike' thing …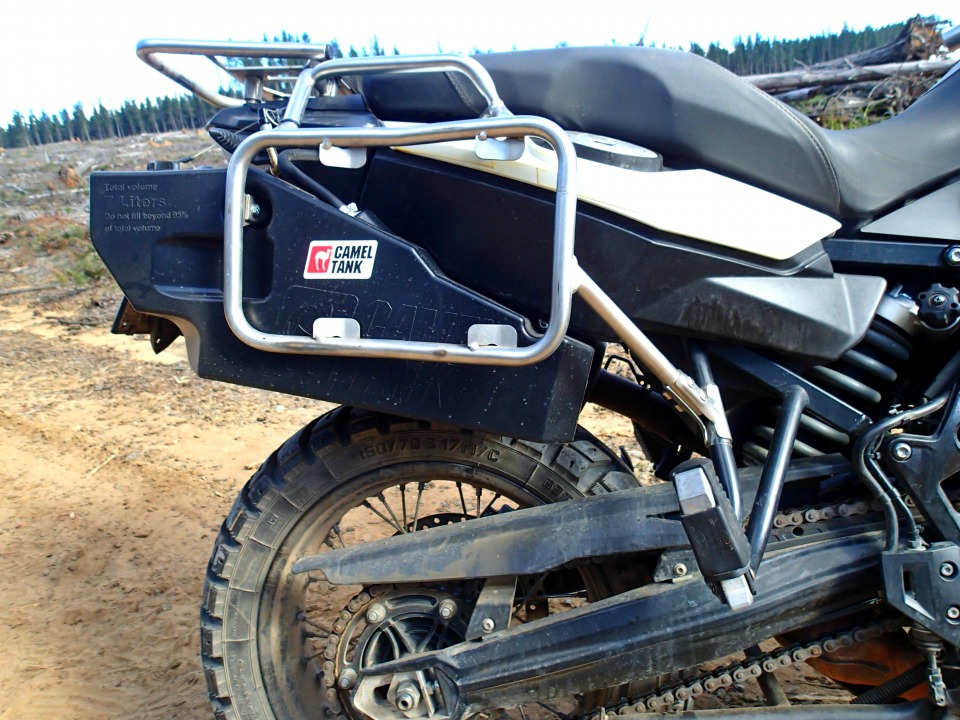 Crash Testing
So … I had a car come to my side of the road and make some major alterations to me and my bike.
The Camel Tank looks and feels strong, and it's clearly a quality make. But how strong? It was a head on collision, with the bike falling on the right side (where the Camel Tank is). Luckily, the Outback Motortek crash bars fully protected the side of the bike, meaning my beloved Camel Tank went without a scratch – living to see another day!