New beginning …
It's a New Year and I have a head full of new ideas and new plans for life. This year I'm leaving the past and all the bad memories with it behind in 2016 and am going to have a fresh start for 2017. This year is a new chapter in which I'm moving on and moving on to different continents …
Travelling on two wheels to Poland has been on the top of my bucket list for a long time now and this year is the perfect time to make this dream come true …
Is it easy to do so? No. It's not easy to leave behind something that you already know and love so much. I'm leaving behind my friends that I am so deeply attached to, my job that I have so much passion for and of course my beloved Aussie land that I am so addicted to as a rider.
How can I afford it? Well as they say 'every cloud has a silver lining' as I'm now finally getting compensation from my head-on collision in 2015. So this is the moment when I say to myself 'now or never'!
How long am I going to be on the road? I don't know. I'm going to travel until I run out of money and have to go back to work, but until then I hope to travel for at least 1.5 years.
Am I going to come back to Australia? I think so. I can't imagine a better place to settle down, work and live. I haven't left yet and I already miss it. But nothing is set in stone so who knows what will happen …
Am I scared? Hell yeah! I have so many doubts. I don't know if I have the skills necessary to go through the more challenging areas I want to go through. I don't know what I'm going to do if the bike breaks down – I can't even change a tire on my own! I don't know if I have good enough gear to camp in Mongolia in May when the temperature drops down to -10. I don't know if I have enough of the required documentation to cross all the borders. My mind is full of doubts and fears. However, when I remember that I'm not the first person and won't be the last person to do this, it helps put my mind at ease. If others have done it there is no reason why I can't, and I know that once I'm on the road everything will work out. I've got one life and I want to live it!
Are we there yet?
At this stage I can say that I'll be travelling for about 1.5 years and hope I'll be able to circumnavigate the globe during this time. But naming this trip the 'Round the World Tour' feels a bit overwhelming. This is why I'm naming it the 'Are we the Yet?' tour– because I don't know my final destination and it's a great reference to my impatience!
So my plan for the first stage of the 'Are we there yet' tour is to ship my bike in April from Australia to South Korea and from there I'll be catching a ferry to Vladivostok (in Russia). After that I will ride through Mongolia, Kazakhstan, Kyrgyzstan, Tajikistan, Uzbekistan, Azerbaijan, Iran, Southern and Eastern Europe to Poland. I'm planning to complete this stage in 4-5 months.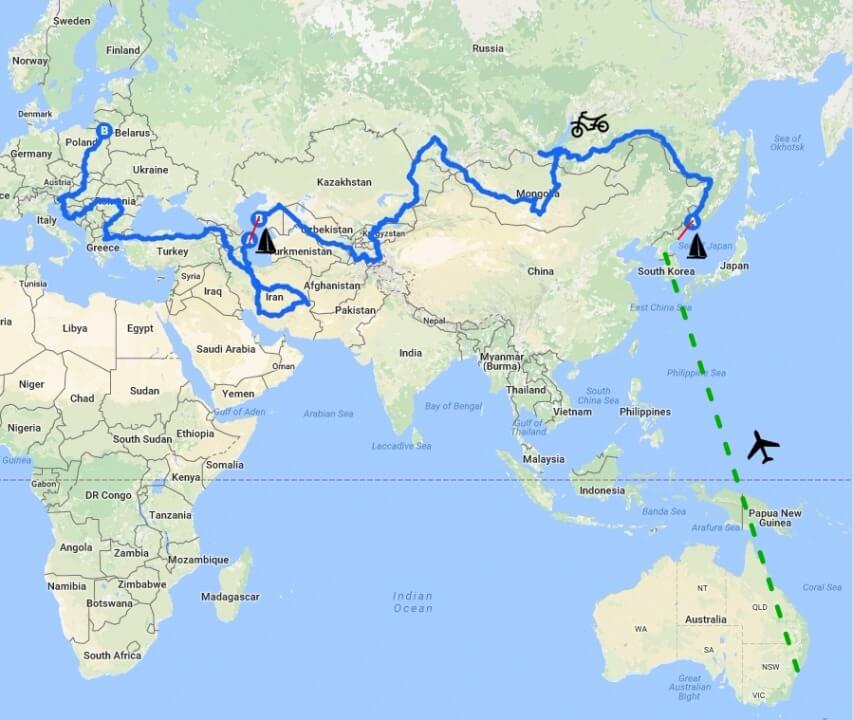 Then after a short rest in my homeland I will continue to … Africa 🙂
This trip isn't just about me seeing the world on a motorcycle, there is much more to it than that. Throughout my journey I will be raising money for a disabled child in Poland named Franek. Franek was diagnosed with cerebral palsy (weakness of the entire right side of the body). He requires rehabilitation for life, which costs approximately $10 000 – $15 0000 US a year. It may not sound like a lot, but for his parents (who are my close friends), these costs are quite a burden.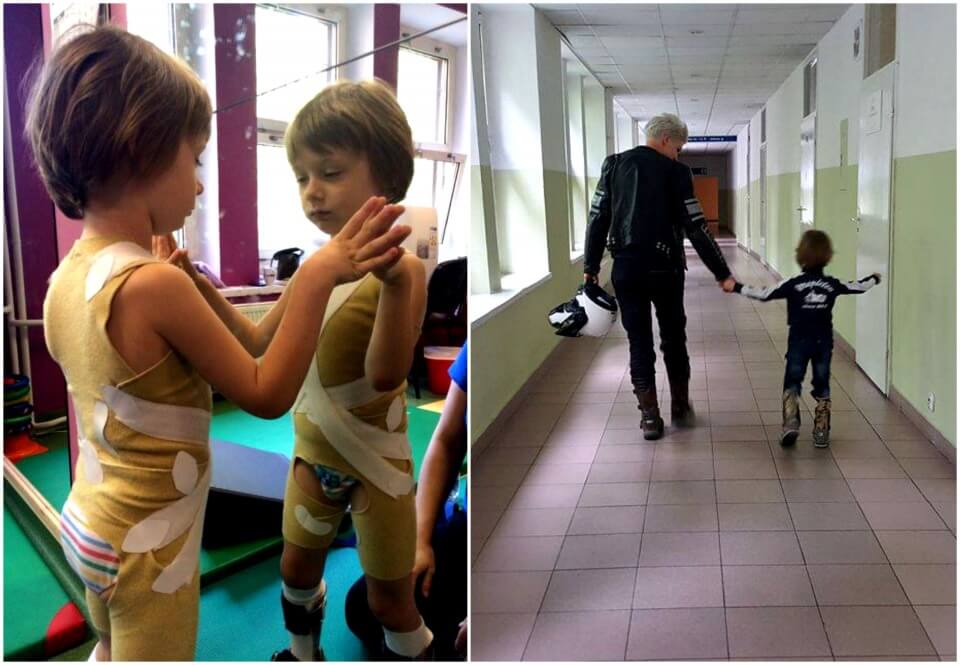 Last but not least I'd like to say a big thank you to On Her Bike partners: BMW Motorrad Australia, Sena Bluetooth, Camel ADV Products, Outback Motortek, Forma Boots and Barkbusters Handguards for all your support through past years and for coming along for this ride as well 🙂
PS: I would highly appreciate any contacts along the way (for example; recommendations for accommodation, bike workshops or just awesome people!). You can get in touch with me via this website or any of my social media channels.
Also, if you're a GPS guru from Sydney and don't mind teaching a dummy like me please give me a shout! I badly need to learn how to use my GPS properly!'