Review: Uprising Luggage System by Green Chile
There's a lot to be said for strong, spacious, aluminium panniers, especially for long-distance road trips, but they're much heavier than soft luggage. And as I've gained more experience tackling off-road tracks, dirt roads, steep climbs, and other challenges, I'm quickly realising how important it can be to travel light.
So, when I was looking to compliment my hard cases with a soft option (you know, in case I suddenly get the urge to go riding 'up a creek'), I had three priorities: they had to be a durable, high-quality make … require no alteration to my hard-case set-up (i.e. the BMW racks) … and easy to use.
Hold on tight!
I did my research, looked at lots of different brands, and had short-listed a few. Now, it was about this time that Outback Motortek and I became partners: I told them about my requirements, and we 'connected' immediately (pun intended).
They recommended Green Chile Adventure Gear. Researching all the features, I was completely 'wrapped' (pun intended) and asked them to 'locked it in' (ok, last pun, I promise).
Why?
Simple.
Their 'Uprising System' meets my requirements perfectly, and looks 'strapping' too (sorry, I just had to).
Above and beyond being a good quality make, their system has a unique feature: you don't need to mount anything, or do anything, to your bike. No plates. No plastic. No screws. You don't even need to have a pannier rack, but, if like me, you already do: that's ok. That works too.
Perfect.
The luggage system, made up of an Uprising Soft Rack and a Side Bag Hauler Kit fits all bikes and accommodates many different styles of soft luggage, so I was free to choose almost any kind of bag I wanted.
I attach it to my existing rack, but if you don't have one, you can use the loops, tensioner straps, and velcro loops from the Snake Kit to attach it to the bike frame, footpegs, or anything sturdy, really.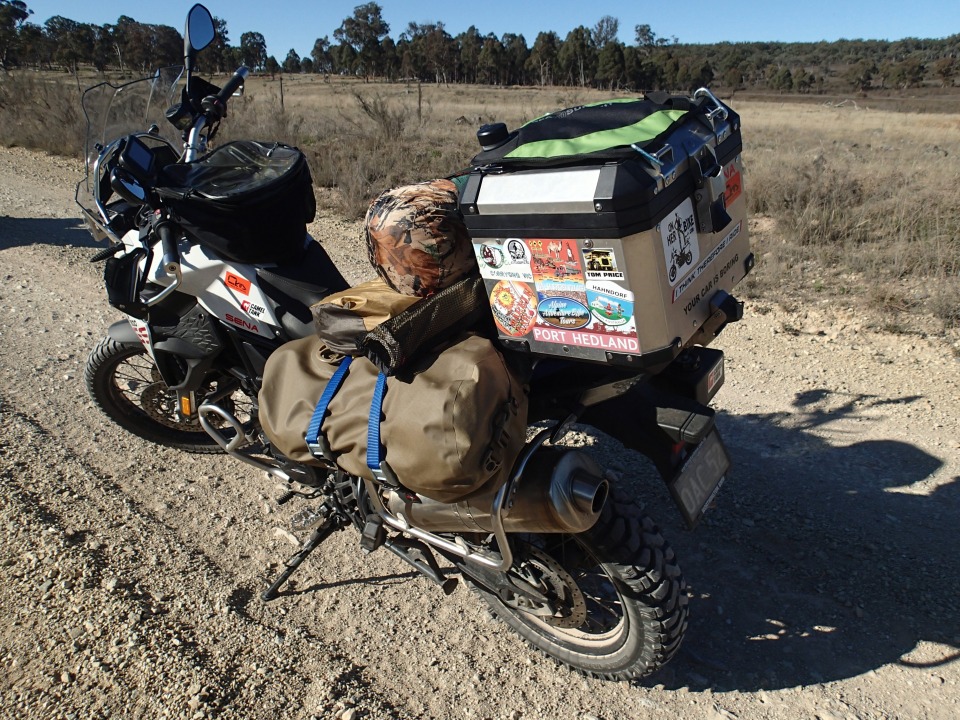 Case is in the bag
Get it? 'Case' is in the 'bag'? I need help.
OK. So I had my bike all geared up and was ready to pick a soft bag. I knew exactly what I wanted: it had to be waterproof (because creeks are irresistible!) and real strong (because creeks are, you know, bumpy).
Outback Motortek recommended the Watershed Chattooga Duffel and I couldn't be happier with it.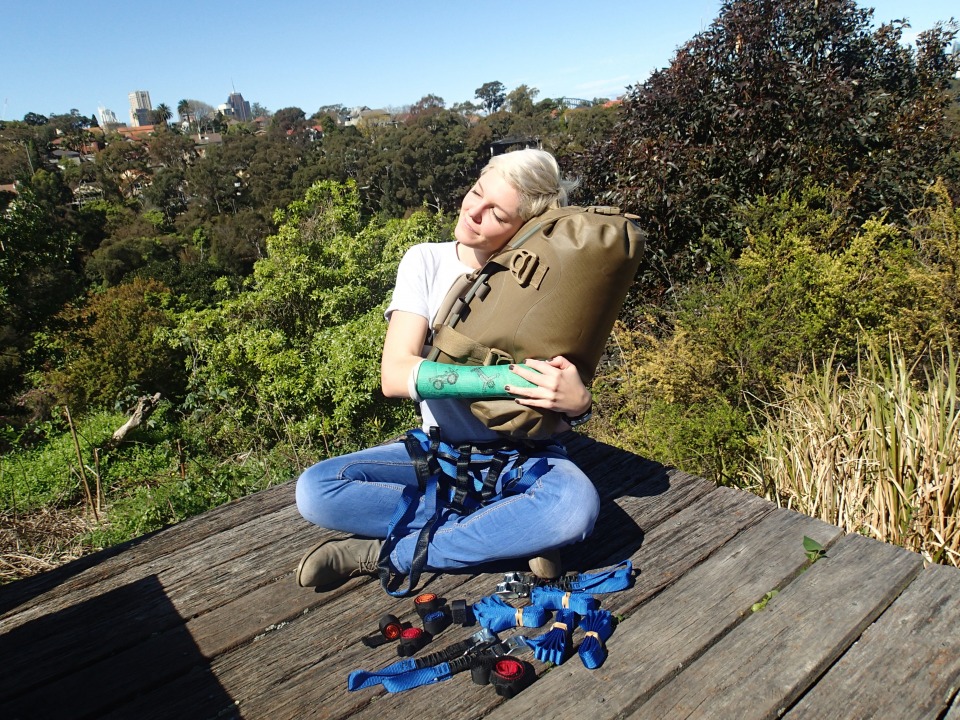 They're waterproof, strong, close via a sturdy 'zipdry' mechanism, have compression straps to keep them nice and tight, and they have several hard lash points which makes them a perfect fit for the 'Uprising' system: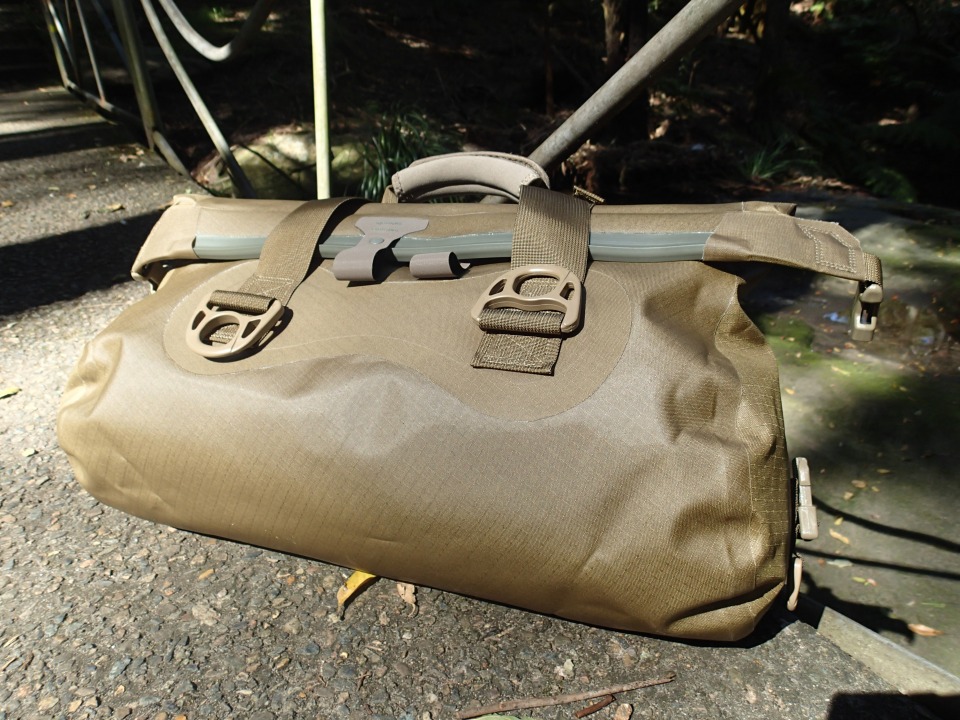 I went for the Coyote finish, but they're available in a few different colours too.
They're a hit!
You can feel that the bag is strapped in nice and strong via the 'Uprising' system. But how strong? Well, I just happened to have them on during my impromptu crash test last year, and: the bags stayed on, and so did the luggage.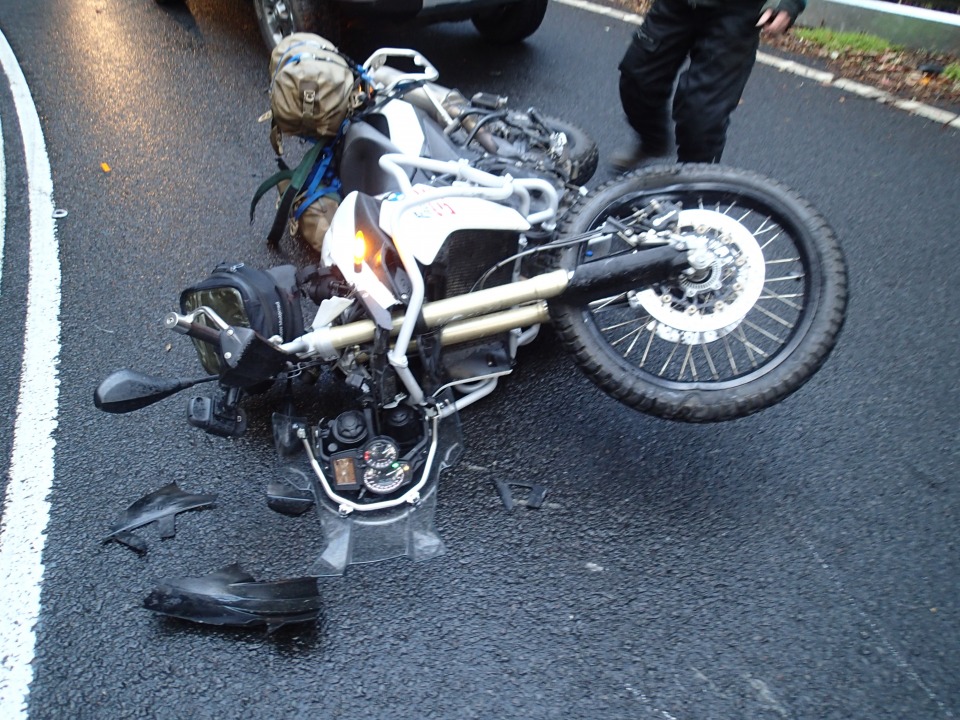 Also, for reasons that I'm yet to understand, some enthusiastic people out there decided to demonstrate that that you can hang you bike from a tree using this set-up.