So Long Australia
Australia has been my home for the last 11 years of my life and it's not easy to leave. I emigrated here in my mid twenties and my Aussie life was the greatest period of my life – I finished uni, started my career in construction, discovered adventure riding, explored Australia and made great friends. Life was good, and that's why it was so hard to say farewell.
Although I'm setting off to see the rest of the world I hope at the end of this journey I'll be able to return to Australia and start my life all over again.
But for now it was time to say 'See ya later…'
Send off Ride
It was a perfect weekend – I got to say "goodbye" to all my riding buddies in my favorite kind of way. After a 120 km ride through the Watagans and the Hunter Valley we pitched our tents at the good old Wollombi Tavern. This was the scene of some fun and games and that was all before the evening frivolities got underway. As night fell we started to party in earnest and even managed to find a party with a band, allowing us one last chance to dance together like no one was watching.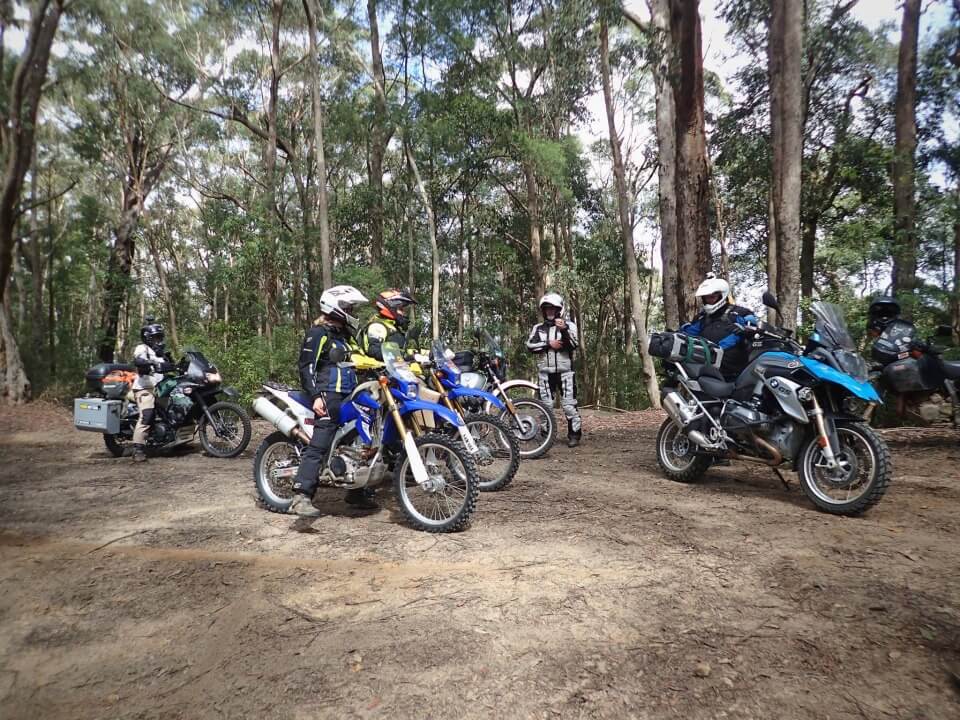 Thanks to the generous donations for the charity raffle from Adventure Moto Australia we were able to raise $615 AUS ($470 US) for Franek! A huge thank you to all of you – your support means a lot and is truly making a difference in Franek's life.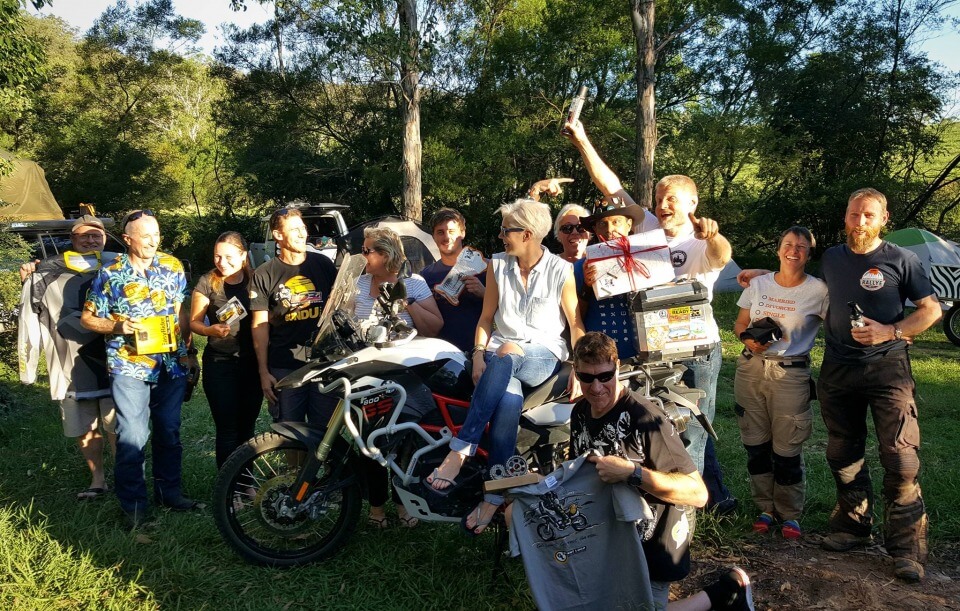 There was also a very special mystery prize which was happily won by Bala!!! Bala is about to start an overland trip on his bike and I'm sure he'll make great use on his travels of the pink G-string, bracelet, warm socks and pussycat he collected!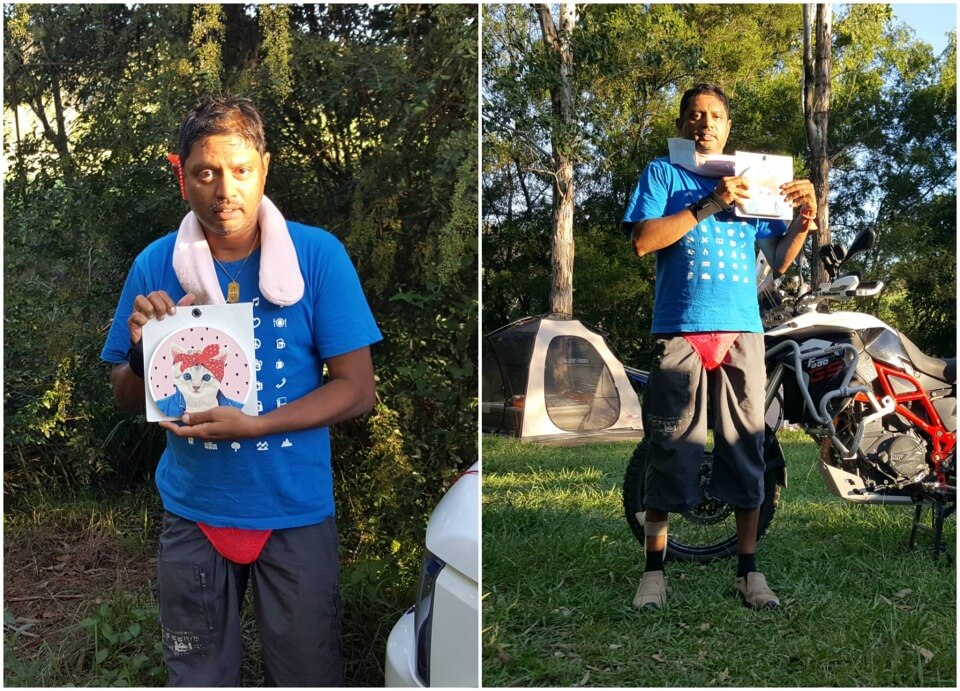 Mim, Stuart and Mick were awarded with trophies made especially for the occasion by Graeme. Mick was awarded his prize for leading without leading us astray. Stuart received his award for not losing anyone whilst sweeping and Mim had the dubious honor of picking up the hard luck prize for dropping her bike.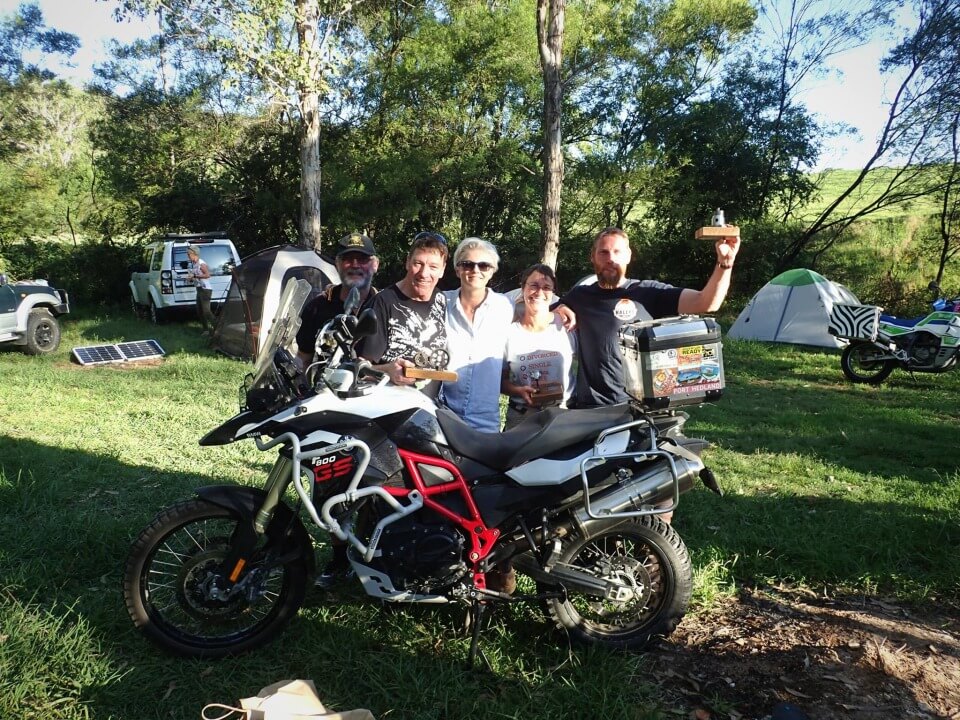 World travellers, Ewa and Sheldon, made a wonderful surprise appearance and I was so pleased I got to see them again! It also turned out I'm not going on this trip on my own anymore! This is Bacon who's been travelling around the world with many, many riders since 2007. Sheldon and Ewa have been looking after him since October and now he'll be travelling with Chillie and I to parts unknown 🙂
You can read up on Bacon's story at ADV Rider.
Very, very last farewell
Well, there was a LOT of unofficial farewells – to the degree most people started to think I'd never leave. But this get together was special and the very very last… just a couple days before my flight. We caught up in Manly for few drinks at the pub.This gathering was with some of the most important people in my life here in Australia. It was always going to be the hardest of my farewells and was so important to me that I catch up with these close friends before leaving, just one last time.
I'm truly going to miss these Aussie hang outs!
Time to go…
On 11th April 2017 Julie, Andrea, Mike and Graeme took me to the airport. My check-in was uneventful and we had time to have some breakfast and a final round of photos. We had some last laughs enjoying stories of the previous few weeks and years and as it got closer to my departure we finally crumbled and shared some tears. It still brings a tear to my eye remembering how wonderful it was to be seen off by these special people.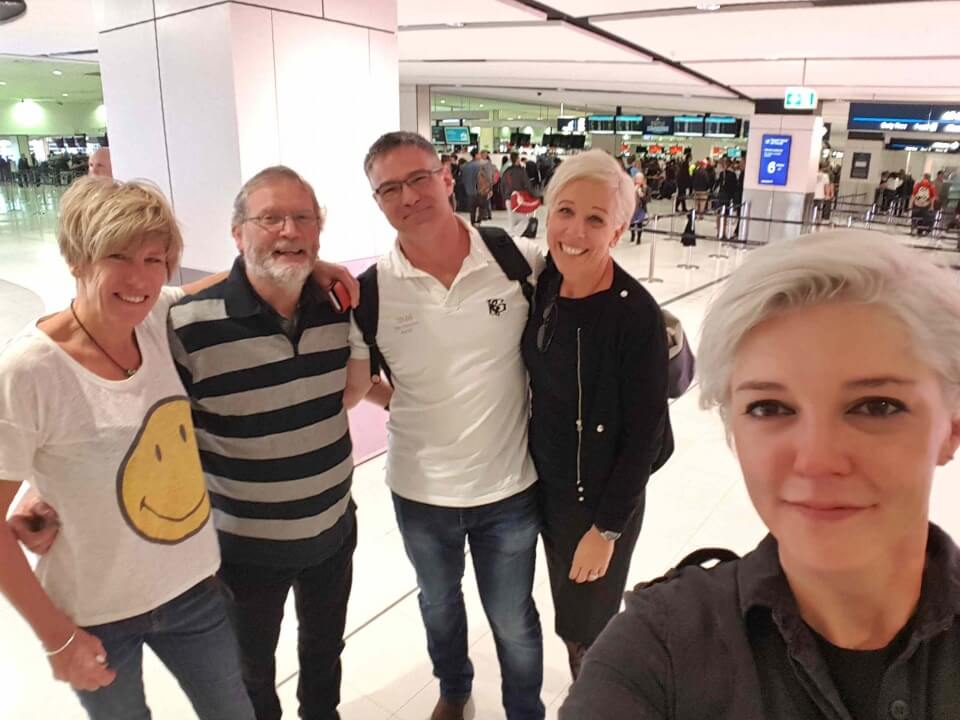 Good friends never say Goodbye, they simply say 'see ya later' xxx