South Korea
Once I found myself on the plane, I was going though a roller-coaster of emotions… but I guess it is a natural thing to experience before you start something so big. For the last 11 years I felt like half of my heart belongs to Poland and the other half to Australia and as an immigrant you're always torn between your place of birth and your new home. But now I'm doing this trip because I don't want to belong to anywhere, I want to be a nomad, I want to travel through the world with no commitments or deadlines… I just want to be free.
Hello Korea!
10.5 hours later I landed in South Korea… this is where my journey begins I thought. I walked out through customs and there it was… my personal 2 man welcome party! I couldn't contemplate a more adorable welcome 🙂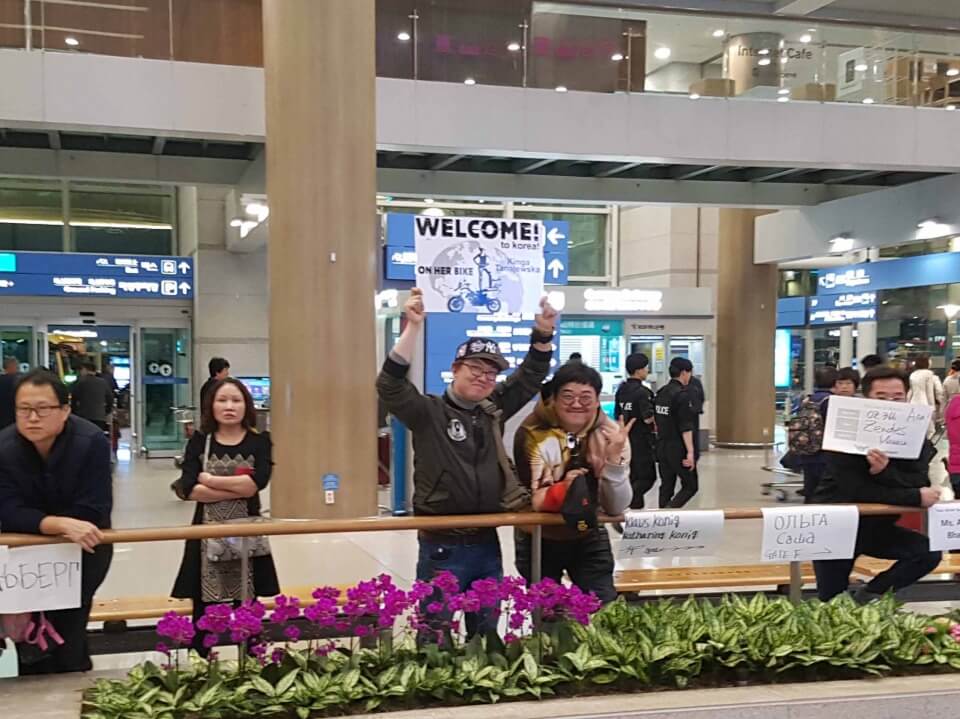 The main reason why I wanted to visit Korea was to see my friends! Some of them are dear old friends from our uni days in Sydney and some I met more recently online thanks to my blog. Dea Wook who greeted me at the airport was one of my new ones. He contacted me nearly a year ago with a kind offer of designing decals for my bike and I thought it would be a great idea to give Chillie a new look for this journey.
Straight from the airport the guys took me out to dinner at some dodgy looking restaurant near the coast, but oh my god… it was the best seafood BBQ I've ever had! I love the Korean style of BBQ! It's so much fun to cook it yourself at the table.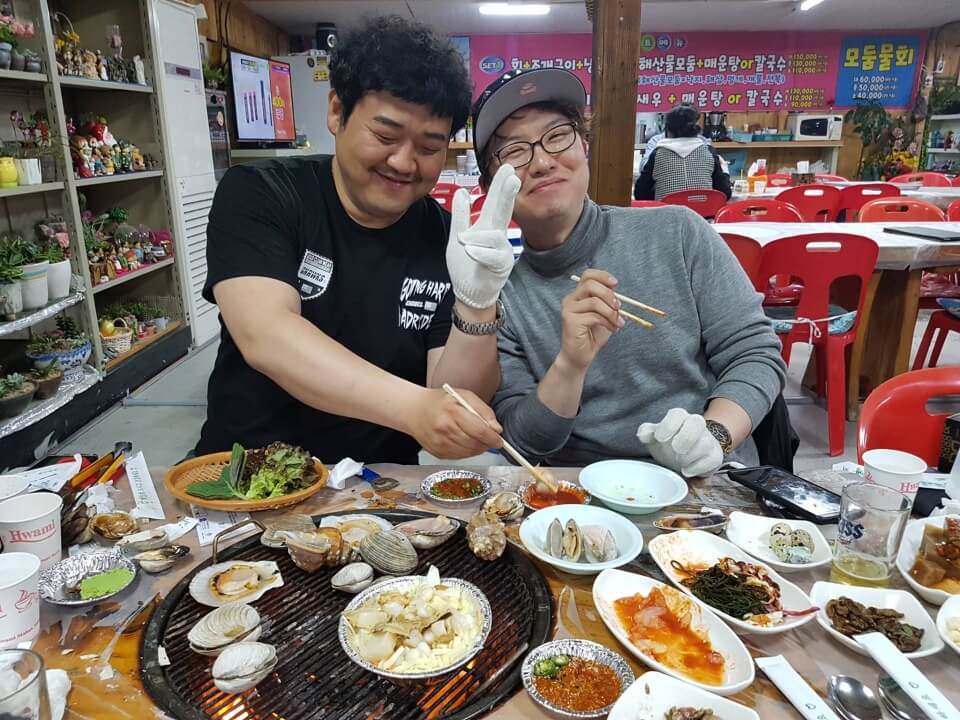 I also tried some silk worms for the first (but not the last) time! They ain't too bad I must say!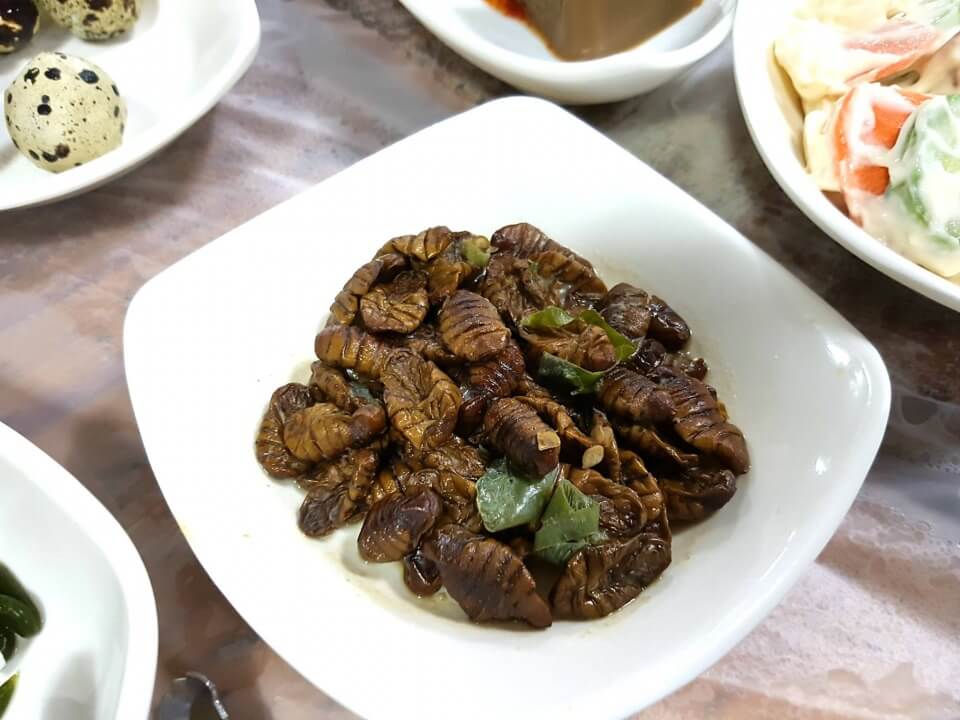 The next day the guys went back to Deagu and I had two days to myself in Seoul before Chillie's arrival. As I'm on a very tight budget on this trip, I was hoping to find some cheap accommodation. I was advised at tourist information that I'd be able to find some cheap hotels near Jongno station. Unfortunately I was rudely informed on two occasions there were no vacancies, but third time lucky (sort of!). It was quite an experience for 45000 Korean Won (KRW) ($40 USD) per night. I walked to the room, looked around and couldn't stop laughing – a pack of condoms on the table, various moisturisers, a red light and tennis balls for feet on the legs of the stools (for noise cancelling I guess) – I was in a sex motel! And of course I didn't get much sleep either – it was a busy night in the other rooms in my motel hahaha.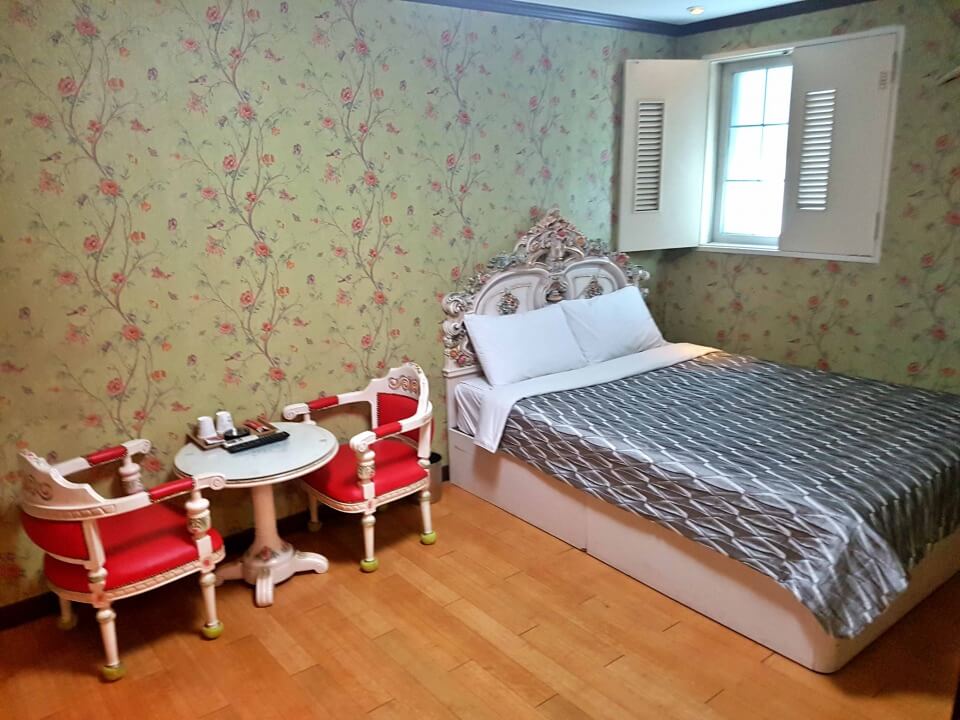 I spent a whole day wandering around town and Seoul has quite a good vibe, but I was looking forward to jumping on Chillie and leaving the big smoke behind.
Chillie's pick up
The next day Chilie had finally arrived! Although I used a Korean agent Wendy Choi to help me with the customs, it was quite a procedure to clear my bike. Firstly I had to go the passenger terminal to apply for a Temporary Declaration and that took a good couple of hours. After all the paperwork was done I caught a bus to the Cargo Terminal where bureaucracy took another couple of hours, but after that Chillie was finally released! No one had checked what was inside the crate, no one cared if the bike was clean or not, which was lucky because Chillie wasn't spotless! The forklift had dropped off the crate at the parking lot and that was it.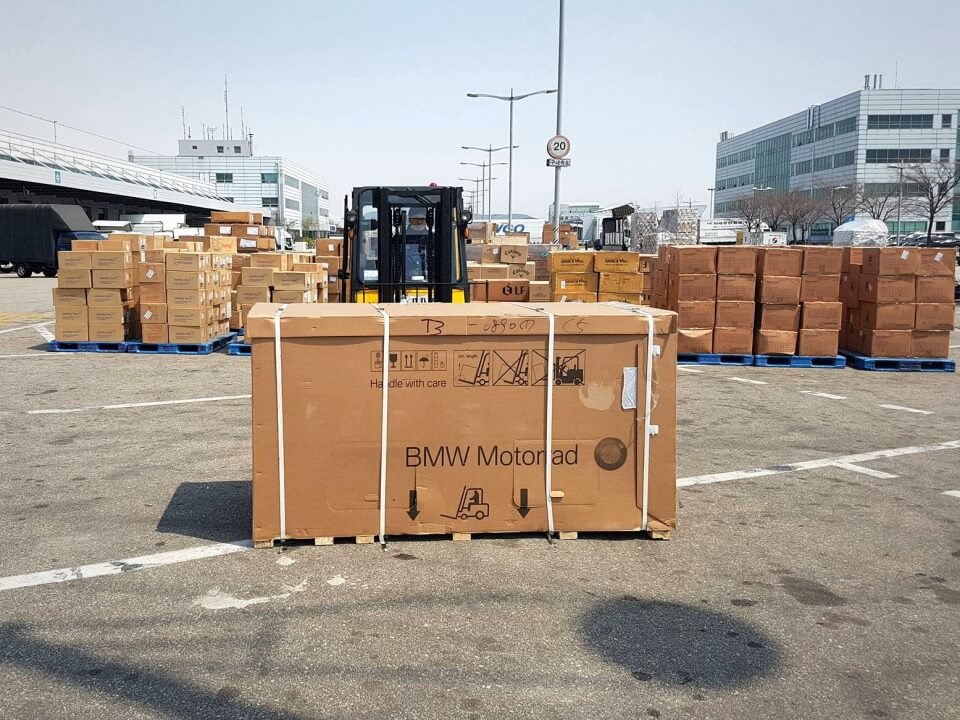 The bike shipment was arranged through Bikes Abroad. They transported the bike in a BMW crate which was big enough to keep the front wheel on. Also, no fluids were drained so all I had to do was to connect the battery put back the mirrors, windscreen and fix the handle bars. Easily done!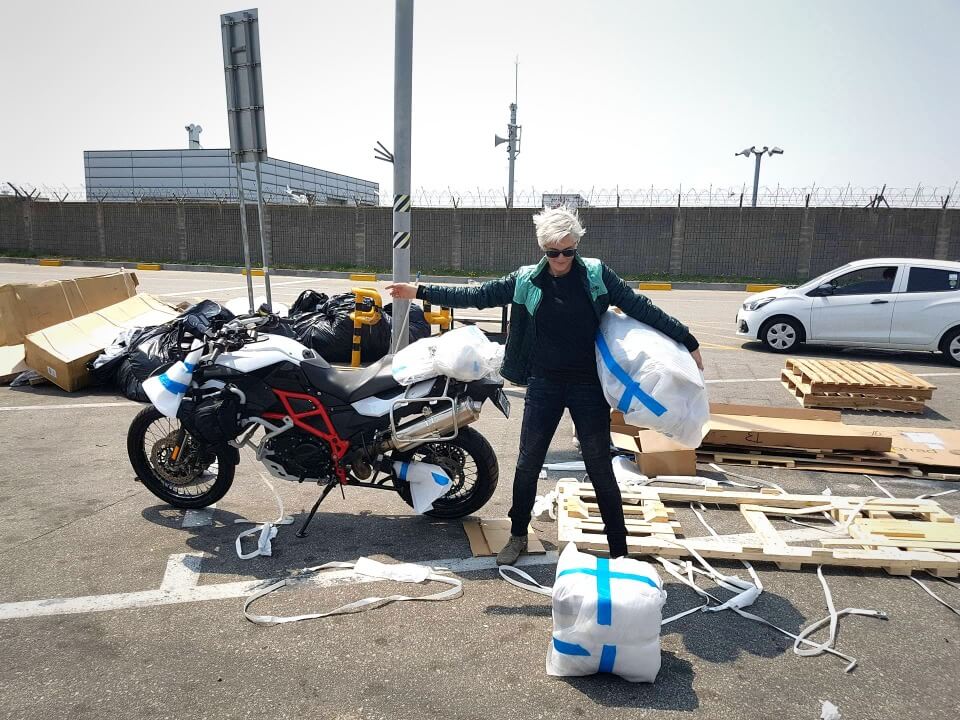 But as it turned out the other company who crated my bike forgot to put in my jacket, pants and boots! Grrrr ….. It was going to be a chilly ride!
Once Chillie was all fixed up we were ready to go, but leaving Incheon Airport on the bike is not that easy. Korean laws forbid motorcycles on the highways so the only option to get off of the island is by ferry. Getting to the ferry from the cargo terminal with no GPS is quite a challenge. I was a bit disorganised in terms of GPS maps for Korea, as I knew for most of my stay here I'd be riding with my Korean mates. So I didn't really worry about adding any maps to my GPS. But luckily for me some workers from the terminal offered to escort me all the way to the ferry!
And we finally started our adventure!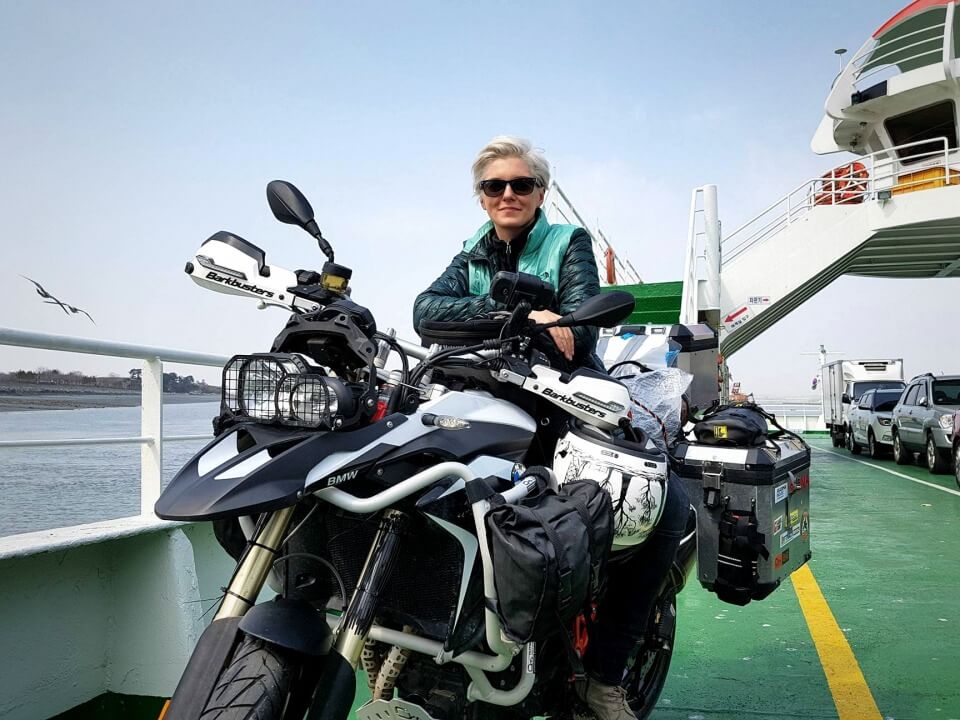 Off we go…
On the main land Chillie and I were greeted by Dea Wook and his friends who came all the way from Deagu to pick us up and join me for the ride down South.
Riding with my new mates it was quite a different experience to what I was used to in Australia.
There are not many bikes in Korea but it's not like car drivers are unaware of bikes, it feels more like they want to push you off the road on purpose! So it's a constant fight for your life and the way the Korean riders deal with this attitude is to just ride like hooligans – speed like crazy, overtake on the out side of the road, run though the red lights. It seams to be the only way to survive here!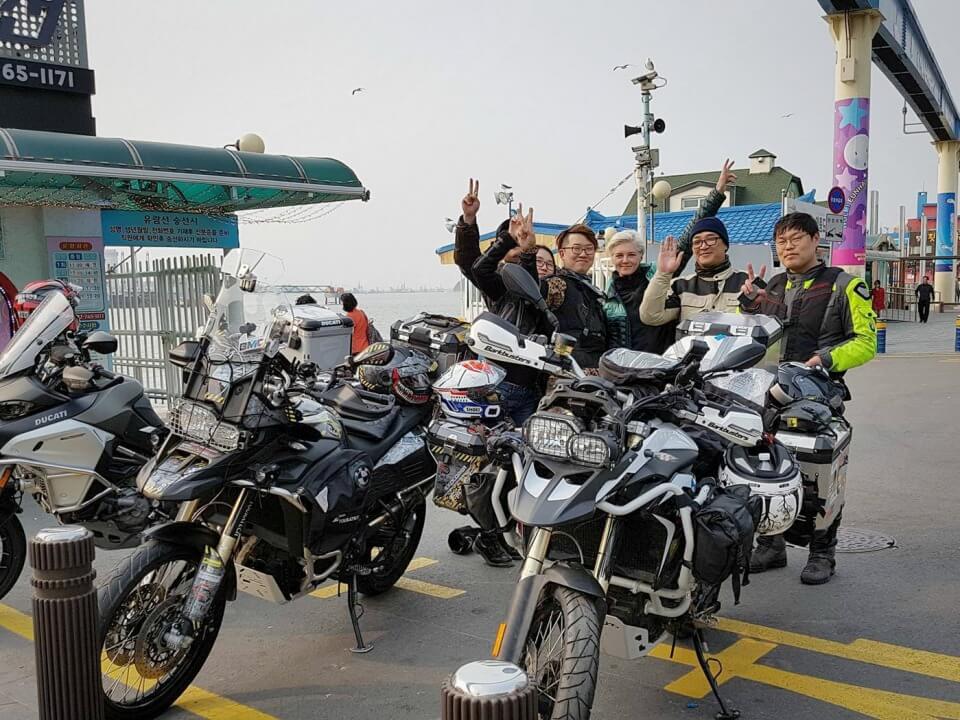 Our first stop was at the BMC (BMW Motorrad Club) in Cheonan and to be specific a workshop in Cheonan run by Inseok Jeong the founder and president of BMC. If you need any assistance or repairs done to your bike this is the place to go to. They service all brands (except for Harleys) and they are just an awesome bunch of people!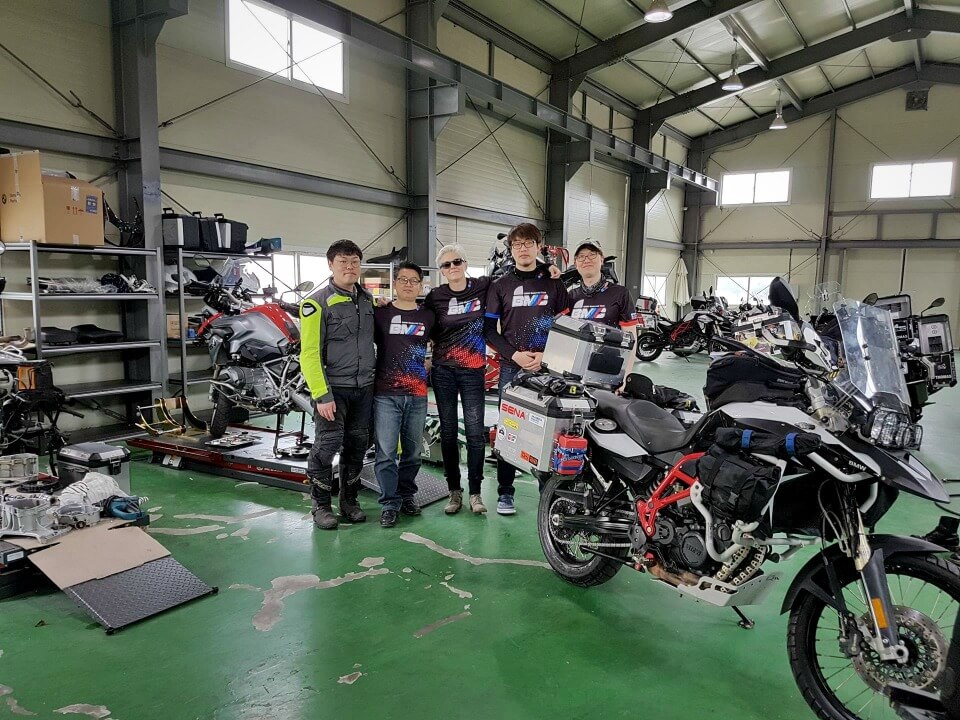 And again we were off for a Korean BBQ followed by drinks at the pub. A great hang out!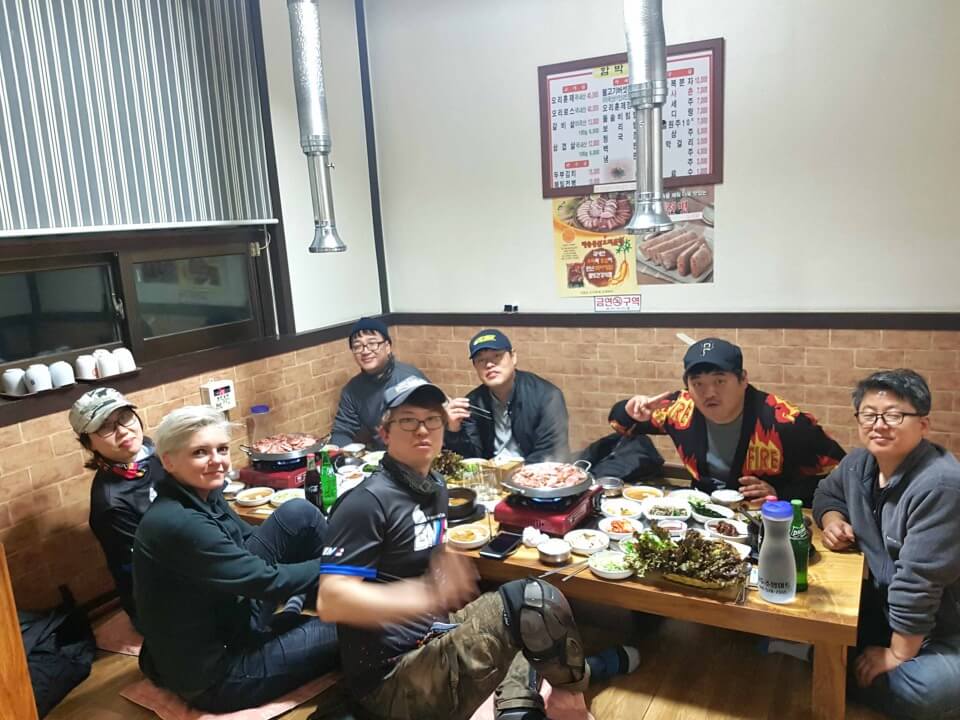 The next day we headed down South to Mungyeong-Si – the film set location for a historical Korean drama. It was a day of shooting so we got to see behind the scenes…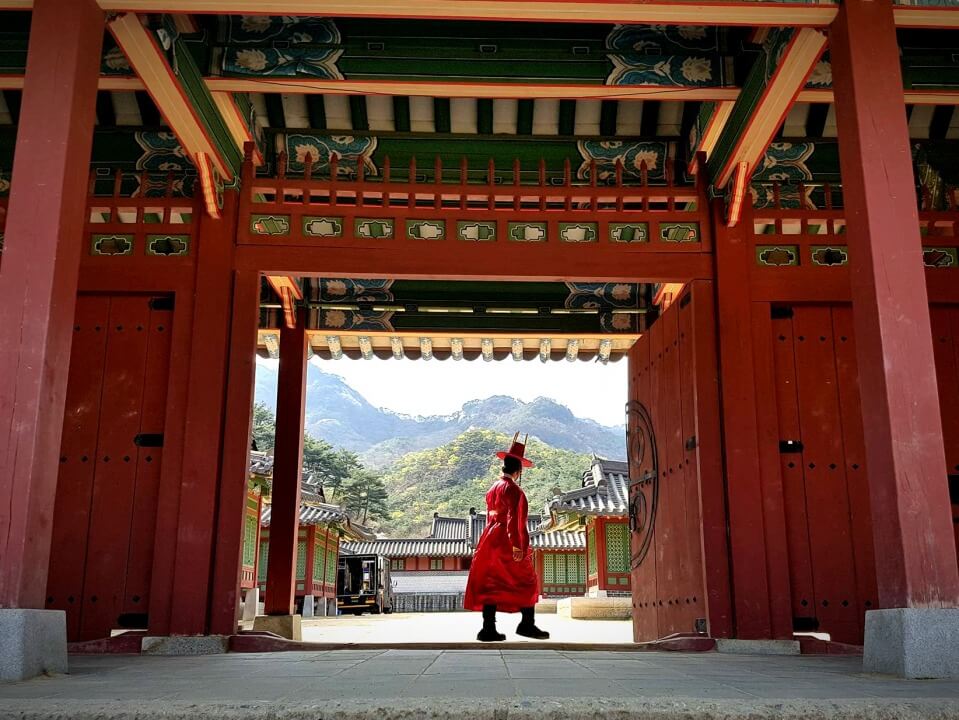 Just before Deagu we visited the Palgong Mountain! And that was just… wow! April is the perfect month to see the cherry blossom in bloom – it was a pretty spectacular ride.
Once we got to Deagu I booked myself into the hostel The Style which was near the city centre. It was a cool little capsule style hostel, not too expensive either considering the location – I paid20 000 KRW ($17 USD) per night.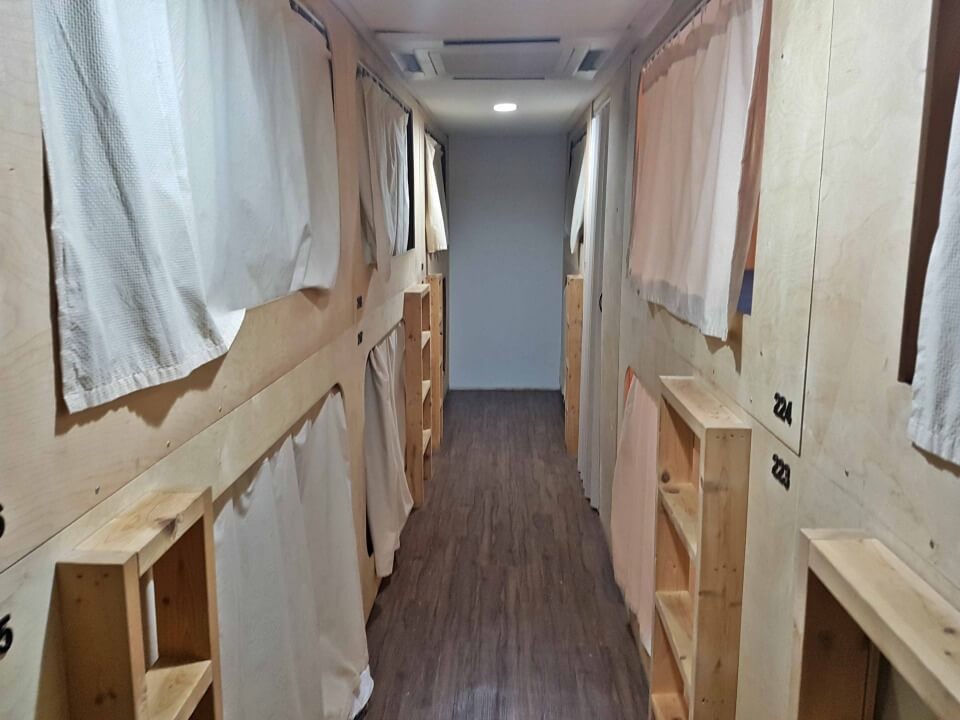 I stayed in Deagu for a few days and it was a great time. Everyday I'd would explore the city, catch up with my new friends, taste Korean cuisine and get to know their culture. And I must say their food is so damn good! There's so much choice – seafood, meat, vegetarian dishes… and all really hot! And as much as I love spicy food I didn't know what spicy is until I tried this!
We even did a little competition to see who'd dare to try it. And not many of my Korean friends wanted to have a go. But I'm tough and I like a challenge… and really 'how hot can instant noodles be?' Well, I was wrong. They were bloody HOT – after one bite I lost sensation in my throat for a few hours, hahaha. But now I know what spicy really is 😉
Chillie's New Look
In between all the fun stuff we had a little bit of work to do on Chillie's makeover. Dea Wook and his wife are running D&C Company which specialise in custom decals for the motorcycles. Working with them on the designs was heaps of fun!
And I was over the moon with the final outcome! Tada!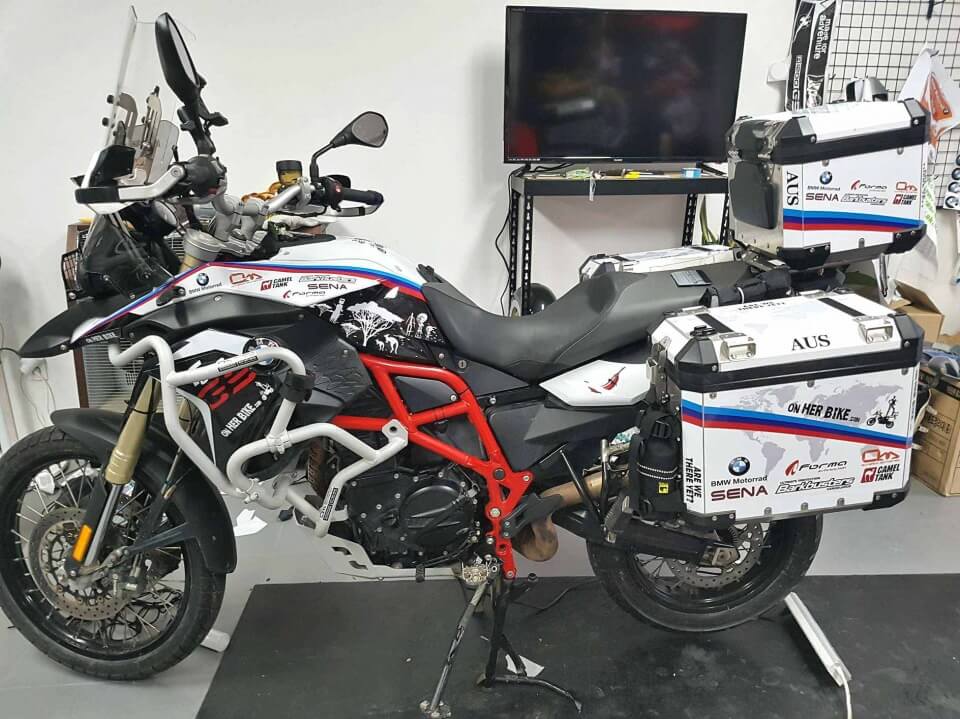 Good Old Mates
On the weekend I hopped on the train and went to Busan to pay a visit to my dear old friend Jae Gyun Lim and his family. I've been looking forward to this meeting for four years. Jae Gyun and I did our Masters in Civil and Structural Engineering together in Sydney. After completing his degree Jae Guyn and his family moved back to Korea… where he currently designs ships.
I received the warmest welcome from them, especially the kids.
I always wondered what their life looks like here in Korea and it was great to see that they're doing well and they're happy.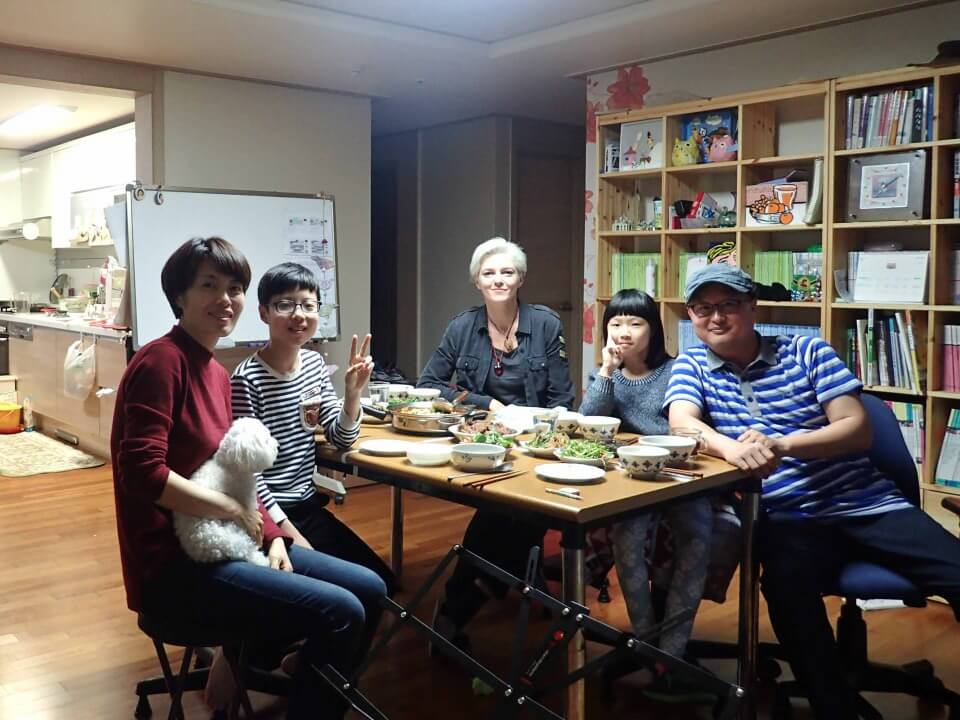 We visited together the Haedong Yonggung Temple – a Buddhist temple built on the edge of the ocean, apparently "at least one of your wishes will be answered here through your heartfelt prayers."
East Coast
As my riding gear was on it's way to Vladivostok I was lucky enough to borrow some gear and the 4 days prior to my ferry departure was spent exploring the East coast with Dea Wook and Thomas. Thanks to these guys I've gotten a taste of the real Korea – it's food and culture.
The first night we camped at Hwajin Beach. At this time of year camping in Korea is free… or I should say priceless!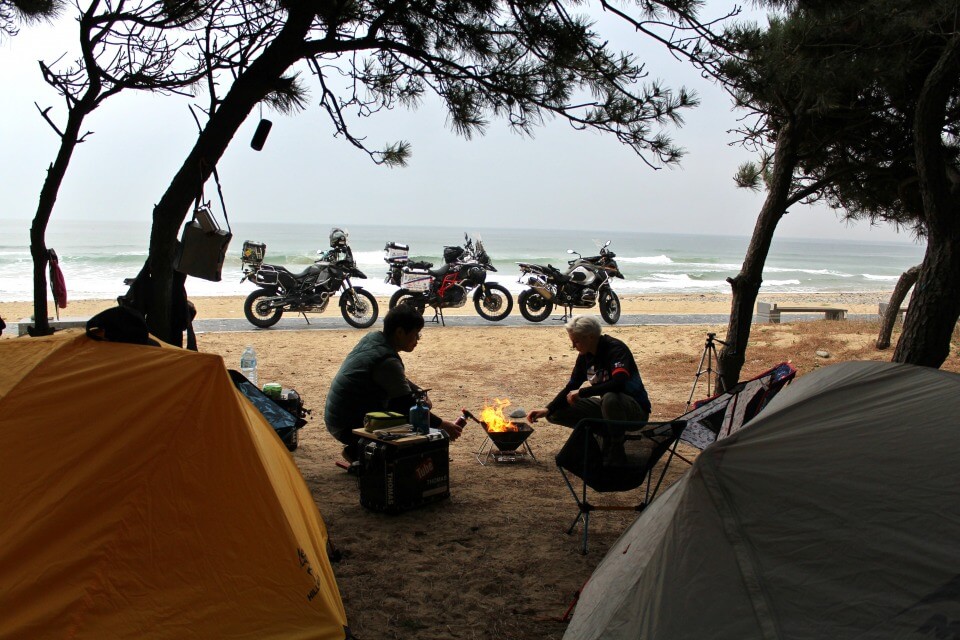 Fire on the sand wasn't allowed as there is some kind of net underneath to protect the sand from erosion. But Thomas carried a fire pit with him and that night around the fire pit, with good food and a couple of beers, it reminded me of Australia.
The next morning after a gourmet breakfast – ramen noodles and mussels we were ready to hit the road again!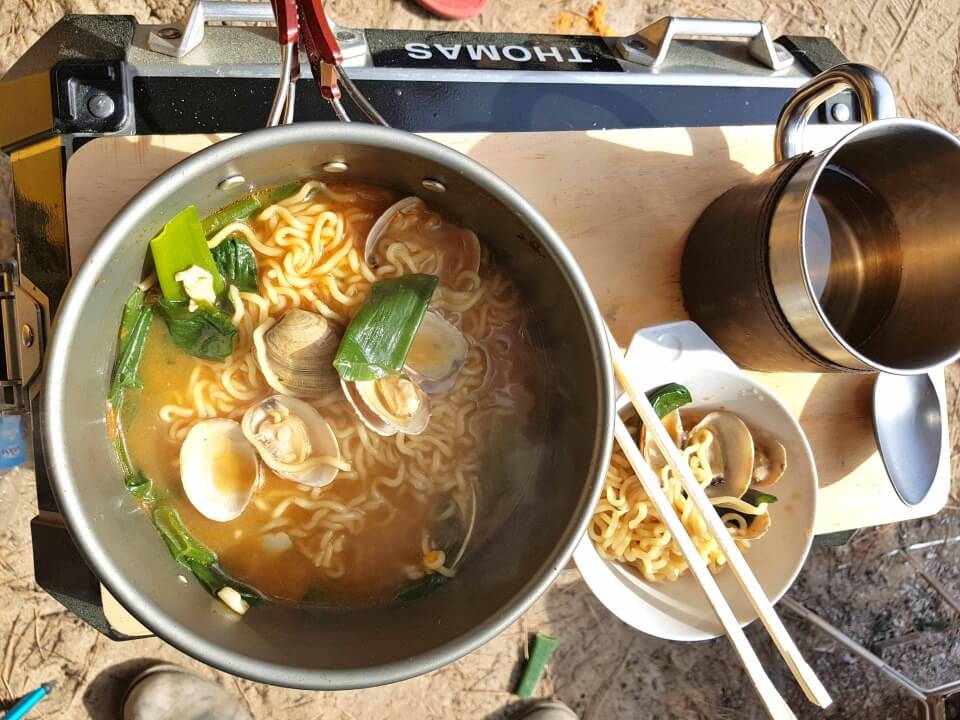 The East cost of Korea is amazingly beautiful and the moment you leave the city there are seemingly unlimited roads to wind your way through the mountains. This region is also not so populated and you hardly see any cars, so you can easily stop in the middle of the road and take a picture, just like that! Snap!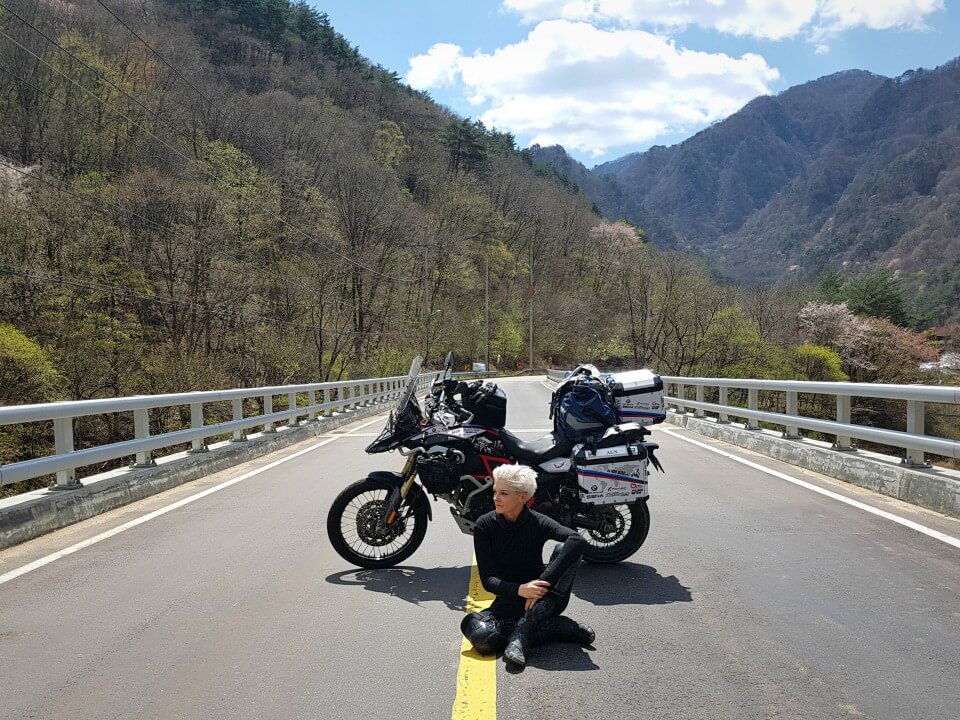 And our 'climb' to Seorak Mountain was definitely the highlight of our little trip. Seoraksan is the third highest mountain in South Korea – beautiful scenery, endless twisties, perfect weather – we were in heaven!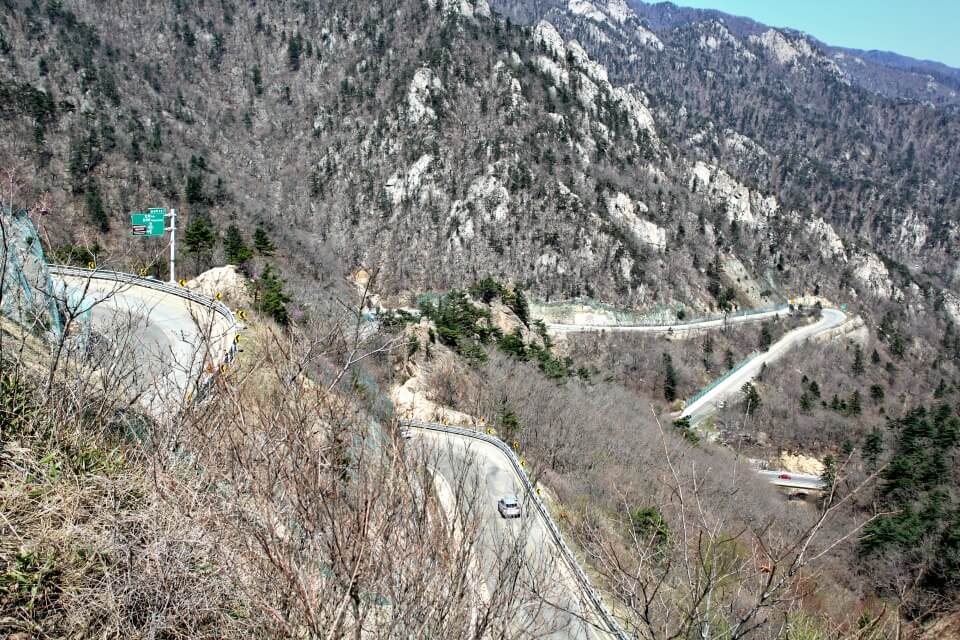 On the other two nights we stayed at 'pensiones" – cosy, cheap ($30-50 USD/night) boarding houses. And they would be hard to find on your own as a foreigner. They're not really advertised and in a lot of instances they're just rooms for hire at people's houses.
As for our last dinner in Donghae… well we had to 'catch' it by ourselves… hahaha, at the market. It was quite an interesting set up. We picked our live seafood at the market where it was killed and skinned. Then we took it upstairs to a special restaurant where it was cooked for us. This was super fresh and delicious!
After 11 days and 1400 kms my time here had sadly come to an end. We made it to Donghae from where I was catching the ferry to Russia. It was time to say 'goodbye' again, and again it wasn't easy but I know we'll meet again!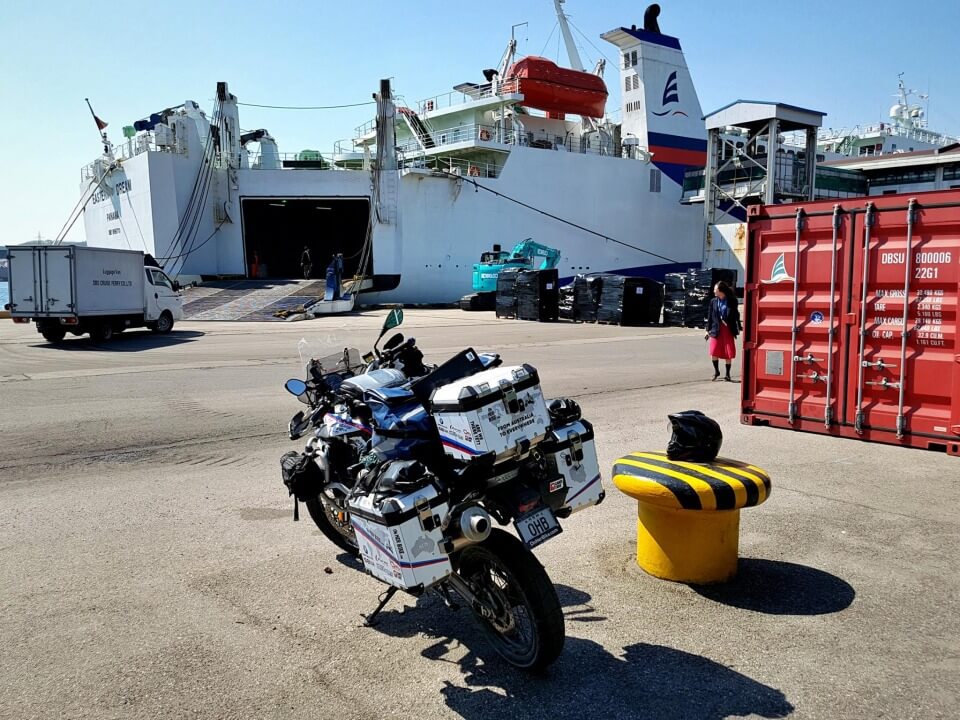 Summary
The feedback I got from other riders who've been to South Korea was quite negative on a few occasions and I can see now, how easily it is to miss out on things as a foreigner when you're travelling on your own. There's so much to see in Korea but sometimes it's not easy to find. There's an extreme amount of roads for such a small country. Travelling 200km can take up to 4h due to traffic or slow speed on twisty roads. I was lucky enough to have my personal 'tour guides' leading me so all I had to do was enjoy the scenery with my mouth ajar in awe.
Here's the maps of my travels: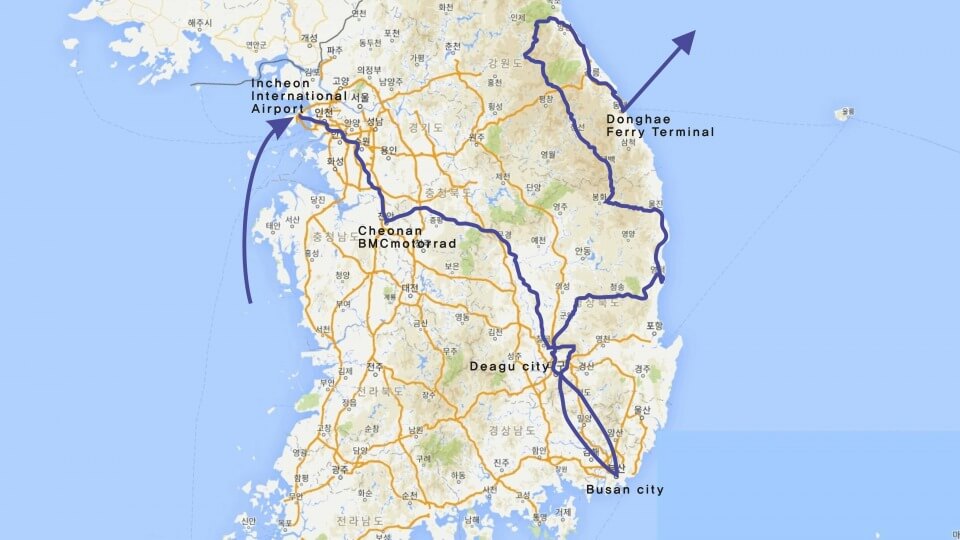 Thank you to all my Korean mates for inviting me into their world and showing me things I wouldn't be able to experience on my own. It was an experience I will always treasure and hold dear to my heart.
And many, many thanks to Dea Wook for arranging my whole stay in Korea and for the great decals for Chillie! And to Thomas for looking after me the whole time and for capturing our memories on these great videos:
https://www.youtube.com/watch?v=mEMZZAxT6F0
https://www.youtube.com/watch?v=tcfYMI83cCw
https://www.youtube.com/watch?v=ztgZMdidGGY
https://www.youtube.com/watch?v=DilPSKV49ME
…. and for the generous donation for Franek – we are both very grateful.
The "Are We There Yet" World Tour is about more than just me seeing the world on a motorcycle. Throughout my journey I'm raising money for a young disabled child in Poland named Franek. Franek was diagnosed with cerebral palsy (weakness of the entire right side of the body) and he will require constant rehabilitation for the rest of his life. All the money raised will go directly to helping Franek and his family lead as normal a life as possible so please donate generously: www.gogetfunding.com/arewethereyet