Russia
24/04/2017-21/05/2017
The ferry from Korea to Vladivostok took 23 hours and it was a non-eventful and rather pleasant trip. There were a couple of other adventure riders on board – Paul from Australia and Robin from Korea and they were both heading more or less the same way as me. As overlanders tend to do we set about comparing our plans and passing on advice and recommendations.
The moment I arrived in Vladivostok everything reminded me of home… my polish home, despite it still being so far away. Throughout history from the 17th century to the Soviet era millions of Polish citizens were exiled to the penal camps there for hard labour in Siberia and Far East Russia. This was done predominantly for political reasons or as prisoners of war. For us Polish, Siberia is a cold, harsh land far far away with a sordid history, giving rise to emotions of pain and nostalgia. The curiosity was always within me and I finally made it here to see for myself what I'd only heard about.
Vladivostok
Yuri and Svetlana from Links not only helped me with the customs clearance but also picked up all of us bikers from the ferry and showed us around Vladivostok. Yuri also picked us up the next morning and took us to customs as the bikes had to stay at the port overnight. The customs clearance procedure took half a day but everything went nice and smooth thanks to Yuri and Svetlana…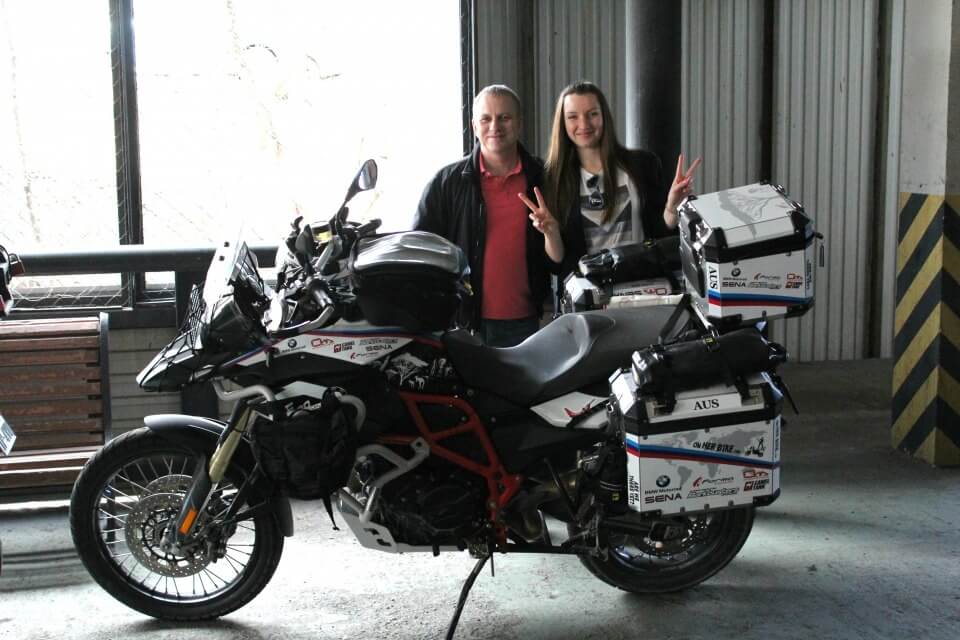 Getting straight into it I went direct from the port for a little ride to Rusky Island with Paul and Robin. After a few pictures together we said our goodbyes hoping that we would meet again in Mongolia!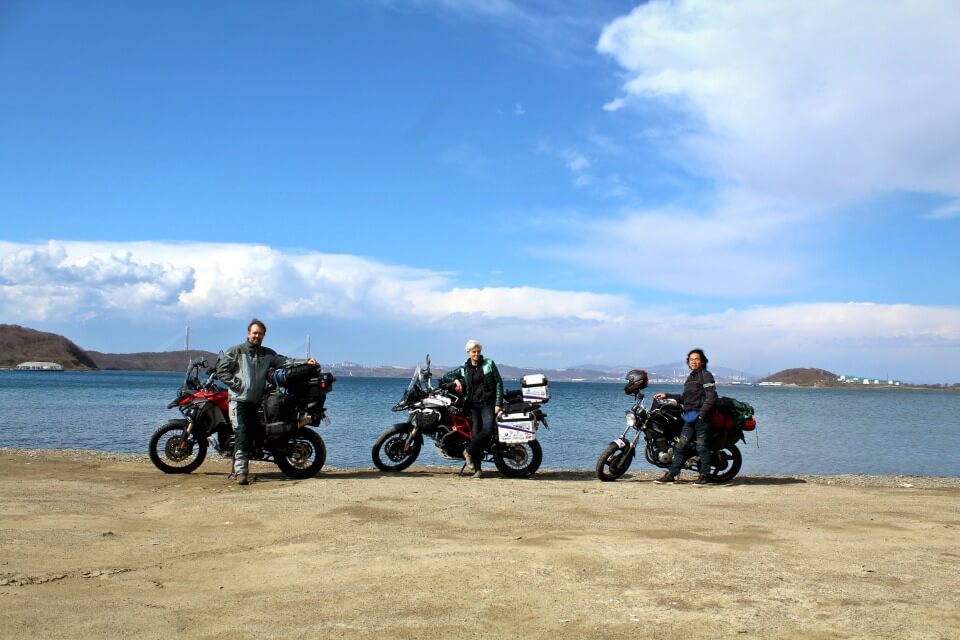 As for my accommodation I decided to try Couchsurfing! Roman and Olesya took me in under their roof. It amazed me that they live in a one room apartment, but still found a spare space for me… on a balcony with a view! Brilliant!
It felt like I had known them forever. I truly enjoyed our conversations about life! They have a great family and made me feel a part of it. They made my stay very special.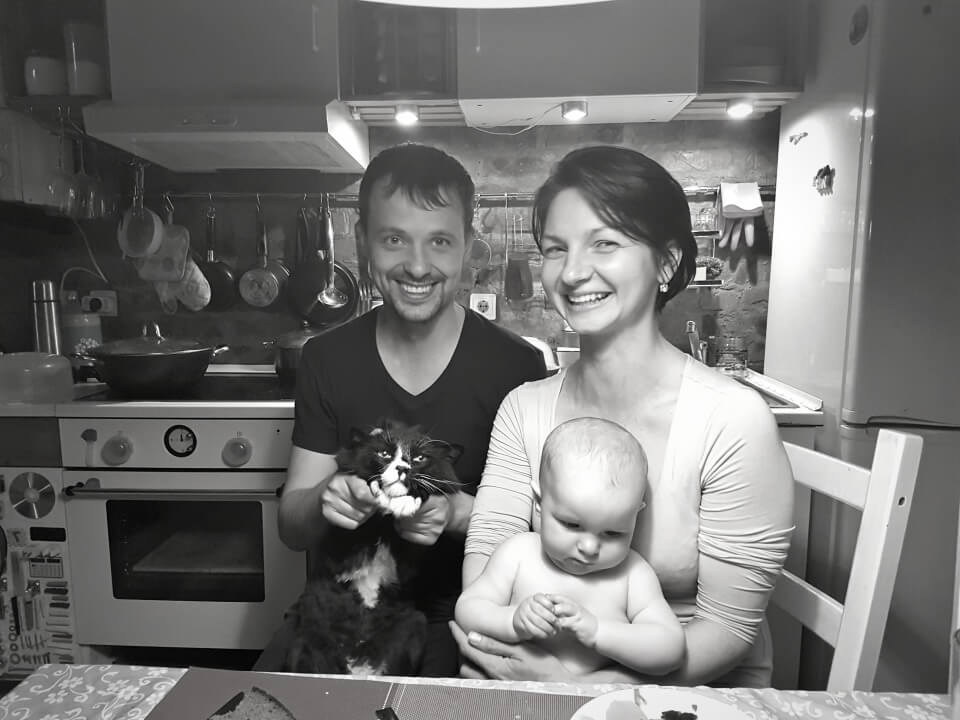 I was hoping that my lost in transit riding gear would arrive within a couple of days, that was before the long weekend. Well, it didn't! That as it turned out was a good thing though because I got an opportunity to experience something which doesn't just happen every day…
​Weeekend in Andreyevka
Chillie's handlebars had had a bit of a vibration since I uncrated her in Korea and I couldn't really work out the issue. I wasn't sure if it was the steering bearings or just the effect of the new bar risers so I took her for a quick check up at the local workshop Rider25. The guys there provided excellent service, they changed my fork oil to a heavier one and Chillie was fine once again.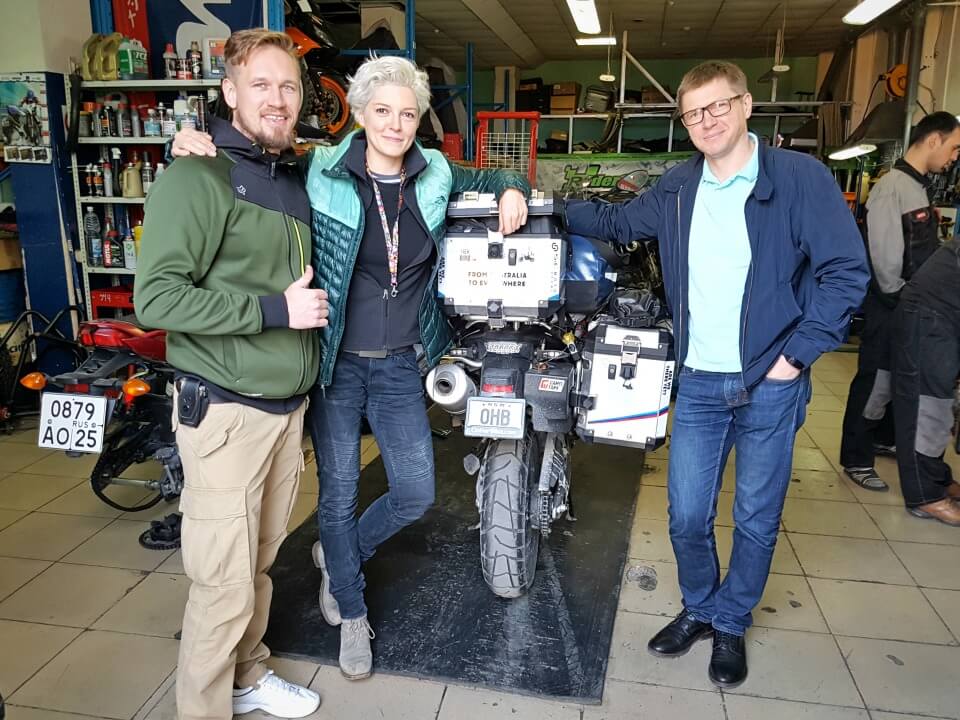 They also asked me what I was doing for the long weekend as a big group of BMW adventure riders was heading to Andreyevka – a little village on the shore. Well, I didn't have much planned as I had no gear to go anywhere, but the next day through the magic of social media, I managed to borrow some oversized armour and off I went to join them!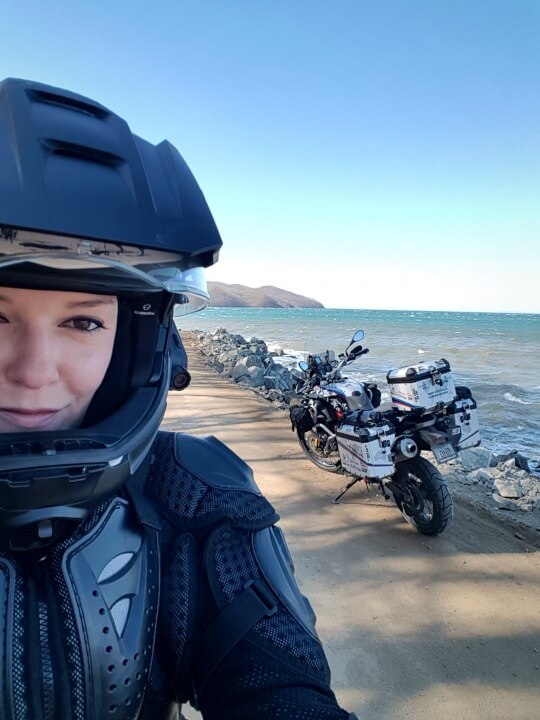 It turned out about 20 riders showed up for the weekend in this cosy resort and some of them came all the way from Moscow! The main attraction of the weekend was a trip to the border of China and North Korea! But not just to the point that is accessible to the public. We were going into the neutral zone between the borders!
All of this was organised by Kostya, a local politician who arranged the special permits for everyone… well, except for me cause I just showed up at the last moment. But Kostya came up with a solution. As his wife couldn't come along I was going to pretend to be her. Clearly Chillie couldn't come along – it would be rather hard to explain her Australian number plate so I was advised to sit in the car and not to speak – cause my poor Russian would give away our conspiracy. I was very happy to do that!
The way to the border was through some dirt tracks. The guys on the bikes had a ball!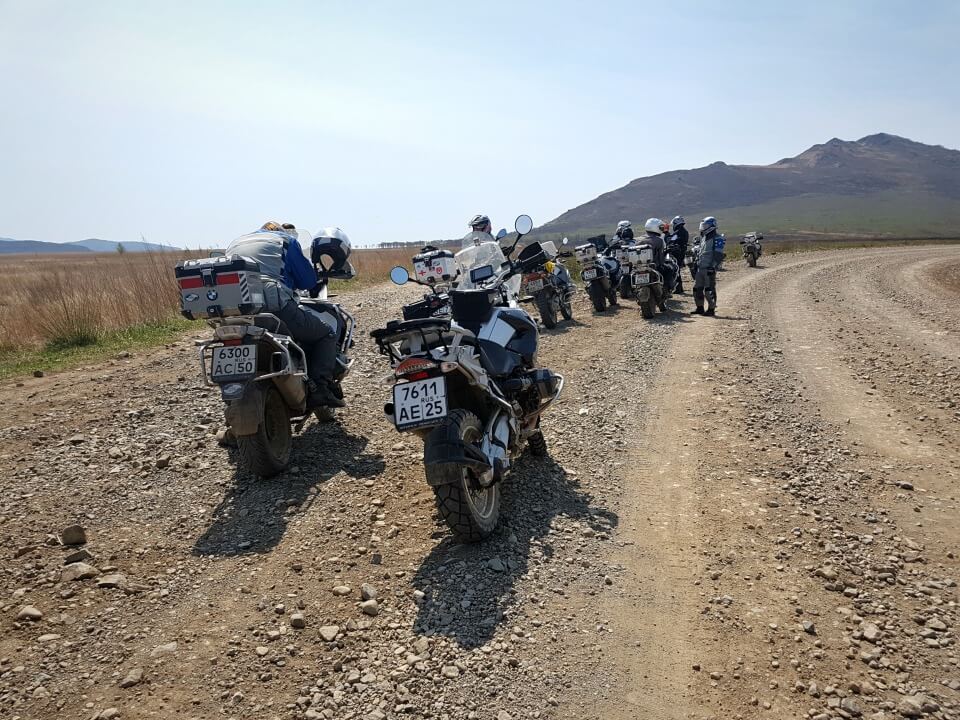 We also visited a local school in a little village which had some celebrations going on…
Where we were invited for a little history lecture (shame I didn't get any of that!). After which we were escorted to the lake in the neutral zone of Russia and China where we had a little picnic under the supervision of some armed border guards.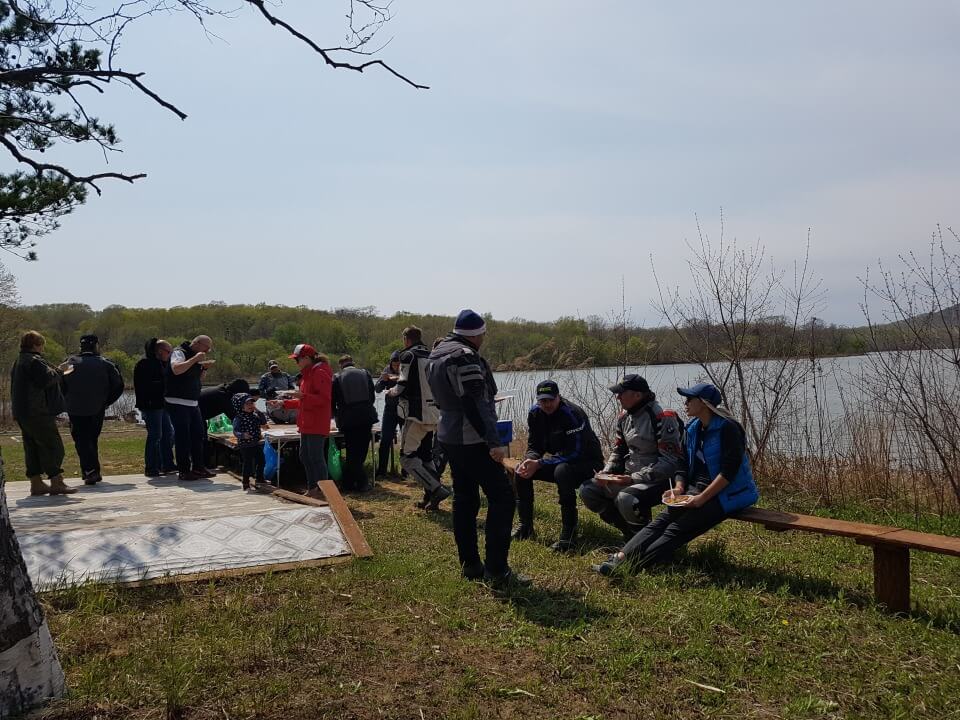 This is a very special moment – I thought to myself… not many Polish, Australian or even Russians get the opportunity to be here. After lunch we drove to Khasan where on the top of the hill we could clearly see the point where the three countries meet…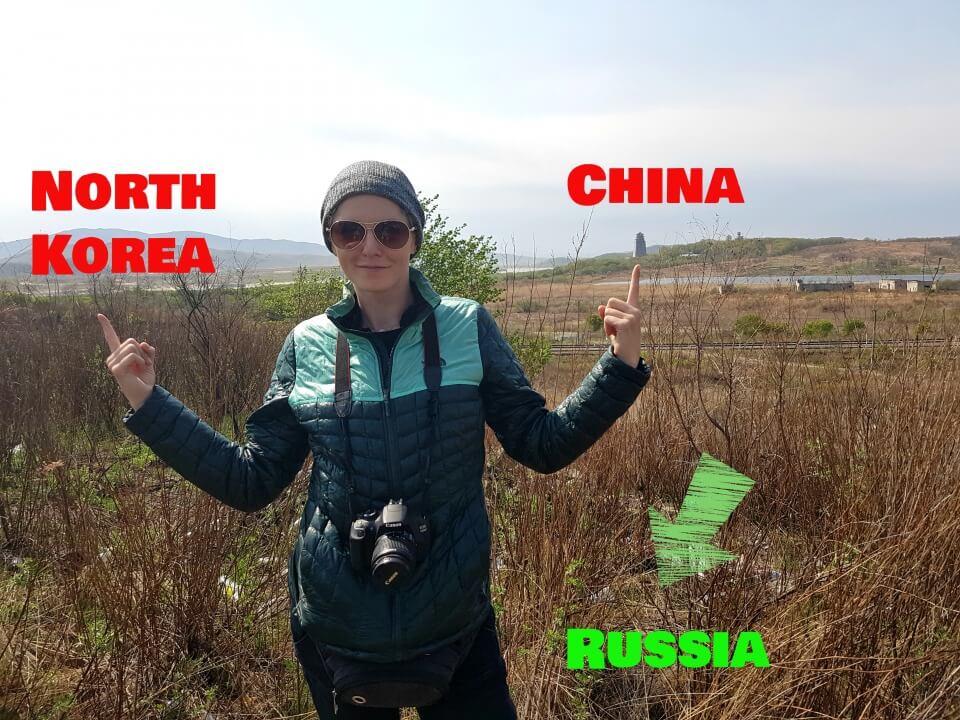 …this is the closest I would probably ever get to North Korea! Epic moment!
On the way back to Andreyevka we explored the coast and made our way back to the resort just in time for dinner! As is the custom in Russia, the next few hours were spent drinking vodka and telling stories of the day's events.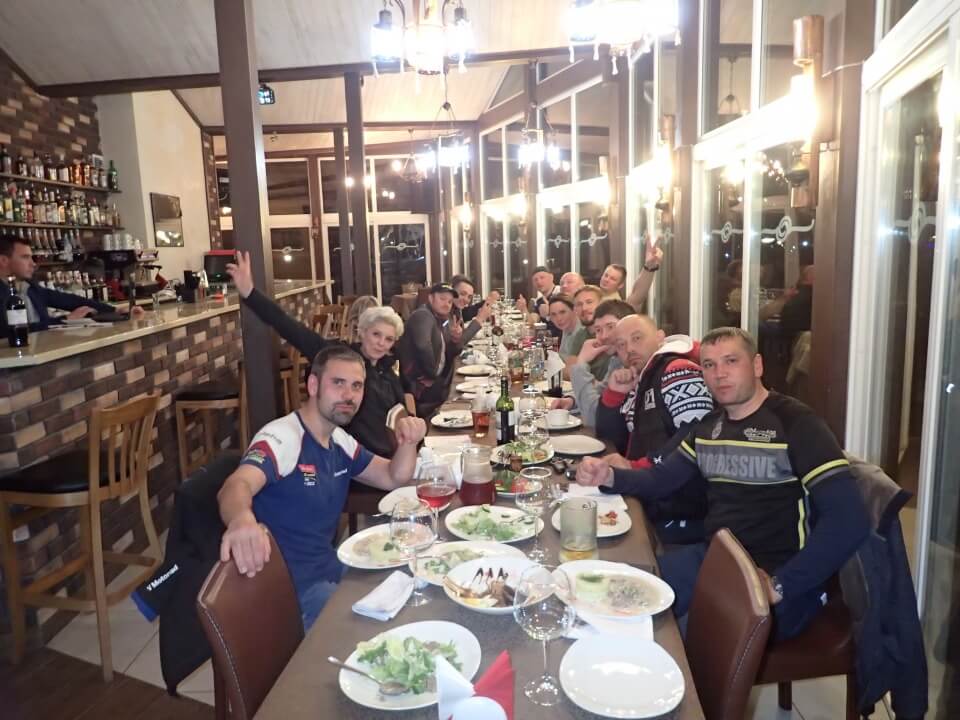 Next morning we were all ready to go back to Vladivostok for the BMW motorcycle season opening! Perfect timing!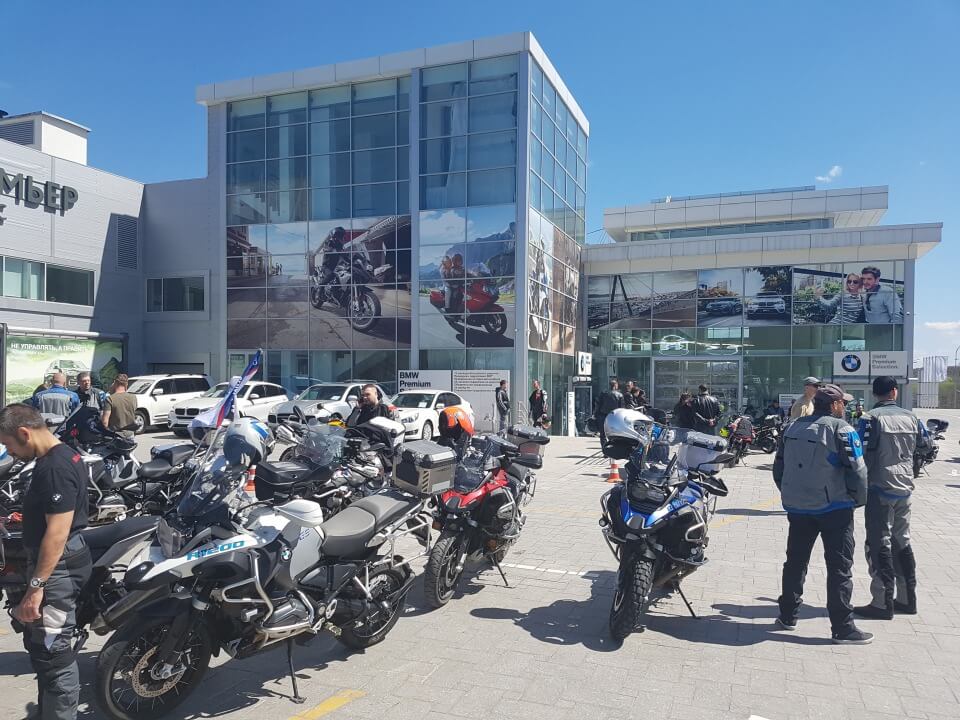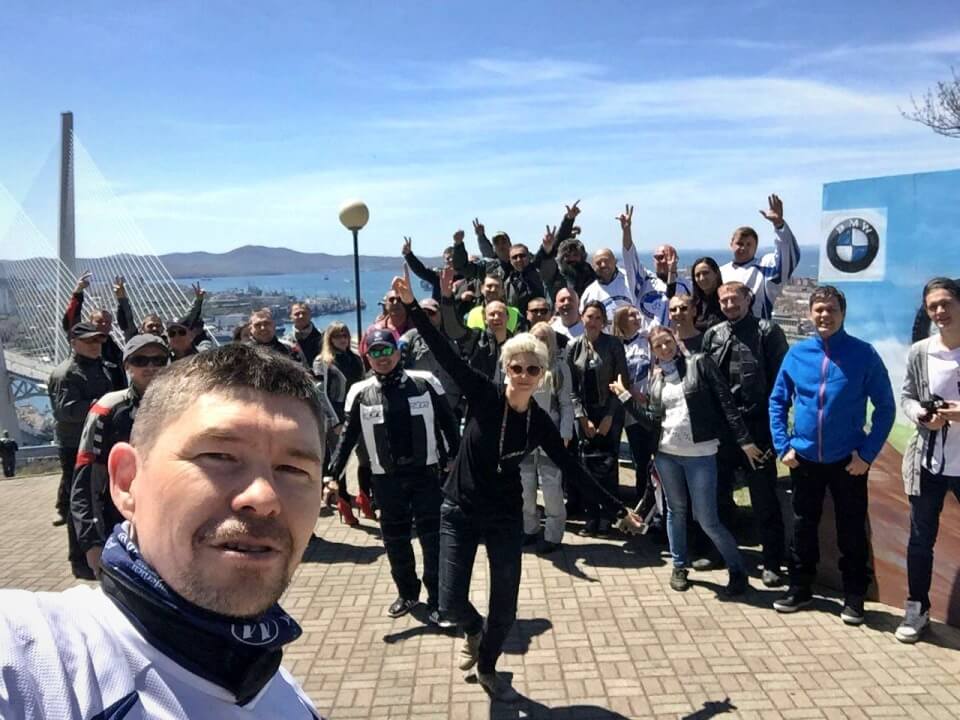 The event was very much like the ones in Poland – we started the day with a parade around town and Rusky Island where babushka paid us a visit. Apparently it's good luck to kiss a ducky or maybe I misunderstood, hahaha. Either way I kissed her twice – just to be safe!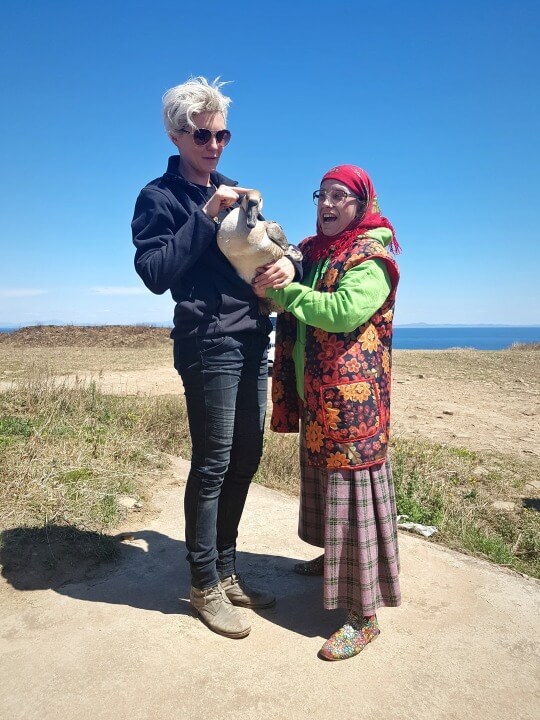 We also explored the fort on the island. No doubt they have some big guns in Russia!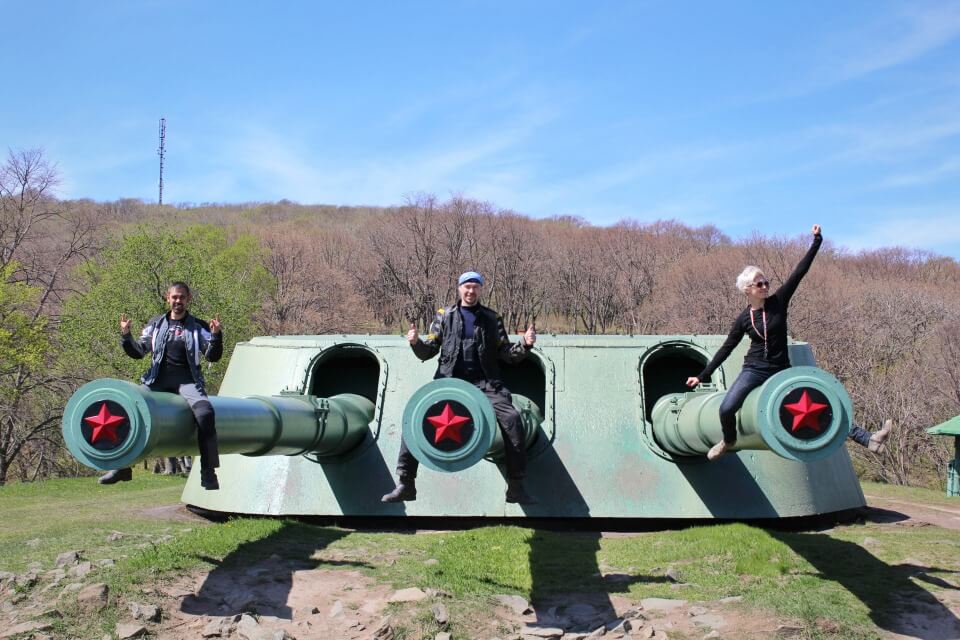 …and in the evening we all came back to the BMW season opening party, complete with beers and live music.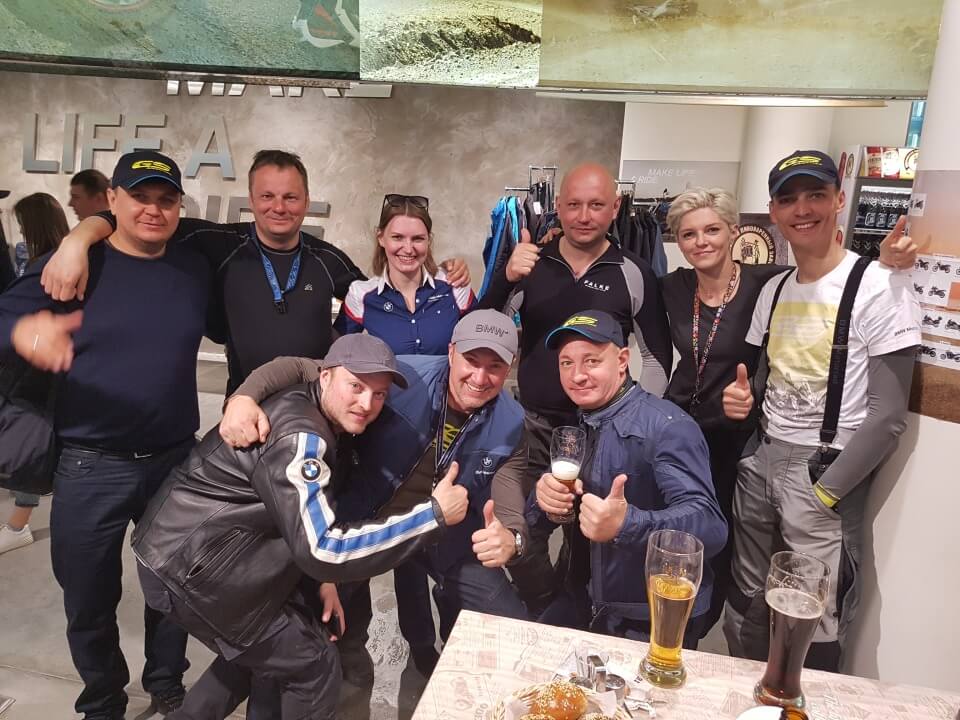 The next morning I got a phone call from Yuri from Links where I had had my gear sent to: 'I've got a notice from the post office, your gear is ready to be picked up!' I couldn't have been happier. I ran to Yuri's office with a big smile on my face. Yuri kindly offered to take me to the post office and after waiting in a long queue for quite a while we were informed, we were in the wrong place, the parcel was next door at the courier's office. At the courier's office we were informed the parcel was still with the courier and he wouldn't be back for a couple of hours! I felt like I was having one of those dreams where you desire to get somewhere, but with every step that place is getting further and further away! Luckily Yuri knew exactly what to do in this situation! He took the driver's number and off we went chasing him across town! One hour later, I finally had my parcel. A real dream come true moment!
Yuri dropped me off with my Couchsurfing family, where I impatiently unpacked the box to check if everything was in there. Yep, I finally got my jacket, pants, boots and Bacon! I was ready to go 🙂
North East Russia and Siberia
During the 9 days spent in Vladivostok I managed to gather a lot for information about the tran-siberian road. I was advised by Russian riders not to camp in certain areas on the way as there are no police and crime is quite high and there had even been a couple of riders murdered in the past. They also told me about 'bike posts' run by the motorcycle clubs – safe garages, hostels or just people's houses where you can stop for a night. All those contacts are available in the Russian Motorcycle forums, but I didn't quite work out how to find them so I stuck with what I knew – Couchsurfing!
I'd contacted Anton from Khabarovsk, a city 760km away from Vladivostok. Anton had a picture with a motorcycle on his Couchsurfing profile so I thought he must be a good man! I wasn't wrong. He hosted me for one night and told me that he's going away for the weekend but he's happy to leave me his house so I can stay here for as long as I want to. I thanked Anton for his kind offer and told him I had had plenty of rest already and I needed to keep moving.
Anton also put me in contact with Sergey in Svobodny, a town another 760 km away. But before I would reach my destination my GPS decided to lead me through 20 km of dirt which then turned out to be a dead end. This ride felt like something from the apocalypse – there was so much dust in the air, through which you could still see the orange sun on an overcast sky, later on Sergey would explain that this dust storm came thousands kilometres all the way from the Gobi. Gee, I thought – this is my first taste of Mongolia!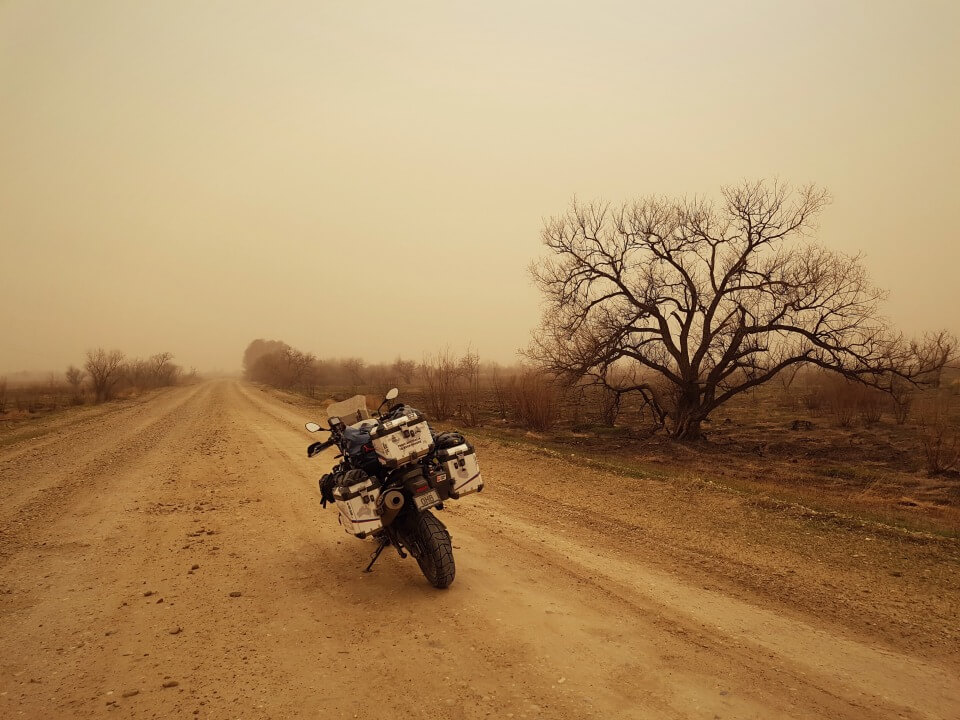 Once I got to the the end of the road where there was only a flooded field ahead of me, I figured there's surely a better road into town. I went back to the highway and took the next turn to town. After a little wander I managed to find Sergey's workshop. Turned out Sergey is a motorcycle mechanic and his workshop is cool as…
Sergey proudly showed me his KTM which was a gift from a couple of world travellers Craig and Sharon from Australia. Their KTM broke down in Svobodny 5 years ago, at which time they decided to pass it on to Sergey and continue their travels onto other continents with a new bike. Sergey was able to fix his new machine, which is running well still to this day and the story of the two generous Aussies lives on in Svobodny.
After seeing the rest of his motorcycle collection we headed to Sergey's place where his wife Ola welcomed us with dinner.
That evening we got some messages from other riders on the road that there was a heavy snowstorm 100 km ahead of me. My hosts told me not to worry and I could stay with them as long as I wanted. The weather didn't clear for 5 days and I'm glad it didn't because otherwise I wouldn't have had the chance to get to know Sergey, his family and friends, closely. There was something about their house that made me feel very safe and completely at peace.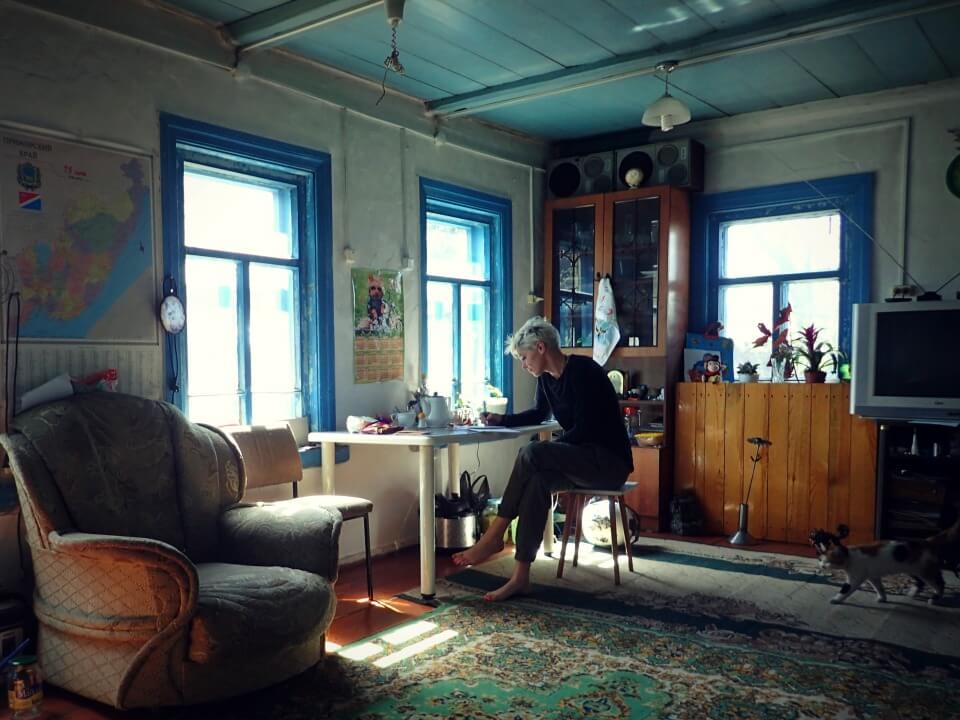 I also got to experience a banya, which is a traditional Russian sauna, for the first time!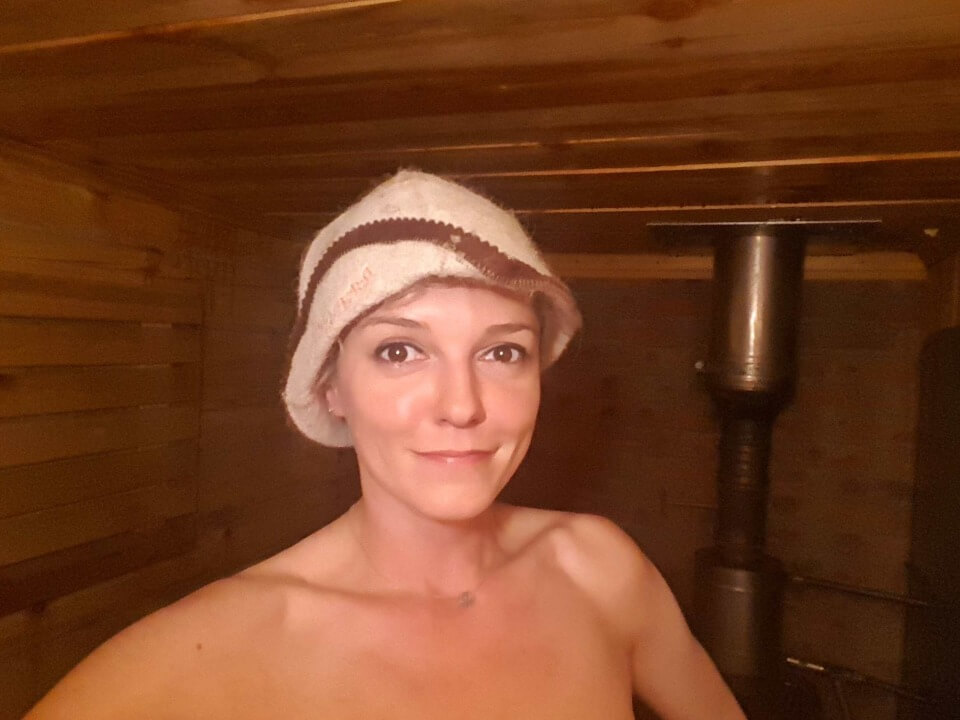 …rode a Ural with a sidecar…
…but mostly got to hang out with these great people…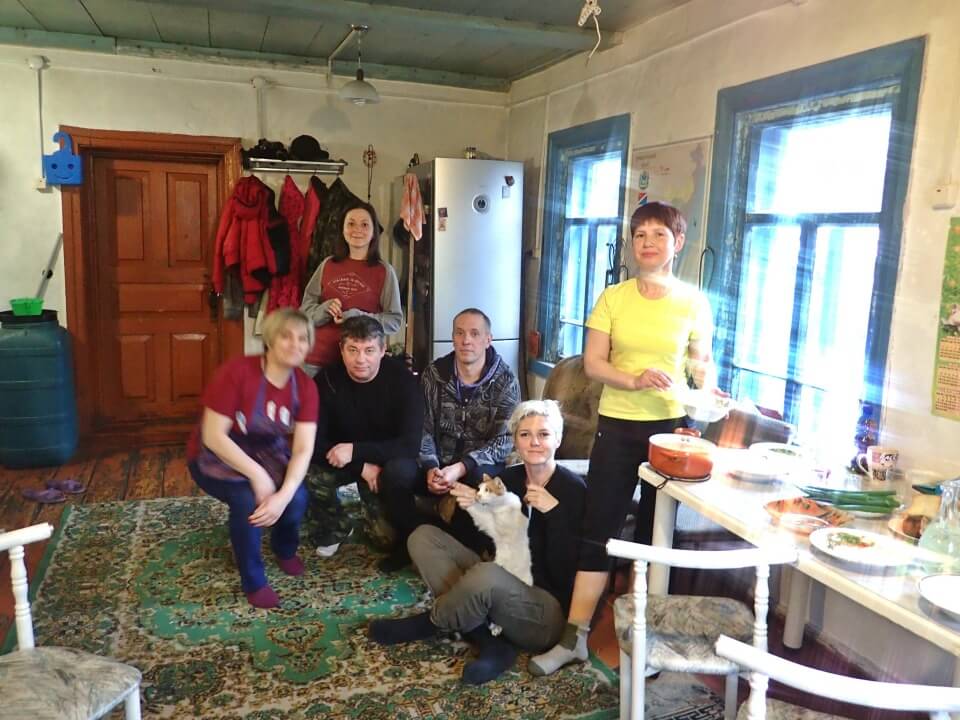 On my last day we went for a drive to visit a local attraction, the Cosmodrome (spaceport). I was imagining we'd get to see a space rocket or something but apparently the rocket was shot into space last year so we could only have a look at the buildings behind the fence. Still it was interesting to see such a big operation in the middle of nowhere.
After 5 days the weather finally cleared up and it was time to go again. Sergey and his neighbour the other Sergey rode with me for about 20 kilometres… I think they were kindly showing me how to get out of town, but maybe they were just making sure I left 😉 After which I sadly had to say goodbye to my new friends with a hope that we'll meet again someday.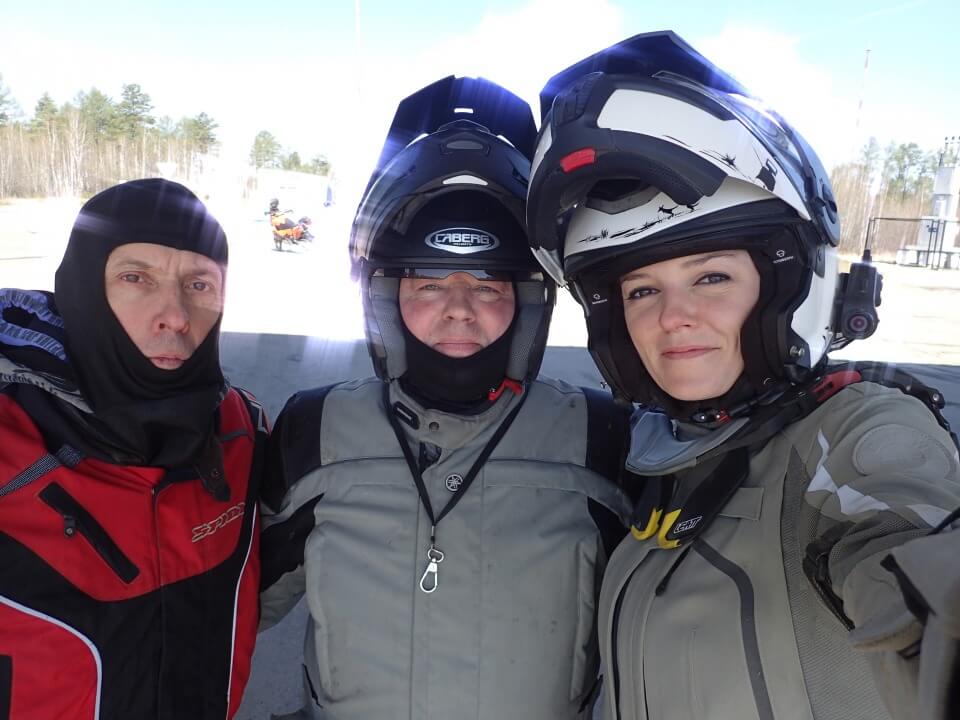 The next section of 1300 km was supposed to be the unsafe part. I hardly saw anyone on the road but as I was advised I only stopped every 200 km to get some petrol. The whole day of riding went nice and smooth, if I hadn't heard all those thing about it, it wouldn't even have crossed my mind that it could be unsafe.
After 820 km I stopped in Magocha, where I was put up by the Iron Eagles Club members! The club has only 5 members but they are very well organised. With financial help from riders from other towns they built a little garage where now anyone who passes through town can stay for the night. I would have been happy to stay in the garage for the night, but the guys absolutely disagreed as the next day was a very special day and the whole town had already started to celebrate it! Max invited me stay at his house and made sure I didn't go hungry or thirsty!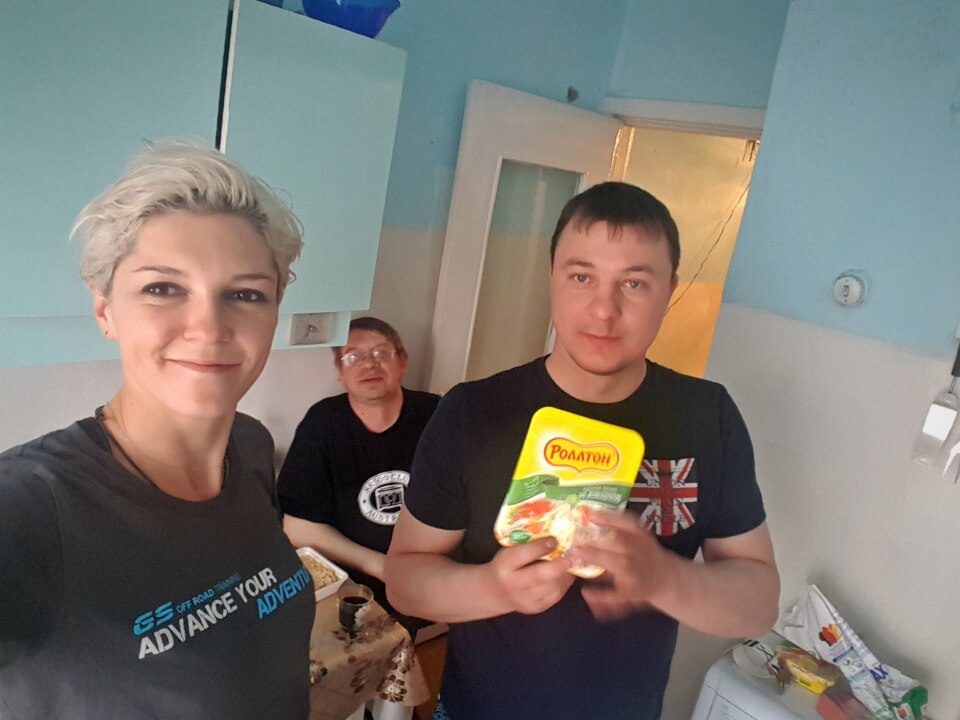 As it turned out the next day was 'Dien Pobiedy' (Victory day) for which Russians celebrate the win in the second world war. Lots is happening in every village and town all over Russia. Max took me to the heart of it in Magocha and for a moment it felt like it was Soviet Russia again!
The next morning I headed to Chita where I was greeted by the riding group Ostrog. I was invited to stay in their club / hostel for the night. It was quite an interesting site when I entered – Russian uniforms and guns everywhere and there was of course, vodka and beer as well. Bacon quite liked that experience…
… and I got to shoot some guns too 😉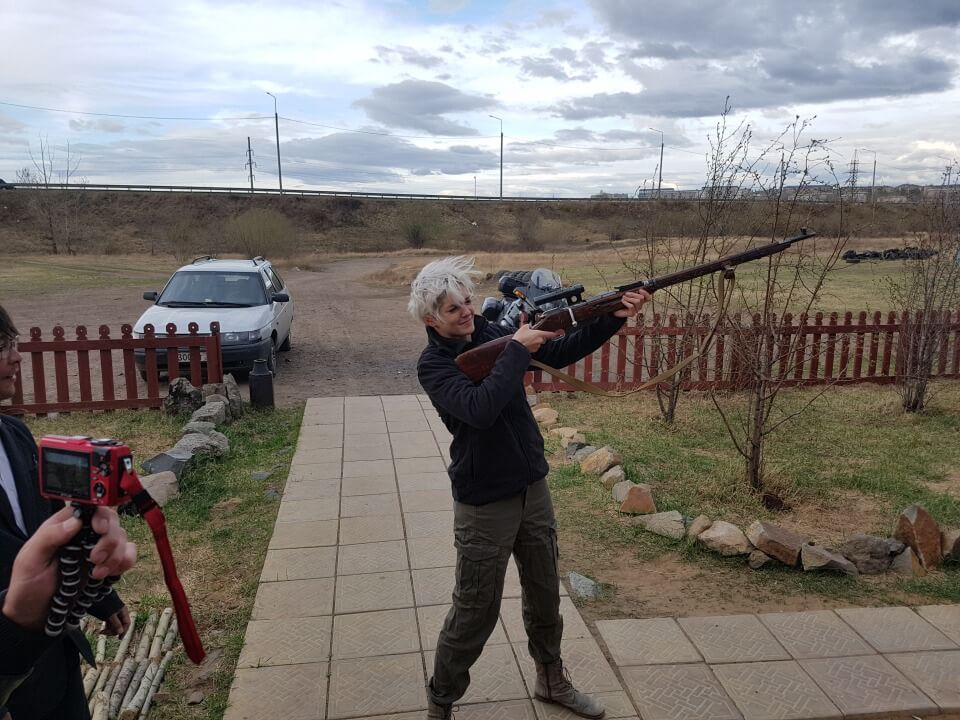 When I woke up in the morning the weather didn't look good. Volva told me that during such strong winds from the mountains it's quite possible to get snow… well I was soon to find out…
I had over 600 km to Ulan Ude and I can easily say that it was the worst ride I've had in 20 years of riding. It was very cold (2 degrees) and extremely windy. Every 70 km I had to stop to relax my shoulders and stretch my neck but even then I wouldn't get off my bike – I was worried the wind would tip it over. When I got to the top of the mountain range it got worse… it started to snow! But luckily the strong wind kept the snow off the bitumen. I rode as fast as I could through those conditions, just wanted it to be over.
Somehow I made it to Ulan Ude. Hallelujah!
Here I stayed again in a bike post run by the Opposit Club – it was a very comfortable garage. For the very first time I slept with Chillie next to my bed – a special moment for us!
I also had some important business to do in town, by which I mean I had to have my hair done, hahaha! I asked for blond – got pink… same, same but different 😉 Apparently it's the newest fashion in Siberia! And when in Russia, do as the Russian do 😉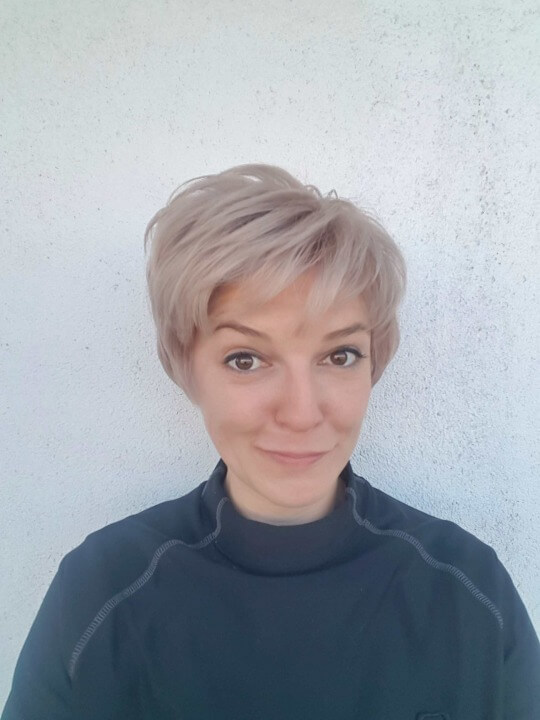 It was time for Baikal! I had been looking forward to this moment for a long time! Lake Baikal is the world's largest freshwater reservoir and is also considered the world's deepest, oldest and clearest lake! And all this time I had been dreaming of swimming in this majestic lake but when I got to it… I changed my mind pretty quickly…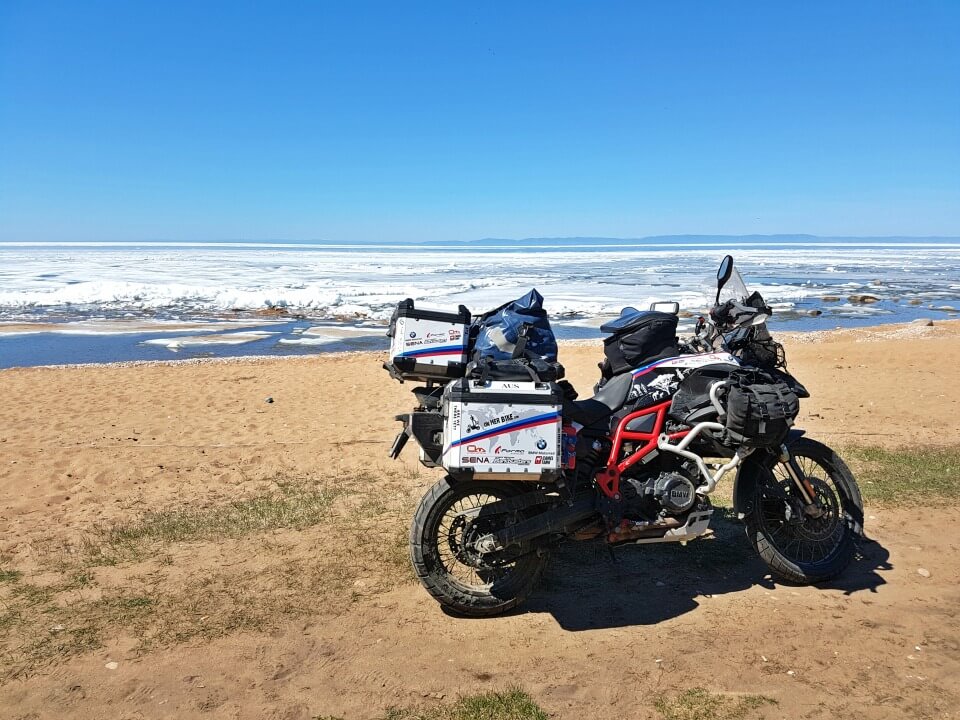 I tried to convince Bacon to have a bath though but he wasn't keen either..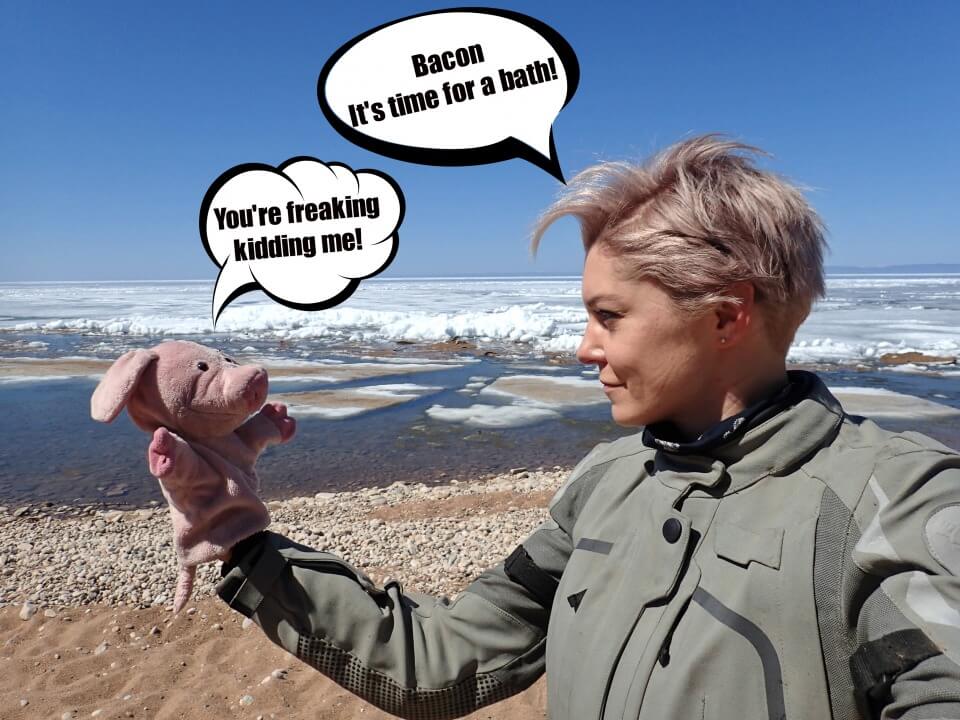 I was planning to ride around the lake for a few days but I felt really comfortable in a little guesthouse in Goryachinsk so I stayed there for six days! It was May and there were not many tourist around and I just needed to be alone for a while, catch up on my blog and just relax after all those long days of riding.
And if I wanted to connect the world I had to catch wifi in the garage 😉
I did little trips along Lake Baikal, dropped Chillie for the first time since I left Australia and quickly realised I can't pick her up without the panniers! Damn, she's a heavy girl when she's laying completely flat! Luckily the main road wasn't too far away and I managed to get some help. Lesson learnt – since then I always have my panniers on when riding off road on my own.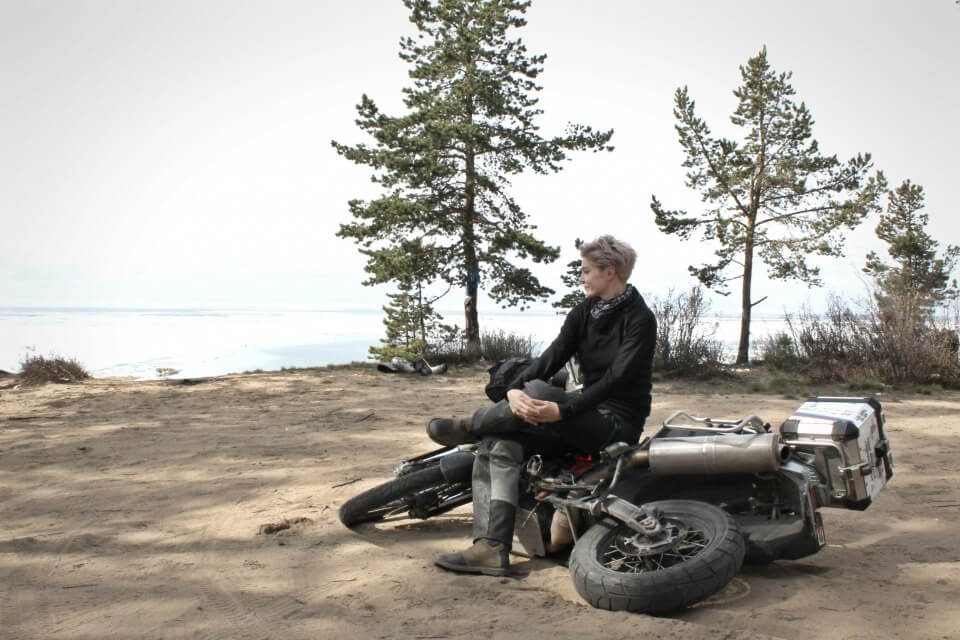 On one of the nights the owner of the guesthouse invited me in for dinner. It was nice to hear about life near Lake Baikal. I also tried Golomianka – the best smoked fish I've ever had in my life! I normally don't tend to bang on about food but my goodness that fish was good. It only lives in Lake Baikal at a depth of 300m and deeper. When caught in the nets and pulled to the surface, the moment it sees light it dies. Incredible.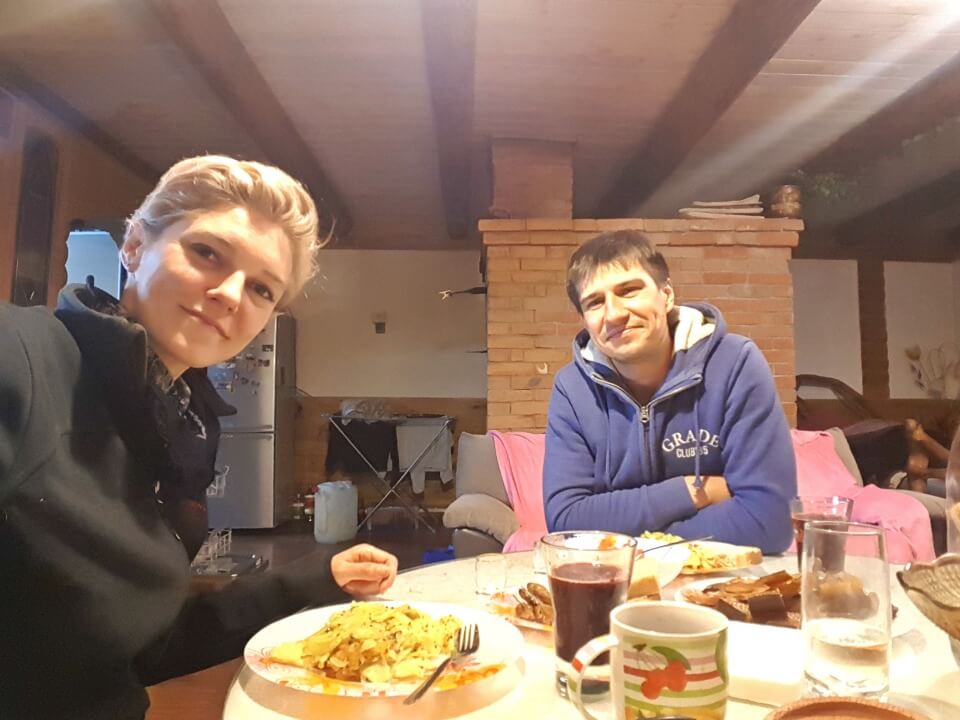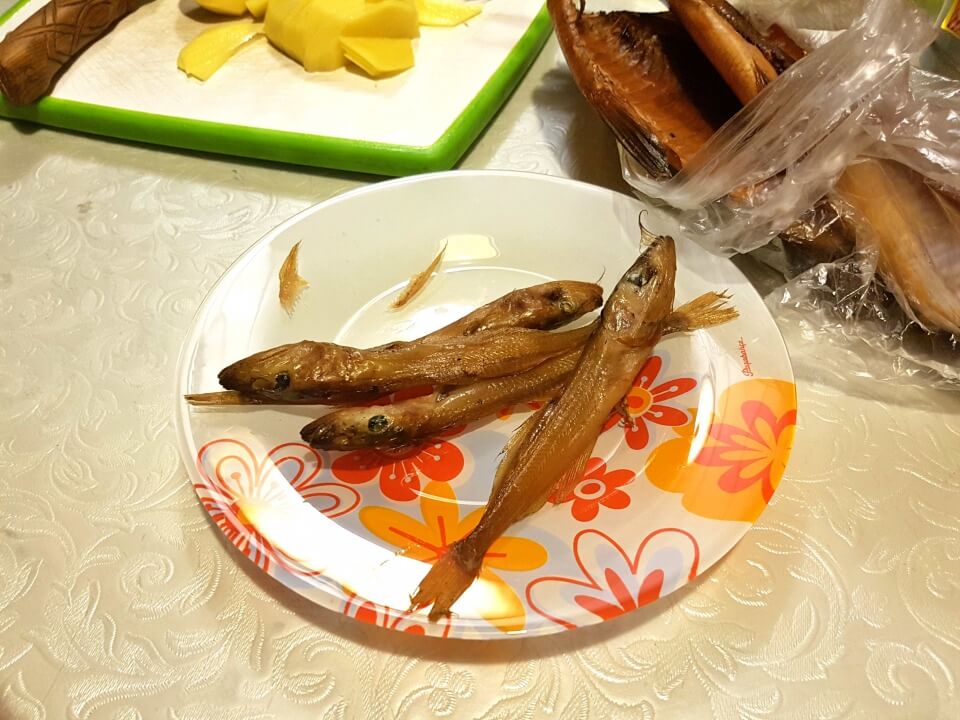 When I finally felt I'd recharged my batteries it was time to head to Mongolia…
Summary
I did 5000 km on the trans-siberian highway and such a long stretch of asphalt may sound boring but it was a very enjoyable ride. It's a very remote road and you hardly see any cars or trucks, I also didn't see any police so you can comfortably sit on 140km/h and enjoy the scenery. Doing 800km a day wasn't an effort at all. The majority of the bitumen is in good condition but you have to stay alert all the time, because there are a lot of unexpected potholes or the road can quickly turn into loose gravel or sand.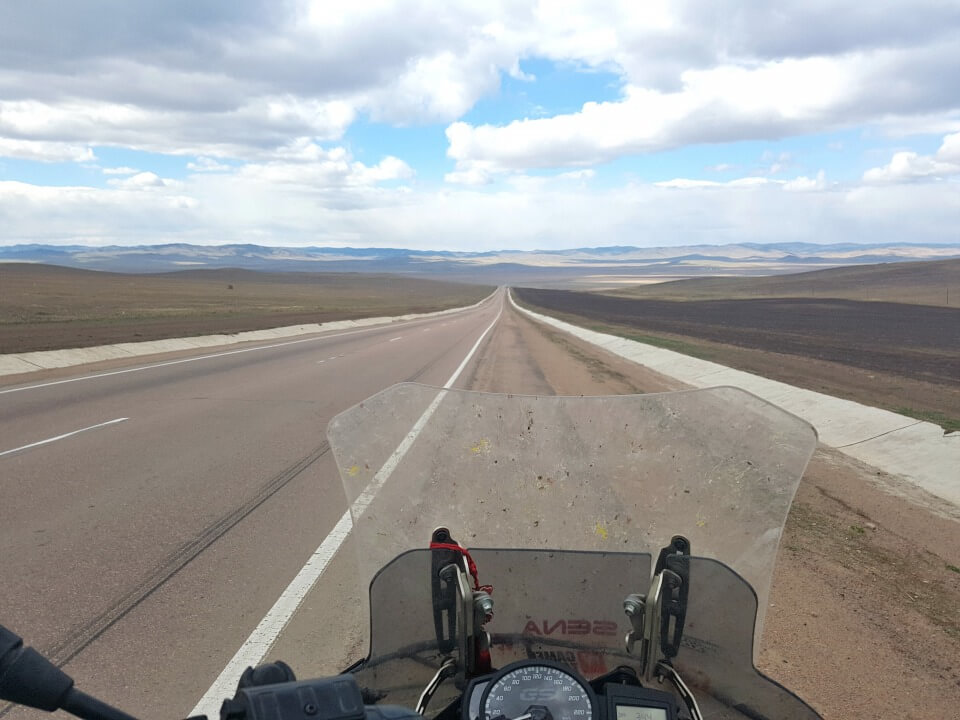 Despite all of the 'frightening stories' I never felt unsafe. I know a few riders who camped all the way and never had a bad experience with the locals. When people can't see you, they can't hurt you so if you feel unsafe just hide somewhere in the bushes for the night. I highly recommend getting in touch with the local bikers and staying in bike posts. It was the best thing I've done. All the people were extremely hospitable, some of them lived a simple life and had very little but still made me feel at home. I'm absolutely amazed how well organised the motorcycle community is in Russia. They all help each other and no matter if you're Russian or a foreigner you'll be looked after. I really felt a special connection with them and with some of them I'll probably be friends for life.
In Numbers
Duration: 29 days
Total km's: 5222km
Map: https://drive.google.com/open?id=1eseNcGhzQZUwtlMy3sm_Kqccv9s&usp=sharing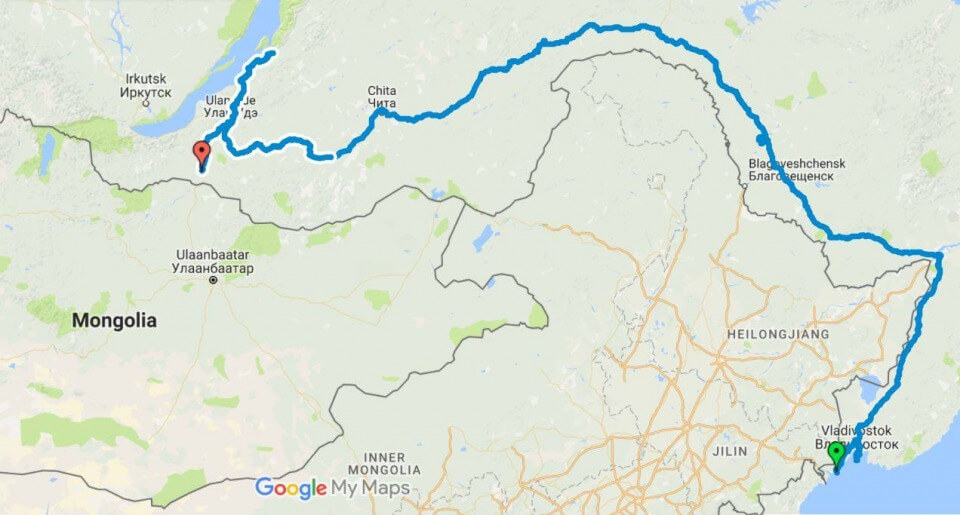 ---
The "Are We There Yet" World Tour is about more than just me seeing the world on a motorcycle. Throughout my journey I'm raising money for a young disabled child in Poland named Franek. Franek was diagnosed with cerebral palsy (weakness of the entire right side of the body) and he will require constant rehabilitation for the rest of his life. All the money raised will go directly to helping Franek and his family lead as normal a life as possible so please donate generously: www.gogetfunding.com/arewethereyet