Article: Trial Training with Akademia Enduro [EN]
I've been meaning to try trial bikes for a while now, and when Akademia Enduro invited me to their training course I didn't think twice about it! When I booked my flight to Poland I made sure I also booked myself in for their trial training!
I really had no idea what to expect from this course, all I knew was that I wanted to have a go on their trial bikes! What an experience it was – I loved the set up, loved the challenging exercises and absolutely fell in love with the trial bikes!
Who are Akademia Enduro?
Akademia Enduro is an official partner of BMW Motorrad Polska and has been training off-road riders from Poland and abroad since 2011. They run regular GS and trial training courses as well as organising adventure riding expeditions.
The 2 day training course that I attended was held at an off-road facility near Gliwice – 150ha of varied terrain with all sorts of riding tracks suitable for different motorcycles and skill levels. Single trails, sand, mud, steep hills or just cruisy tracks through the forest … you name it – the place had it all!
Hired bikes were available for both GS and trial training.
All training participants were lodged in the Hotel Malinowski, which gave us the opportunity to hang out and swap stories over dinner after a full day of training.
Challenge yourself without the speed
So here we are; the Trial Team: Radek the trainer, Monika, Krzysztof and 'moi' …
We all got along like a house on fire and really enjoyed the challenges of the course. There were also plenty of laughs along the way!
Radek was a positive and encouraging coach, he patiently guided us through all the fundamentals: the rear brake, balancing, using the clutch and throttle control. Once we got our heads around the basics (which is not as easy as you think!) we moved to hills, figure 8s, balancing beams and trial tracks. The whole experience was a great physical and mental exercise!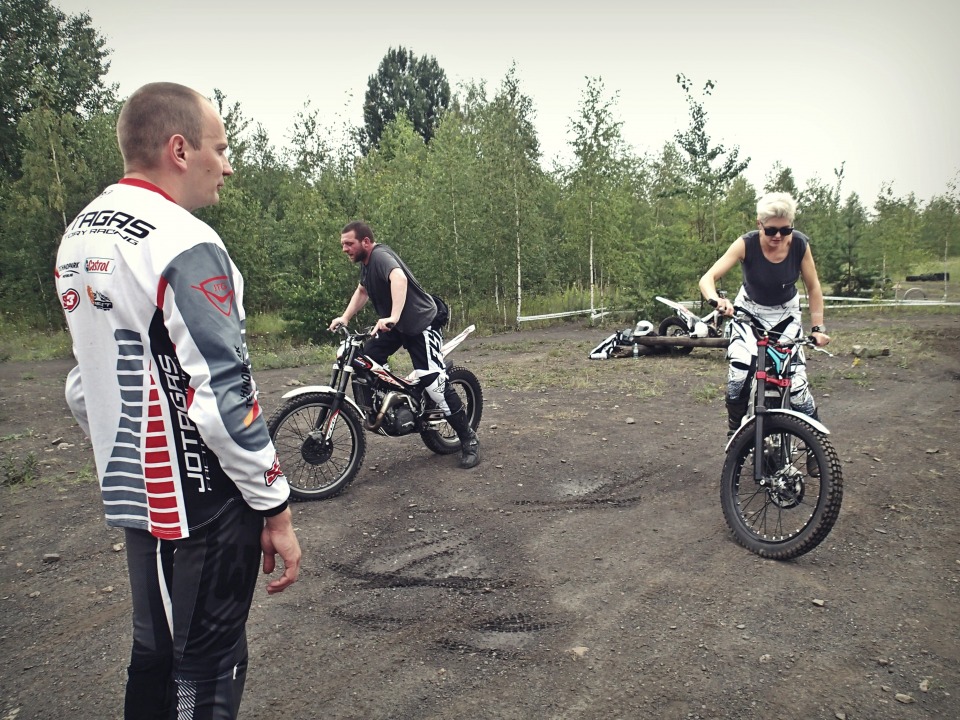 …and I finally learned how to do wheelies with one hand!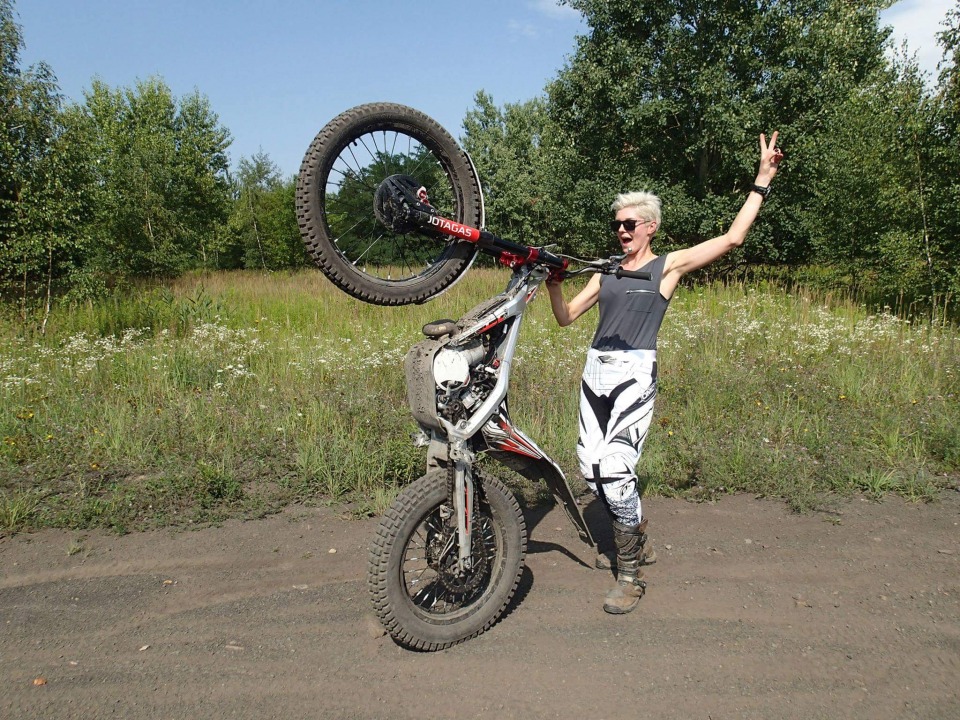 We all rode bikes hired from Akademia: Jotagas 125, 280 & 300 and Beta Evo 300.
So what's my impression? Firstly, there's no seat! These two-stroke motorcycles are super-light (weighing around 60kg), very quiet, have incredibly smooth controls and exceptional brakes. They're nothing like anything else I've ridden before and they're an insane amount of fun!
The course gave me a taste of trial riding and it had me addicted! I learned new and valuable techniques in regards to balance and bike control which I'm able to apply to a bigger adventure bike.
To sum up, I highly recommend this course! If you like riding motorbikes and you want to improve your skills on and off road, regardless of your riding experience – this is the course for you.
Big Thank you to Akademia Enduro for this brilliant experience! Next time I'm in Poland – count me in 😉