Turkmenistan
So here we go again – now I need to smuggle my drone through two border crossings – the Uzbek and Turkmen ones! I was prepared for the worse on the Uzbek side as I had heard shocking stories of how customs are even more strict on the way out. So I packed my Honey on the bottom of my panniers again, with my undies and toiletries as I did on arrival and just went for it. I guess it wasn't a surprise to see how quiet the crossing at Konye-Urgench is – not many people get the visa to cross here. I arrived around midday, right on time for shift change. Ugh! There was only one truck ahead of me and one exiting on the other lane. The two truck drivers and I were asked to wait and so we naturally had an in depth conversation about the transport industry (it's related to my work in my previous life), they offered me some coffee and in no time the customs officers called us in to check paperwork and inspect our vehicles. I was asked to open all the bags and panniers again but luckily this time they didn't dig all the way to the bottom. Honey survived again! I rode to the Turkmen passport check and my goodness what an experience that was! I've seen a lot of bureaucracy in my life, but this was some hard core stuff! Firstly I had to a see a doctor – for transit visas they only measure your temperature, not sure what travellers on tourist visas have to go through. After which everyone left for an hour long lunch break. Great! The truck driver from Belarus invited me to is cabin for some tea and biscuits. I'm in!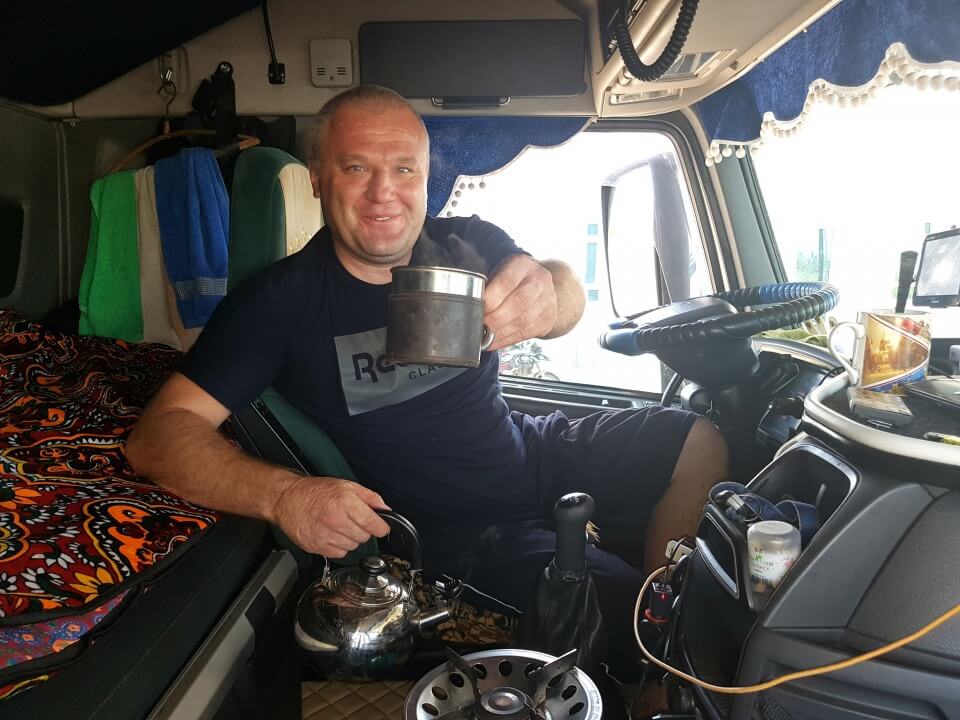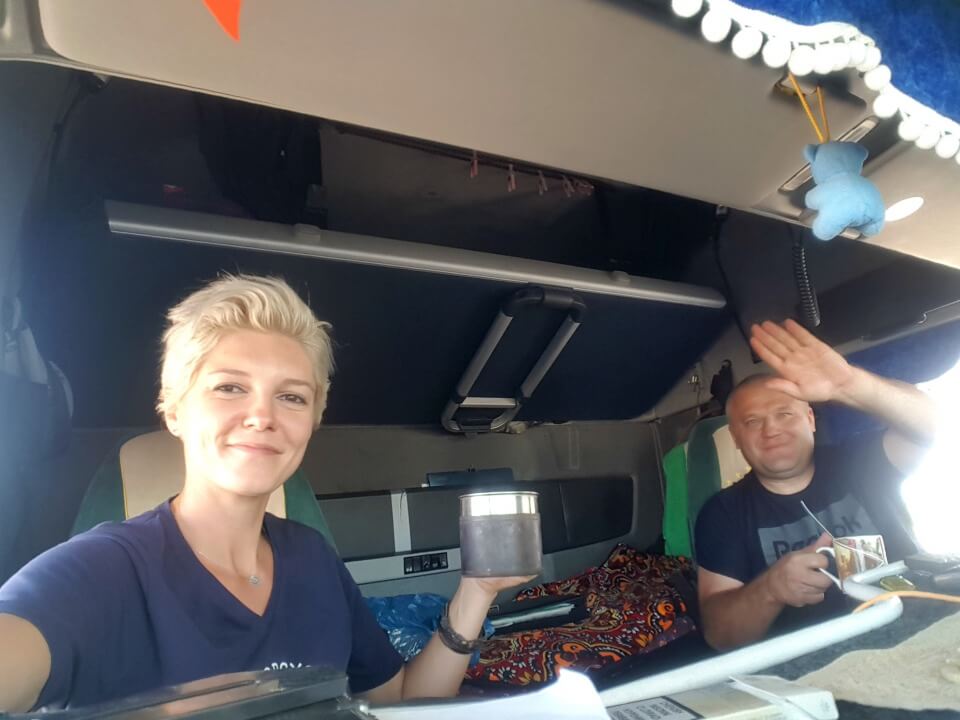 He also gave me some valuable information that I can now can pass on to you. So, cigarettes are extremely expensive in Turkmenistan, there's sort of half prohibition. A packet costs around $35! No one can afford to buy the whole packet, so people buy them individually. Therefore it's a very valuable bartering product. You're allowed to bring in 5 packets of cigarettes to Turkmenistan which are dirt cheap in Uzbekistan ($2 per packet). According to my friend the truck driver you can get a full tank of diesel for a truck for 5 packs of cigarettes! Insane, right? Sure on the bike you'll never go through that amount of fuel but there are other expenses you can cover with cigarettes and apparently even if people don't smoke they are willing to trade in cigarettes so later on they can sell them for more. So I'm telling ya… it's a great business opportunity! I wish I had known beforehand!
Finally an hour later we went back to finish our passport control and customs inspection? Although there was only two of us to be processed the whole procedure took over 2 hours! I've never seen so many staff (about 20 people) in an immigration building before, they were seriously tripping over themselves. I had to run from one officer to another, firstly I had to wait for my visa, then do the custom declaration, then get stamps for it, then insurances needed to be approved by two different officers… and some other crap! Three times I had to go back the the cashier to make different payments! What a mess! I payed for everything in American dollars but unfortunately I can't remember the exact costs (it was about $100).
Once I got all the paperwork sorted 5 officers came outside to inspect my bike. And again I was very chatty, talking about my travels, doing everything I could to distract them from finding my Honey. But I could tell they were looking for cigarettes more than anything else. They roughly went through my panniers and told me I'm free to go! Victory again! I'm getting better and better at this smuggling thing!
I'm going to hell!
So one of the main attractions in Turkmenistan is The Darvaza gas crater known locally as the "Gates of Hell". It's located about 250km South from the Konye-Urgench border. The first 100km of this road is a disaster – so many holes in the asphalt that you're not able to go faster than 60 km/h (and no way is it doable with a blown shock, lucky my one was now fixed!) The rest of the road was kinda all right (for Turkmen standards). There was a petrol station in Konye-Urgench where you can get 92 octanes. I wasn't sure if I'd be able to get it so I filled up in Uzbekistan and continued to torture Chillie throughout whole of Turkmenistan. Mistake!
I didn't stop for a picture of the bad bits of the road but here is one of the better sections. The majority of Turkmenistan is the Kara-kum desert and it stretches on endlessly.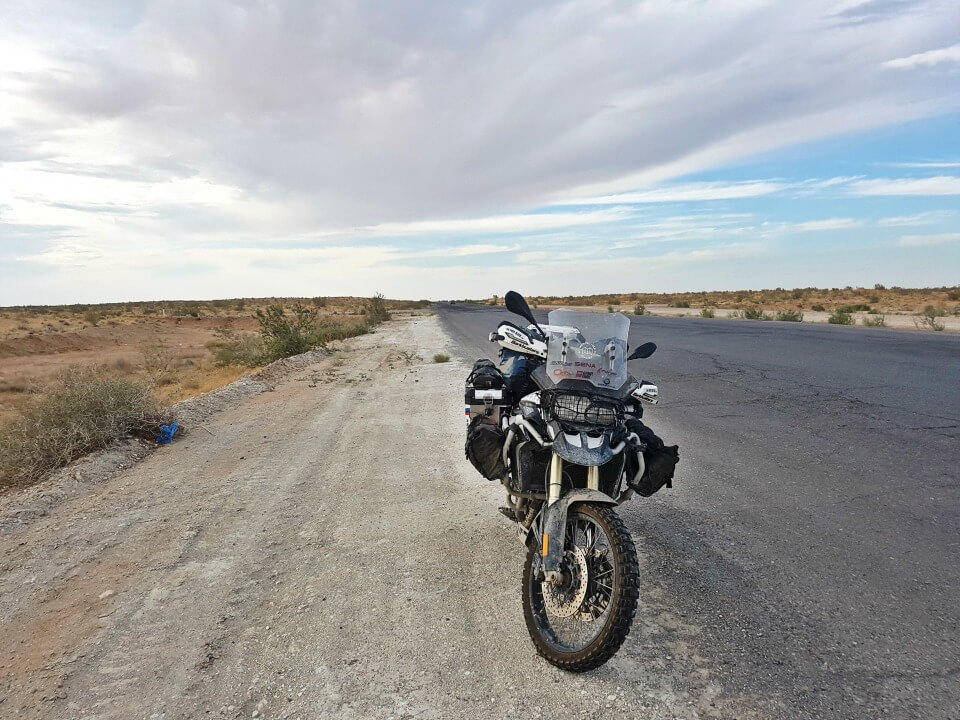 So to get to the crater you need to turn from the main road onto a dirt track – well actually I'd call it a sand track. And sand on its own maybe wouldn't be such a bad thing but riding on sand up a long hill is another story. You do remember how I said I'm doing quite ok on sand now after so many sandy kms in Mongolia and how I'm so much better and all! Well I take it all back! My sand skills are rubbish!
So my "open throttle" lasted only a 1/3 of the hill before I dug Chillie completely in. I stopped to take a picture of course and in no time I was surrounded by a few locals on small Chinese bikes.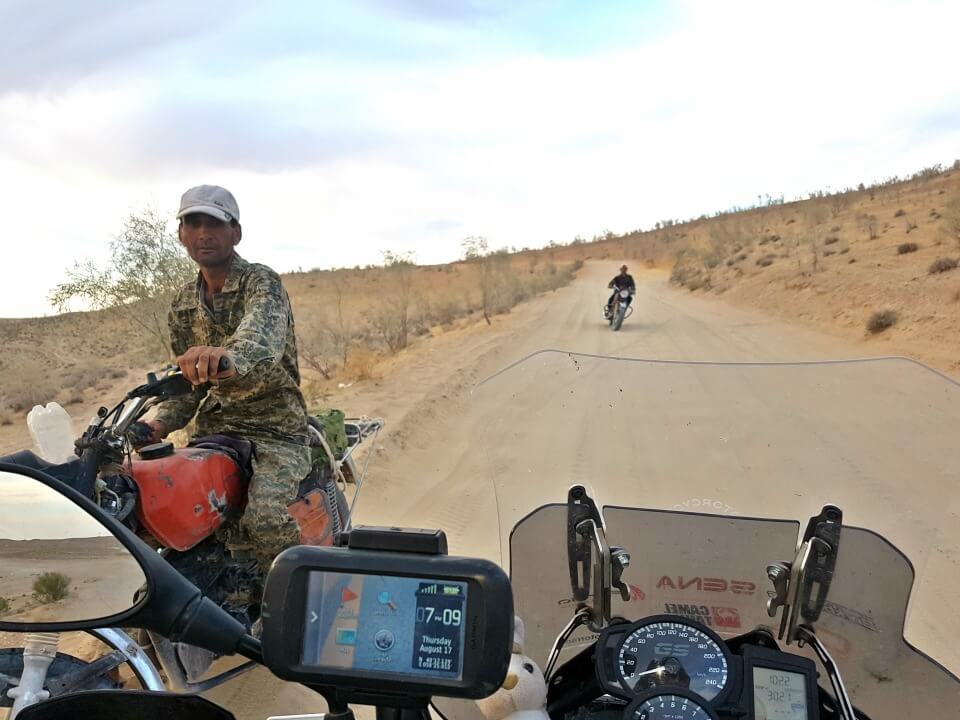 They said there was no chance I'd get up with such a big bike and they offered to ride it for me – if I paid them. That kind of attitude – "I'll only help you if you pay me" always puts me off. My ego took over and my reaction was "Don't worry about it, I don't need your help" but then after some further contemplation I said "Sure, have a go" (smartass!)… the oldest guy sat on Chillie and dug her in even deeper after which he shook his head and said "it's not possible to ride it up". Genius!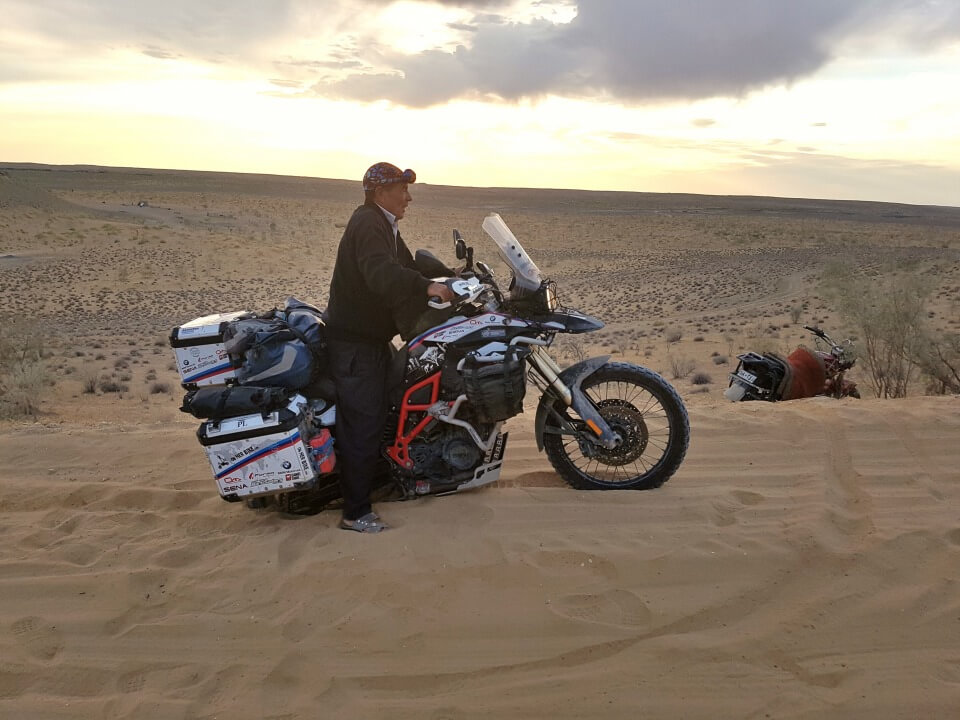 I asked them to help me lift the back wheel to get Chillie out and we spun her around so she was pointing downhill. I asked the group if there was another road, they said there was one but it was worse than this. I started the bike and rode down. I needed to find another way of getting there – I planned my route specifically so I could see this crater, I wasn't going to give up so easily!
All this time I had had a "tail" – a 4 wheel drive which had been following me for a while, the moment I stopped, the car stopped. While I was trying to get up the hill, the car was waiting at the bottom of the hill, watching me – it was kind of freaky! I went back to the main road where just a few hundred meters back there had been a police hut. I was hoping that I could get some information (cause I didn't trust the locals free information) on how to get to the crater. Two policeman came out of the hut, I greeted them in Russian. They said they had no idea if there was another way to get there as they've never been there. My reaction was a bit startled : "What? People come here from all over the world to see it and you're here every day… 7 km away and you've never gone there"?! They said they had better stuff to do and they were always in a hurry to get home. "Huh, weirdos!", I thought. I also asked if they knew the car (my tail) which was now parked right next to my bike. They said – "yes it's police". Aha, it all make sense now! I thanked them and took off back to the sand track, the undercover cops followed me of course. I parked my bike at the bottom of the hill thinking about all the riders who've done it before me. I remember seeing photos of them at the crater – how the hell did they get there on big bikes? I now wish I had payed attention to the captions of these photos, lol. If they have done it, then there is no reason why I can't! But guess what?!… since then I have contacted those riders and it turned out the majority of them hadn't made it to the crater on their bikes at all – they either left the bikes at the bottom of the hill and walked, got a lift from the locals or paid locals to ride their bikes. I wish I had done some more research again, maybe I wouldn't be so ambitious all the time and I wouldn't have put Chillie through the torture that was about to start!
So, the only solution I could think of was to be hauled up by car. And as the undercover cop car was the only one around I decided to approach them. Ah what the hell! Worse case scenario, they say no. I walked up to them and gave them a little wave with a smile. There were two men inside and the passenger opened the window – they so looked like undercover cops! I asked them politely if they were planning to go up to the crater. They said no and they were there waiting for their family. Bullshit! They looked very serious and irritated. "Fine, thanks for nothing!", I thought and walked away.
As I was walking back I saw a car turning from the main road! I ran towards it waving my hands. It was Anna and Vladimir (father and daughter)… my saviour's from Germany! They agreed to help me out! I unloaded the bike and we packed my luggage into the car. I was kinda prepared for this situation – I had a brand now motorcycle hauling rope with me! I remember someone told me in Australia that being hauled on the bike is a real skill. Before I had no clue but now I know it's true!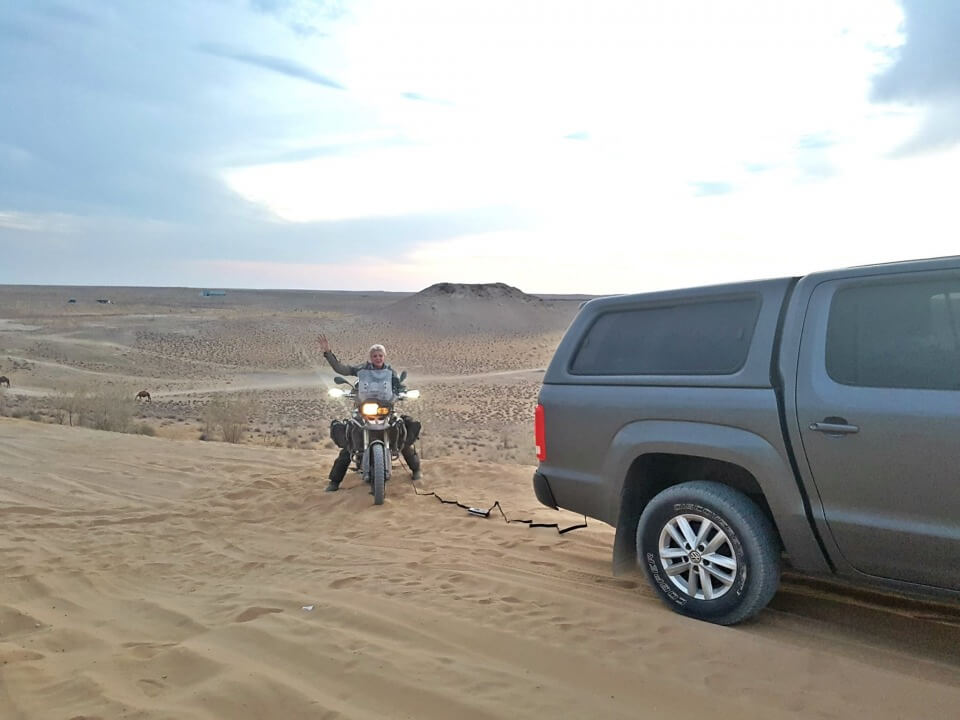 I'm telling ya it's very hard to keep the bike straight under these circumstances…
And on top of that my brand new rope broke! But we managed to tie it back together and continue.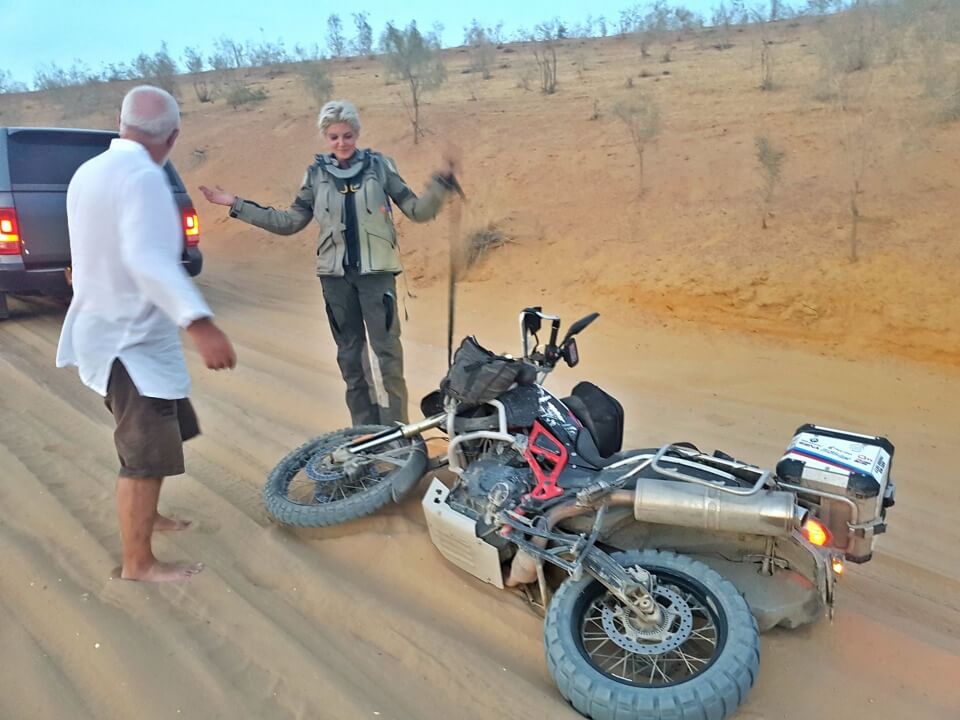 Chillie was really struggling on the 80 octane fuel and I have no idea how I didn't burn my clutch out!
It really felt like this hill would never end and when we finally got to the top, the deep sand continued and it felt like it would never end. Look at me… do I look like I want to go further?
We continued this miserableness for another 3-4 km. The bike keep falling every 400m, it was getting dark and exhaustion and frustration finally won. I felt bad that I had wasted my helpers time. I said to Valdimir that I'd had enough, couldn't go any further and that I will set my tent up on the side of the road. He looked at me and raised his voice "You've come such a long way and now you're going to give up? Keep going!" Damn it, when you hear those sorts of words, how can you stop! But my lifted spirits only lasted another 300 meters, at which point the bike fell over again. Vladimir knew he wouldn't be able to motivate me again, it was already after dark and we had all had enough. I rode the bike into the bushes and asked again for a big favour – if they'd be able to take me to the crater in their car. And again that wasn't a problem for them either.
We drove for another 300m and finally the road was compacted! "See, you were so close!" said Vladimir but I was just thinking "great 300 less metres of sand to go through tomorrow!"
And finally there it was! The doorway to hell! All our efforts were worth it…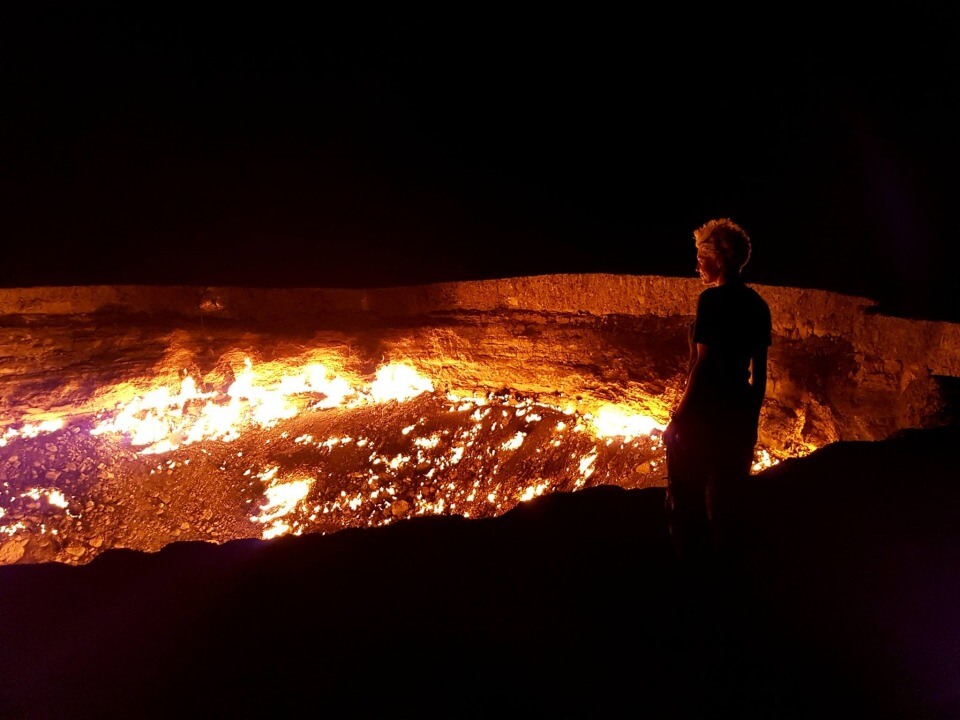 The Darvaza gas crater has been burning continuously since 1971, when the soviets were doing exploratory drilling for oil at the site. They uncovered a pocket of natural gas and unfortunately the drilling rig and camp were swallowed up by the crater after the ground collapsed. The gas was ignited to avoid the spread of methane and has been burning ever since.
One more picture with my good samaritans.
Soon afterwards the guys dropped me off at my bike for the night and they went back to the crater to spend the night there.
It was so damn windy that setting up the tent was a challenge. Lucky I had some spare plastic bags so I filled them up with sand and wedged the pegs in them.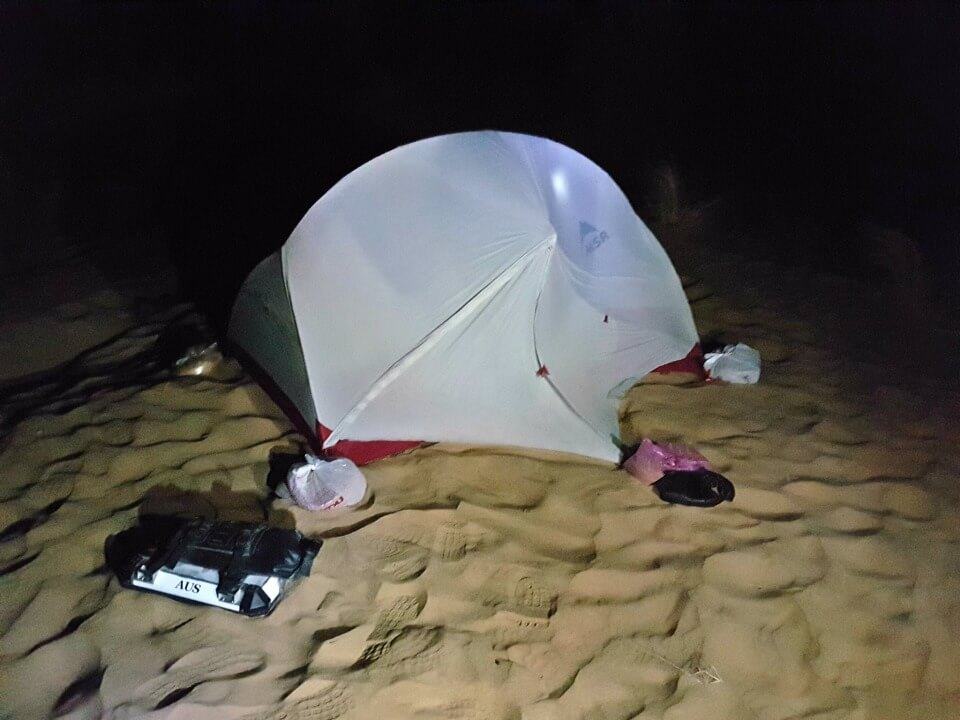 The wind was blowing sand inside the tent, onto my pillow and sleeping bag. I couldn't sleep under these conditions! I put my big carry bag between the fly and the tent, that seemed to stop the sand going in. I put my ear plugs in and tried to sleep. It was a hard day.
But I didn't get my much needed peaceful rest, the locals were riding their bikes all night long. Stopping next to my tent from time to time and flashing lights. So annoying! I didn't feel frightened, just cranky. My crankiness reached a climax when one of the locals started to shake my tent at 3 am! That was the straw that broke the camel's back. I lifted myself up and from the top of my lungs yelled (excuse my language) "F…. YOU, PISS OFF!" They may not know English but they understood those words very clearly (some word are just international, aren't they)! It sounded like there were two bikes and four people outside but they quickly started their bikes and rode off as fast as they could. Now, back to sleep.
I got up at 6am because Vladimir and Anna were going to arrive to help me get out of there to get back by 7am. The wind had finally stopped in the morning and it was so nice and quiet. Camels were chewing grass near me. Such a beautiful morning…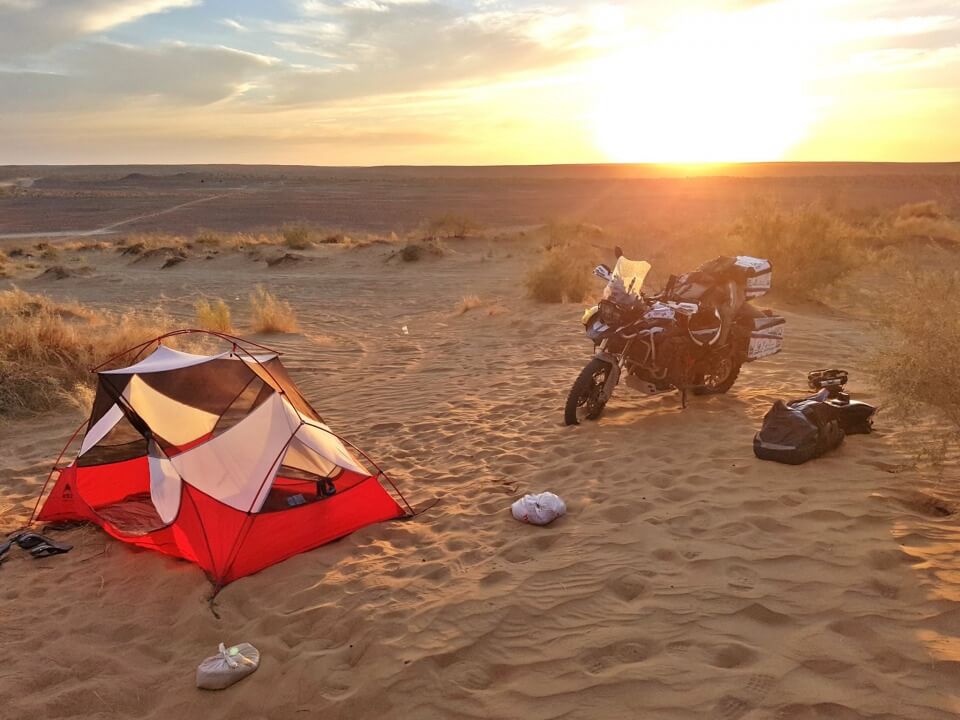 And on the other site of my tent had this brilliant view!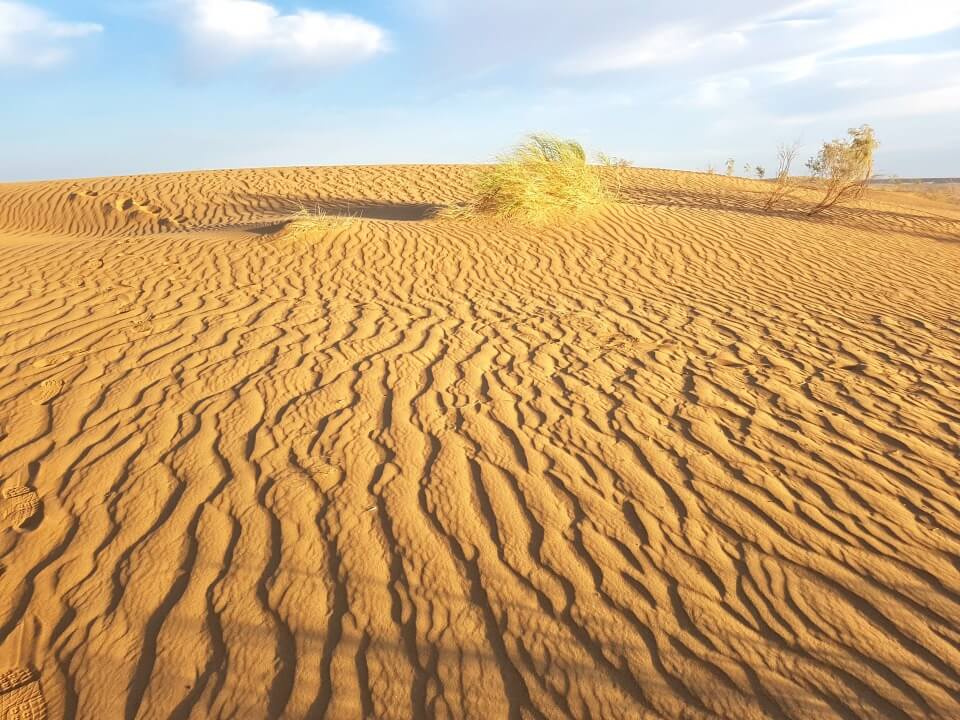 I had a little contemplation time with Chillie… "Only 5 miserable kms to go and I promise I'll treat you with respect and love from now on".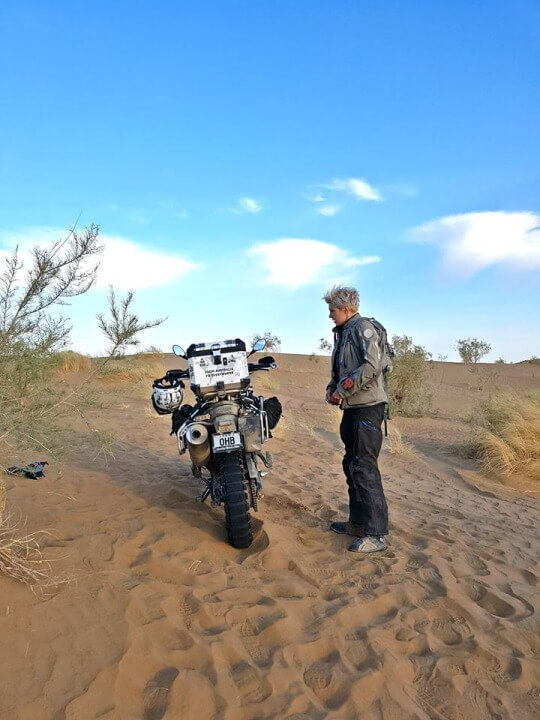 When my rescuers and a bunch of locals showed up, we reversed Chillie back out onto the track…
It was bit of a hill ahead of us so we connected Vladimir's rope this time.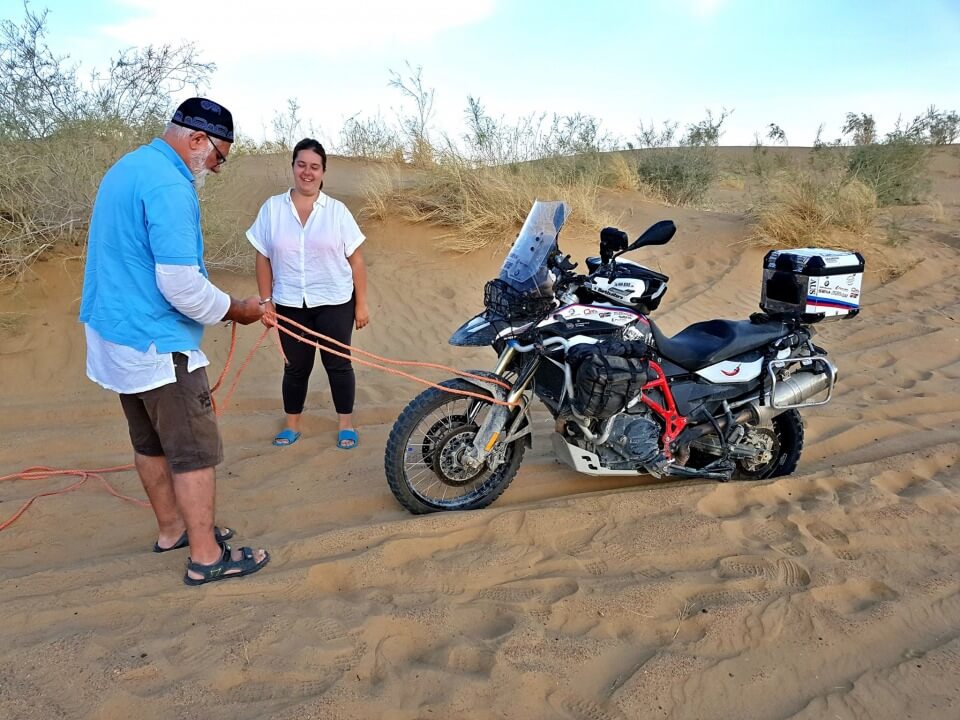 After the first fall in the first few hundred meters I thought to myself this is going to be a long 5km!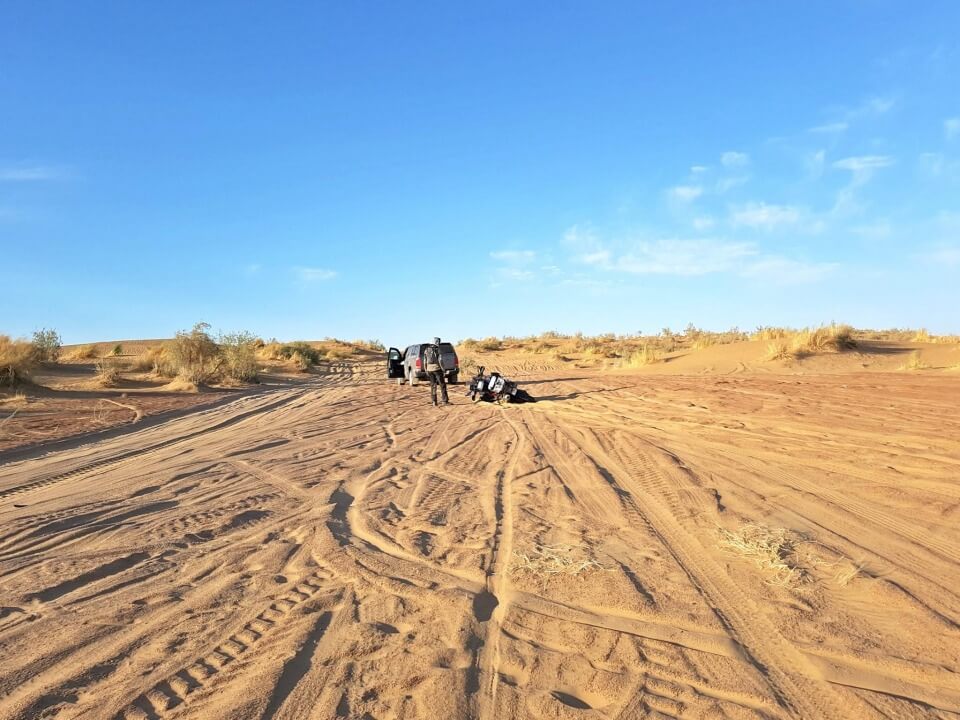 Meanwhile one of the locals offered to ride my bike, I looked at him… he wasn't even tall enough to reach the ground but I knew he'd do a better job than me! He said to take the rope off. Wow, I like your attitude already! His mate pushed him up the hill and he disappeared. Damn, he's a natural!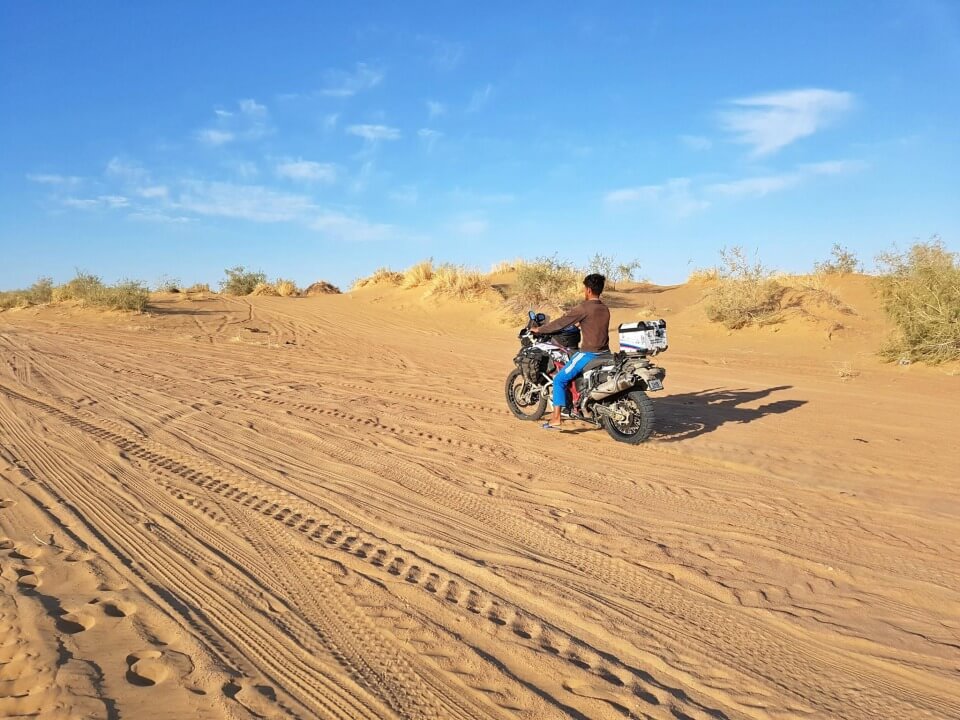 I hopped on the back of his mates bike. I could smell alcohol on him but even if he was still intoxicated at 7 am, he rode this crappy Chinese bike like he stole it!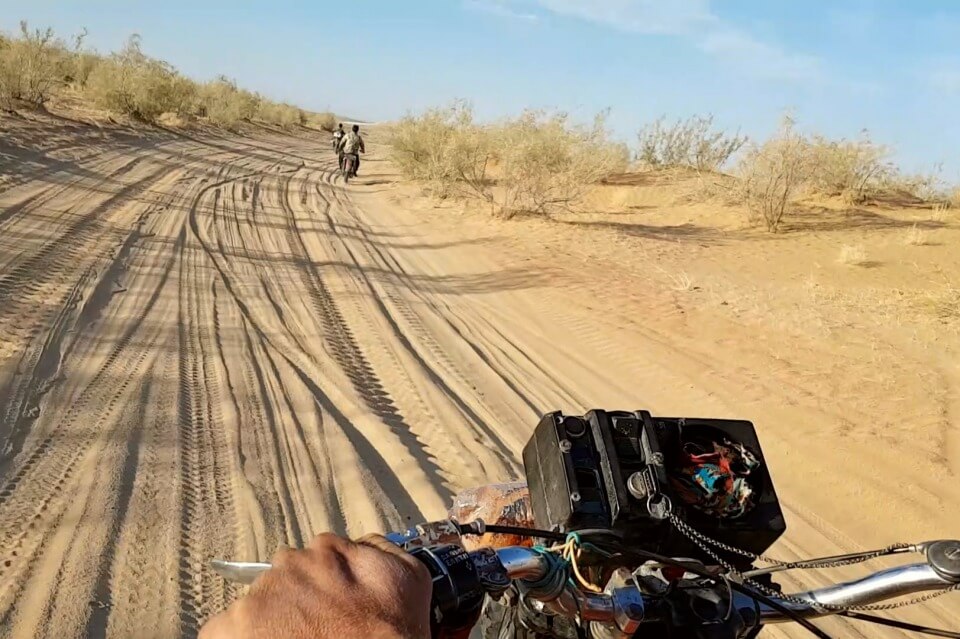 We followed Chillie, all the while watching how she wobbled through the sand with her rider barely moving on top. This whole experience just made me realise how poor my deep sand riding skills are and created a desire to learn how to master it.
When we stopped at the bottom of the final hill my rescuer fell for the first time – he couldn't reach the ground with his flip flops.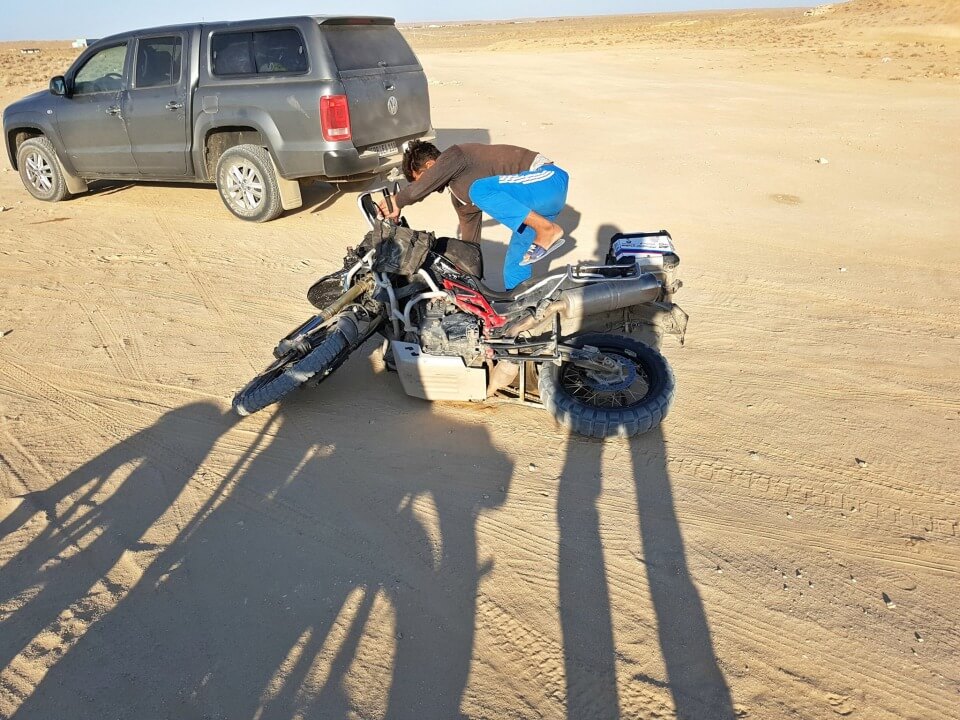 I giggled when I saw it and told him not to worry. I shook his hand, took a selfie together and gave him $10. At the start he said he didn't want it but I insisted. It was refreshing to see such a great attitude at the end of all this.
Vladimir opened the back of his car and cut up some watermelon to share with us all and I gave some sweets to the locals. I felt so relieved it was over. I'm seriously done with sand for a while!
From the Desert to Luxury
I had 265km left till the capital city Ashgabat and I was hammering it down the highway like there was no tomorrow! I made only one stop… for this picture… Hello camels!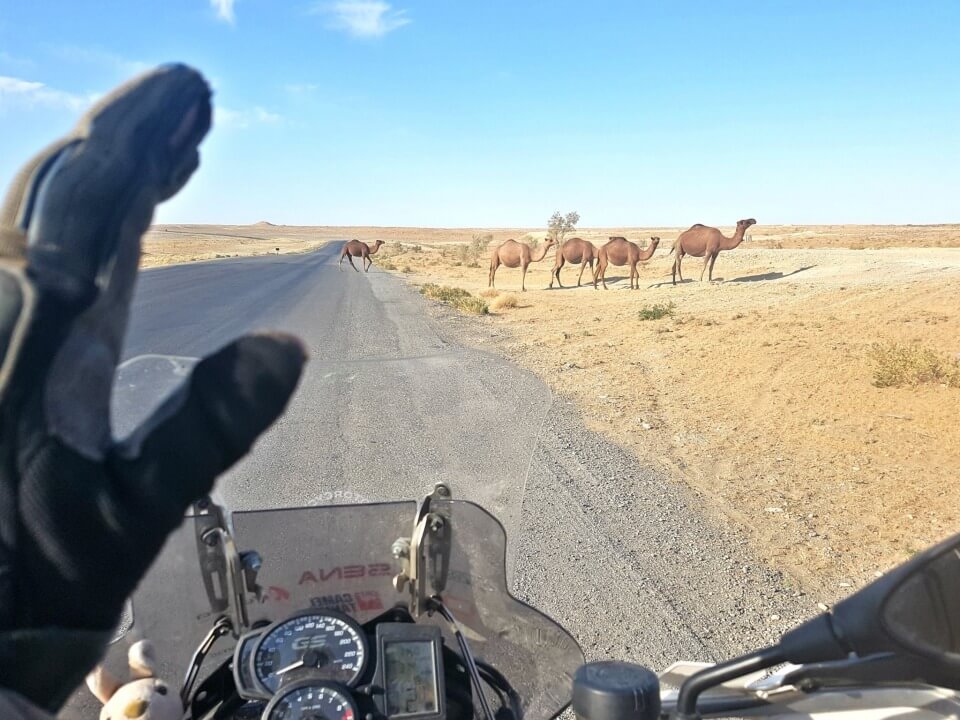 I just wanted to arrive at the city fairly early so I could have a little wander because the next morning I was planning to enter Iran.
So as I mentioned in this and previous posts Turkmenistan is a strange closed off country that's not very welcoming to tourists. Well, I mean the government doesn't let tourists in but the people are very friendly and completely unaware that it is such a problem to get a Turkmen visa.
Another odd thing about it is you can't book a hotel online. You can book online hotels in Mongolia, Iran and all the other 'Stans' but not Turkmenistan. Weird right? Luckily you can find out about the prices online so you know what price to expect on arrival. The majority of the hotels that you can get to online are 5 star, if you search more thoroughly you can find a few budget hotels but hey who am I to say no to staying at a 5 star hotel for $80. I set my GPS for the Grand Turkmen Hotel!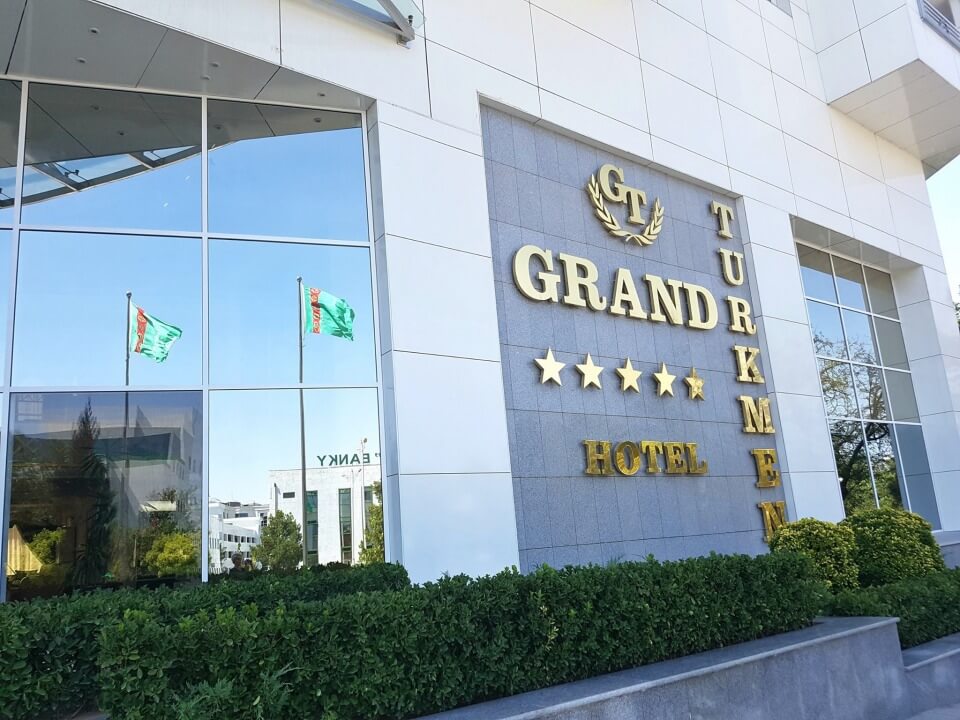 And I regret nothing! After my two day desert experience and a sleepless night, all I wanted was a bit of luxury, a cold beer and a swim in a pool. Yep, life is good!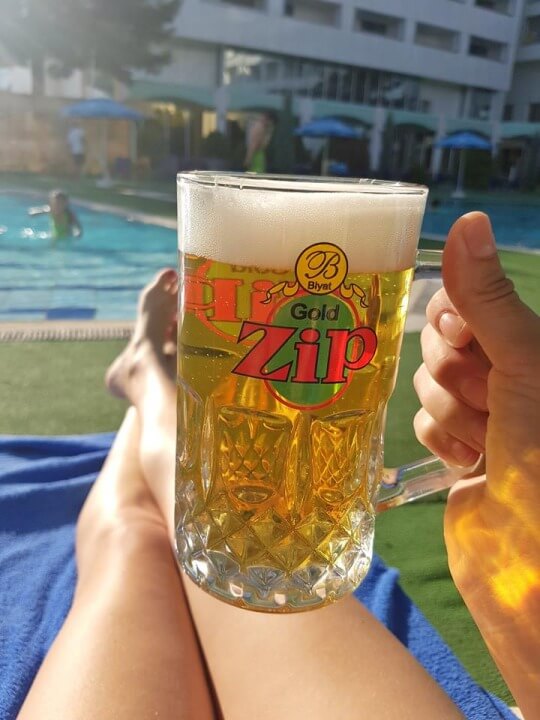 The view from my room was also excellent. Ashgabat is called The City of White Marble.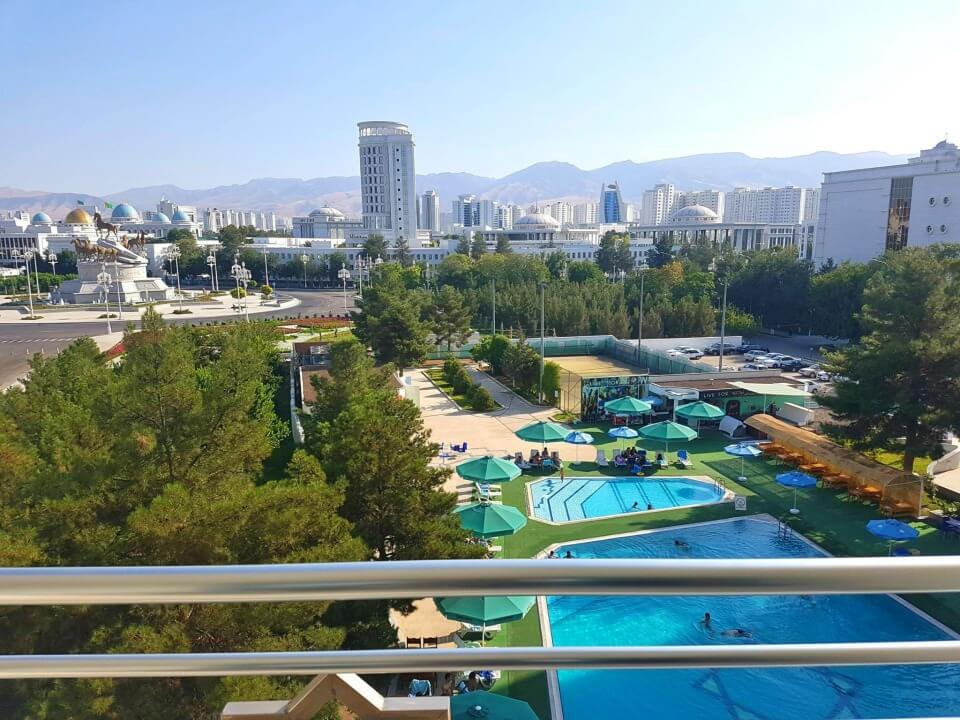 In fact it has recently been added to the Guiness Book of World Records for having the most white marble clad buildings in the world. A staggering 4.5 million square metres of white marble covers 543 new buildings.
On the way out for Ashgabat I stopped on the bike near their stunning government building but the guards told me right away not to stop and to take no pictures.So I took only this one while I was passing it…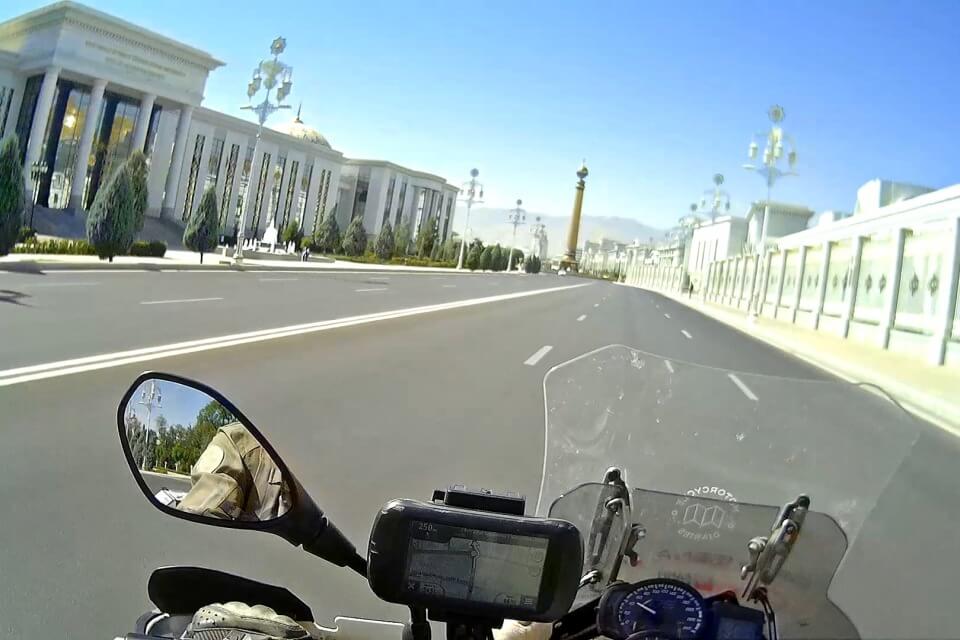 When I left the city limits, right away I had my first passport check and I was advised to ride non-stop the 30km to the Iranian border crossing at Bejgiran. All the excitement of finally entering Iran is in my next post.
In Numbers:
Duration: 3 days (17th – 19th August 2017)
Total km's: 580km
Map:   https://drive.google.com/open?id=1TUYWfm42rN4NAj9q94YW3eU-MmOGMAiO&usp=s…
---
The "Are We There Yet" World Tour is about more than just me seeing   the world on   a motorcycle. Throughout my journey I'm raising money for a young disabled child in Poland named Franek. Franek was diagnosed with cerebral palsy (weakness of the entire right side of the body) and he will require constant rehabilitation for the rest of his life. All the money raised will go directly to helping Franek and his family lead as normal a life as possible so please donate  generously:   www.gogetfunding.com/arewethereyet