Uzbekistan
Trust me, I'm a smuggler
With every kilometre I took towards the Uzbek border my anxiety levels rose…
The reason being I was a smuggler! A drone smuggler. Drones are illegal in Uzbekistan and Turkmenistan and I'd already heard so many stories of how discovered drones get destroyed. I also got some good tips from other female riders, Xenia from XT Adventures advice was "You have to play the WOMAN card! Pull the drone apart and pack it at the bottom of the pannier with your undies, bras and tampons. Oh and be flirty – tell them you're single!". I laugh when I think about the whole thing now – but it wasn't that funny when I had to cross the border – I've never smuggled anything in my life! (well, maybe except for the painkillers I didn't declare).
I pulled my Honey apart and packed it up as advised. On one side, the remote and spare batteries with bras and undies and on the other side Honey himself in a bag with toiletries, baby wipes and tampons. Usually you need to take all your bags to be scanned unless of course they are aluminium panniers, so it's the only way to get away with it.
I arrived at the border crossing with a big smile on my face, trying to play it cool. The customs officer waved at me to stop my bike and go inside the building. Firstly I had to fill out two copies of the declaration and submit them with my passport. A lady who checked them, stamped them and gave them back, so I could be sent to the other officer for a customs declaration for the bike. The officer was super nice and very, very friendly… well I was super friendly too as it was that or my drone's life!
Every question he asked I answered with a giggle, thinking I'm such a bimbo but I totally got this… "Eto Vsyo? Mogu ya uyti?" I asked if I'm free to go. He nodded his head and pointed to the gate. Wow, I thought… that was easy! They didn't even check my bags! I put my documents away, started the bike and rode towards the gate feeling like a champion. But by the time I stopped in front of the gate I knew something was wrong – the guard had just put his phone away and looked at me like I did something wrong. Oh no, now I'm in trouble. He told me to turn around. Damn it! I knew it was too good to be true!
There were already four customs officers waiting for me with that look on their face of "What the hell are you doing". "We need to search your bags before you go". I opened the roll bag, top box and tank bag first hoping they'd get bored with the search by the time they got to my side panniers. But they didn't, I was asked to open the panniers and they started to take everything out… they finally got to THE BAG with my underwear. They told me to open it, I left the bag at the bottom and opened it carefully to just show them what was on the top. After a quick check they told me to close it. Phew! Same procedure continued for the second pannier. And once again I was told that I'm free to go! OMG I am such a good smuggler I thought to myself while I was packing my stuff away. The annoying customs officer was still trying to flirt with me but at this stage I couldn't care less. It was time to get out of here ASAP! I crossed the gate, waved at the guard and yelled "Seeya Suckers!"
Tashkent
Like in all the other post-soviet countries the motorcycle community in Uzbekistan is incredibly welcoming and helpful. Riders from the motorcycle Club in Dushanbe had put me in contact with Alexej who I had sent my new suspension to. Alexiej had booked me a hotel room and told me he'd meet me on the outskirts of Tashkent and guide me through the city. I stopped at the appointed spot and no more than a second later a car had stopped next to me with two men inside. "Hi, I'm Alexej, follow us". The traffic was quite hectic and it only got worse as we got closer to the city centre. If I had to point out the worse driving style I'd encountered so far it would be this one! Lines between the lanes meant nothing, cars are one big mess with no rules and no one seems to use their mirrors.
There's also a lack of motorcycles. As a matter of fact there are no motorcycle dealers or workshops in the whole of Uzbekistan (except for one Chinese bike dealer). Alexej said for such a big city there are only one hundred and something motorcycles in Tashkent and just two mechanics who do services in their garages. Strange country.
We arrived at the Safar Hotel where Alexej had gotten me a good deal of $15 for a single room with a bathroom, very small but I was on my own, which was just as well as my stomach problems from Tajikistan had resurfaced again. Some things are best endured in private.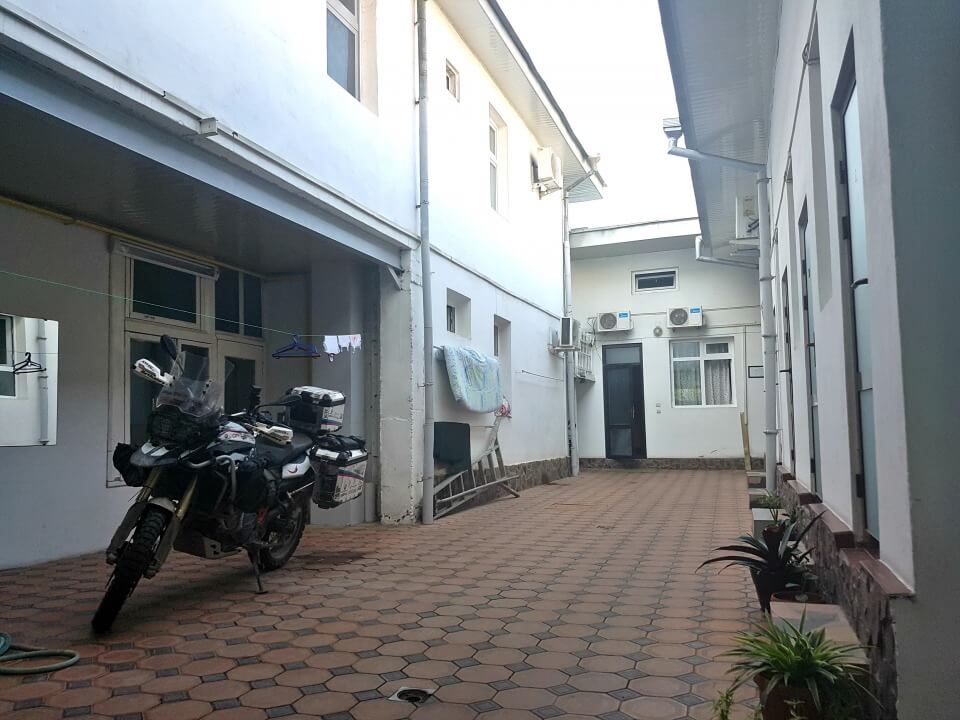 I quickly unpacked my bike and hopped into the car and we went to grab something to eat. Sasha's English was very good but Alexej's, not so much. So he was very relieved that we could communicate in Russian. As for me I'll take any opportunity to practice my broken Russian!
After lunch Alexej took me the the shopping centre to buy a sim card and a little tripod that I lost and dropped me off at the hotel. He said he'd pick me up in the morning to escort me to the mechanic where I can finally have my suspension fixed.
The next day I was impatiently waiting, dreaming of Chillie's new suspension and how life changing it will be! Alexej finally rocked up late in the afternoon with a bag full of money. I asked him to change $100 and he gave me this big pile of money back! I've never felt so rich in all my life hahaha.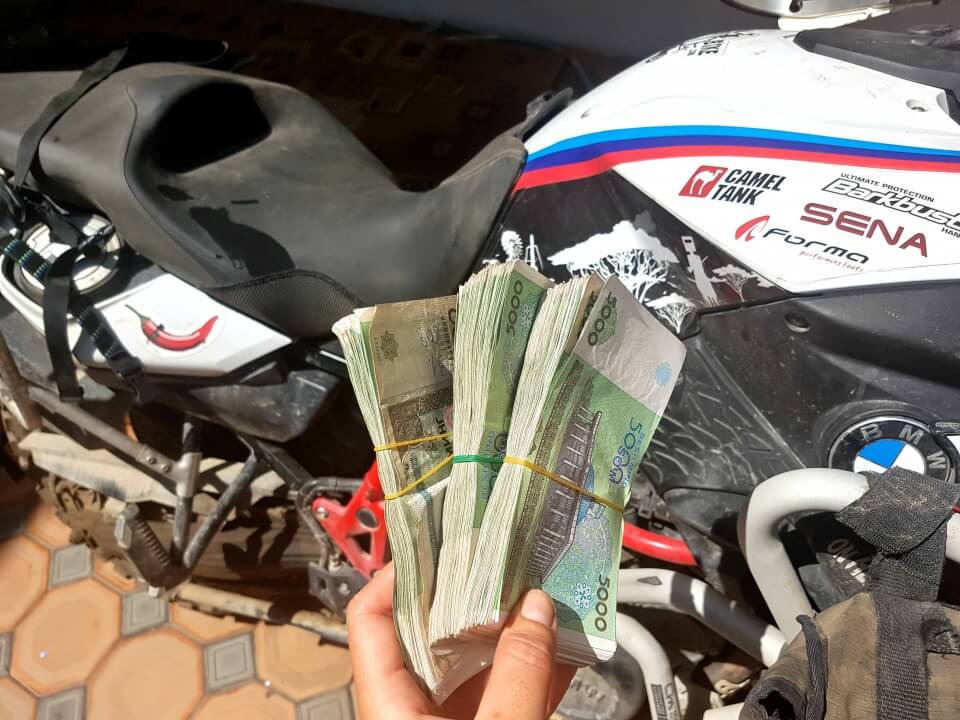 At that time 10 000 Sum ($1.20) was the highest denomination of bank note! Alexej told me how to recognise if a man has money – he carries a satchel! Wallets in this country are completely pointless.
As I was travelling in August the black market currency was worth more than double the official rate so if you used a credit card you would get completely ripped off. In September the laws changed – the black market and the official rates are equal now so you don't have to worry about these things so much any more 🙂
I followed Alexej to his mate's garage and unpacked my new shock. I felt like it was xmas or my birthday.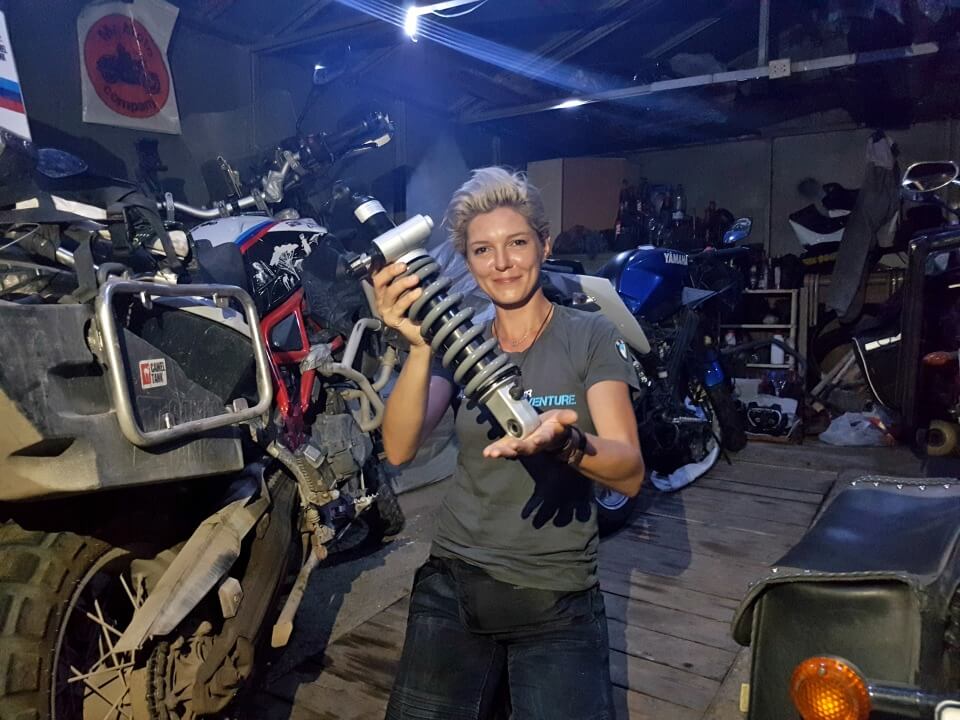 Alex, the mechanic – convinced me that it was an easy job and not to worry, the bike should be ready tomorrow at midday. The next morning he sent me some pictures of the progress and I couldn't wait to see fixed up Chillie again!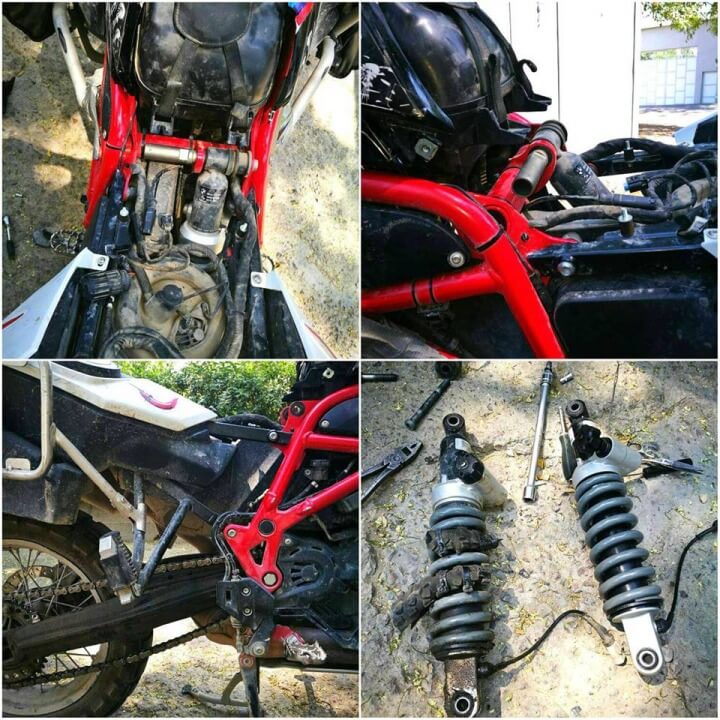 Alexej took me back to the garage in the afternoon and there she was… my Chillie – good as new! Alex charged me $40 for the service! Wow, what a bargain! We took a pickie together and shook hands.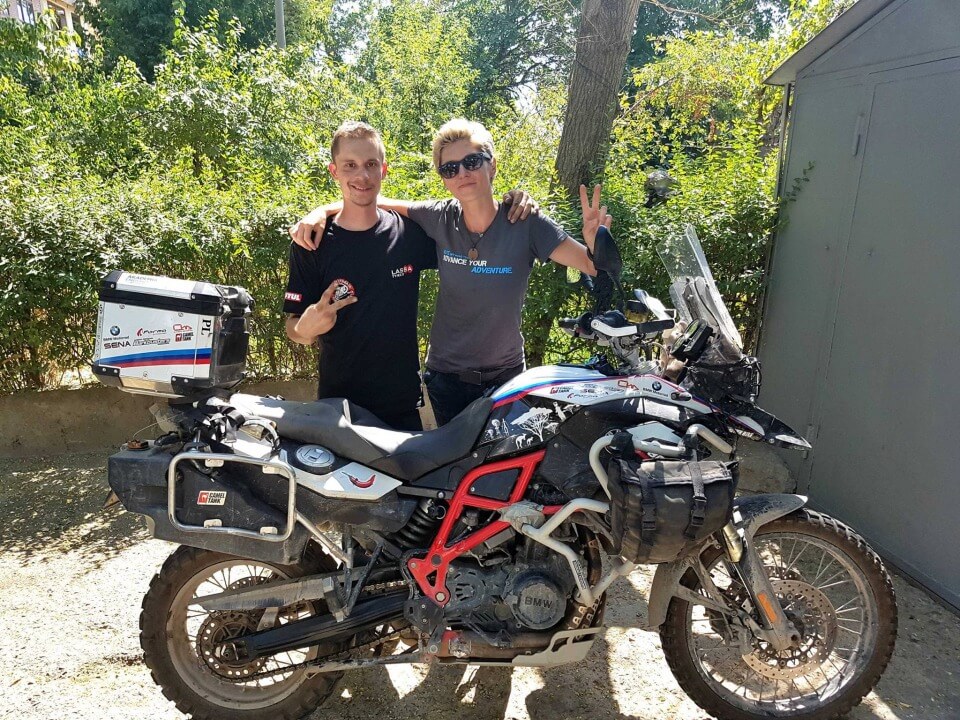 I sat on Chillie and she felt so much higher! Wow, I can't believe I'm not bouncing like a yoyo anymore! I thought to myself as I made my way back, "I will never ever take suspension for granted again".
I still had a week to kill in Tashkent as I was waiting for a decision on my Turkmeni visa. I hoped to explore the city but got quite sick again – my stomach still hadn't settled after Tajikistan and now it felt worse!
For the first 4 days I hadn't really left the room apart from a few short walks to the shops to get something to eat. I watched movies, wrote my blog and just relaxed. I think I needed that rest.
On the fifth day I started to feel a little bit stir crazy so I decided to not eat anything in the morning and take the risk of going out to get my hair done. And once more it was quite the experience. I walked into the nearest salon – it looked quite new and modern – what could possibly go wrong here?! I asked the lady at reception if they'd be able to bleach and tone my hair. She looked at my hair and said she is able to bleach the roots but she doesn't have the right toner, which is not a problem – "We can buy it next door" she said. Awesome, let's go! When we walked into the small grocery shop I was quite surprised, she pointed at the shelf with Palette hair colour, not the most professional of brands. Well, I guess this is what adventure is all about, right?! When you're in Uzbekistan, do as the Uzbeks do! I'd already had pink and purple hair along the way… why not try Palette!
And even though the whole scenario was random and weird the outcome was great! I finally got the colour I wanted!!! Yay! Damn you feel good what you hair is done properly! Well, maybe not properly but at least looks the way you wanted 🙂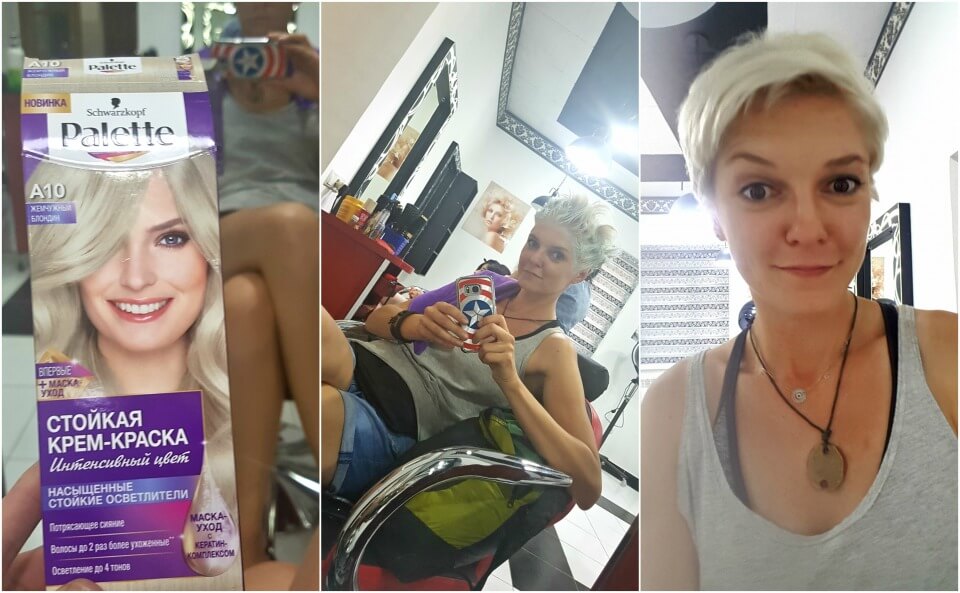 The next morning the same procedure, I left the room for a few hours for a little wander. I took a taxi to check out the main attractions and see the local architecture.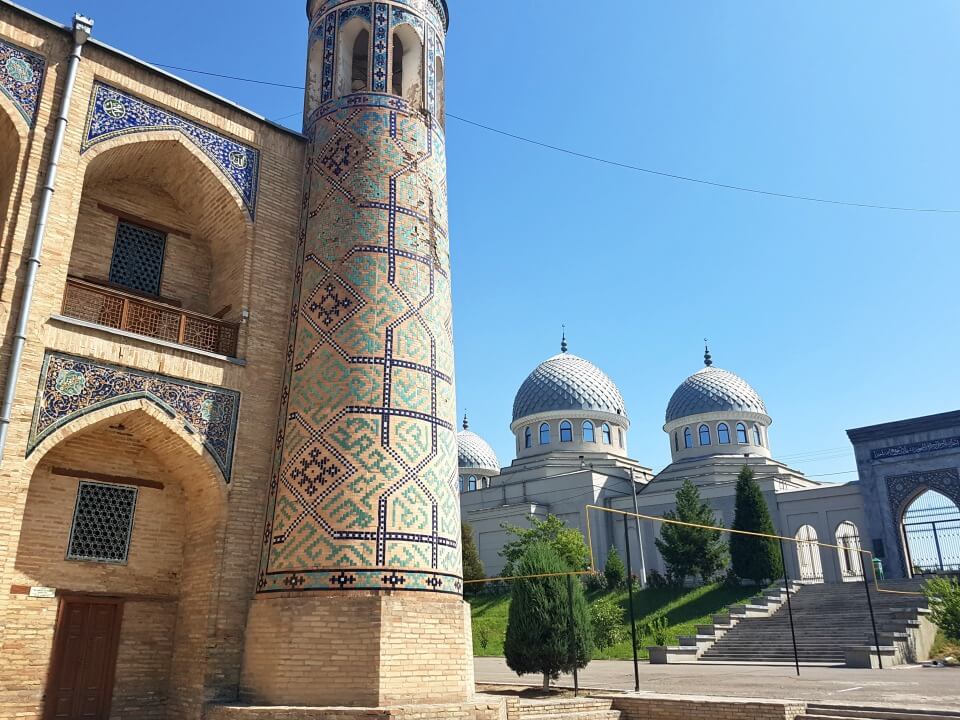 The most exciting part was the shopping pit at Chorsu Bazaar…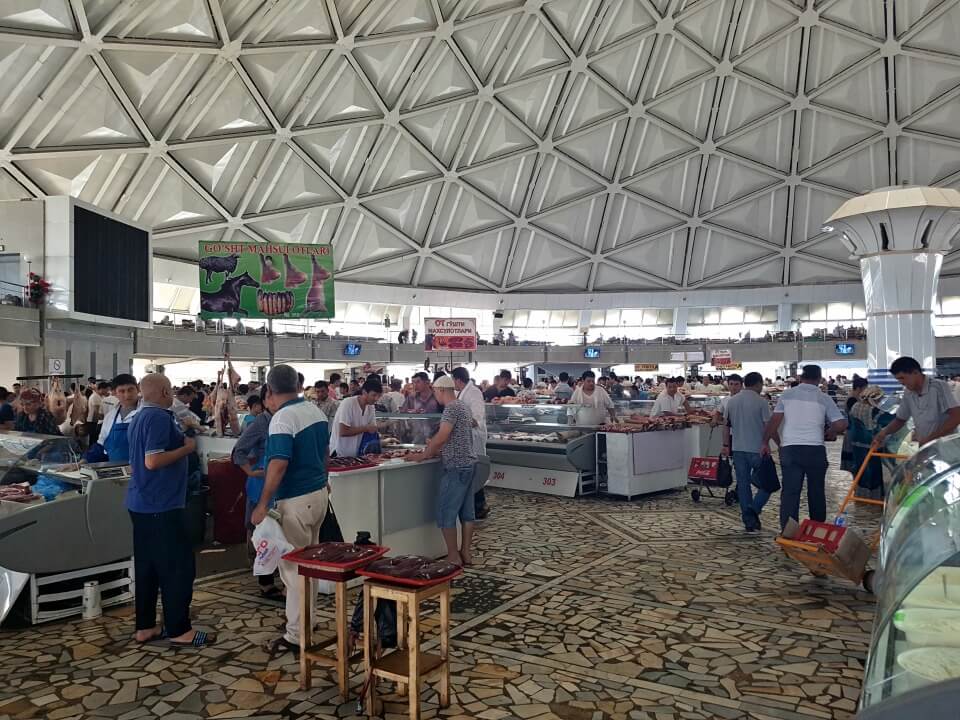 Where I purchased some more appropriate clothing for Iran!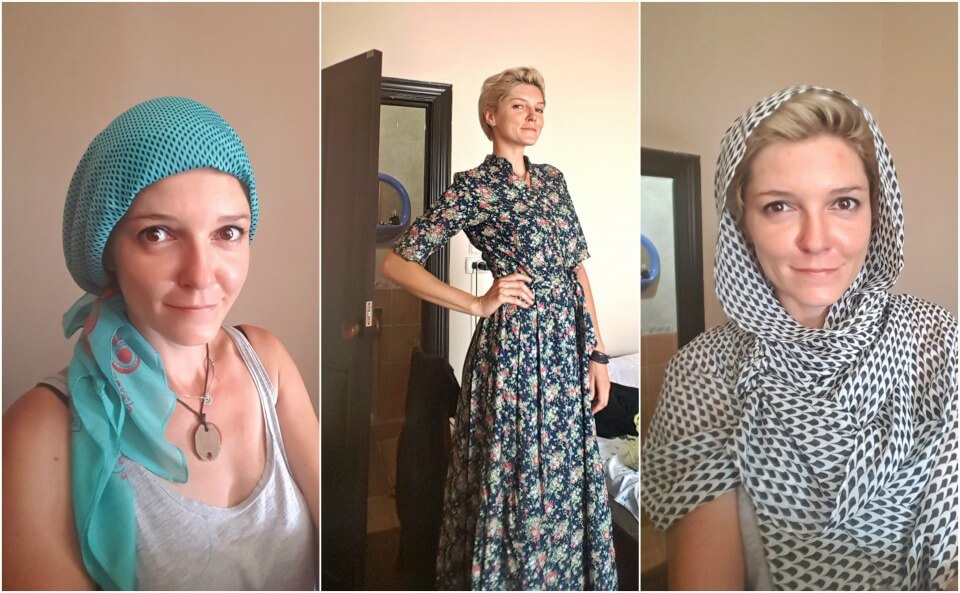 ​Turkmeni Visa
So, as I mentioned in a previous post, the whole getting a Turkmenistan visa thing is a bit of a lottery and only about 50% of visa applications are approved. But as it's the shortest path to get to Iran, I had to give it a go. I applied for the visa in Dushanbe and two weeks later I needed to visit the embassy in Tashkent to find out if my application had been successful.
On the two week mark I caught a taxi to the embassy early in the morning hoping to avoid what was such a big line. The people who were waiting told me to put my name on the list – I was 20th! Damn, twenty people ahead of me – I didn't think my stomach would behave for that long! I waited in pain for 3 hours until my name was called. Finally!!! I rushed in and gave my passport to the consul. He checked something on his computer "Your visa is not ready yet, come back in 2 days". Oh the humanity, all this waiting for nothing!
I rushed outside, caught a random car going in my direction (it's quite normal here, people just give each other lifts for a little bit of money and it's much cheaper than the taxis who try to rip you off every time).
I was glad to get back to my room where I spent the rest of the day in bed again. I guess my sickness and this visa delay worked out well. I had to wait till I was better anyway.
Two days later the same scenario, this time I arrived at the embassy at 7am and there were already 10 people ahead of me on the list. This time I only waited 1.5h to hear once again "Your visa is not ready yet". Ok, now I'm getting frustrated! It's Friday, I feel much better, I'm not going to stay here for the weekend, otherwise I'll go mad! It's time to go! I was hoping I could be informed via email about my visa status and if I get it I could pick it up at the border. And so I did. On Monday I was already in Samarkand when I received an email with the great news – "You've got the visa". Yay, I should buy a lottery ticket or something!
​Thank you
Throughout my stay in Tashkent Alexej and Sasha were so helpful and this kindness is normal and natural in all the post soviet countries I've been to so far. The riding community is amazing and really looks after it's own. And I can't believe after all this time I didn't take a pic of him – so not like me right?! I take pictures of everything! But I asked Alexej to send a picture of himself so I can keep it here on my blog as a memory. So this is Alexej and his machine.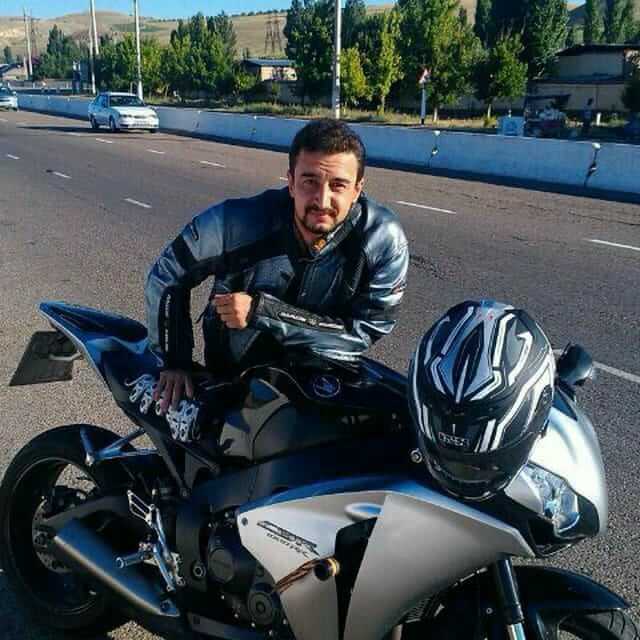 And this is the only photo of Sasha I've got from the mechanics garage…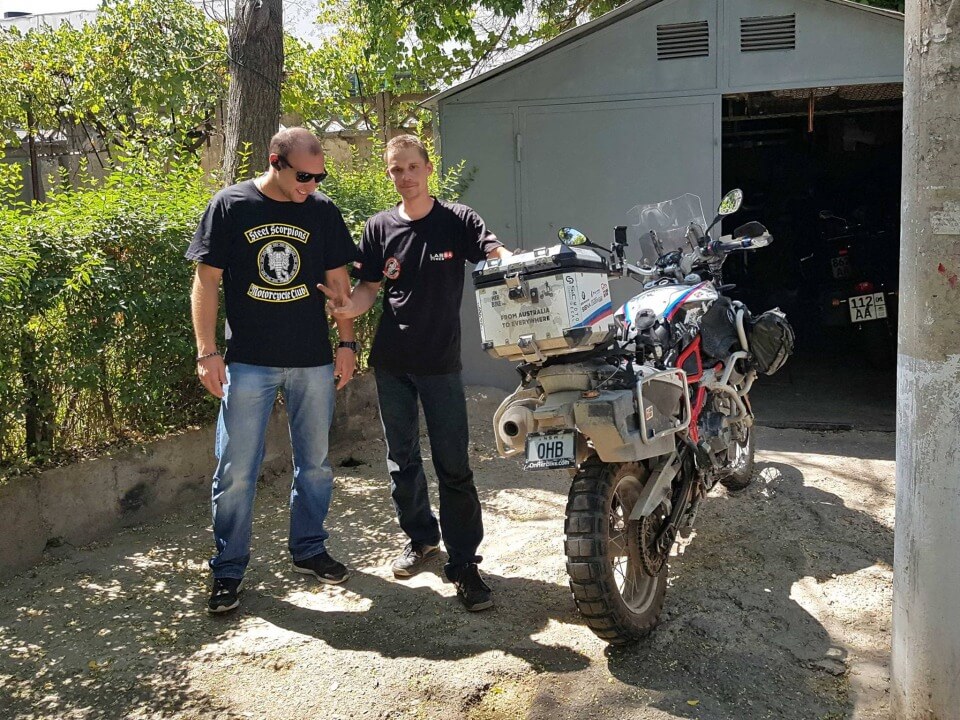 And last but not least, a big thank you to BMW Motorrad Australia, Germany and Russia for helping me out with my new shock. The speed and lack of stress with which this was organised really put my mind at ease. I'm sorry but I don't have pictures of the team who were involved in the whole process but I hope there will be a chance to meet someday and shake their hands! So for now here's some applause for you…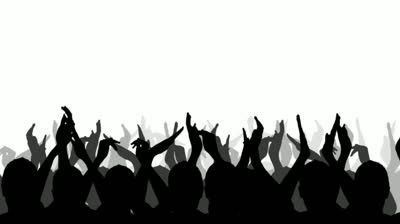 Mission possible: Benzin
Just before I left Tashkent Alexej had organised some petrol for me so I didn't have to wander around town in search of it. Although getting fuel is a big issue, once you know the rules of the black market it's not hard to find. Although the further you go from the capital the harder and more expensive it gets. The majority of petrol stations I passed were either closed or had a sign "No Benzin" so I'd given up even stopping at them. My routine was to simply ask at the hotels or of taxi drivers where I could find petrol. They would direct me to a private house where it's sold or offer to organise a delivery to the hotel which is a little bit more expensive. A bottle on the side of the road is a sign that 'benzin' is sold there.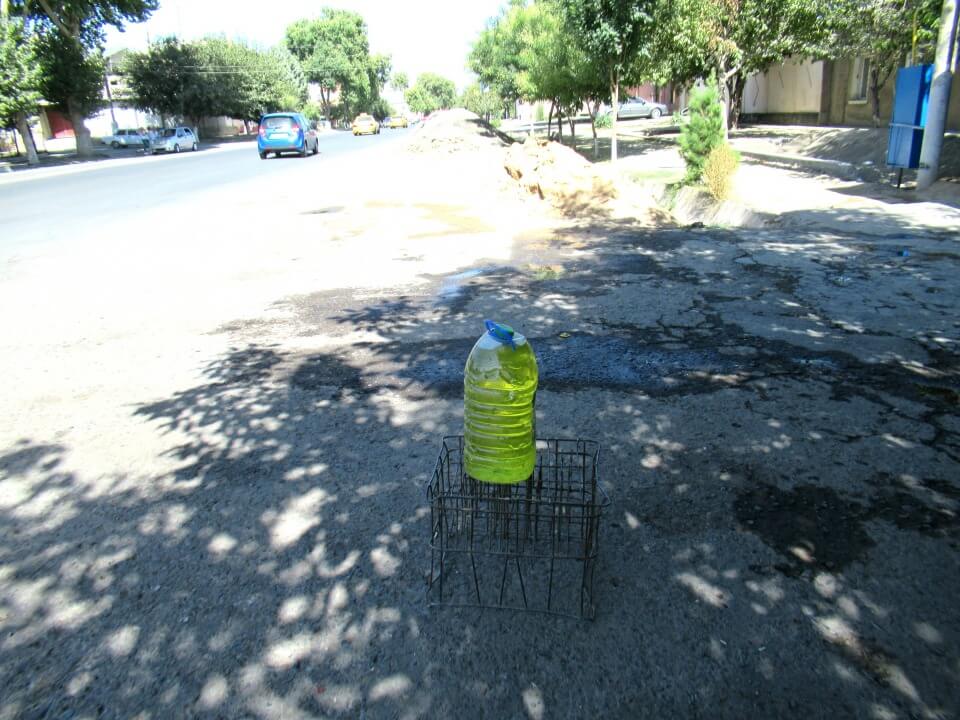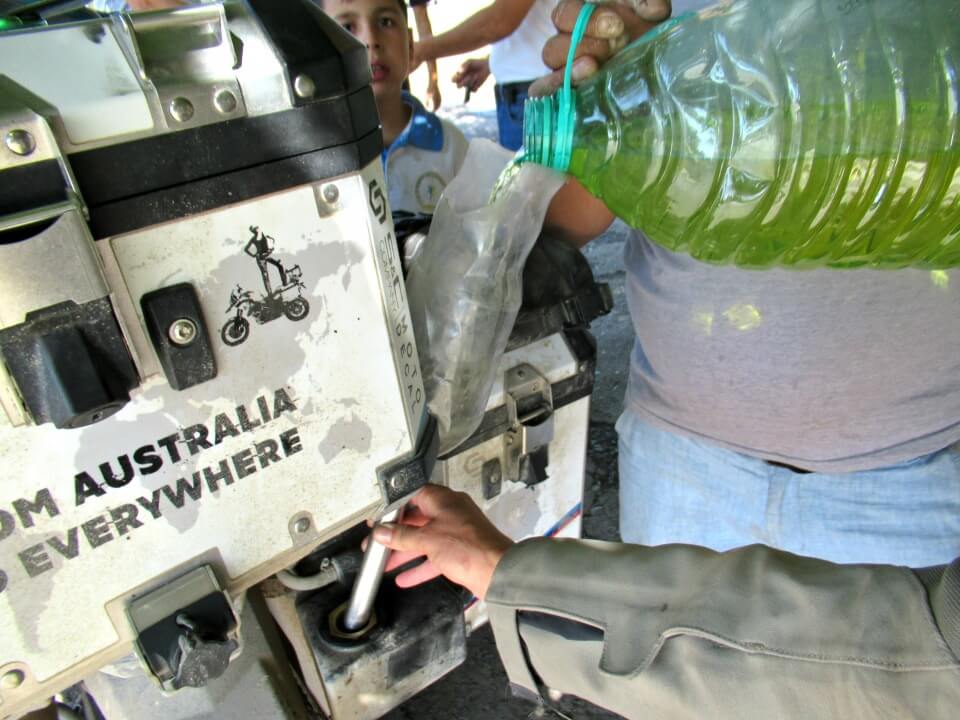 The price of the black market fuel is nearly twice as expensive but still dirt cheap: 5000 Som / $0.6 per litre. The quality is shocking though, only 80 octane fuel is available and it's not particularly clean either. A filter sock is a must if you want your fuel pump to last. I didn't use any (I don't know what I was thinking!) and it's no wonder my pump failed later on in Turkey (I'm actually surprised it lasted that long).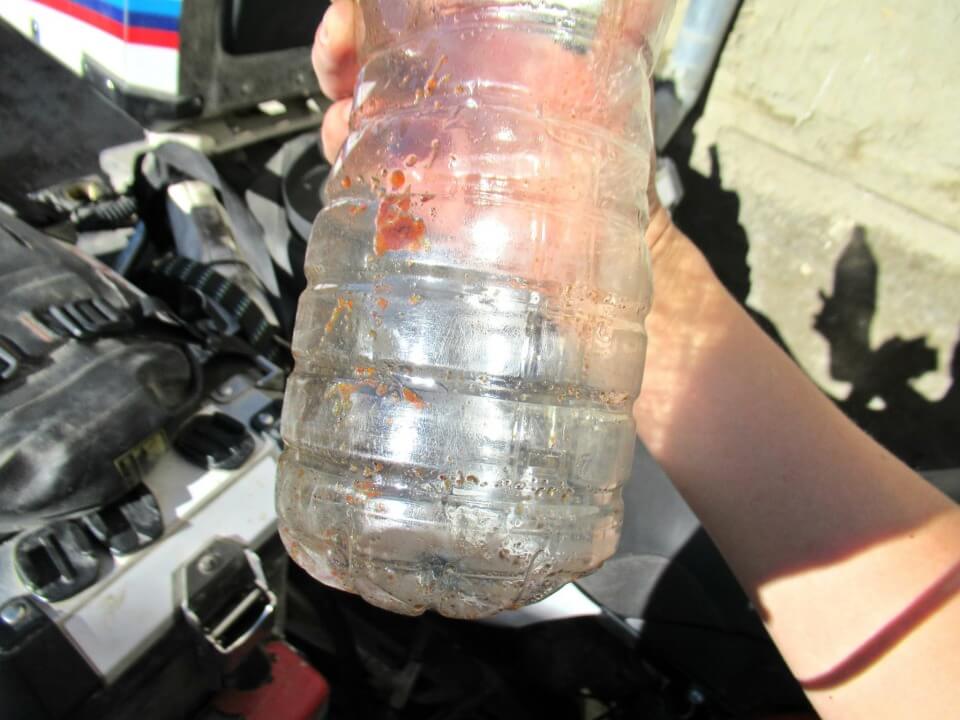 Apparently this white powder tells you when the quality of fuel is poor, I was very concerned about Chillie so I'd been adding octane booster and she did very well. She was a bit laggy but there were no knocks in the engine which was a good sign!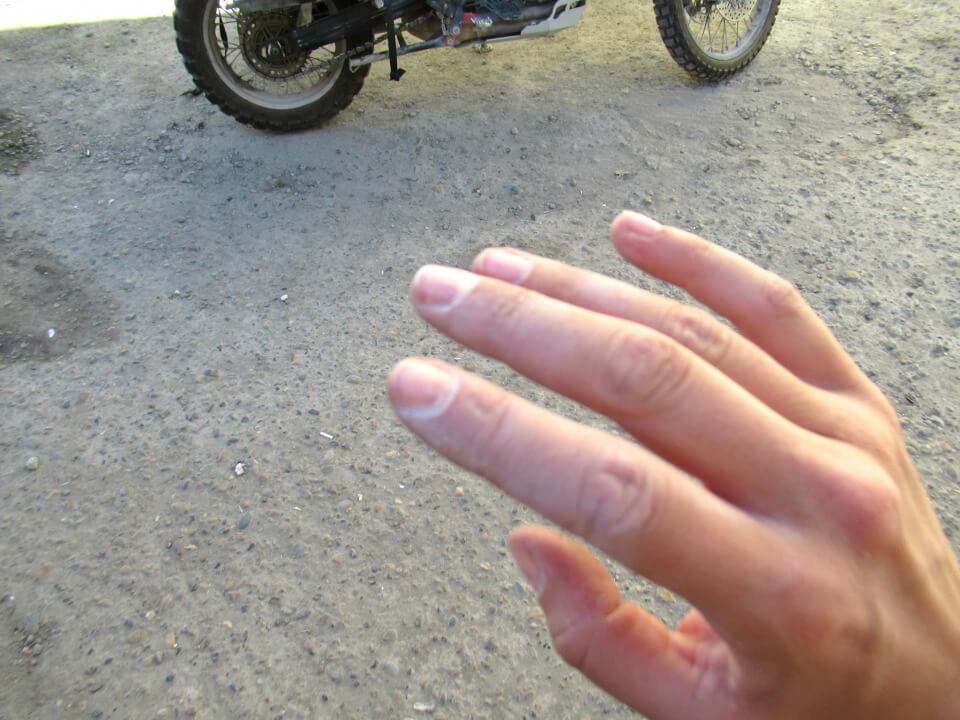 ​Silk Road Treasures
In amongst the unending monotony of the deserts surrounding the Silk Road running through Uzbekistan, lie the ancient towns and cities. The mosques and mausoleums within are incredible reminders of life from a far off time and a culture that has survived to this day.
Between these stunning cites the scenery is flat and quite boring. I'm sure there are some tracks worth exploring but due to a lack of access to fuel, unfortunately I had to stick to the main roads only.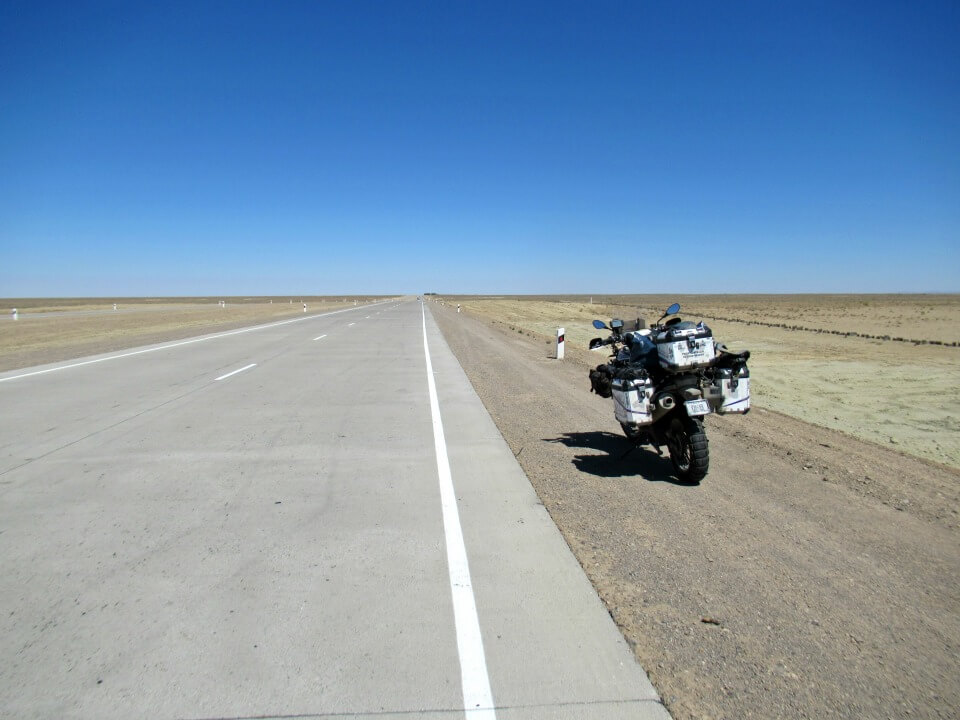 Camping was also out of consideration. In Uzbekistan you need to register in a hotel every night and keep the registration paperwork until you leave the country as you can be checked by police along the way. These registrations are also thoroughly checked on the way out at the border.
First stop Samarkand – one of the most ancient cities in the world, called "The pearl of the Eastern Muslim World". Is has been added to the UNESCO World Heritage list due to an abundance of architectural treasures and spiritual monuments. It's scientific heritage, art schools and artisans workshops are renowned around the world.
I stayed at the B&B Emir for two nights at a cost of $10 per night for a bunk bed. For me 2.5 days was enough to see the main attractions. First up let me show you me posing in front of the Mausoleum of Gur-Emir… as someone else is posing in front of Chillie…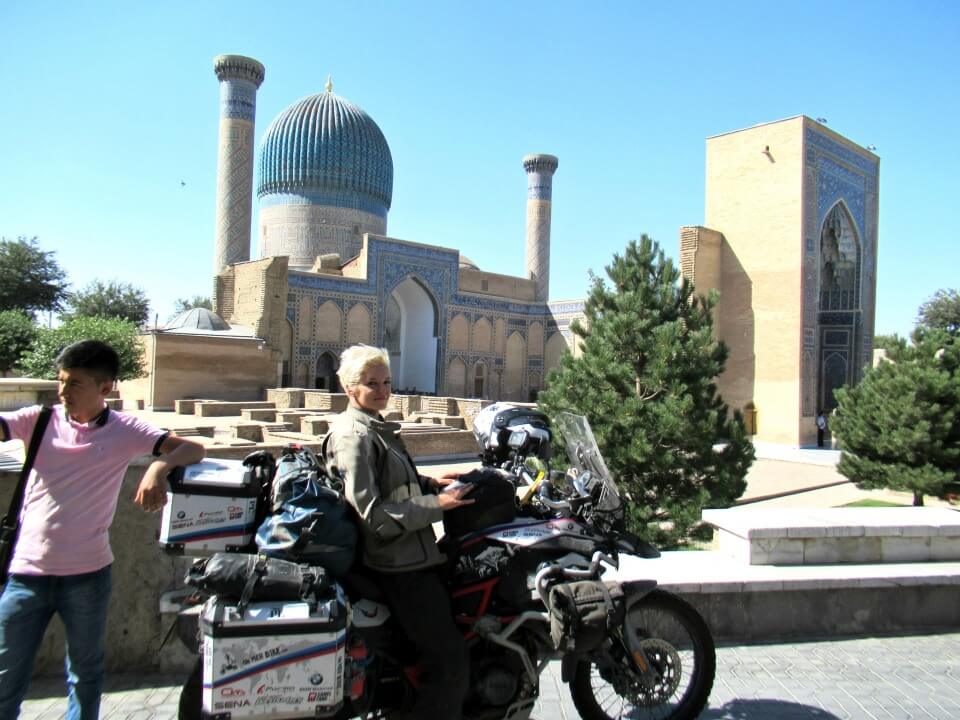 There is a similar theme running through my other photos. Here are the other mosques!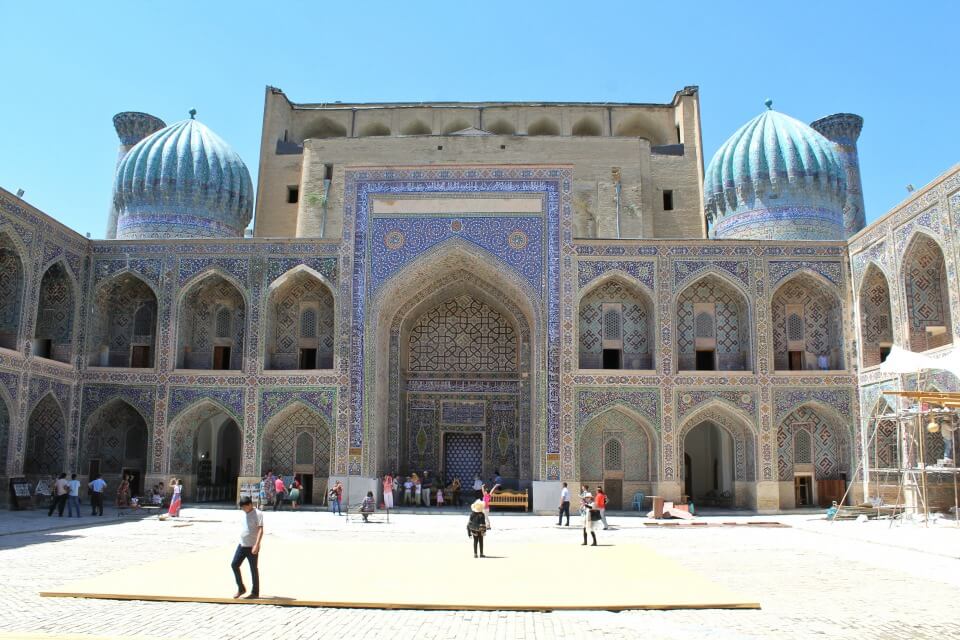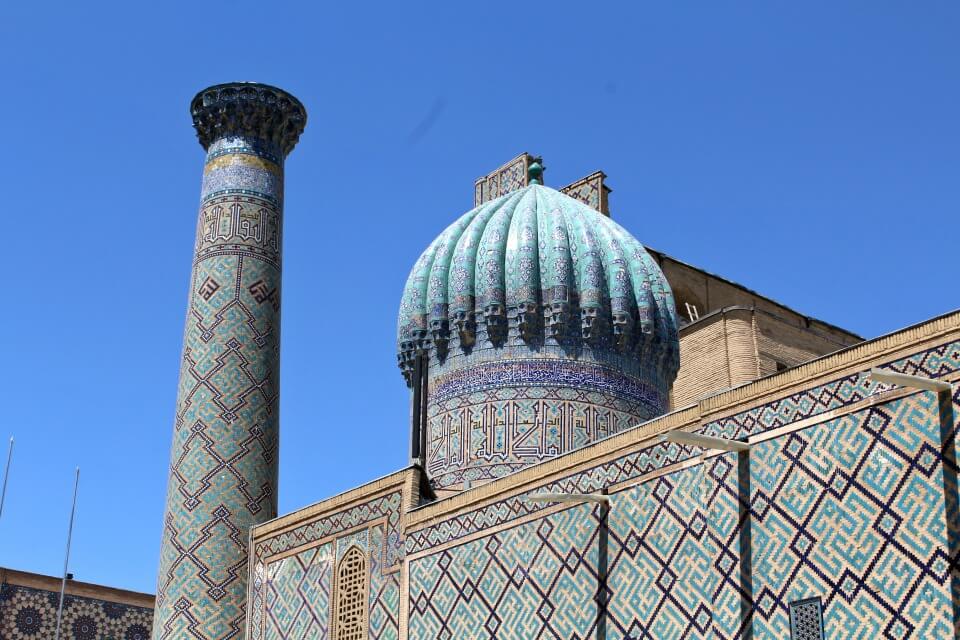 I also randomly met a group of polish tourists. It had been a long time since I'd spoken Polish and it was good to catch up on the news from my homeland.
Next stop Bukhara – 270kms of roads that were quite average, there were a lot of potholes. Hotel Mekhtar Ambar sounded promising on Booking.com and sure its facilities were quite good for $10 per bed…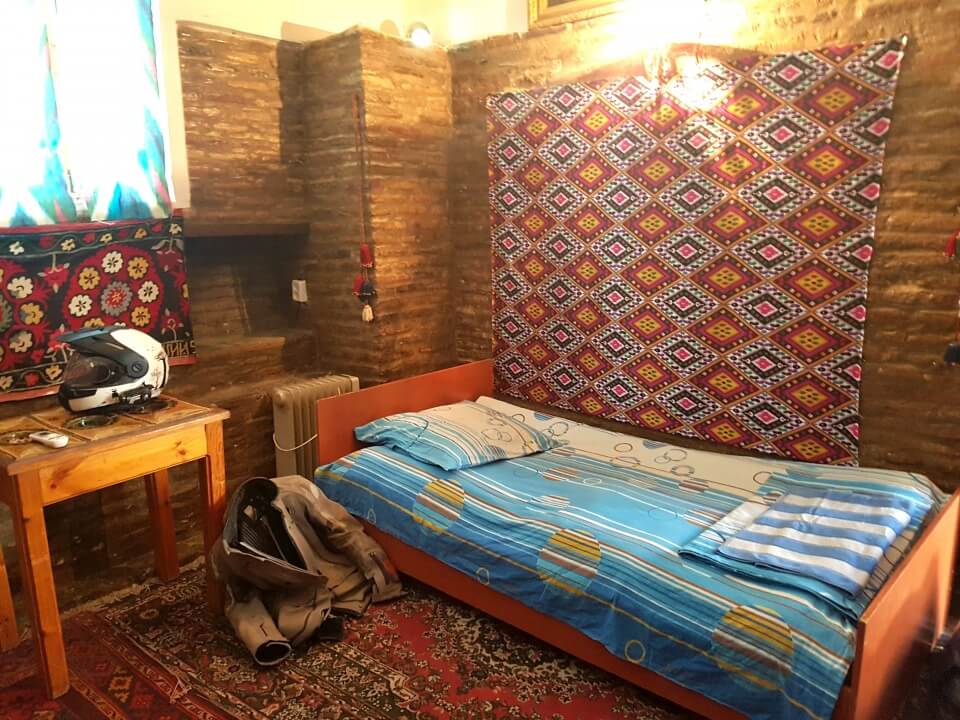 … but the attitude of the staff was a shocker! They tried to rip the guests off with everything, it was disgraceful and at this stage my tolerance for being ripped off constantly had reached its limits! The price of Coca-Cola was 10 times more expensive and the offer of fuel at 8000 Sum per litre was outrageous. Most of the guests were unhappy and myself being really pissed off left the hotel for a walk. It's lucky for me Bukhara's old town is situated all together as walking is not my passion. At the time the majority of the city had been ripped apart due to construction work, but life goes on just the same. No safety barriers, you can just walk freely through excavations which suited me – I got to have a good look at their building techniques. I just love construction sites – best sightseeing ever!
But not all the streets were demolished, here's the "pretty" part of town…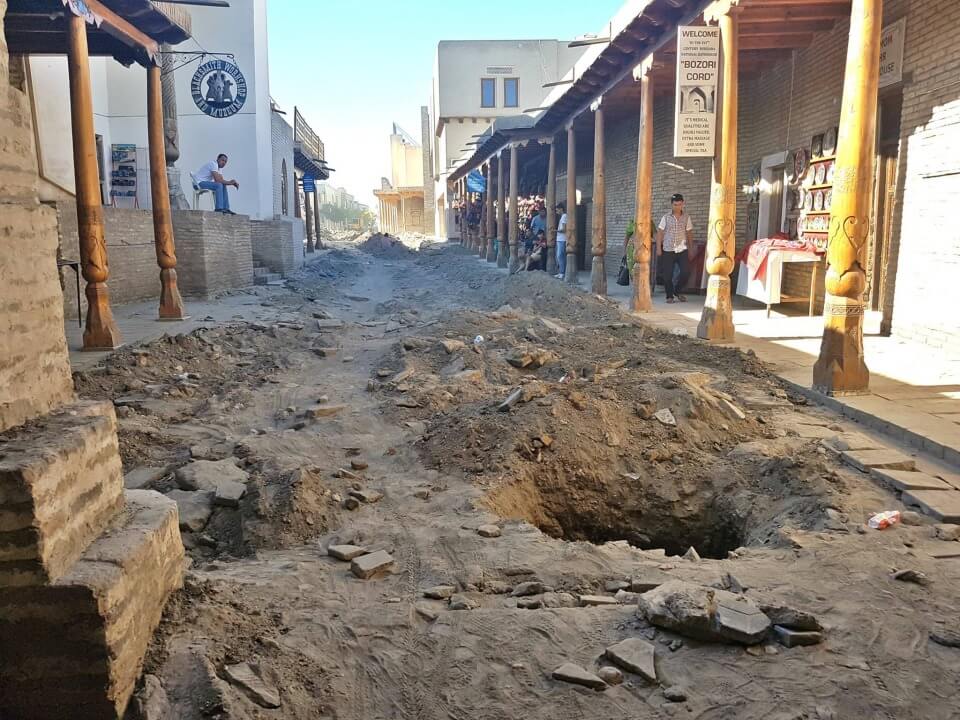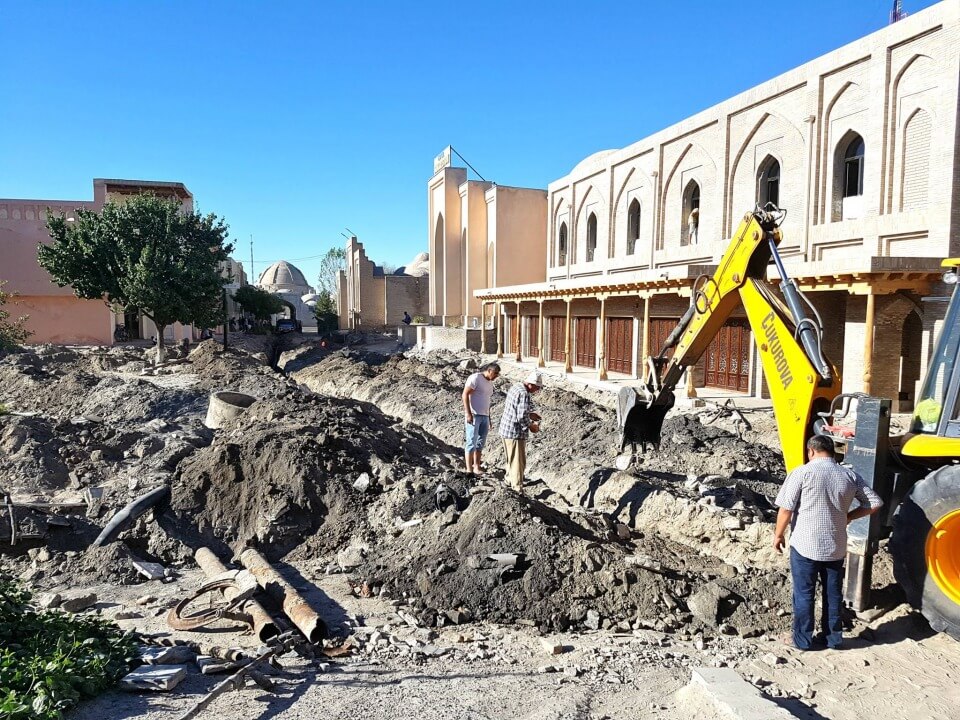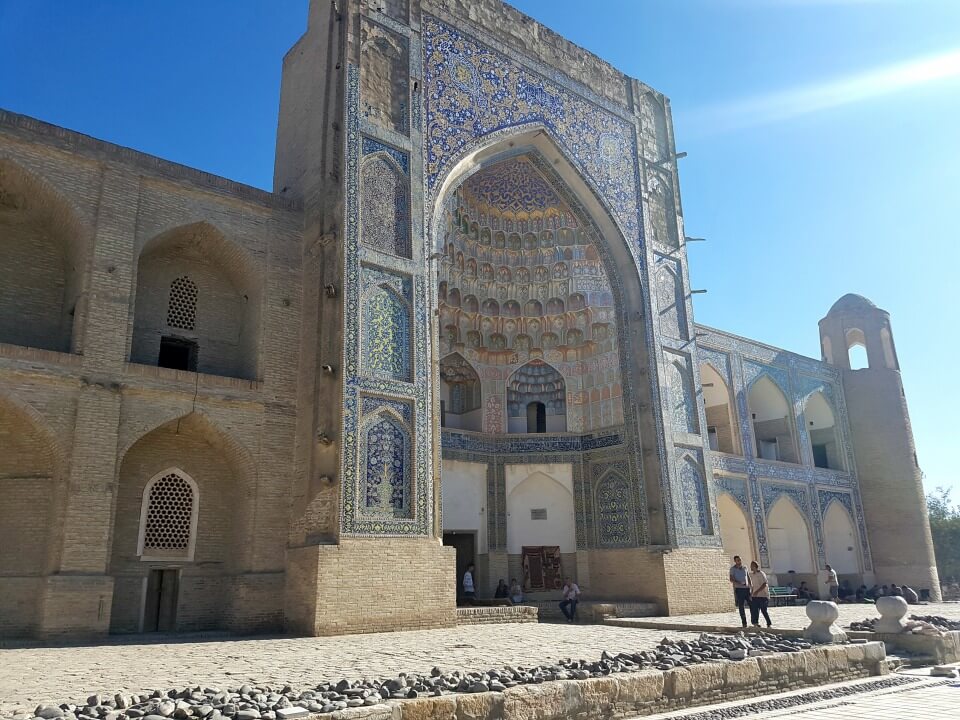 I caught up with my contact Farid who had a parcel from Motorcycle Diaries for me, he also organised fuel for nearly half of what they charged at the hotel.
Graeme and Katrina who I'd met in Tajikistan were in town as well so we caught up for dinner. We had some laughs and a whinge about the whole foreigner rip off situation. The guys were heading to Turkmenistan the next day and I went further East to Khiva.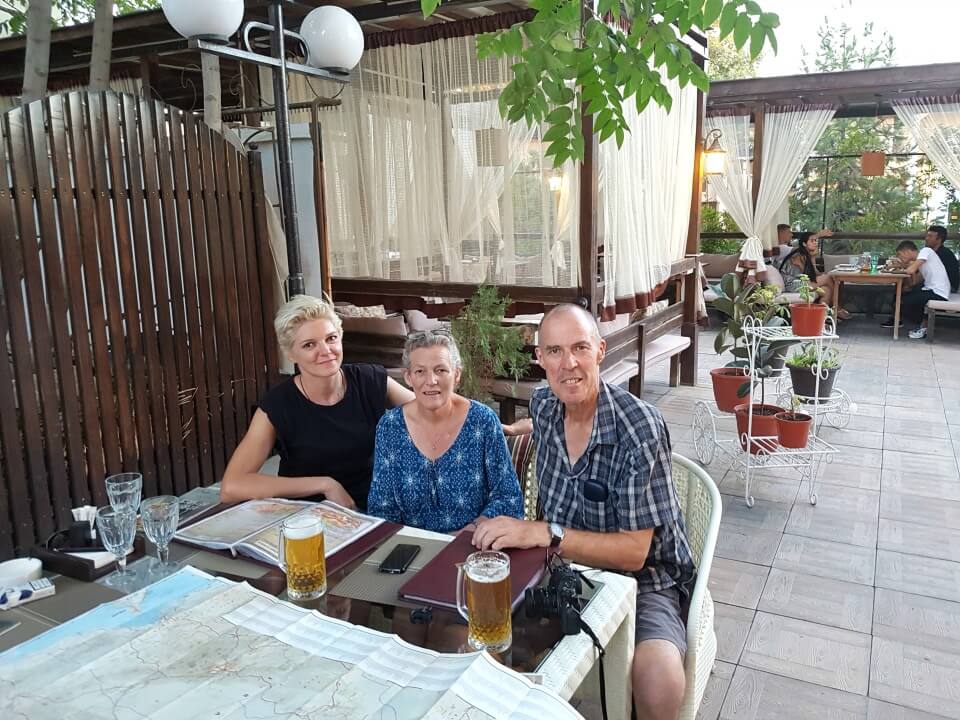 The majority of the road to Khiva is new highway but due to poor fuel I didn't want to push Chillie too hard so I stuck to a max of 110km/h.
At the end of the highway my GPS lead me down a wrong road and I got lost. The expected 420 km stretched to nearly 480km which normally would be fine with my auxiliary Camel Tank but 80 octane fuel is not as efficient. I stopped at the village and asked for 'Benzin' , the locals pointed at the house on the hill. Phew, that was lucky! Father and daughter filled Chillie up and I made it safely to Khiva.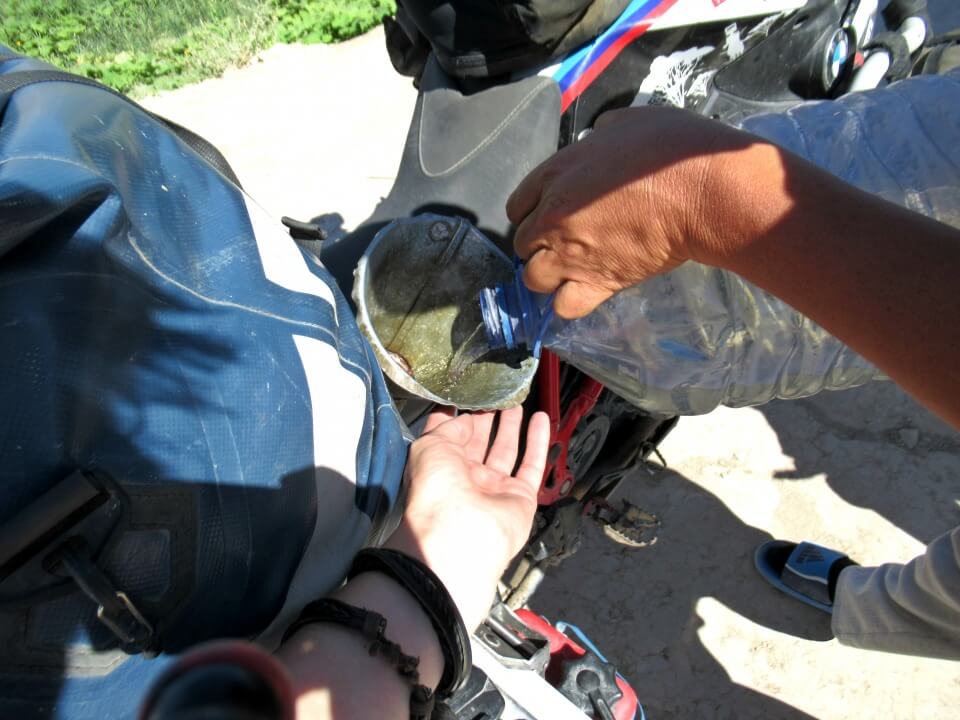 My favourite city in Uzbekistan by a long way was Khiva. It's small and charming, with a nice vibe. I Stayed in the Laliopa Guest House which was a stone's throw from the old town. For once it felt like no one was trying to rip me off – lovely friendly people.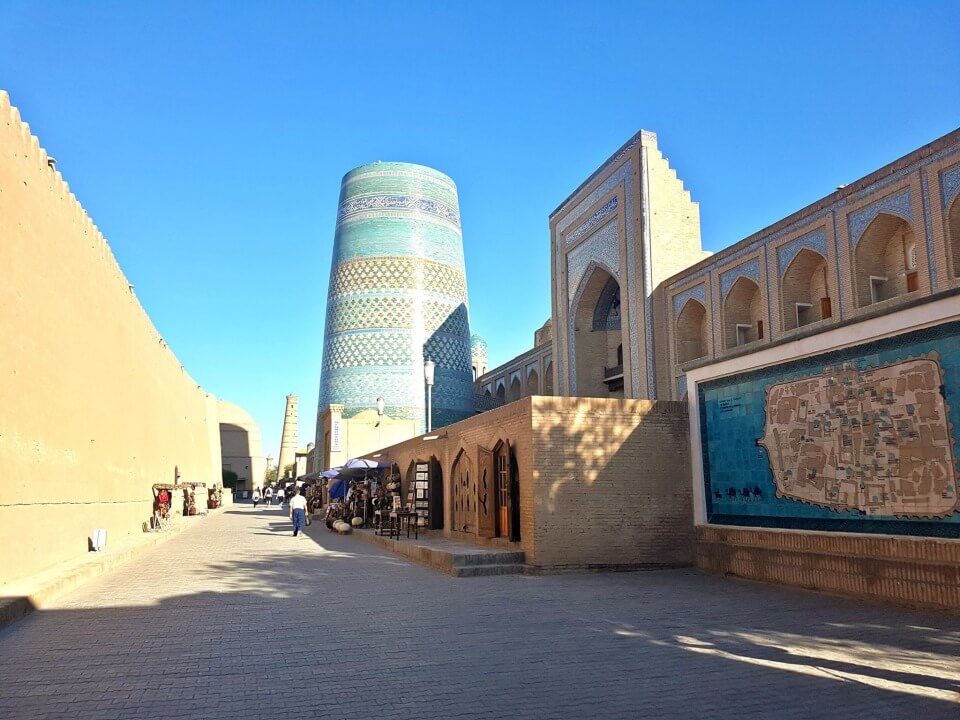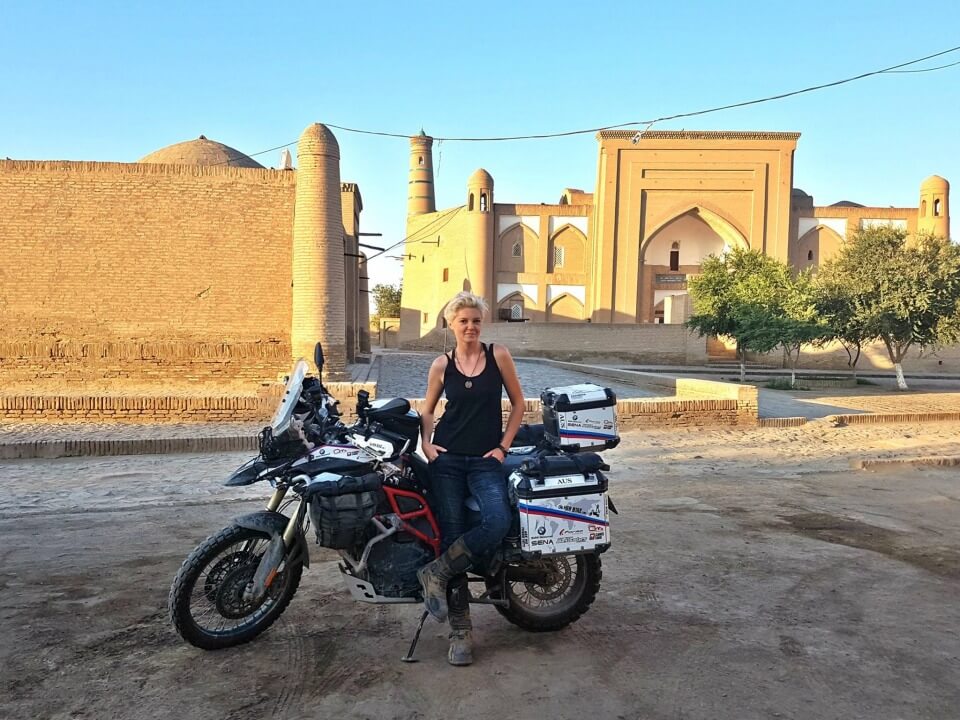 The last stop in Uzbekistan was Nukus and there is seriously nothing to see here and on top of that there are no hostels or cheap accommodation. The cheapest hotel I could find was $35 a night, which here is very expensive, but it is what it is I had no choice. I may sound like a whingebag when you read all my complaining about prices, but this trip is not a two week holiday where you just want to enjoy yourself and not worry about your spending. I'm hoping to be on the road for at least two years and my daily budget for fuel, accommodation and food is $40. The less I spend the longer I can stay on the road.
How I crossed the border and smuggling Honey out of Uzbekistan is in my next post…. 😉
In Numbers:
Duration: 17 days (1st – 17th August 2017)
Total km's: 1349km
Map: https://www.google.com/maps/d/edit?mid=1jTK3KeXE8JUmNea7Rtc6ZY6vCF4liEcl&ll=41.03008458718577%2C64.46971368044615&z=7
---
The "Are We There Yet" World Tour is about more than just me seeing the world on a motorcycle. Throughout my journey I'm raising money for a young disabled child in Poland named Franek. Franek was diagnosed with cerebral palsy (weakness of the entire right side of the body) and he will require constant rehabilitation for the rest of his life. All the money raised will go directly to helping Franek and his family lead as normal a life as possible so please donate generously: www.gogetfunding.com/arewethereyet