Albania
There aren't many countries like Albania left in Europe, where you're permitted to go off-road and camp anywhere you feel like it. Albania is an ADV rider's heaven, which had been on my bucket list for a long time.
I wish I had had more time to spend there and I wish I was more physically fit for the ride. At the time I was still recovering from the spiral fracture in my leg and mentally I wasn't ready to get off the beaten track yet. So I stuck to the main roads, but still had a ball!
So this post is about my first taste of Albania, I'm sure it won't be my last though…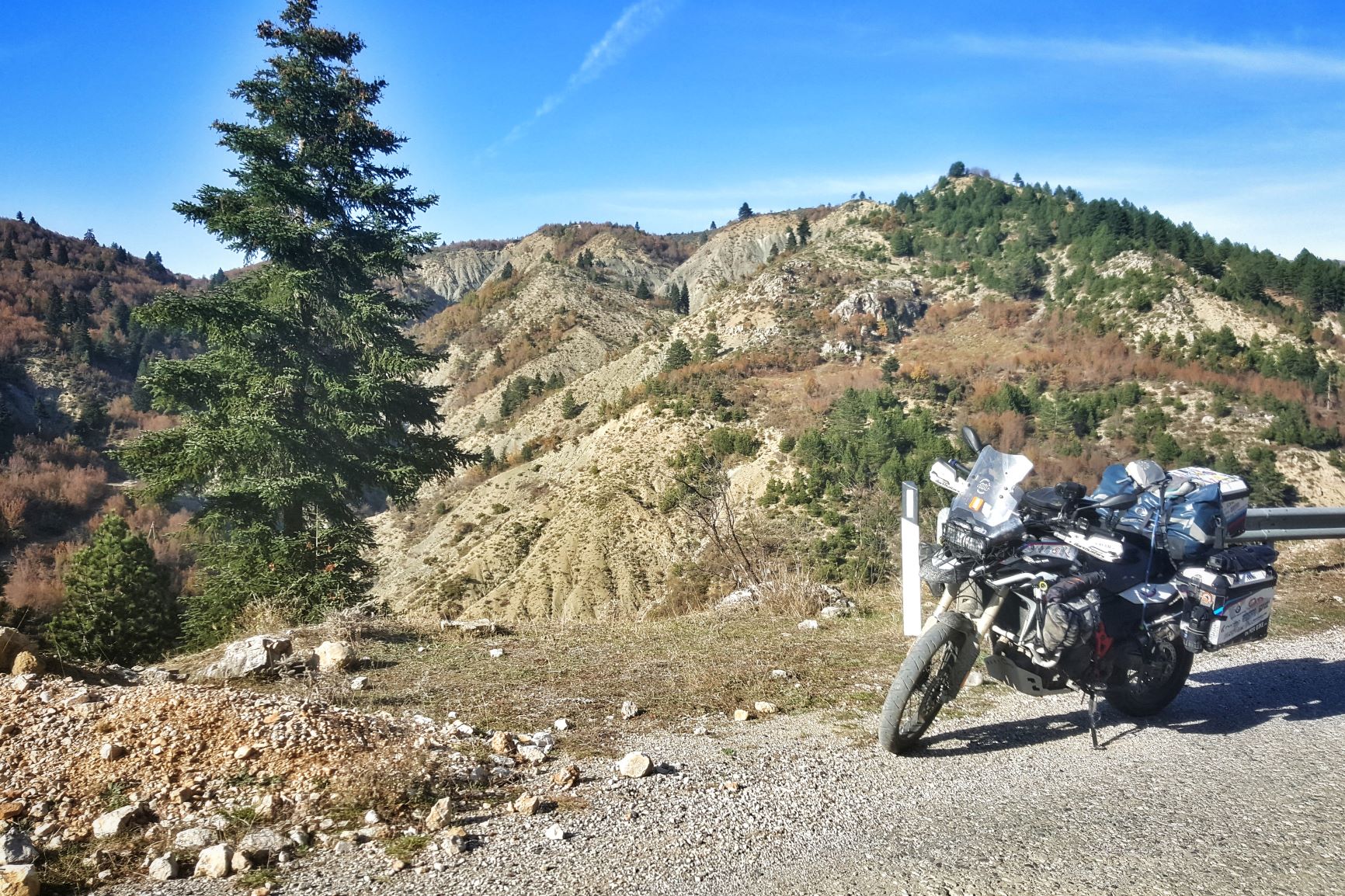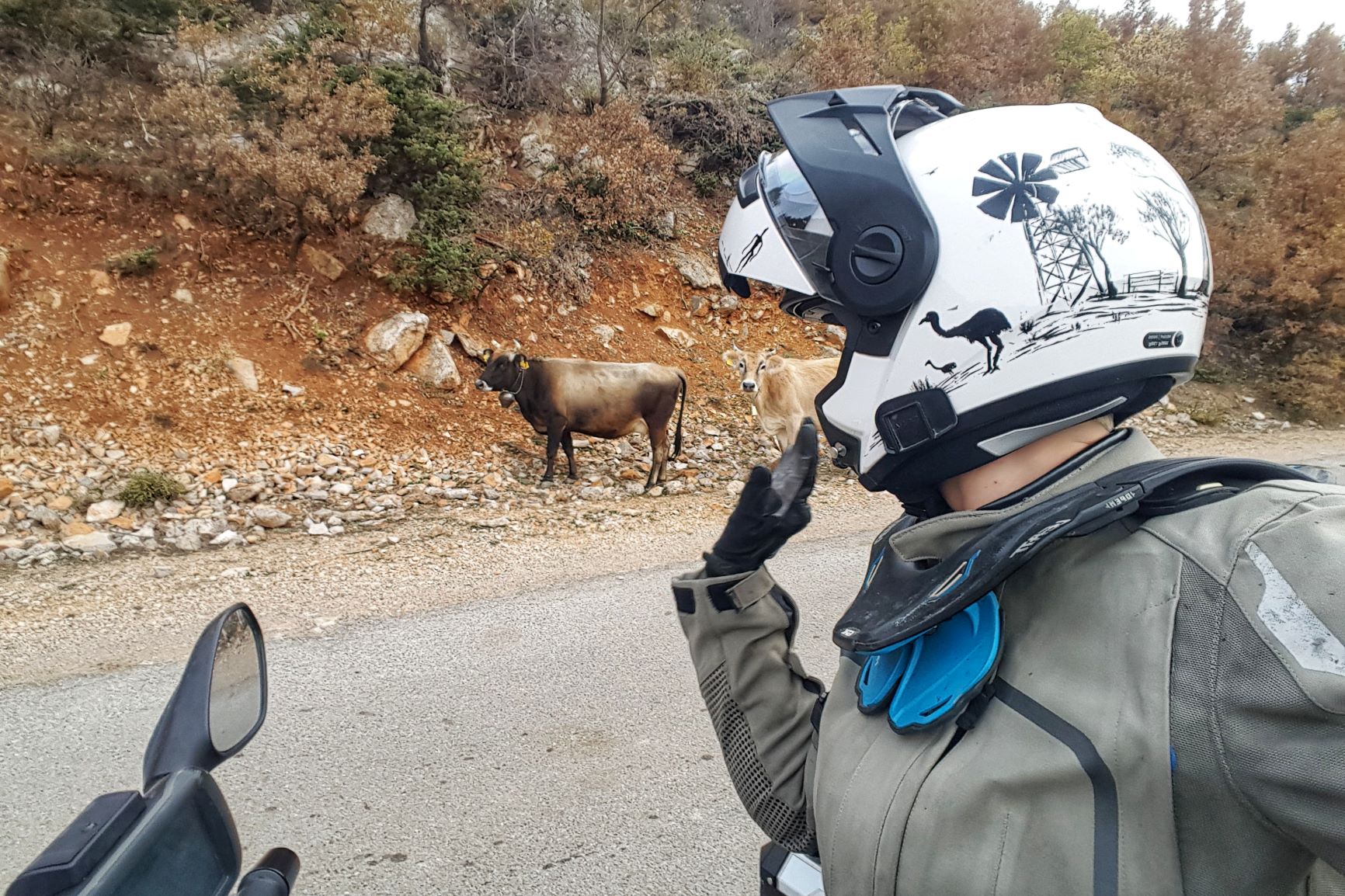 The border between Albania and Macedonia was very picturesque as it was right at the Ohrid Lake. Soon after that, the views turned into those of mountain passes and sea coasts. In late Autumn the roads were nearly empty, so it felt like I had Albania all to myself.
Reli from Tirana had contacted me beforehand offering assistance and I'm so glad he did because as always I rode into the country completely unprepared, not knowing which way to go. Reli prepared a 4-day route for me and guided me for virtually my whole stay in Albania. What a legend!
Southern Mountains
My first destination after the border crossing was Farma Sotira which was just 100km away. Farma Sotira is a motorcycle friendly farm with all sorts of accommodation options (bungalow, cabin, camping) and a basic, but nice restaurant. Apparently, during summer it's a common destination for riders and I can see why – the roads to get there go through the mountain ranges and the place itself is a hidden mountain gem.
It was getting late and cold but still, my plan was to camp although the temperature at that time of year at night was about 2 degrees, "pff might be chilly at night but I'm tough!" I was thinking to myself on the way there. At the entrance to the Farm, Nida greeted me with a big smile.
– "You can stay in the cabin for the camping price which is 10 Euros".
– "Oh, that's awesome thank you". This offer was too good to refuse and it seems I'm not that tough after all!
After a nice dinner and a good night's sleep in a warm bed, I was good to go again!
As I was packing up the bike in the morning Nida approached me and asked if I would like to join her for a community meeting in regards to a new marble quarry that was being planned in the area. Sure why not! We walked to the top of the hill with all the locals to meet up with the investors. The conversation between the parties got a little heated, getting louder and louder. Although I couldn't understand much it was still an interesting social experience.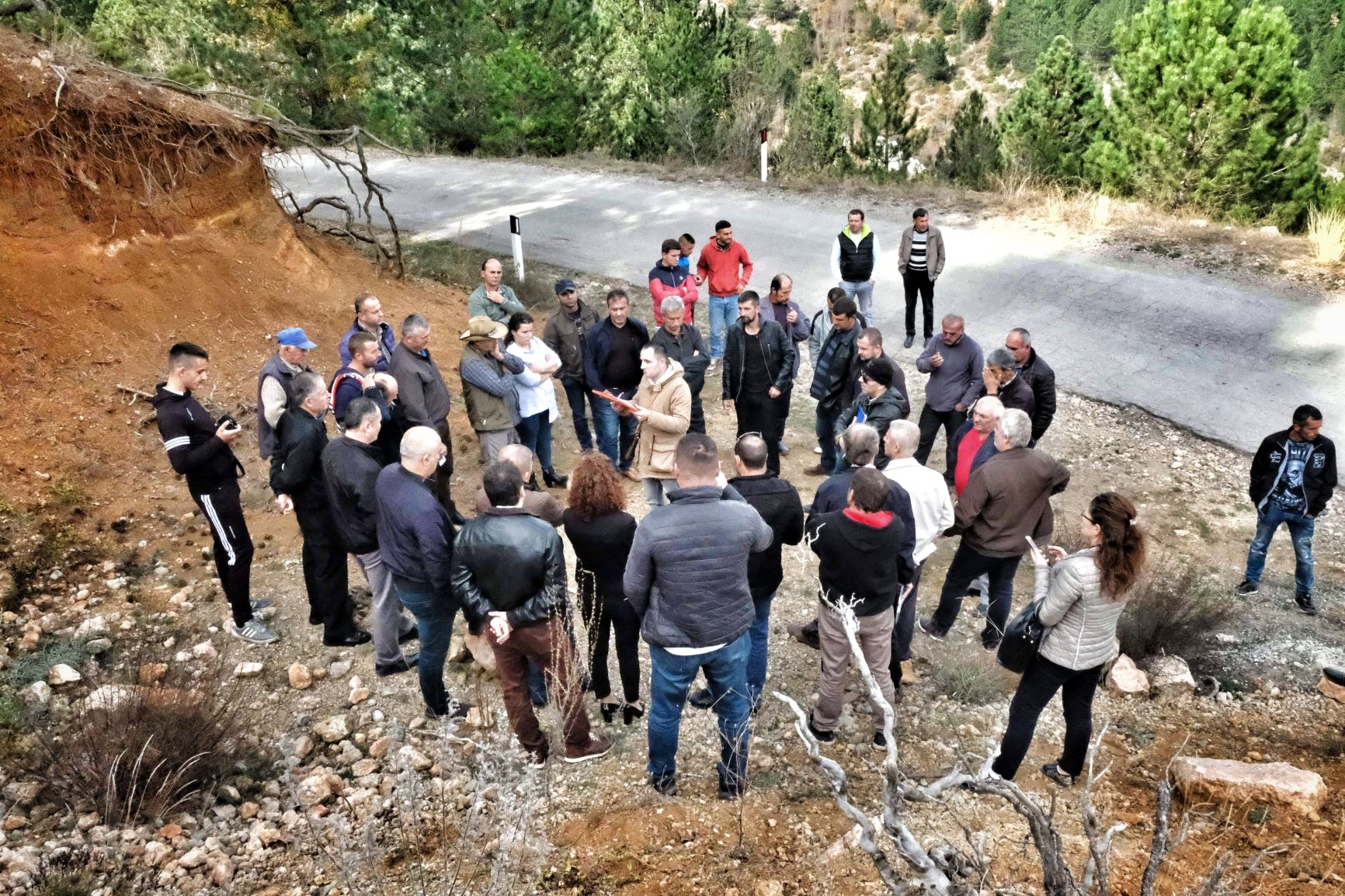 I don't know what the outcome was or if the quarry was finally opened, but I hope they were all happy either way.
I left the farm quite late and there was a big day ahead of me – it was about 300km to the coast through the Southern mountain ranges.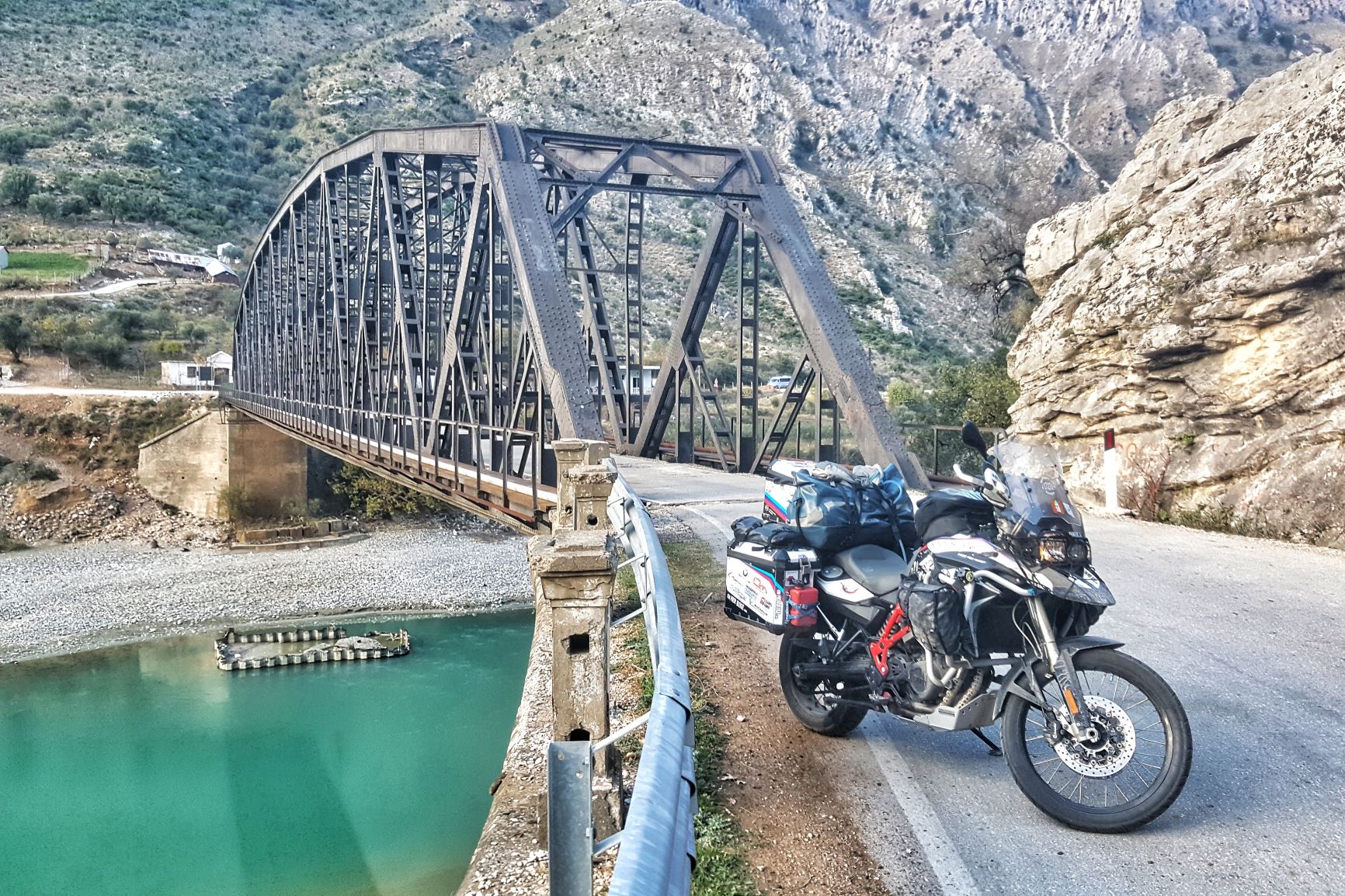 Gjirokastër was a town recommended by Reli. It is a city-museum in the south of Albania, which is on the UNESCO World Heritage List. The architecture of the city has been preserved since the Ottoman Empire – houses of unusual shape, roofs made of flat stone, and even a castle on a mountain. I only stopped here for a few quick pictures but this town is definitely worth visiting for a day or two.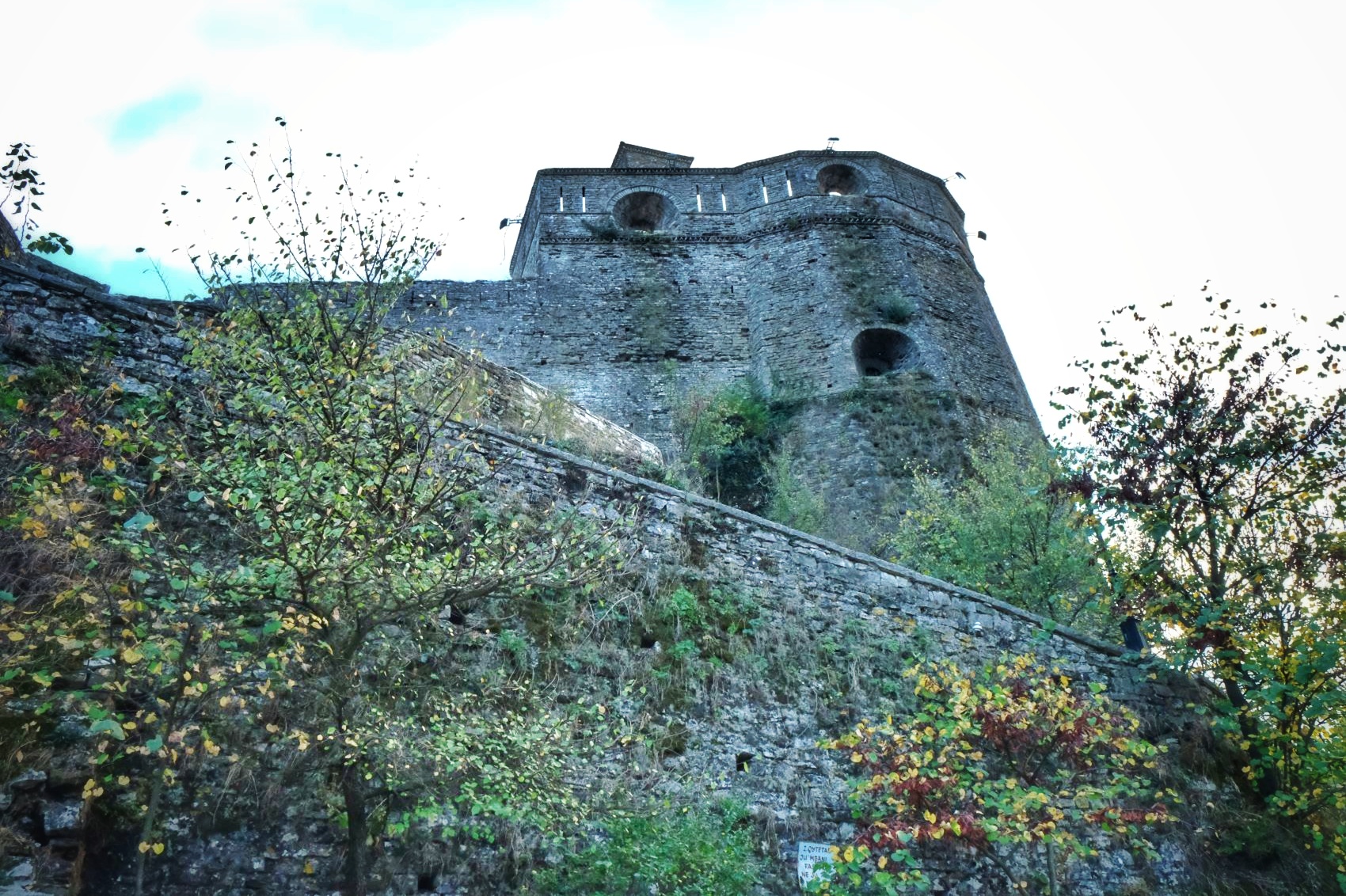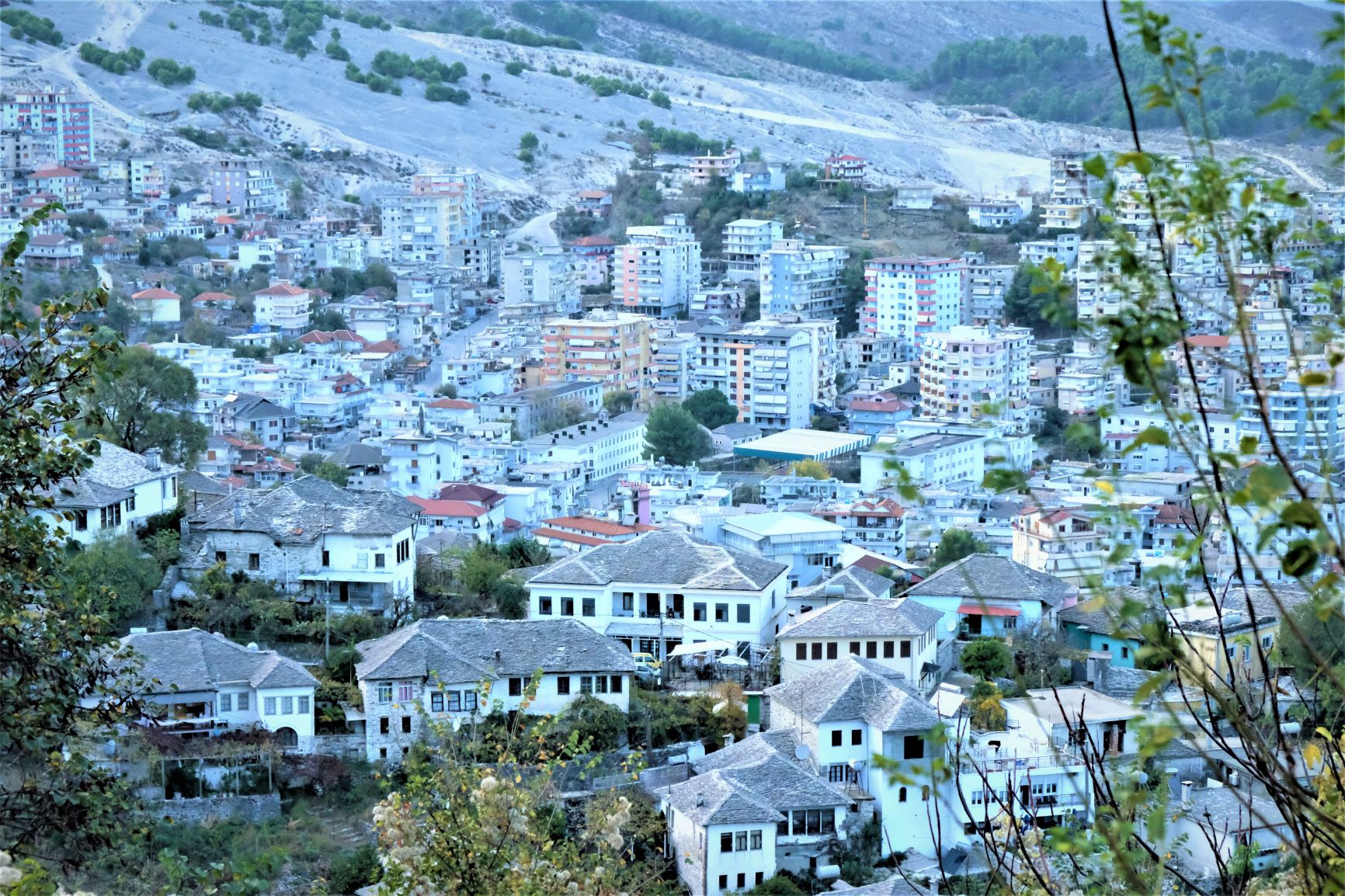 From Gjirokastër to Sarandë was only 55km but it was getting really late and dark. I rushed through the last twisties to get to the coast before nightfall. I hate riding in the dark, especially through narrow mountain roads full of oil spills. This is something you've gotta be alert to in Albania at all times. There are oil spills everywhere and the roads are very slippery even when dry.
The coast
As soon as I arrived in Sarandë I starting to look for a hostel. I had no data on my phone so I could only rely on my offline map. The first hostel marked on MapsMe wasn't there and neither was the second one. Oh dear, this is going to be a long night. I rode through the dark streets just looking for any type of accommodation and finally, there it was – a sign for the "Hairy Lemon Hostel". What a name for a hostel I thought to myself – it must be good! Turned out the hostel is on the 8th floor of the apartment building. I knocked on the door, the host opened the door surprised.
"Are you guys open?"
"No, it's past season, we are closed to the public, but it looks like you need a place to stay and it's already late, so come in"
Thank goodness! I really had had enough of riding for the day.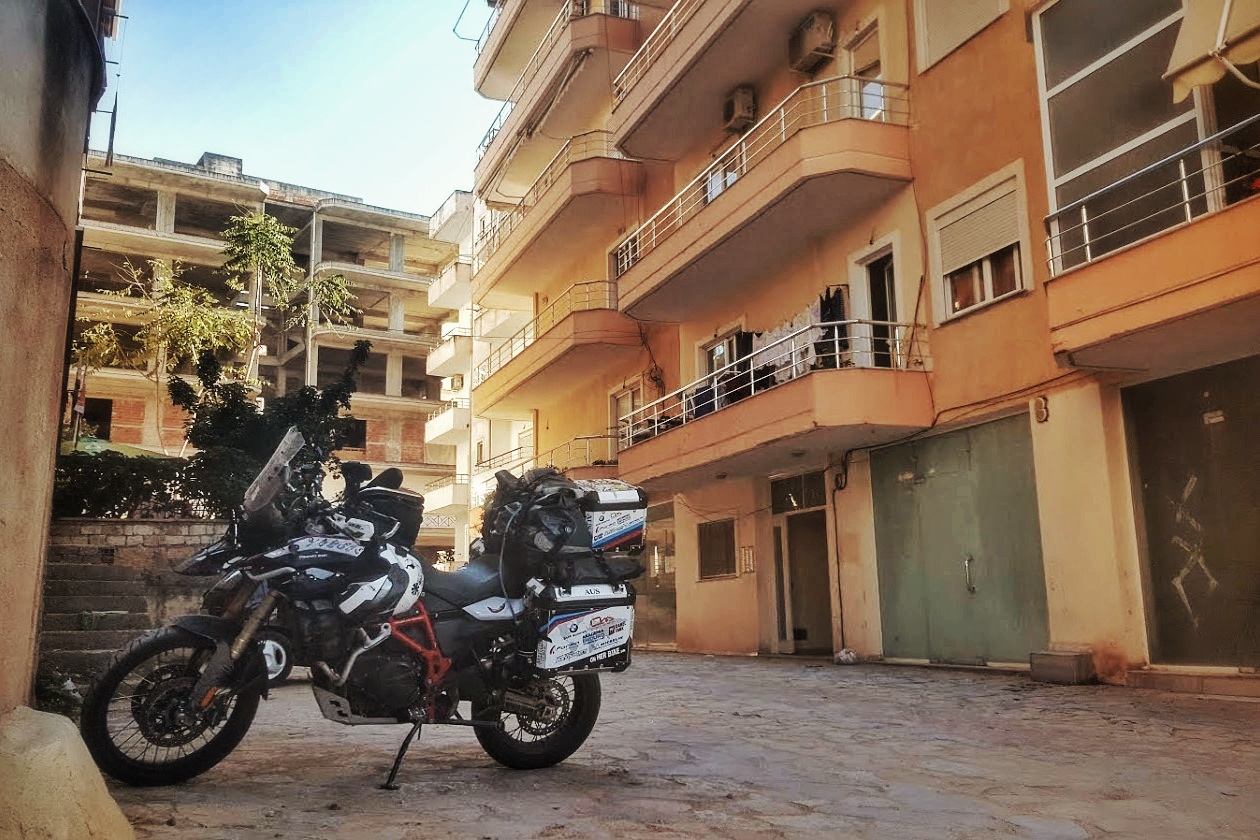 And the next day I finally made it to the legendary Llogara Pass which climbs up the cliffs for 10km. Absolutely breathtaking scenery…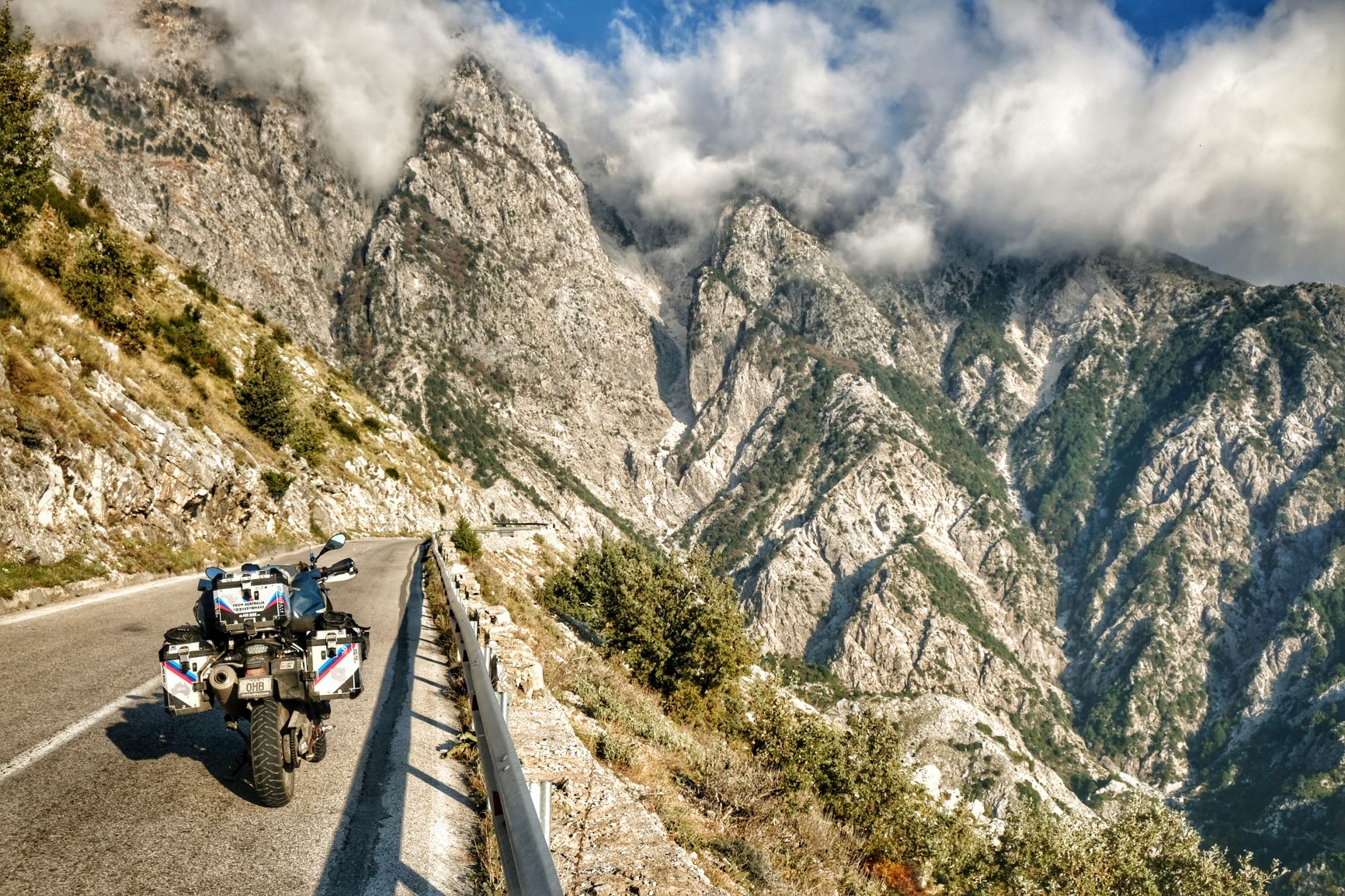 The elevation at the top of the Llogara Pass is just a bit over 1000m. When I stopped up there the clouds were full of moisture and it was like I'd been swimming at the top of the mountain. It felt like the apocalypse was coming.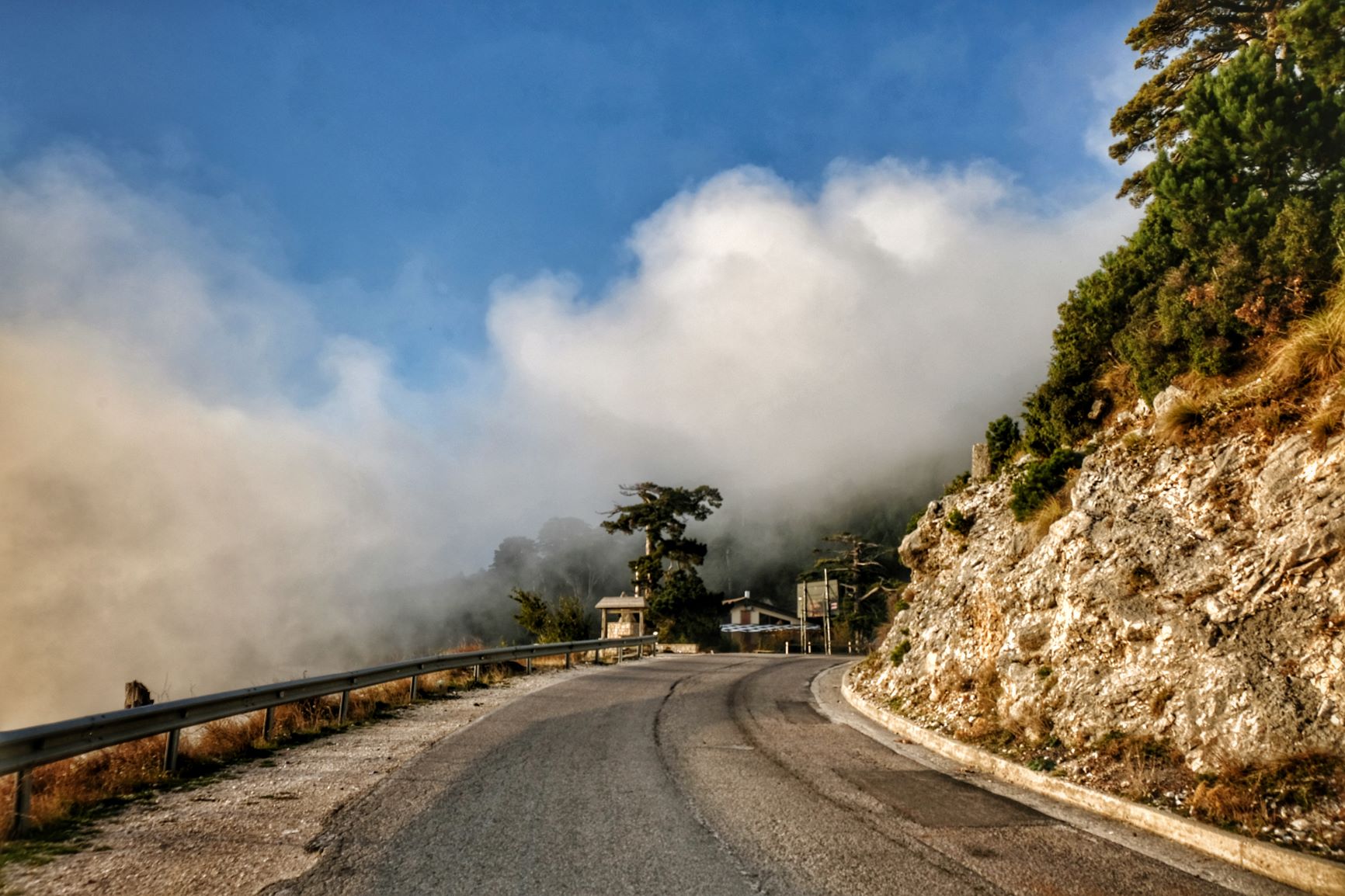 Along the way, I said hi to the mountain goats. How the heck do they walk on these steep mountains! And they are so incredibly cute!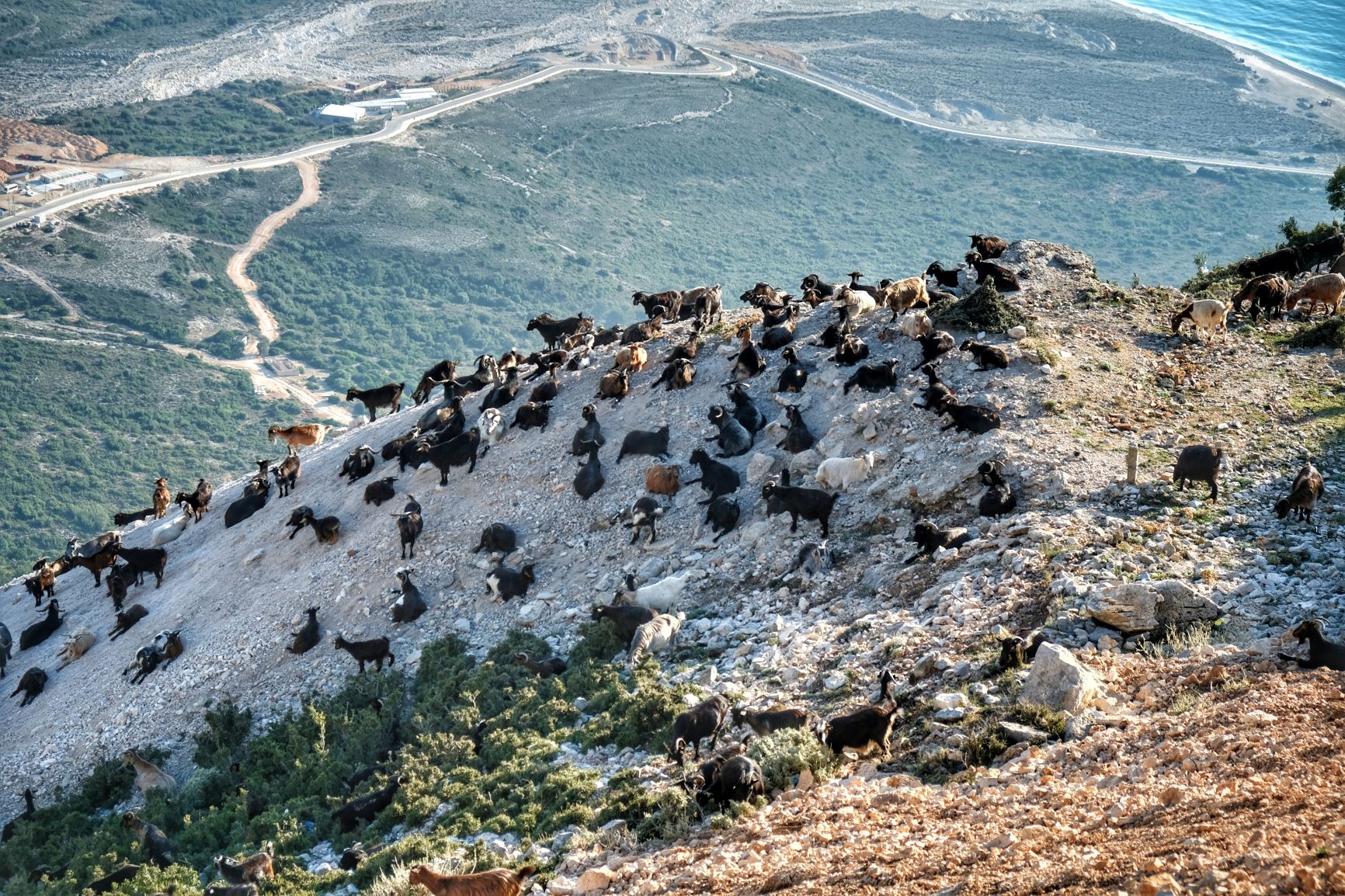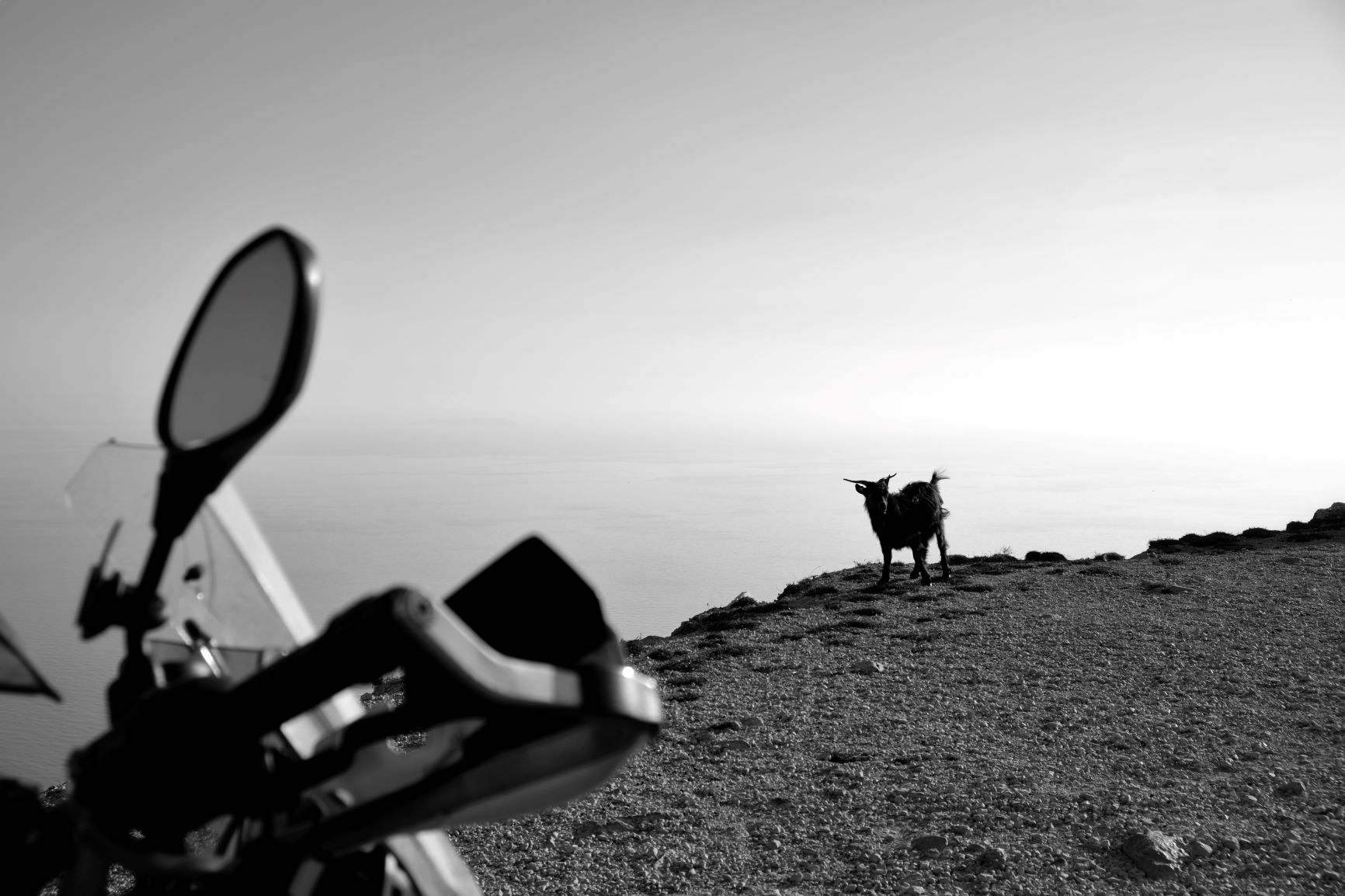 I was very determined to finally camp that night! Reli gave me a recommendation for this little beach near Radhimë. I'm not sure if that was the exact place I was meant to camp but it was perfect. I didn't even have to set up my tent!
I wouldn't actually call it camping in the wild as it was someones property and there were a couple of restaurants still open nearby. But the season was over and there weren't many people around so I slept under a shelter undisturbed.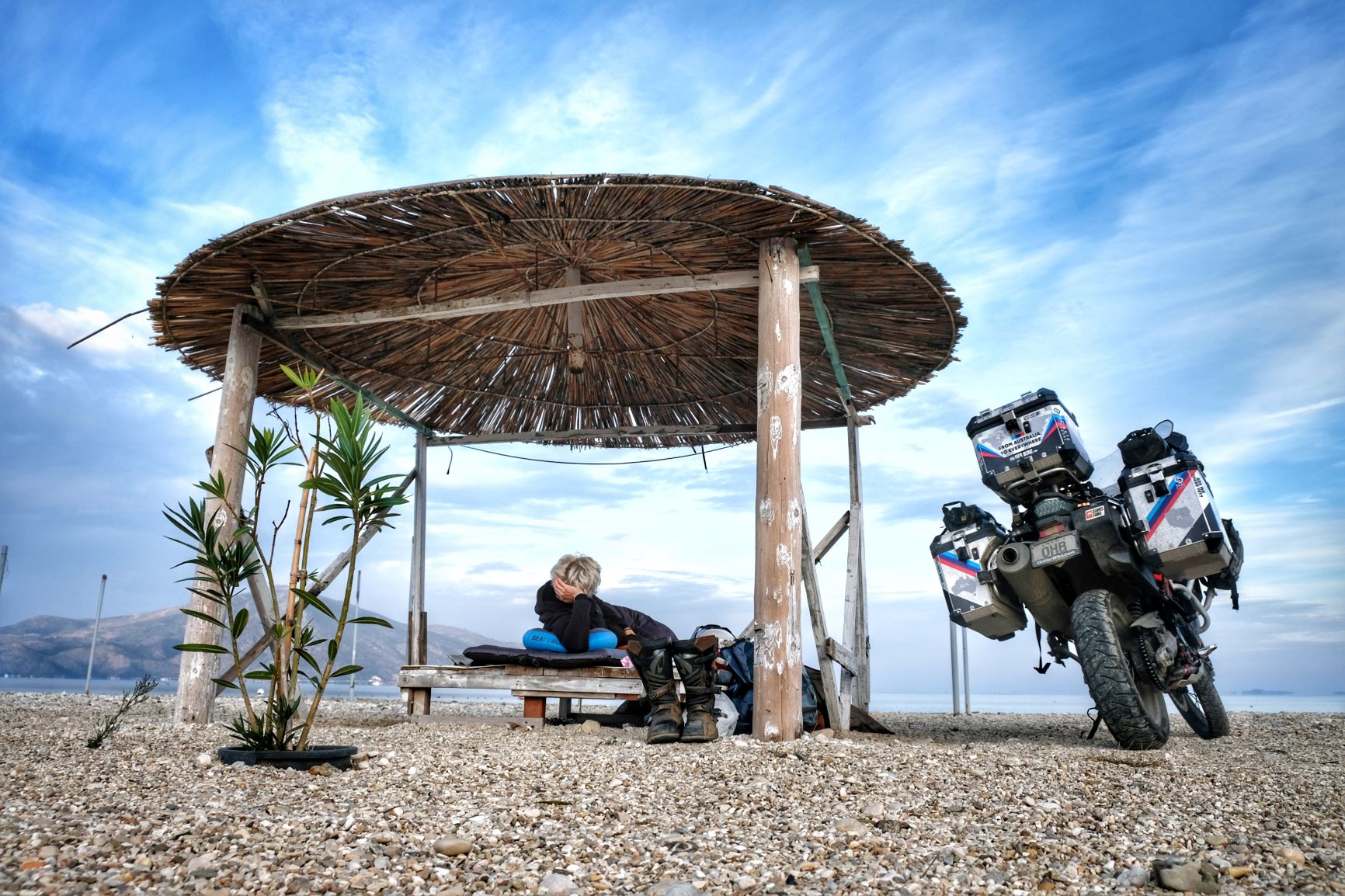 The next day I rushed to Tirana to finally meet Reli. Unfortunately, we had only half a day to hang out as in the evening I was already catching the ferry to Italy.
I got to the meetup point first and soon after that two GS's rocked up – Reli & Elis! First things first – let's go for lunch said Reli. And for lunch, we had an awesome Albanian BBQ!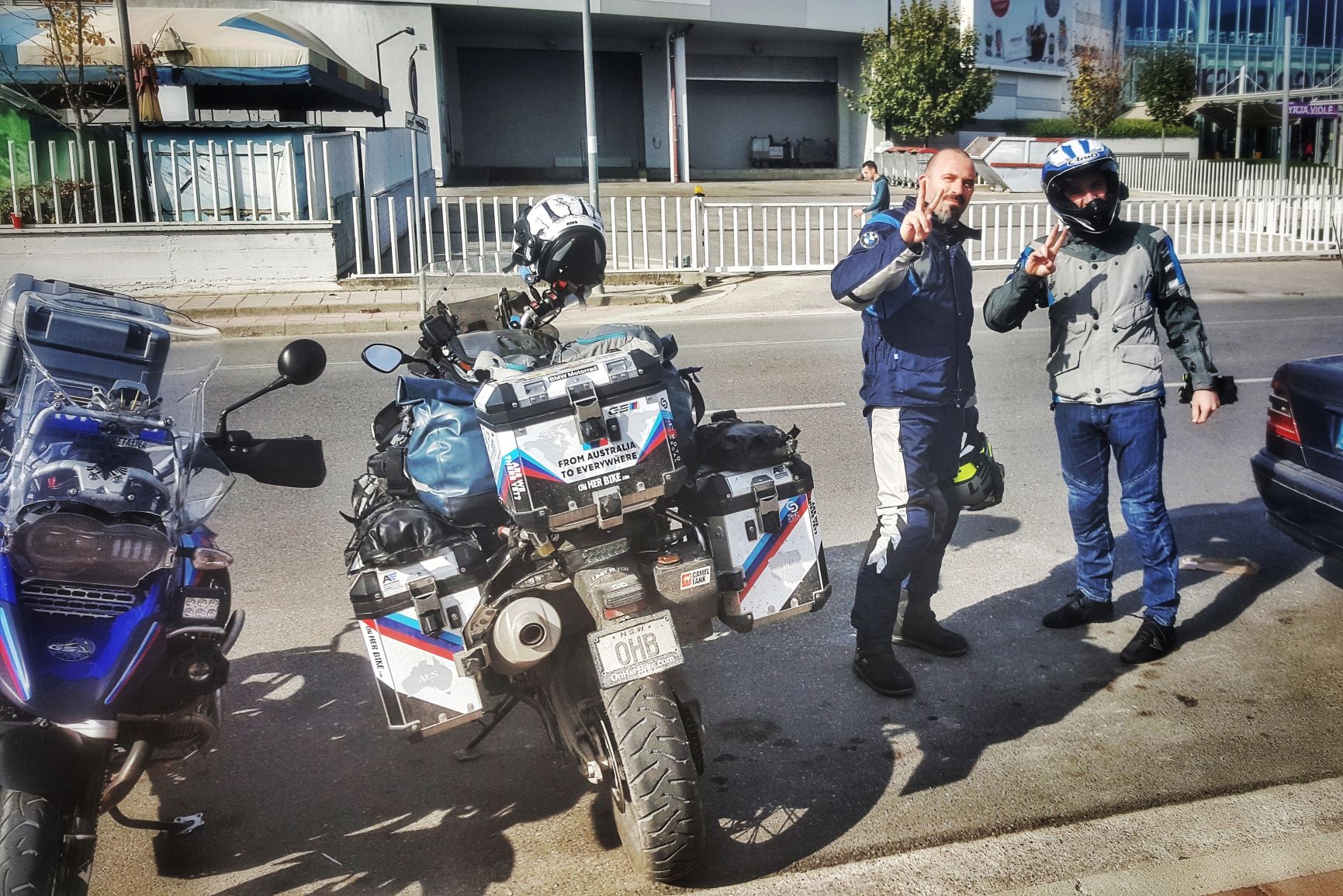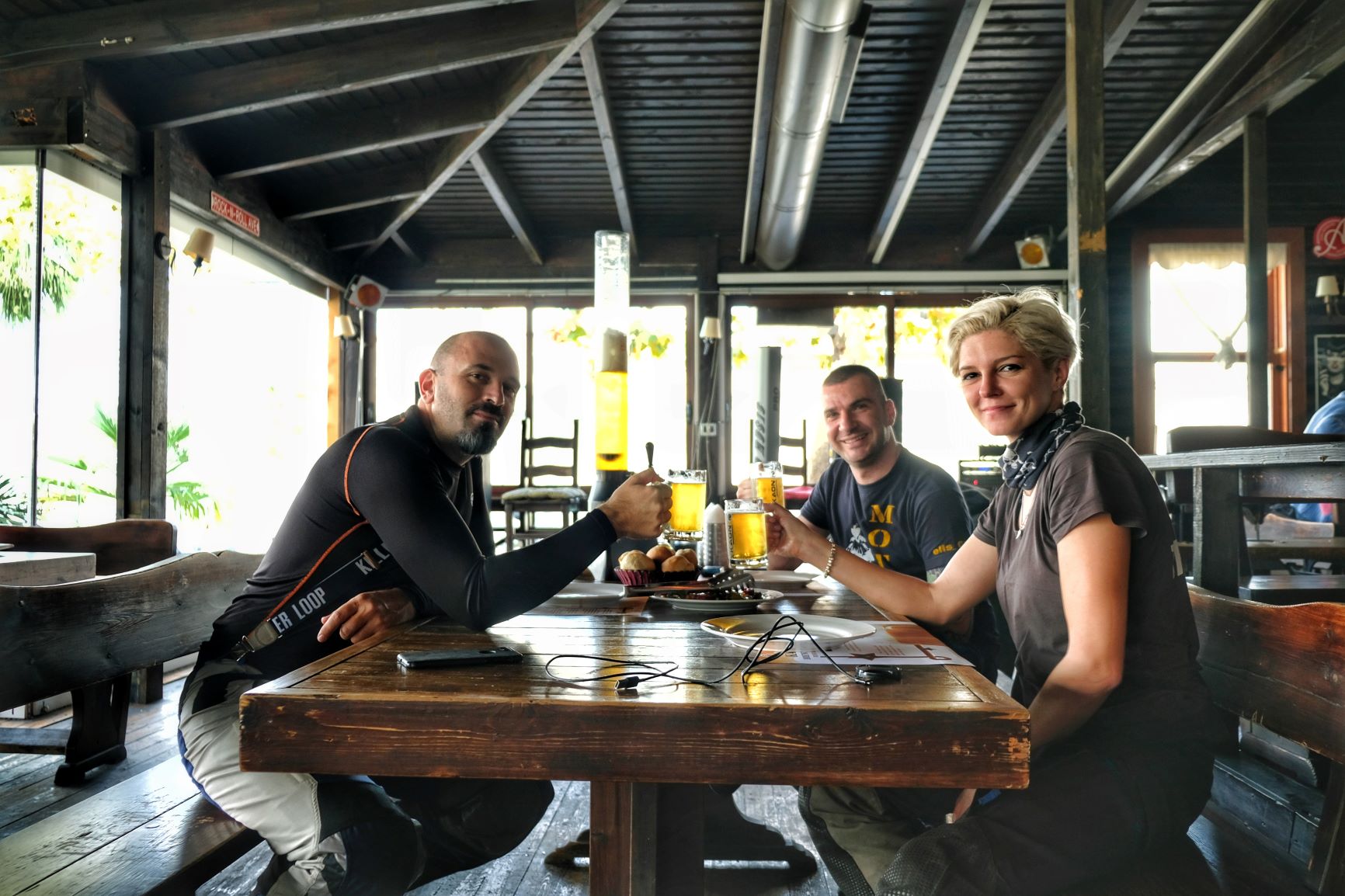 Due to our limited time, the guys suggested we go for a little ride to Cape Rodon. Cape Rodon is a 10km long narrow strip of land, a mix of untouched nature and magnificent views.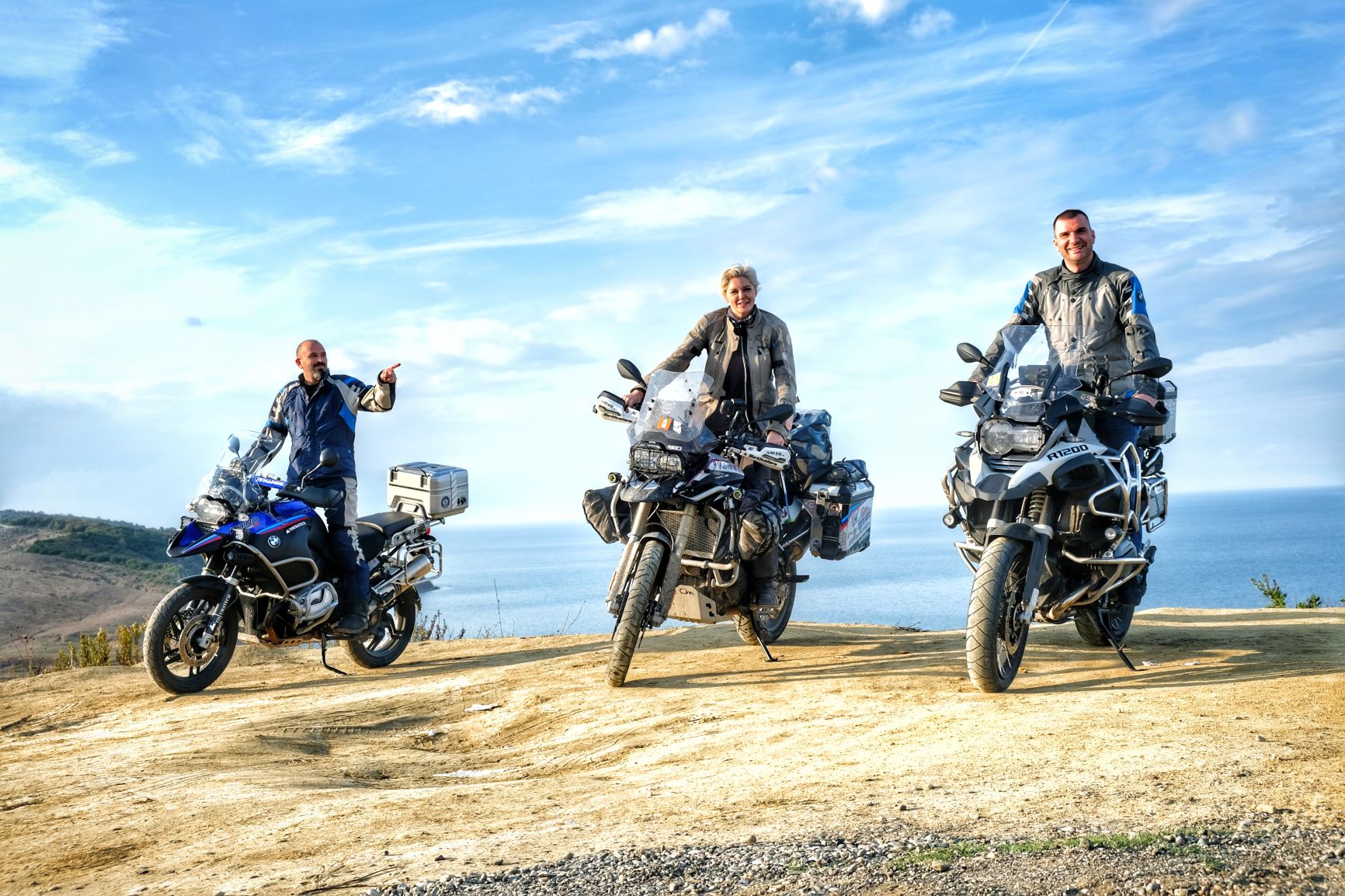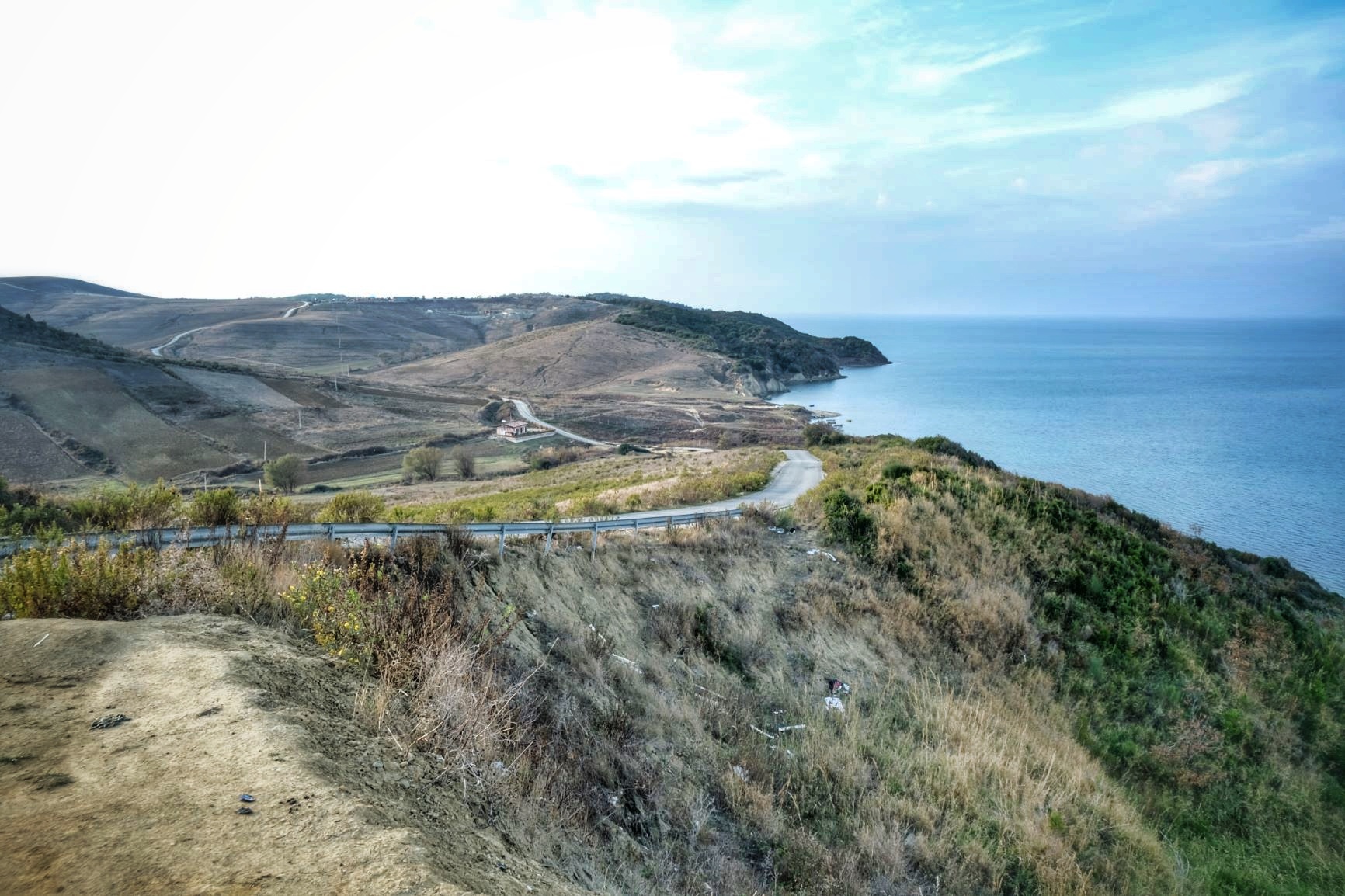 Access to the tip of the cape was strictly prohibited during communist times, as it was an important military base with numerous bunkers and tunnels. There is still no vehicle access to the ex-military base, but Reli knows how to get around such restrictions!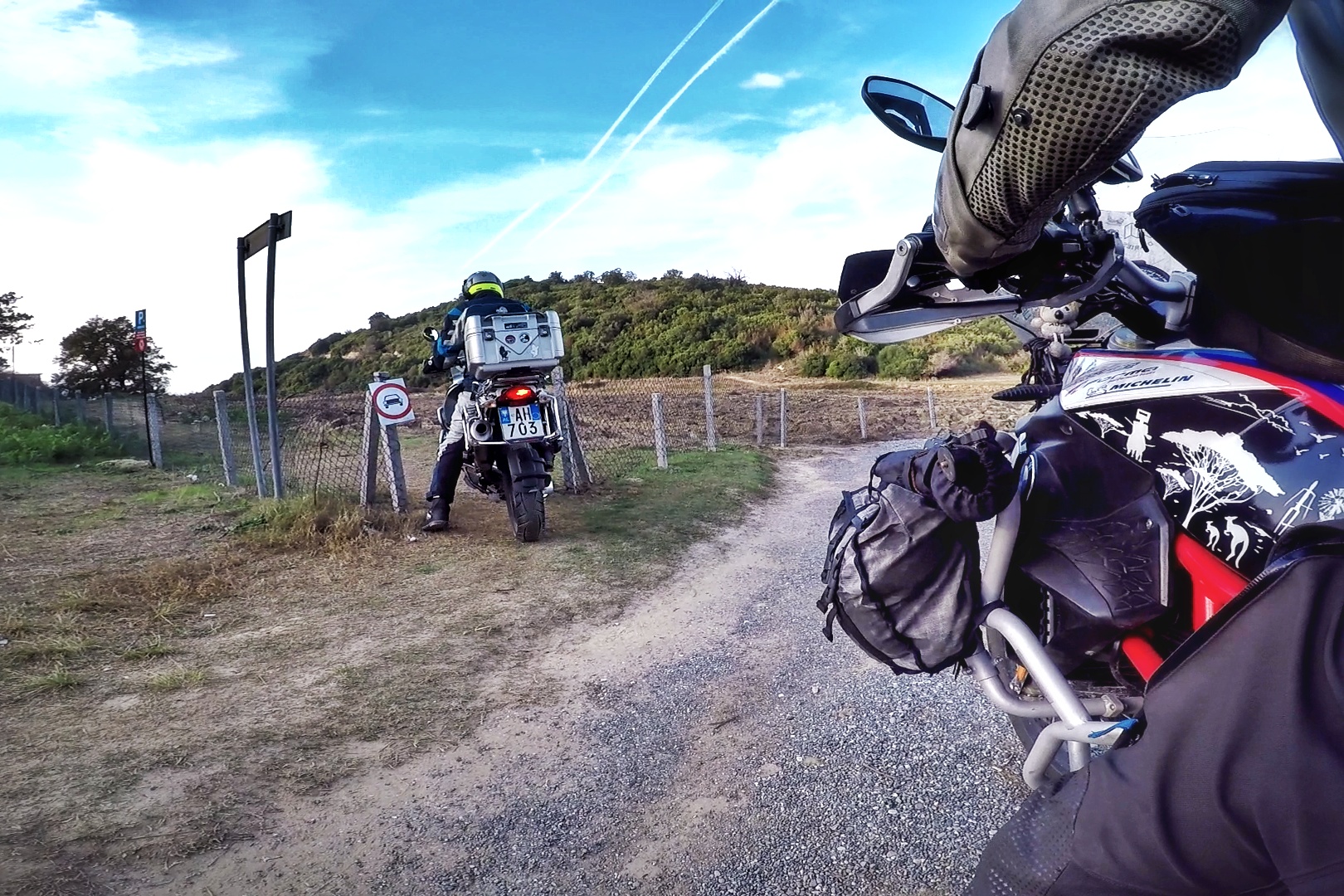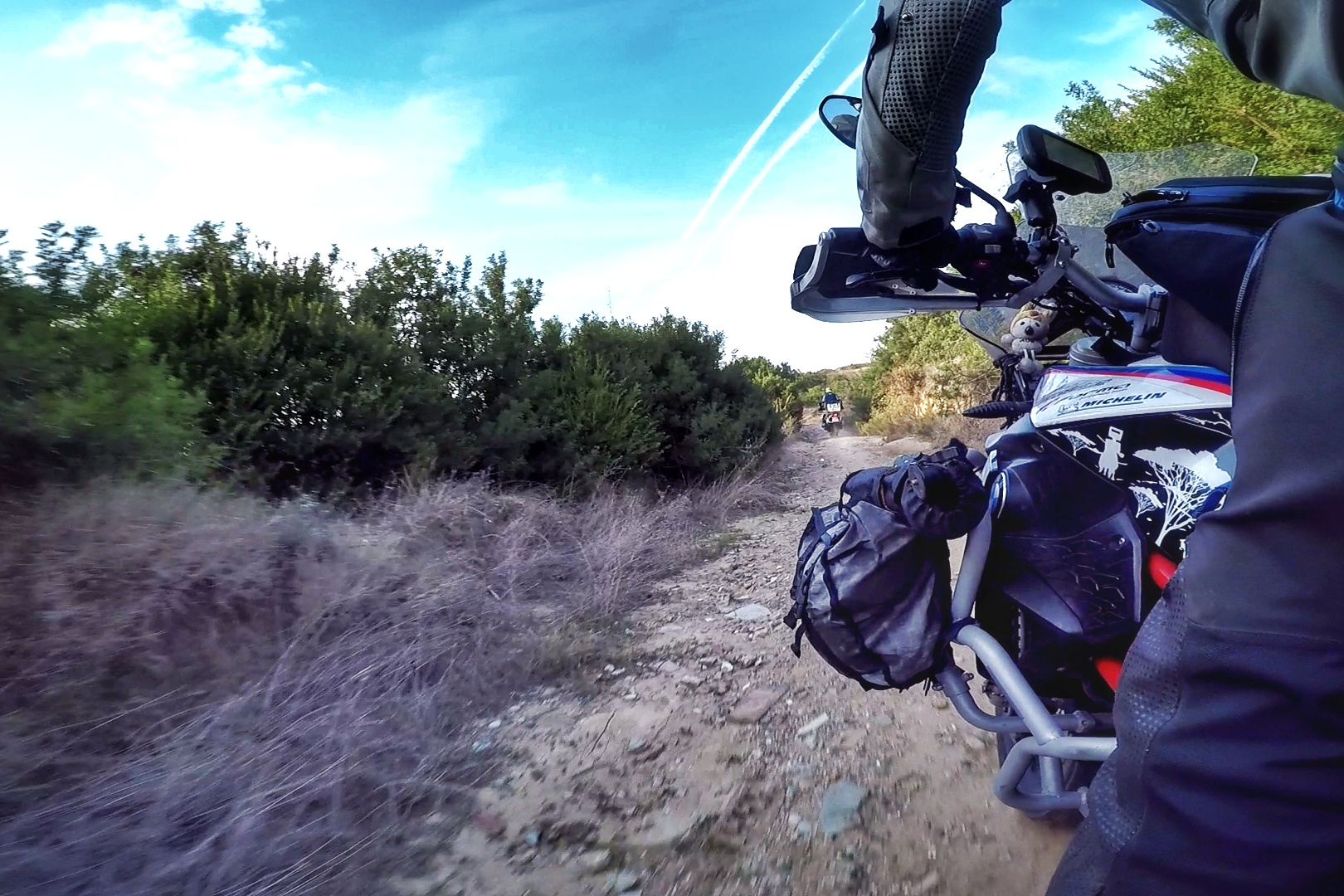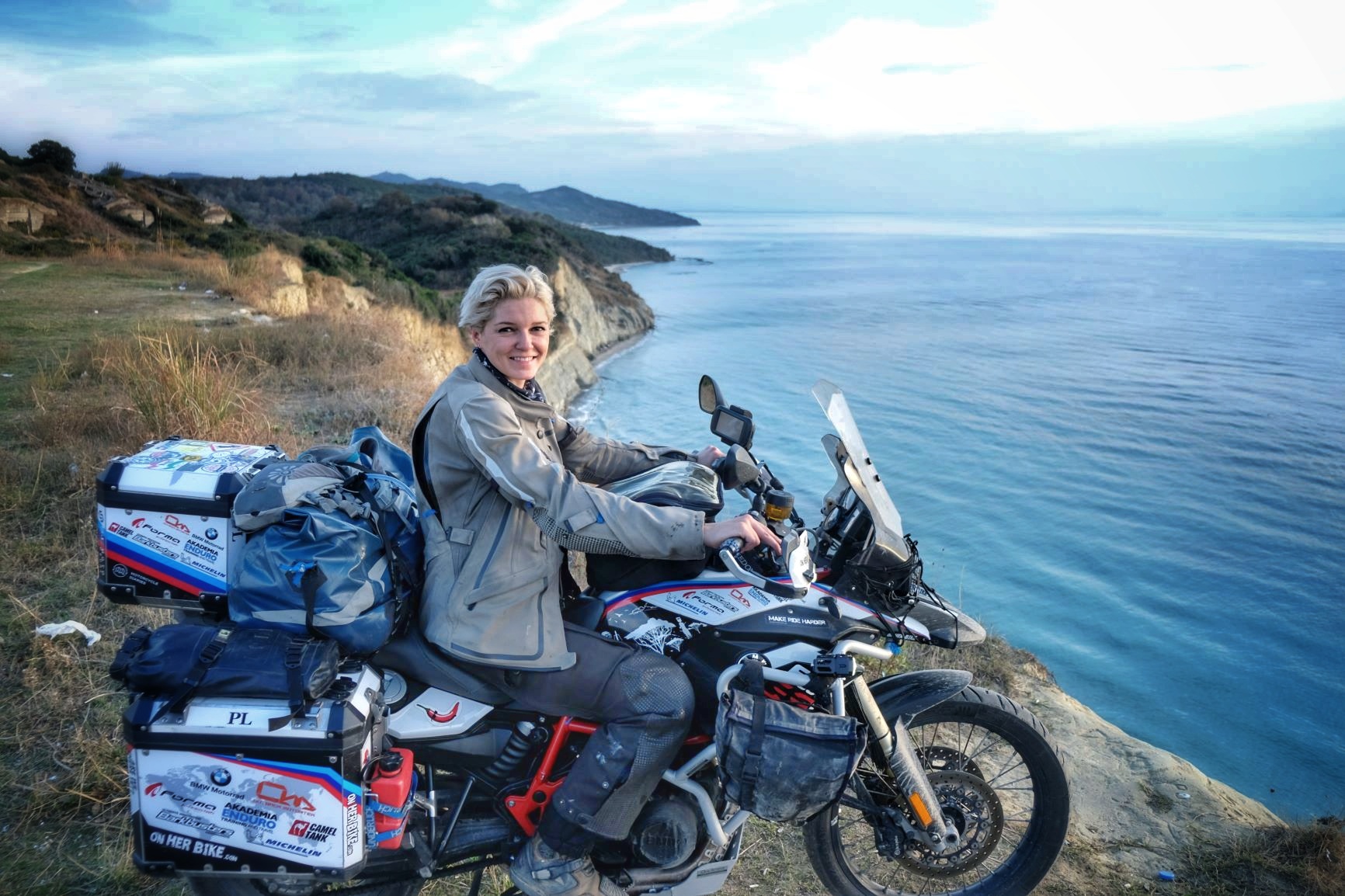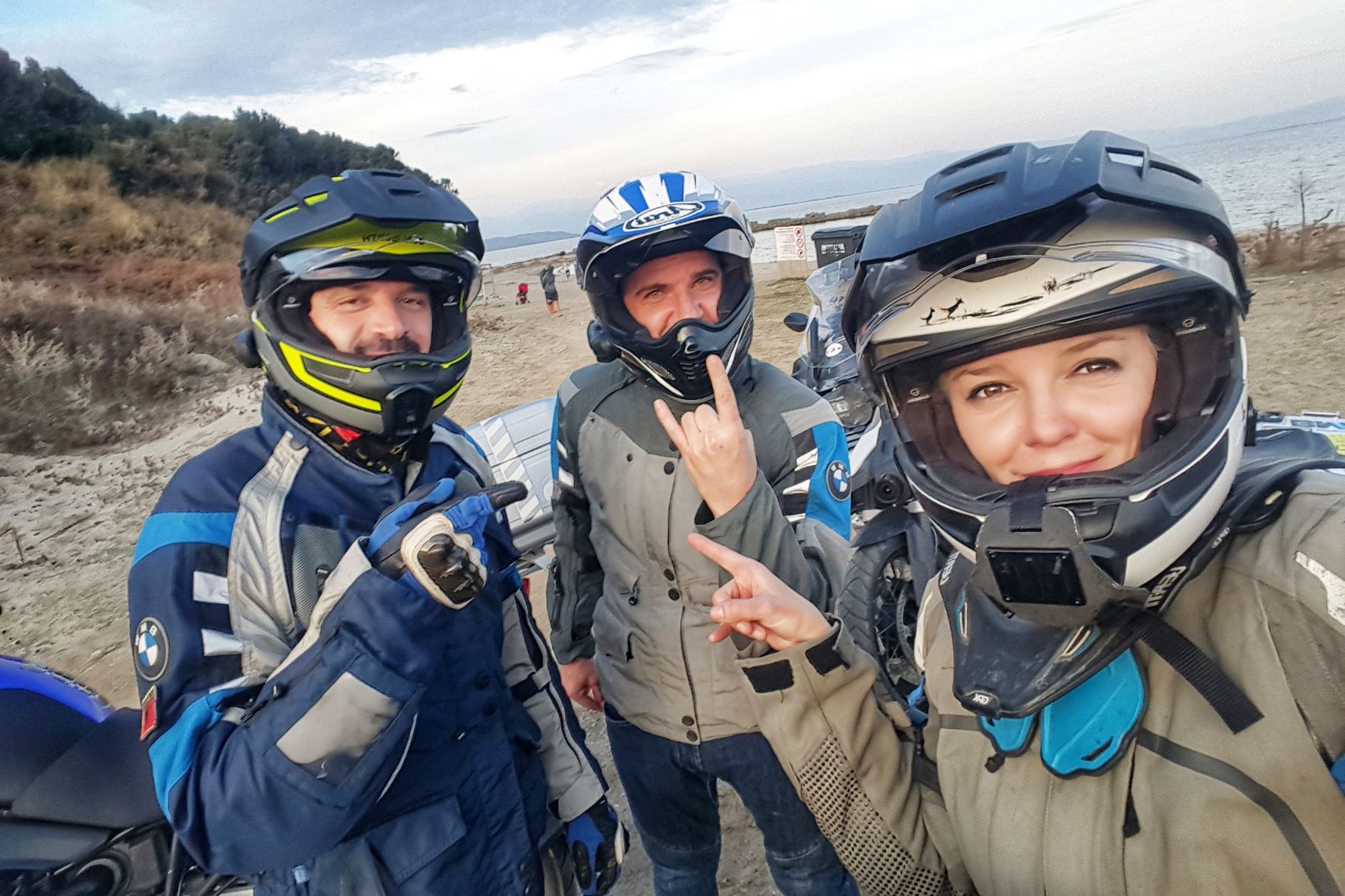 In the late afternoon, the guys escorted me to Durrës, where we had our last coffee together and we said goodbye. Just before my arrival at the port, it started raining heavily, but I was just glad the rain only caught up to me on my exit from Albania.
In Numbers:
Duration: 4 days (4-5th November 2018)
Total km's: 584km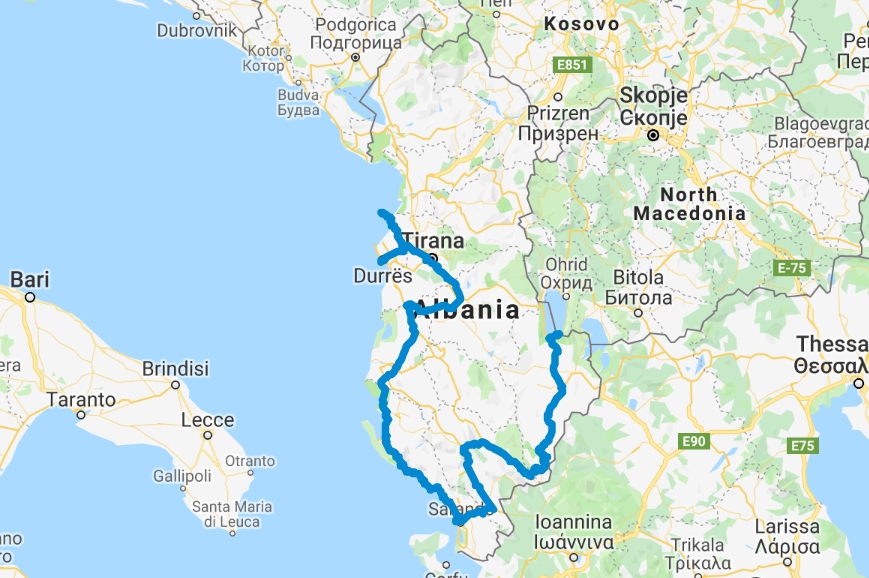 The "Are We There Yet" World Tour is about more than just me seeing the world on a motorcycle. Throughout my journey I'm raising money for a young disabled child in Poland named Franek. Franek was diagnosed with cerebral palsy (weakness of the entire right side of the body) and he will require constant rehabilitation for the rest of his life. All the money raised will go directly to helping Franek and his family lead as normal a life as possible so please donate  generously:
www.gogetfunding.com/arewethereyet