Belarus
Although I grew up in Eastern Poland I'd never had the chance to visit Belarus. During the 90's and 2000's there was the perception that Belarus was a closed country and that it wasn't safe for Polish people to travel there. In recent years the political situation has relaxed a bit and Belarus is open for tourism. You still need to apply for a visa and buy health insurance before you can enter the country. I applied for mine through an agency in Warsaw because I couldn't be bothered wasting my time at the embassy. There whole procedure took about a week and cost me around 65 Euro (with the insurance). Additionally you need to purchase insurance for any vehicle at the border, the fee for a motorcycle is about 2 Euro.
Before I planned my Belarusian journey I got in touch with my good old mate Siwy from Poland, who's a frequent visitor to Belarus. I asked him for some contacts and recommendations of what to see there. Siwy stepped up big time and used all his contacts to plan my time in Belarus. He organised a 10 day ride, and planned every single day for me. Siwy is very much into history so the experience I had ahead of me was going to be very different from my usual habits on the road… there was going to be lots of sightseeing (museums and castles) and socialising. Wow, I've never been so organised before! Thank you Siwy!
​ Grodno
I waved goodbye to Gonzo at the Polish border and on the Belarusian side Matviej was already waiting for me. Matviej greeted me with some beautiful Polish which he explained right away – he's from Grodno and most of the locals there know Polish, because during the Soviet period the city was close enough to receive Polish TV. Excellent! There won't be any problems with communicating then!
I followed Matviej to his garage in Grodno, "Belarus is a safe country, no one will steal your bike here, but if you feel more comfortable you can leave your bike here in my garage". Sure, why not! I parked Chillie inside the garage, took all the necessary things for the night and jumped on the back of Matviej's Harley!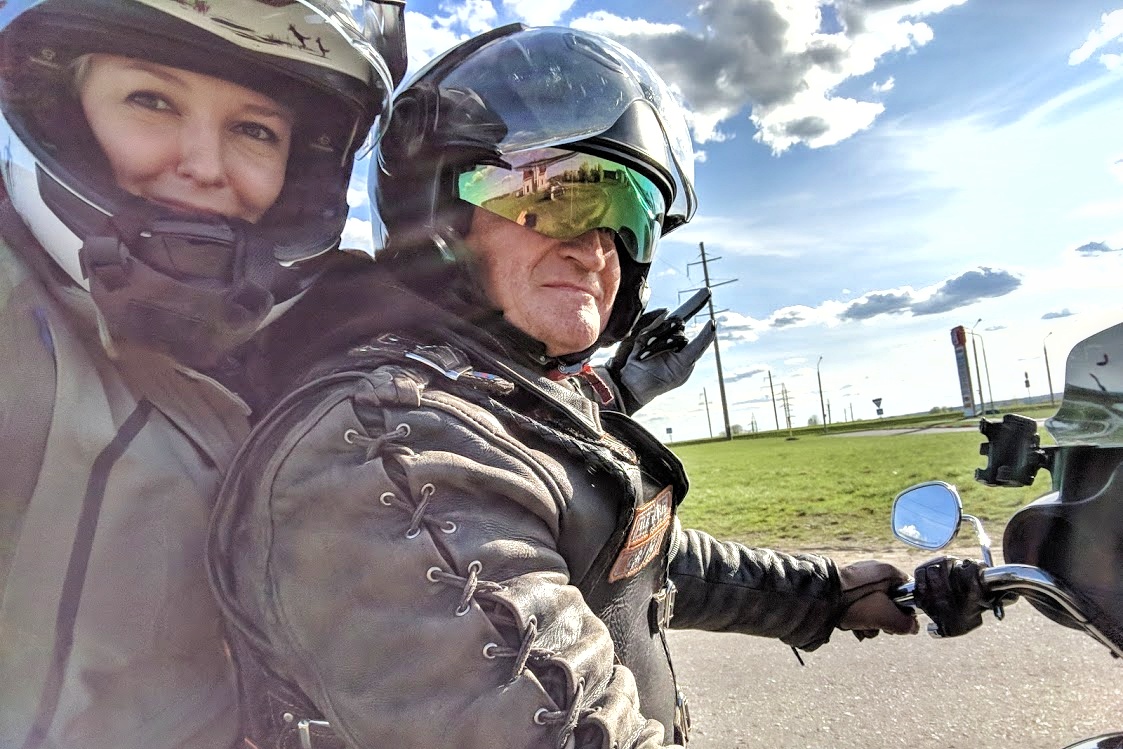 We rode to Matviej's apartment where his girlfriend "Ezyk" greeted us. Soon after that some other friends joined us and we went for little tour around town.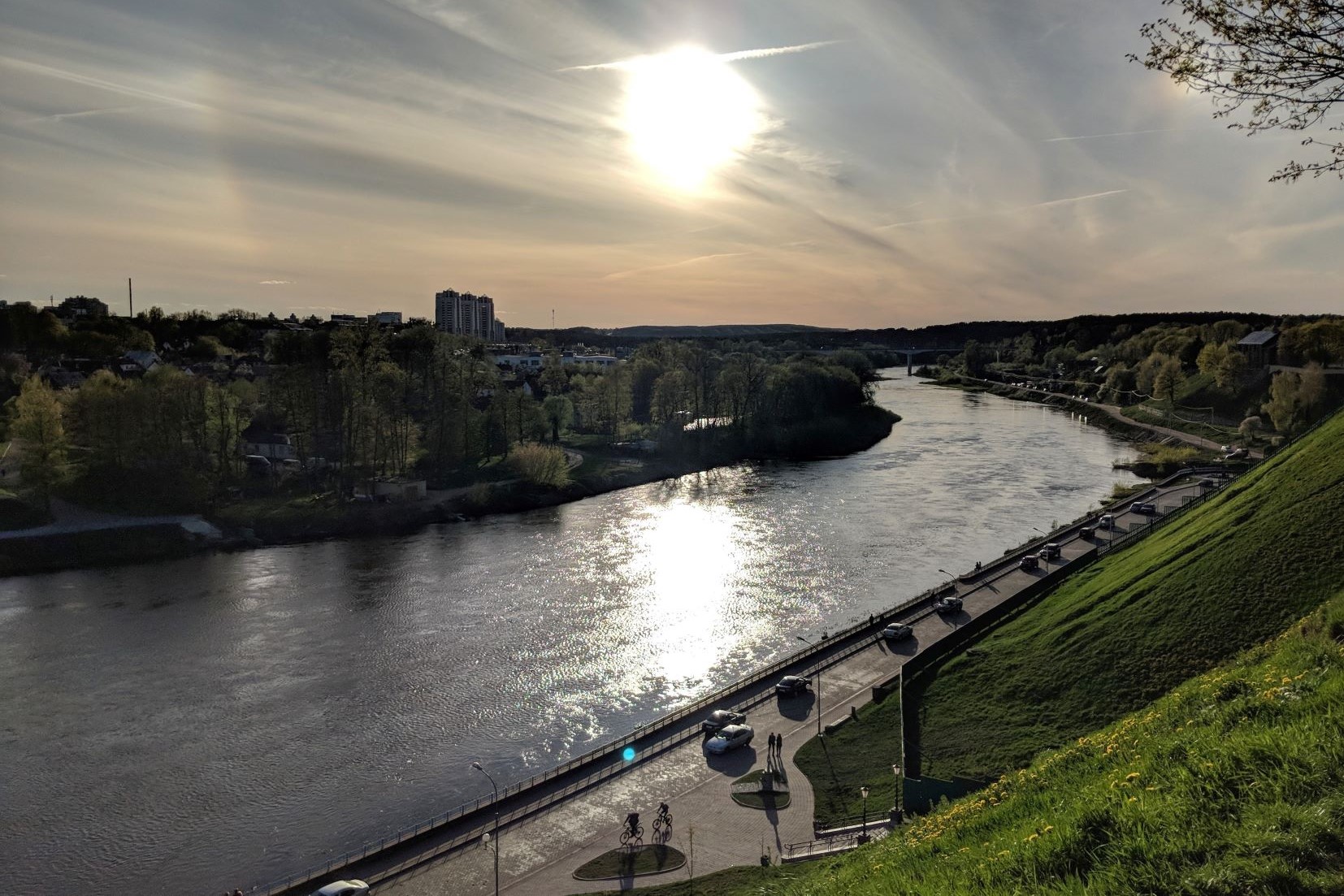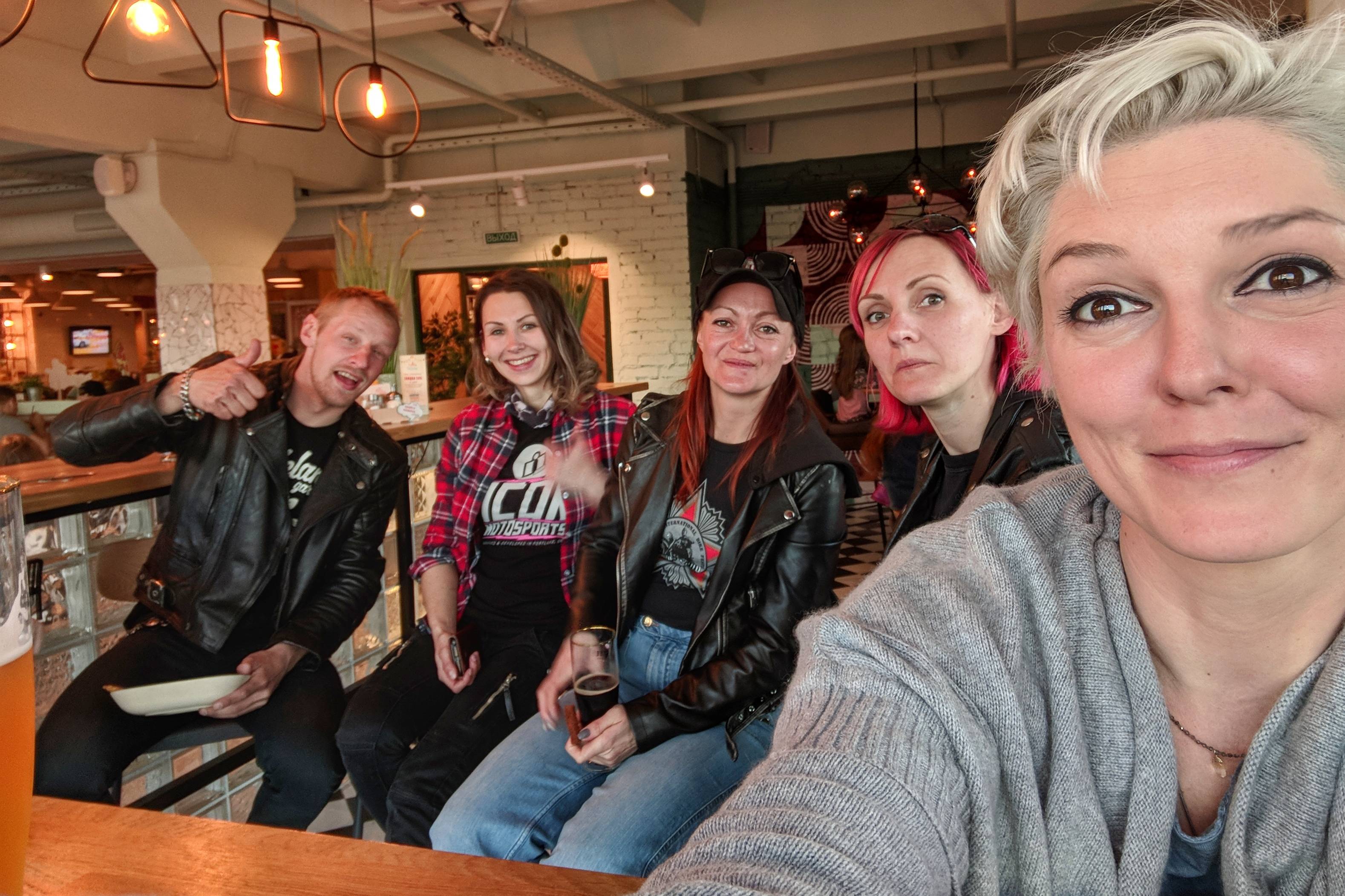 My plan to stay in Grodno for one night changed quickly. It turned out the Łowcy Niewygód (a Polish ADV riding group) were arriving in Grodno the next day and I thought it would be a great opportunity to finally meet them. The guys had nothing arranged so Matviej with one phone call arranged accommodation at the local Motocamp.
The next morning Matviej and his friends took me for a little ride around the region and we continued into the afternoon before we headed to the border to meet up with Łowcy Niewygód.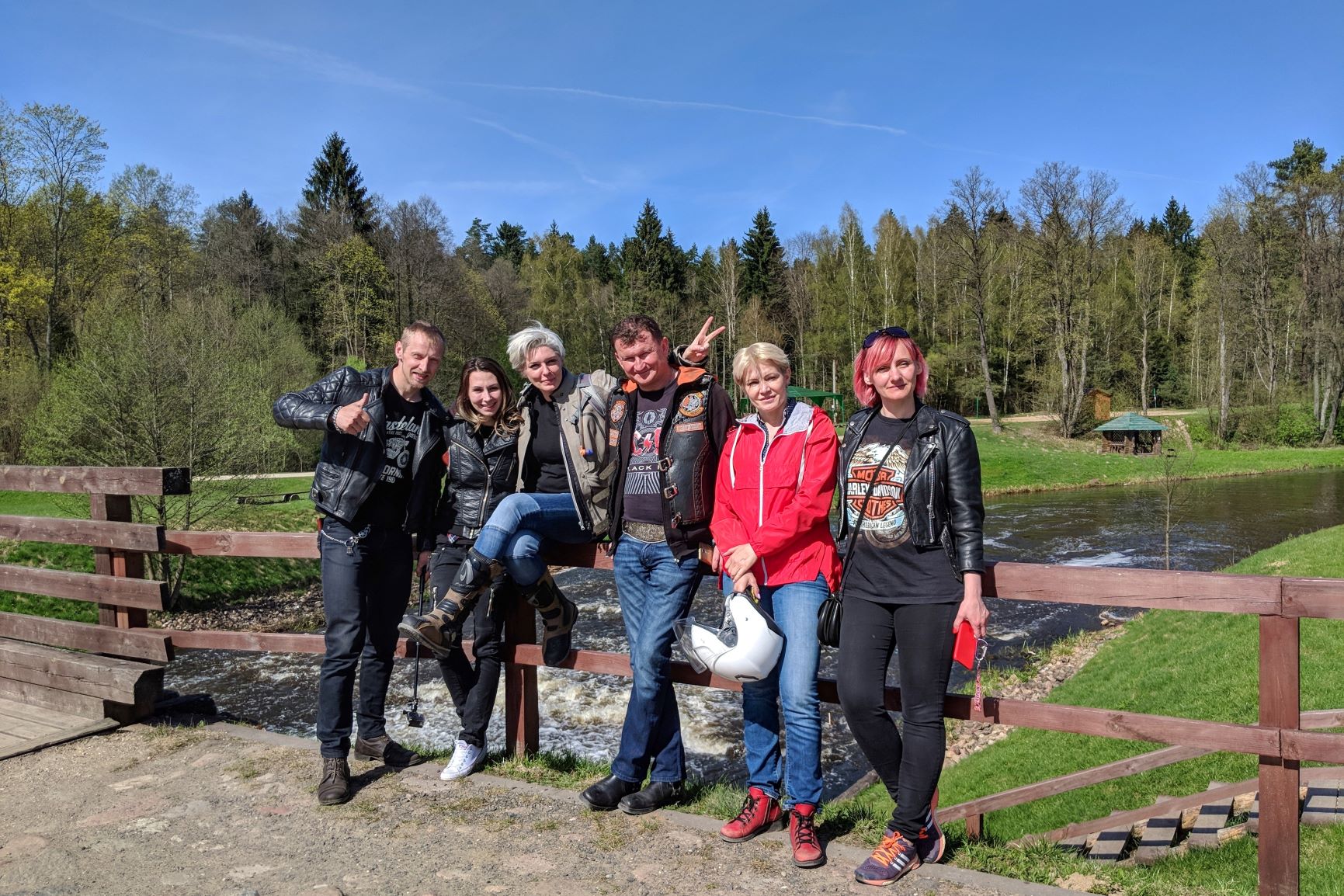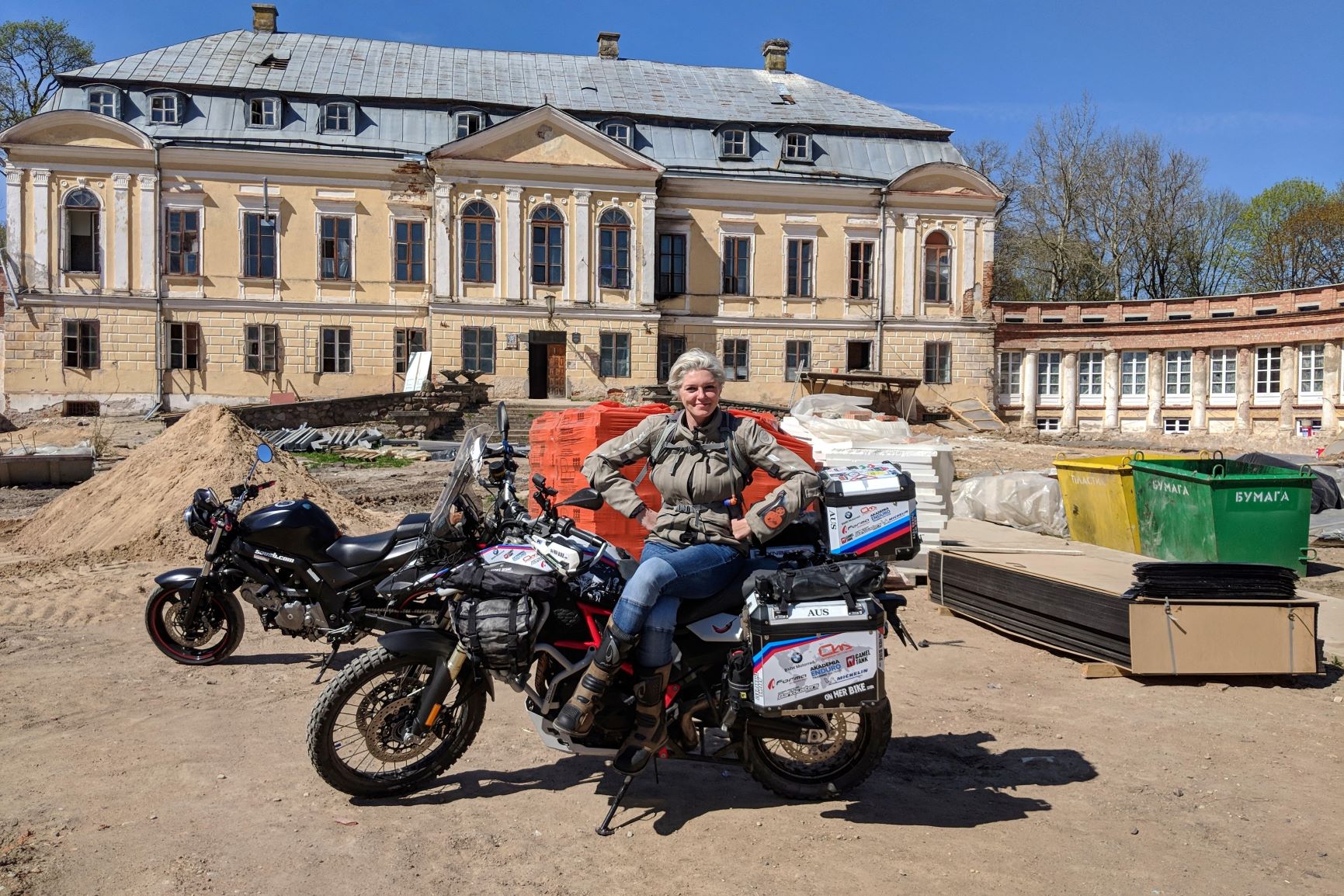 It turned out there were 13 of them so the border crossing took quite a while. Once the first half arrived at the petrol station where we were waiting we started heading to the Motocamp and did some necessary shopping along the way…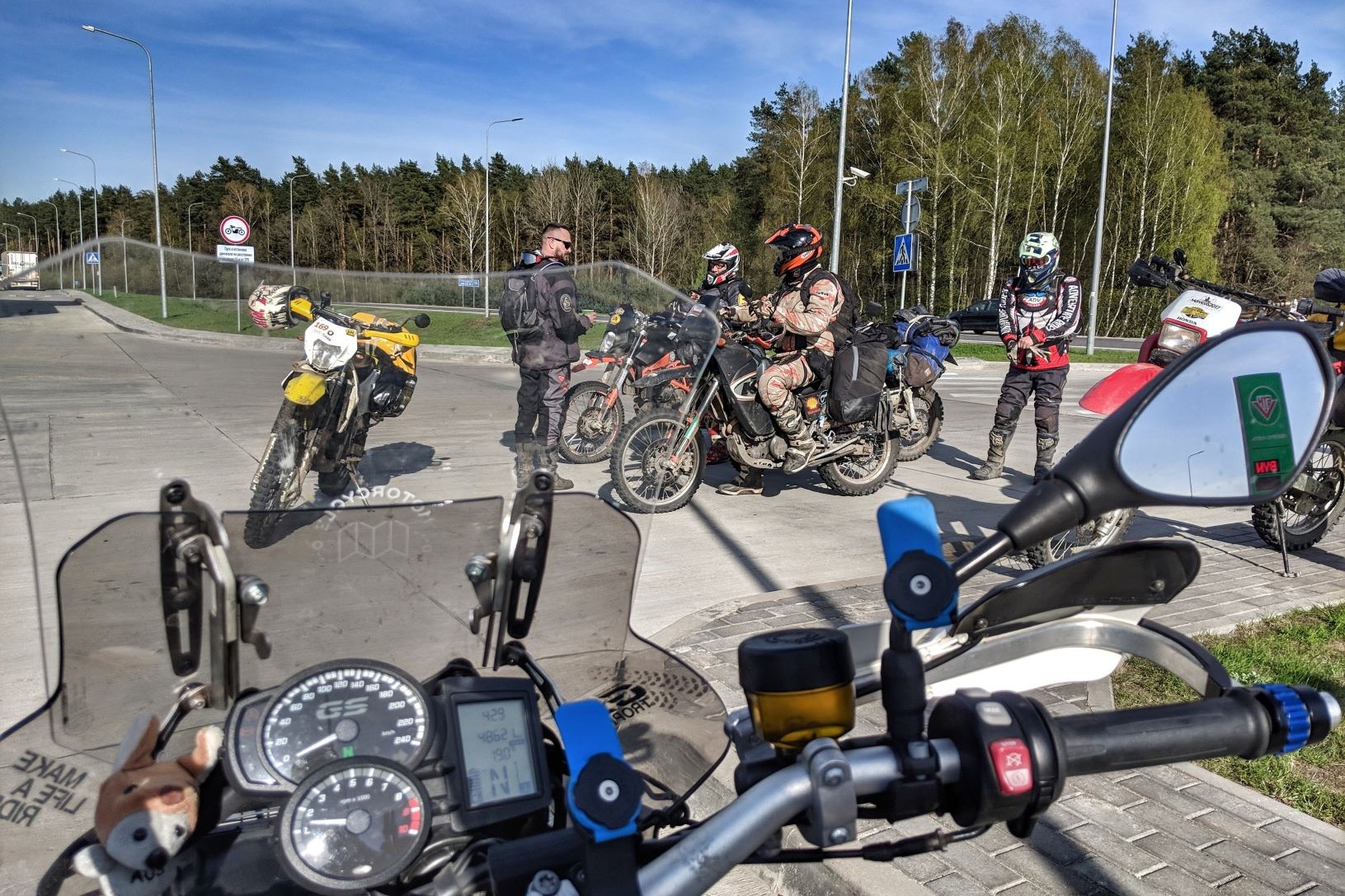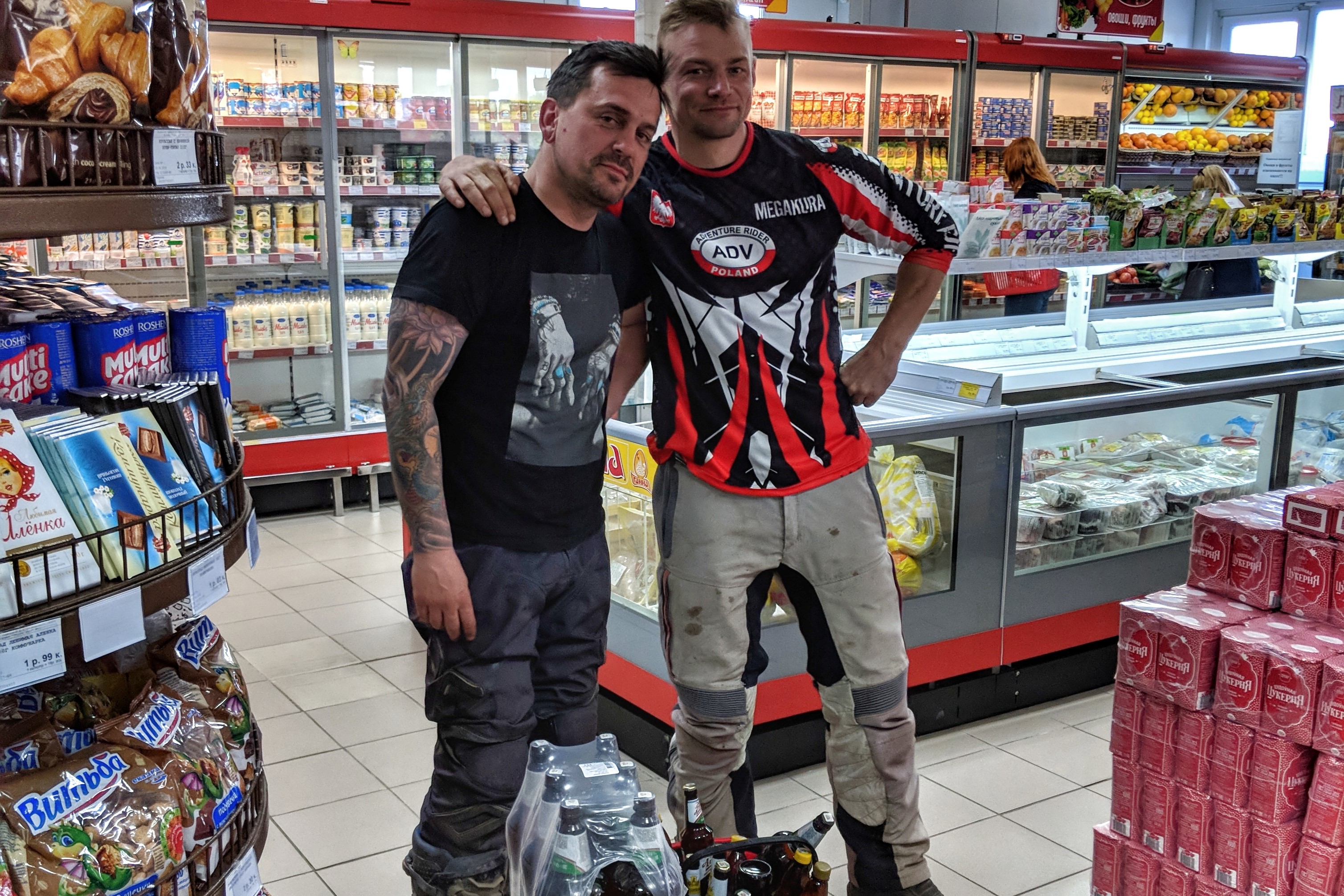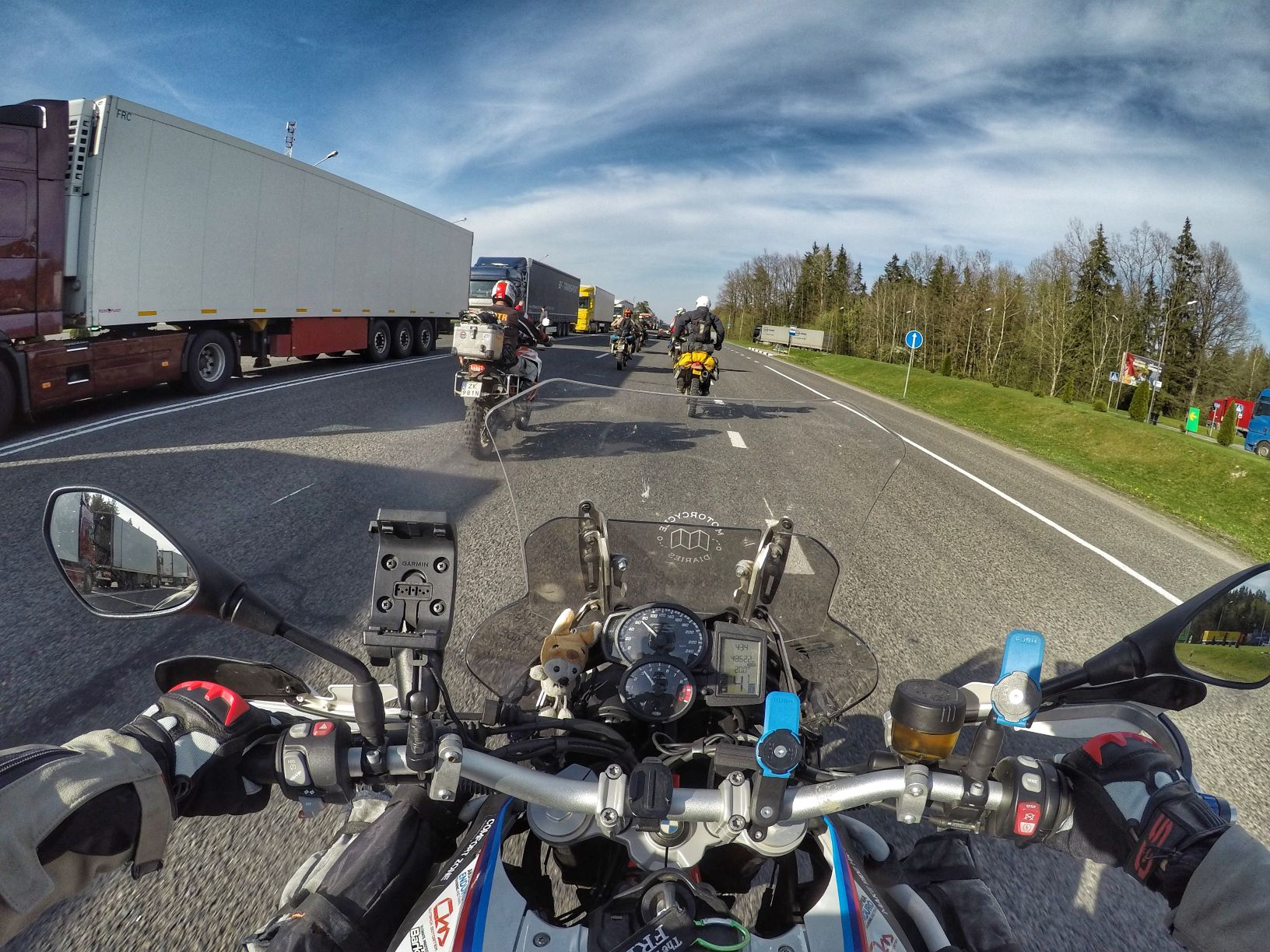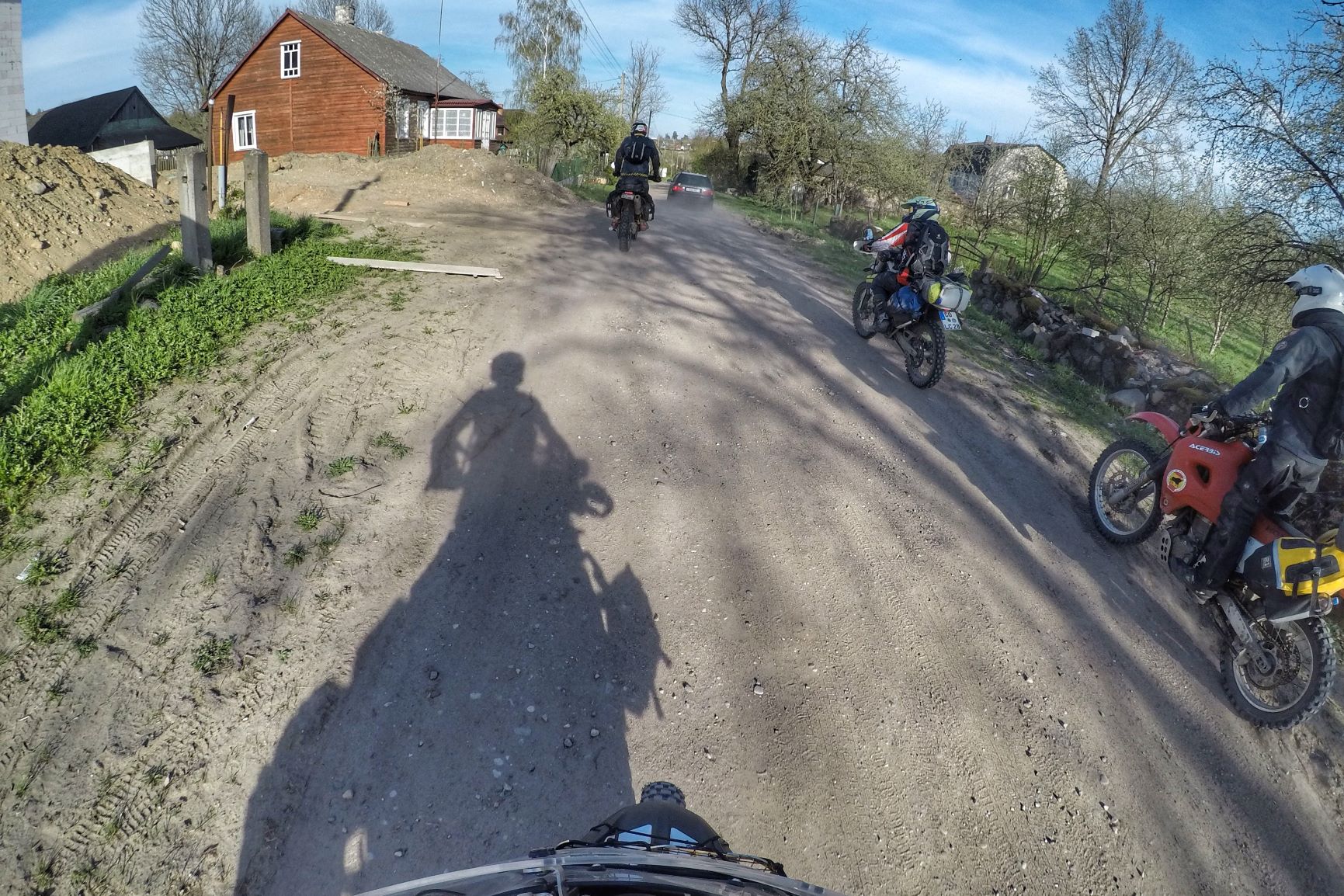 Once everyone had finally arrived we took some group pictures before they really unwound…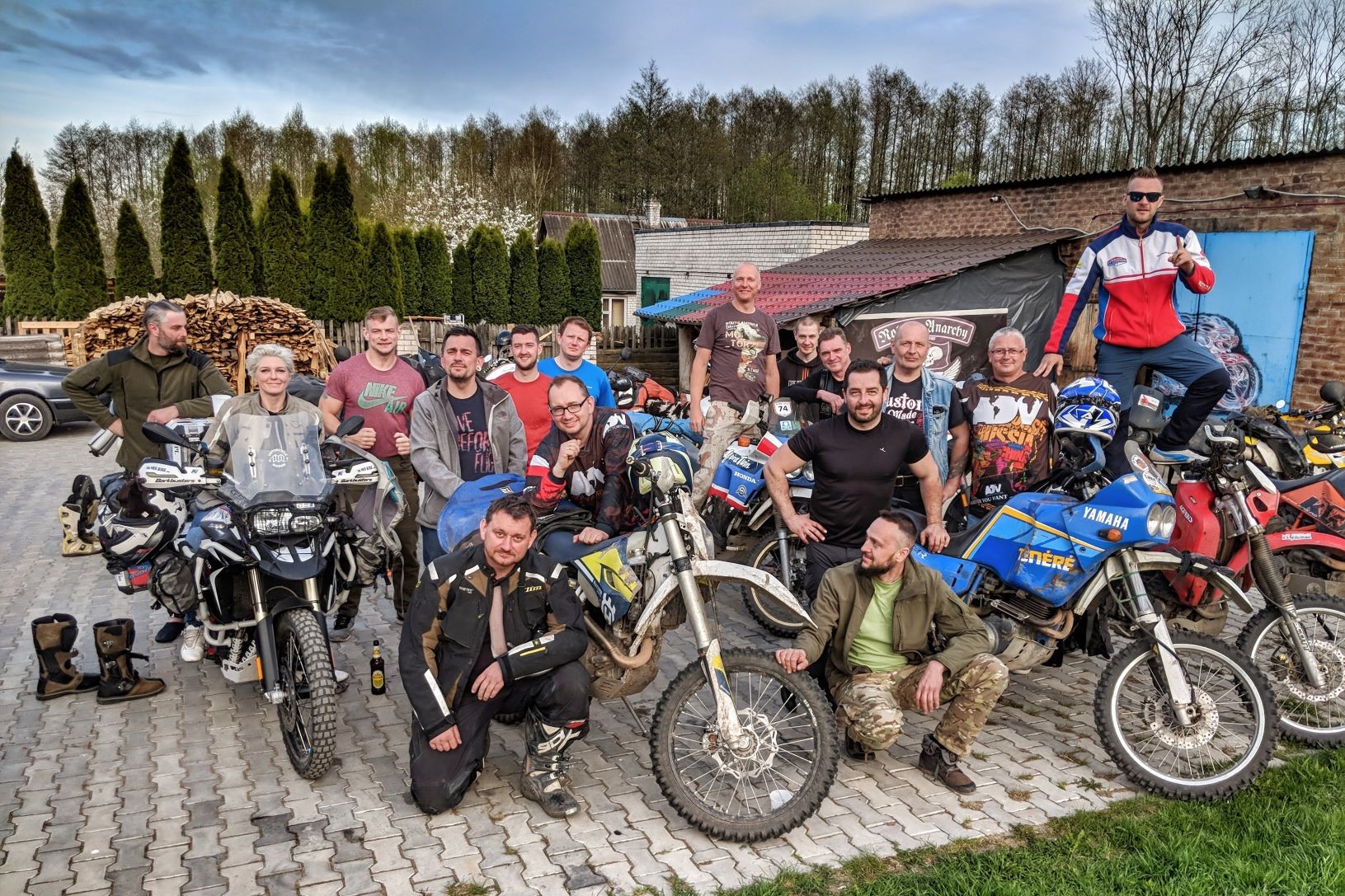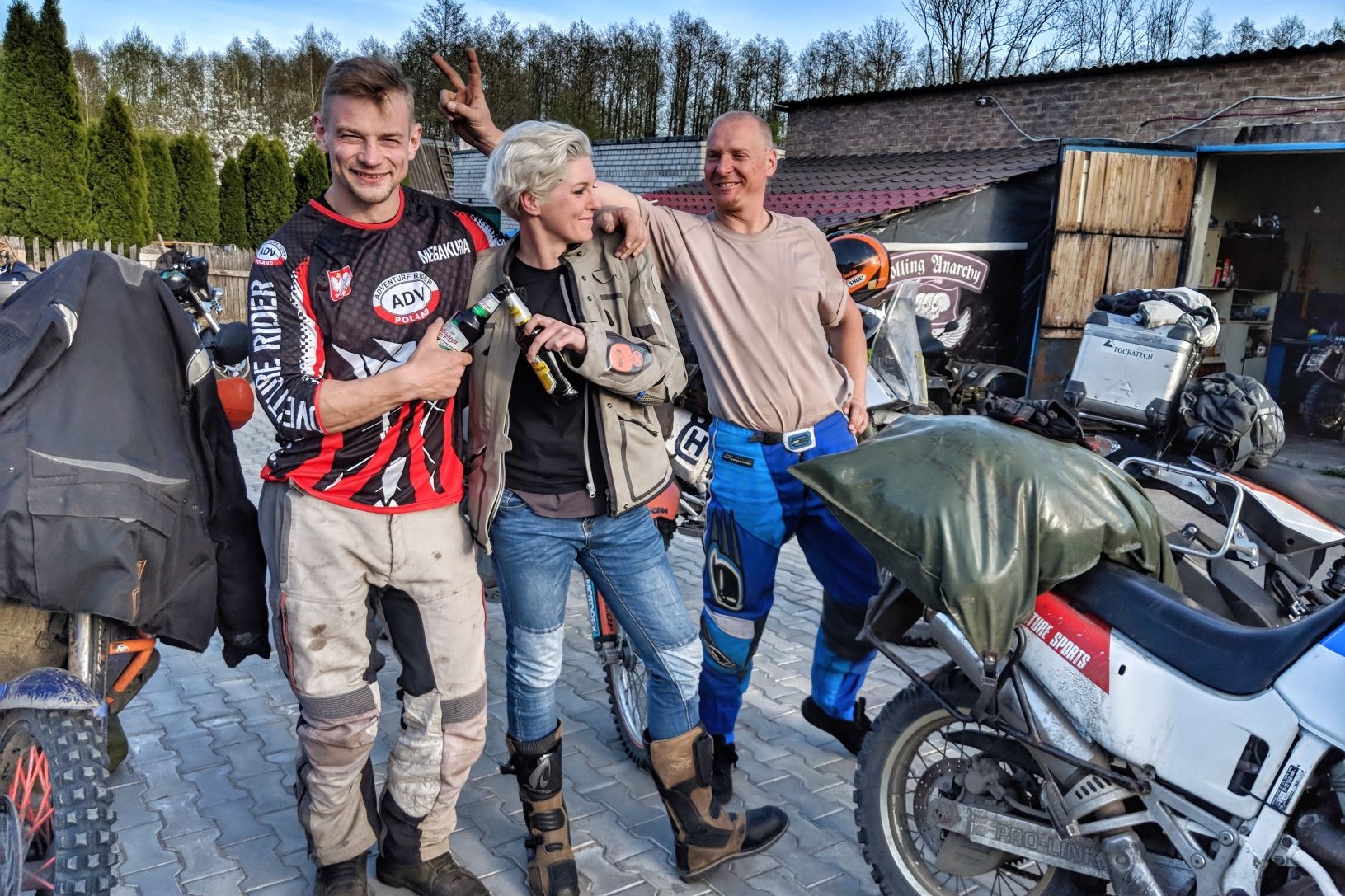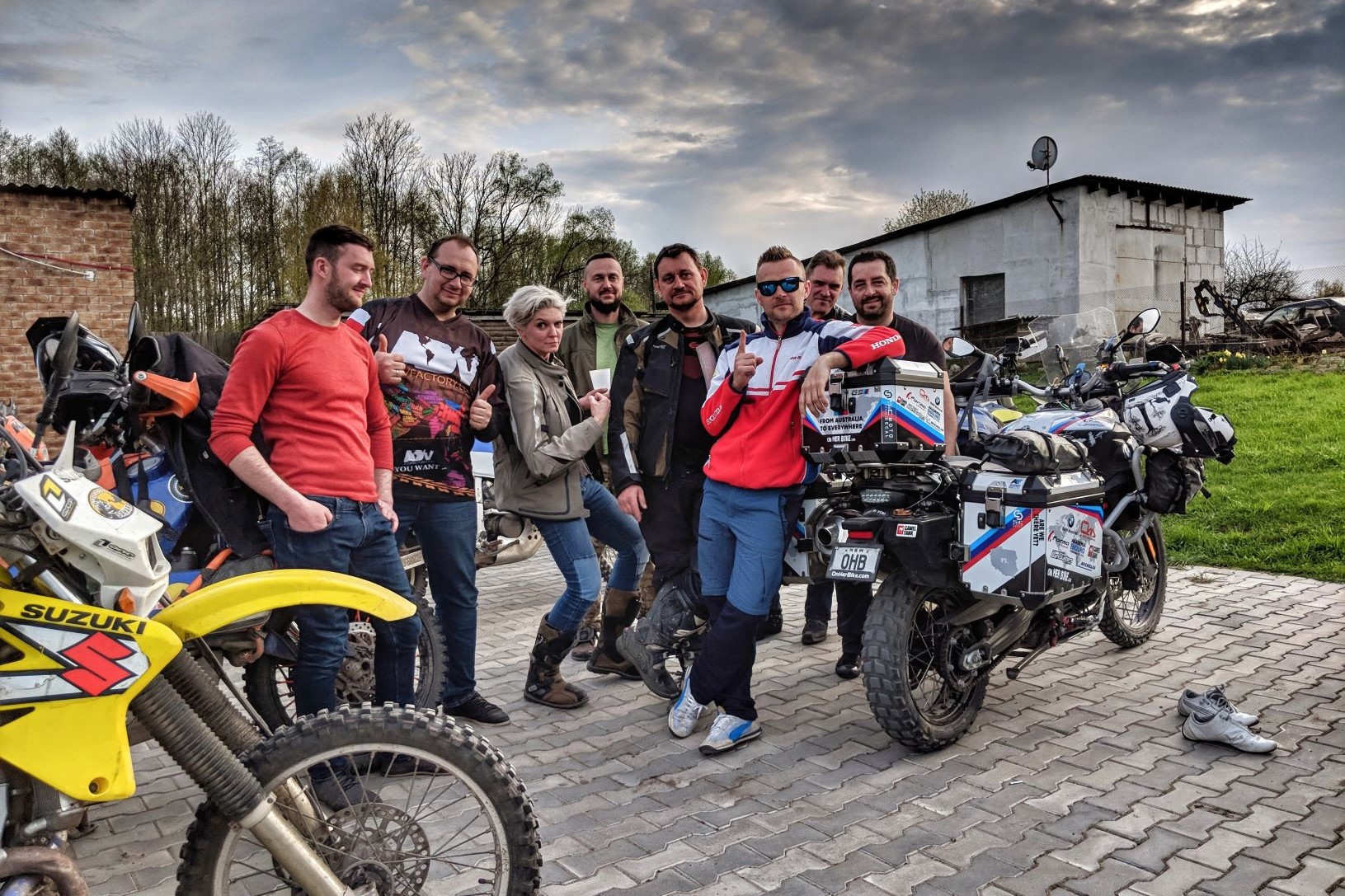 We had a couple of beers on arrival so no one could really ride their bikes any more, but that wasn't a problem, Matvej arranged cars with drivers and they took us to town for a little sightseeing of Grondo by night.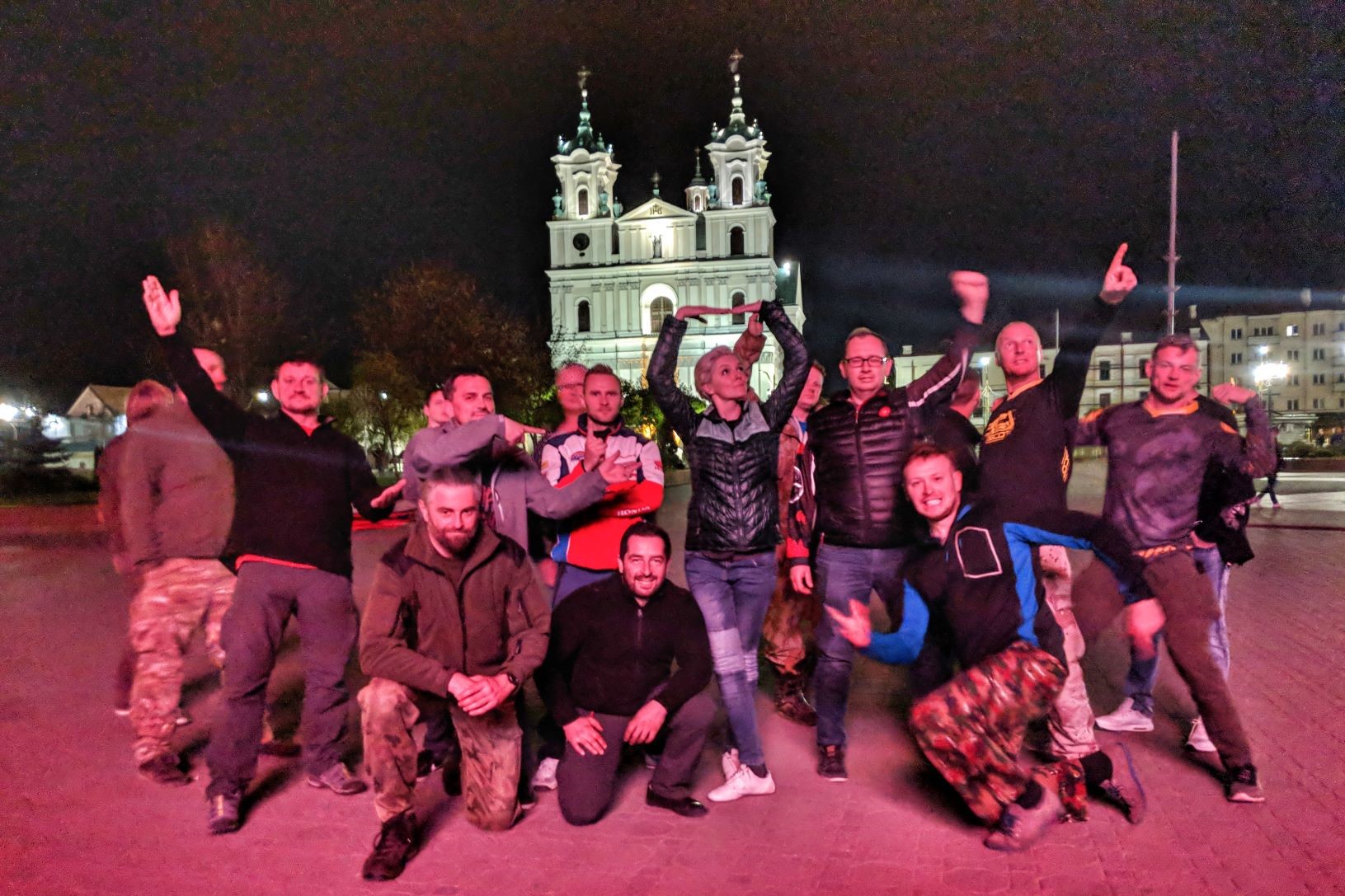 After dinner we headed back to the Motocamp to continue the party at the bania…
The rest of the pictures from that night are for private use only. What happens in Grodno, stays in Grodno 😉
The next morning I came back to pick up Chillie from the Motocamp and to say goodbye to the guys. As I was on a tight schedule to get to all the places that had already been arranged, Łowcy Niewygód had no other plans but to hit some off road hard and go nuts as they do! We gave one another big hugs and wished each other safe onward travels!
Matviej escorted me to the Czeslaw Niemen Museum in Staryje Wasiliszki. The museum was closed, but that again wasn't a problem, Matvej sorted it out right away with another phone call. Soon afterwards a man showed up to open the museum for us. And we were about to start our little tour when we heard the sound of 13 engines outside. Łowcy Niewygód are here! Clearly the off road was fast. The guys came inside and filled up the little museum.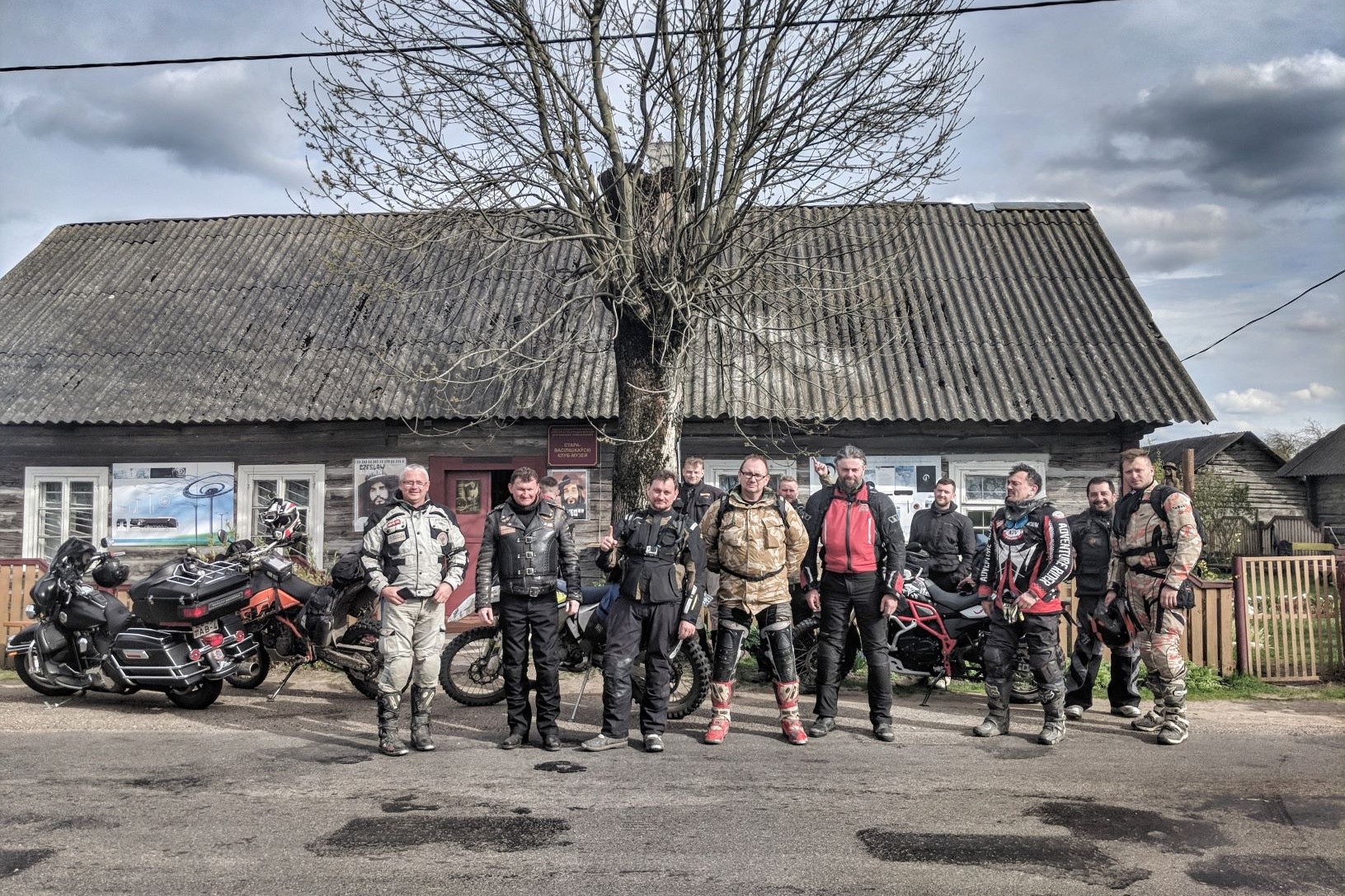 Czeslaw Nieman was a Polish singer who was born in Staryje Wasiliszki before the second world war. This legendary artist is well respected in Poland by all generations and this little museum is a must see for Polish tourists.
Our museum guide thoroughly explained Nieman's life and childhood here. Unfortunately we only understood about every second word as he was speaking in Belarusian and after such a big night we were all struggling to not fall asleep during those 2 hours. Hehehe.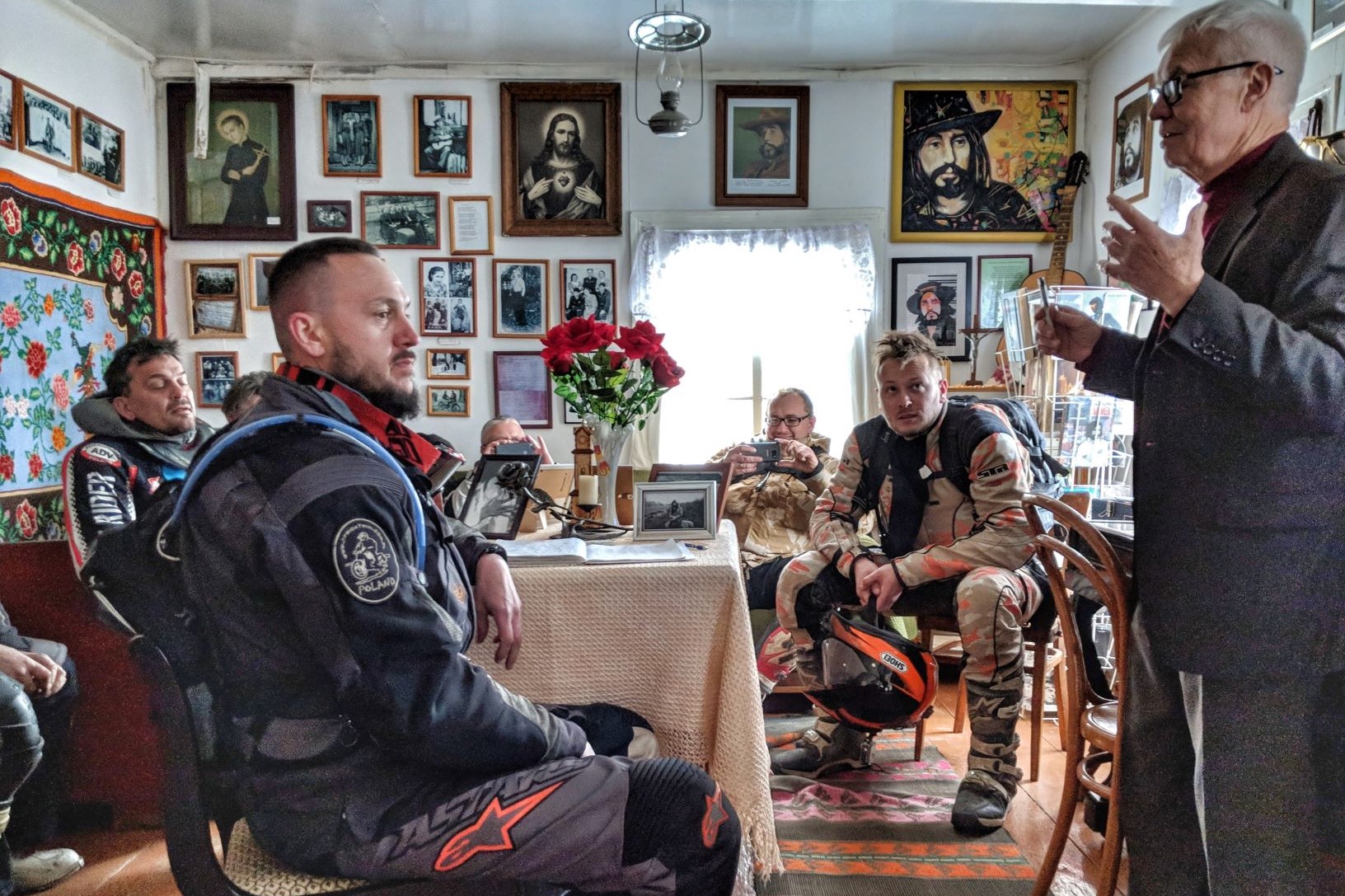 Ok, wakey wakey guys, last group picture and this time "See ya later for good! Ride on!"

​ Every Day New Friends
Wania and Katya met me on the road before I reached Slonin. We went to check out the mysterious Usadebny Dom first. This property used to be a school and now it's a little museum of Belarusian local history. The property was for sale for only $30 000. Bargain, maybe I should settle down here!?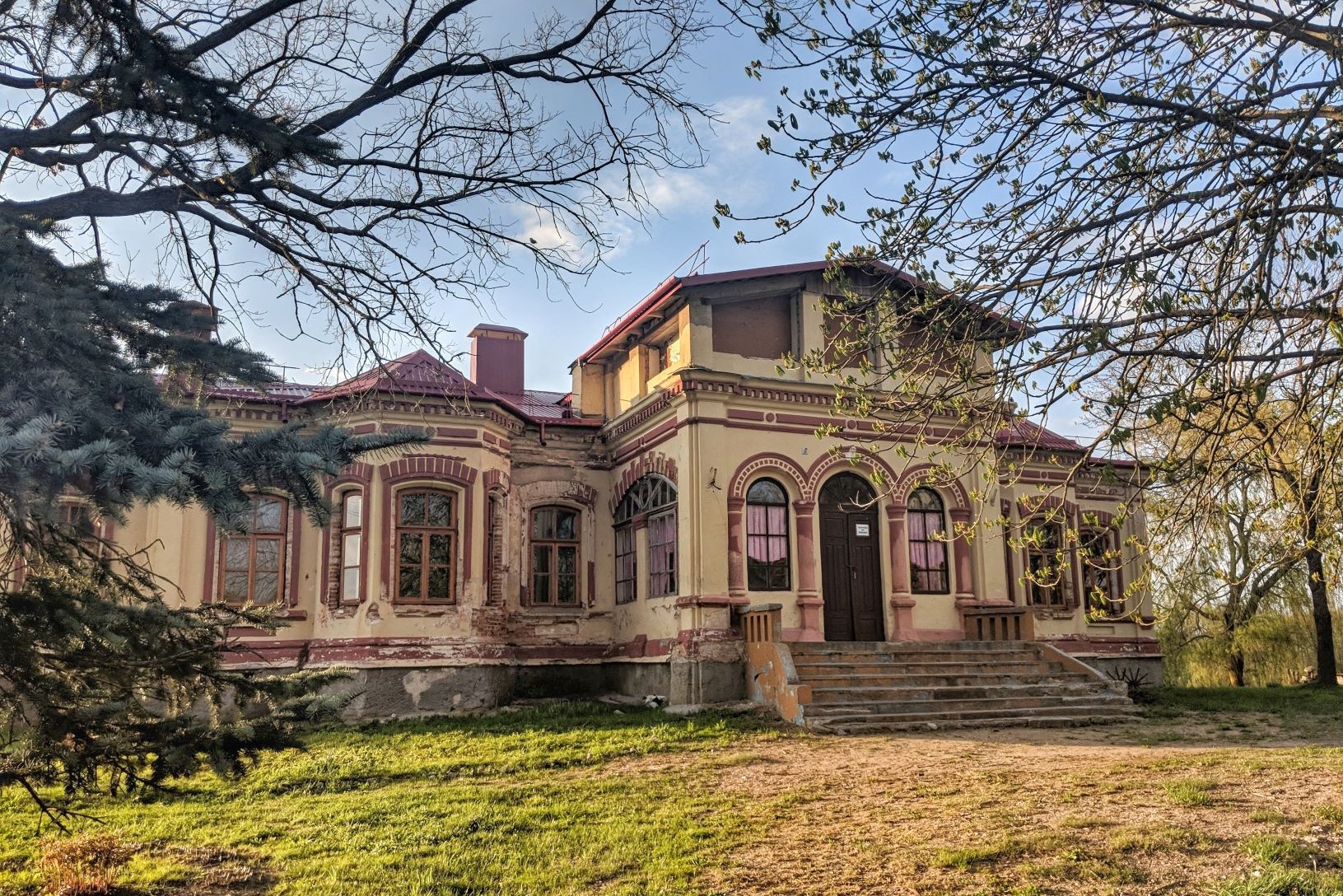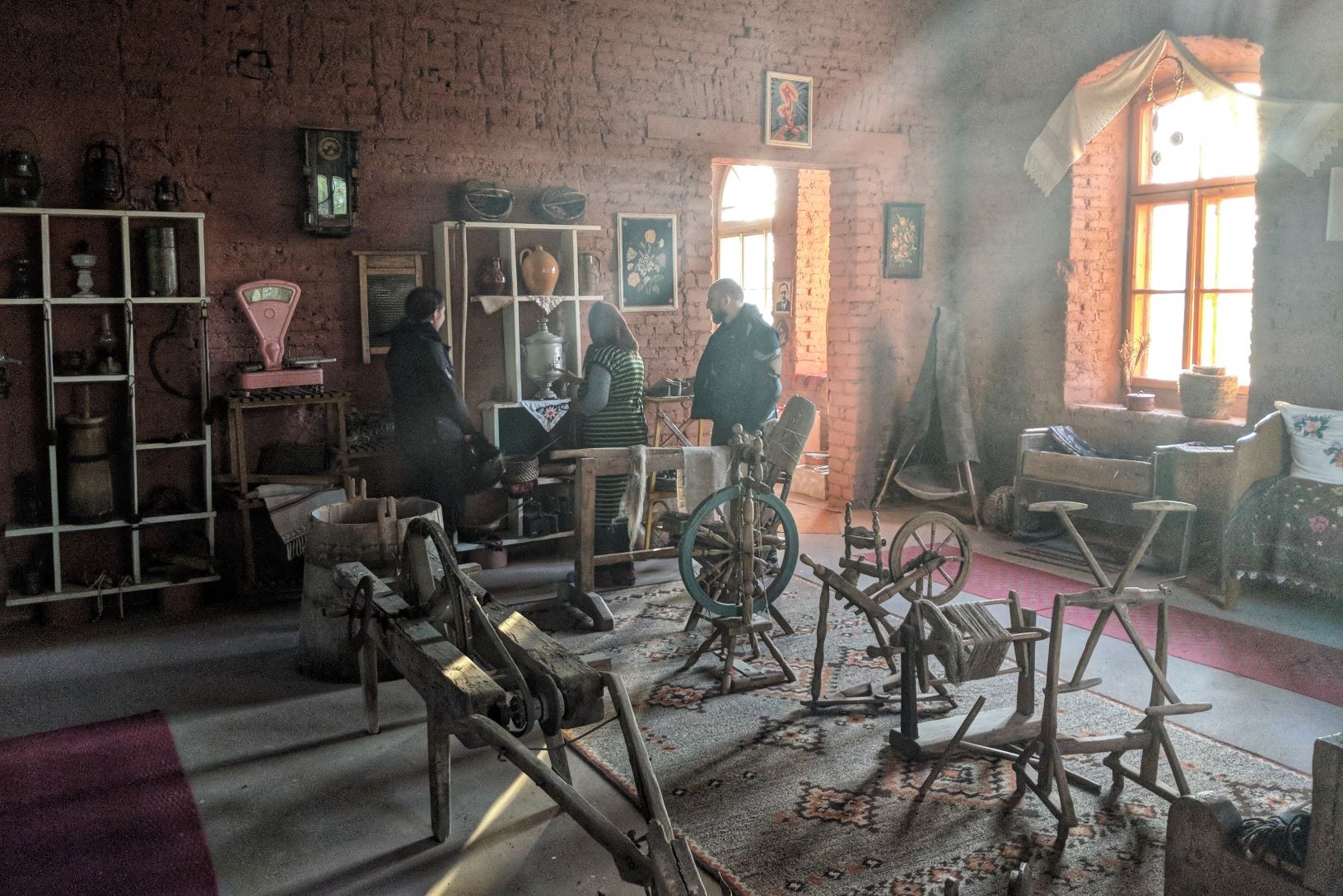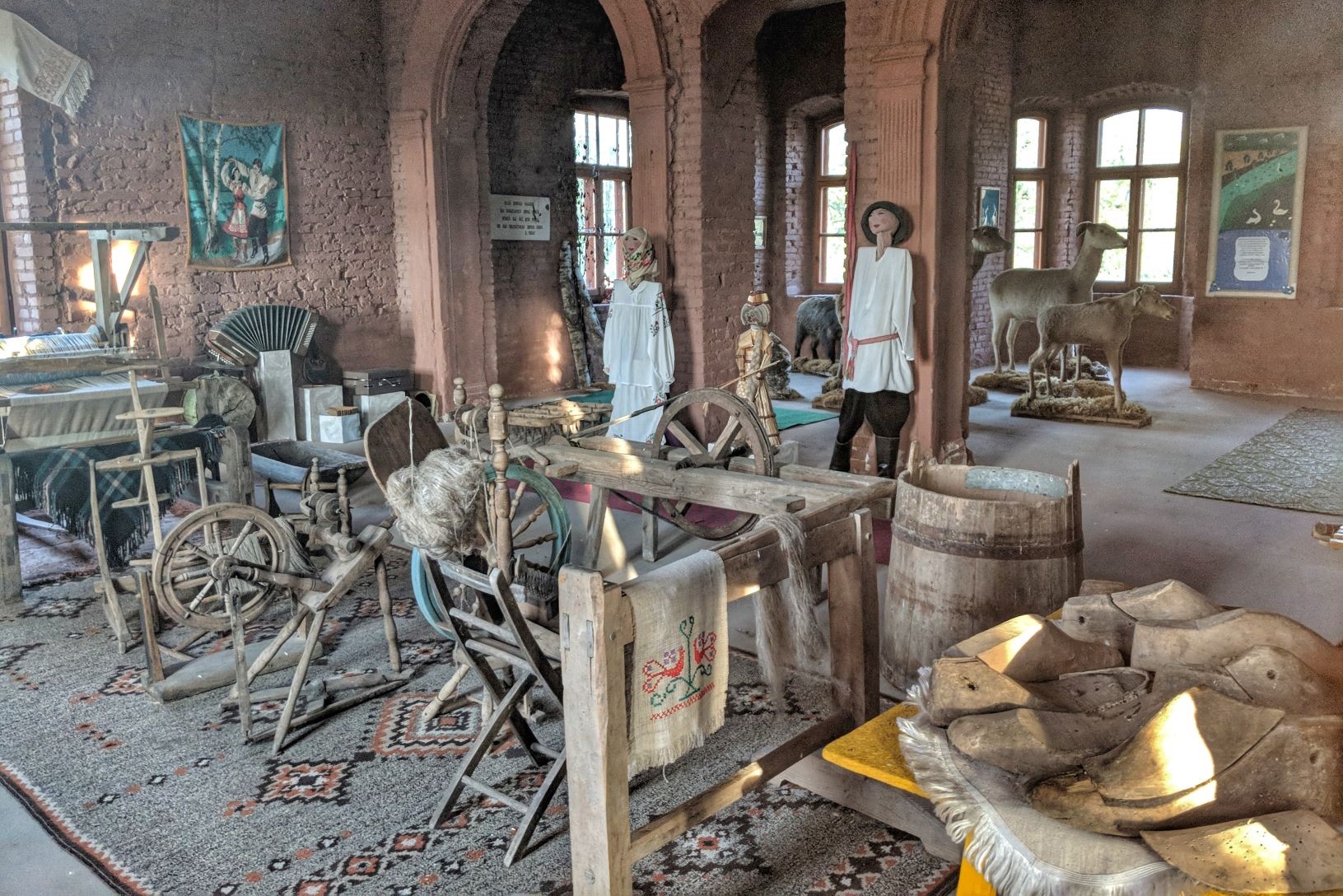 They had some cool goats running around everywhere, how could I not cuddle them, come here you!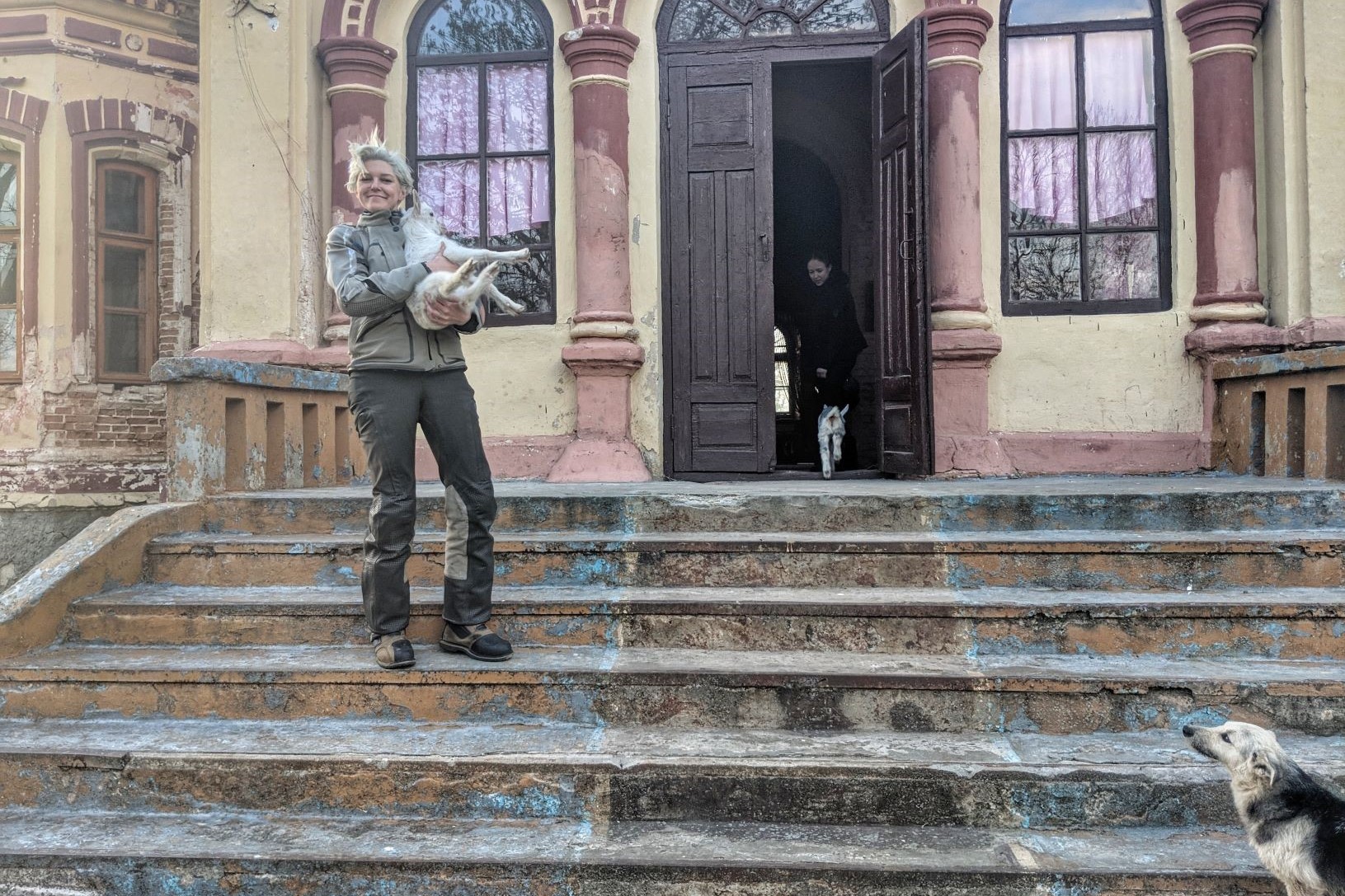 Wania and Katia hosted me for the night and we had nice dinner together…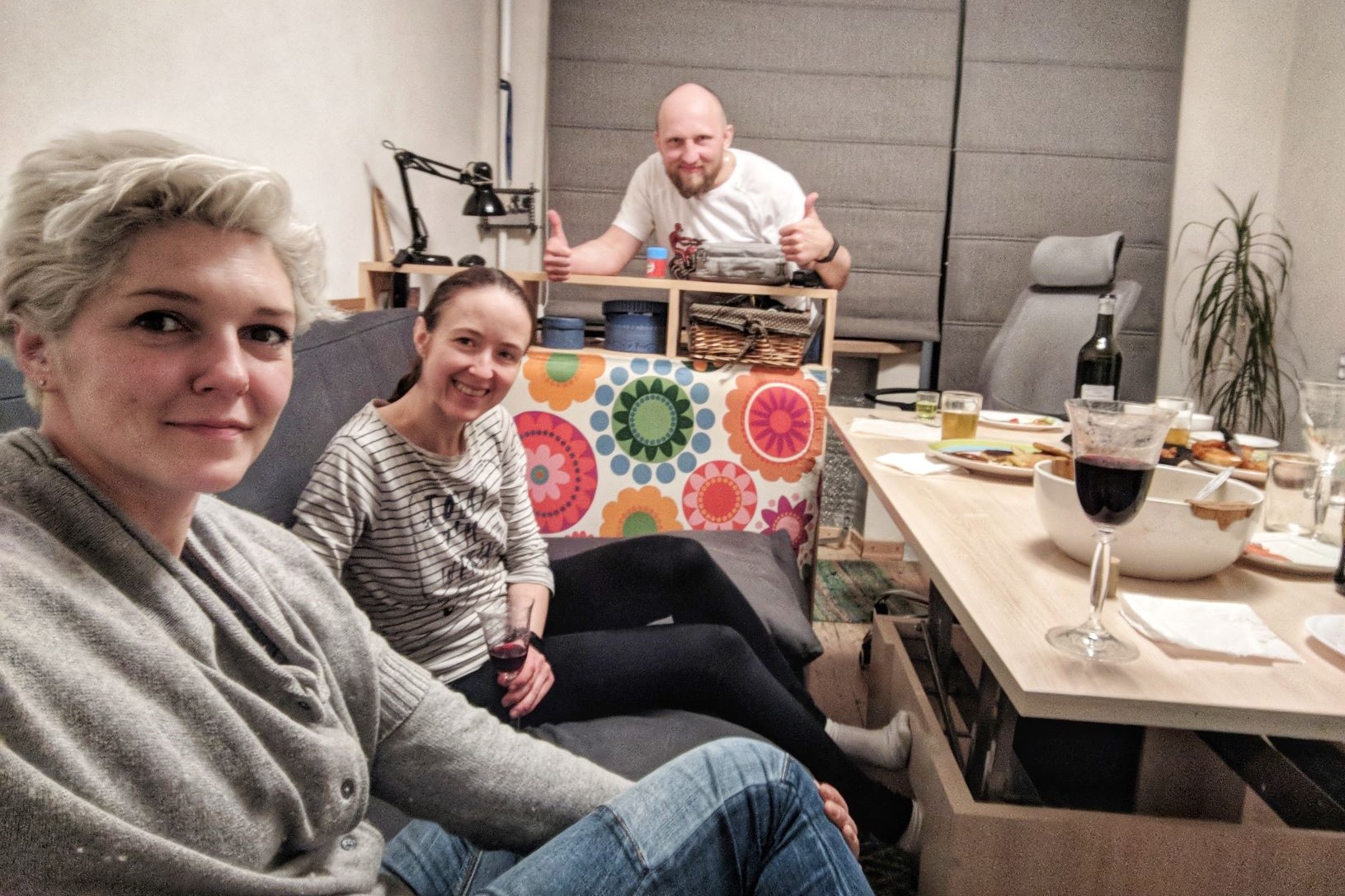 And the next day Katia helped me to sort out my registration at the police station. By law anyone who stays in the country for more than 5 days needs to register at a police station. You must do it in time otherwise you will have to pay a big fine at the border when exiting the country.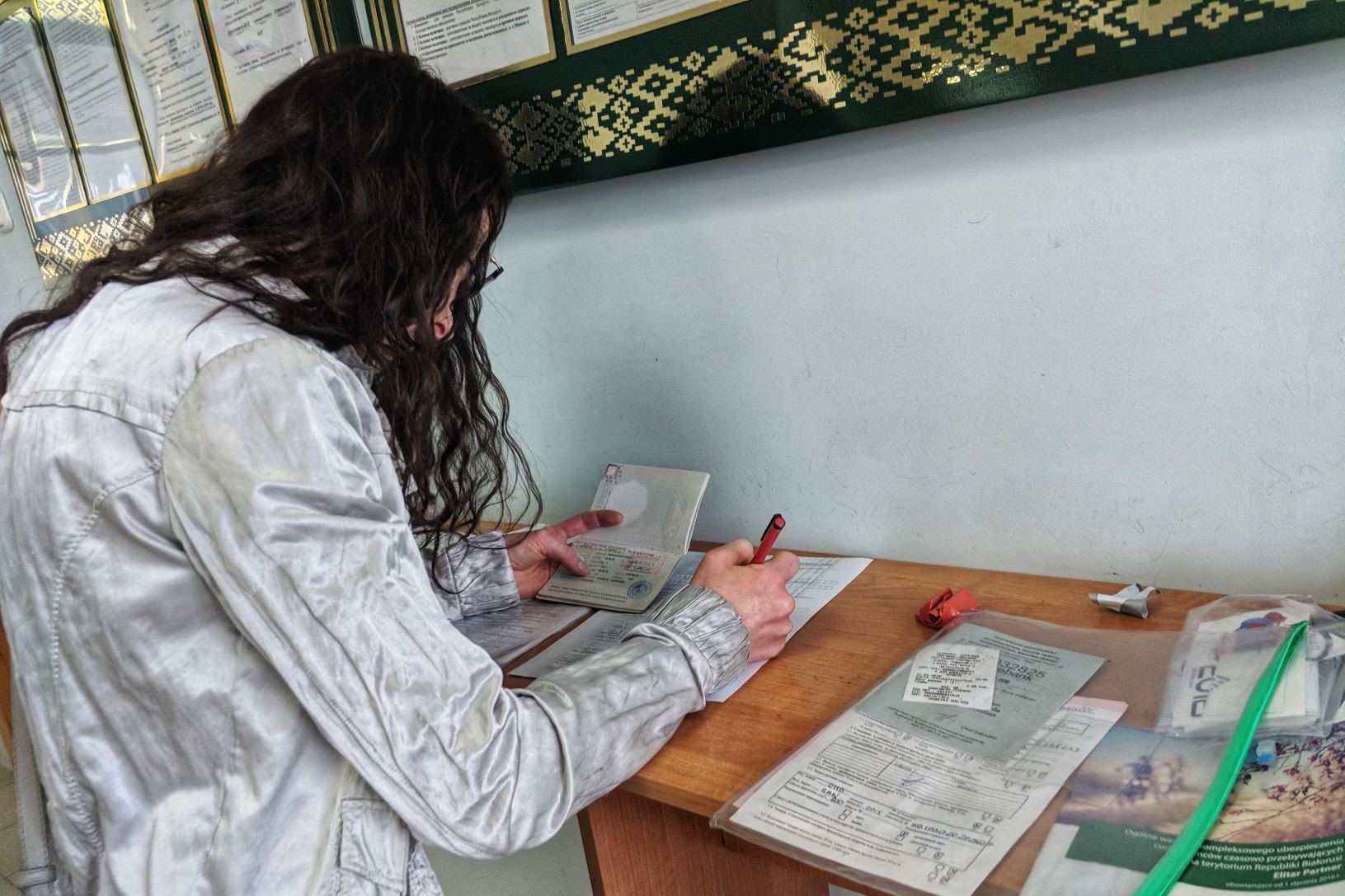 From Slonim I was picked by Zenia who guided me to Puszcza Bialowieska through some gravel roads. Finally!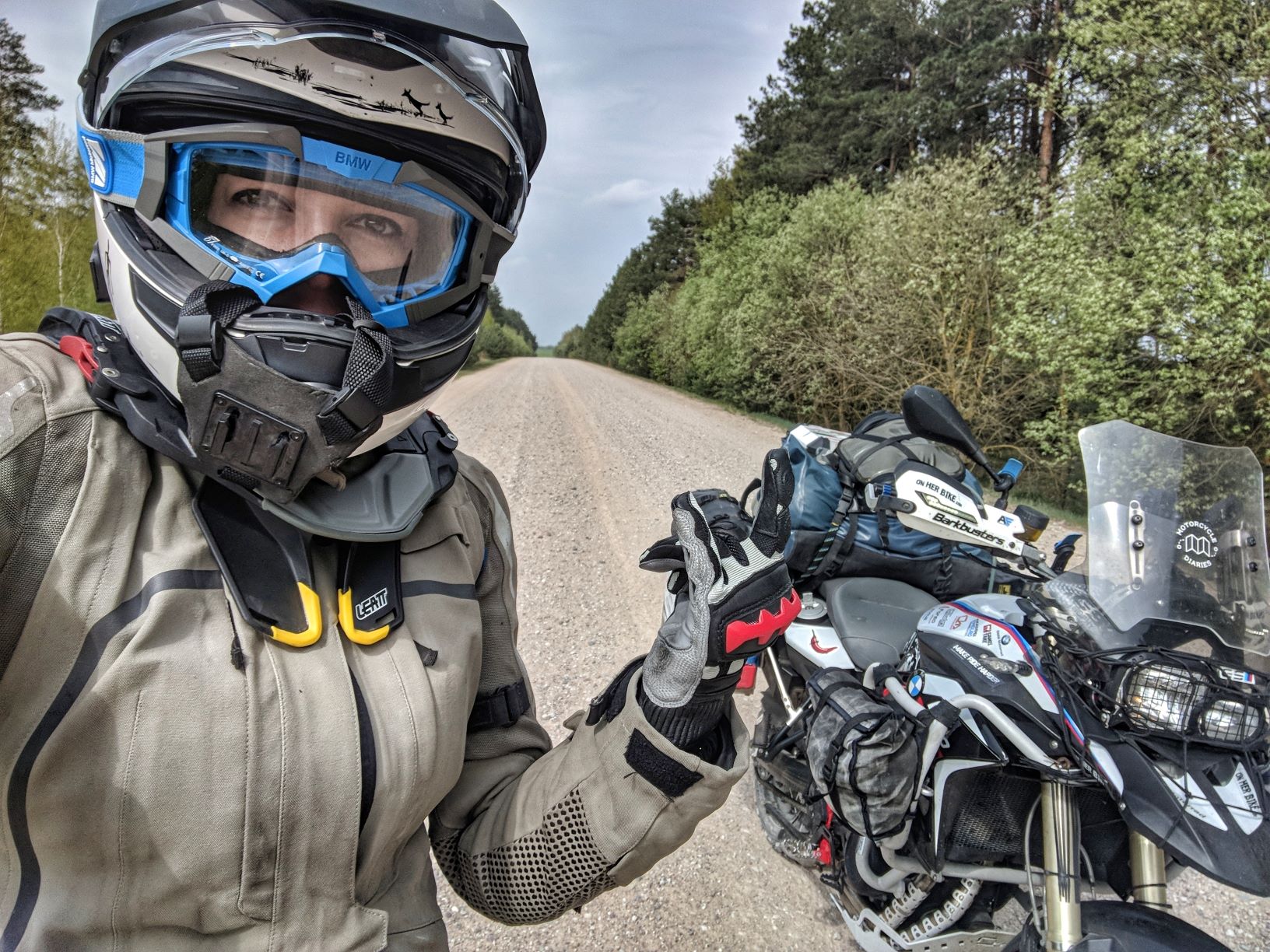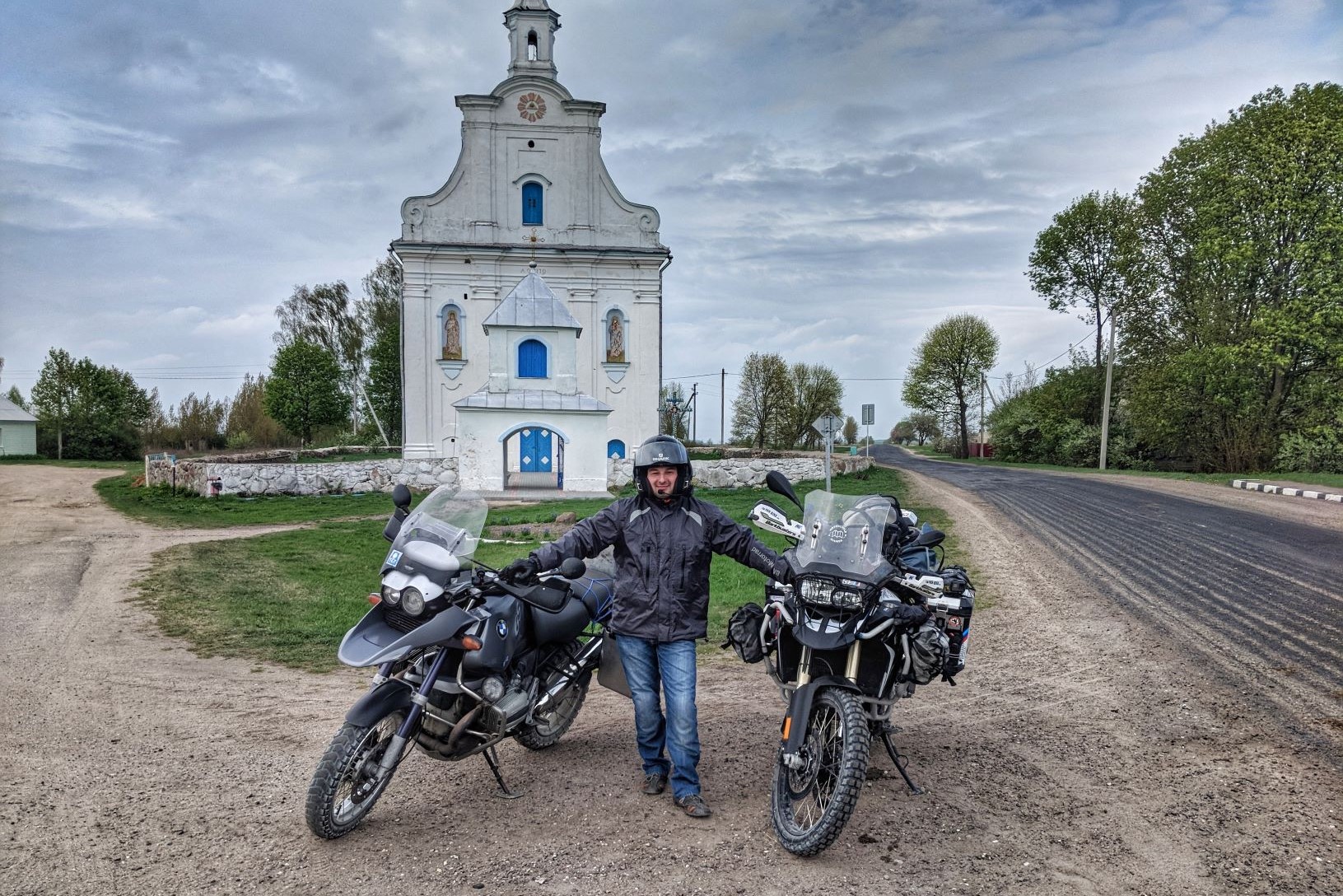 On the way we checked out the ruins of the castle in Ruzany where we had a little picnic…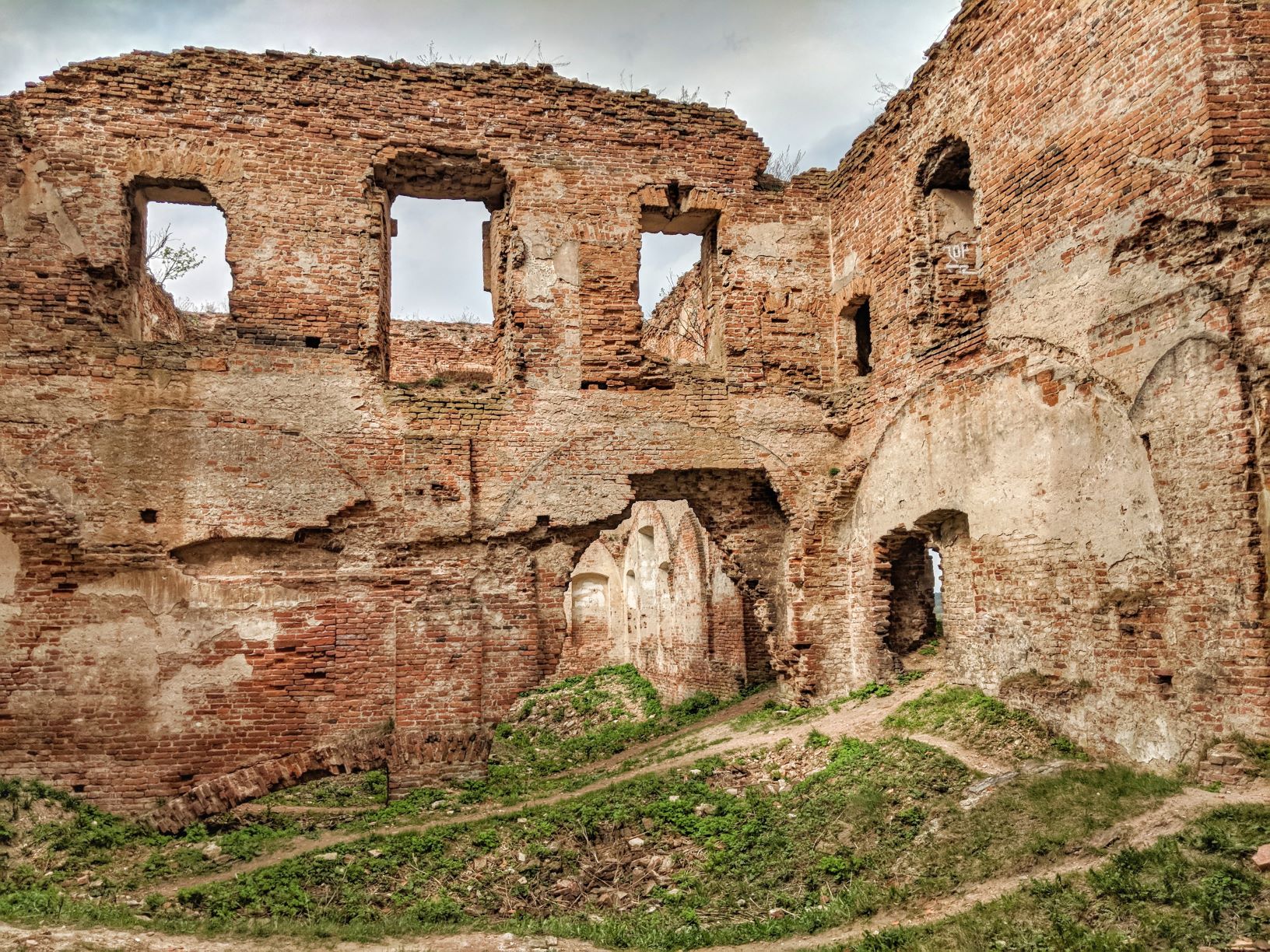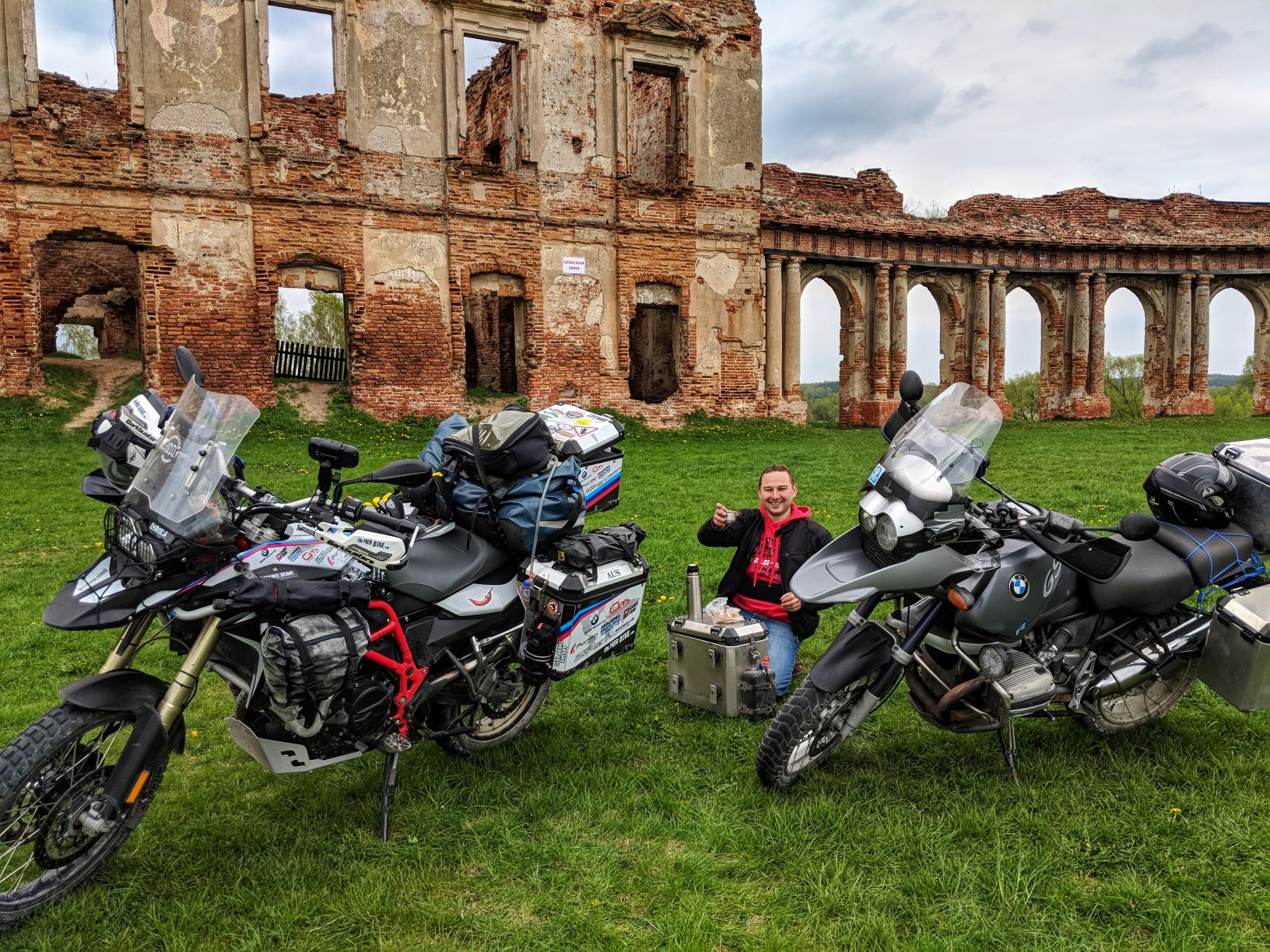 And off again. The roads were quite crowded at times!
In the afternoon we arrived at Motocamp Route 98 in Puszcza Bialowieska, this place would become one of my favourites! It's not an official camp or hostel, it's just the property of a family of motorcyclist who welcome any riders. There are rooms with beds for bigger groups…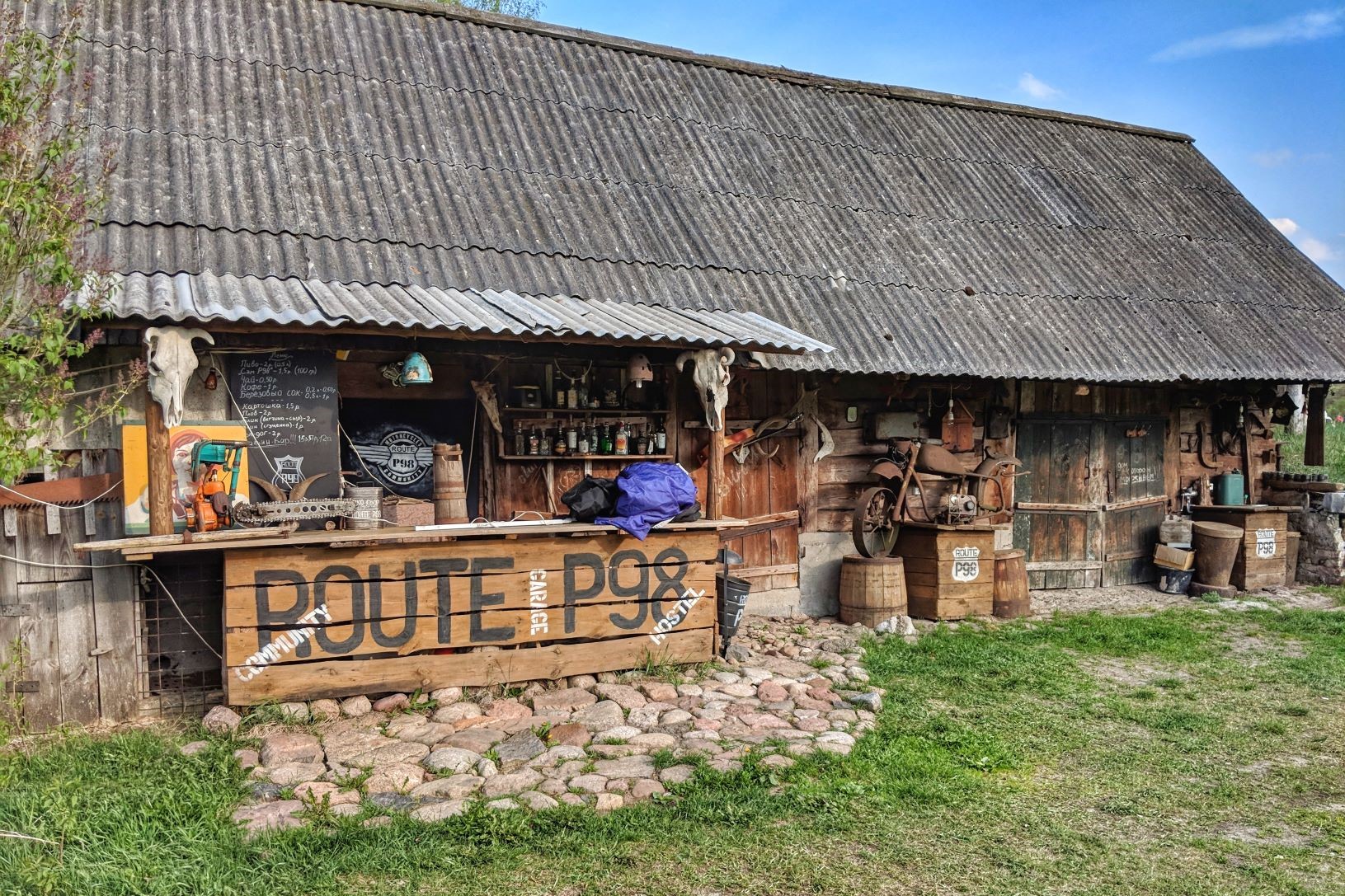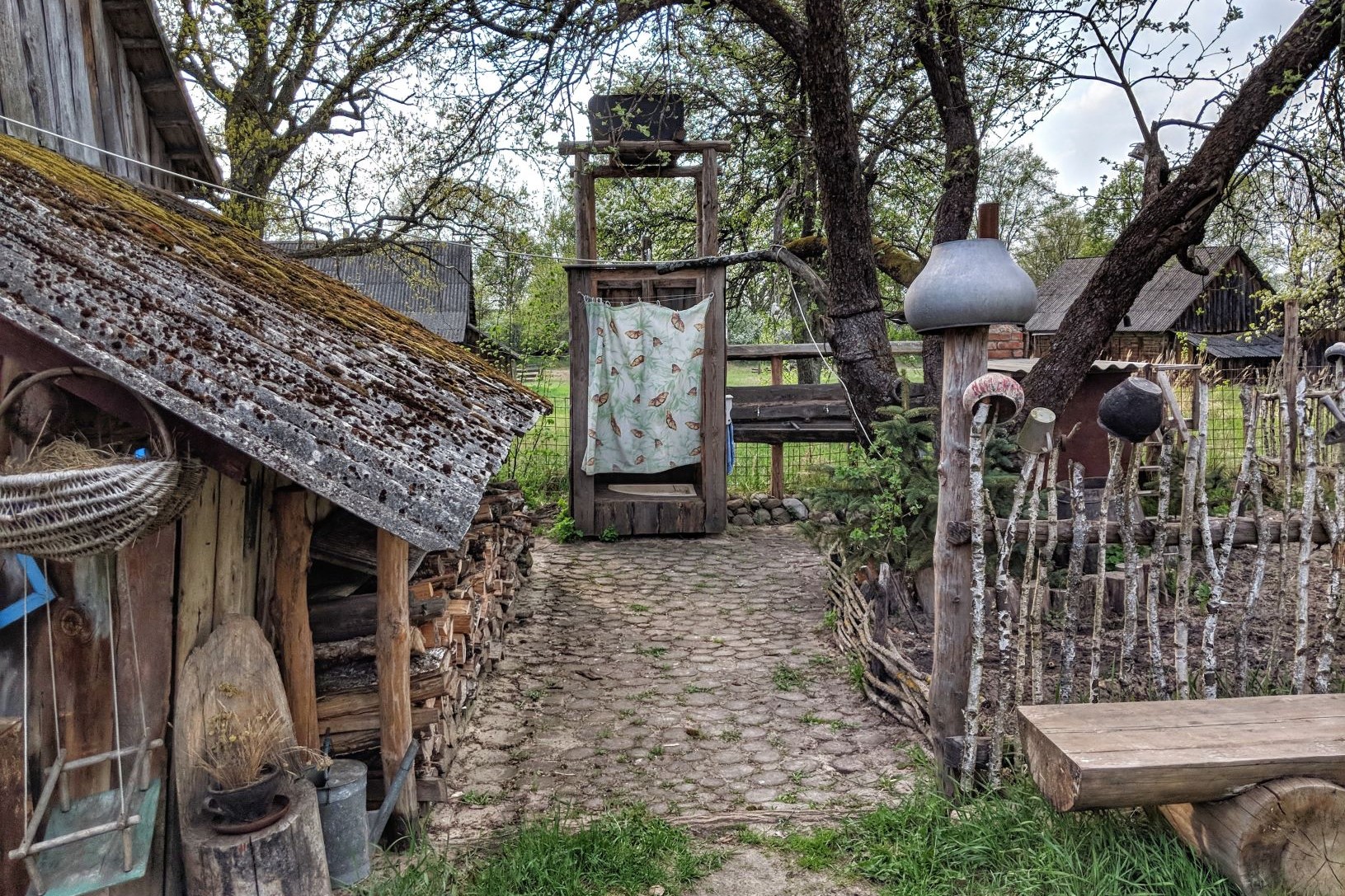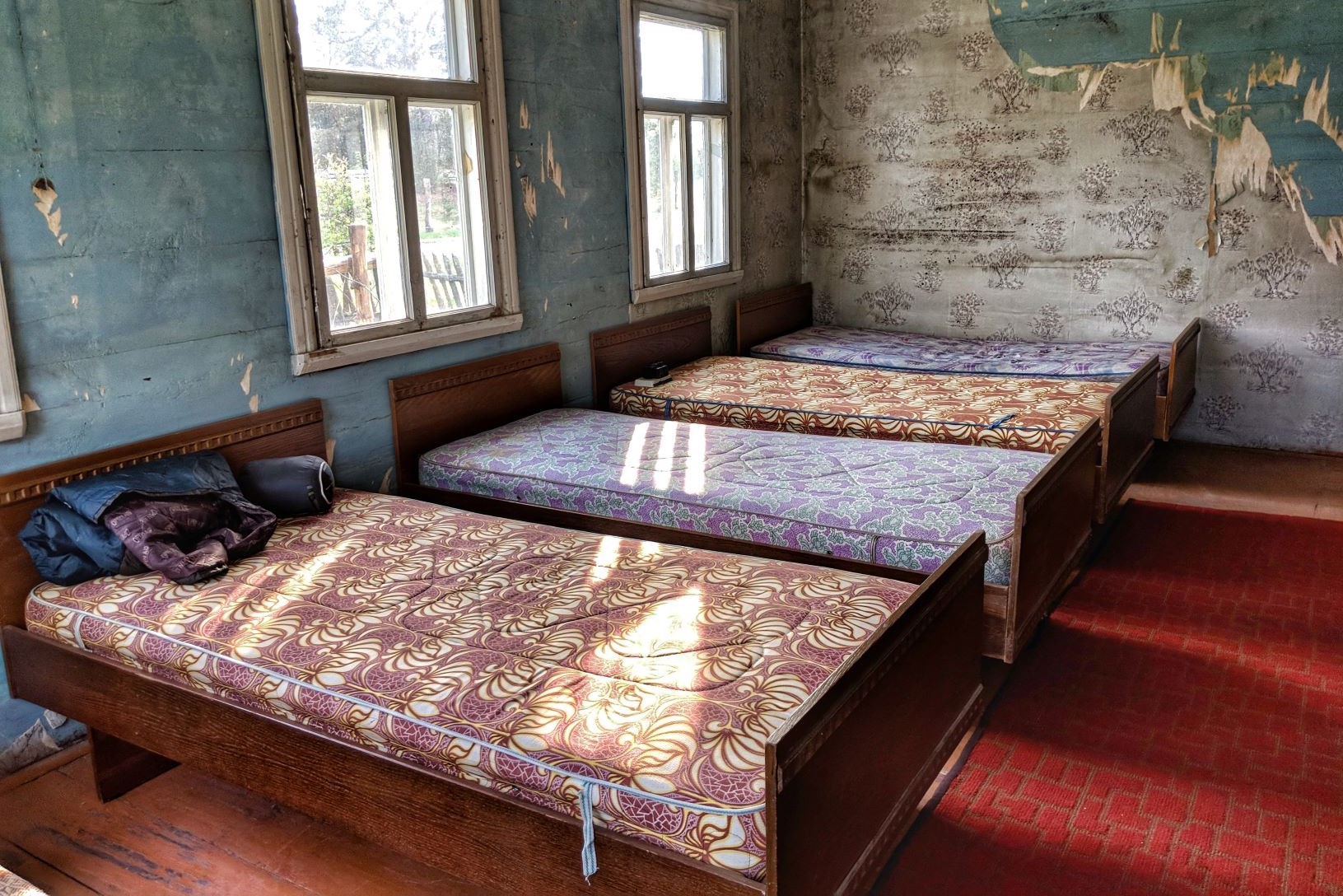 …or you can just sleep on the hay like me 🙂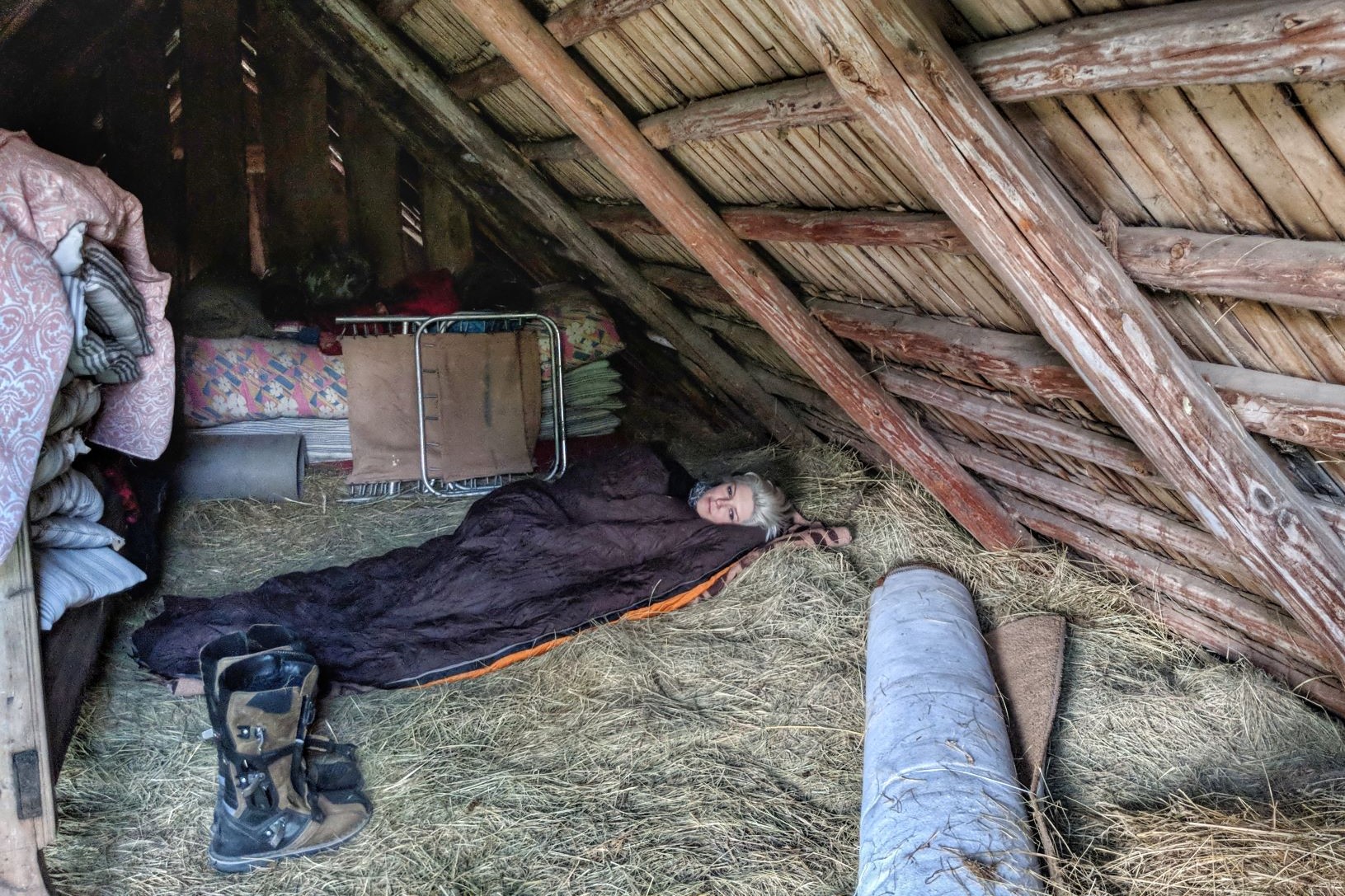 I only spent one crazy night there, but how unforgettable! We rode Ural out in the woods…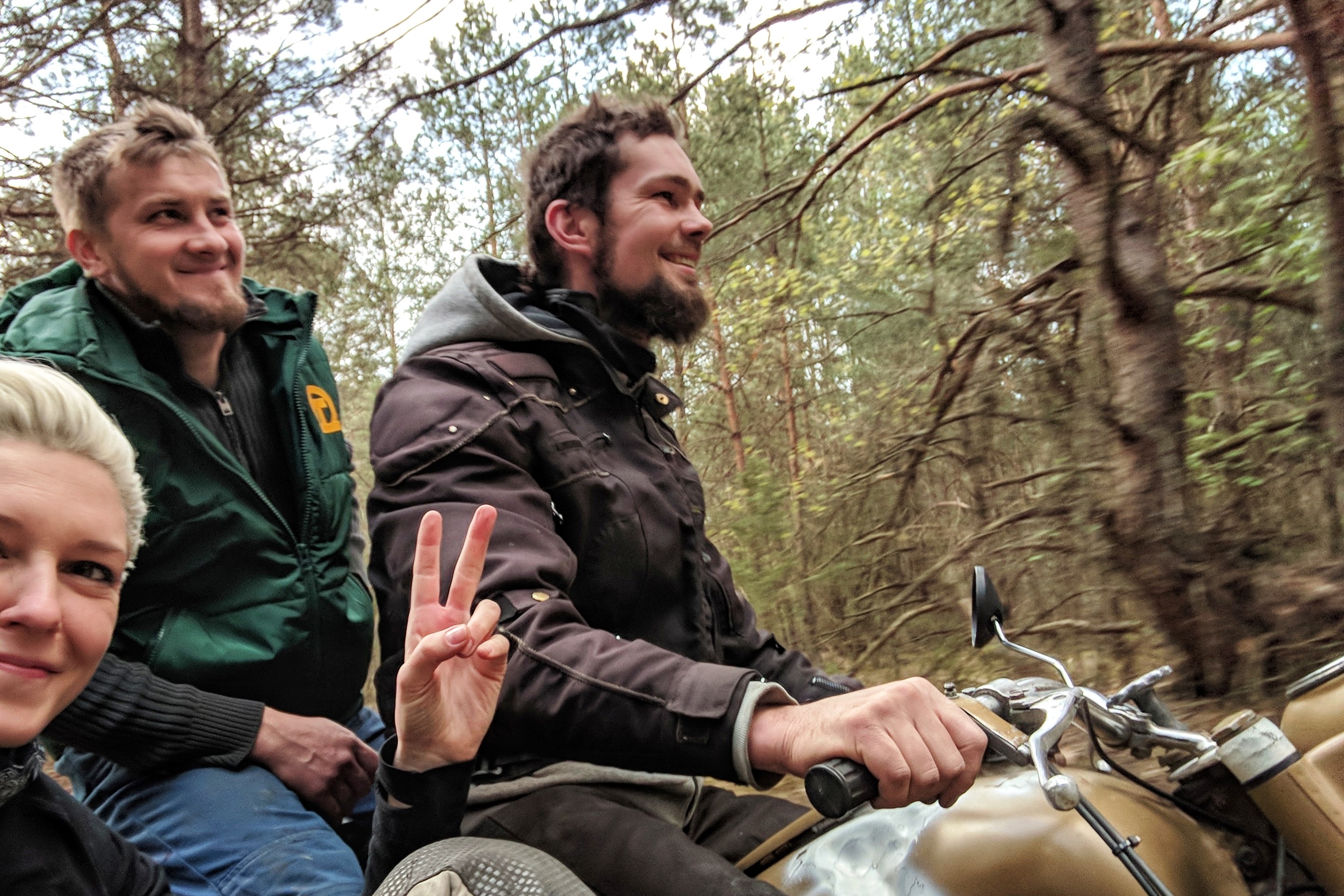 Masterchef Saad cooked us some local delicacies…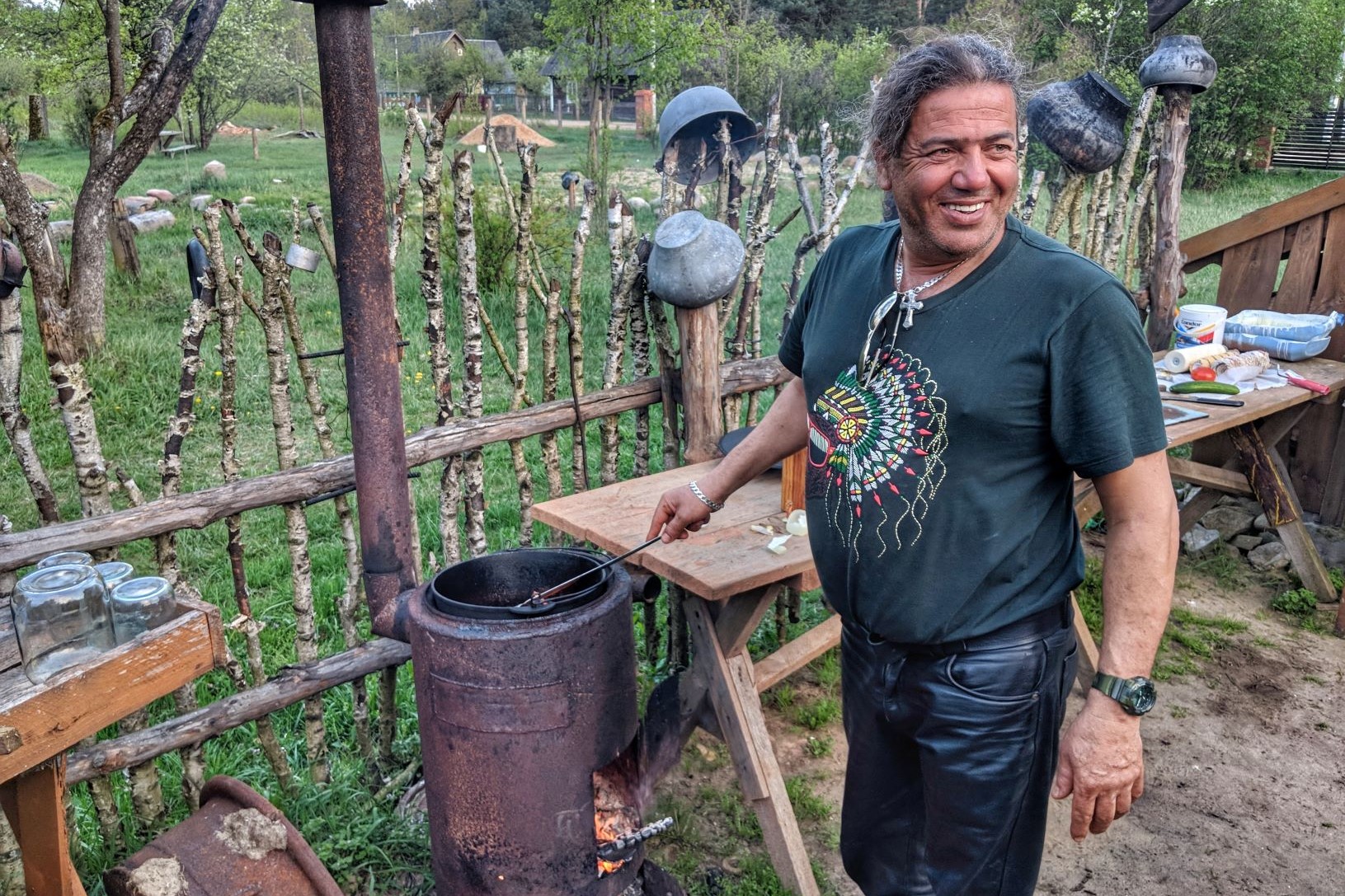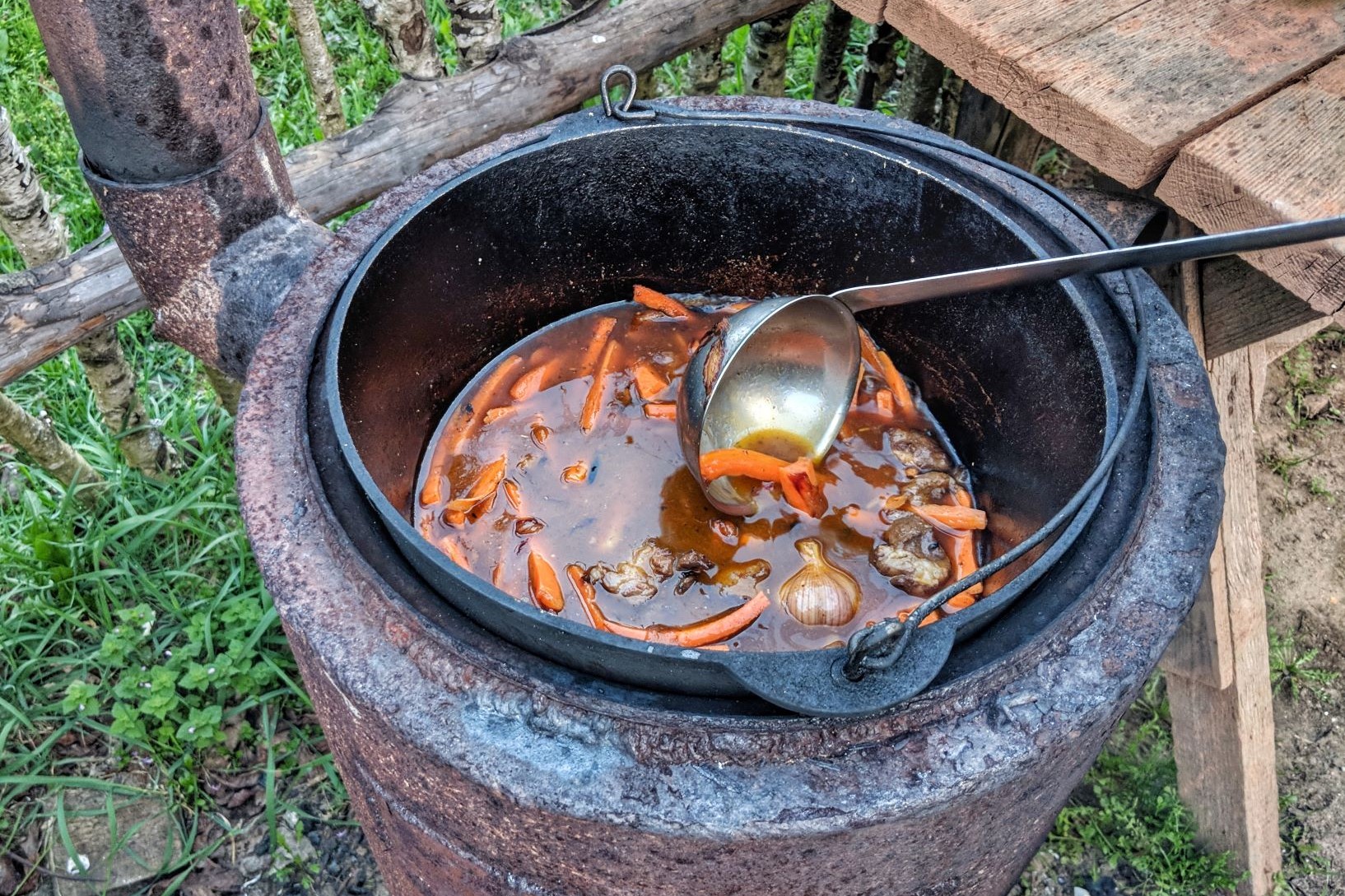 And after some vodka we dressed up in NKWD uniforms (as you do)! So who's got a thing for uniforms? So, do we look good or do we look good?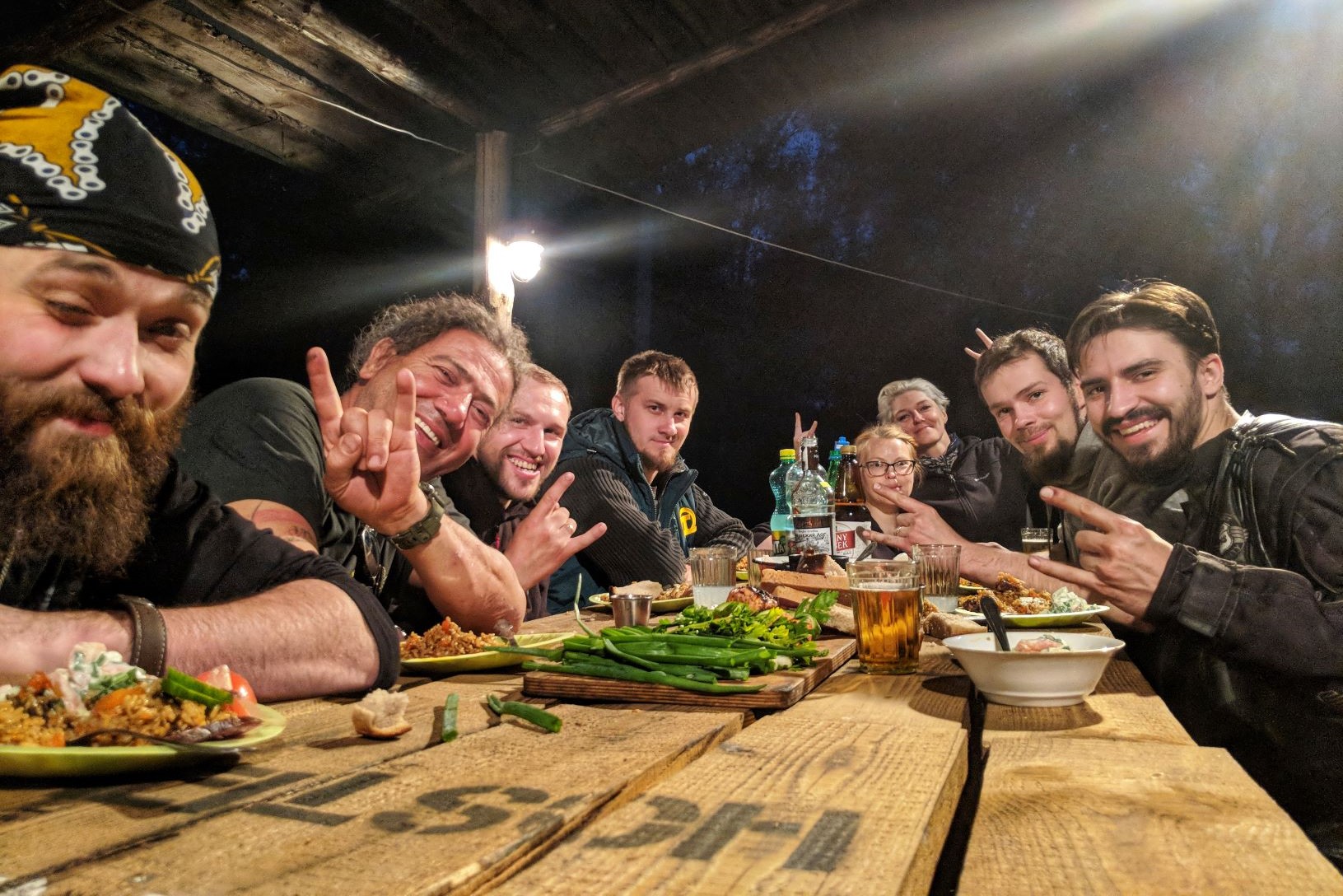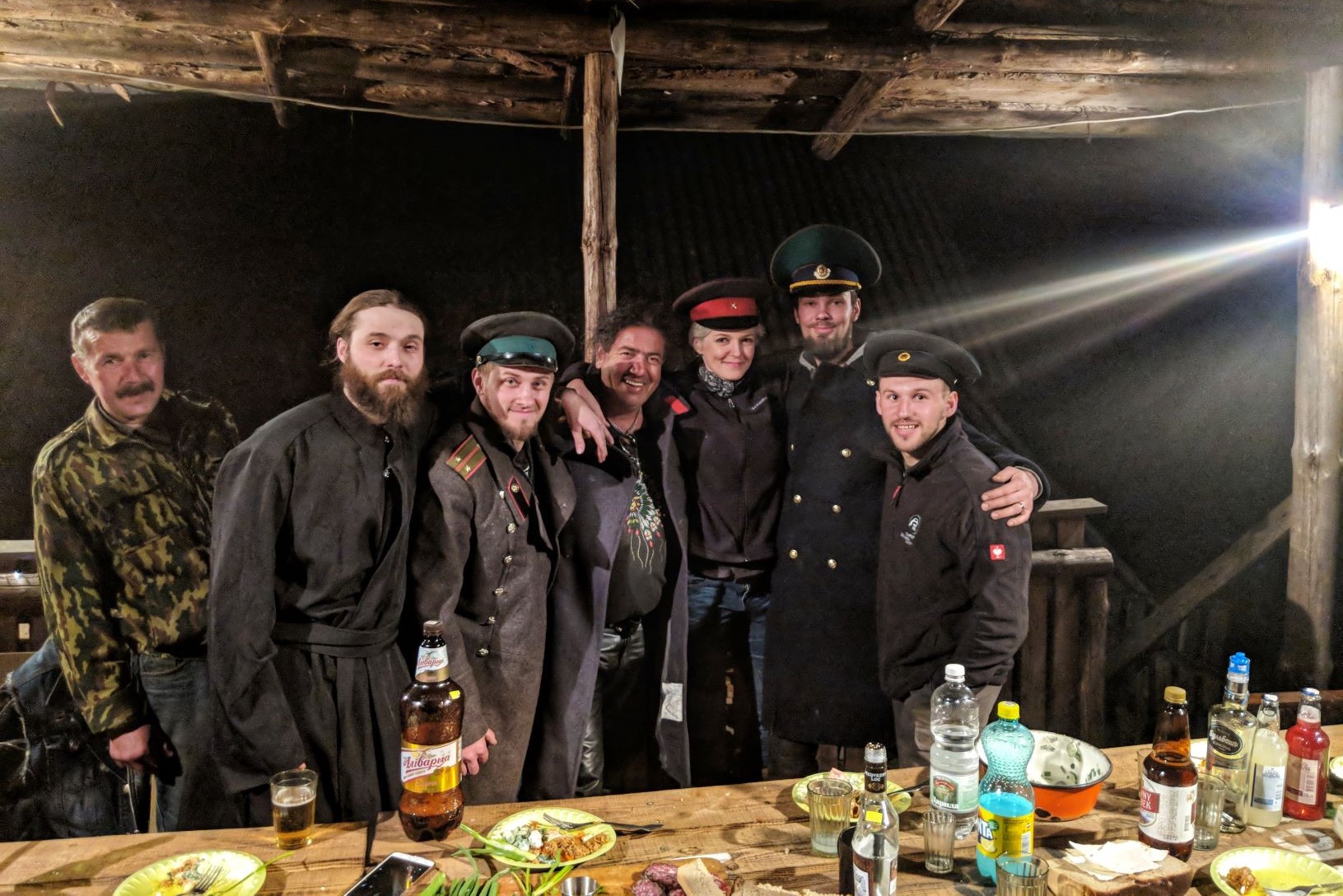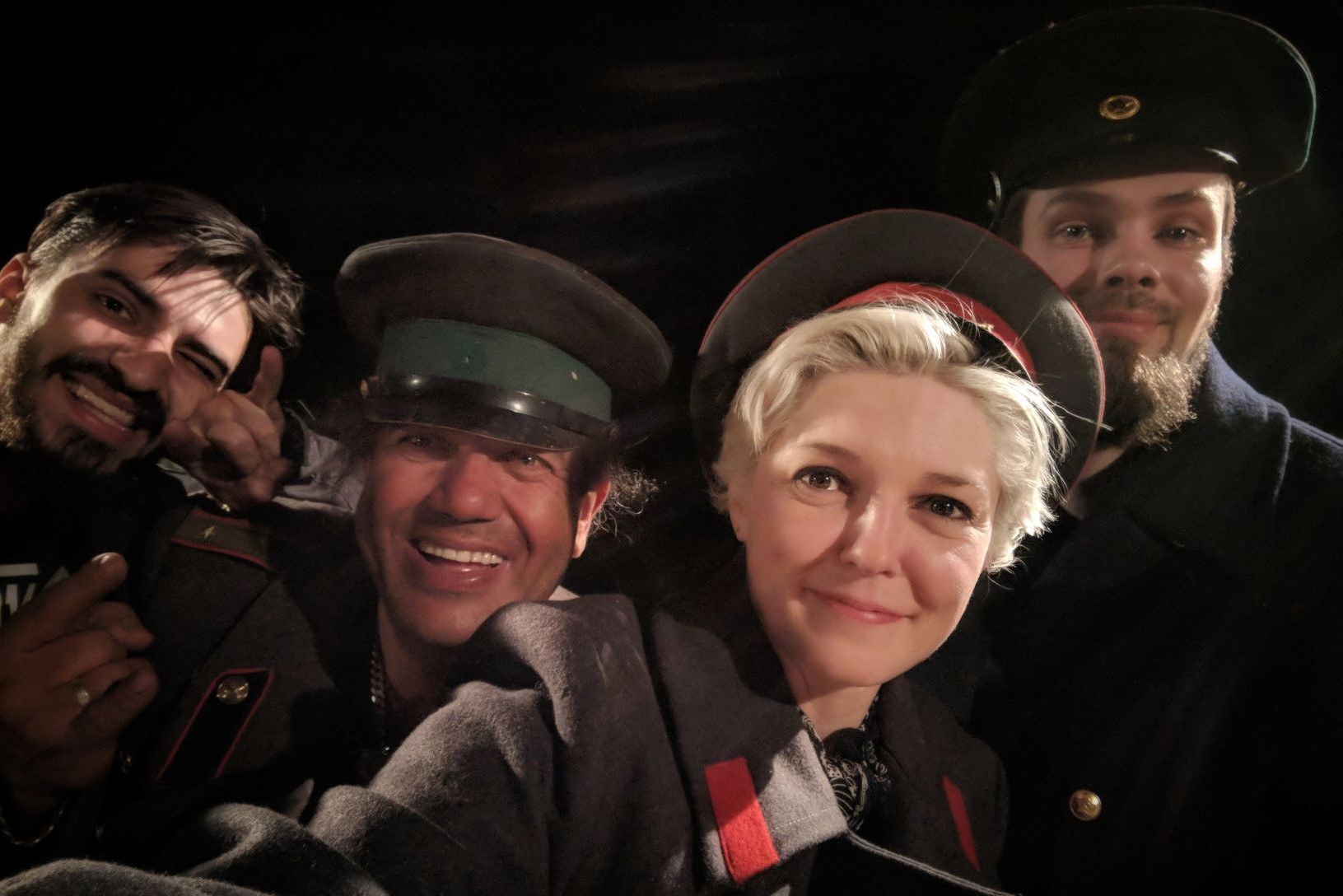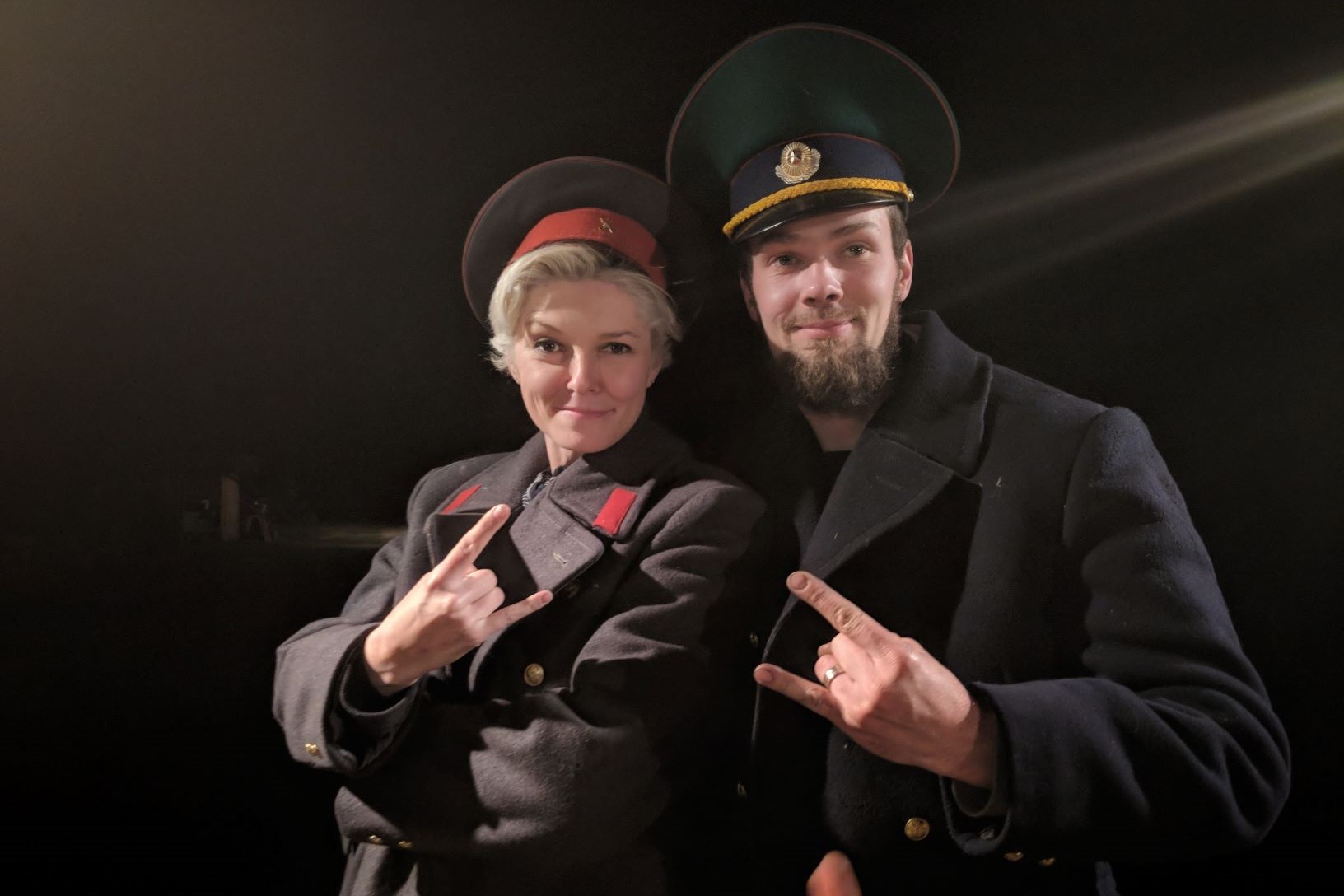 And this is the moment when you realise how crazy the night got. Someone has welded a sidecar to this poor guy's motorcycle! Lol
I couldn't miss out on seeing some Zubry again! The Motocamp is very near a breeding centre so Saad gave me a tour. If you remember the last time I saw Zubry in Poland while doing the TET and this time I was on the other side of the same forest. So they are same, same… but different 😉
Ok, time to socialise again! 100km later I was already in Pinsk where some guys from a local club looked after me…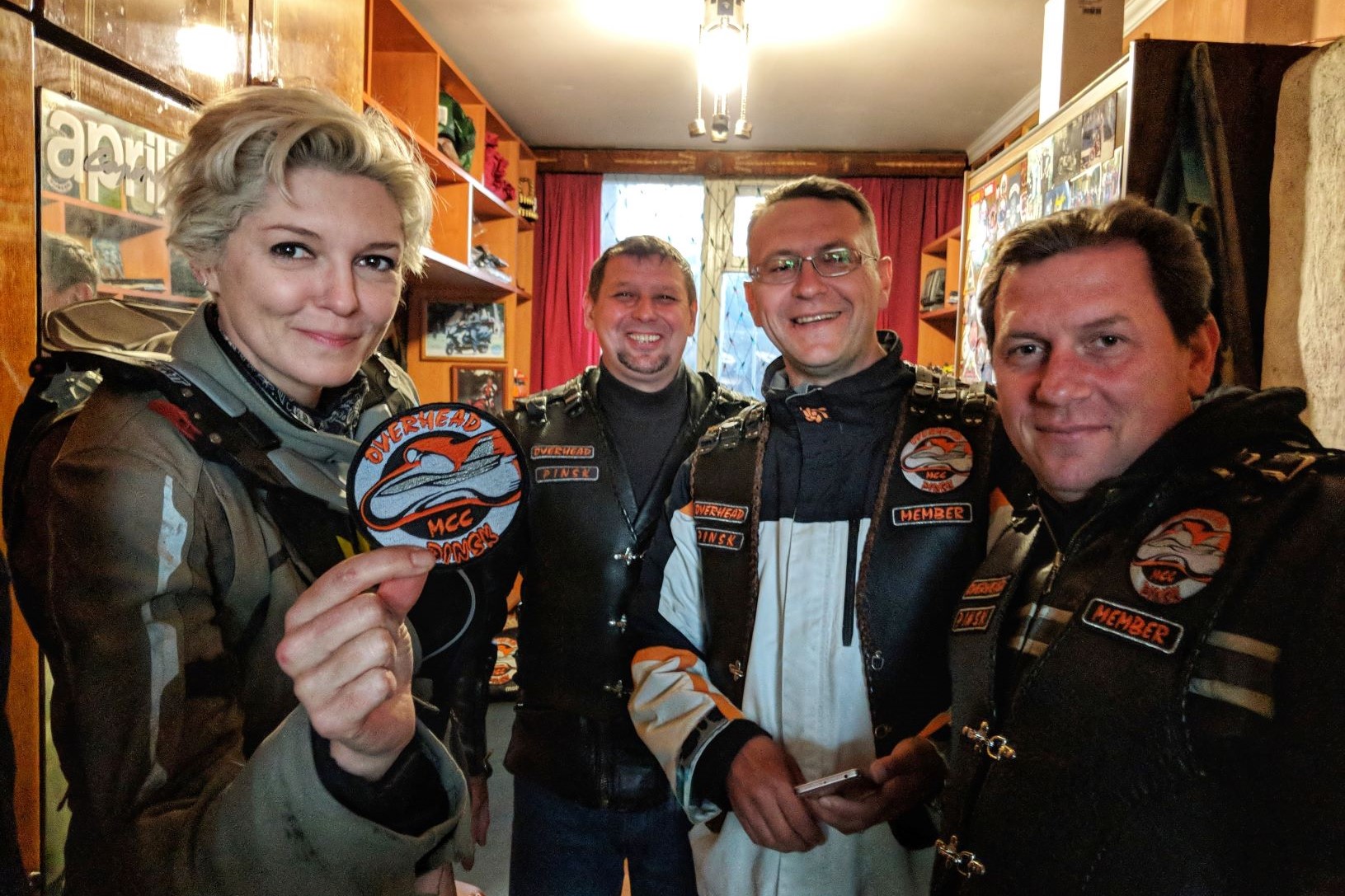 Pinsk is a lovely city but for me the best highlight was this manually operated ferry. I've never seen this type of ferry before… it's kind of hard work to get to the other side.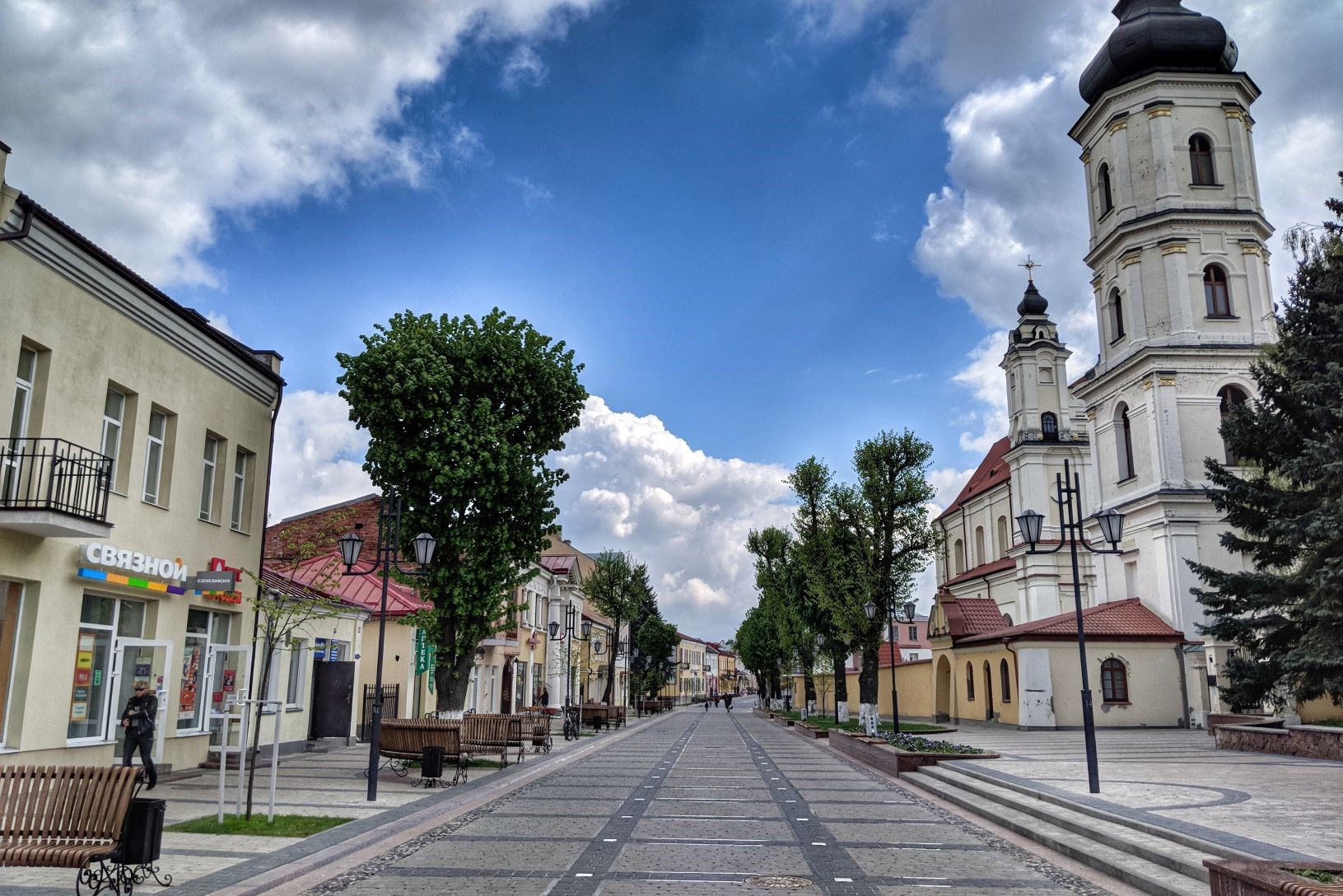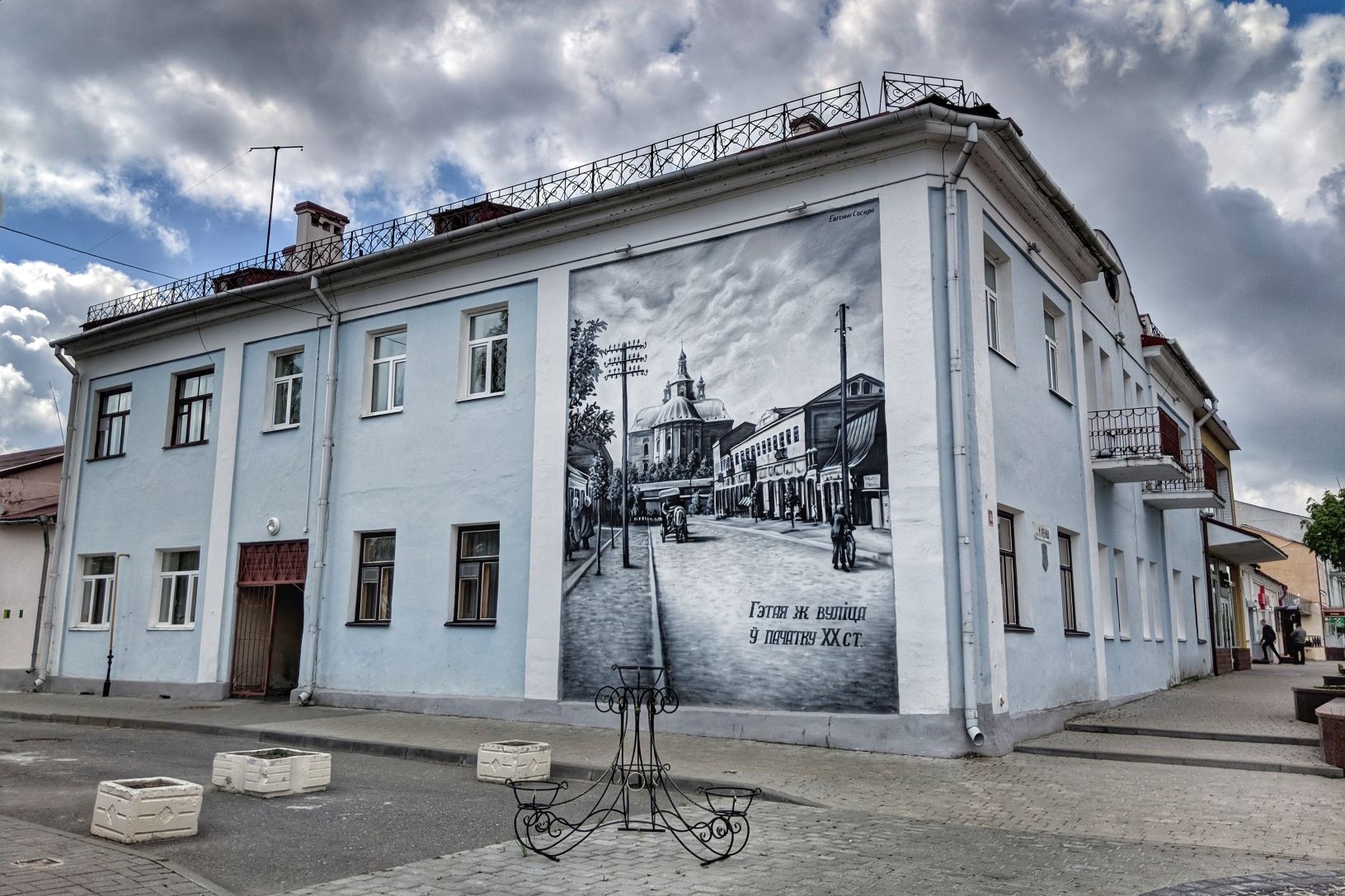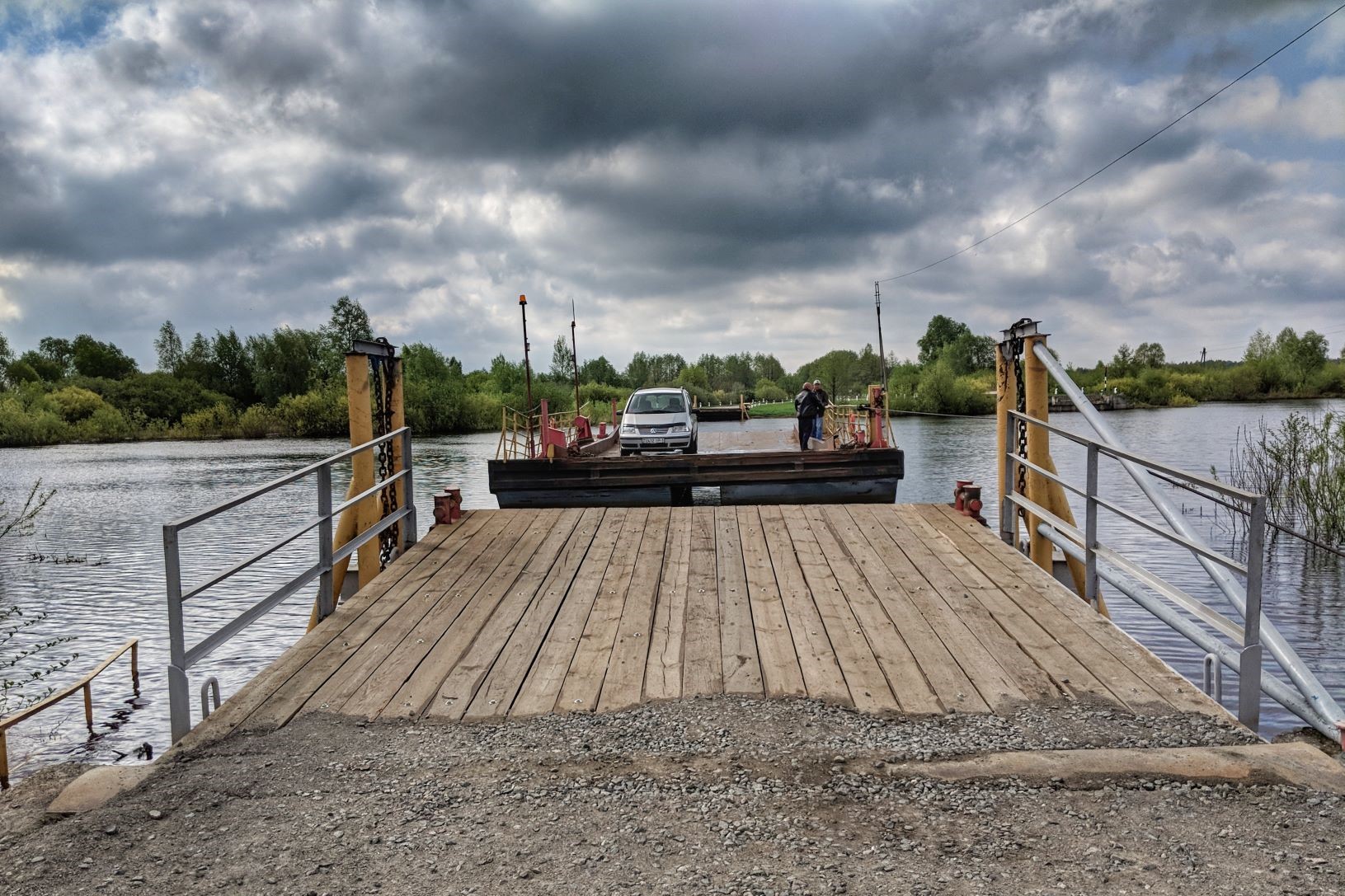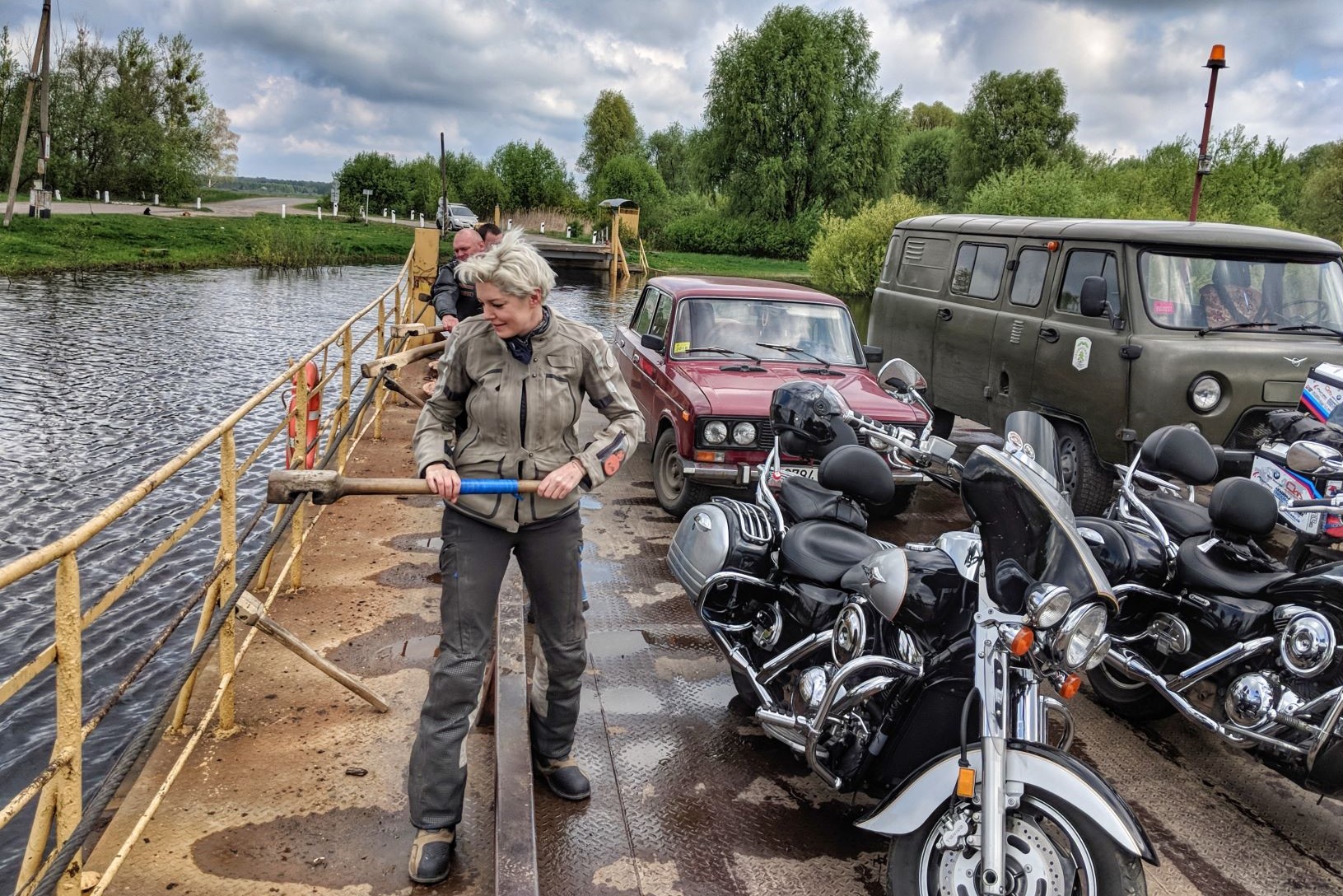 And here's Lenin again. In all the post Soviet countries, statues of Lenin are in nearly every town. Chillie and I have collected quite a few of him now 🙂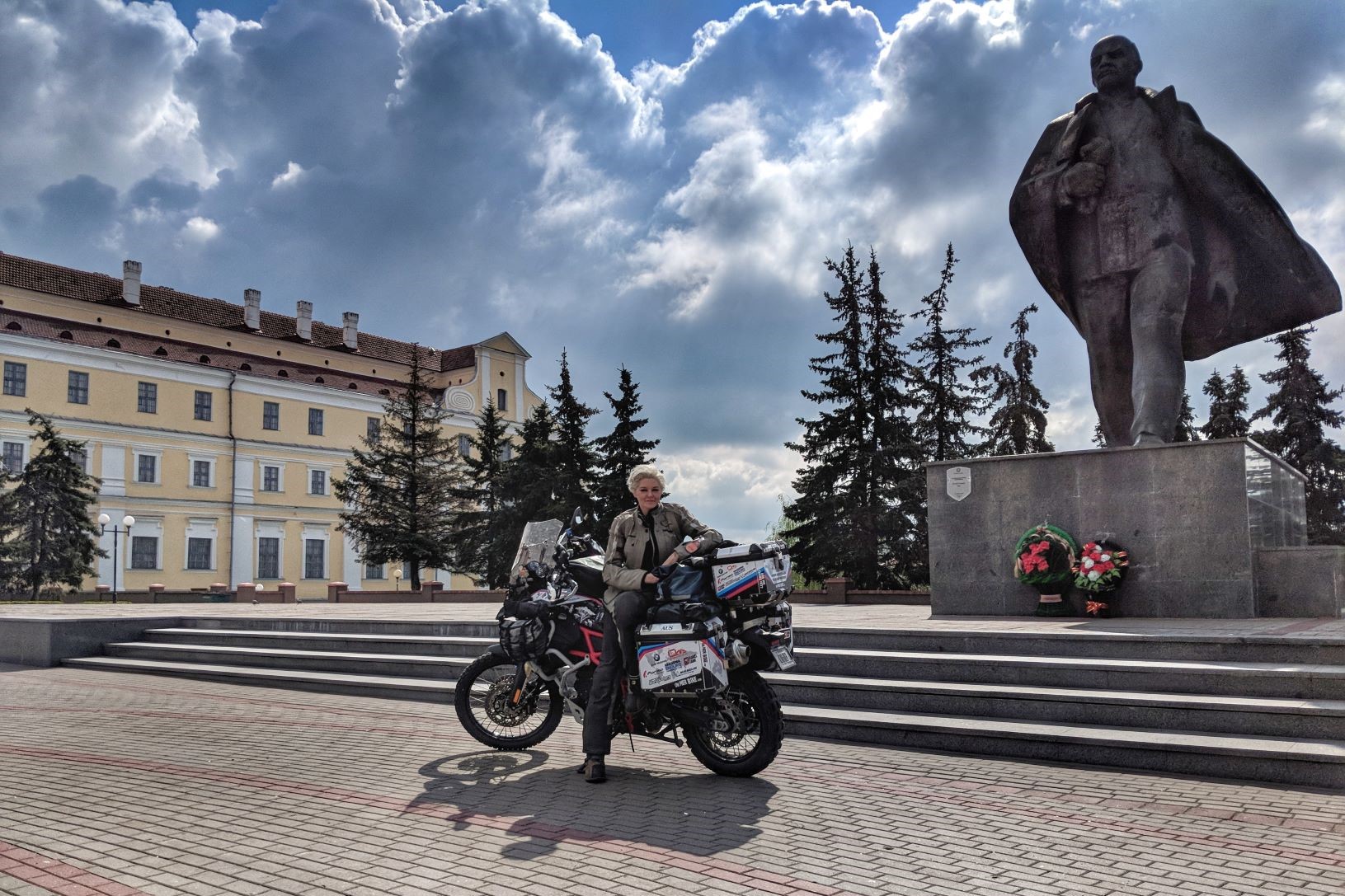 ​Hello Minsk!
As usual the local riders greeted me before I entered the city and as usual we checked out some historic sites. This time it was Nesvizh Castle. I'm really not very good with walking around museums and castles so we just admired it from outside…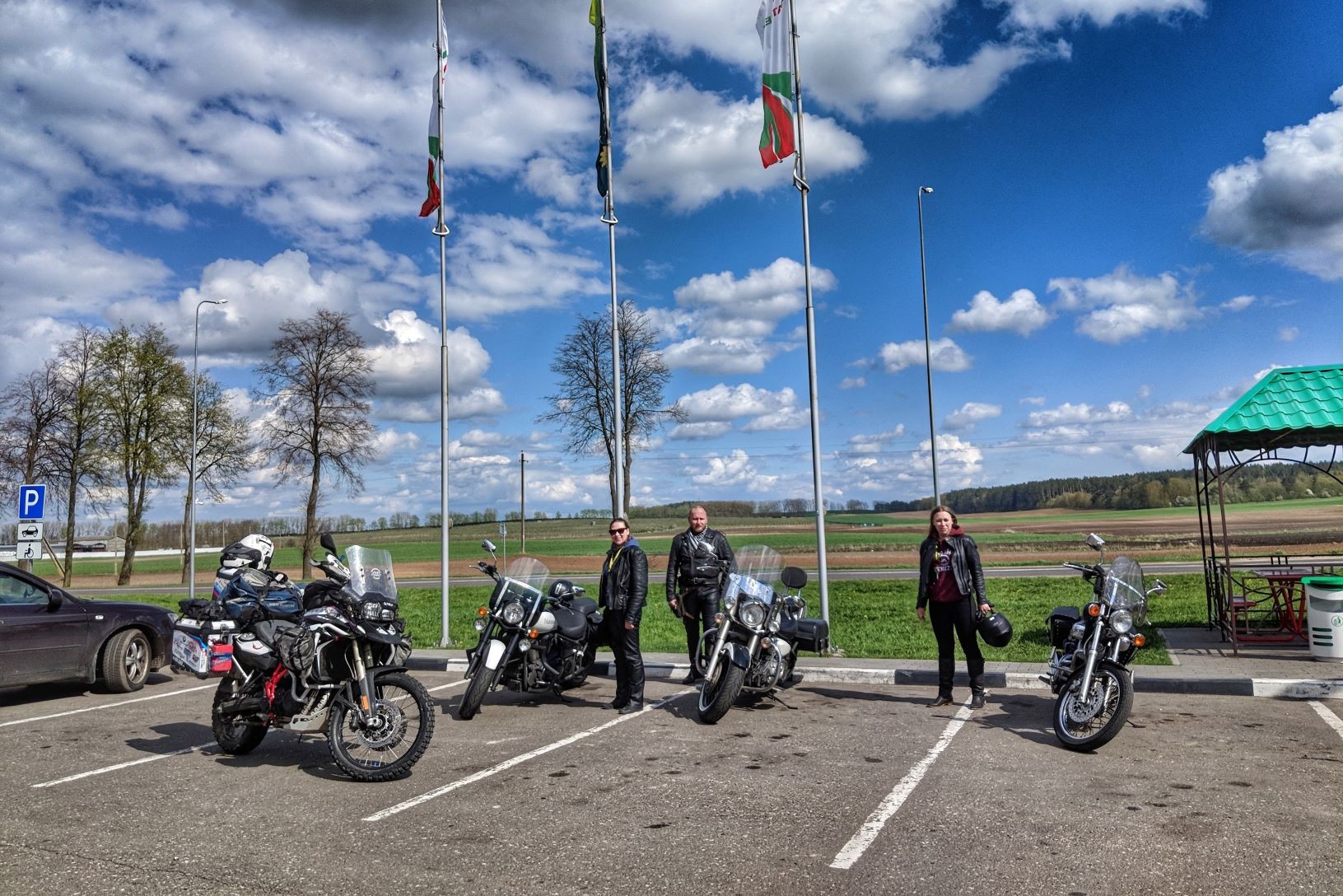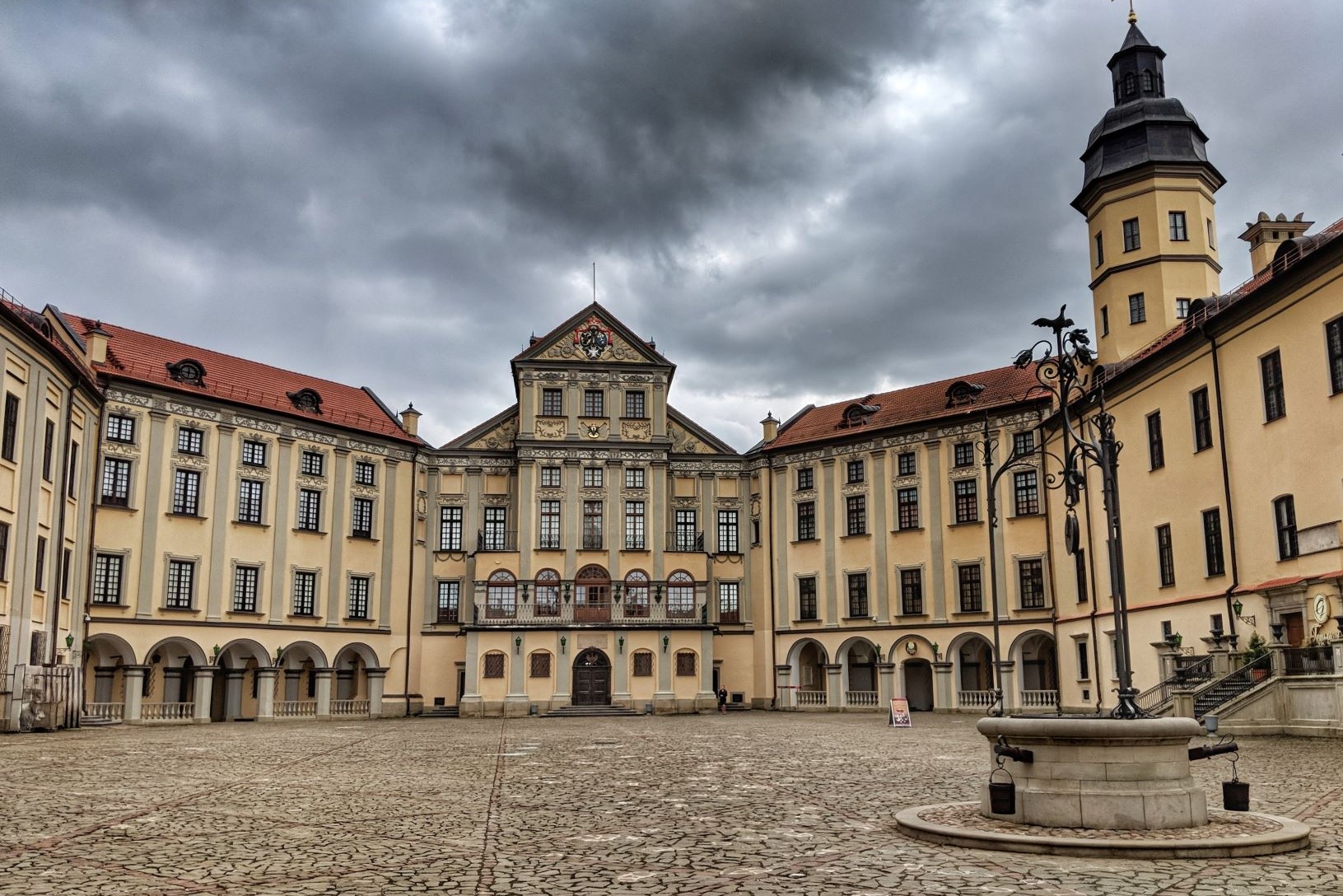 And we finally arrived in Minsk…
In Minsk Katia, Kostya and their grandmother hosted me for a few days.
Side note: A few months later Katia left Bielarus for her RTW trip on her BMW F650GS. All the best on your travels mate!
Also, here at the BMW dealer Autoidea I had the pleasure of meeting Belarusian legendary traveller, Vladimir Yarets. Vladimir can't hear or speak and had travelled for 52 years, 142 countries, 950 000km!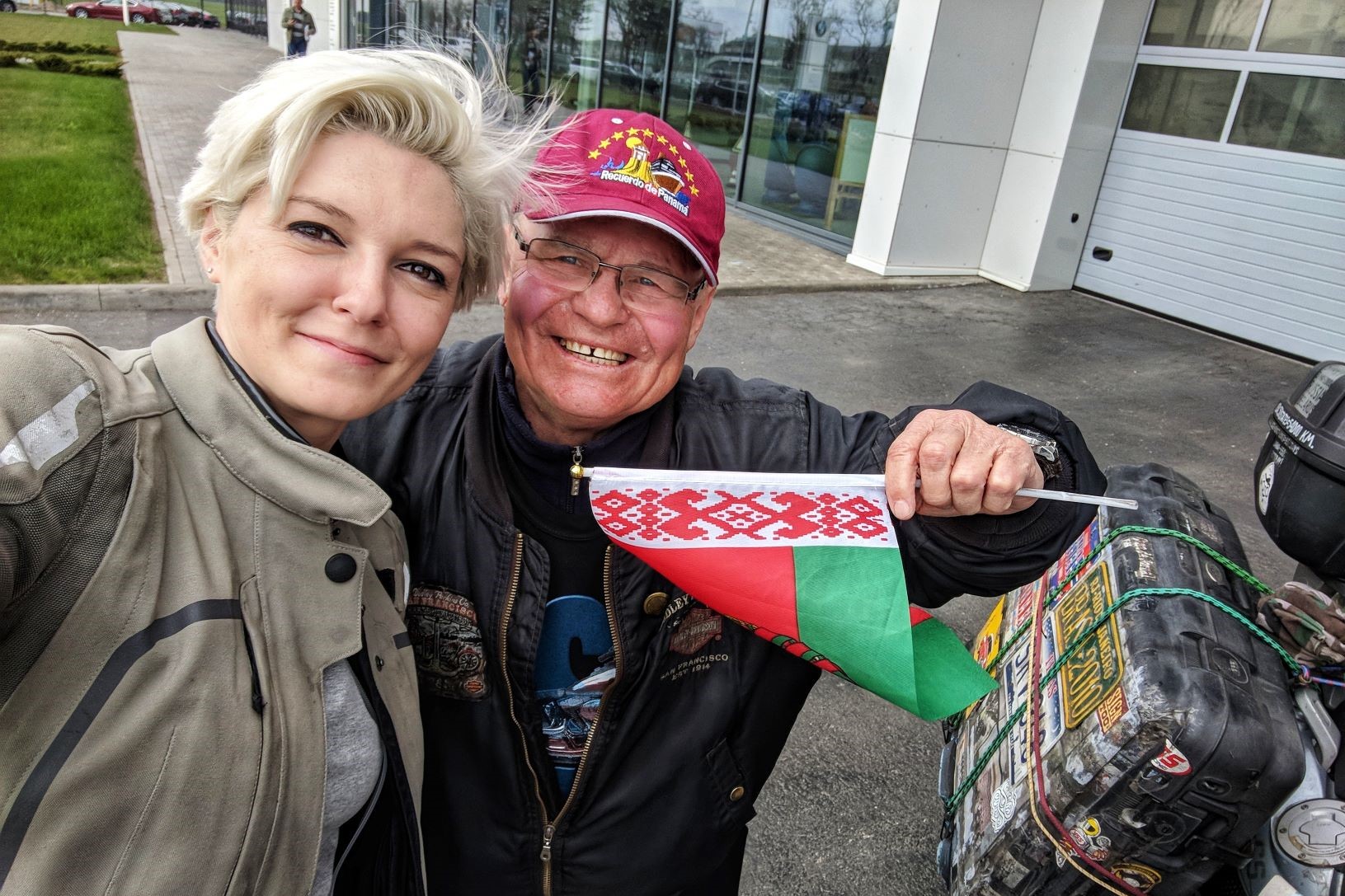 When you see a map like that – I think the term Round The World is not quite enough. What a legend!
For the next couple of days we were wandering around the Minsk region visiting more museums and tourist attractions.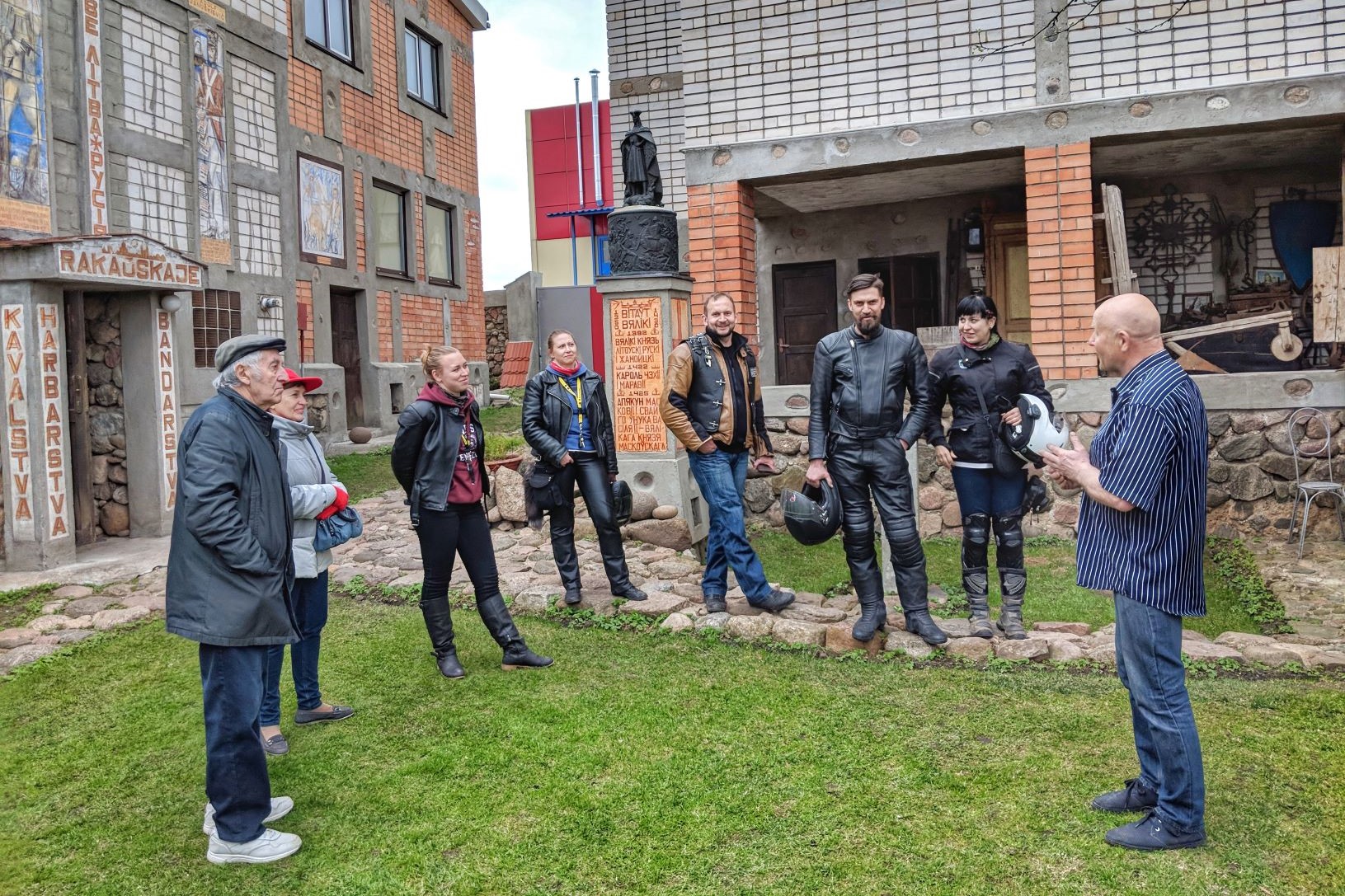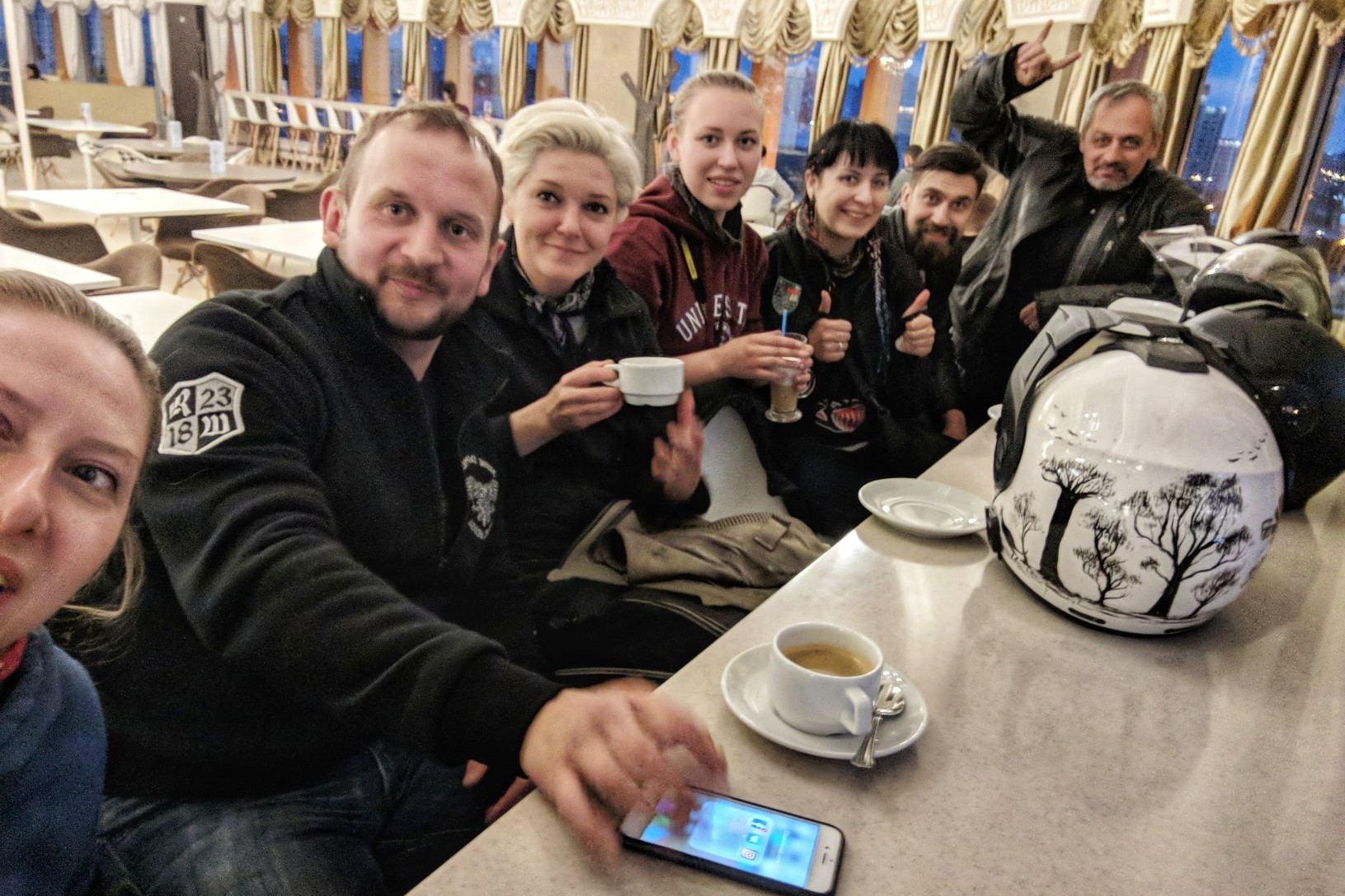 And as it turned out there was a motorcycle season opening in Minsk! What perfect timing we have Chillie 😉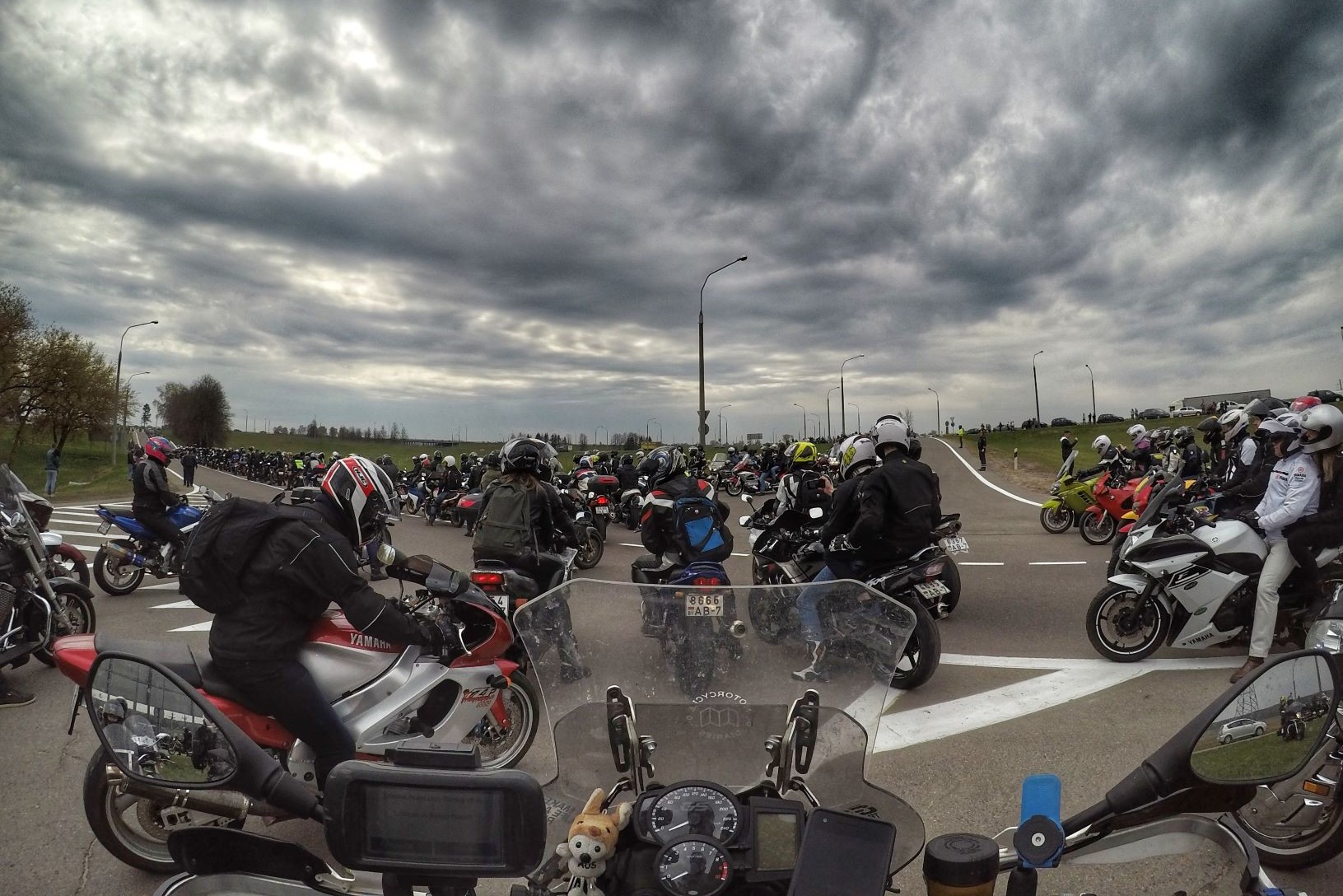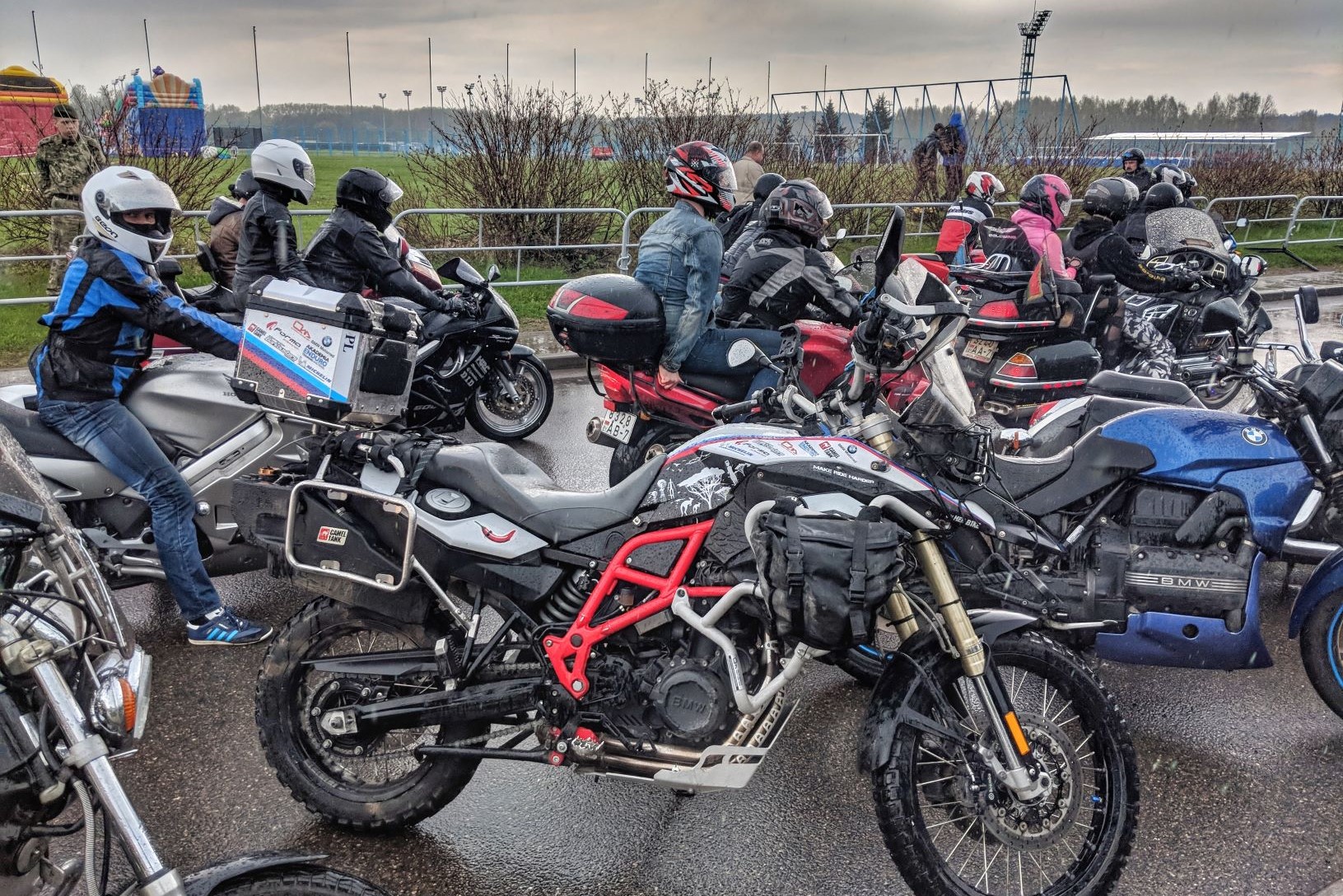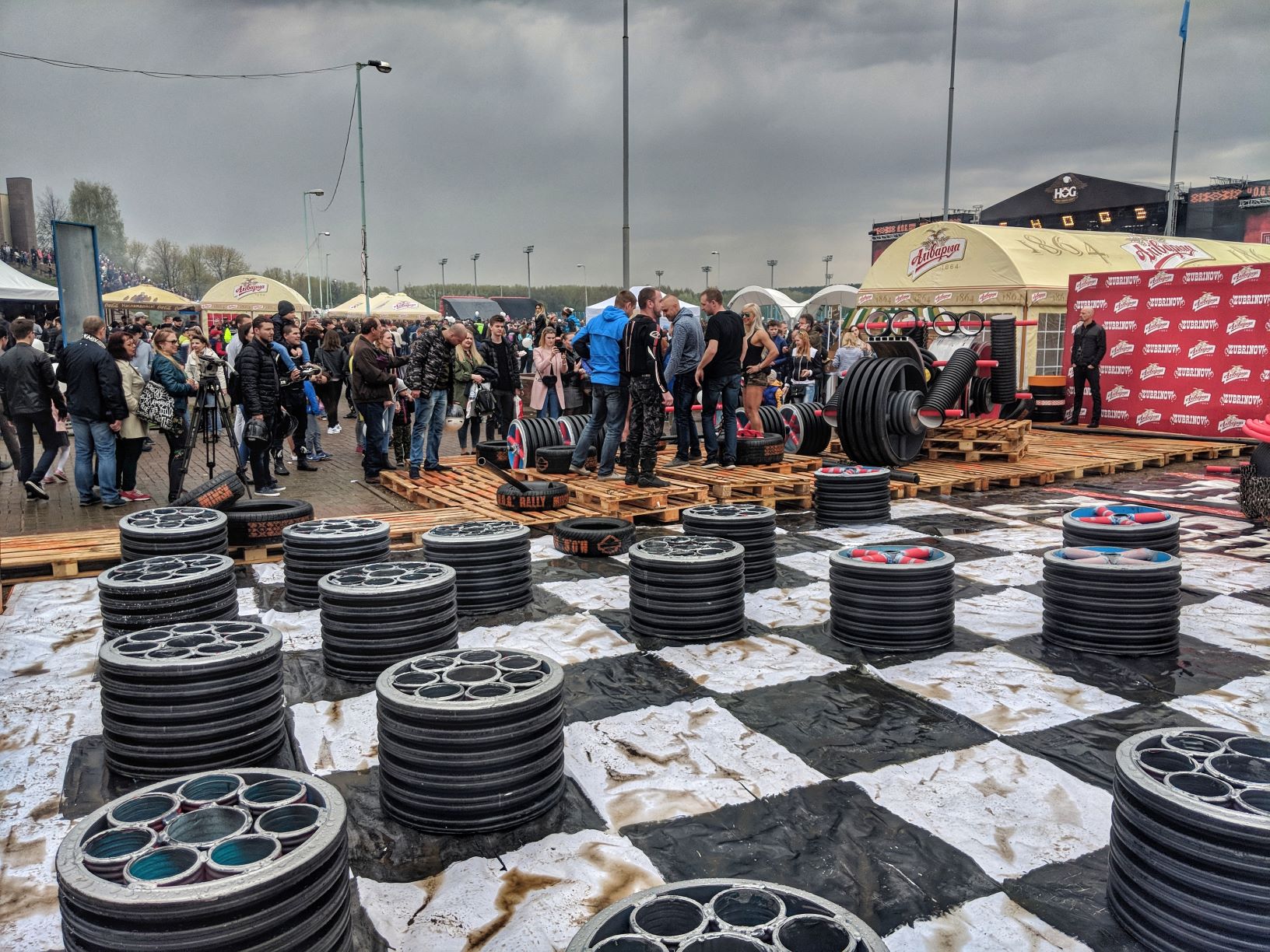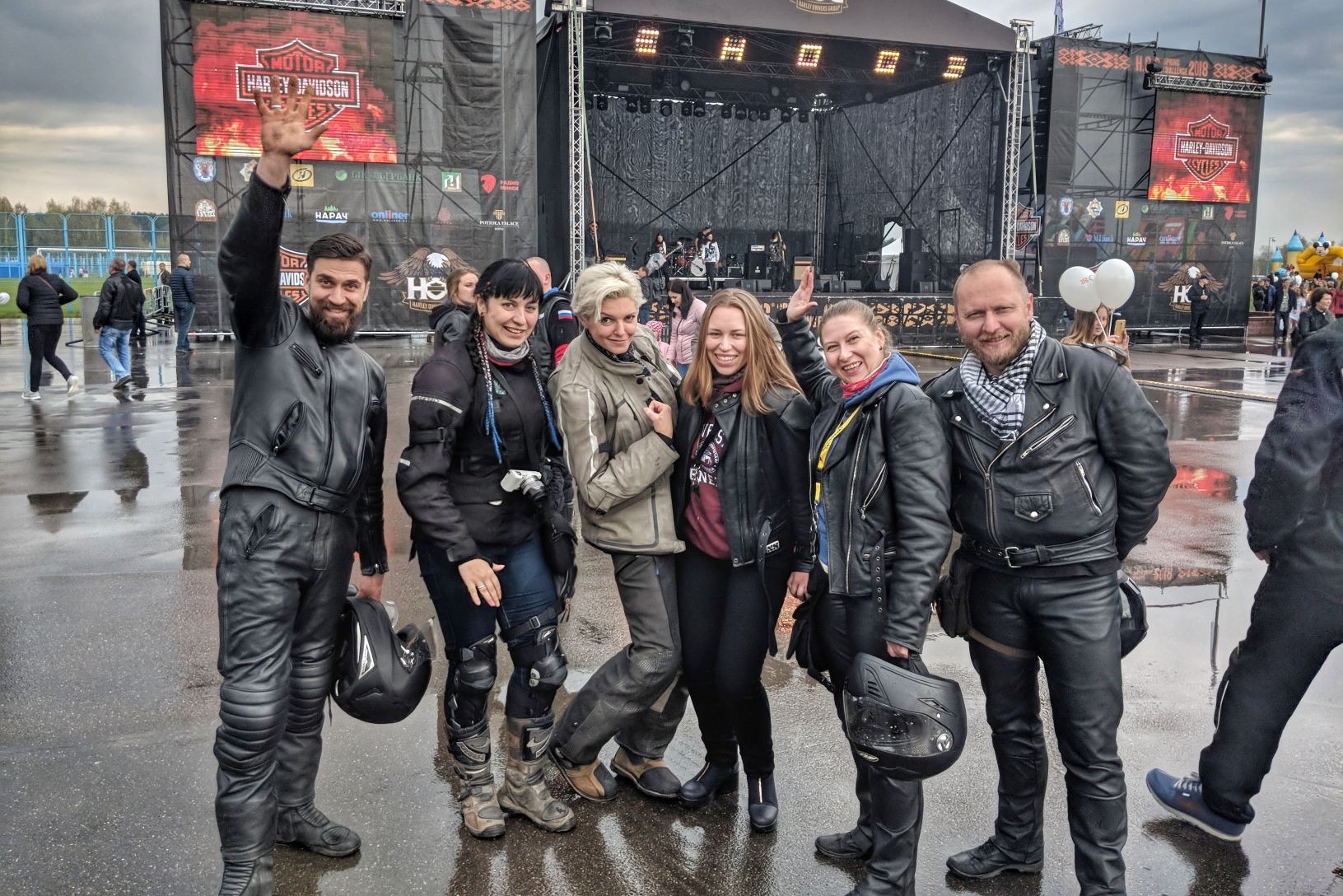 I saw Zubr again, got a bit excited and just couldn't help myself!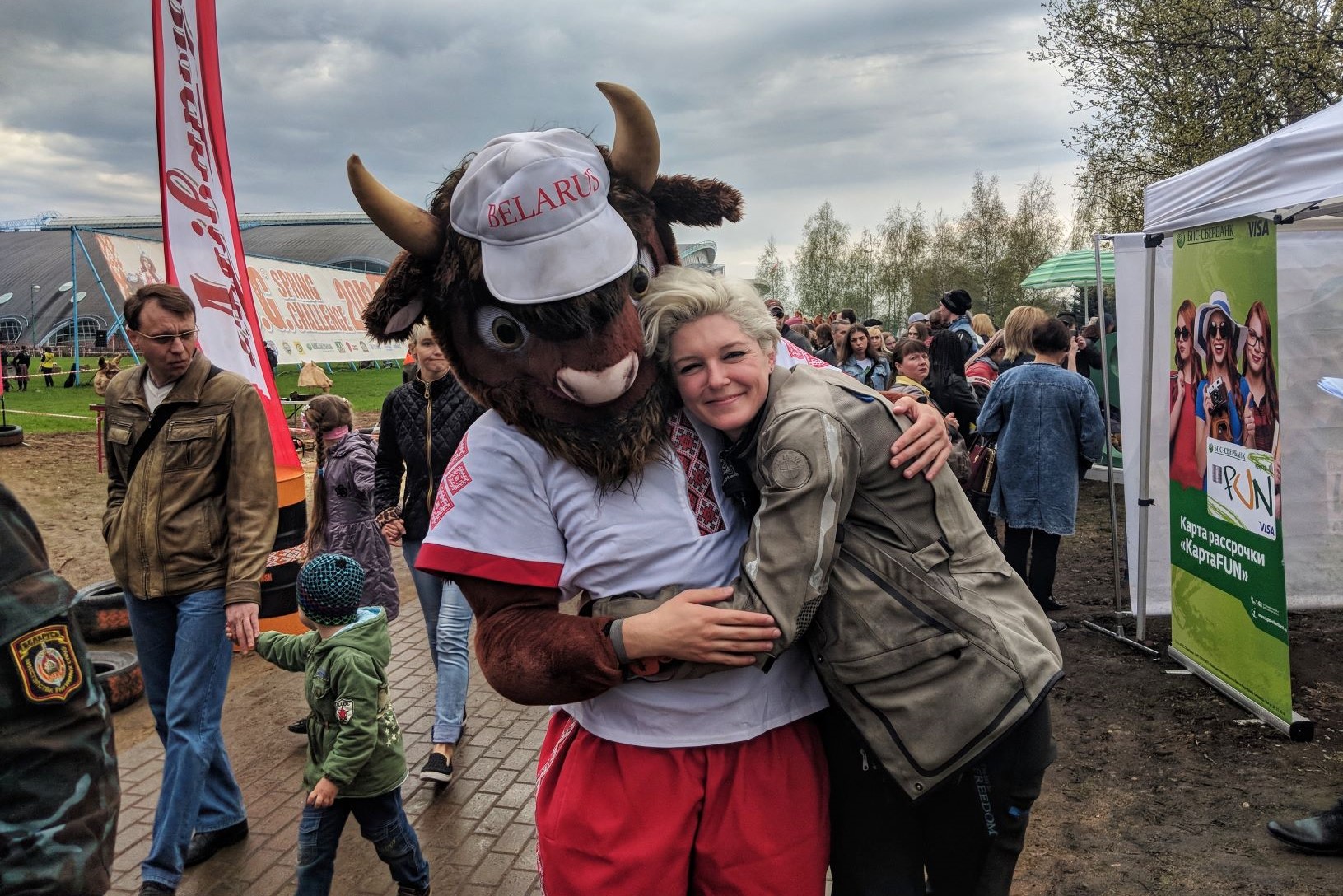 And at the end of my stay in Minsk, the legendary Russian photographer Dee Troy took some pics of me. Thanks Dee Troy! You're a legend!
Once I left the big city it was my first opportunity to finally be on my own without any arrangements! I was really craving a bit of gravel road so I de-toured at any possible opportunity. Bielarus is good like that. There is no lack of unpaved country roads.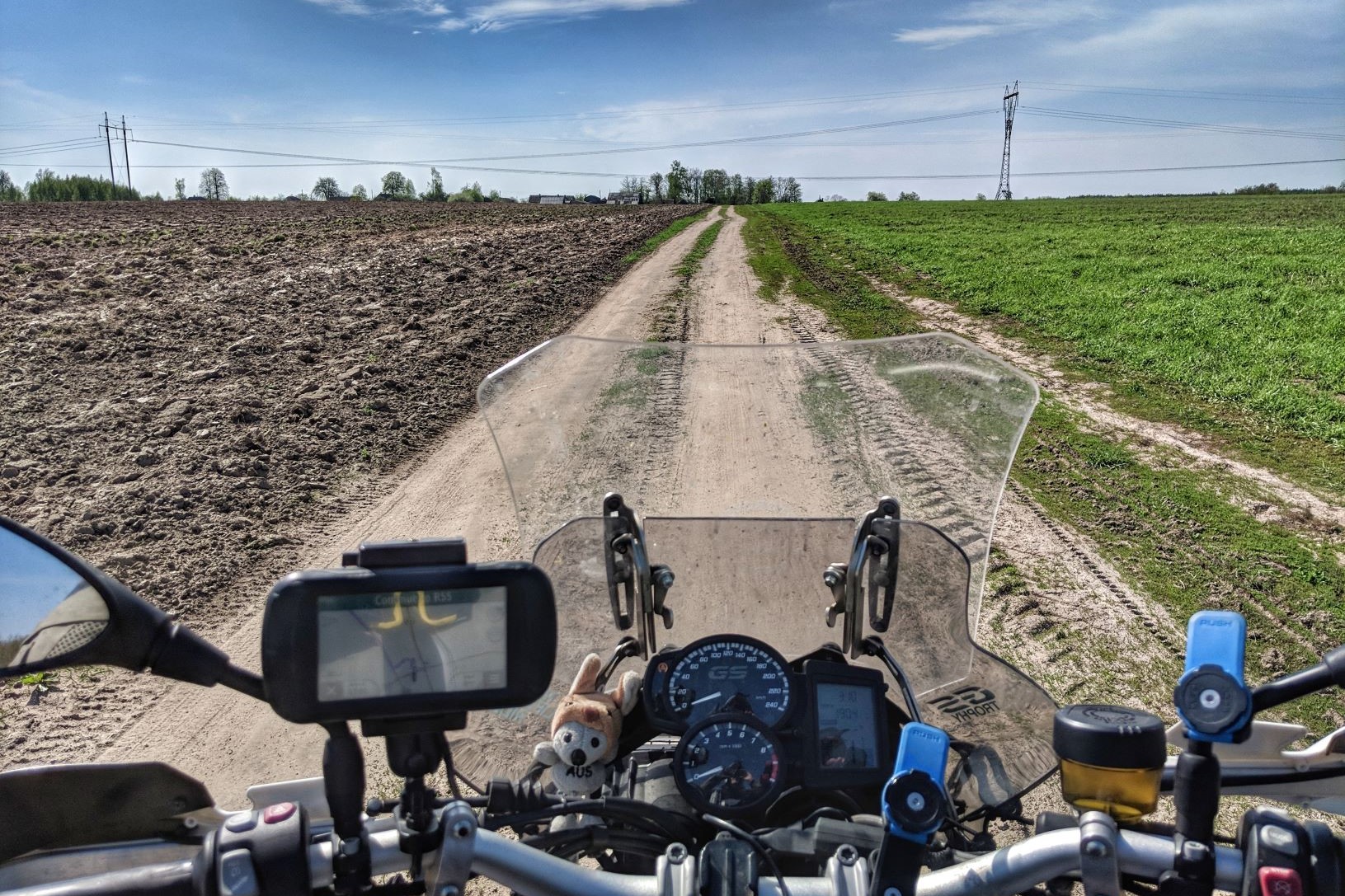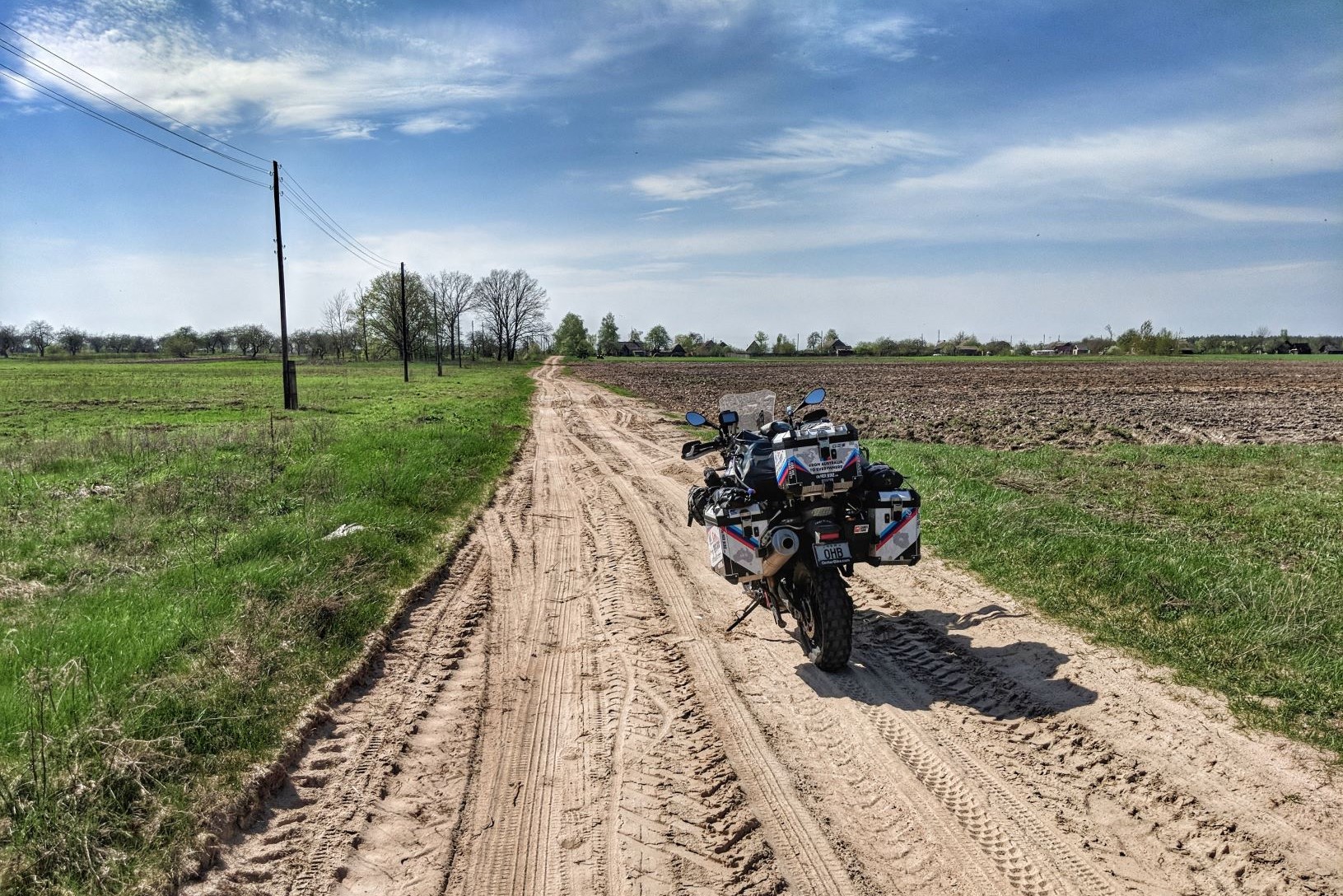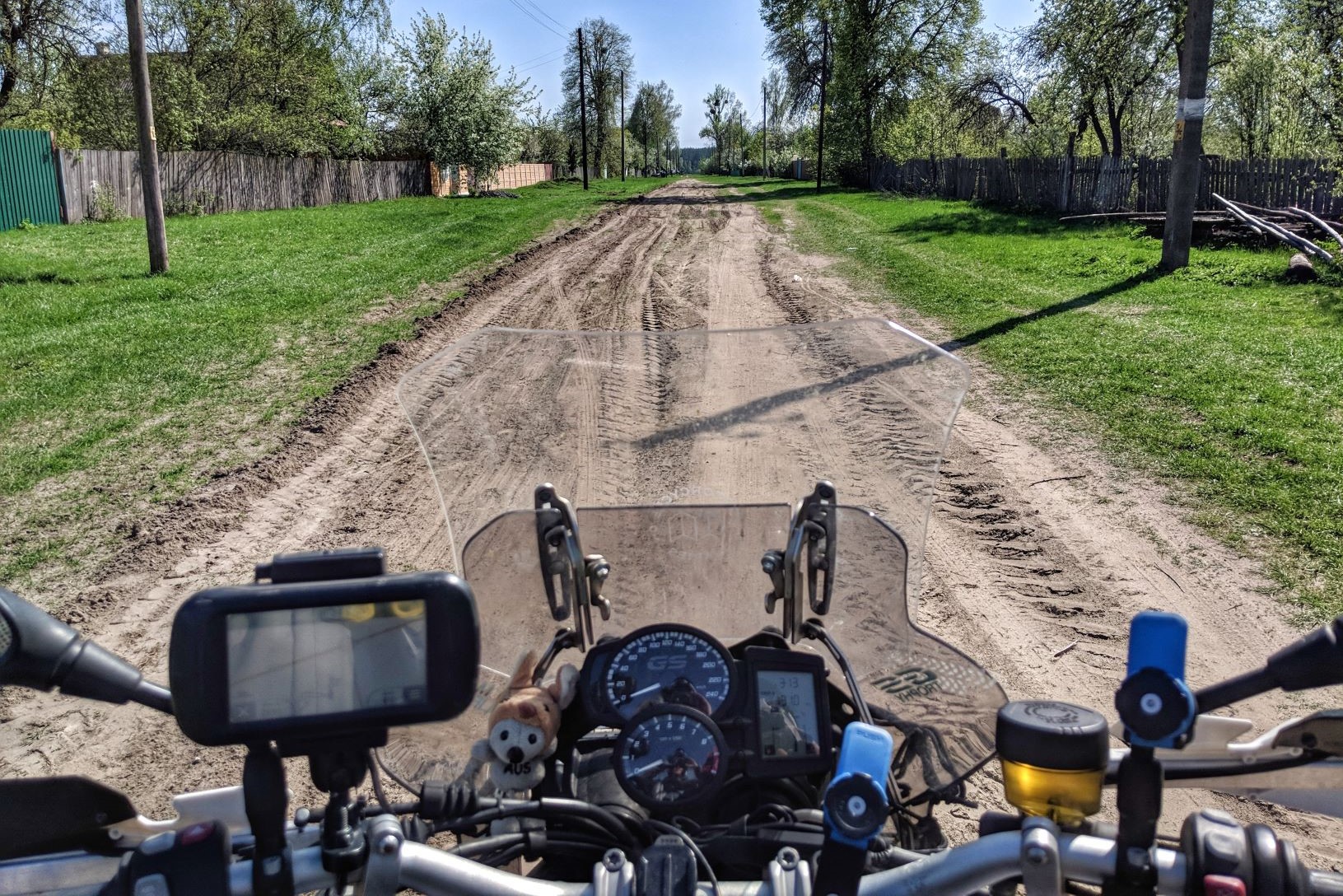 I love these types of highways!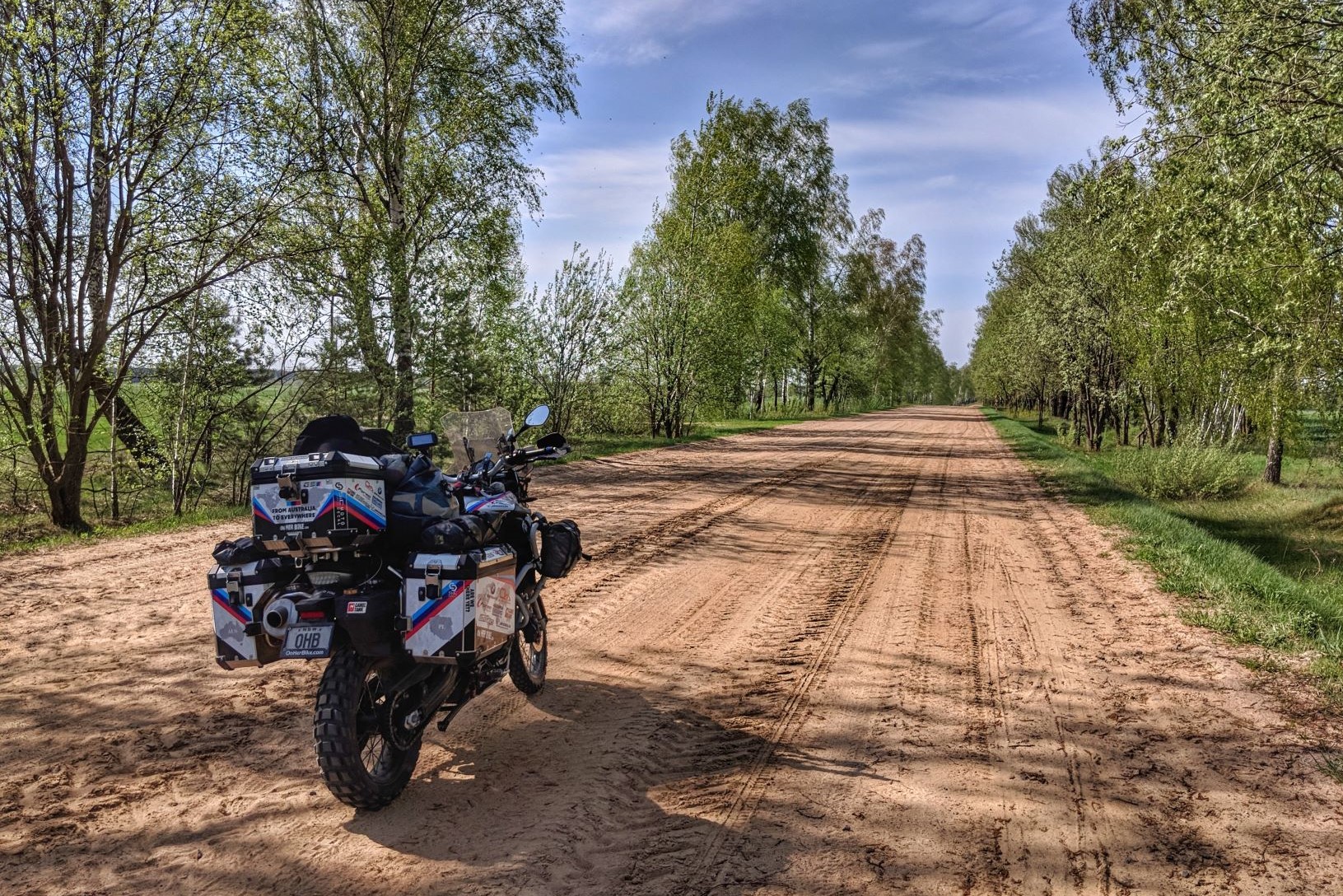 And I finally got to camp, after such a full-on week I really needed to unwind. I pitched my tent somewhere in the wild and sat down, stretched my legs, finally relaxed and thought to myself "wow, those were some intense days, but unbelievable memories".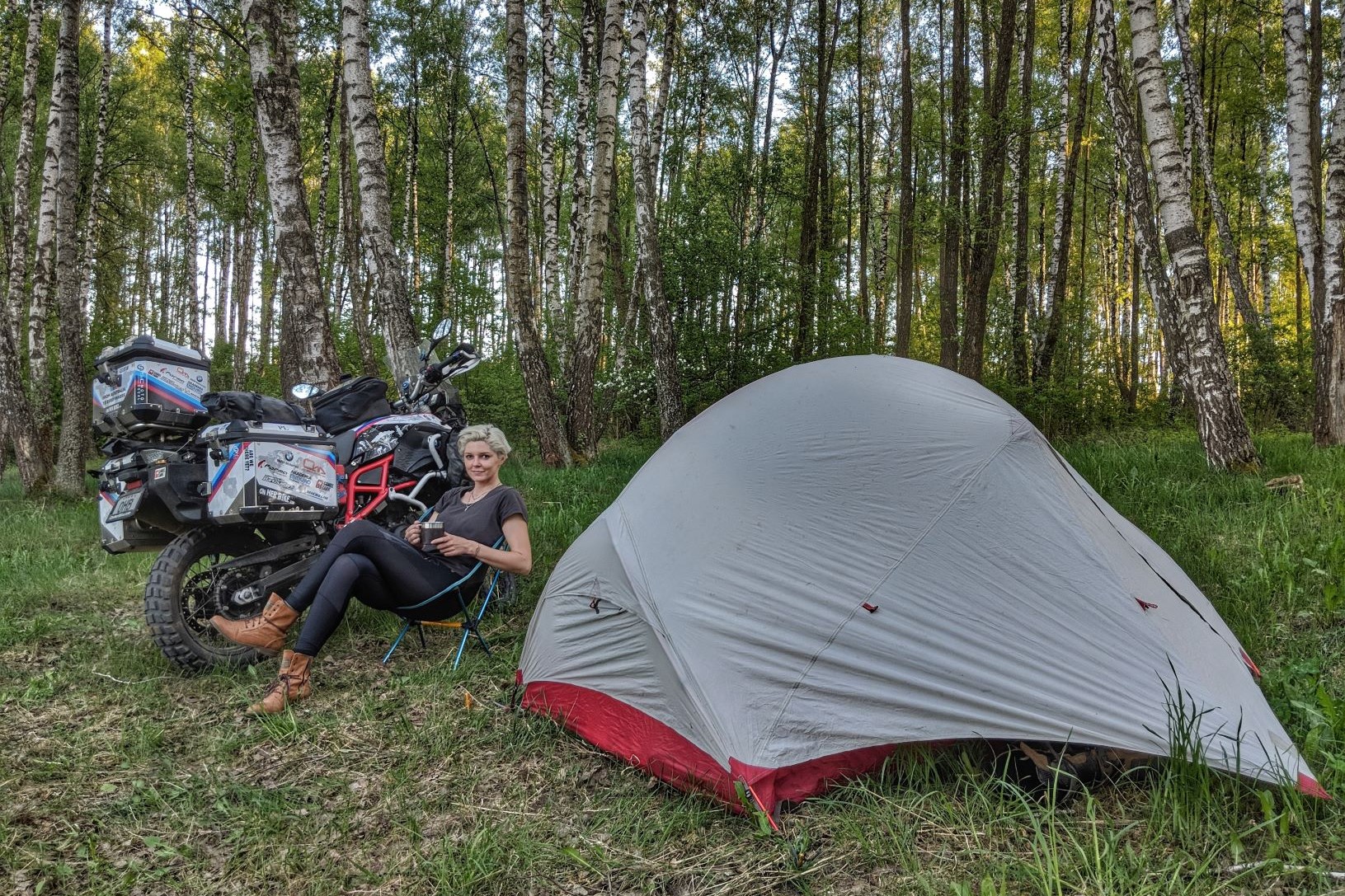 Thank you Bielarus for having me. I had an incredible time and I'll be back for sure some day 🙂
And last but not least thank you to my friend Siwy for arranging my stay in Bielarus, thanks to him I got to meet all these fantastic peeps and have such an awesome experience.
In Numbers:
Duration: 8 days (24th April – 1st March 2018)
Total km's: 1685km
The "Are We There Yet" World Tour is about more than just me seeing the world on a motorcycle. Throughout my journey I'm raising money for a young disabled child in Poland named Franek. Franek was diagnosed with cerebral palsy (weakness of the entire right side of the body) and he will require constant rehabilitation for the rest of his life. All the money raised will go directly to helping Franek and his family lead as normal a life as possible so please donate  generously:
www.gogetfunding.com/arewethereyet