Poland
Four winter months in Poland sounds like a long time, but it actually went very fast. I finally got a chance to take a breath and think through how I should be managing On Her Bike. During the first 6 months on the road I realised that travelling, being active on three social media channels, writing a blog and editing videos is just not doable for one person. Being behind with the content only gives me anxiety, so I needed to give up something or seek some help. So because the biggest amount of time was needed to edit videos, I decided to find someone who could help me with editing. I got in touch with Ioana from Romania through UpWork. We've developed a great relationship and ever since I've been working with Ioana, the production of one episode takes me 3 days instead of two weeks. So now I am finally able to be a regular contributor on YouTube. Such relief! Thank you Ioana 🙂
Apart from all the organisational stuff I also squeezed in some trial and maintenance training with Akademia Enduro. These guys have been supporting me for a couple of years now and I take every opportunity I can to attend their training while I'm in Poland. So firstly I did my favourite trial training. I seriously can't get over how valuable this sort of training is to sharpen your skills off road. Trials is a non-speed event that requires fine throttle, balance and machine skills to navigate an obstacle course.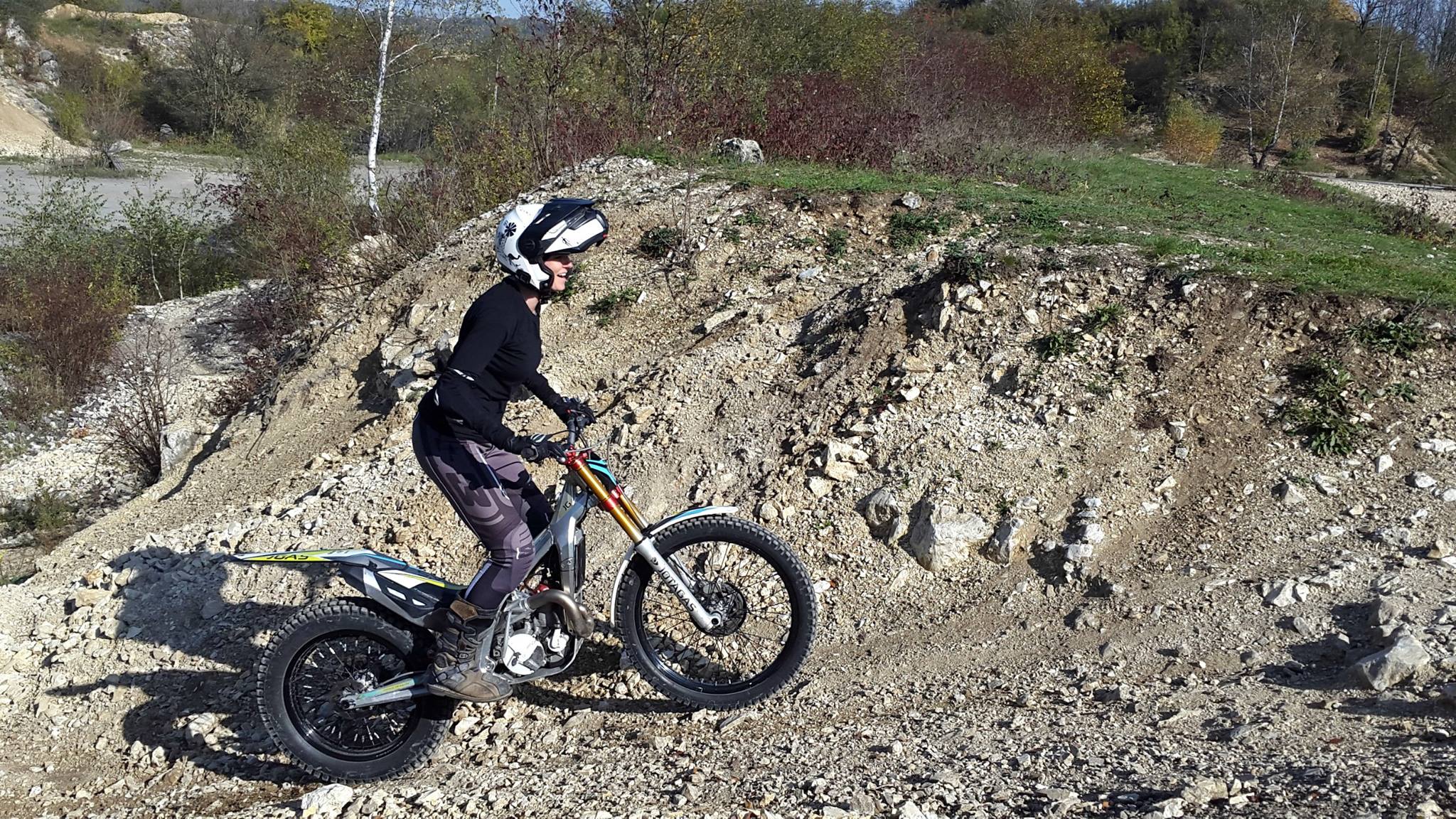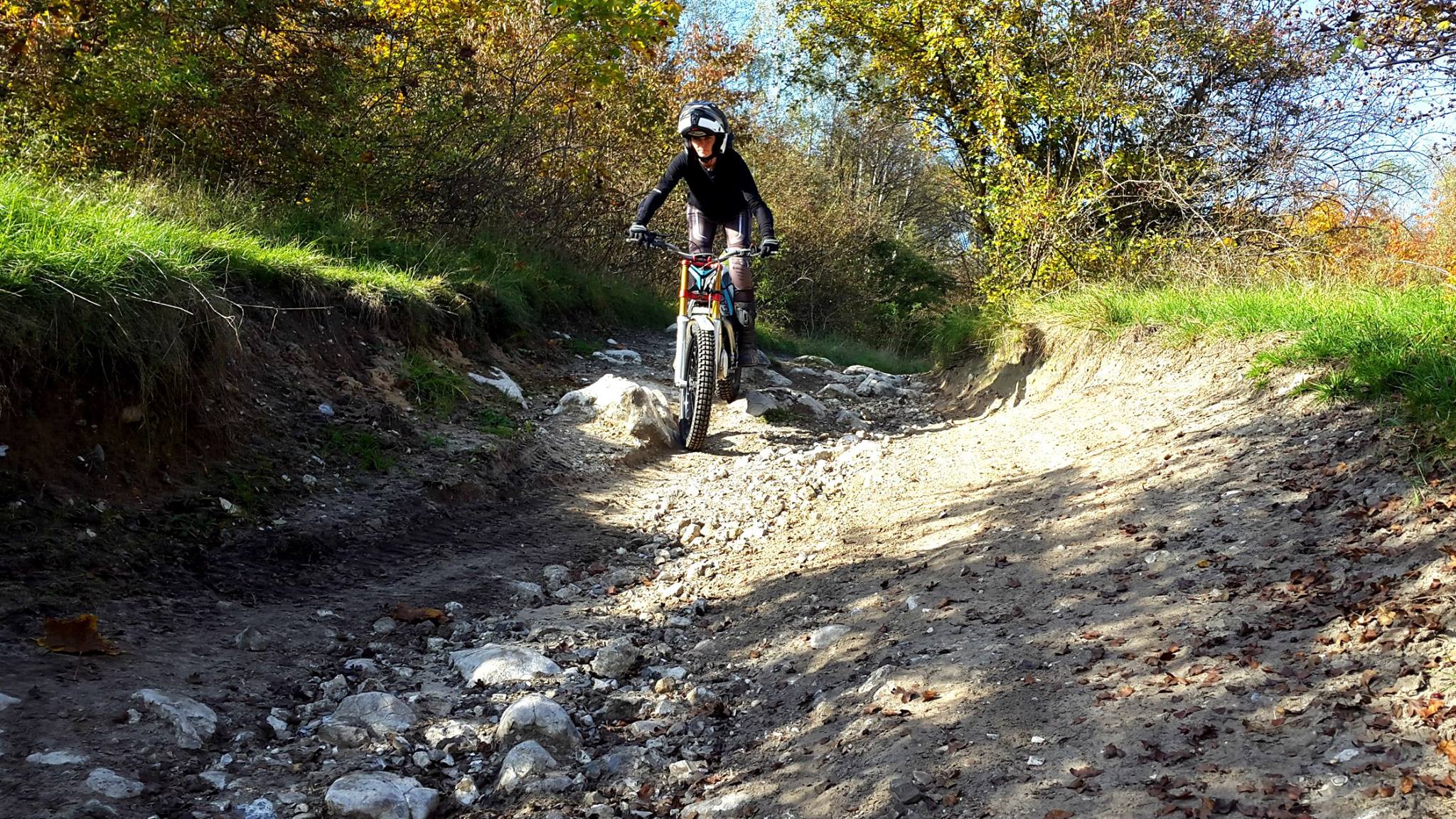 Later on I also attended two maintenance training courses which are essential for any rider who wants to know how to maintain their own bike. Especially when travelling solo you need to be capable of doing at least basic servicing and changing a tire. I'm asked frequently how to prepare for overland solo travel. My answer is always – do off-road training which will give you confidence to explore the off beaten tracks without the stress and learn about your bike so you know how to do basic repairs on it and make sure you have all the essential spares and tools with you. Sure, changing a tube requires a bit of strength and if I had to do it on my own out in the desert it would probably take me half a day, but I would get it done! When you know the technique and you have the right tools you can ask for help from any random person walking by.
Training will make your ride less stressful and safer, it's a priceless investment.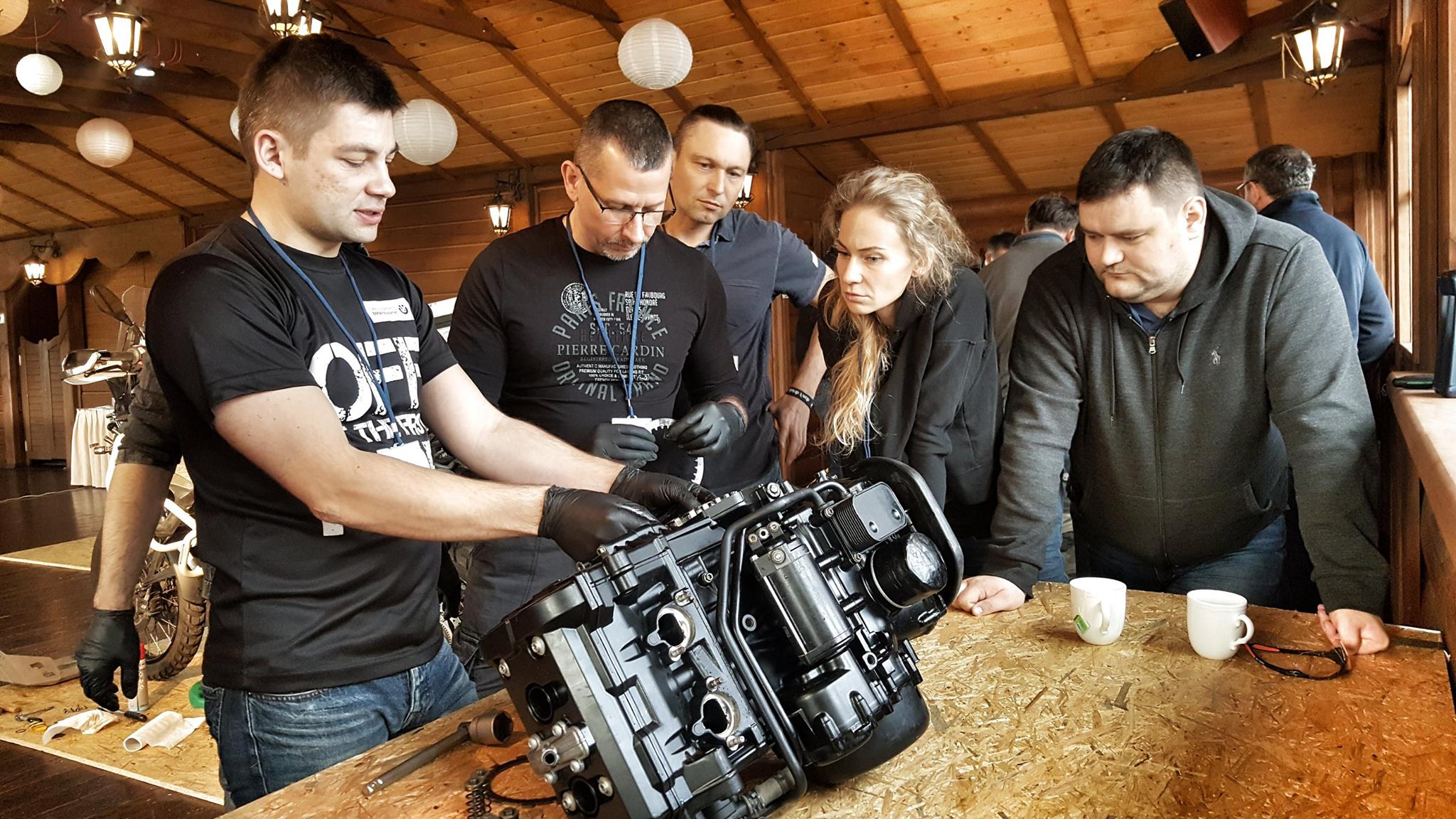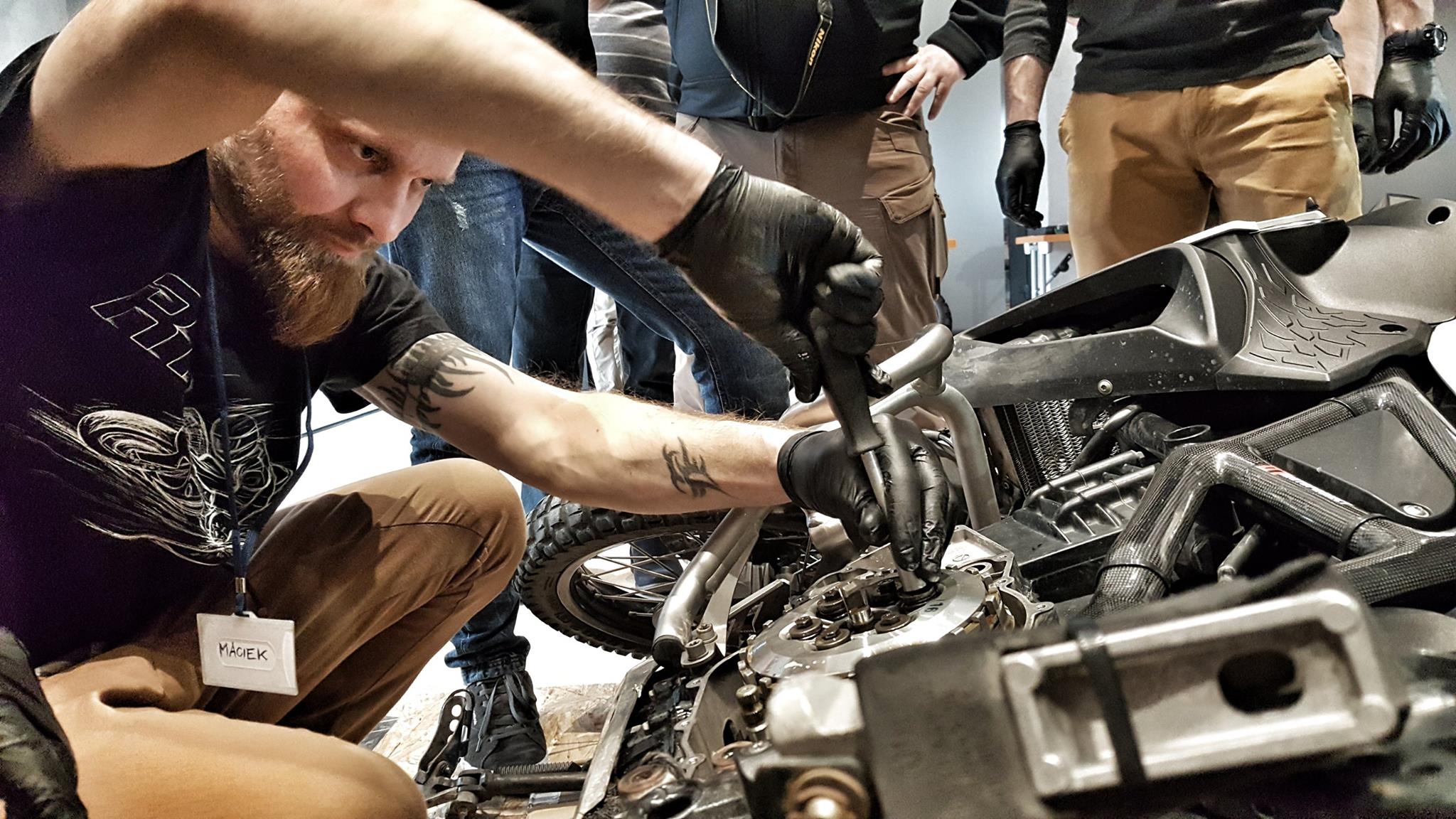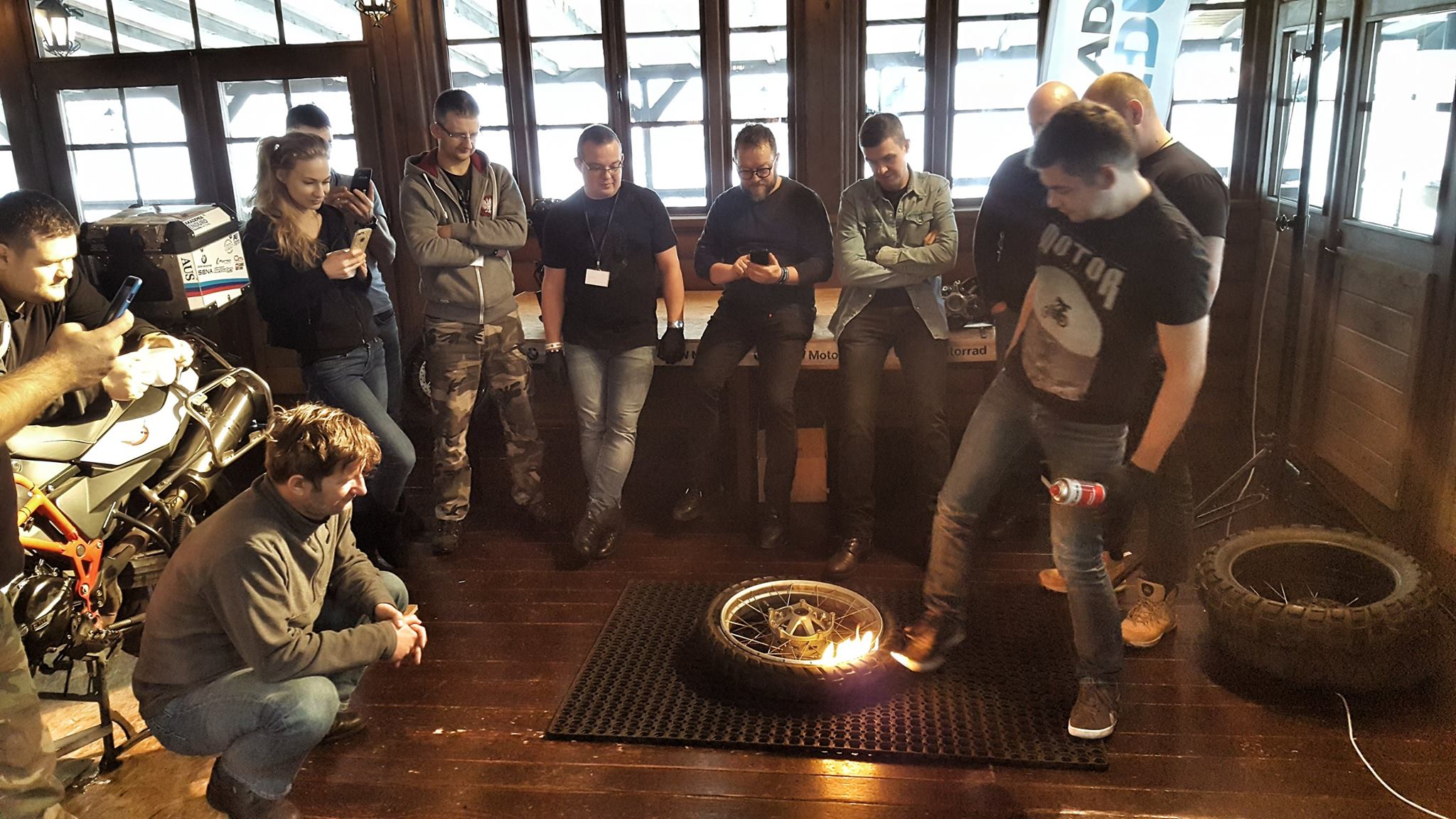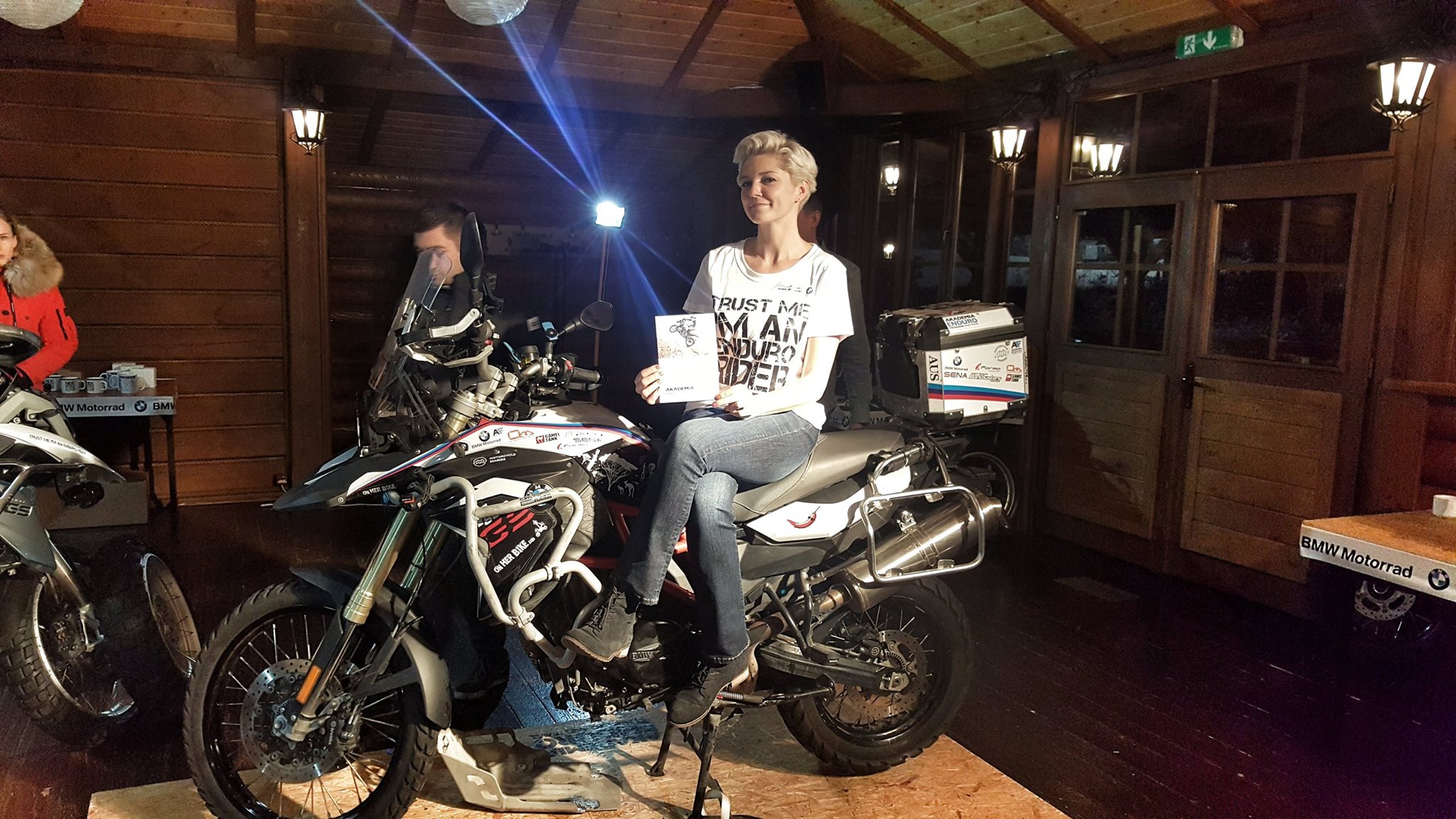 Apart from all the practical stuff I also visited the Warsaw Motorcycle show…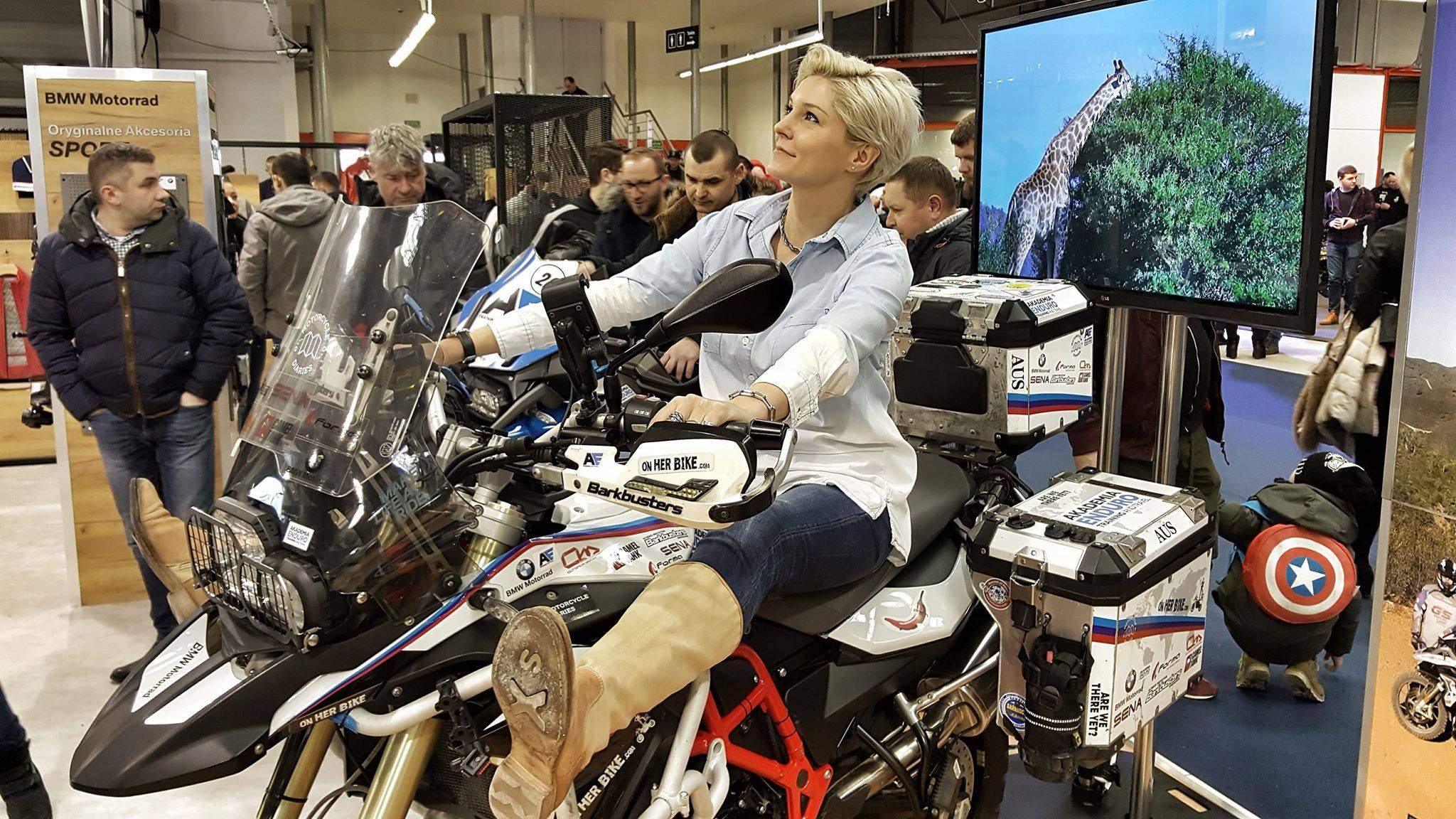 …and the Wroclaw Motorcycle show…
…and did some other presentations too!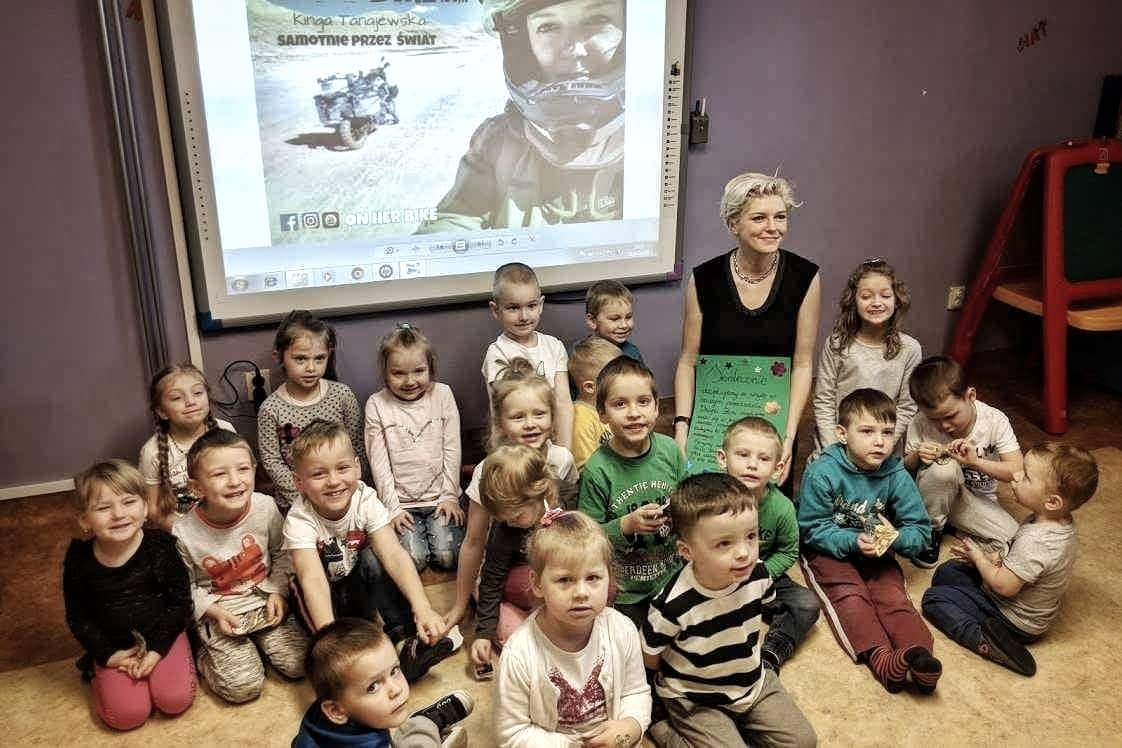 Throughout this whole time Chillie was being looked after by the guys from BMW Dobrzanski in Kracow. She got a thorough service, a new clutch and a new front wheel, cause after so much rough terrain in Central Asia, the old one was bent as hell. Also, I welcomed a new OHB partner Michelin, who provided me with a new set of Anakee Wild tires.
A Big Thank You to Akademia Enduro and BMW Dobrzanski for the parts and all the work they put in, to prepare Chillie for the next leg of my round the world trip. Your support is so very much appreciated.
The guys even documented their progress in this little video:
And last but not least Forma has sent me their new Terra Evos for the next leg. The improved Terras look awesome and I can't wait to test them out 🙂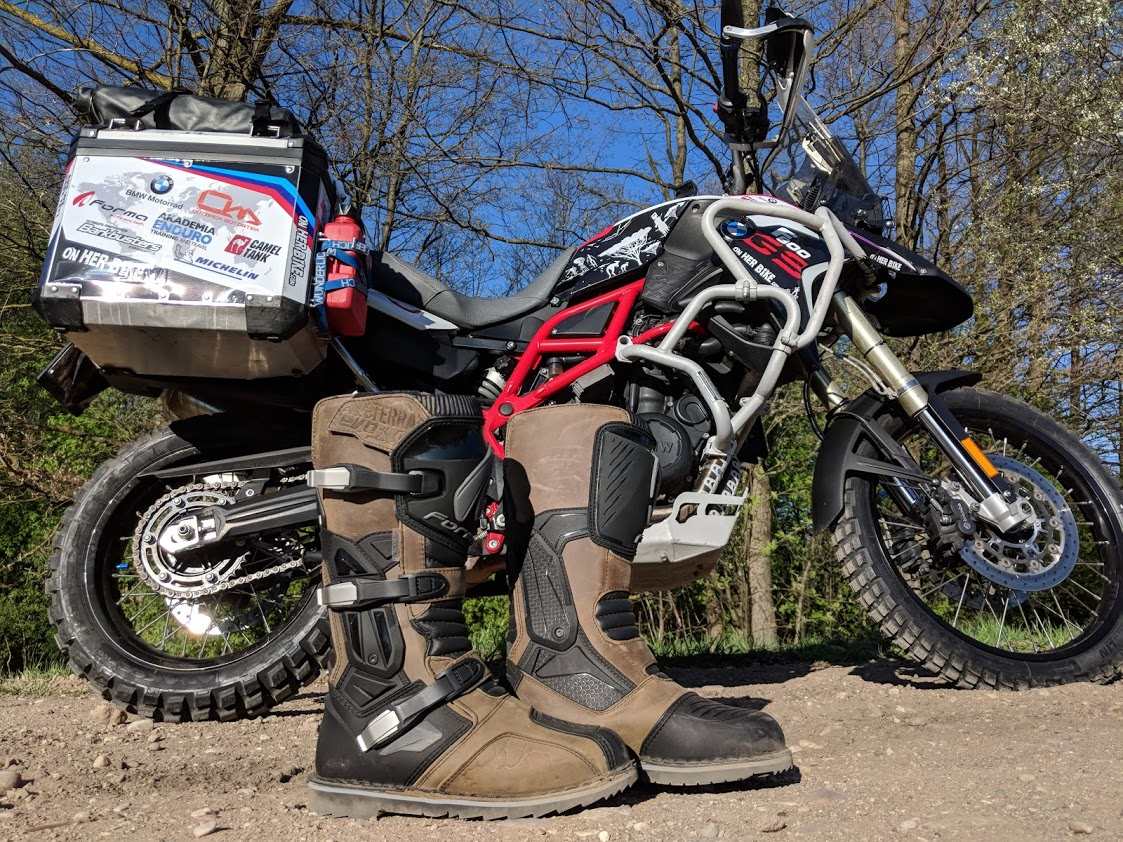 TET
Although I was born in the North East of Poland there were still so many places yet to discover. When I came across the Trans Euro Trail maps I thought this would be a nice route for my final exploration of Poland.
On the 11th April, which was the 1 year anniversary of my departure from Australia I hopped on the train to Krakow to pick up Chillie from BMW Dobrzanski. Gee, after all those cold months, it felt so good to be back on the bike again!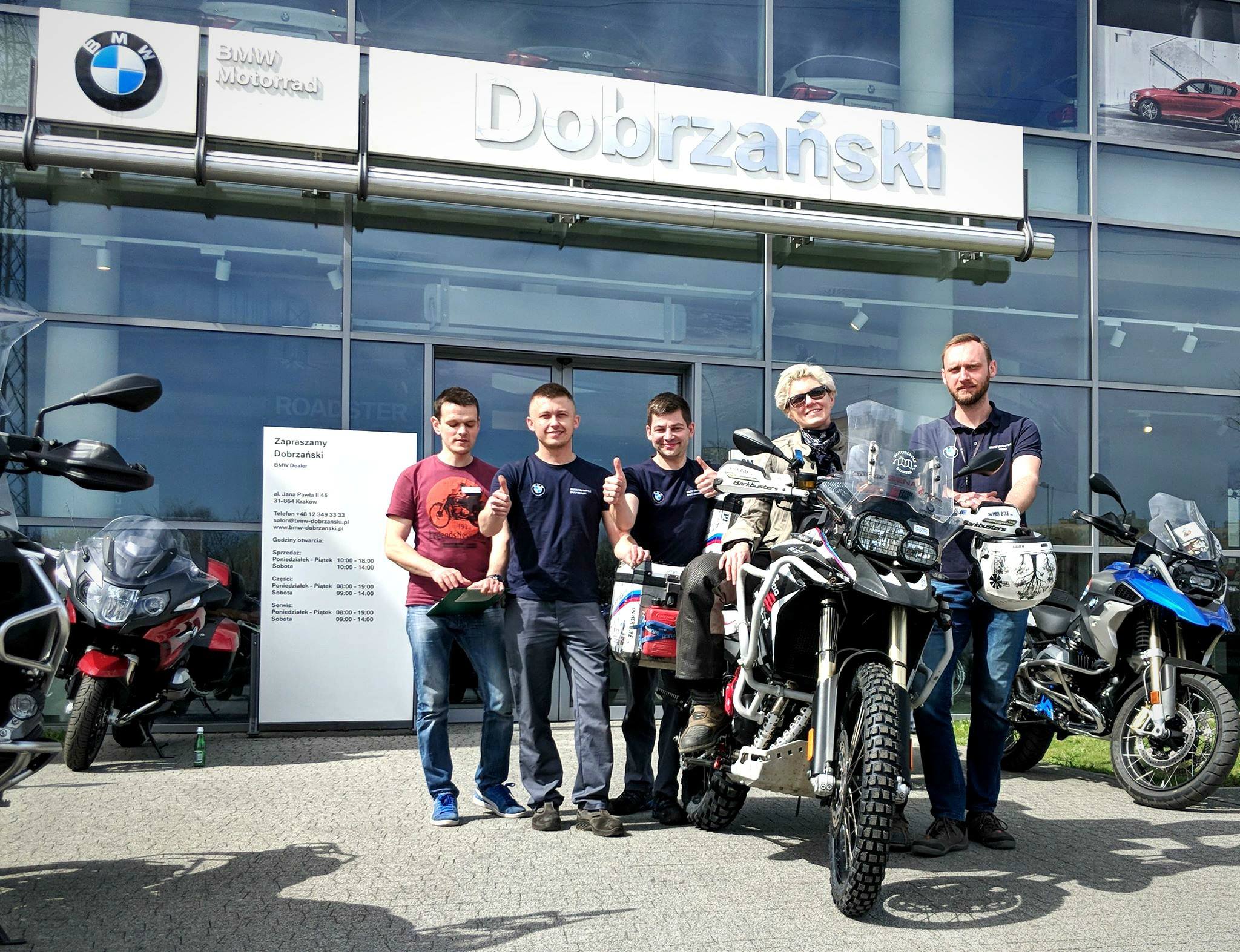 TET advises 7 days to do the whole route, but unfortunately I had to be back in Suwalki urgently for a funeral in just 3 days and so I only managed to do the middle section of it.
From Kracow I shot out 280km East as fast as I could to get to the TET route. I didn't have any camping gear with me and regretted it right away. I didn't realise how difficult it was to find budget accommodation in the small towns before the summer season.
I stopped at the petrol station in Bilgoraj to google a cheap place to stay. After a few phone calls with the answer "We're not open yet" I finally got a confirmation from Agroturystika Bocianie Gniazdo in Brodziaki for a room for the night. Phew!
The family greeted me at the gate, the room cost me $10, on top of that they gave me some home-made sausages. You gotta love Polish hospitality!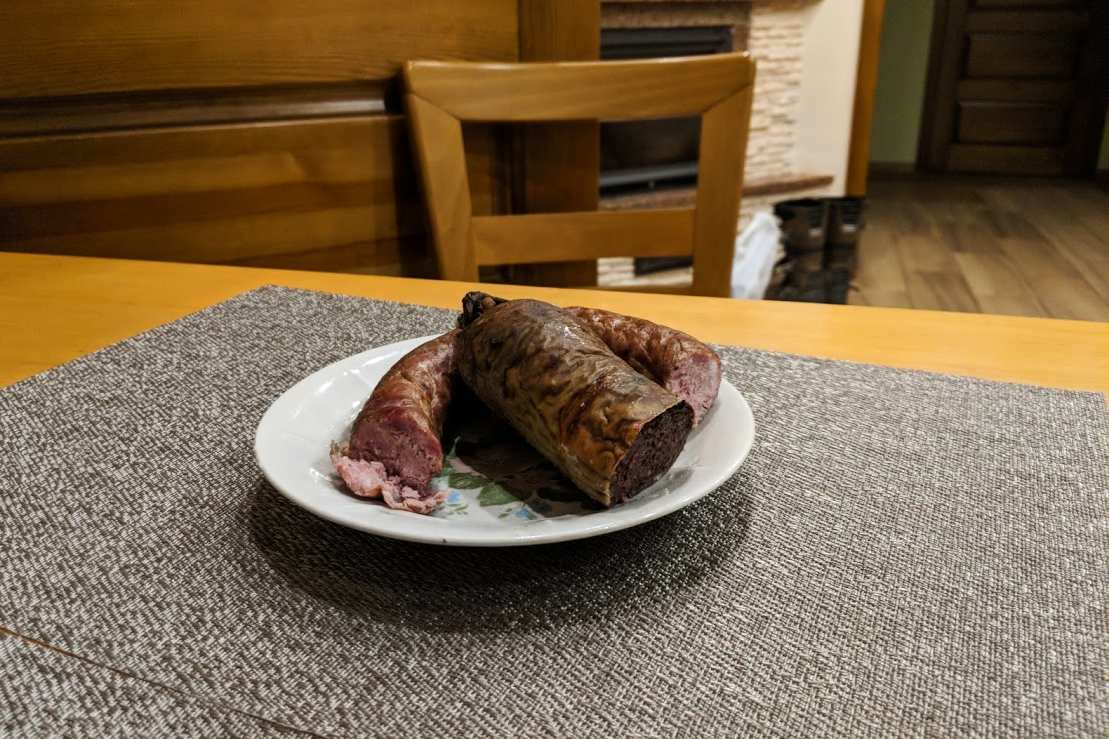 The next morning I was pumped to start the TET. I got a bit confused with my GPS track and went 40km the wrong way (typical me!)… left is the new right, hehe.
Ok, back on track! I started the TET from the Roztoczanski National Park. A beautiful region…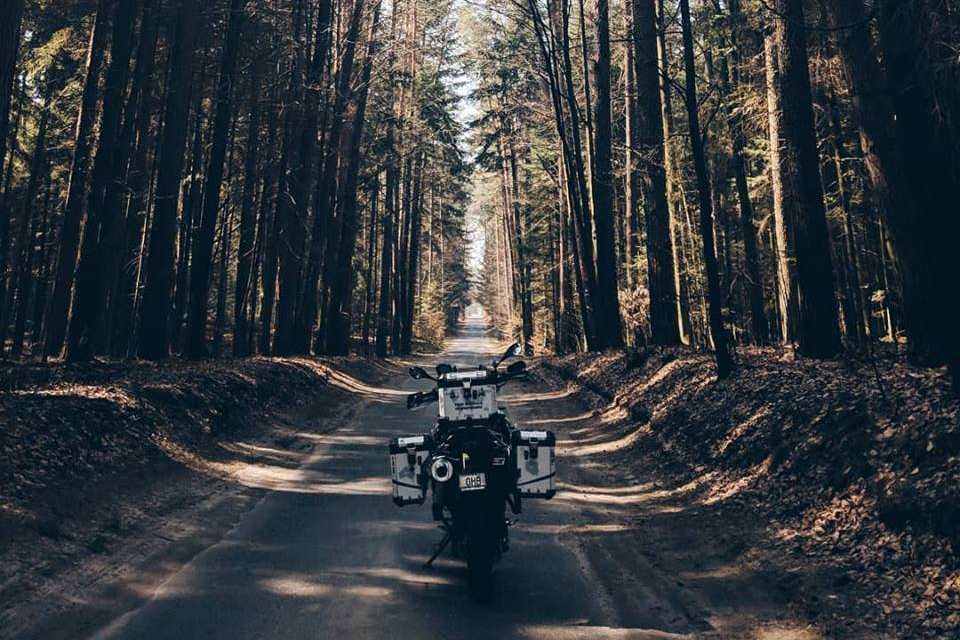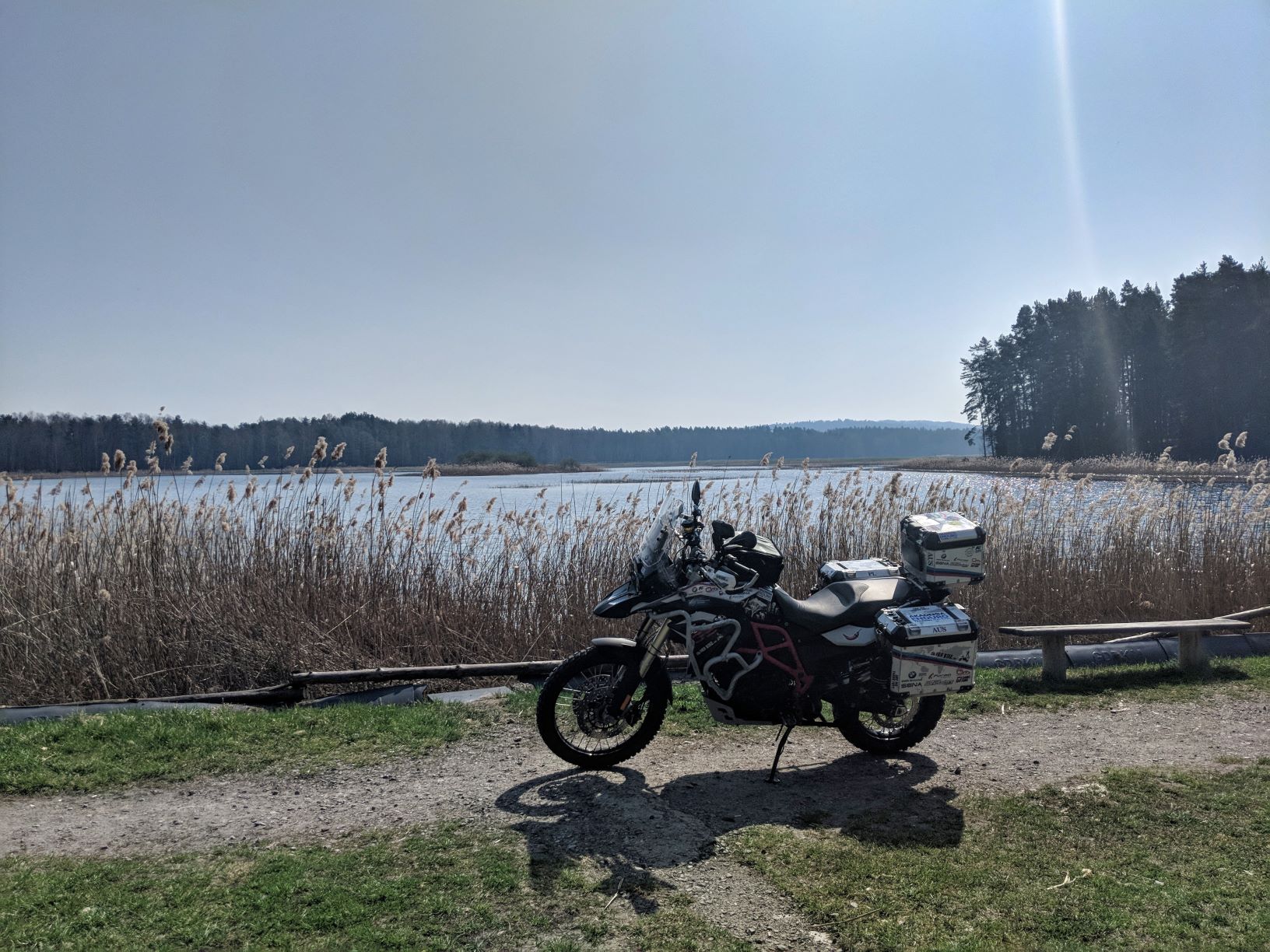 Eastern Poland is not as developed and there is no lack of remote, quiet roads. Each day I did about 250km which would take me about 5-6 hours (including all the stops for pictures, hehe).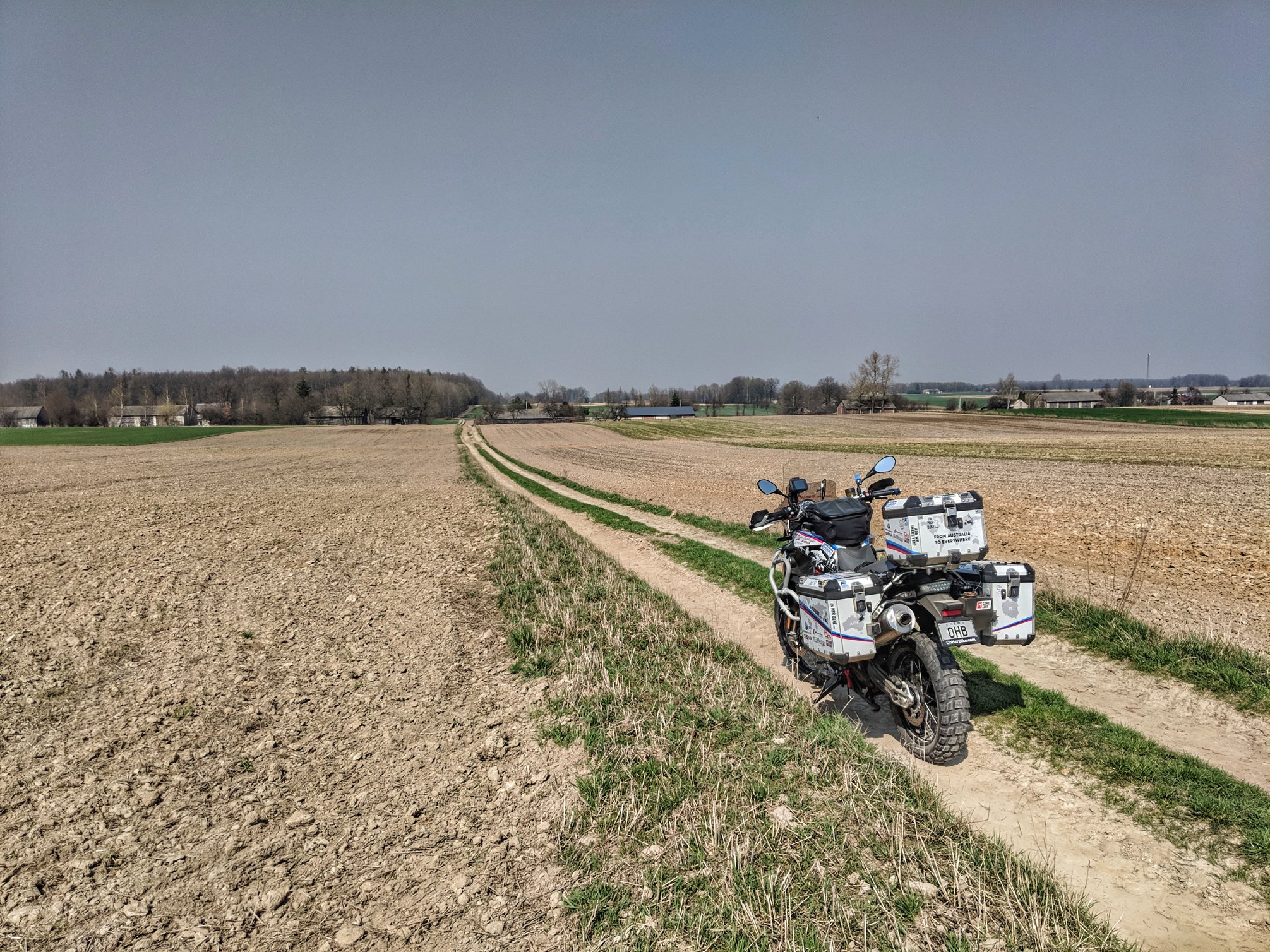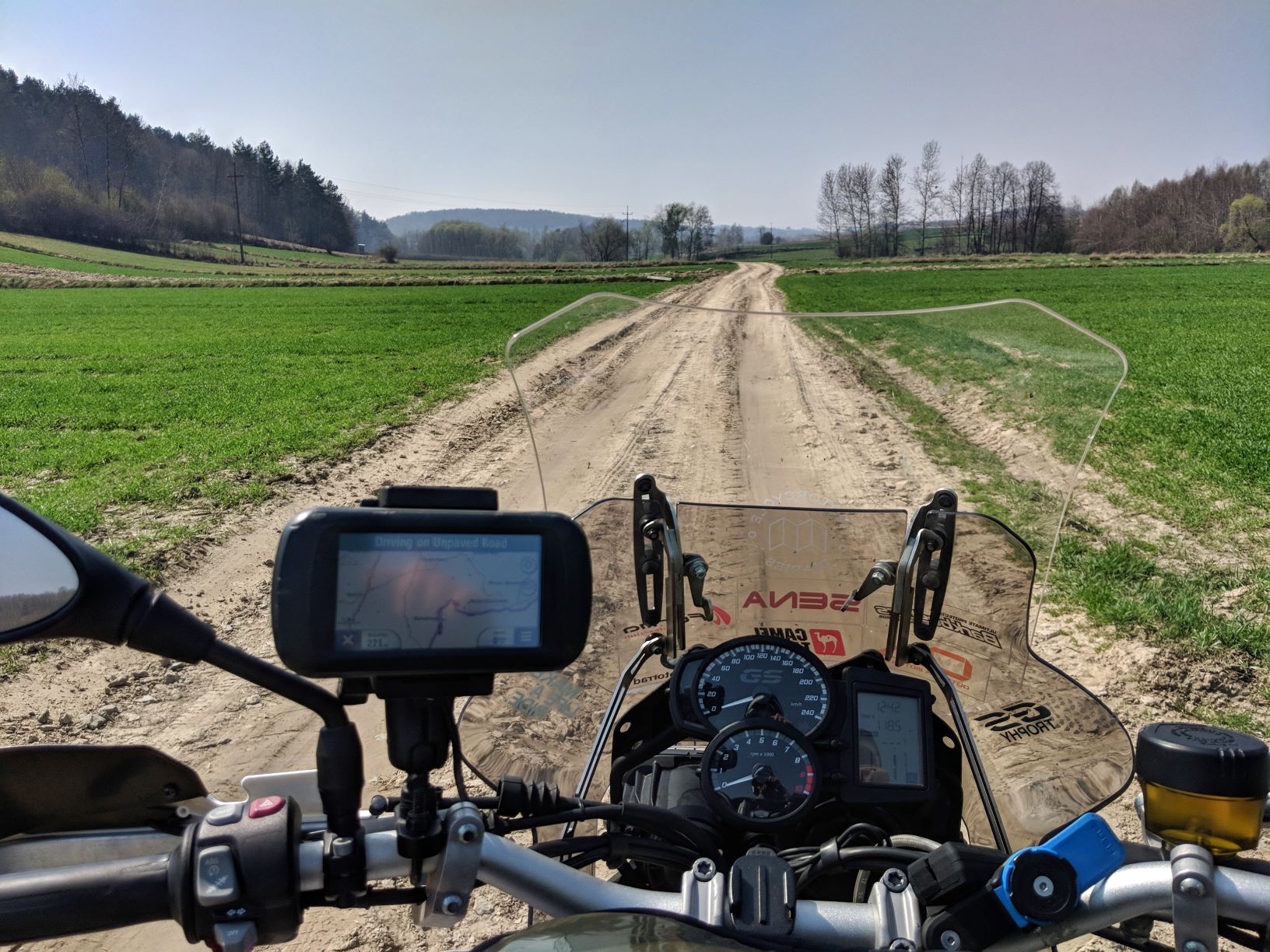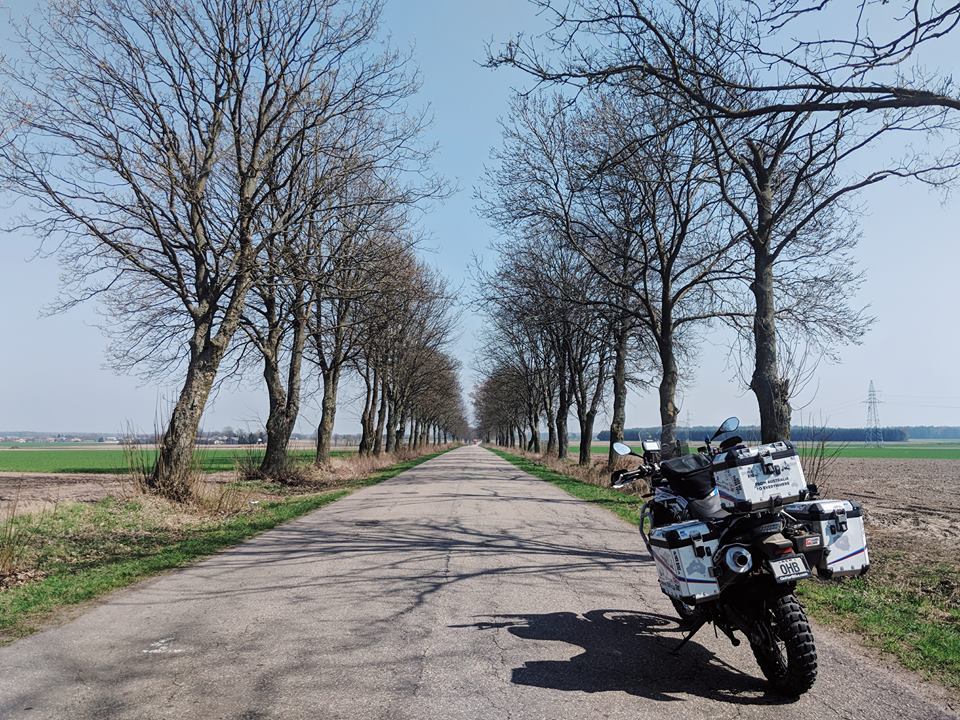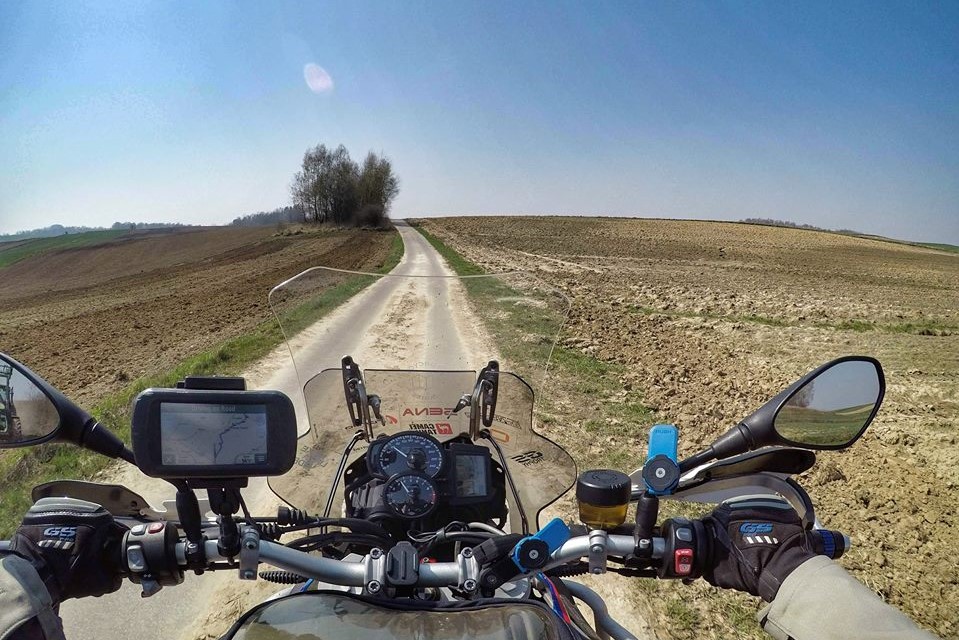 There were some easy gravel roads too and a little bit of sand every now and then, but overall it's a very cruisy route.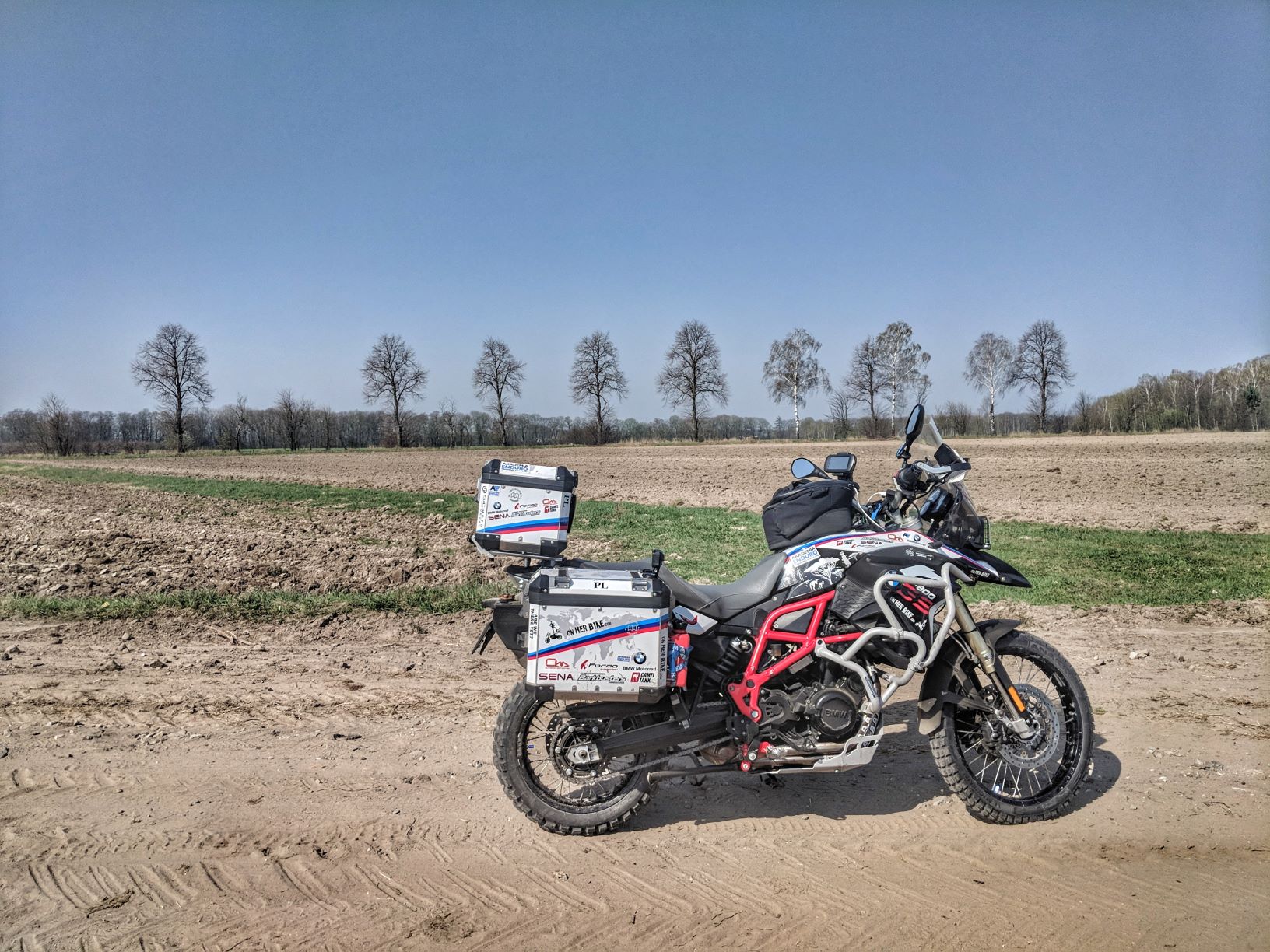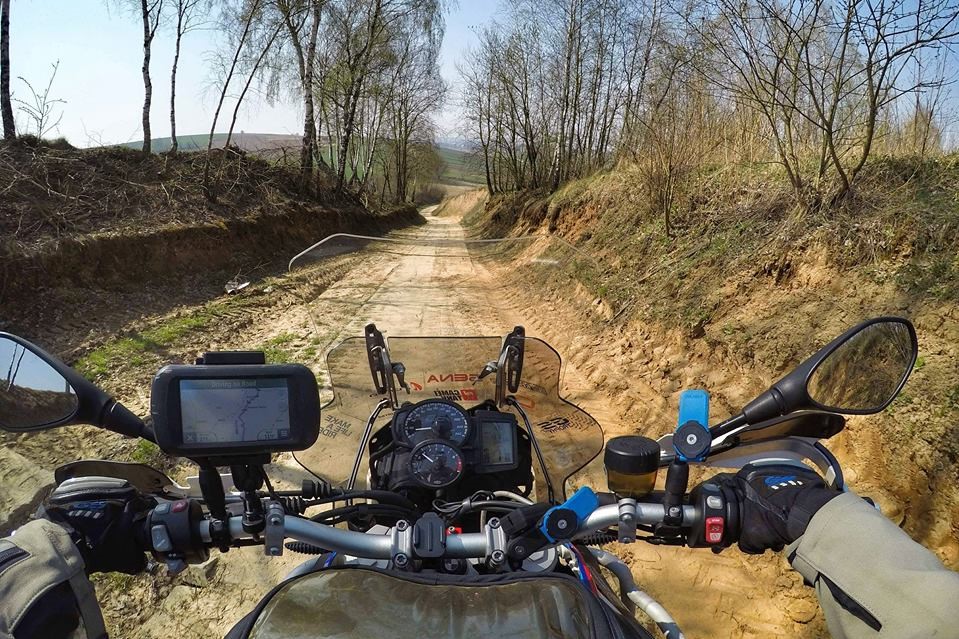 …but the traffic gets heavy sometimes!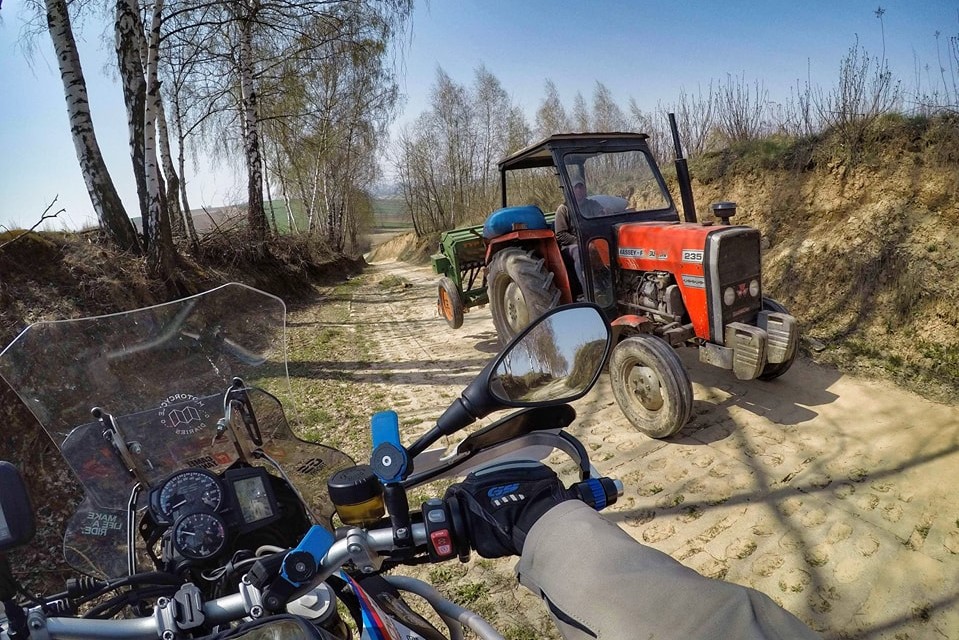 For the second night, I arrived in Kazimierz Dolny a charming little town steeped in history. Firstly I had to check out the main square. I thought it would be a great idea to have a piccy there – didn't quite pay attention to the "No Entry" sign. The police rocked up right away and asked why I had ignored the sign. I apologised for my behaviour and told them that it was really important to me to have a picture there as a remarkable memory on my round the world trip… escaped with a warning, phew.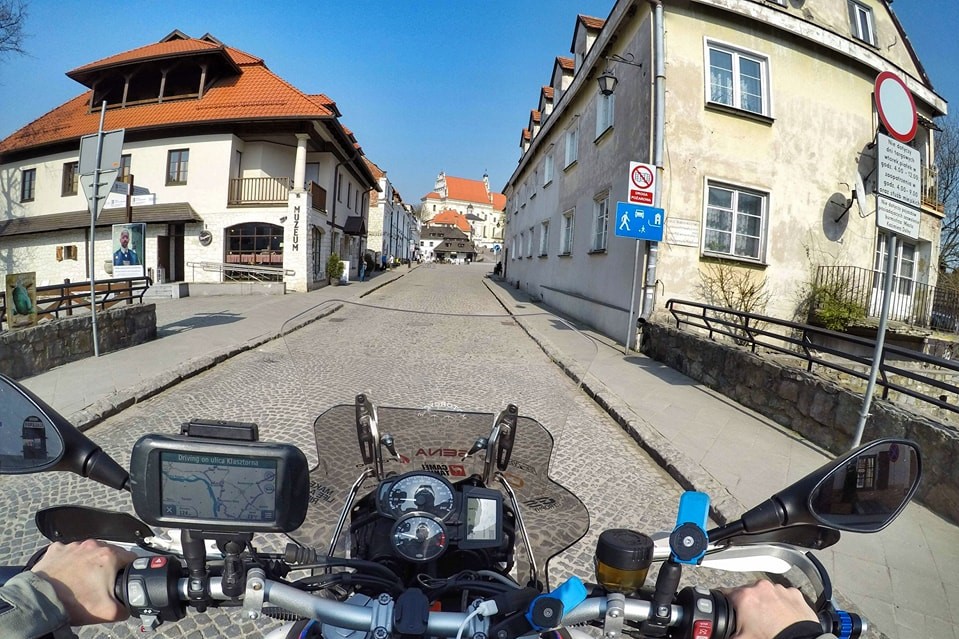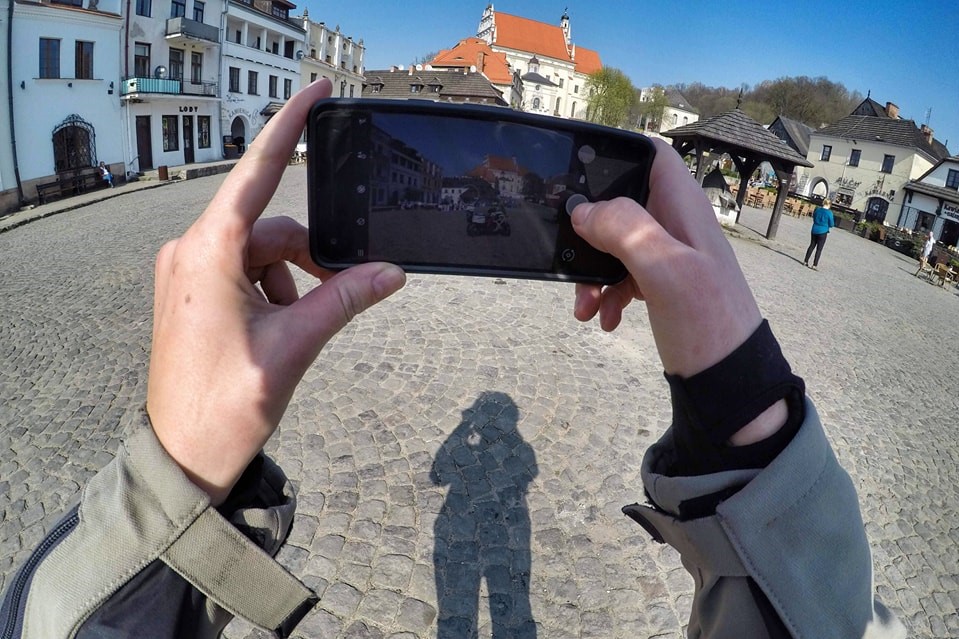 And here's the picture that nearly cost me big $$$!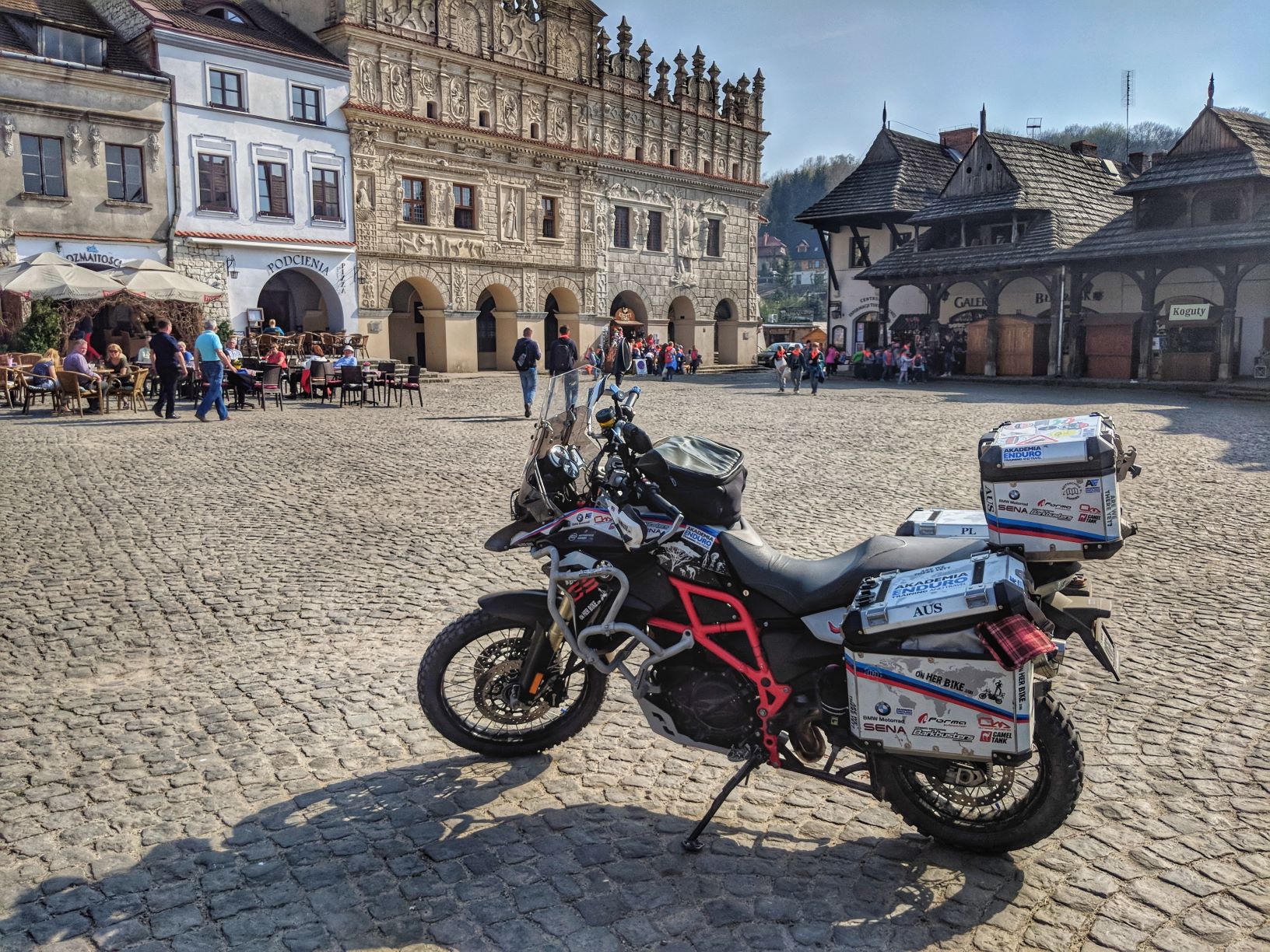 Looking for accommodation in town was problematic again. Despite there being a lot of free rooms around, no one was interested in accommodating one person for only one night. Grrr, I was getting really frustrated! Patience Kinga patience. And I finally managed to find a room for $18…
I spent the afternoon walking around town. In the past it's attracted artists and free thinkers, but has evolved more recently into a popular weekend getaway from Warsaw and Lublin. Kazimerz is a gem.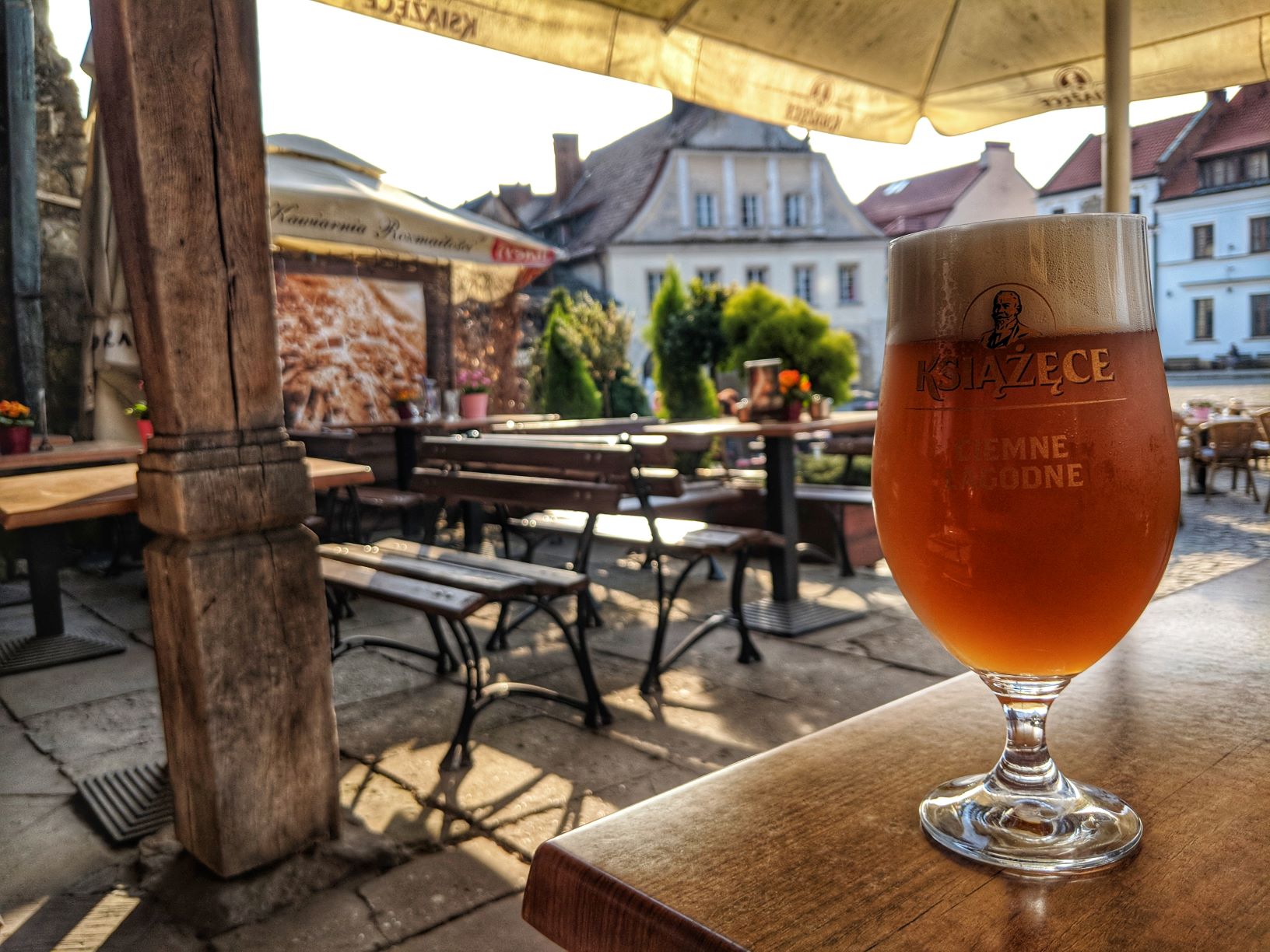 The next day I was off to Bialowierza! Białowieża National Park which is the home of the European Zubr (bison). These animals are iconic in Poland so I went to say "hi" to them at the Bison Breeding Centre.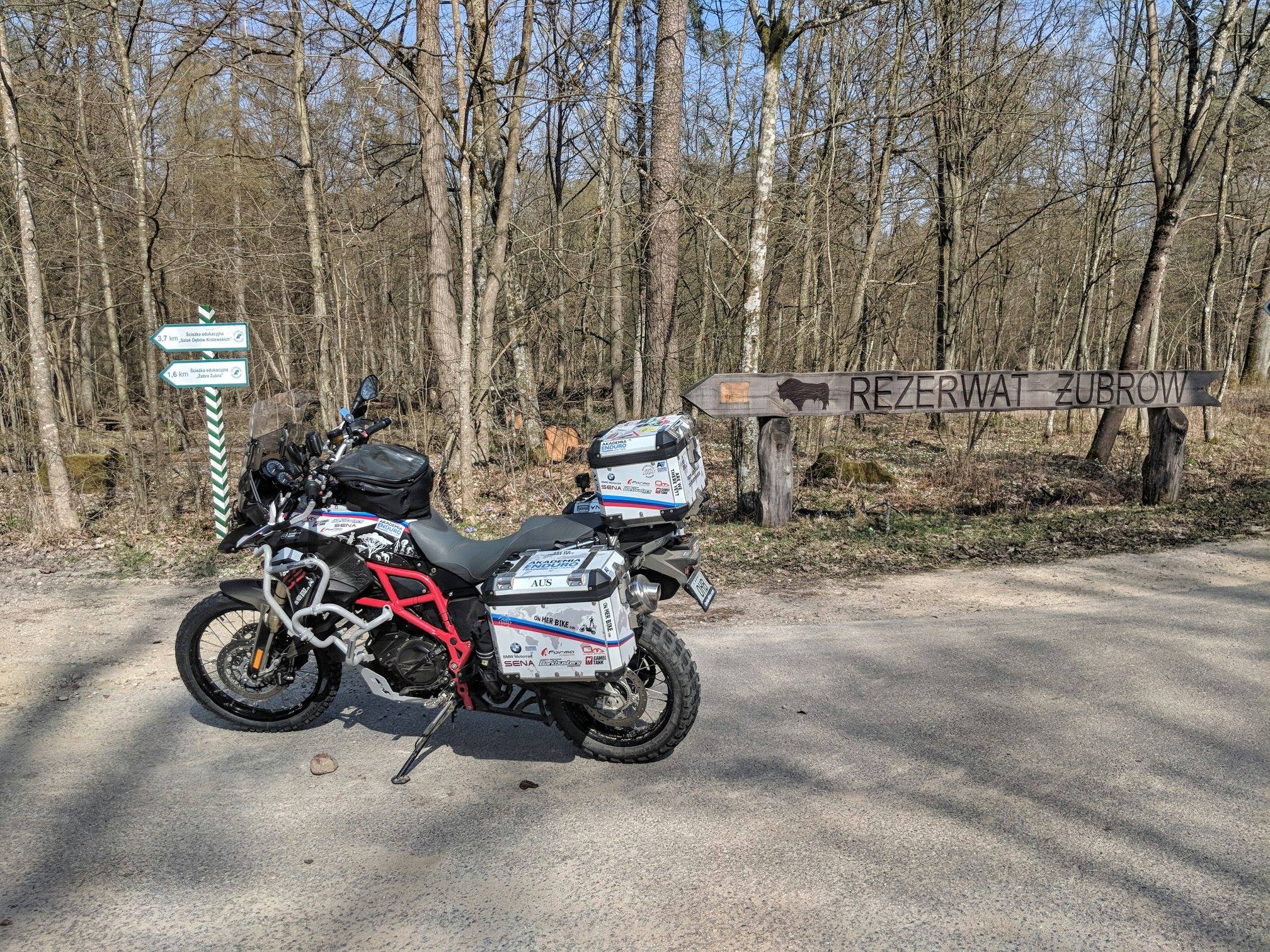 So, I don't know if you've ever heard about the "Zubron" which are a cross of a Zubr and a cow. They are bit more hairy and their horns are floppy which make them the cutest ever! They have been bred here since the 70s, originally for the meat but now it's more due to tradition I think. They don't live in the wild as the Zubron bull is infertile and so you can only see them here at the breeding centre.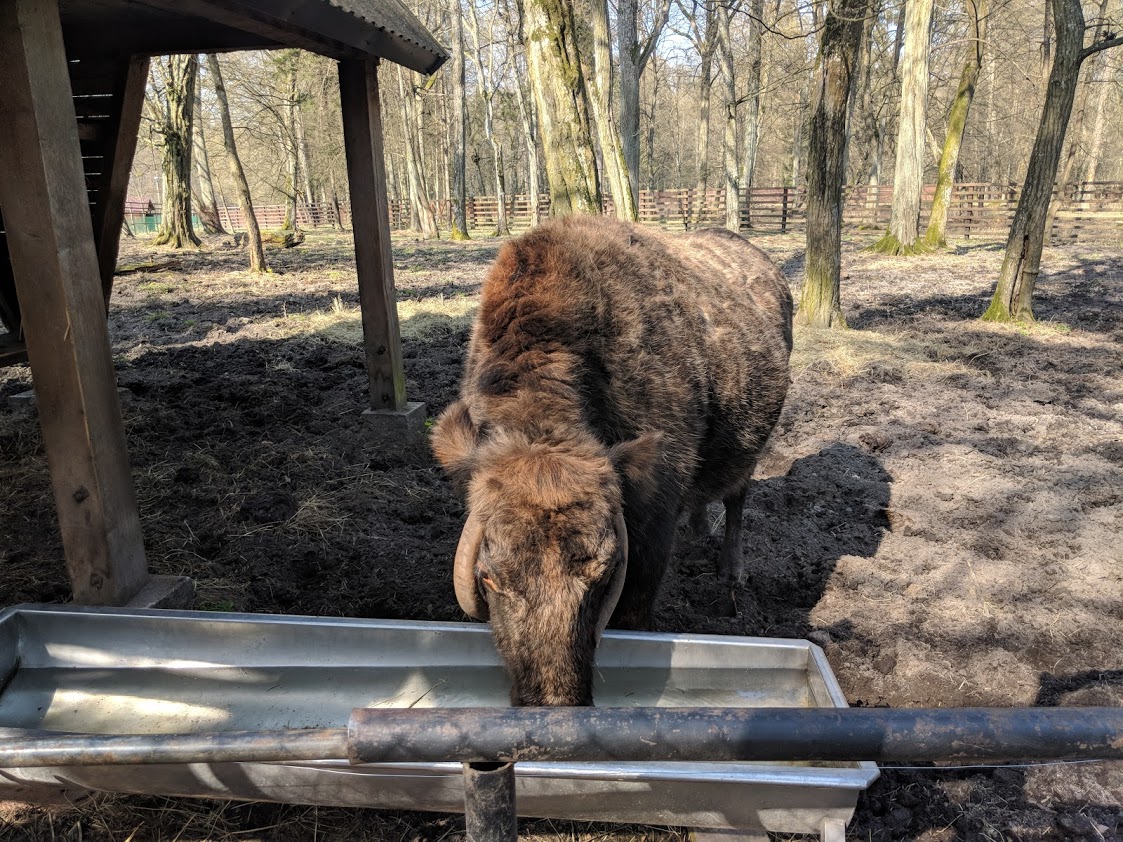 I also highly recommend you try the local cuisine in Bialowieza. This region of Poland is influenced by Bielarus and Lithuania and you can't get some of these delicacies anywhere else in Poland. If I'm ever asked "What is you favourite meal" – my answer is always the same "Kartacze"! Kartacze is a simple meal made out of potatoes and minced meat… but it takes quite a procedure to make them properly. For me it's the taste of my childhood and I take any opportunity to eat them when I'm in North East Poland. And as I consider myself a Kartacze expert, I can say that the ones I ate in Babushka Bistro in Bialowieza are absolutely excellent! You have to try them!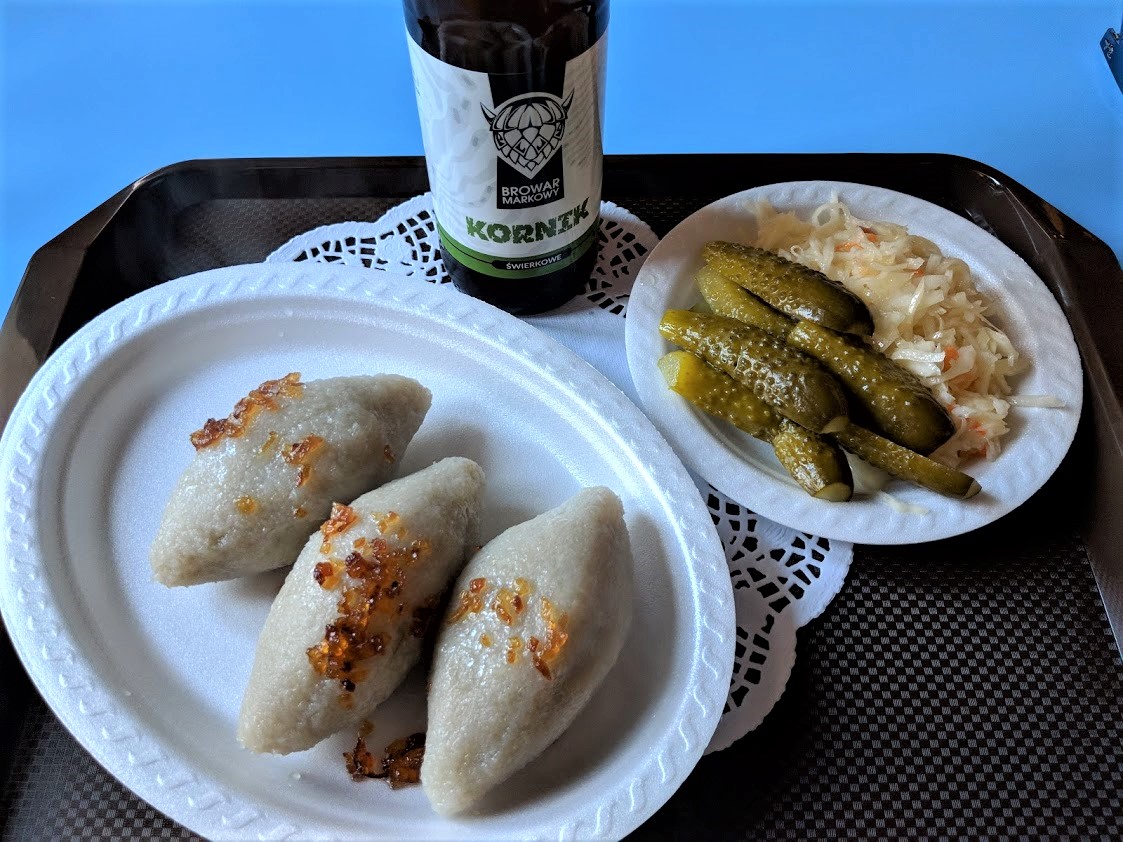 As for the night, I managed to find a lovely room which made me feel like a princess… a very special experience…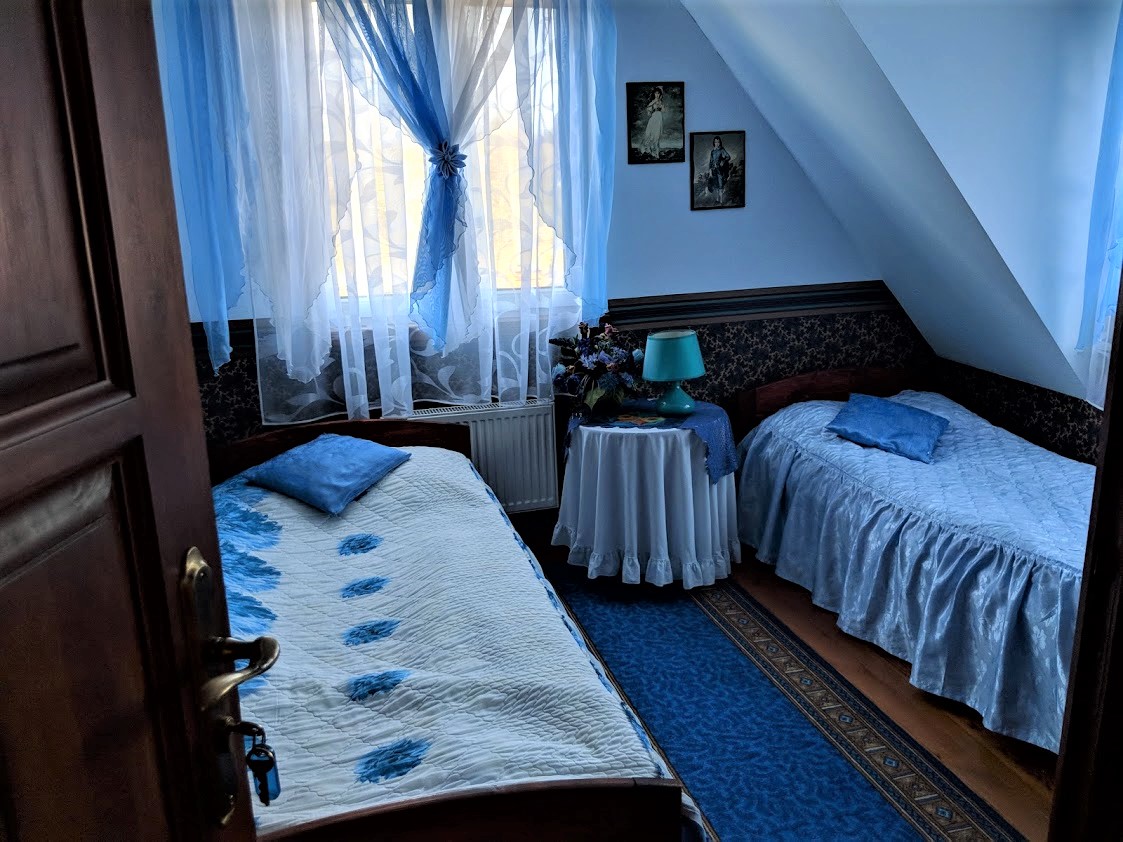 Bialowieza National Park is a magical forest and has been designated a UNESCO World Heritage Site, riding through this peaceful place was pure delight.
In Krynki the TET turns West but I continued riding North along the border with Bielarus until I reached the Suwalki Region. This part of Poland is where I grew up. My homeland. It's always great to be back there.
About 80% of the roads were paved, but being off the beaten track and all the dirt roads were very pleasant and cruisy. Sometimes I didn't pay attention to the GPS and I missed some tracks, sometimes the roads were closed or rivers weren't accessible. But overall I had a ball!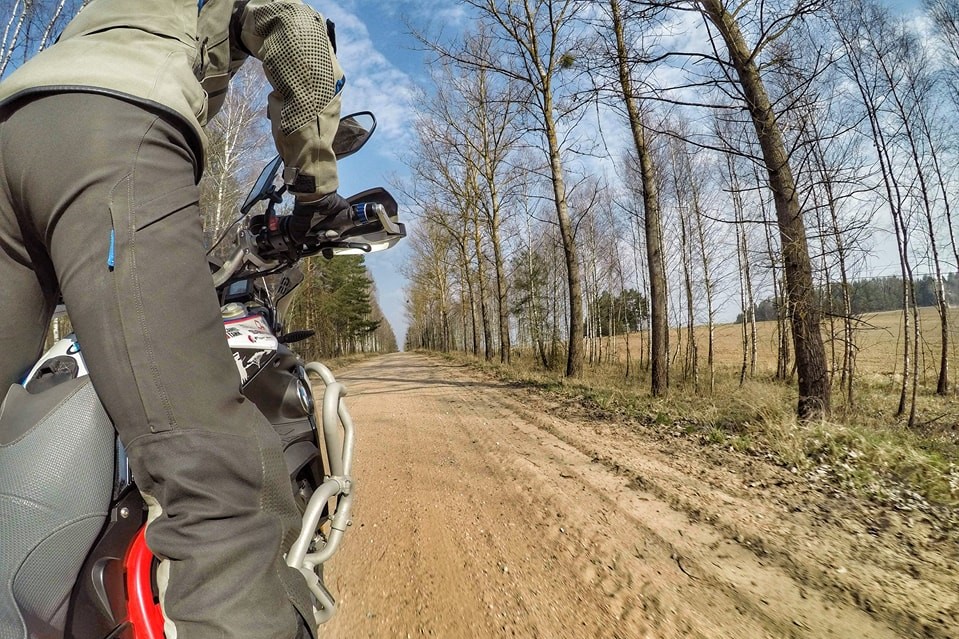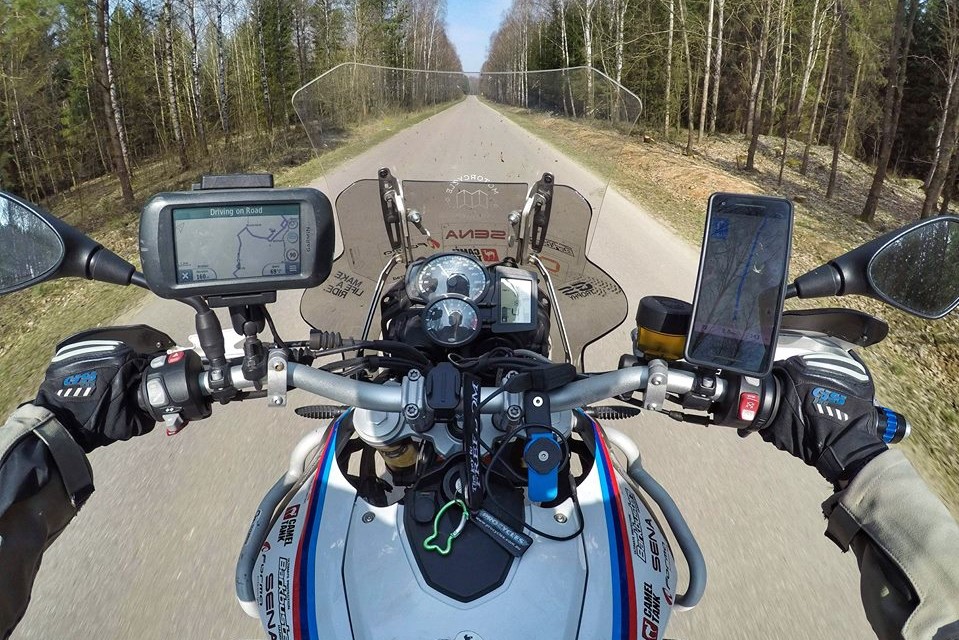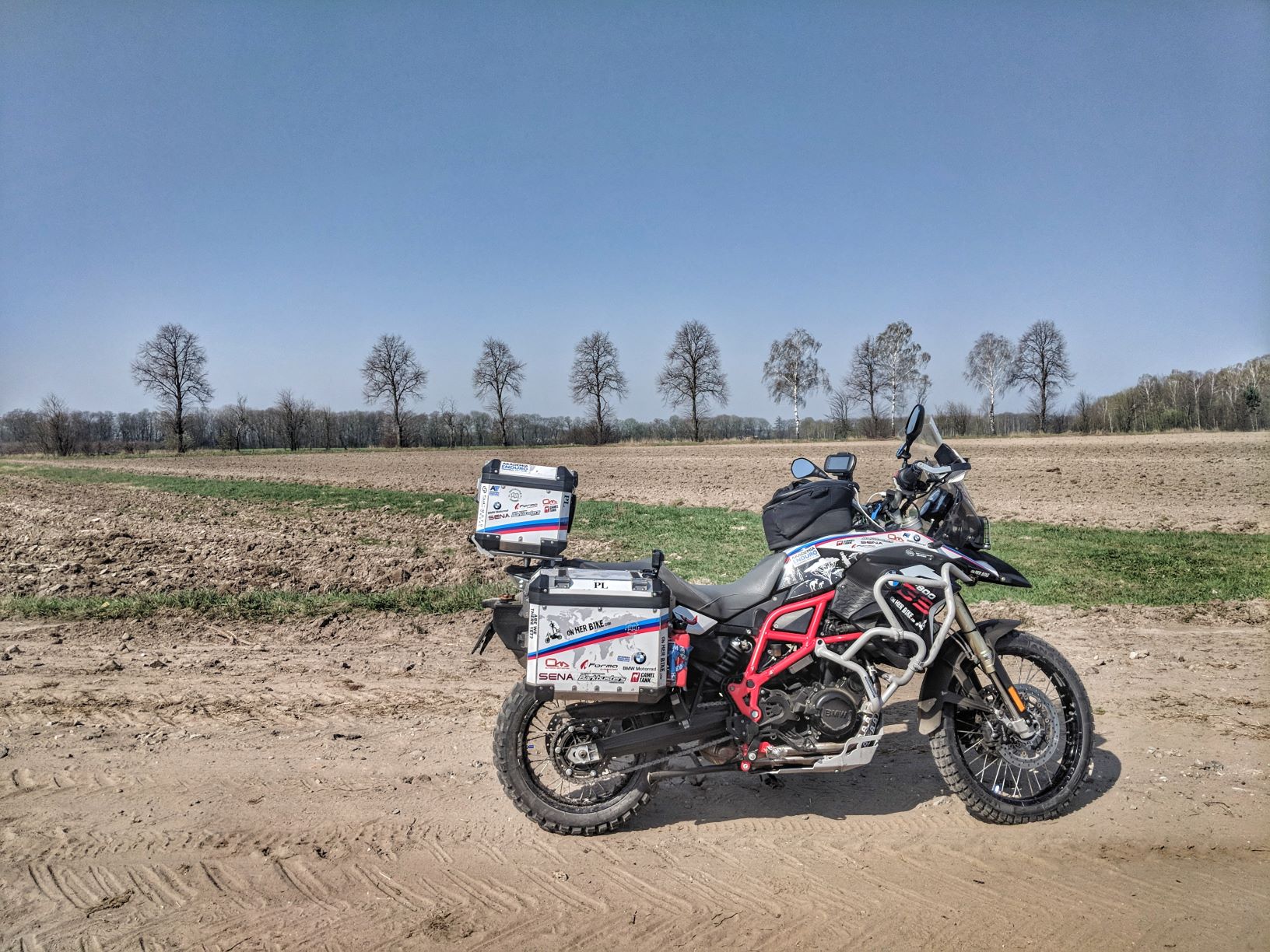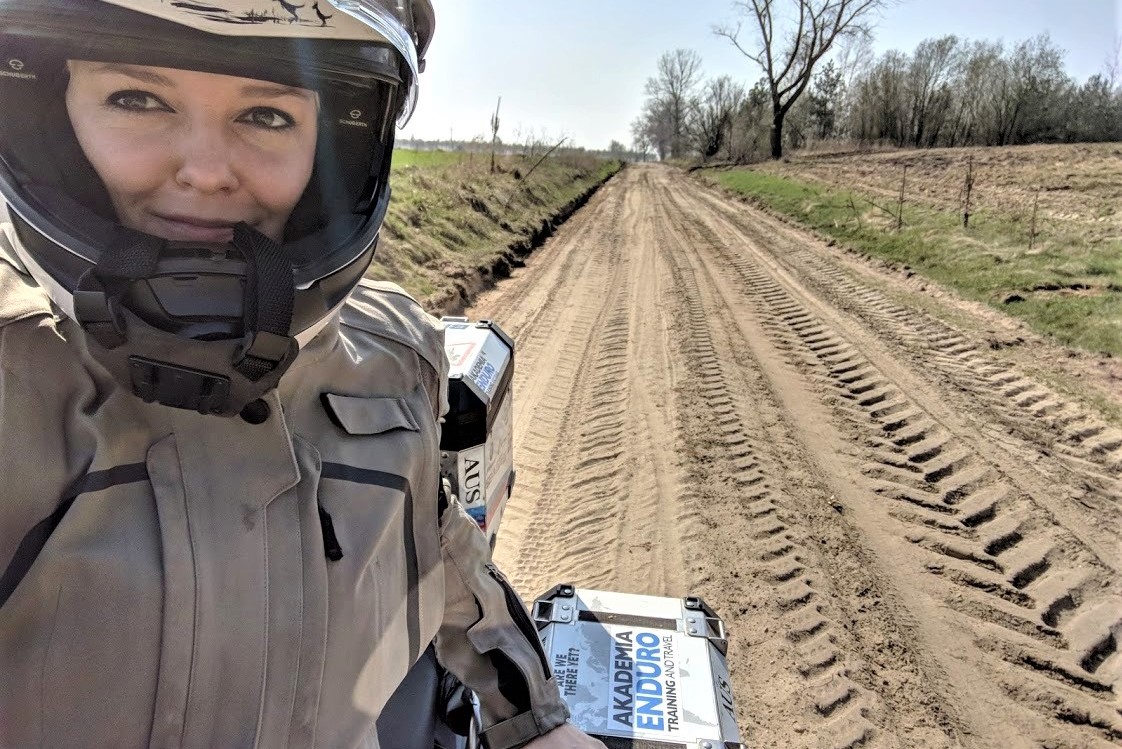 Time to go…
After the TET I planned to leave Poland within a couple of days, but got quite ill. I woke up at night with a sharp pain near my kidney area, I asked my mum to call the ambulance – my head was spinning, I felt like I was about to faint and I got really scared. The doctor in the hospital diagnosed me with a urinary tract infection and right away I knew how I got it! Well, long story short… I put on a little bit of weight over winter (thanks dad!) and my riding pants became extremely tight. While I was doing the TET I was so into riding through the forest for hours that I just ignored the need to pee. My tummy was hurting but I got distracted by the riding and held my full bladder for a few hours. And that was that!
Lesson learned – I'll never hold me pee that long again and it looks like I'll be riding with unzipped pants for a while until I lose some kgs!
I couldn't get out of bed for a few days, so my departure was delayed a week.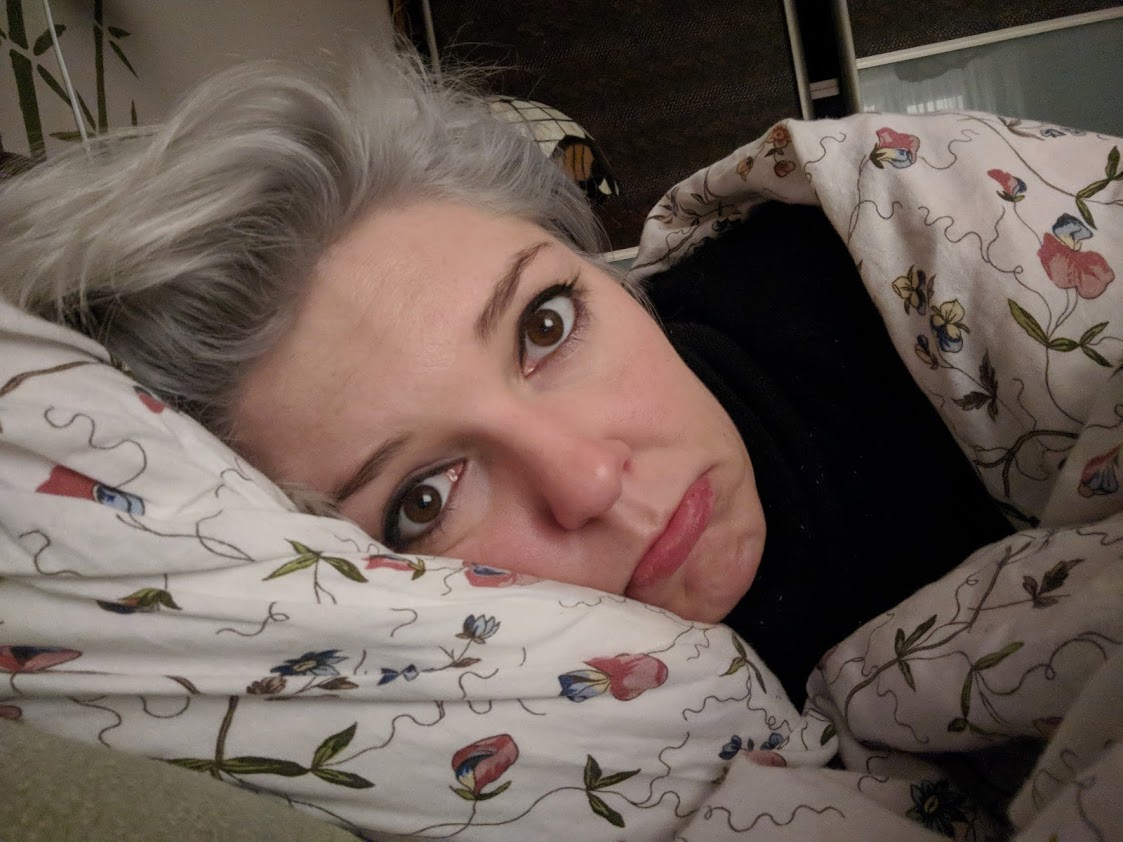 And that was the reason why I had to skip out on visiting Lithuania. There were already people waiting to host me in Bielarus so I didn't want to delay my arrival any longer.
On the 22nd April I said "Goodbye" to my family and friends. We have done this so many times, but it's never easy.
My mates Gonzo and Szymon joined me for the ride to the border. Gonzo knows nice short cuts though the forests, so we got to enjoy the last km's in Poland together.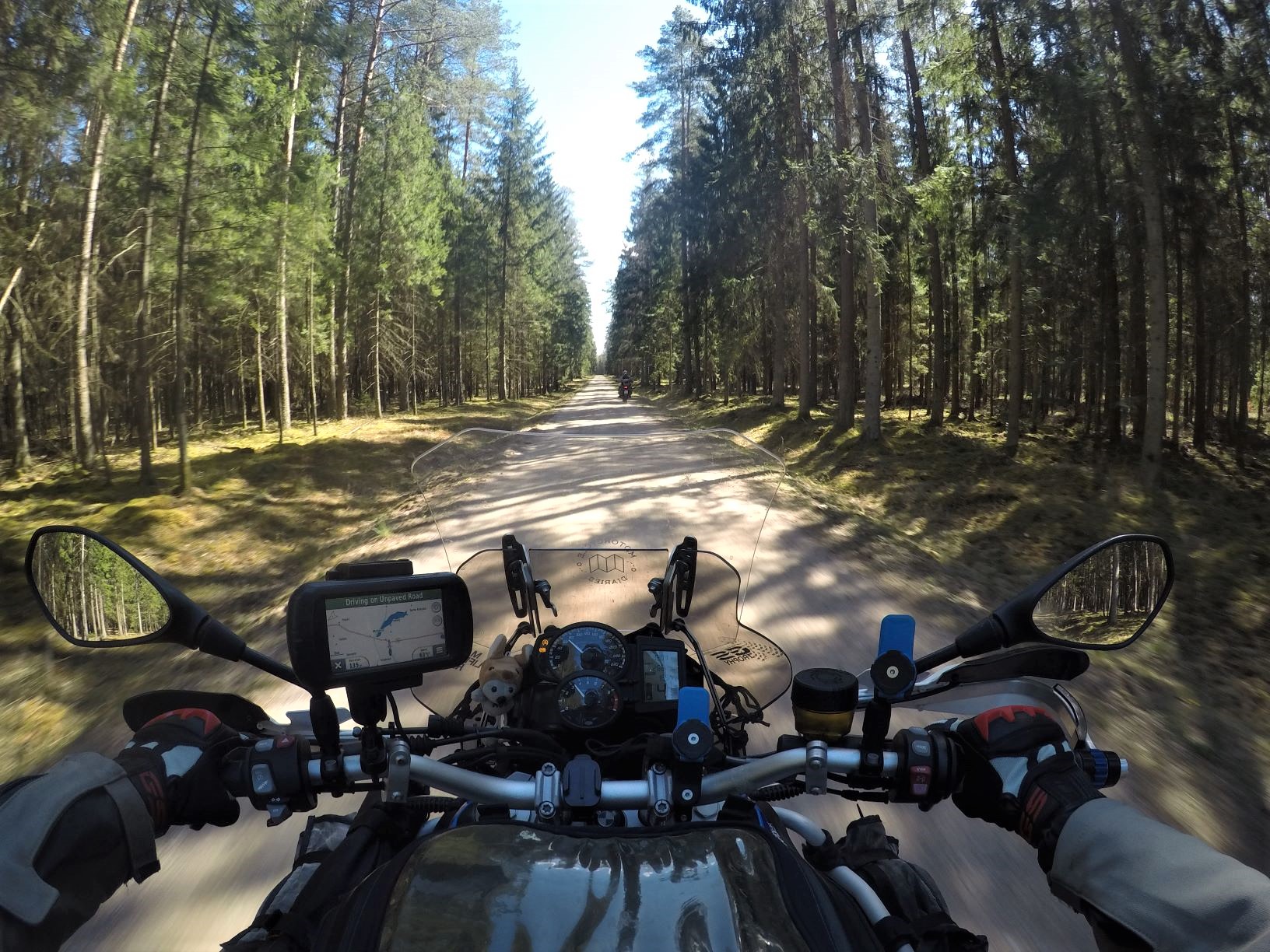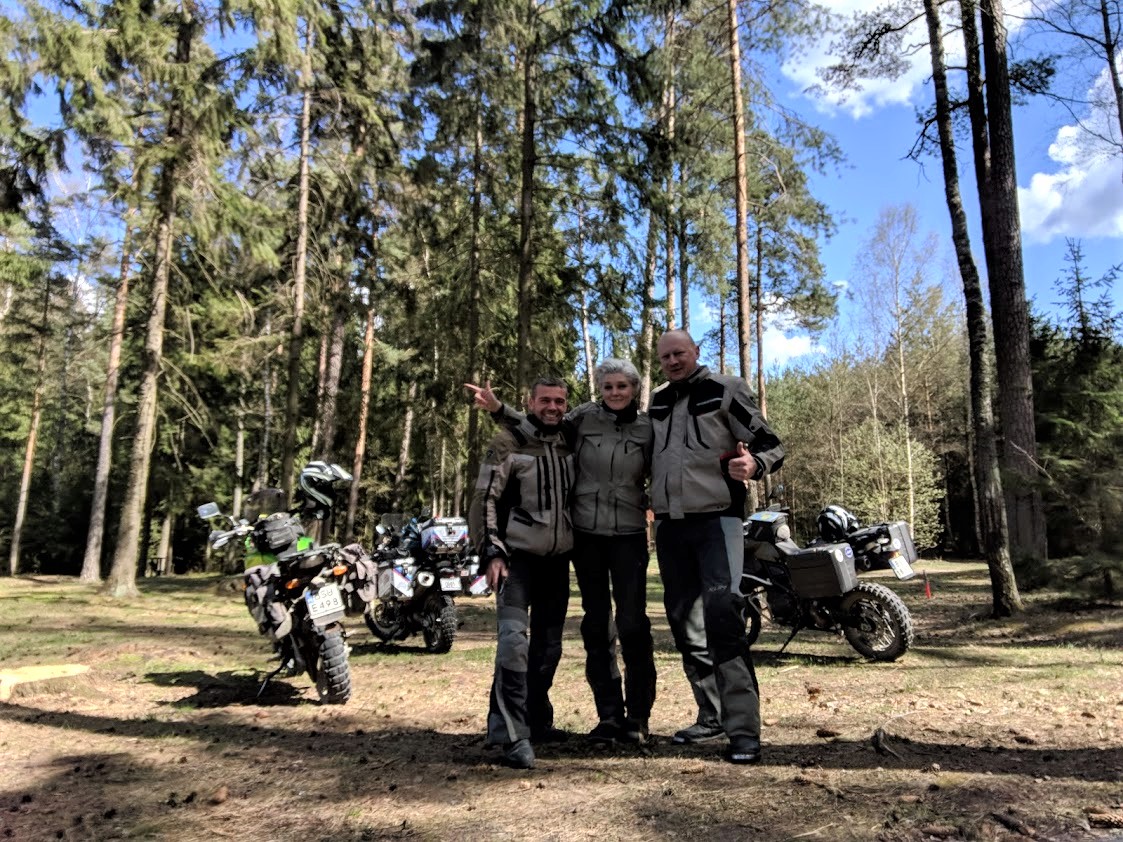 So now I'm finally back to travelling around the world solo again, I thought to myself as I was crossing the border… Look out world, I'm coming for you!
In Numbers:
Duration: Winter/Spring 2018
Total km's: 1341km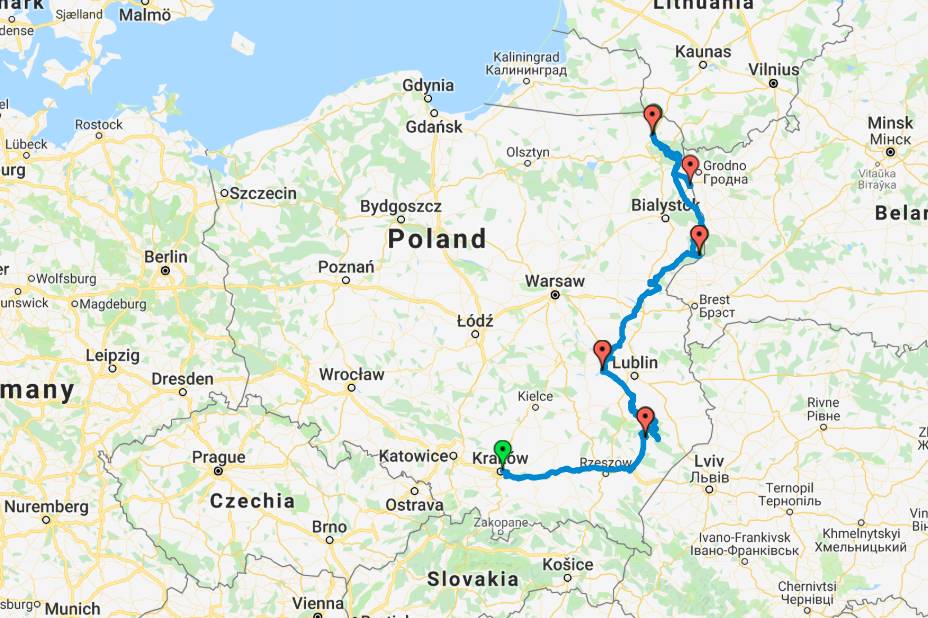 The "Are We There Yet" World Tour is about more than just me seeing the world on a motorcycle. Throughout my journey I'm raising money for a young disabled child in Poland named Franek. Franek was diagnosed with cerebral palsy (weakness of the entire right side of the body) and he will require constant rehabilitation for the rest of his life. All the money raised will go directly to helping Franek and his family lead as normal a life as possible so please donate  generously:
www.gogetfunding.com/arewethereyet