Kazakhstan
Once I crossed the Mongolian border and finally put my feet on Russian soil I felt so relieved. Mongolia had tested me mentally and physically in the extreme. But at this moment it felt like it had all been a bad dream and I had just woken up. I knew all those experiences would only make me stronger and I'd eventually get my positive attitude back but at this point I was emotionally exhausted and all I wanted was to finally have the haematoma on my leg fixed as soon as possible.
And to do that I needed to get to Kazakhstan first! Due to my visa restrictions I couldn't have the surgery done in Russia so I had to head to Almaty ASAP.
I road though the Altai Mountains with an open mouth and a heart full of regrets that I was only passing through with no time for wonder or wandering. The first section of 400km from the Mongolian border to Barnaul was one of the most scenic rides on my travels so far. Perfect mountain twisties with smooth asphalt. Pure joy!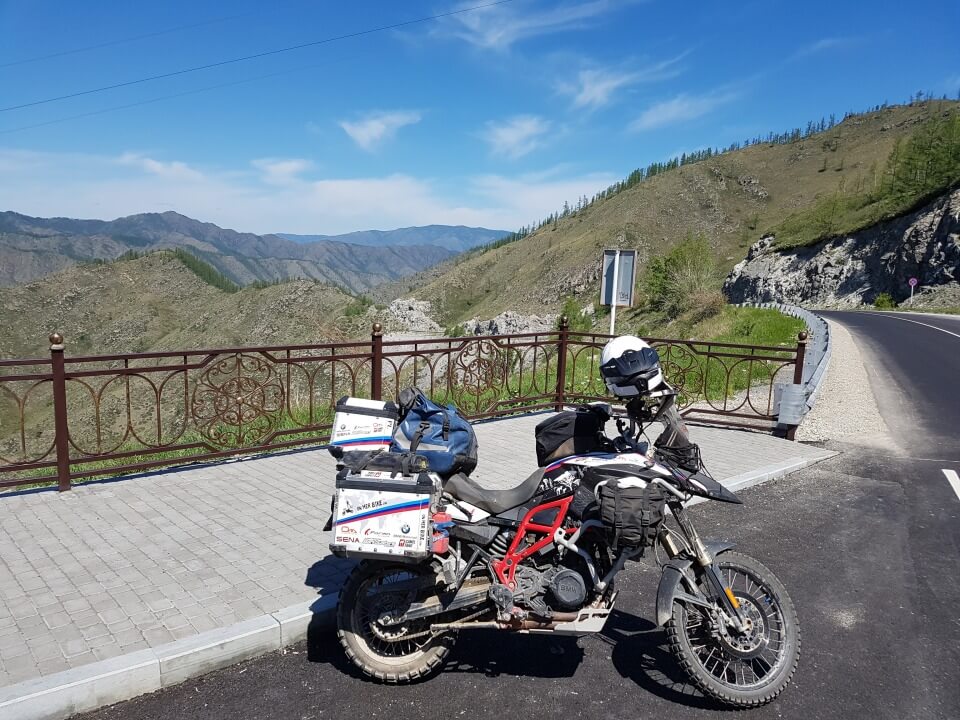 I stopped for the night in a little hotel near the road, I just had no energy to camp. I only wanted to have a good nights sleep in a comfortable bed. The next day I arrived in Barnaul and hit the big city traffic, I realised that I hadn't been to a proper city in over a month. Suddenly everything was available: electricity, food, petrol, so much choice! I felt a bit lost and excited all at the same time. I've never felt such a great appreciation for the modern world.
I stayed with a friend of a friend, Anna for the night. Anna is the kindest girl and we got on like a house on fire. It was so good to be able to giggle in English again! I really wish I could have stayed in Barnaul a little bit longer, apparently there is a cool motorcycle pub in town that's a must for all visitors but I missed out. The next morning I left for Kazakhstan.
Finally Kazakhstan!
300km later I arrived at the border crossing in Rubtsovsk which looked very quiet and hassle free, but to my surprise it wasn't…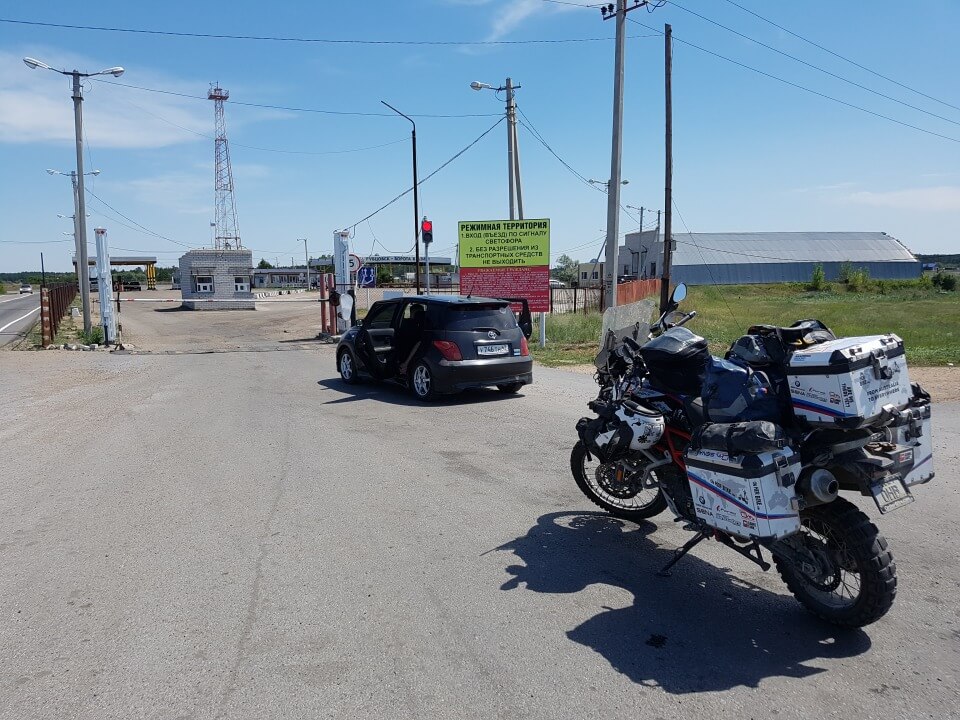 After showing the Russians my Aussie passport and answering a few questions in Russian (which I was so proud of knowing) I was called into a private room for an interview. The fact that I had an Australian Passport and could speak Russian must have triggered their 'spy alarm'. I was asked all sorts of questions: how come you've got a business visa? What were you doing in Russia? Where do you get your money from? Who do you work for? Why do you know Russian? etc. I kept it cool and answered all the questions with a smile and finally, about one hour later I was released. Phew! The lesson I learnt that day – never ever speak Russian at the Russian border crossing again!
The Kazakh side was much less painful, after showing all the documents and getting a photo taken I was good to go!
As it was already late in the afternoon I stopped in Semipalatinsk for the night. Someone on the way had recommended to me a cheap little hotel called the VIP Hotel where I felt once again, a deep appreciation for a big bed with clean sheets and a hot shower.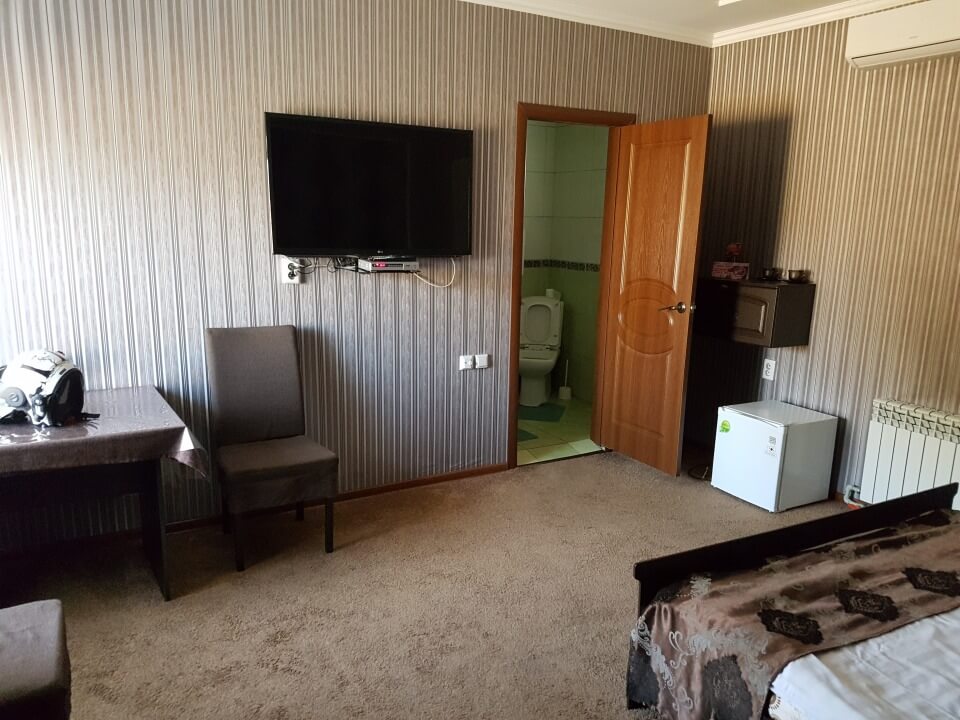 I had about 1100 km left to Almaty and from what I'd heard the road was supposed to be very bad. Well, it's was! Not even later on in Kyrgyzstan or Tajikistan, did I come across a worse road than this one. It was an 880km nightmare. The road was narrow and it looked like Swiss cheese, pot holes everywhere! You basically have to stay alert at all times, I felt like I was competing in a slalom ski race. I was very determined to get to Almaty in two days so I stood up for the majority of the time which allowed me to assess the road more clearly and go faster – at a top speed of 80km/h! For the first time in my life I got seasick on the bike! I seriously thought I was gonna throw up, but I didn't give up and steadily continued this 'zig zag run'.
This was the main transit road in East Kazakhstan (apparently the other roads in this region are even worse), so there were plenty of trucks as well, but overtaking them wasn't a problem as they were moving very slow, about 40-60 km/h. You must have so much patience to drive a truck in Kazakhstan! And the last factor for naming it 'the worst road I've ridden through' was the fact that the terrain was shitfully boring – flat, uninhabited, just shitfully boring! Ok, enough of the whinging.
After 500km I started to wonder where I was going to sleep – pitching a tent near the road wasn't an option as there were no trees or bushes to hide behind. So about 50km later when I got to Usharal and saw a hotel sign I was very relieved. After a cold beer and a simple meal I slept like a baby. The next morning I got up with the hope that such a bad road cannot continue forever. It must get better before I reach Almaty! …and it did, 300km later, in Taldykorgan I reached the start of the highway. Hallelujah!
In Almaty I based myself in an Airbnb near a medical centre so I could hobble to the doctor whenever I needed.
Injury & Surgery
So I guess I'll start from the beginning of the whole saga and how I managed the injury to my leg. When I first hurt my leg in Mongolia, I contacted my insurer – World Nomads to report the injury and to inform them that I needed to seek medical assistance. They advised me to have an X-ray done and to see a doctor. The Mongolian doctor wanted to do the surgery right away but I didn't agree as the conditions in the hospital were shocking and my visa would've expired before I was able to recover. As I insisted on riding to Kazakhstan for the surgery, the doctor prescribed me some antibiotics to prevent infection.
Once I'd arrived in Kazakhstan I notified World Nomads that my leg hadn't healed and the surgery would still be needed. I picked a random medical centre and quite frankly I was expecting to find some raw post-communist conditions. But to my surprise the facilities were modern, clean and everyone looked like they knew what they were doing.
At the reception I was directed to see the surgeon. And after a quick chat with the doctor and an explanation of what had happened I was told to get ready for the procedure. Seriously, just like that?! Woohoo! Well, I'm ready!
Surgery is probably a bit of an over exaggeration for what it really was, so from now on 'll be calling it a medical procedure. So, the medical procedure on my haematoma was quite simple – I got a few shots of anaesthetic to make my leg numb after which the doctor made a 1cm cut in the skin to release the blood and then squeezed it hard. Yuck!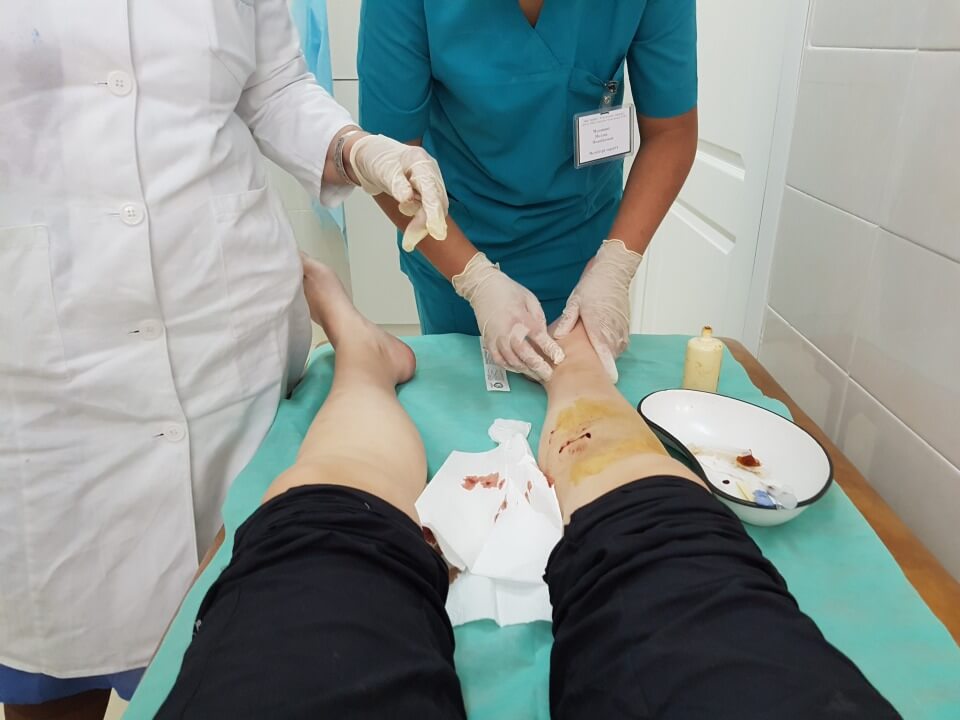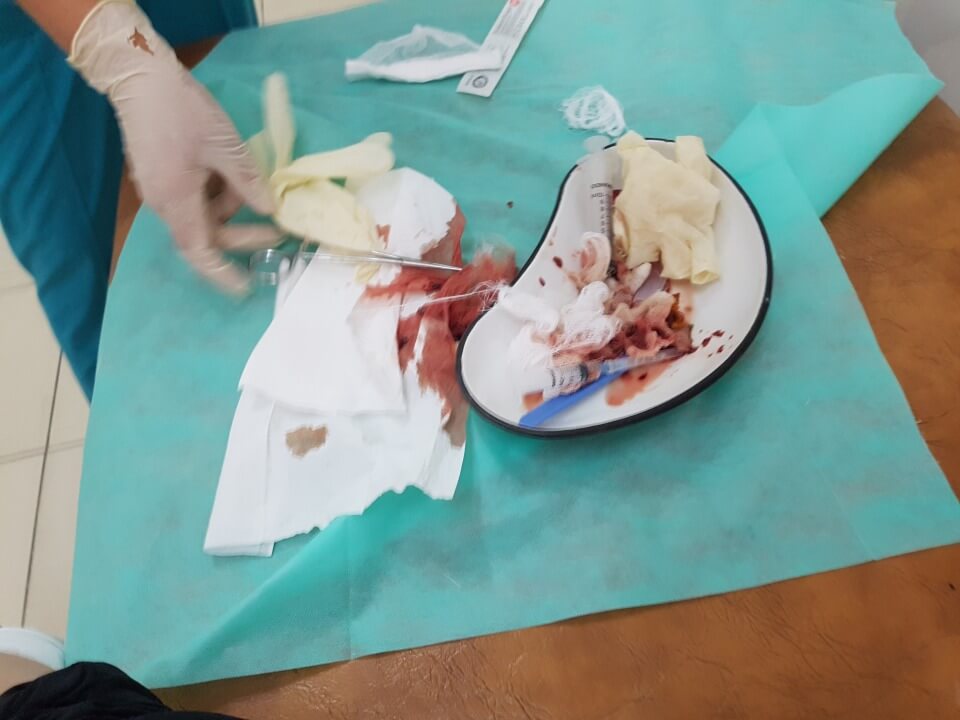 It turned out all of the blood couldn't be removed right away, so for the next 5 days I had to go back to the medical centre to repeat the 'squeezing procedure', this time without anaesthetics. Oh dear, lucky I'm tough! I was so glad I didn't have it done in Mongolia, I hate to think what infections I might have picked up.
On the fifth day the doctor was satisfied with the result and advised me to rest my leg for another ten days. Which begrudgingly I did.
The insurance claim took a while and it was quite an irritating process involving lots of emails back and forth but after a few months I finally got my money back for the medical treatment, medications and Airbnb, a total of $900. I tried to claim some food expenses but they were rejected.
Recovery in Almaty
Almaty is a beautifully located city, right at the bottom of a mountain range. On the first week I visited the medical centre and the Iranian and Tajik embassies. The Tajik visa can be obtained online but as usual I hadn't done the research. So I troubled myself to do it in person which took 2 days, 4 taxis and dealing with an annoying visa administrator who kept asking me out to dinner. Getting the Iranian visa was a piece of cake compared to the stories I'd heard from other riders along the way. I'd submitted my application online the month before and specified that I wanted to pick it up in Almaty. The consul asked me three questions: Are you going alone? Are you going on a motorcycle? When would you like to pick it up? Seriously it was that easy!
In the second week I went for a little day trip to the ski resort Shymbulak, going up to the top at 3600m above sea level was a great experience despite the weather …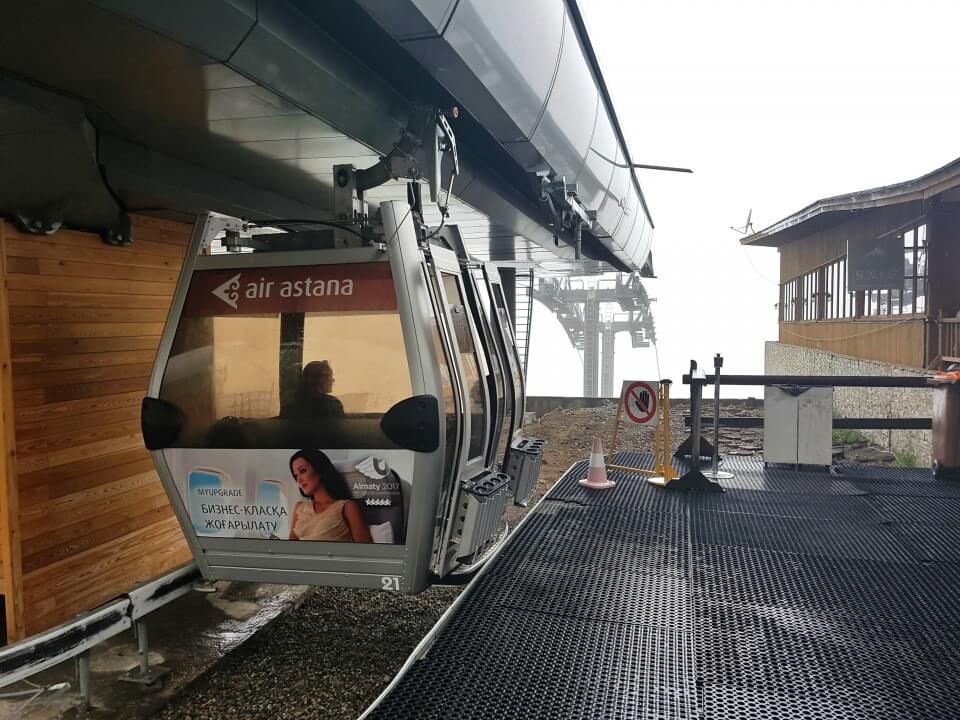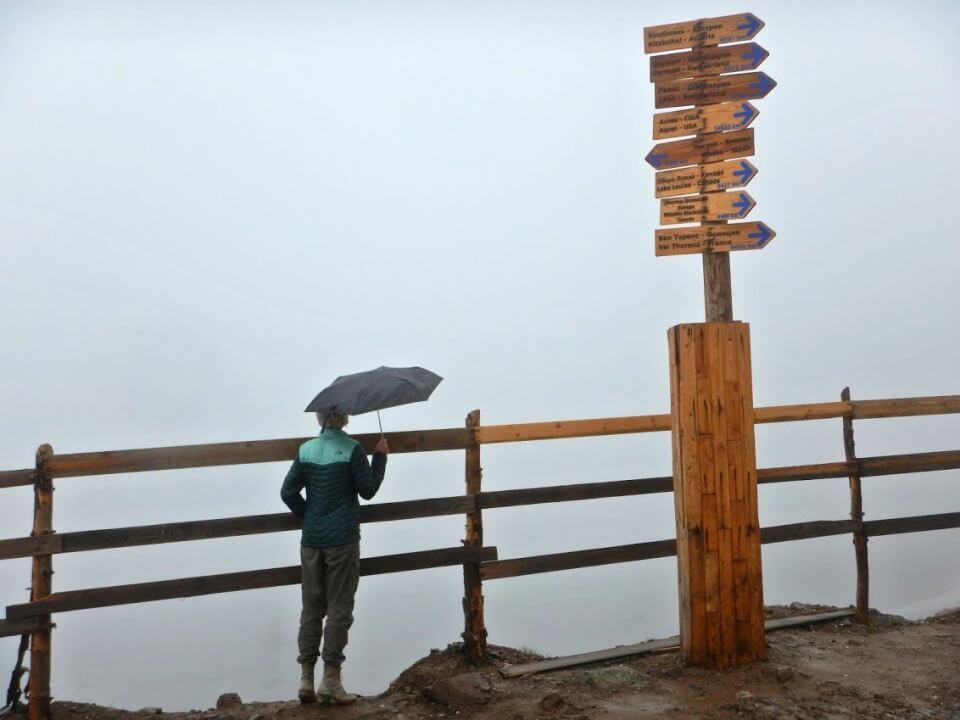 I wanted to make the most of my recovery time and got my hair done. Asked for blonde, got the latest Kazakh trend "Purple Grey". Same, same but different 😉 When in Kazakhstan, do as the Kazakhs do!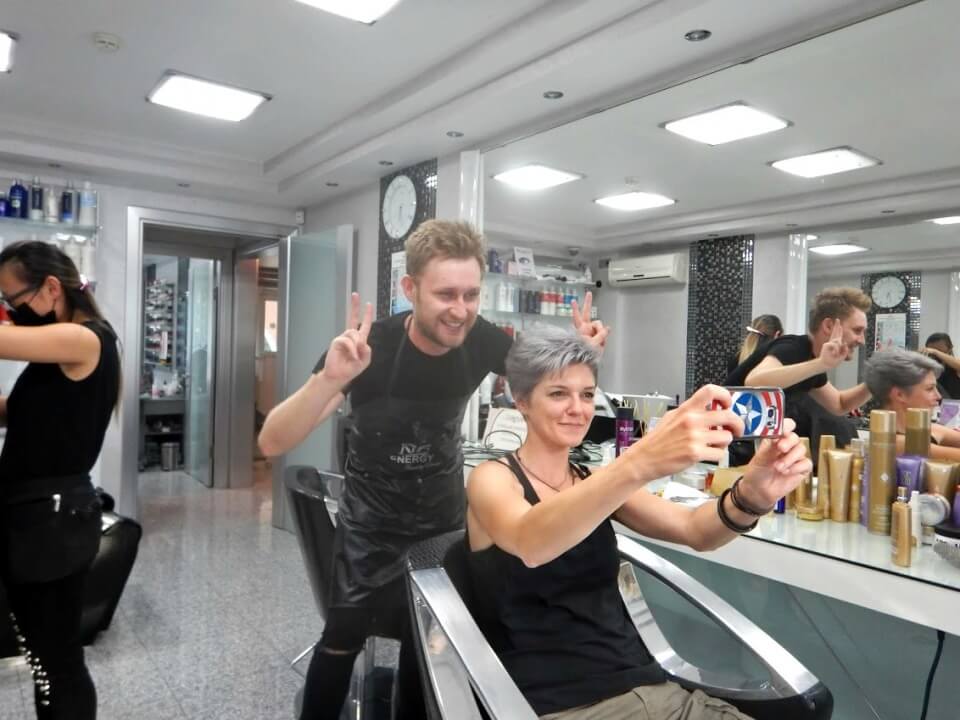 On the third week I was finally able to do some little rides so I took Chillie for a 30 000km service at Free Rider. The guys did a basic service and changed the tires to Shinko. These are the only available knobby tires in Kazakhstan, unless you ship your own ones.
Free Rider has a nice set up – it's a motorcycle shop, service workshop, hostel and pub in one. One of the nights I joined the owner Dima and his Kazakh and Polish friends for a drink. It was nice to finally have some company. Turned out there was a big motorcycle event, the Moto Update coming up. Well, give me live music and I'm in!
BMW had a stand too – although I'm not sure if they are targeting adventure riders or cafe racers here! I think maybe the hipsters.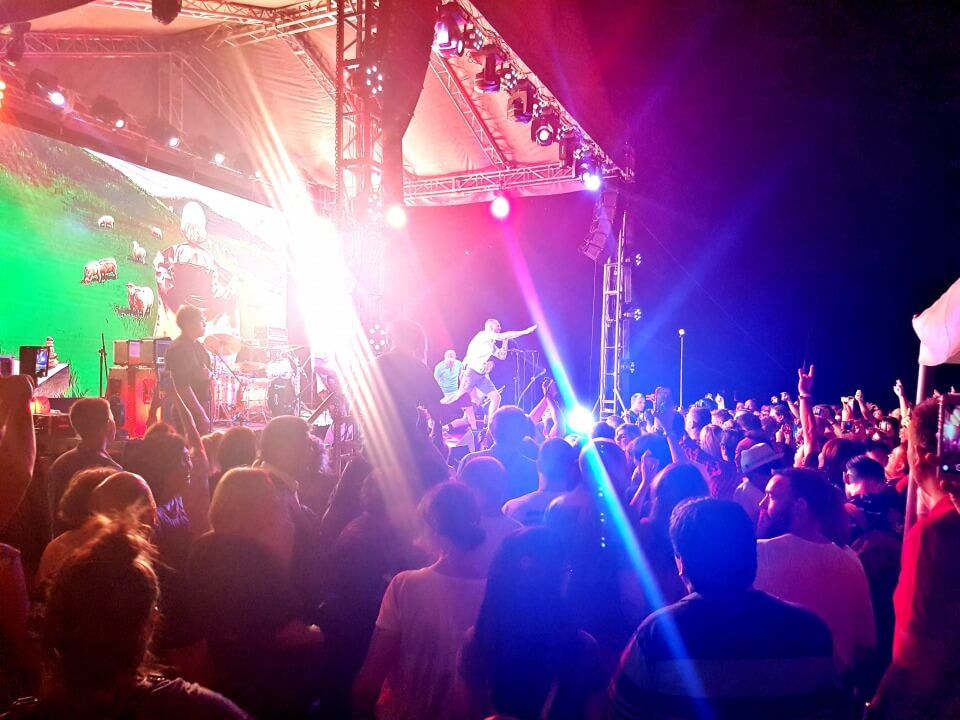 Meanwhile I also met Serik who invited me to stay at the bike post of the Nomads Club. That was a perfect solution as it was time to move out from the Airbnb apartment. The bike post has a great set up, I had my own room and shower. Perfect!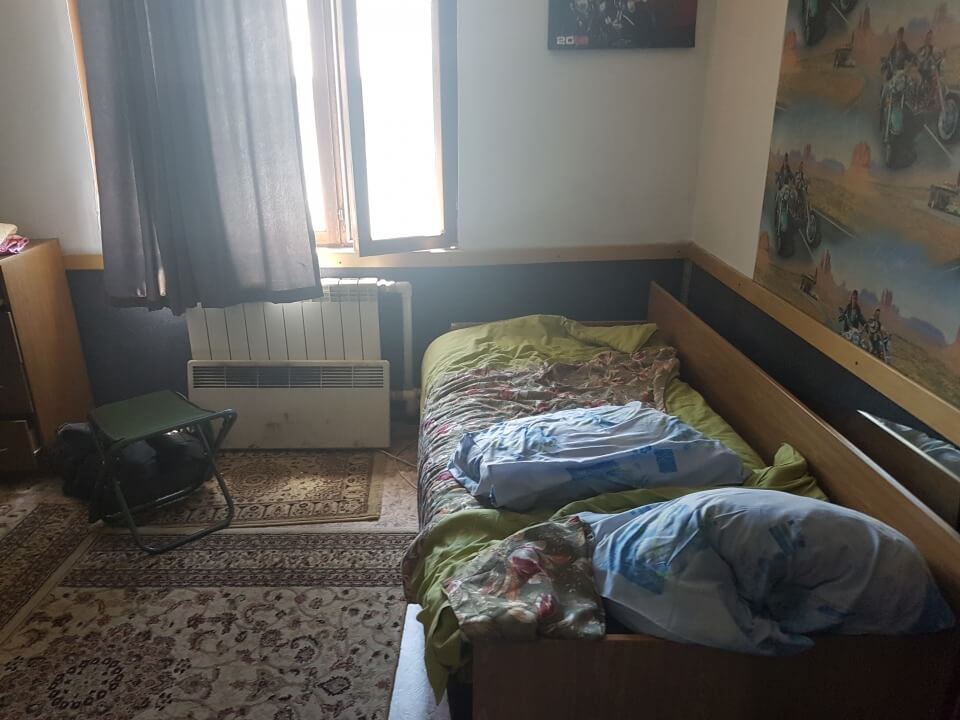 I stayed at the bike post for a couple of nights. Serik all this time was looking after me and making sure I got help with finalising my visa and getting my bike ready.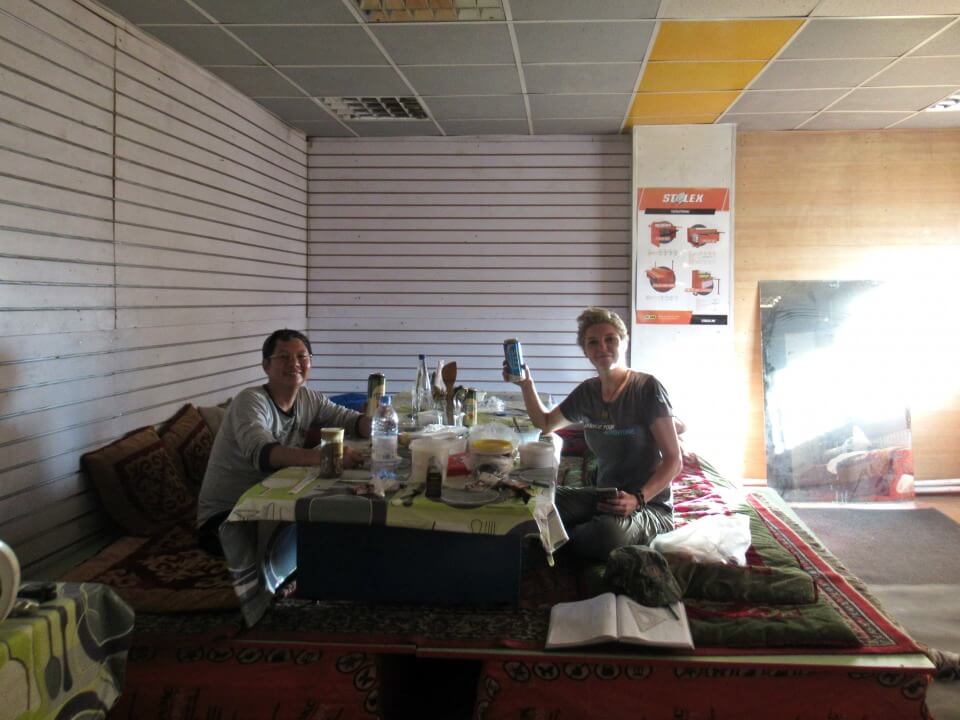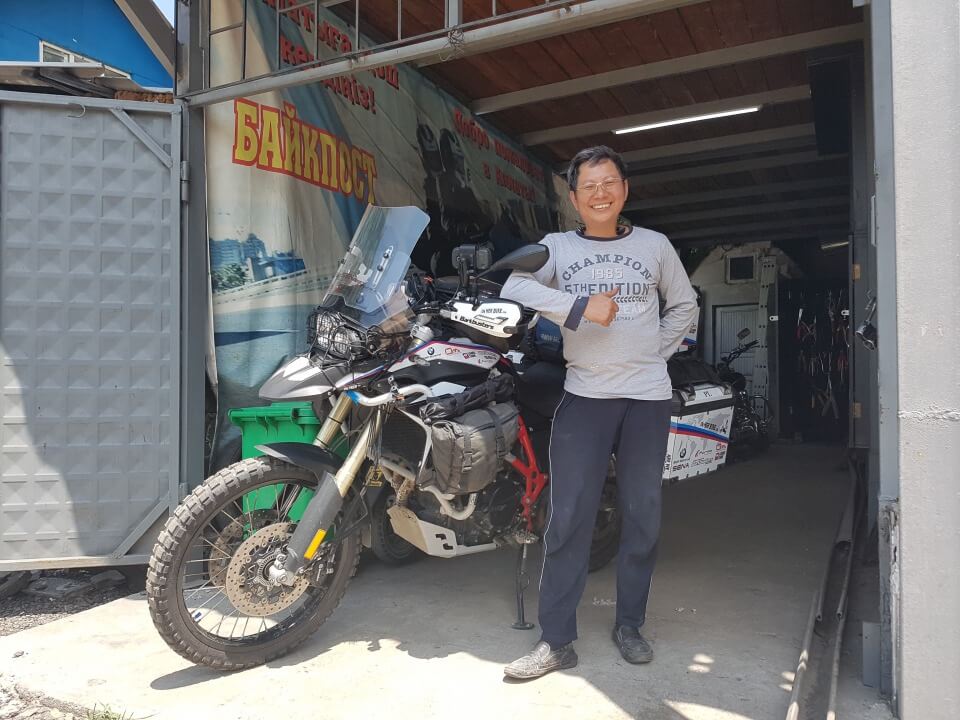 Just before I left Almaty a couple from Switzerland who are travelling around the world together, aka XT Adventures contacted me. So we caught up for a beer and decided to catch up in the mountains near the Kyrgiz border in a few days!
Back on the road!
After nearly three weeks my wound had healed. I was ready and so excited to leave the city jungle! I was going to cross the border with Kyrgyzstan in Karkara which was only 300km away from Almaty but still there was so much to see. Firstly, I wanted to visit the Tien Shan Astronomical Observatory in Ile-Alatau National Park cause apparently it has some amazing views. Unfortunately once I got there, it turned out the last bit of steep gravel road was blocked off due to roadworks. Never mind, the national park on its own was quite spectacular and I managed to find a nice cosy place for my tent near the river. I was so happy that day, my mind was so clear again, no more injury, no more worries! Just Chilli, my tent and me… happy days!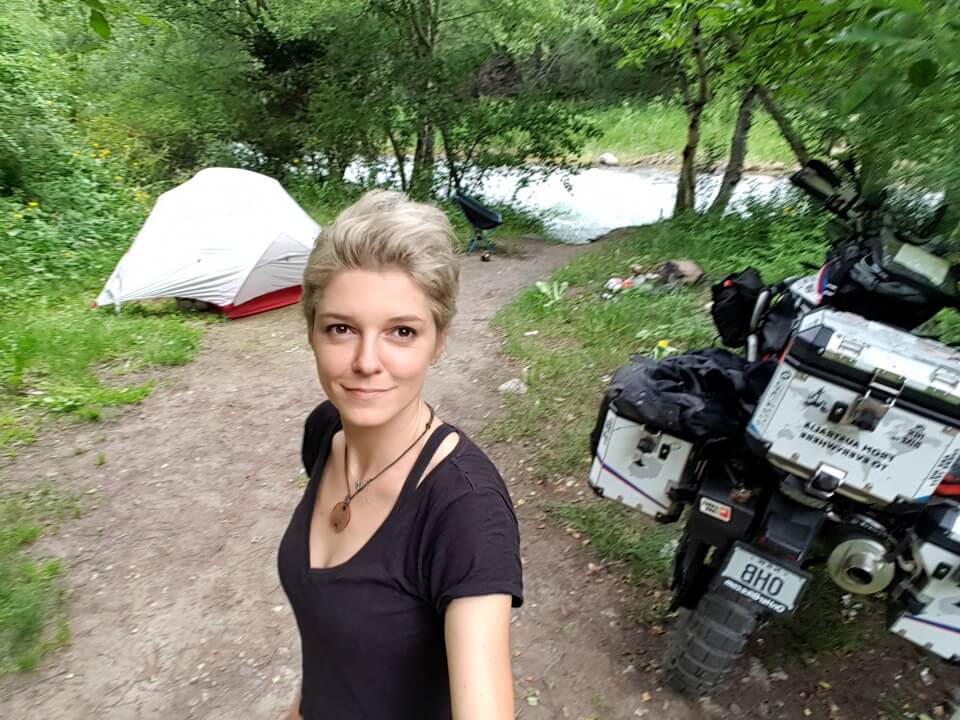 The next morning I woke up full of energy because today is the day that I will reach the Charyn Canyon. Before arriving in Kazakhstan I already knew this would be the highlight! And it sure was! 150 km of asphalt and 30 km of good gravel – woo hoo, first proper gravel since Mongolia! It even looked like Mongolia, but I guess no wonder Mongolia was just a stone's throw away.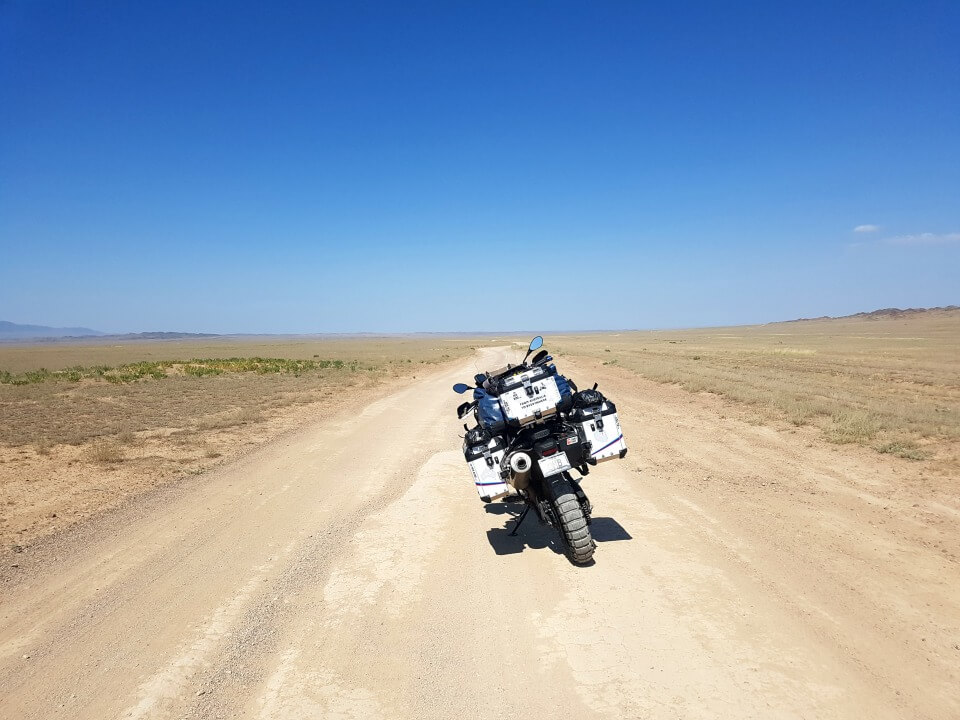 I arrived in the Charyn Canyon around 3pm and it was stinking hot. The guards at the entry advised that I was allowed to camp anywhere I wanted but I was not allowed to ride the bike to the bottom of the canyon. Roger that!
I rode to the edge of the canyon, as close as possible and there it was, this absolutely incredible scene…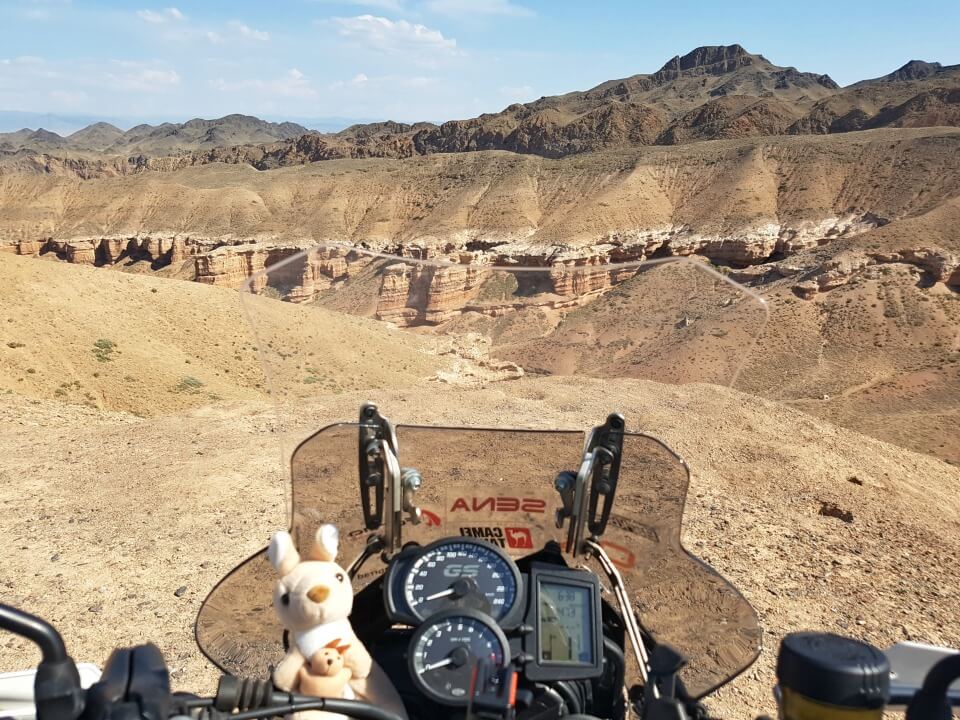 I quickly realised it's a long way down to the bottom so walking down there wasn't on option in this heat… but that's what drones are for! I inspected the canyon depths with my Honey (my drone). It was bloody incredible!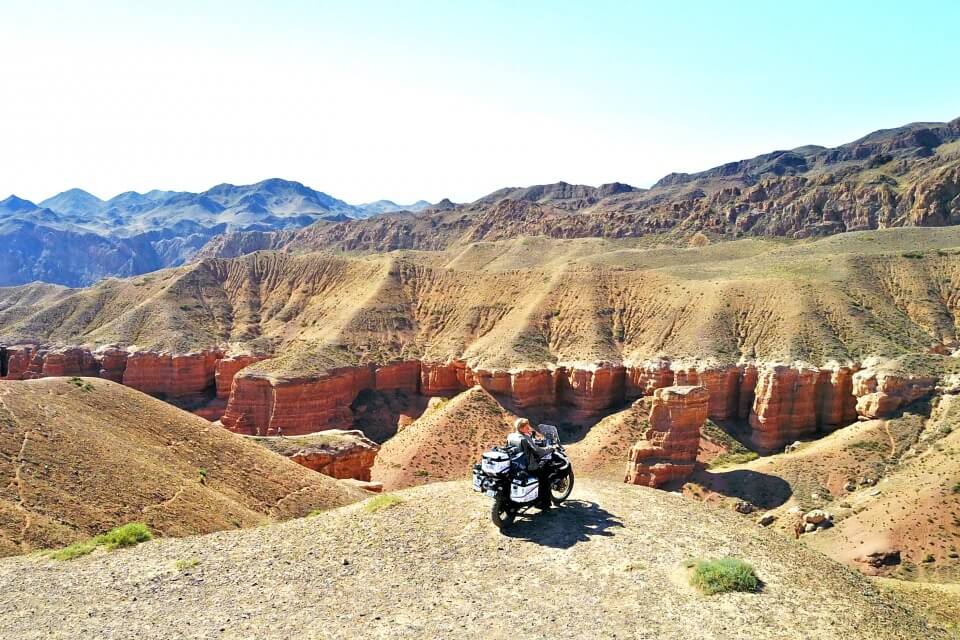 Once I finished playing with Honey I went for a little wander hoping I'd find some shade for my tent, but no luck. Well, I guess this shelter is better than nothing!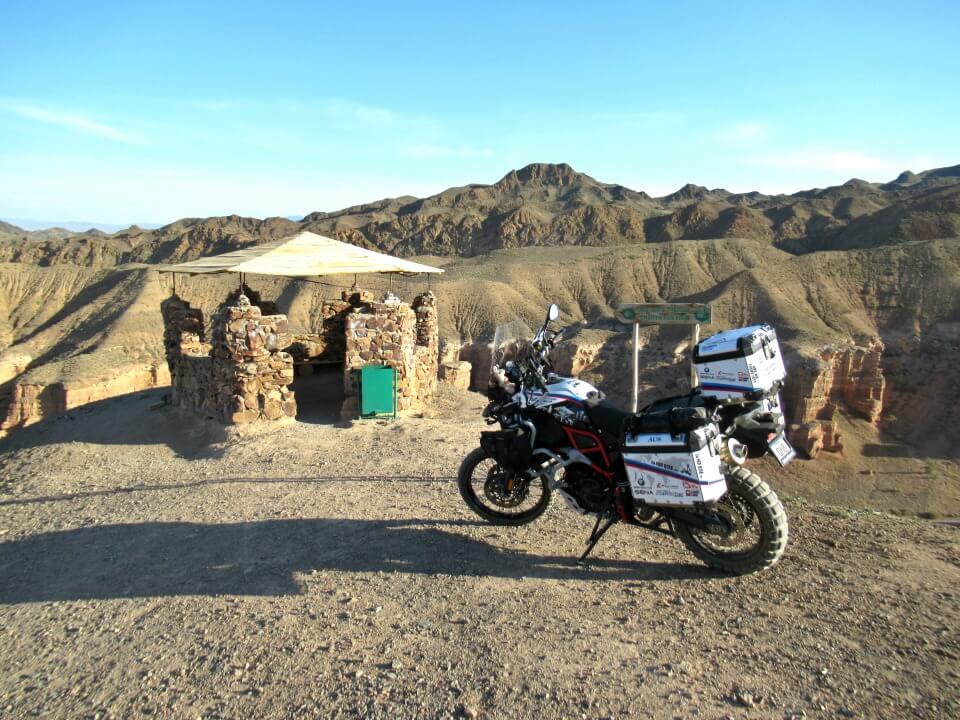 I waited until 6 pm until all the tourists had left and in between had some dinner, I'm really getting better at this cooking thing!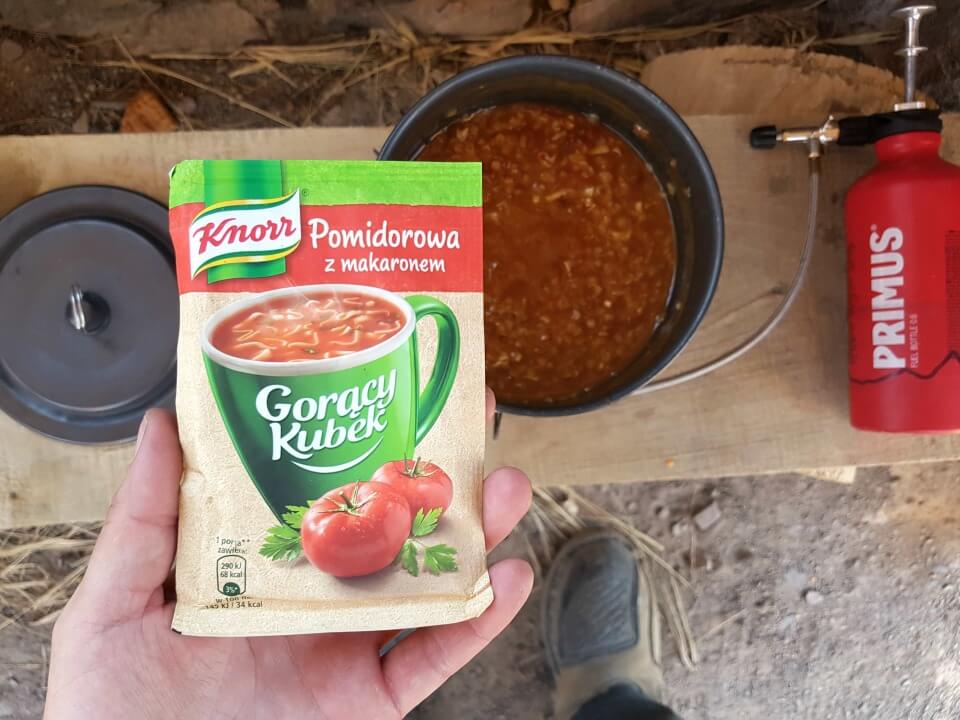 It was a very windy day so I covered the floor with my tent to protect myself from the dust on the ground while sleeping.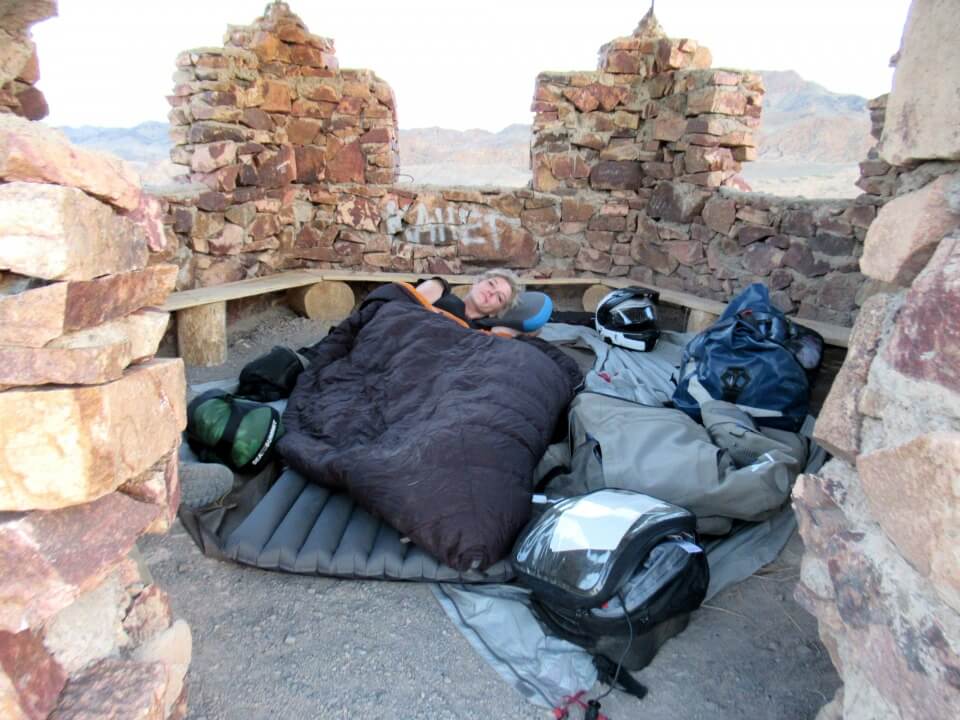 Before I fell asleep I wished Chillie Goodnight!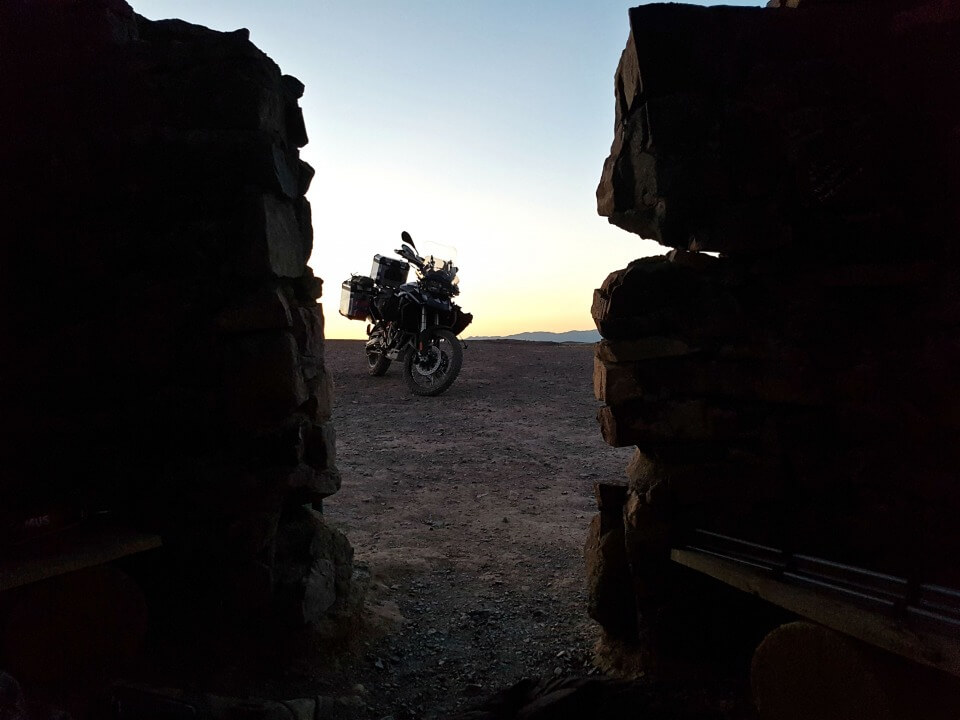 The next morning I took off to Lake Kaindy where I was going to meet up with Xenia and Martin from XT Adventures. Getting to the lake was a bit of a climb through some creeks and it turned out I wasn't the only one who struggled…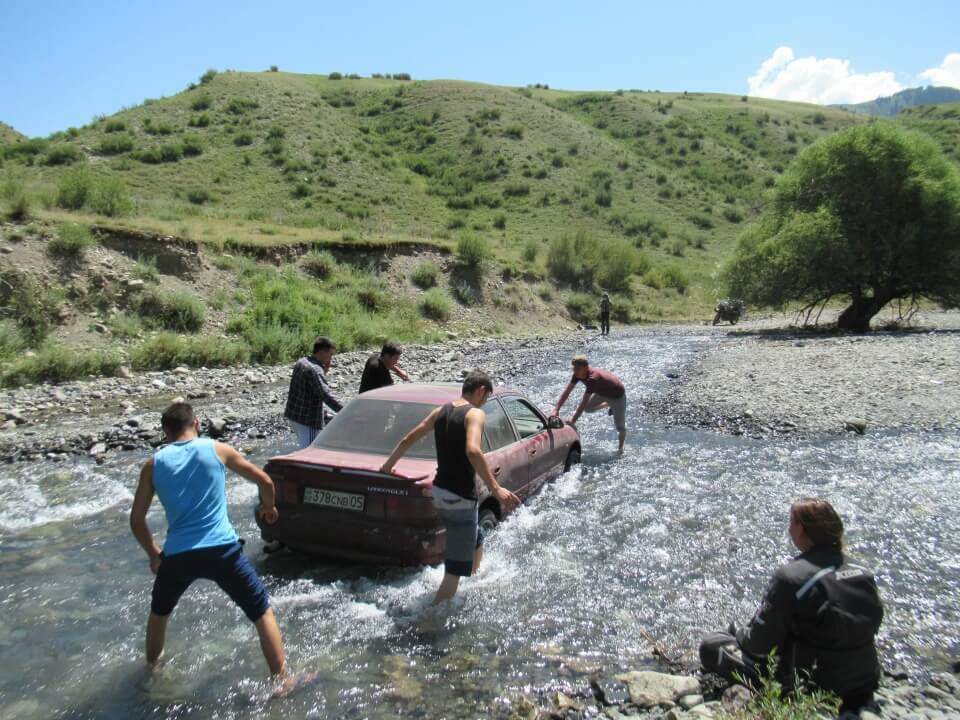 …but I managed to get to the top!
And it was so worth it! It was my third day without a shower so the moment I saw this lake I knew I had to go for a swim ASAP. At 2000m above sea level I was expecting the water to be chilly but bloody hell it was freezing! I don't think I stayed in the water for more than 10 seconds! Anyhow it was very refreshing!
There was a lot of tourists and not much space for tents but I managed to find some shade at the top of the hill. Sooner or later I heard the rumble of motorcycles. 'Yay, they're here!' I ran down the hill to say hi to my new mates but I could only see the unattended motorcycles. 'Where did they go?', I couldn't find them at the lake or anywhere else. I waited near the bikes for a good half an hour and decided to go back to finish setting up my camp. I wrote a little note with an arrow 'I'm at the top! Kinga'. Not much later I could hear the bike starting again and coming my way. 'Hey, you made it'! I shouted out loud excited to see them.
Turned out they went for a walk to the main lake Kaindy, which I checked out with Honey in the morning as well. Dead trees rise above the surface of the lake, looking eerily like the masts of a hundred sunken sailing boats after a big storm.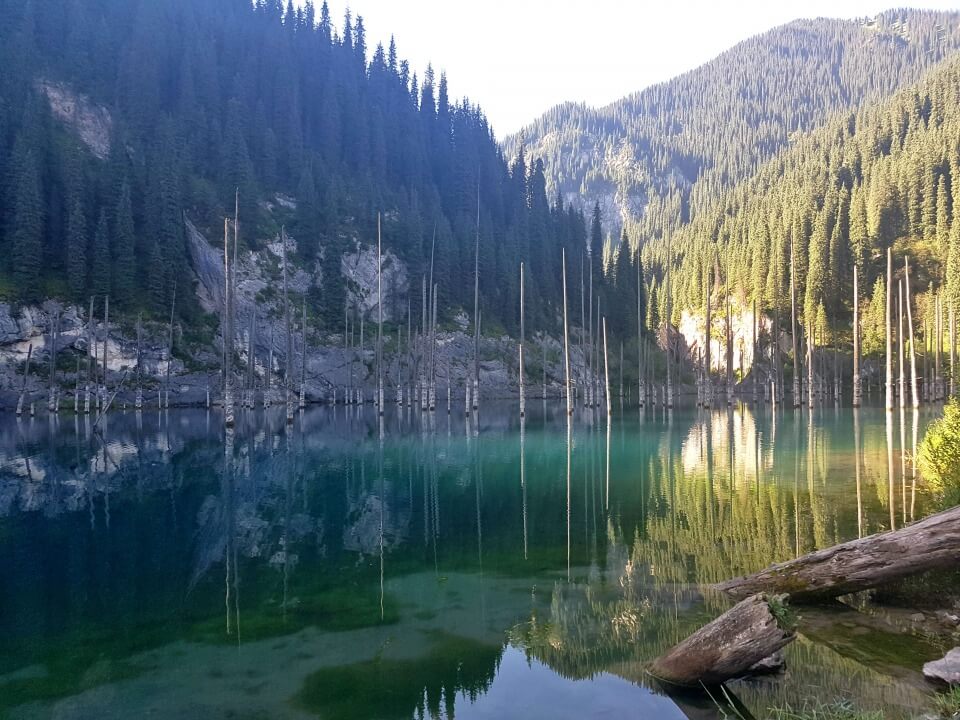 We chatted all evening exchanging our experiences, informations and maps. I asked them if they would like to take Bacon with them. I'd been riding with him for the last 3 months and felt like it was time for us to go our separate ways now. The guys were super excited to take him on board. In the morning we took a 'Bacon Handover' picture and we were ready to hit Kyrgyzstan!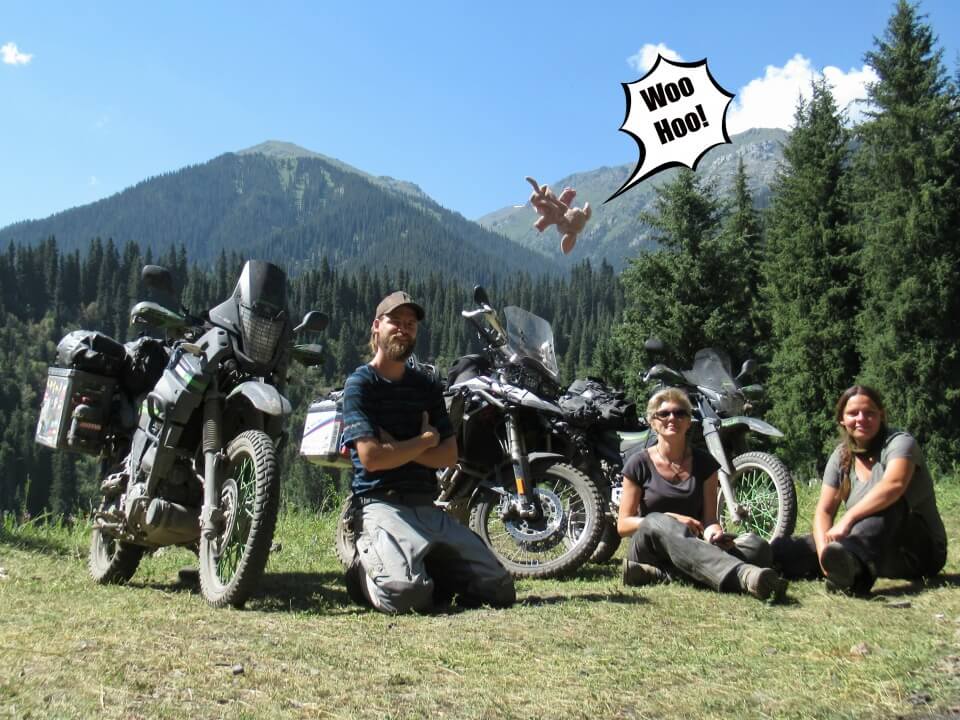 It's nice to have companions every now and then. I could finally switch off and just follow. And you get some nice action shots taken!
All the way we were connected with our Sena intercoms and I had some serious discussions going on with Xenia on the topic of 'how many clothes should we carry on a RTW trip'. It was a really fun riding day and in no time we were in Kyrgyzstan…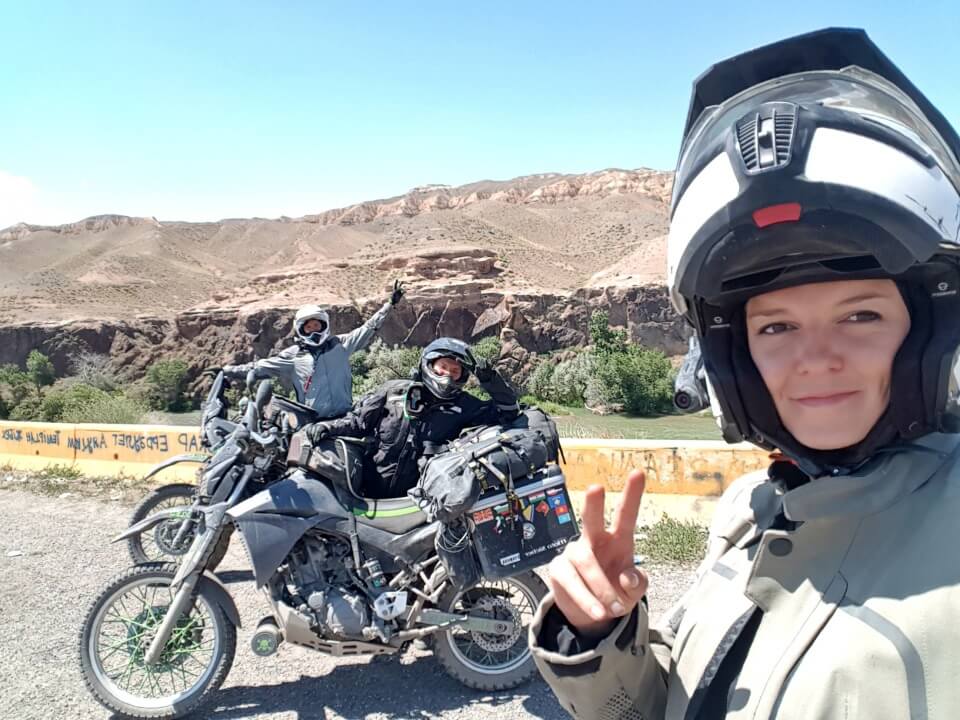 In Numbers:
Duration: 22 days (16th June 2017 – 7th July 2017)
Total km's: 1869 km 
Map: https://www.google.com/maps/d/edit?mid=1SvG_S44yeXSweg_sPdxoKdZ0Rww&ll=46.86026246735854%2C79.20110246166587&z=6
---
The "Are We There Yet" World Tour is about more than just me seeing the world on a motorcycle. Throughout my journey I'm raising money for a young disabled child in Poland named Franek. Franek was diagnosed with cerebral palsy (weakness of the entire right side of the body) and he will require constant rehabilitation for the rest of his life. All the money raised will go directly to helping Franek and his family lead as normal a life as possible so please donate generously: www.gogetfunding.com/arewethereyet