Kyrgyzstan
After the border crossing in Karkara I followed Xenia and Martin (from XT Adventures) to Karakol. They were already familiar with the region so they easily lead us through some scenic dirt roads. Riding with these two was so much fun, we had plenty of laughs along the way. It's weird but time goes so much quicker when you ride connected via intercom. I guess it's the distraction, when you are solo you're with your thoughts non stop. It was a nice change.
Karakol
We arrived at the Riverside Guesthouse without a booking and it turned out all the rooms were taken so we went for the cheapest option of camping in the garden. The guesthouse had very good facilities and pretty good wifi – just the perfect environment for all of us to catch up on blogging and our social media updates. I stretched my stay there to 5 days during which I got a lot of work done and felt so relieved. Managing social media while travelling is the biggest challenge and a LOT of work that I'm constantly behind with, but I wouldn't do it any other way. Thanks to my blog and social media channels I've met so many incredible people and received so much support. So if you ask me if it's worth it, yes it is!
As it happened there were a lot of other riders from all over the world in town and we all caught up for drinks in the pub! Thanks to social media again!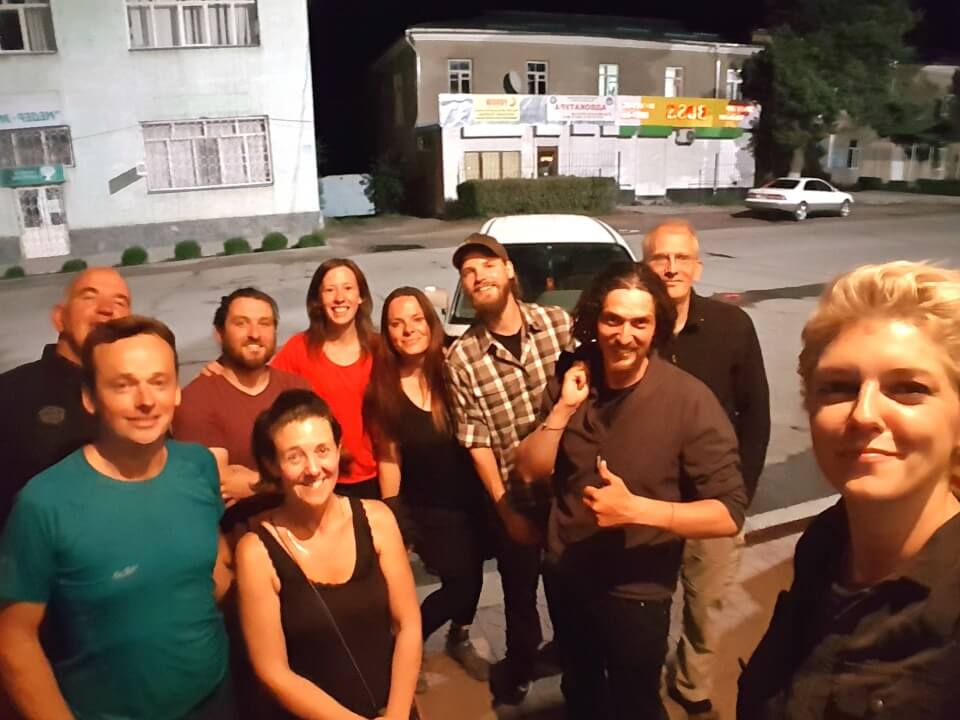 That was a great night! Meeting overland riders always makes me feel so energised… cause they get it! I don't have to start a conversation with an explanation of why I'm riding solo and where I get the money from. We all do it in different ways but for the same reason… to explore and experience the world. And it doesn't matter what bike you're on, as long as you're out there doing it!
Police, Episode 1
After five 'working' days I decided to keep going. Xenia was sick so they decided to stay a few extra days until she got well again. We gave each other big hugs, hoping we would see each other somewhere else in the world again soon.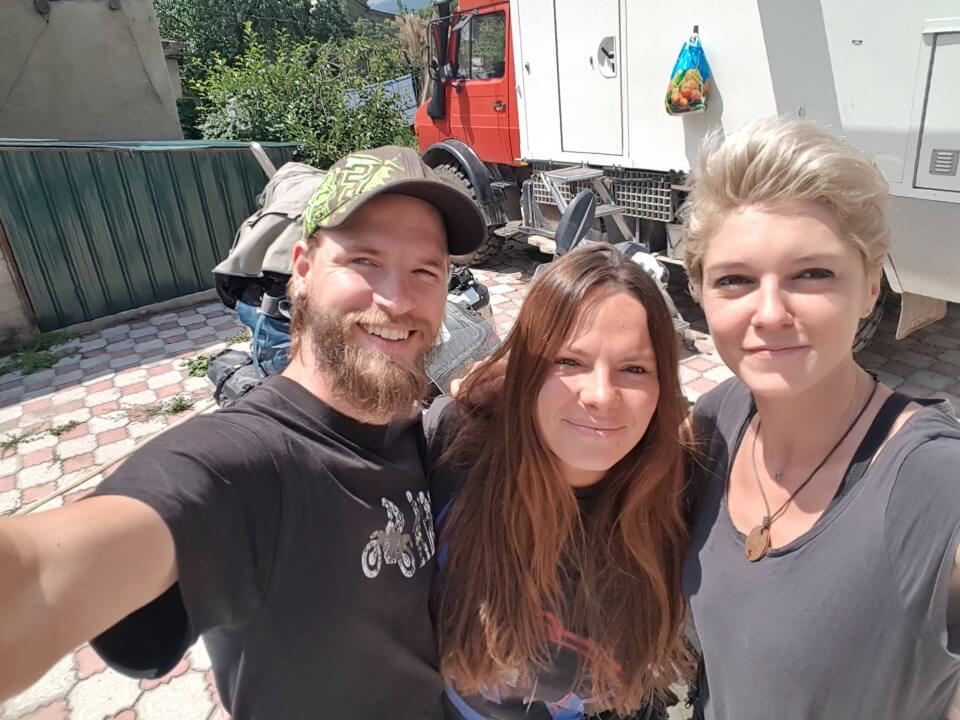 I hopped on the bike and off I went solo once more. I didn't have to go too far to get booked for speeding. I was riding through a village deep in my thoughts, absolutely intentionally 10km/h over the limit, when suddenly some cops jump out of nowhere! In polite Russian they explained my indiscretion and the consequences. I'm generally quite hopeless in these kinds of situations, I've paid every single fine in my life because I just cannot haggle or bullshit. If I'm wrong (and that happens a lot with regards to speeding), I pay. But this time I had done my homework and I was prepared to deal with any corrupt police in Central Asia. And the best way (I know it now!) is to have a fake wallet with an expired driver's licence, a cancelled credit card, and a minimum amount of cash. So when the policeman asked me to pay 2000 Som, I simply showed him 220 Som ($4) in my fake wallet and said that's all I've got and if that's not enough I'm happy to pay with a credit card. He wasn't interested in my credit card at all, he just wanted a bribe and he was even willing to give me a 1000 Som discount. I showed him my fake wallet again and said it's either 220 Som or nothing! He got irritated but took the money and told me to go.
There are many more Police episodes to come, but I got better at dealing with the corrupt cops so this was my first and last "fine"!
Holy crap, what a beautiful world!
There are so many beautiful places to see in Kyrgyzstan and just to see the highlights you'd need at least a month. I allowed myself only 11 days because it was still a long way to Europe and I had to get there before winter. But if I had a chance to do it all again I would like to spend more time in Kyrgyzstan and Tajikistan as they are at the top of the list of my favourite places to ride. The factors that make it so special are: scenery, roads, people and price…
So I started my Kyrgyz exploration from Lake Issyk Kul – the second largest saltwater lake in the world. The southern shore is the more scenic as it's surrounded by mountains. Just wow!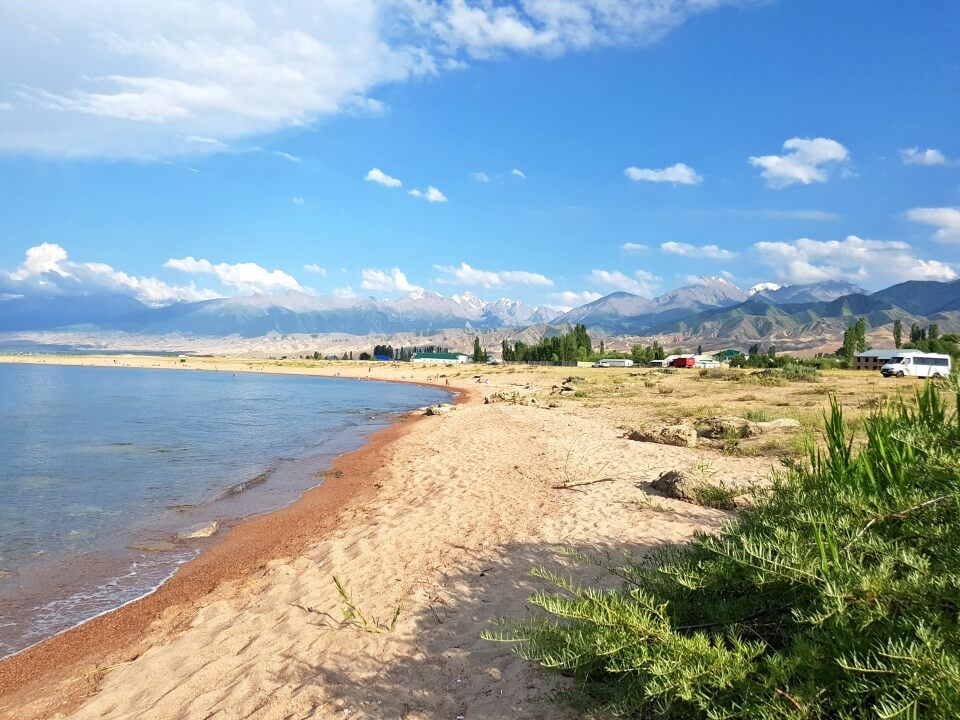 The size of the lake is very impressive, it feels more like a sea, just with no waves. I stayed in Bel Tam Seaside Yurt Camp in Tong for the night, I'd chosen the cheapest option of camping for 200 Som ($3) with breakfast! Bargain!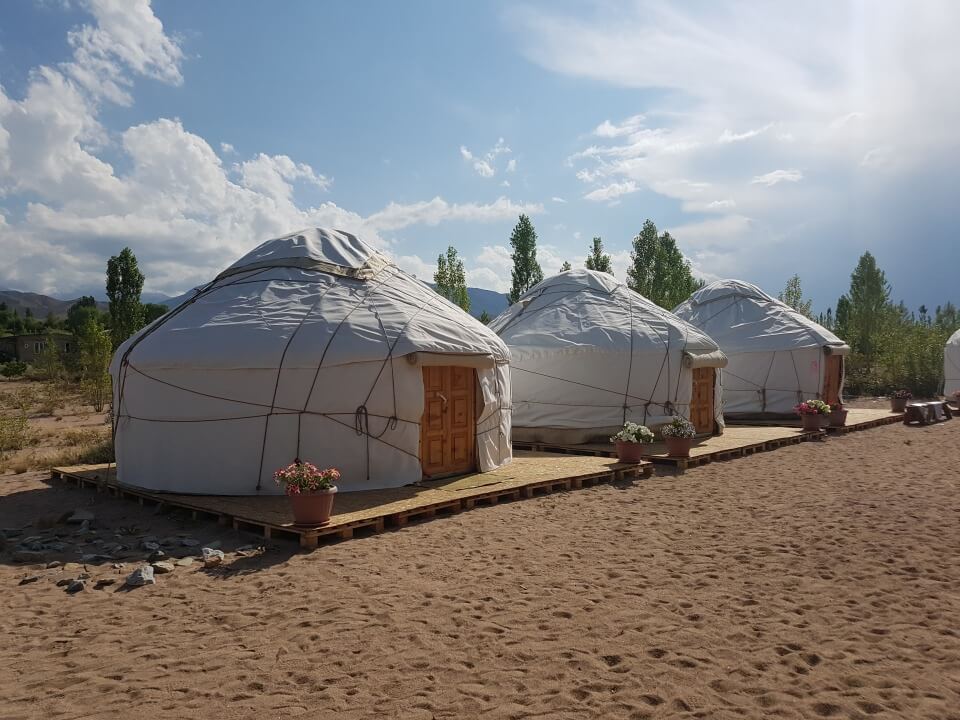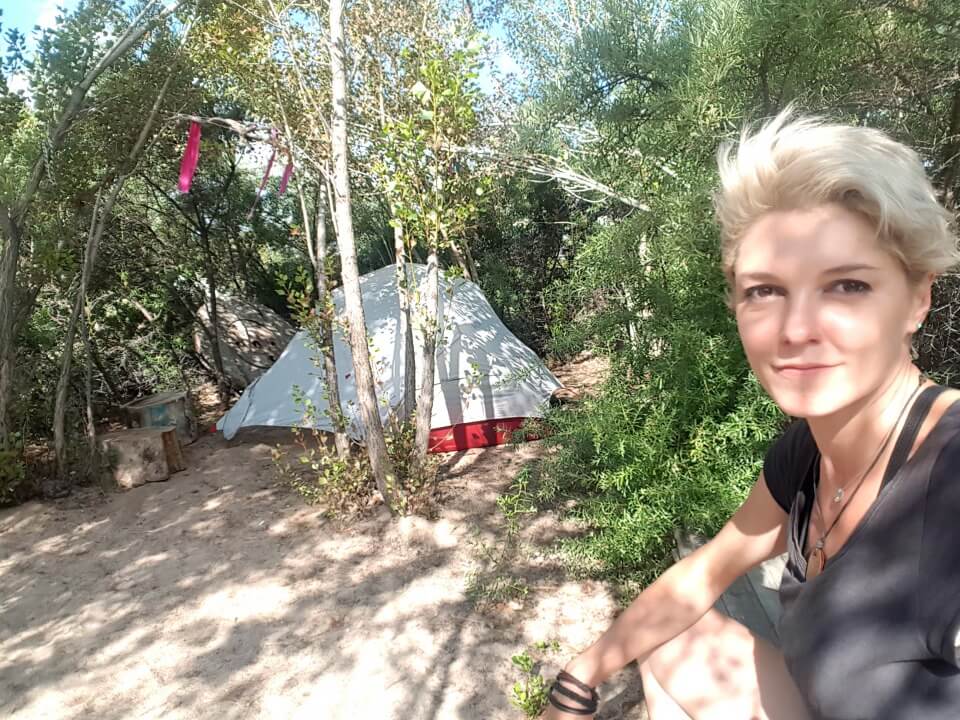 I sat on the beach, enjoyed the sun, went for a swim and for a moment I felt like I was on a real holiday or something. Life is good! In perfect moments like this I just want it to last forever. In this case the 'forever' lasted only one day and I had to hit the road again!
On the way out of town I bumped into this old Muslim cemetery, I didn't spend too much time there, cause it seemed a little dead to me…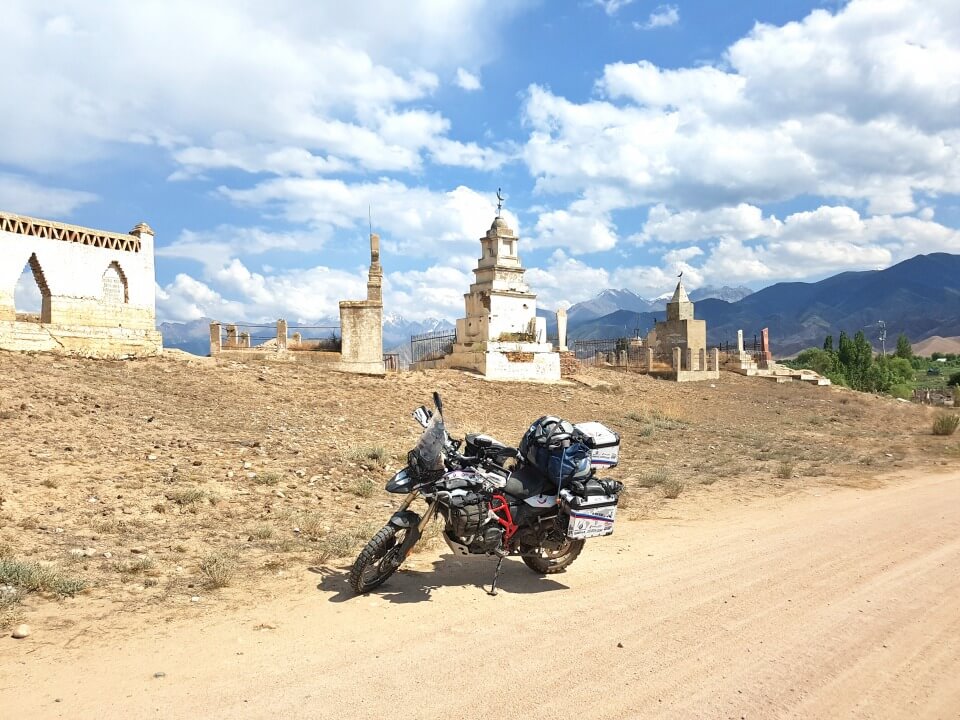 On the main road out I noticed I had a "tail". Some other solo rider was chasing me for a good 20km after which time I decided to pull over and say "Hi". My new travel companion was very surprised when I took off my helmet, I guess he was expecting a man. 'Privet, a vy otkuda?' I'd heard that Russian greeting and question as to where I was from before. I introduced myself and we had a nice chat. He was from Kazakhstan on a 7 day trip through Kyrgyzstan. He gave me some yummy apricots and we exchanged stickers, whilst discussing the usual topics of where we'd been, our plans and destinations etc.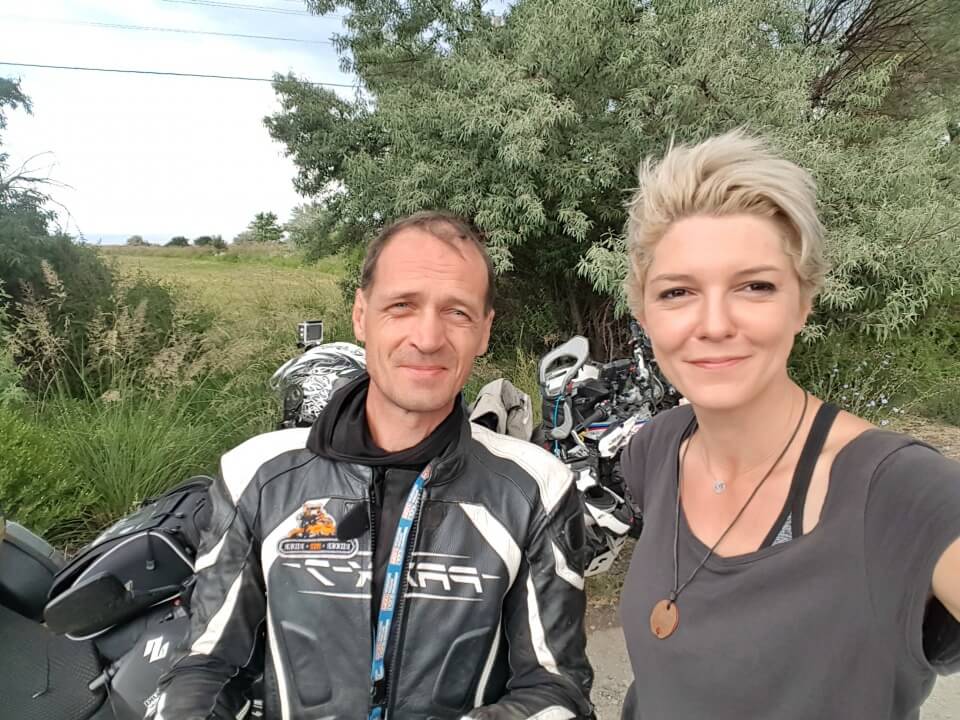 During our chit chat the clouds had gotten a little thicker and it looked like a storm would hit us very soon. I zipped up my jacket and pants and that's all that was needed to keep myself dry. "Gee, my gear is so good" I thought to myself. My companion put on overalls and we decided to ride together to the petrol station in Balykchy. After filling up we went back to our interrupted conversation of where we were going and what our plans were, before we said goodbye and went in opposite directions.
It was already lunch time and it's no surprise but I was starving! I was travelling South and the terrain became very remote, I regretted that I hadn't stopped in town to grab something to eat. But thankfully there it was – a little yurt camp! I stopped immediately. As usual they served only Shashlik but that was fine by me! Nom nom nom…
Phew, now I'm no longer "hangry", I can just focus on my riding. There are two ways you can get to the high altitude lake Son Kul when coming from the East. I was advised to take the second turn as it's more picturesque. I finally found the road I was after, I took a right turn from the asphalt, rode for 1km and stopped to take a picture. "Holy moly, this is pretty! I'd better take some pictures here cause you never know, this may be the best bit…" But it only got better with each and every kilometre…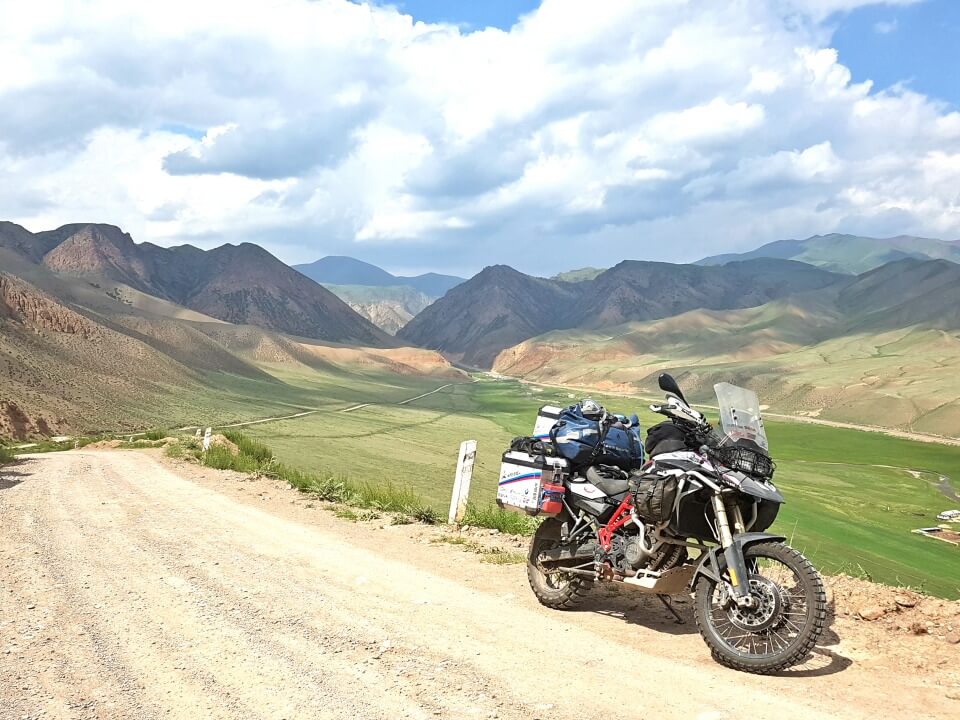 Although the gravel was in very good condition it took me ages to do the 50km to the lake. I stopped maybe one hundred times for pictures, I seriously couldn't get over how beautiful these mountains were!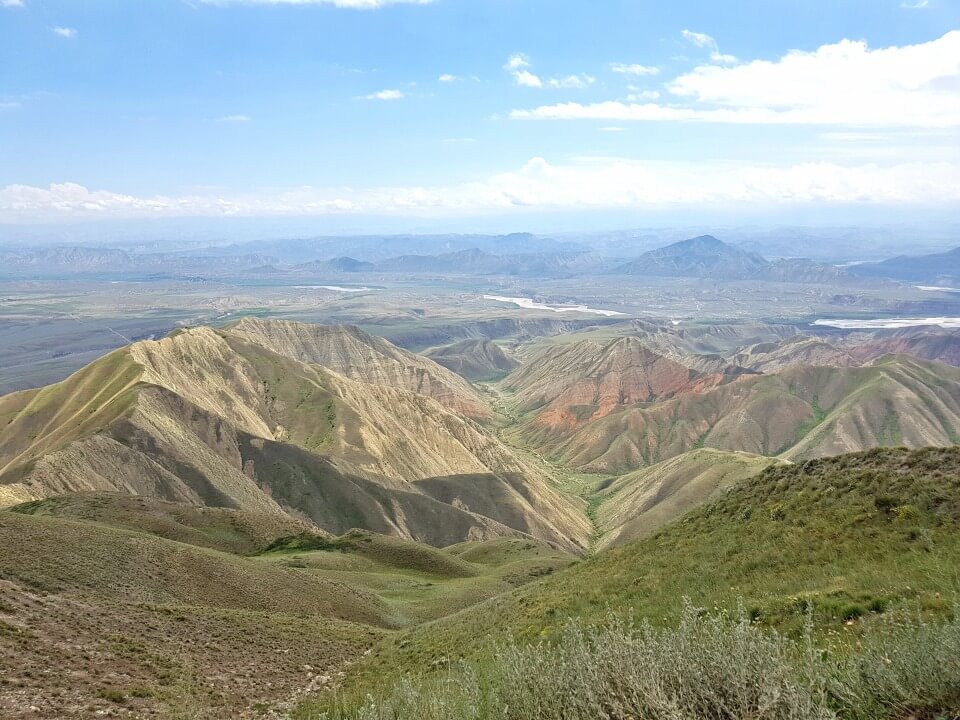 And on top of that you're going through twisties like this! #OMG!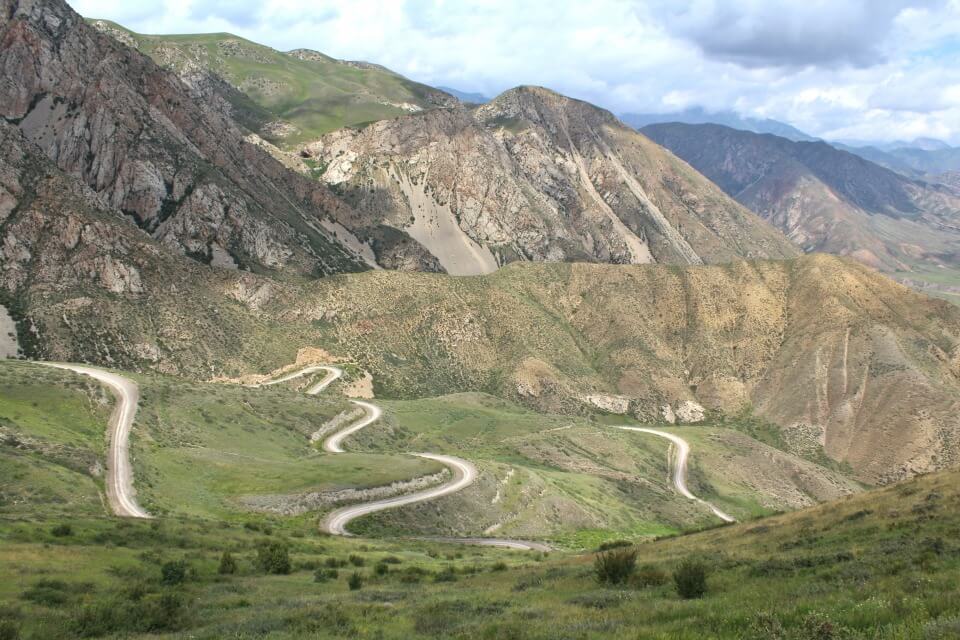 While I was swooshing down a long steep hill I spotted two cyclists. Oh dear, I don't think they have any idea how long this hill is. I stopped the bike, turned off the engine and yelled:
-Are you ok? Do you need water? It's a very long hill ahead of you!
-Oh yeah, water would be nice, thanks! they replied
I was very impressed with their determination. They were in their sixties I'd say and still out there in the mountains challenging themselves like they were half their age. We had some quick introductions before wishing each other luck and going our separate ways.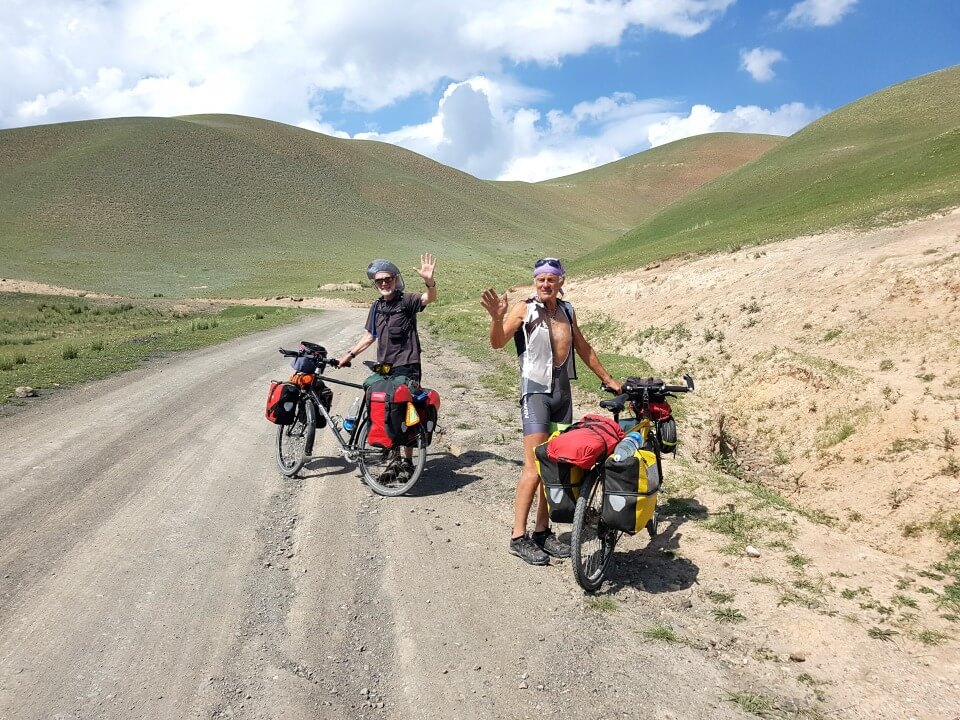 The higher I was riding obviously the colder it was getting. At the bottom the temperature was about 35 degrees and by the time I got to the lake where the altitude was over 3000 m, the temperature had dropped to just 10 degrees.
I was hoping to camp at the top, but the wind was so strong so the option of sleeping in a yurt was more appealing. And there was no lack of yurt camps near the lake! I rode to the first camp near the lake. The hosts greeted me with a smile. The cost of one night with three meals was 500 Som ($7). That's it, I'm in!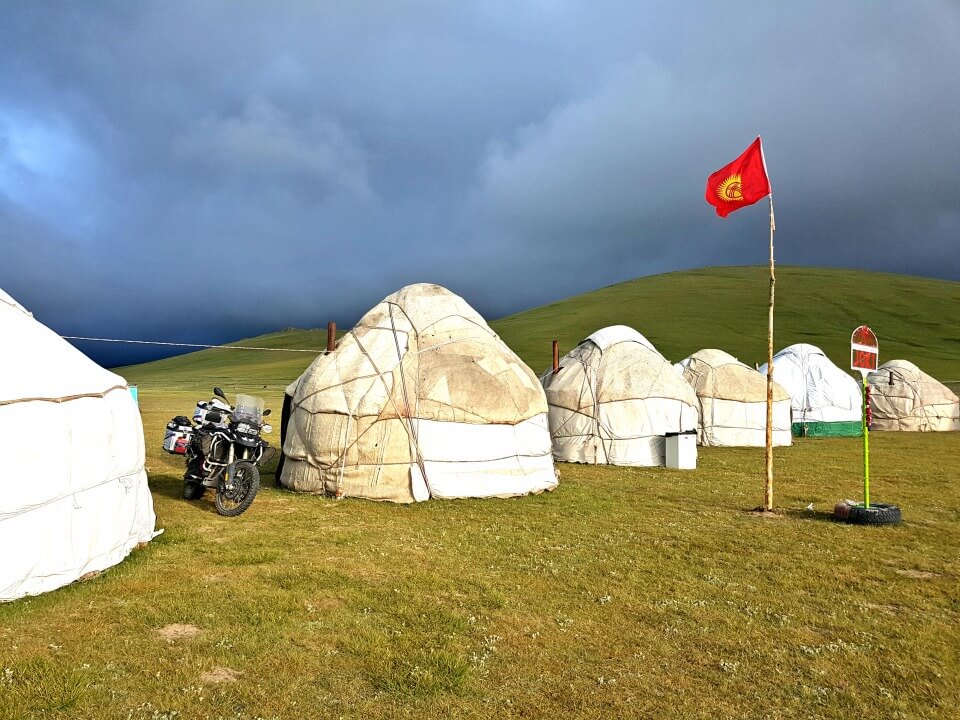 I was accommodated in a smaller yurt on my own. The conditions were very basic, a collapsible bed and unwashed sheets. There was no bathroom, just a portable toilet and a shower with freezing cold, dripping water. Perfect! I seriously didn't mind these small discomforts! If it's not rough, it's boring.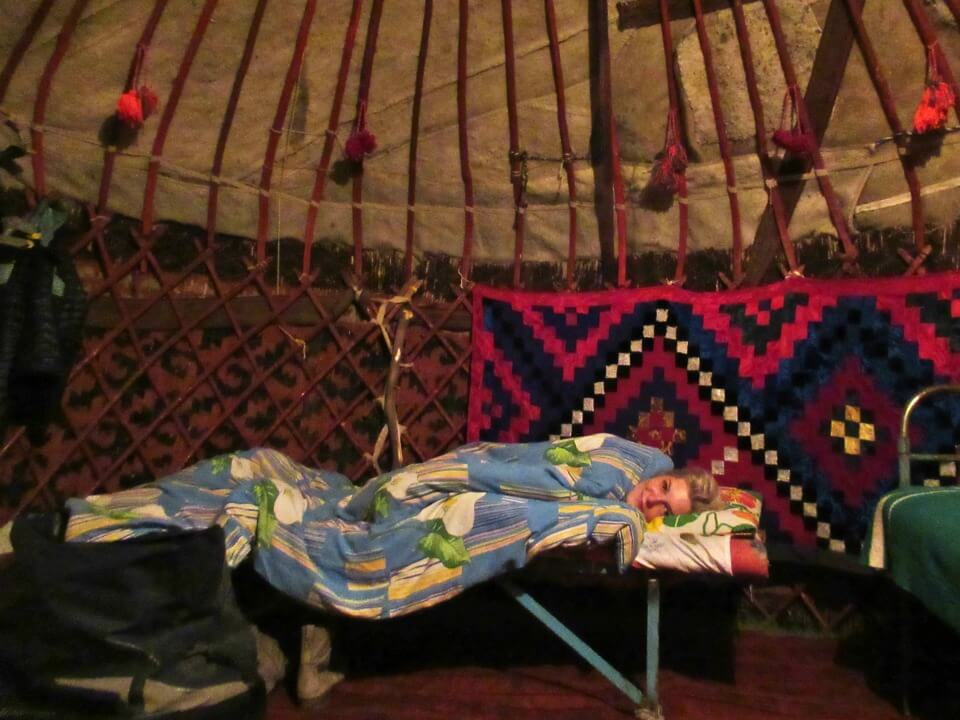 The camp was run by a family, including the kids who looked after the fire all day and made sure all the guests stayed nice and warm in their yurts.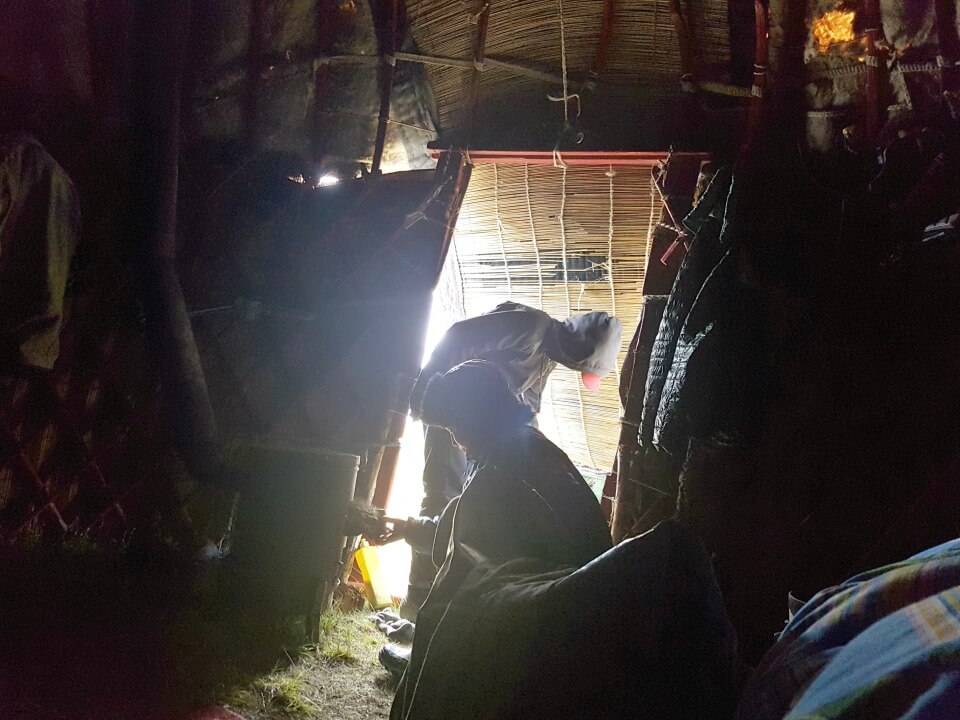 There were 3 main meals served, plus morning and afternoon tea. Basically all the guests were eating and drinking tea every 2 hours! It was a good opportunity to get to know each other and I made some new friends. Two canadian cyclists, a German volunteer worker and I went through the typical travellers conversation of experiences, plans and tips etc.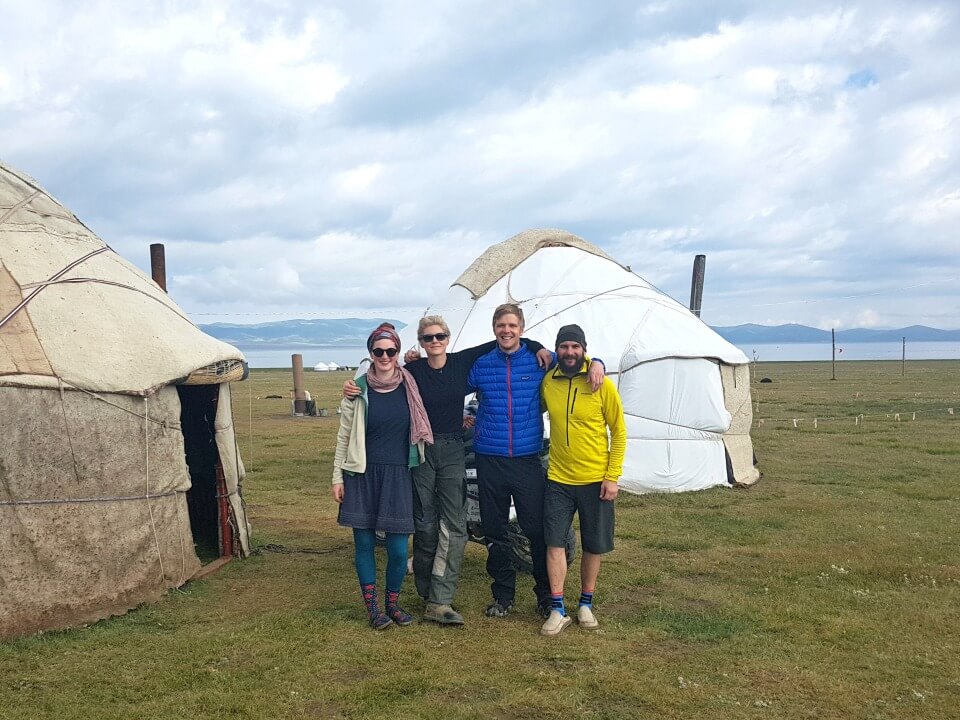 We played games, danced and had a ball with the locals!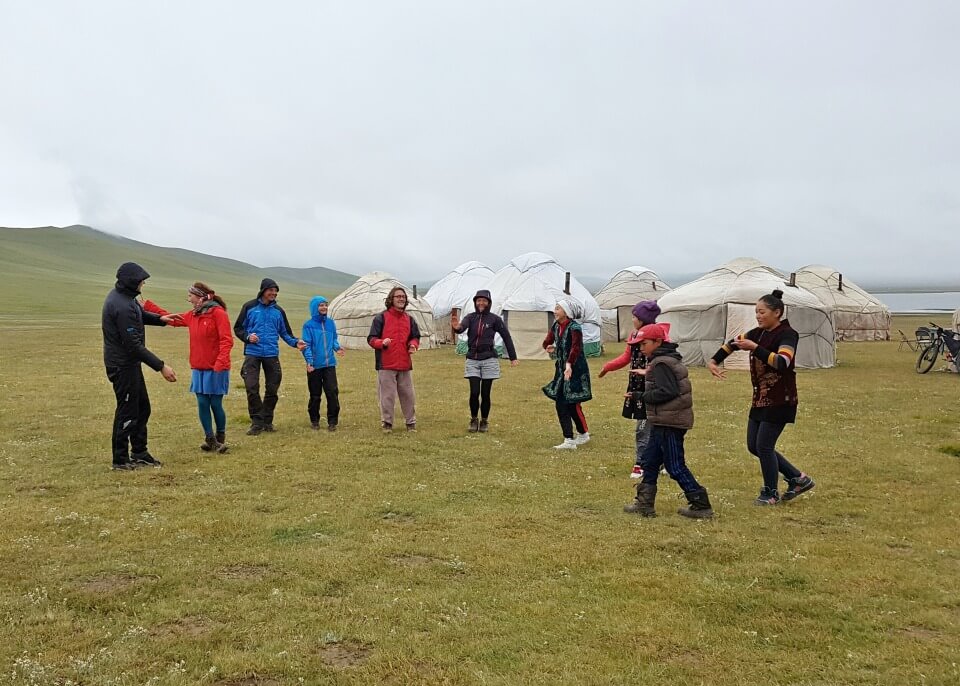 Oh we also got to witness how they slaughter the sheep for food and other resources.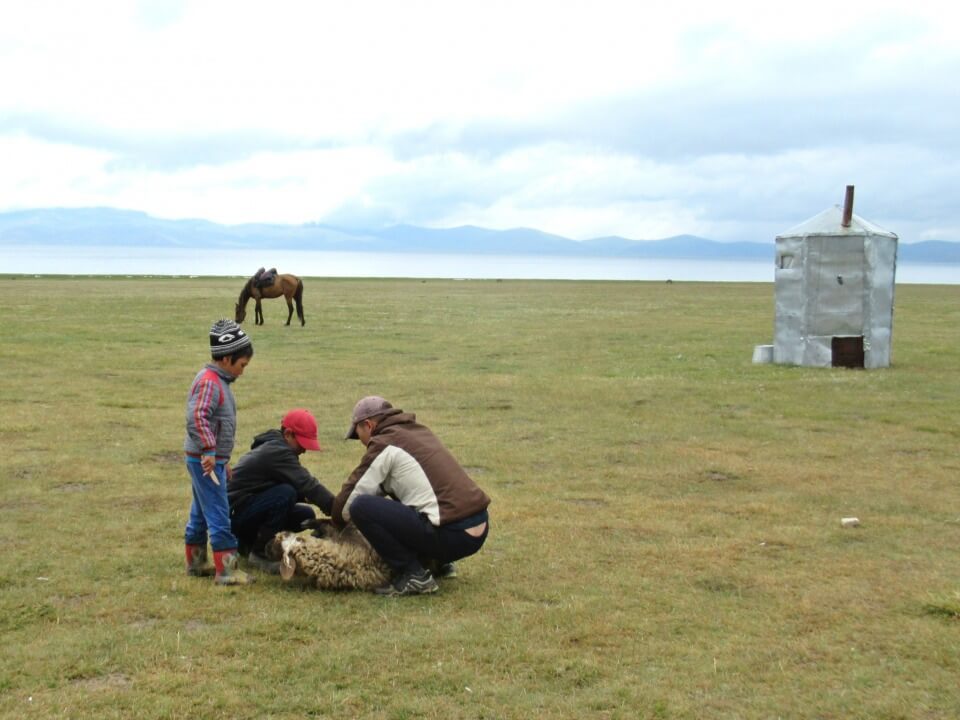 It had started to rain and snow so I had to extend my stay another night. Riding on the gravel down the mountains wouldn't be much fun in these sorts of conditions. On the third day the sun came out and I was very excited to be able to move on once again. After breakfast I helped some locals to pump up a flat tire on their car. What are friends are for 😉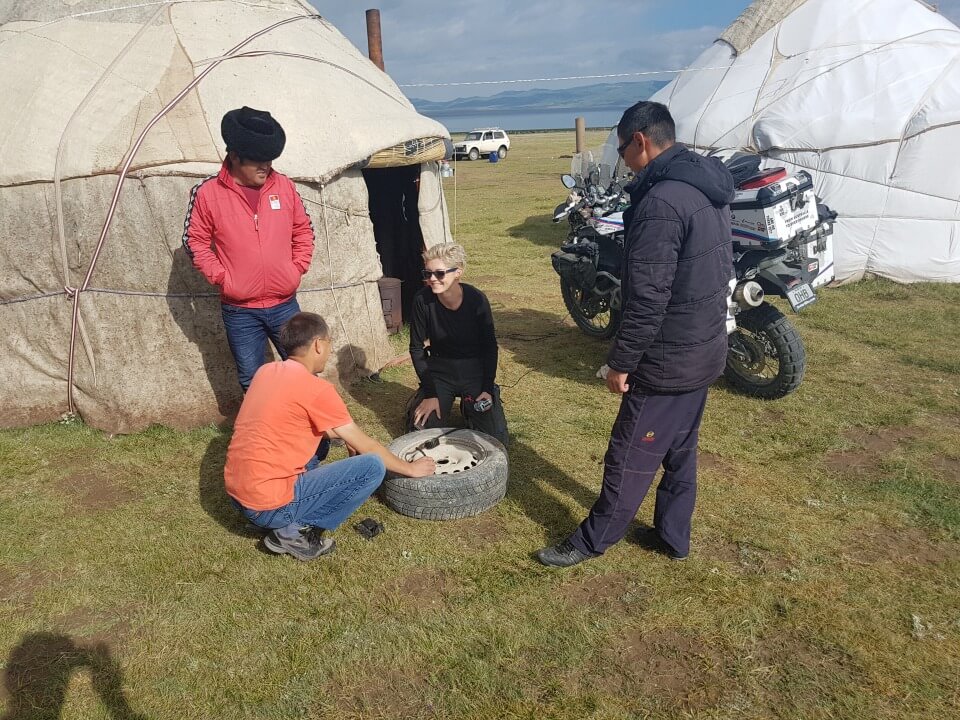 On the way out I took the road to Kyzul-Emgek and again it was a route through a mountain pass I'll remember for a long time! It felt like you were on top of the world!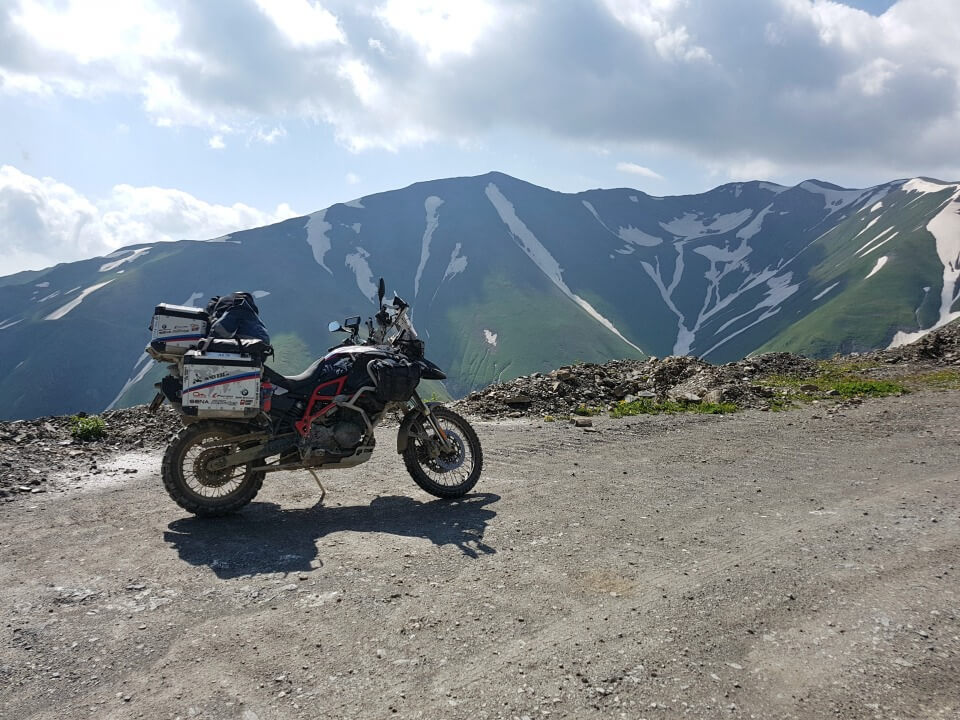 There were some muddy sections after yesterday's rain but still the condition of the road was very good.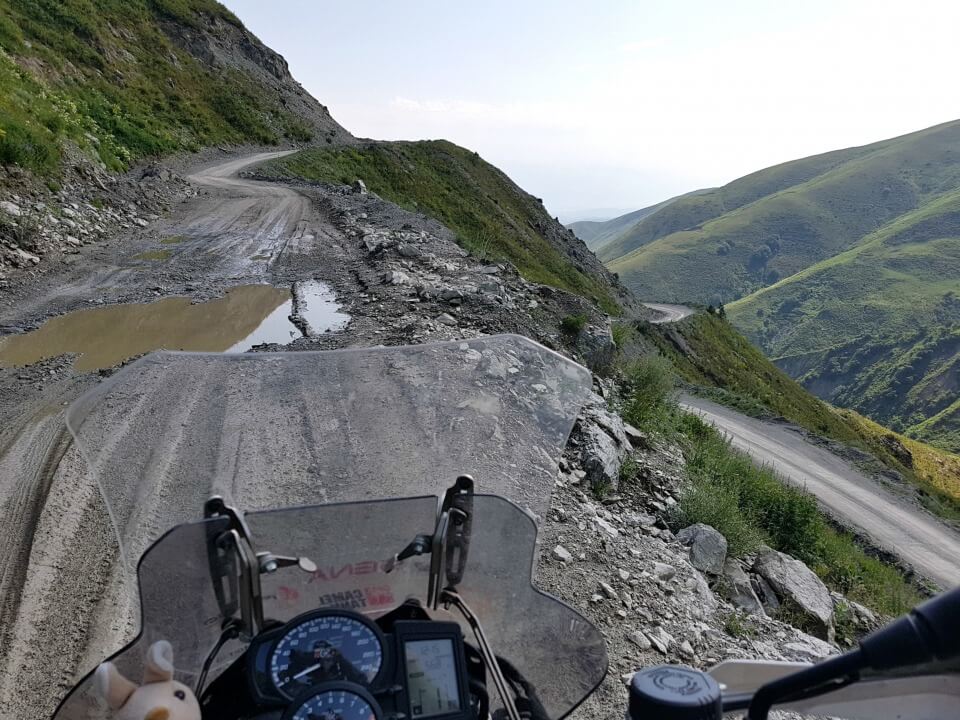 All this time Mongolia had been my dream and sure it was a great experience and really tested my skills and character, but Kyrgyzstan is just something else, it's just pure joy, it's exciting and relaxing at the same time. It's just the right balance of technical & fast riding with the unbelievable rewards of the landscapes and the local hospitality. It's an overlanders nirvana.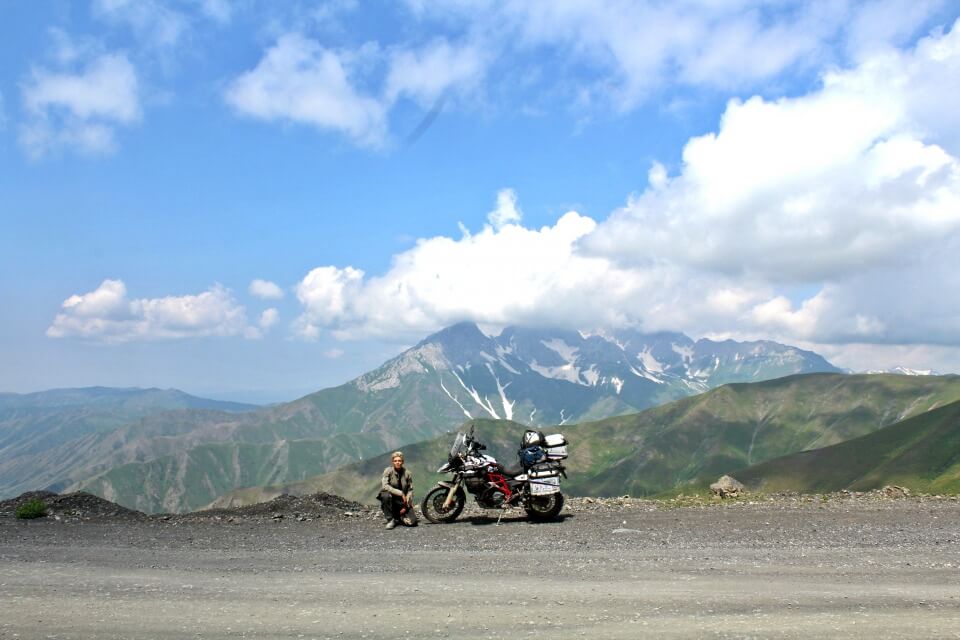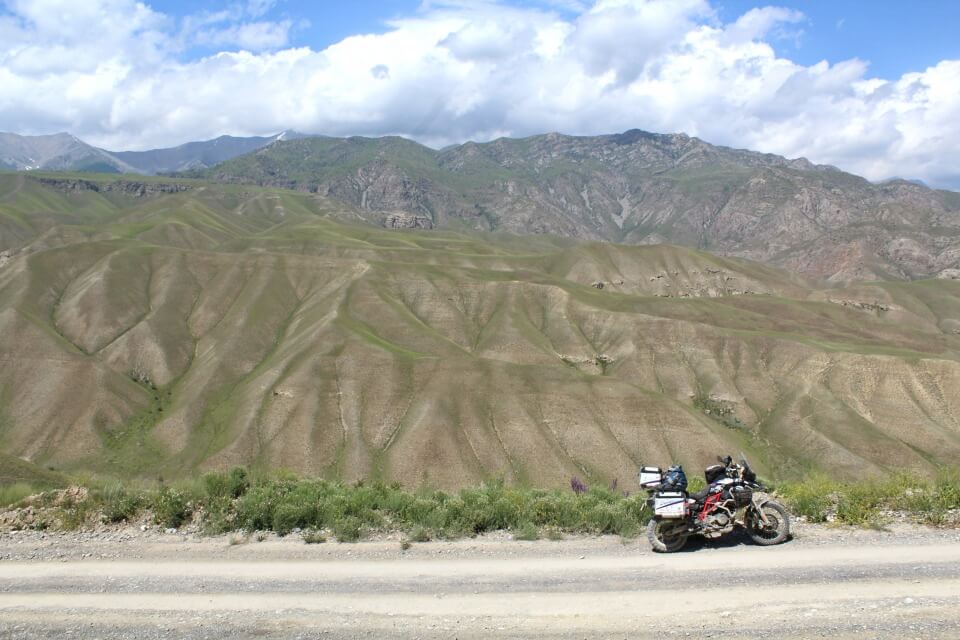 After another hundred or so stops for photos I got to the bottom of the mountains and made my way to Kazaeman. I couldn't find a quiet place to stay near town, so I got some groceries and continued towards Osh. A few kms later I passed a little bridge and thought that will do for today. Although I could be seen from the road I decided to break the rule and stay here regardless, I was too tired to go any further. The moment I started setting up my tent I could see a car turning from the main road and coming towards me. "Damn it, I really don't feel like having any company right now". Two young men got out of the car and greeted me in Russian. I didn't feel comfortable with this whole situation so I pretended I didn't understand them. I tried not to make eye contact and focused on unpacking my bike while they kept trying to ask me where I was from and if I am alone. After a good 10 minutes of not getting any answer they finally gave in and drove off. I could finally relax and have dinner!
The fact that I was seen from the road and these locals came to say hi gave me a bit of anxiety. All these negative feelings that had arisen after my experience with the Mongolians started to surface. That I had developed this distrust of the locals was so frustrating but maybe a good thing. All my life I thought that it doesn't cost you anything to be nice to people and smile but when you are out in the desert in Central Asia on your own it can be misinterpreted. When people can't see you, they can't hurt you. Despite my worries, there were no more interruptions that night.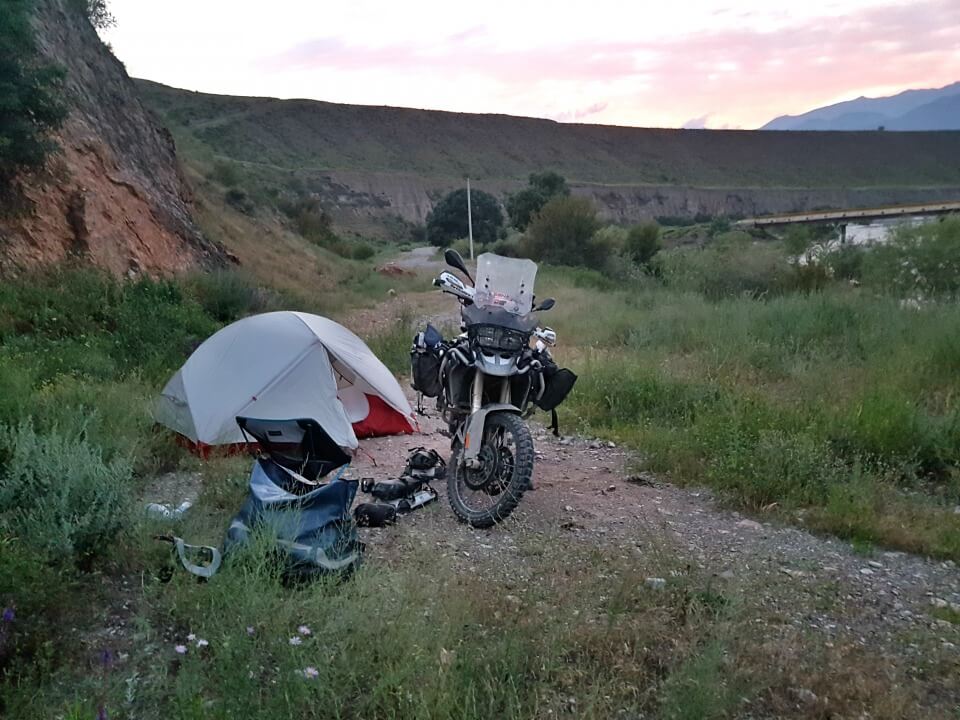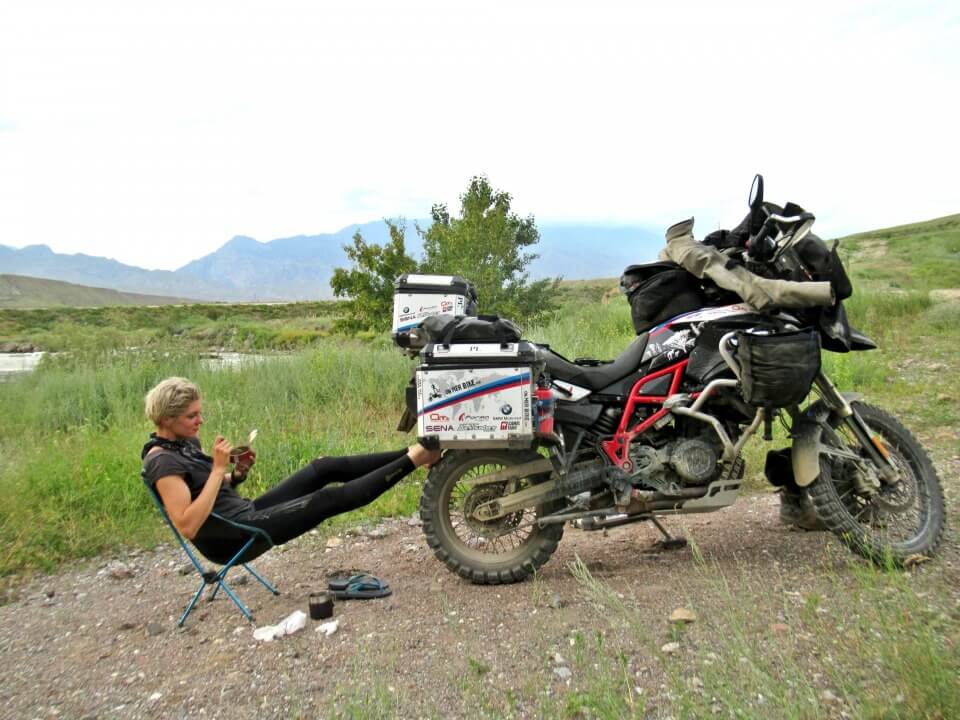 In the morning I went through my ritual: coffee, brush my teeth, pack up and go. And again for another 100km I rode through the most astonishing mountains. You're probably getting bored with me banging on about the beauty of this country so I'm just going to express myself with pictures! Here you go…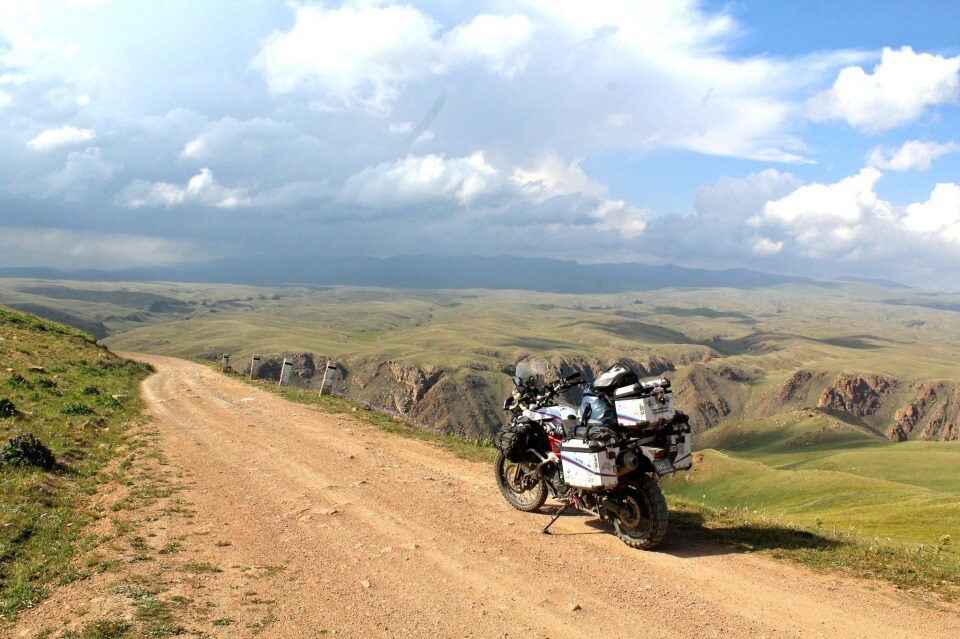 Ha, what did I say?! Was I right or was I right…
Osh sh sh…
Osh is the second largest city in Kyrgyzstan and I stayed in the Tes Guesthouse because apparently that where all the ADV riders stay. Unfortunately there were no other riders during my stay – such is my luck sometimes! It's also quite expensive by Kyrgyz standards, a dorm bed cost me 700 Som ($10) but what the hell I thought… I'll spoil myself during my last days here 😉
When I applied for my Tajik visa in person at the embassy in Almaty, no one had mentioned that I needed to have a special GBAO permit to enter the Pamir Region in Tajikistan. A lack of research had caught up with me again! Apparently you can apply for it additionally with your visa application but not just on its own. Well, at least I couldn't find any link to apply for it. But I found out on one of the forums that such a permit can be purchased here in Osh from the Osh Guest house! Whoo hoo!
The whole procedure seemed to be quite dodgy and a bit pricey but it worked! I have no idea how these guys in the Osh Guesthouse are allowed to issue these permits and I don't think the Tajikistani government knows about it, but they are original permits and they work. The permit was ready in two days, but it cost me $65. Ouch!
Shocking News
My suspension had felt a bit bouncy for a while but I'd just thought it was due to the amount of luggage I was carrying and that if I tightened the spring that hopefully would fix the problem. So I adjusted the spring to make it harder and left Osh to finally reach Tajikistan! On the way to the border it only got worse. Although the road was very smooth, it felt like I was sailing on a rough ocean. "What the hell is happening?" I'd never experience anything like this before. It was quite a good road so I sat on 130km/h and just before Sary-Tash I overtook a bike with English plates. I gave him a friendly wave and gunned it through to the nearest petrol station. At the station I started to assess my rear suspension and saw a pretty big leak, "oh no, this doesn't look good". Meanwhile the biker who'd been behind me pulled over as well. I impatiently approached him and before he had even managed to take his helmet off :
-Hi, do you know much about suspension?
-"A little" he said.
He had a look at Chillie and said "You've blown the shock!". Right, what the hell does that even mean – that's how extensive my knowledge of suspension was at the time! I asked Zebb (cause that was his name), if I could continue riding with a blown shock through the Pamir. He said that my spring looks fine so as long as I don't mind the bumping and take it easy, I should be able to get to Dushanbe. This is good news I thought, I can just keep going!
Zebb said he'd be camping on the Kyrgyz side tonight and would cross the border tomorrow. It was good to know there would be someone behind me in case things got worse with my suspension. Zebb recommended a nice place to stay near the lake on the Tajik side which sounded like a perfect place for the night. We shook hands and said "See ya later!"
As I got closer to the border crossing, the majestic mountains of the Kyzyl Art Pass were growing in front of me. It is quite common to get caught out by snow here even in summer. Also the border crossing is at an elevation of 4300m above sea level so this introduces the possibility of developing altitude sickness. Stubbornly of course I ignored the advice of other riders, that I should camp on Kyrgyz side to allow myself to adjust to the altitude. How that worked out for me will be in my next post…
In Numbers:
Duration: 11 days (8th July – 19th July 2017)
Total km's: 1210km
Map: https://drive.google.com/open?id=1pqRwWegg0a_dlM4zd88eHnUSlhiwX-ZD&usp=sharing
---
The "Are We There Yet" World Tour is about more than just me seeing the world on a motorcycle. Throughout my journey I'm raising money for a young disabled child in Poland named Franek. Franek was diagnosed with cerebral palsy (weakness of the entire right side of the body) and he will require constant rehabilitation for the rest of his life. All the money raised will go directly to helping Franek and his family lead as normal a life as possible so please donate generously: www.gogetfunding.com/arewethereyet