Mongolia
Ulaanbaatar
I left Ulan Ude early Sunday morning hoping that the border crossing wouldn't be too busy and that the traffic to Ulaanbaatar would be light. I had 600km to do that day which would take me roughly eleven hours, of which about three would be spent at the Khyagt border crossing. I had no hassles at the border, I was just asked to open my panniers and show them my medications.
The road to UB ended up being quite slow due to heavy traffic and some bad asphalt. I was very surprised that it was a toll road but luckily the guards let me through without paying the fee. The same thing happened on the other toll road later on but I know a few riders who had to pay the toll so it seems there are no rules!
Once I got to UB the traffic was a nightmare. The city is located in a valley so it's very long and has only a few main streets traversing its length. And it's packed with cars! I seriously wasn't expecting that many cars in the capital of Mongolia. It took me one hour to get through the traffic to the Oasis Guesthouse. I really needed a beer when I finally got there!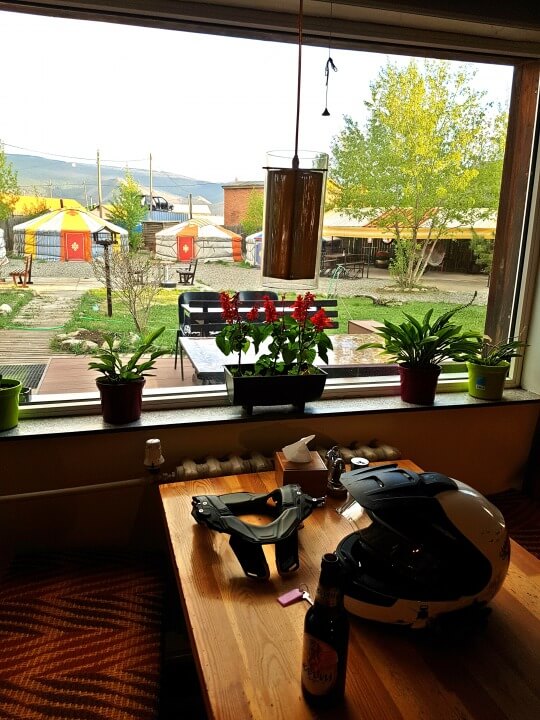 Oasis Guesthouse is pretty legendary amongst overlanders, it's here where everyone meets at the beginning or end of their Mongolian travels. On the first night I met a few riders who came from Europe so I was able to pick their brains on the road conditions etc.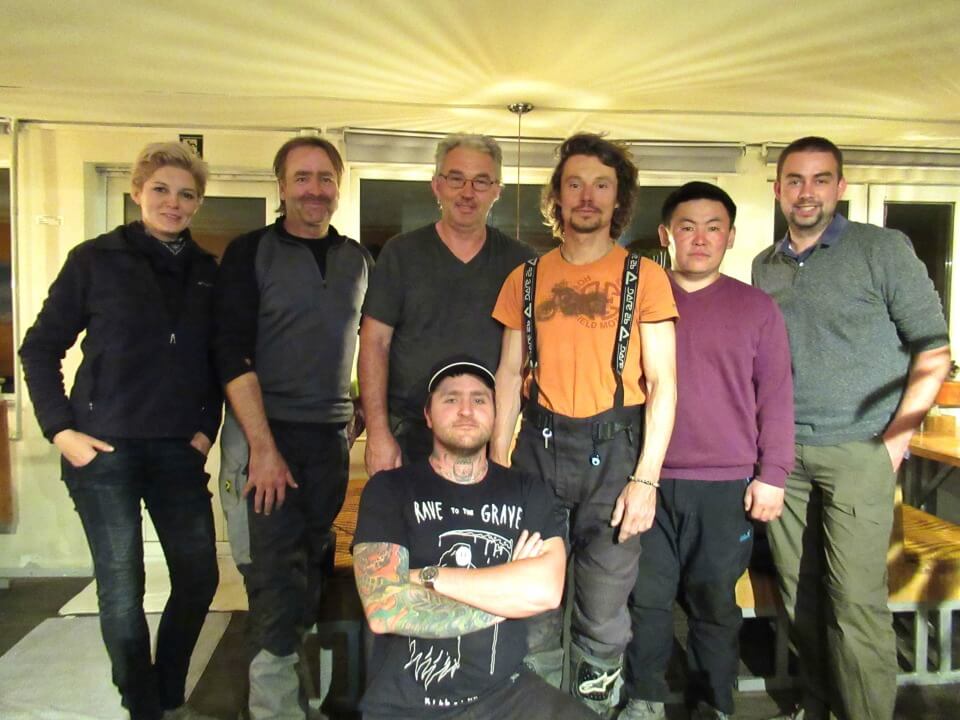 Paul from Australia was also there, we decided to travel together through the Gobi so we could look out for each other on the more challenging tracks. We stayed at Oasis for a week doing some maintenance on the bikes and organising visas. We pretty much had the whole place to ourselves, clearly May is still in the off season.
My tires got here with no problems from Poland but only one tube arrived from Australia, the front one was missing from the box. It is what it is – lucky I had a spare one! It was also lucky I didn't have to go too far to have them changed, there was a workshop next door to Oasis, run by a Japanese mechanic who used to be a mechanic on the Dakar Race – a super-nice guy, who clearly know what's he's doing.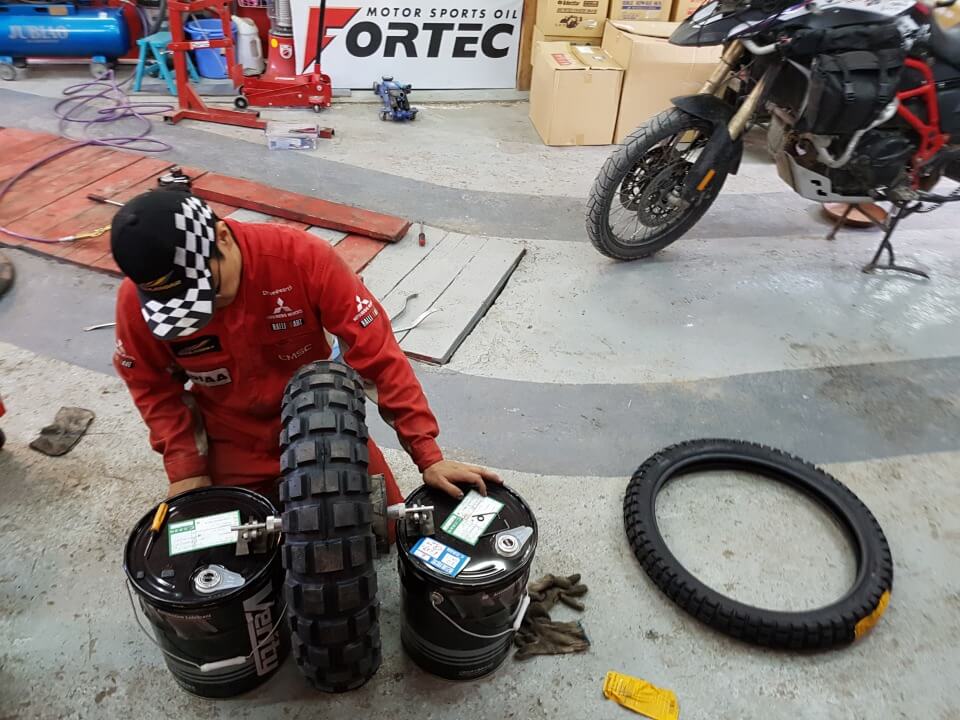 I also bought some good quality Japanese oil from him and gave Chillie a little service…
…and in between I took the opportunity to be a tourist (as you do!)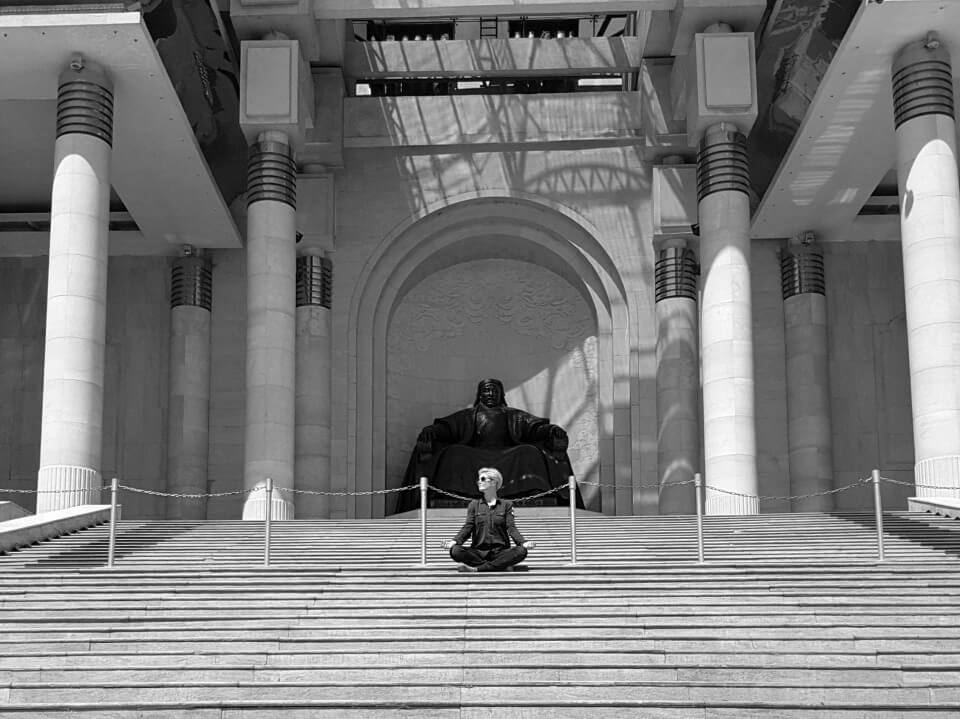 but felt slightly underdressed …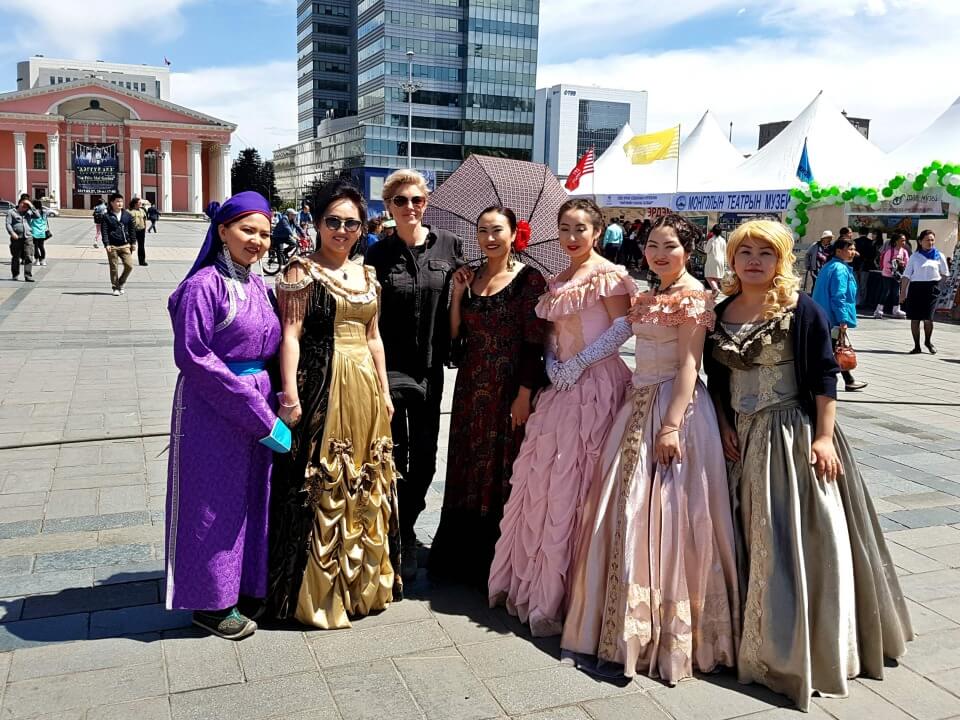 I also went for a little ride with Paul to say hi to Chinggis Khaan!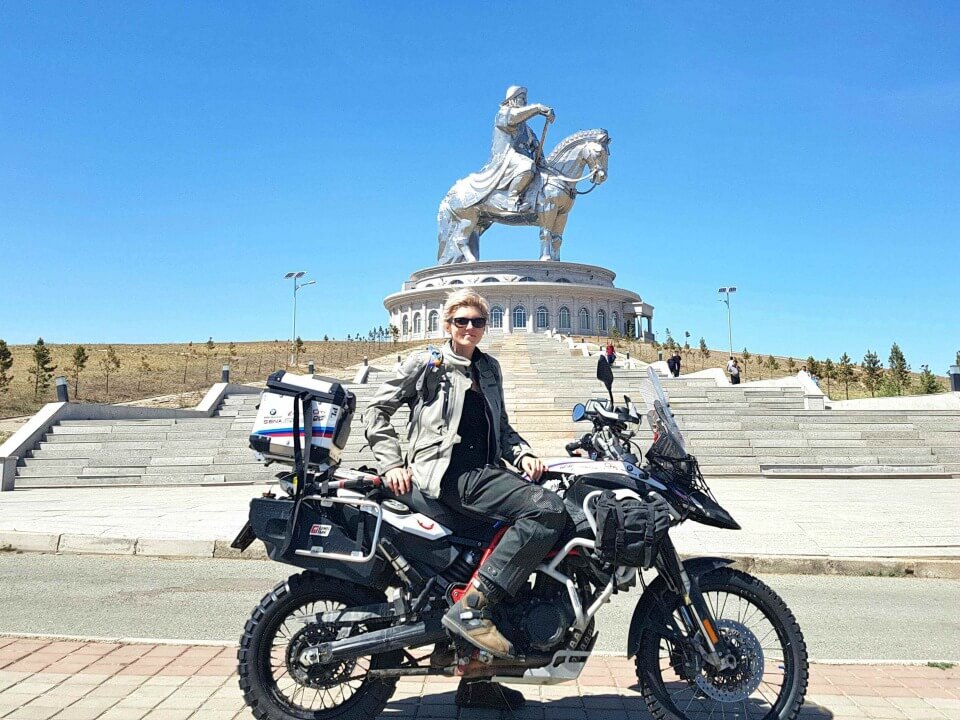 Gobi Desert
There was 600km of paved road to Daladzadgad which is the start of the South Gobi. As we left UB quite late and had had a pretty slow ride due to strong winds, we decided after 300km to camp on the side of the road. Finding shade in the Gobi is near impossible but we managed to hide behind big piles of dirt left over from road works which gave us some protection from the wind.
Next morning we headed to the Yolyn Am Valley (Ice Gorge). The ride through the valley was absolutely stunning, it was a nice change to see the mountains. At the end of the road there was a gate and it turned out that to see the ice you have to walk for a couple of kilometres. "Forget about it Paul there is no way I'm walking further than 500m away from my bike!" Paul just shook his head and laughed but even for him it seemed to be too much effort so we turned around.
We didn't have to go far to find a nice place to camp. We had some company too!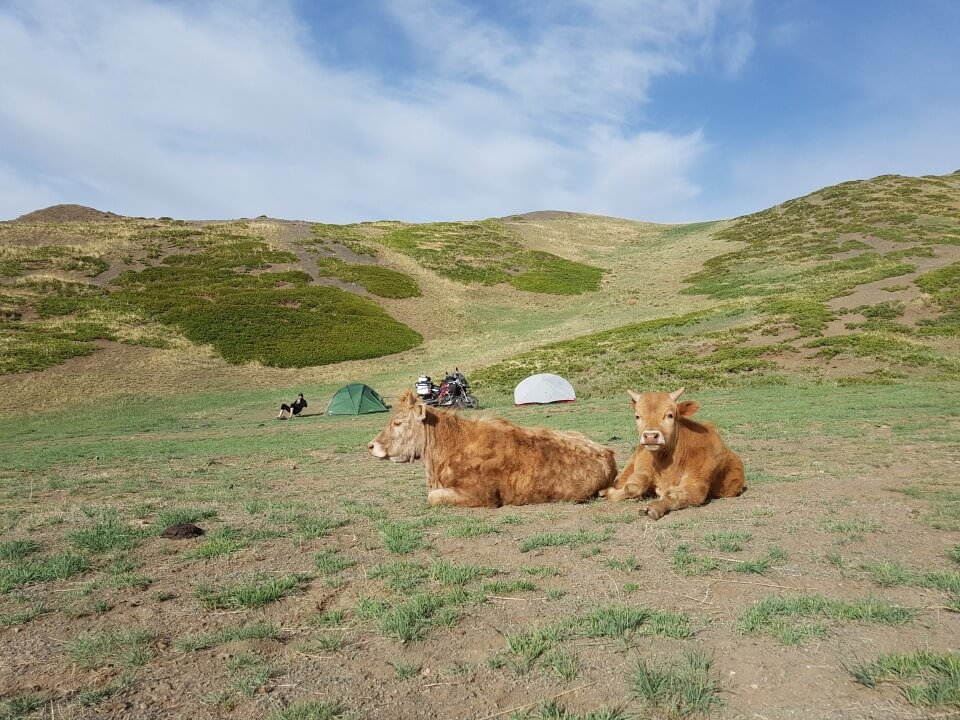 In the morning Paul decided to go back to the gorge without his luggage and try and sneak through the gate. Meanwhile I was watching our stuff and thought it'd be a great opportunity to get some motion shots. Well, that wasn't the best idea – while I was turning, my rear wheel slipped on a patch of sand and I dropped Chillie in some poo (yuck!)… and hurt my leg! What a disaster!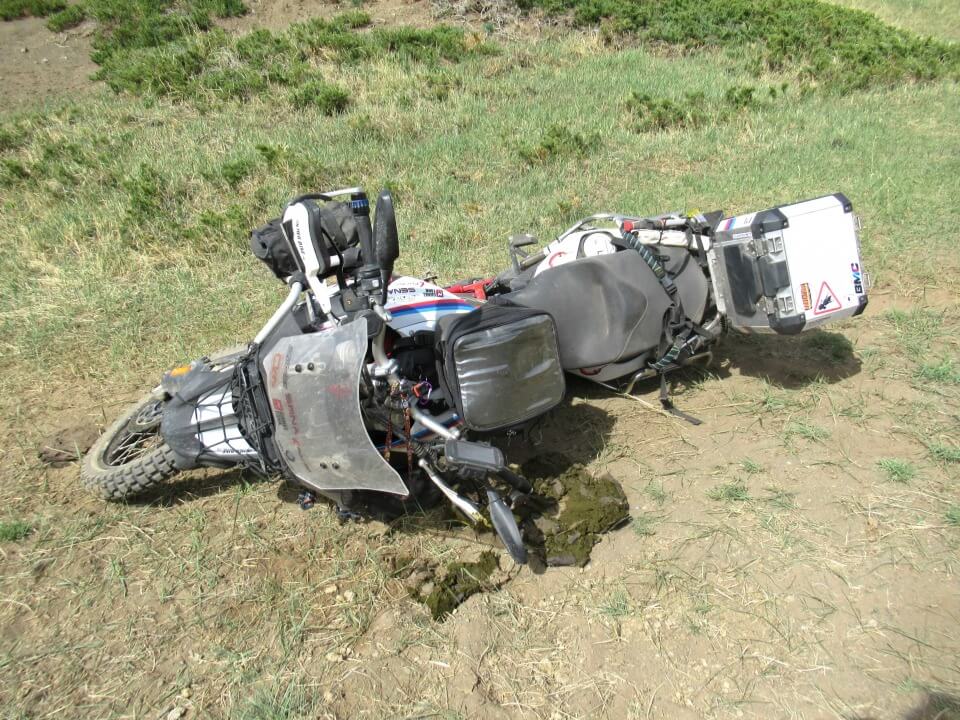 Chillie had no panniers on, so again I couldn't pick her up and had to wait until Paul came back. Paul was quite surprised on arrival: "What the hell happened? Did you do it on purpose?" "Hmm, not really" I said. The things you do to get a good picture!
Once Chillie was upright again we packed up and went back to Daladzadgad to get some supplies as we knew from now on there wouldn't be any major towns on our route for a while. After which we entered… what I call… "The Gobi Freeway" – flat, fast dirt with a lot of "lines".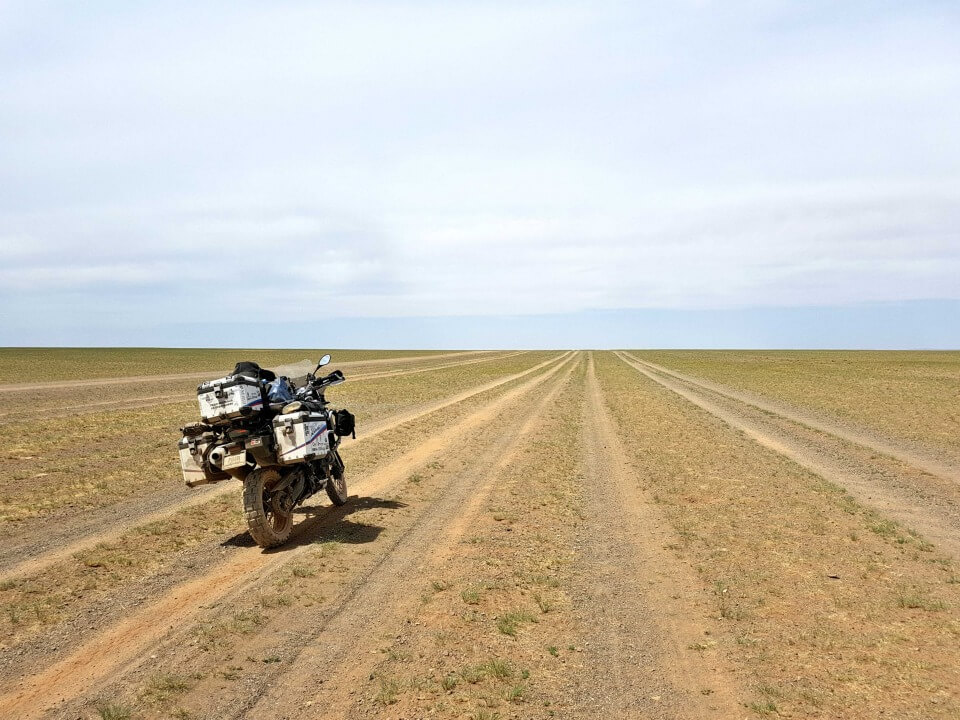 About 100km later we were at the Flaming Cliffs. It was quite a hot day and we hadn't had a shower for 3 days, so for a brief moment we considered staying at the ger camp. But once we heard their steep prices, we decided to camp on the edge of the cliffs instead. And I'm so glad we did because the view from the tent was spectacular.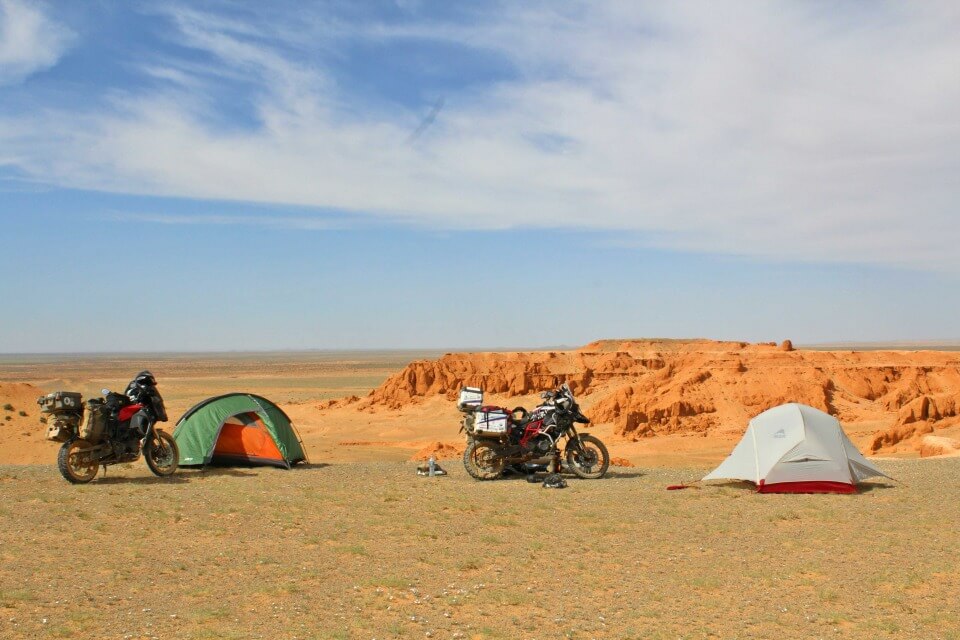 Although this is where the Gobi's dunes start, the majority of the desert is flat and rocky. There are many villages on the way which quite often have a few petrol stations, so fuel is never a problem. It's also a great opportunity when we get to catch up with the local school kids in the little villages. So much joy 🙂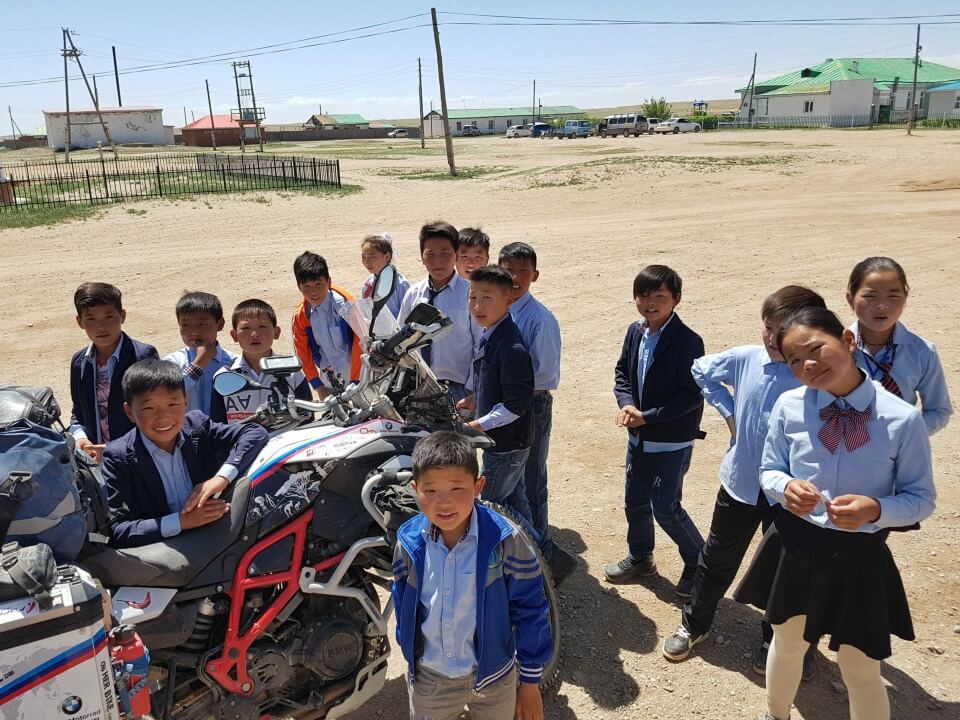 Then, there are lots of camels too!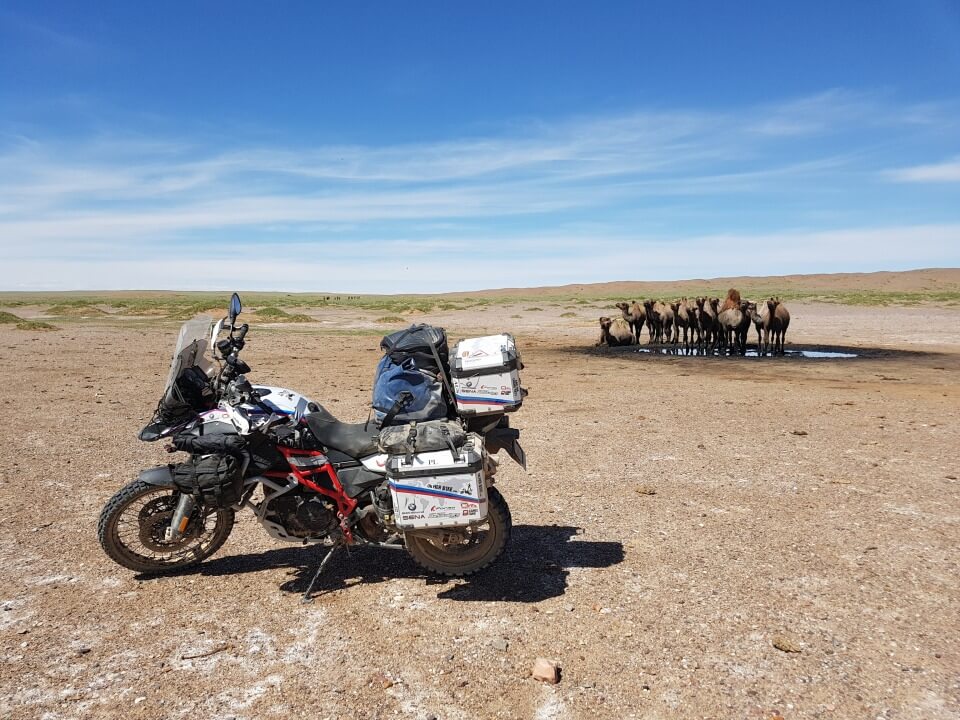 It took us a couple of days to get to Arvayneer where we finally stayed at a hotel to thankfully have a shower and recharge our batteries.
Paul suggested we should check out the Tsutgalan Waterfall the next day. We want back South from Arvayneer and took a right turn to a track which on the map looked like a sort of main road. But the track became quite technical – lots of steep, rocky hills, sand and creeks. It took us a whole day to do 100km. I kept dropping Chilli and swearing at myself for having so much luggage!
Paul for the first time had a "whoopsie" and I decided to join him in a sign of solidarity, hahaha…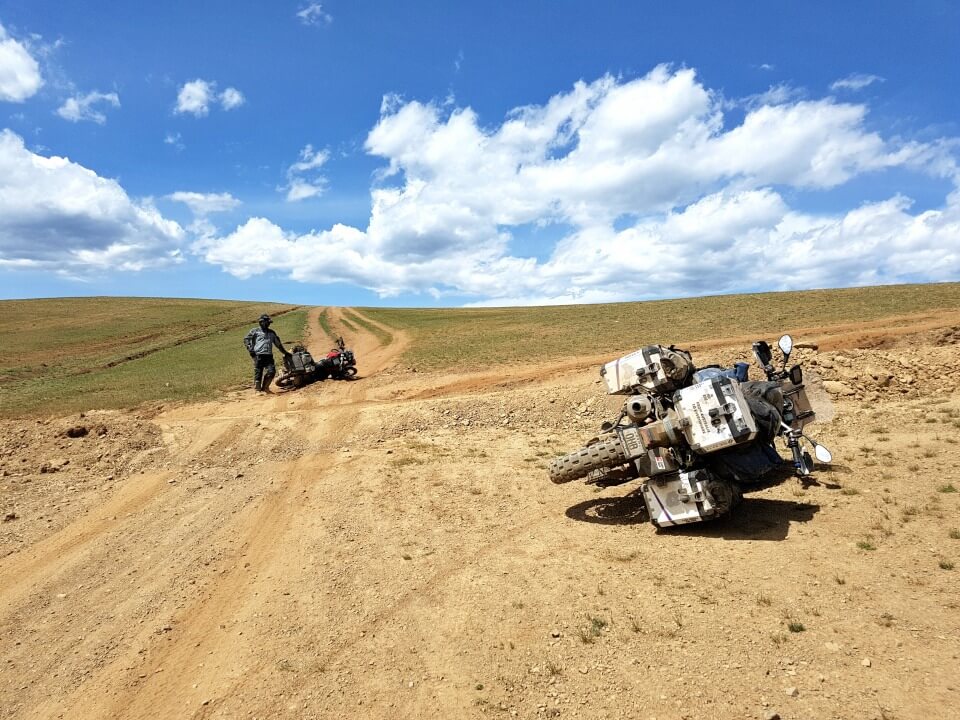 We finally made it to the waterfalls! Maybe for some who've seen Niagara this waterfall doesn't seem to be very impressive but after riding through the Gobi for days any bit of water and some green trees is exciting!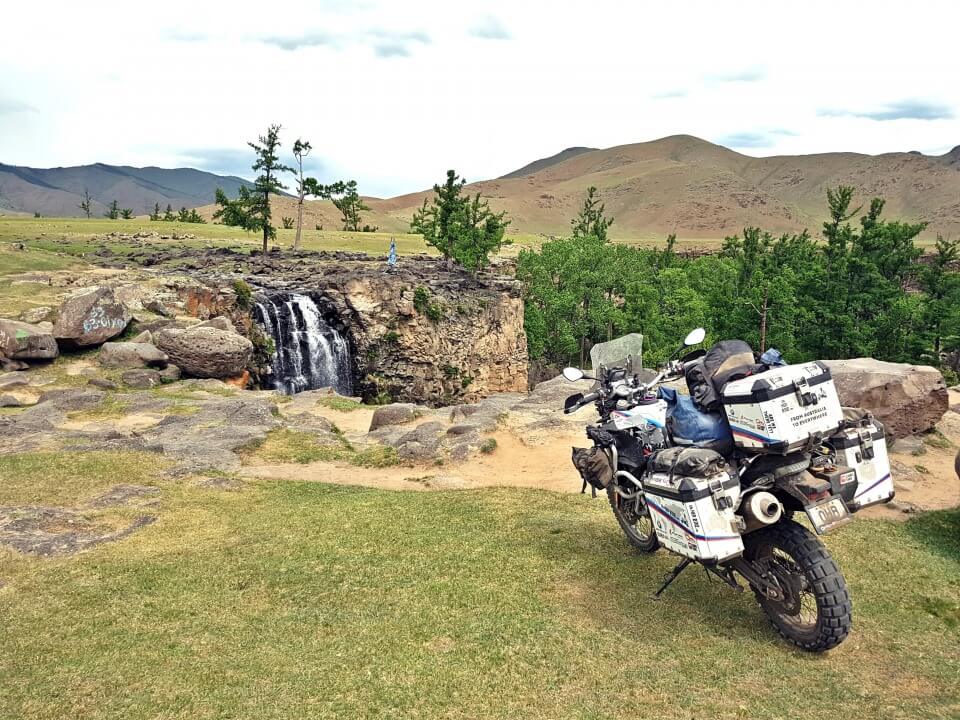 Also, for the first time we came across other tourists and in places with lots of tourists there are a lot of gers. Some of them would be accommodation, some of them shops or restaurants. There weren't any signs on them and they all pretty much looked the same. To work it out you just had to ask for what you're after and you'll be directed to the right one.
We were directed to the bistro one… and as our food was getting ready Bacon had a bit of play time…
We also got some good tips on how to navigate our way out of there with ease. A motorcycle tour guide recommended we "Just keep the river on the left hand side until you get to Harholim". The road wasn't on my paper map but it was very easy to follow! And I must say that was one of the best highlights of my Mongolian travels. As it turned out we went through the UNESCO recognised Orkhon Valley. An absolutely amazing ride…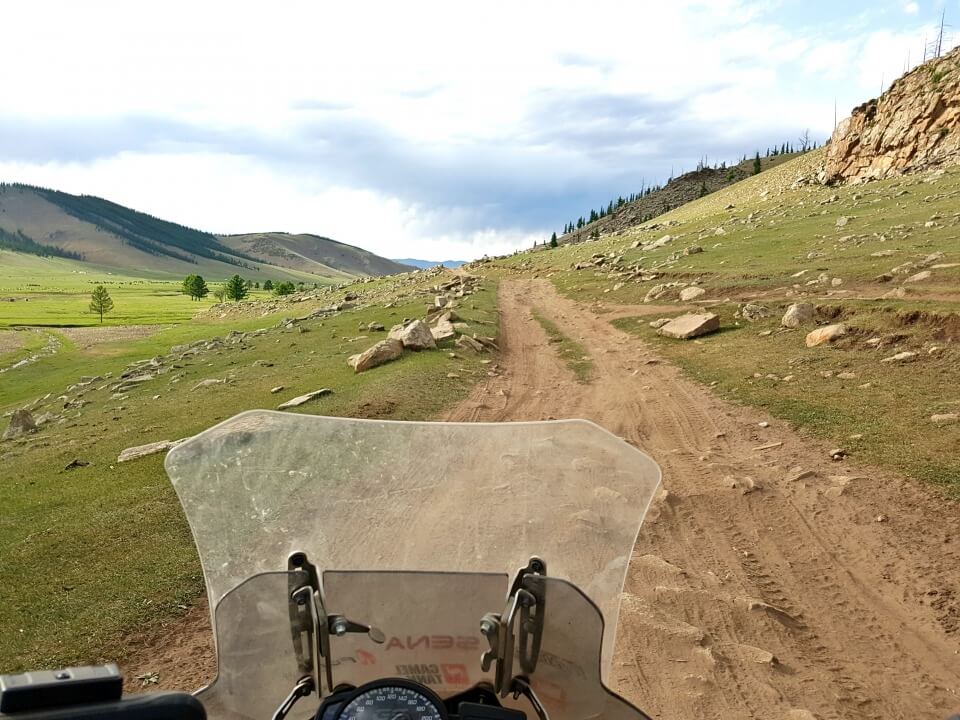 We had our last night together in Harholim. It was a nice change to have a riding buddy for a week but now it was time to go our separate ways. Paul still had two weeks in Mongolia and I wanted to get to the Russian border within a week as my injured leg was getting worse. But I'm sure we'll meet again someday!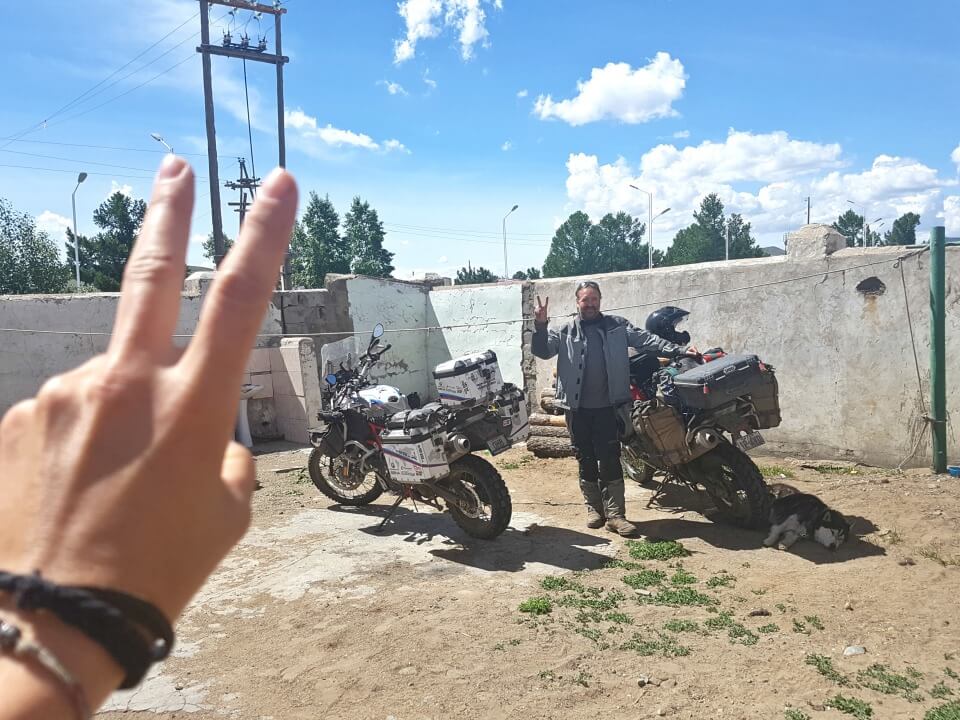 After saying Goodbye to Paul, I decided to go to the hospital to do an X-ray and have my leg checked. The hospital was very basic, the nurse who did my X-ray didn't even stand behind the protective screen and the only thing I could think of was "how long is she going to live" being exposed to all that radiation.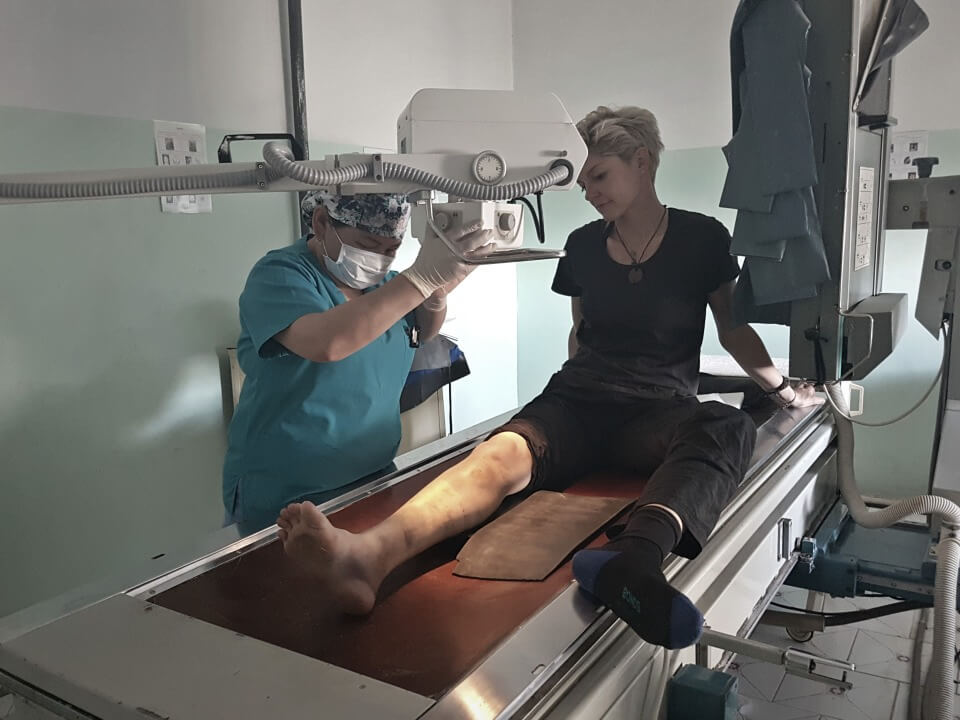 Then I saw a doctor who told me we need to cut the hematoma to release the blood. I said there is no way I could do that here as my visa is running out in two weeks and I need to get to Russia. He prescribed me some antibiotics and recommended two weeks of rest. That wasn't an option either, after 2 rest days I hit the road again. For some reason I had it in my head that someone had told me that the Northern Route was mostly bitumen. So I decided to head north hoping that I'd get to the border in 5 days without straining my leg. Oh, how wrong was I!
​The middle
It started with a really nice smooth road from Harhorin to In-Uul.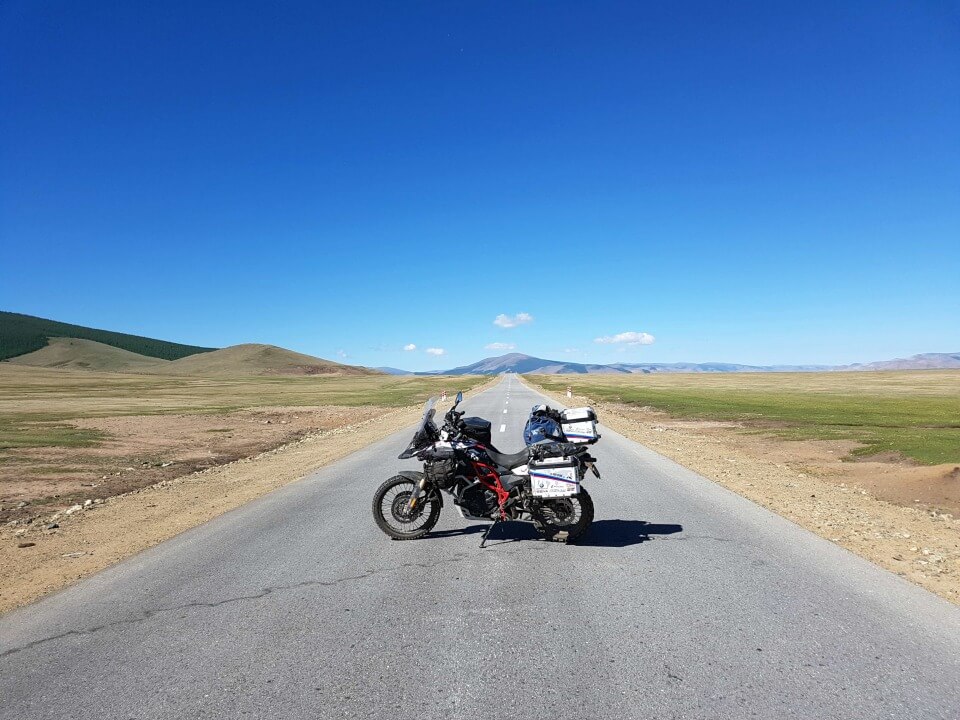 I detoured from the bitumen to check out the volcano and Lake Terkhiin Tsagaan, where I dropped my bike again. This time at the most embarrassing moment possible – while a whole bunch of riders in an ADV touring group was following me. At least they were able to help me pick up Chillie quickly! But the whole effort was worth it… the camping near the lake was perfect!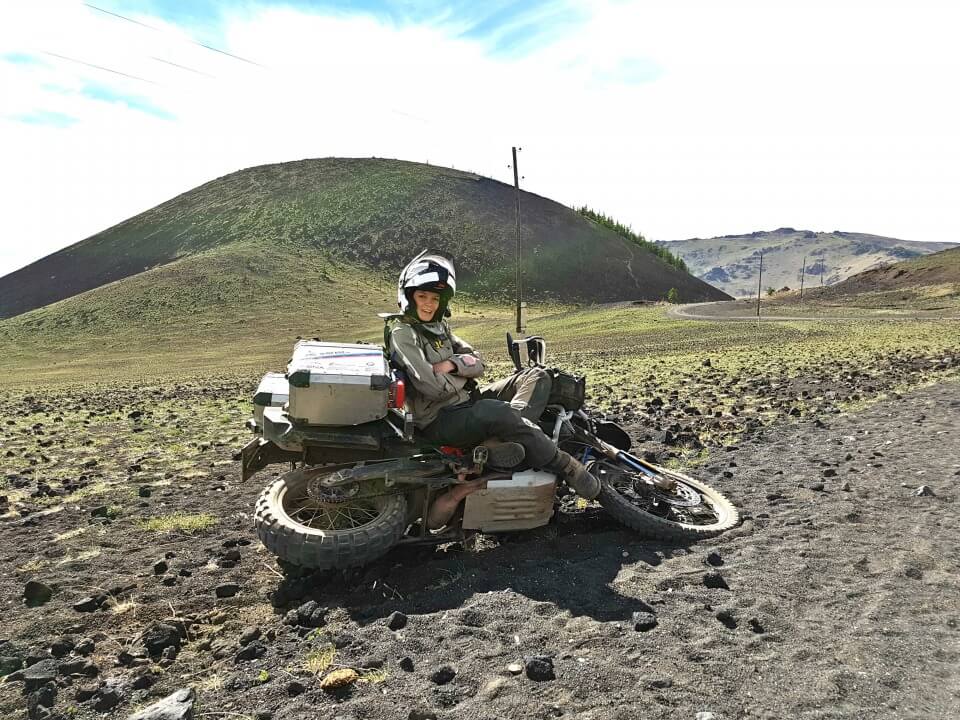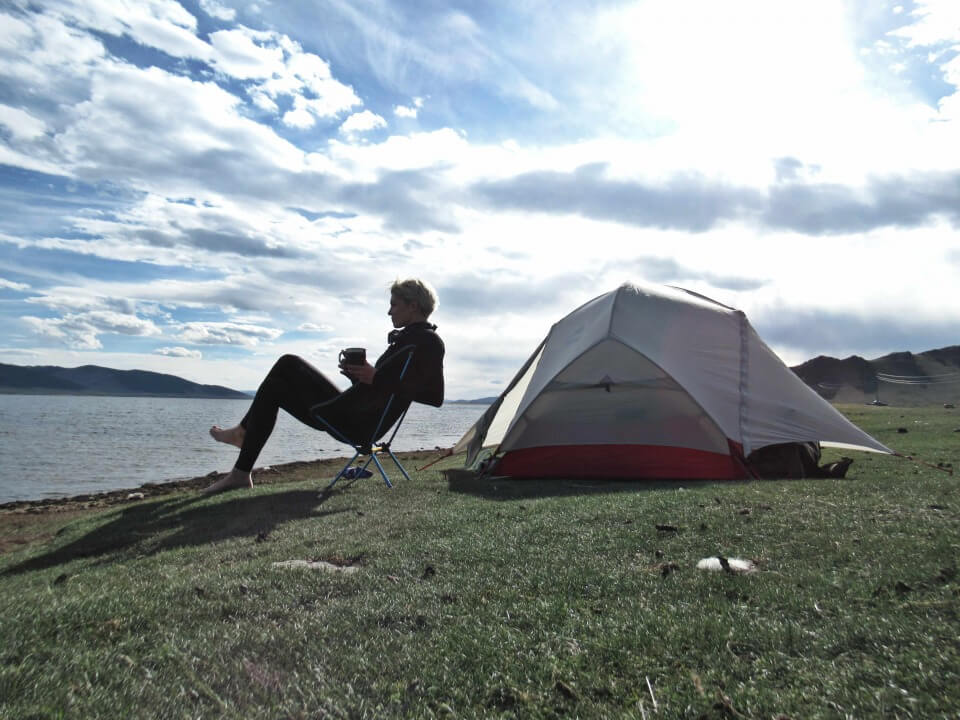 The next morning I stopped for lunch in In-Uul where a local teacher joined me to have a meal. He was the only person I'd come across that spoke proper English since UB. It was great to hear his stories about the village and his family. He also told me the road out of town is very bad. "Hmm, how bad could it be? …and even if it is who cares! In 300km I'll reach the asphalt on the Northern Route anyway!" I confidently thought.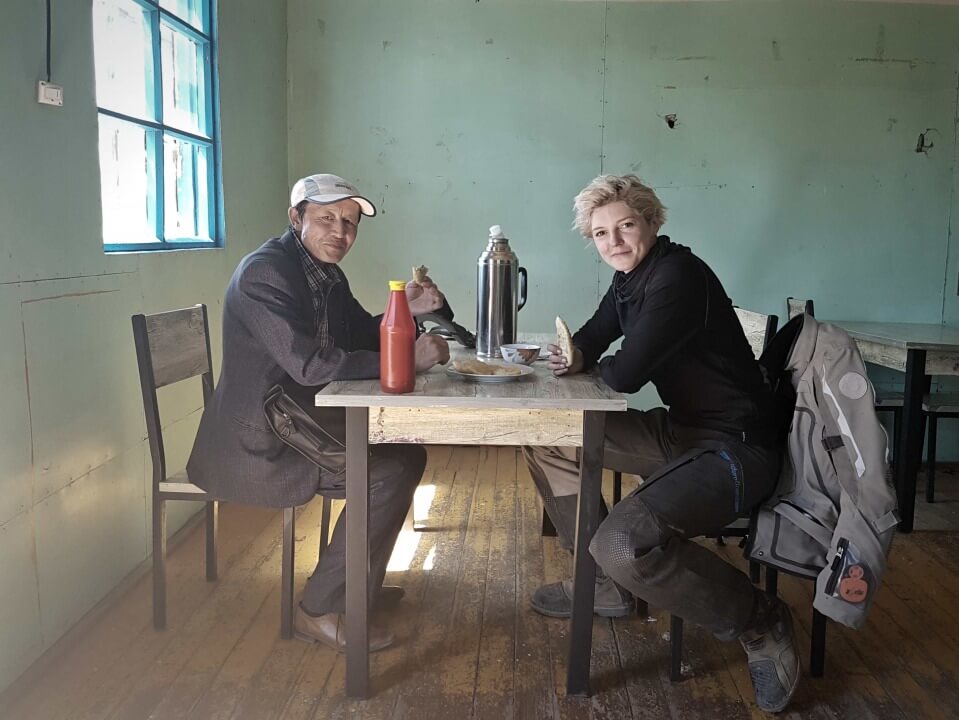 For the next 50km, it was a mixture of bad gravel and bitumen after which it got quite sandy. I spotted some bikes coming the other direction and got all excited! Turned out they were Mongolian ADV riders from UB which was quite a surprise. We had a nice chat about bikes and tires after which they warned me that there's 200km of sand ahead of me. I felt all the blood rush to my brain at this moment but kept it cool, I deflated my tires, said goodbye to my new mates and carried on.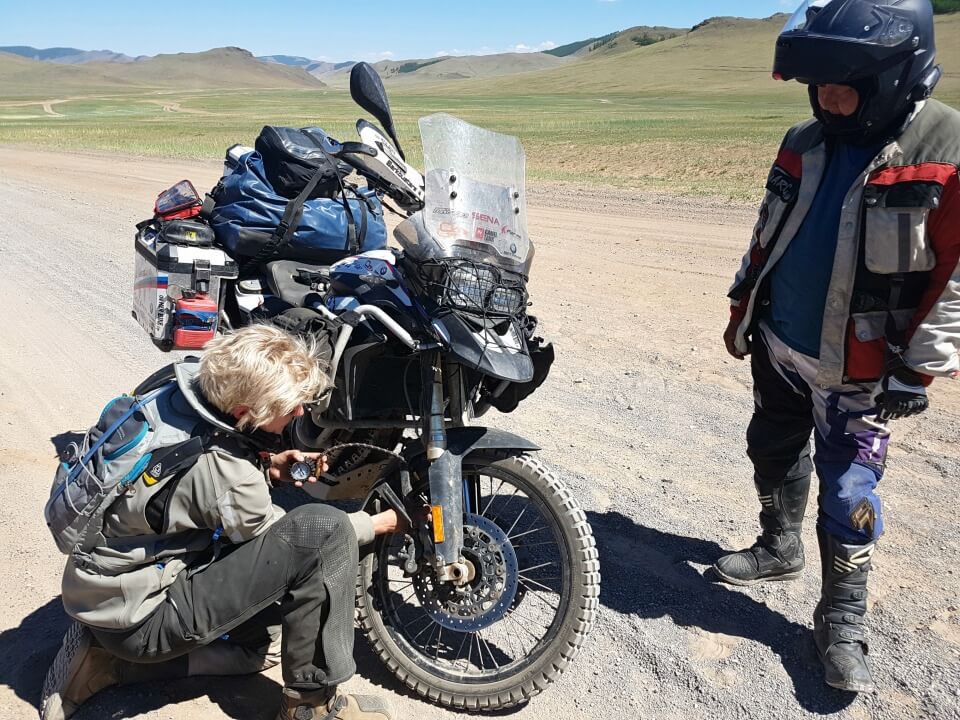 Luckily the sand wasn't too deep and I quickly worked out it's much harder to paddle through with so much weight than to ride it. I put Chillie into second gear and rode it steadily at a speed of 20 – 40km/h.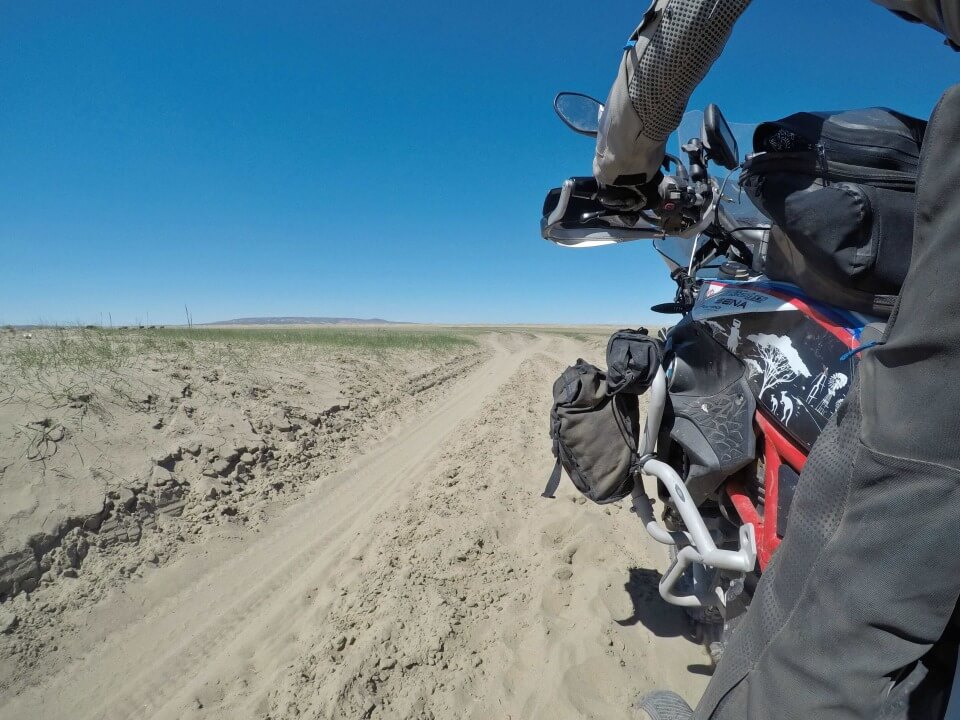 It took me 2 days to do that 200km and I managed to not drop Chillie, which was quite an achievement as up until this moment Chillie had been horizontal twice a day on average. I guess the most dangerous sand is the sand you're not expecting. But once you know it's ahead of you, you can prepare yourself mentally and ride through it steadily with no emotions. During those two days my "sand phobia" disappeared for good! Like they say – what doesn't kill you, makes you stronger!
On the way I found a little oasis! And that is the beauty of Mongolia – you can ride through the desert for days and suddenly out of nowhere, you see a little patch of paradise with green grass and tall trees. Being able to sit on the green grass in the shade of trees and have a fire is bliss. This is exactly what I needed after my all day "sand workout"!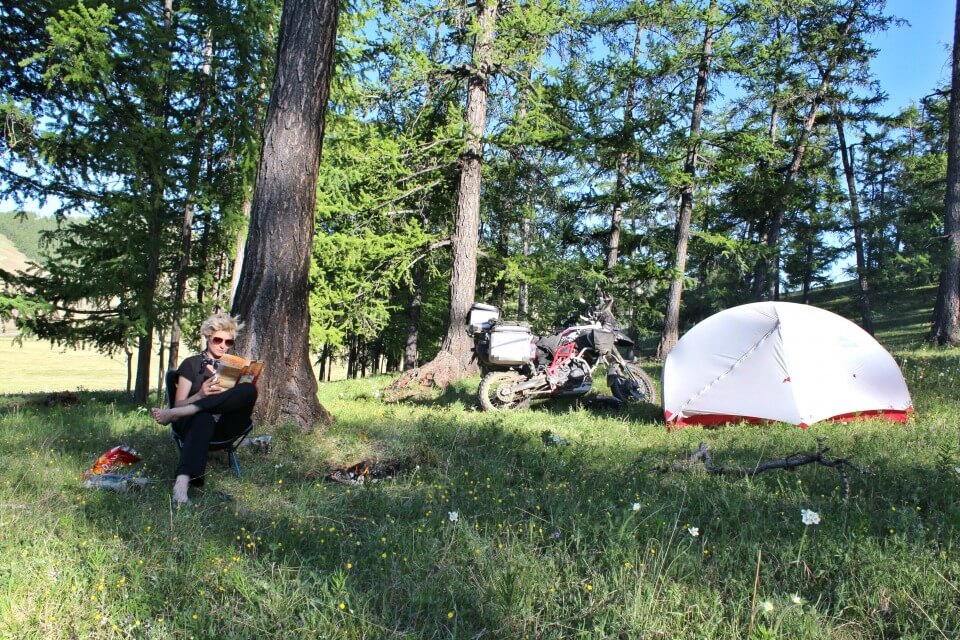 The North Route
The closer I was getting to the Northern Route, the better the road conditions were getting and I was so impassioned to finally be seeing asphalt. In fact I was so excited that the only thing I could think of was kissing it when I saw it. Had my action camera ready and all!
And I finally got there. "What the heck? This is not a paved road!", I can't express the disappointment I was feeling. My leg was swollen like a balloon and I still had 800km to go to the border. But I thought to myself, "It is what it is, I don't have a choice, I need to carry on" and I got over my frustration pretty quickly. I joined the Northern Route near Tasageen-Uul and rode for another 70km until late. After 11hrs of riding I was quite exhausted physically and emotionally, I had a little break on the side of the road to check in with my Spot GPS tracker. I could see a car coming from the other direction so I stopped him to ask how many kilometres left till the bitumen. An older Mongolian man replied in Russian "There's no asphalt until you get to Ulaaangom" (which is 500 km away). I thanked him and rode off totally deflated. After one 1km I realised that my Spot was no longer in my jacket sleeve pocket. 'F….k, this is the last thing I needed to happen! I turned around and followed my tire tracks back to the place where I had taken a break, hoping that it would be easy to find an orange device on the gravel. But I couldn't find it. I put my bike on the side stand and had a complete meltdown. I felt hopeless. I was in the middle of nowhere with an injured leg, a few days of riding from civilisation, and I'm not able to notify my family and friends that I'm ok. After a few minutes of crying like a baby, I pulled myself together, started the bike and turned around to search for the Spot again. After 500m I finally saw it. It was laying on the ground like nothing had happened! Picked it up, dusted it off and put it back in my sleeve. I felt so relieved.
It was getting late and the thought of setting up the tent wasn't very appealing. I thought maybe today is the day I should stay with the locals! I was looking for a ger for quite some time and finally spotted one that wasn't too far from the road. I pulled over in front of the doors and a young man came out. He gestured with his hand to come inside.
An older couple was sitting on the ground drinking tea, they welcomed me and offered me a cup. I shared with them my candy and sweet bread. Soon the neighbours came for a visit to check out my bike and compare theirs…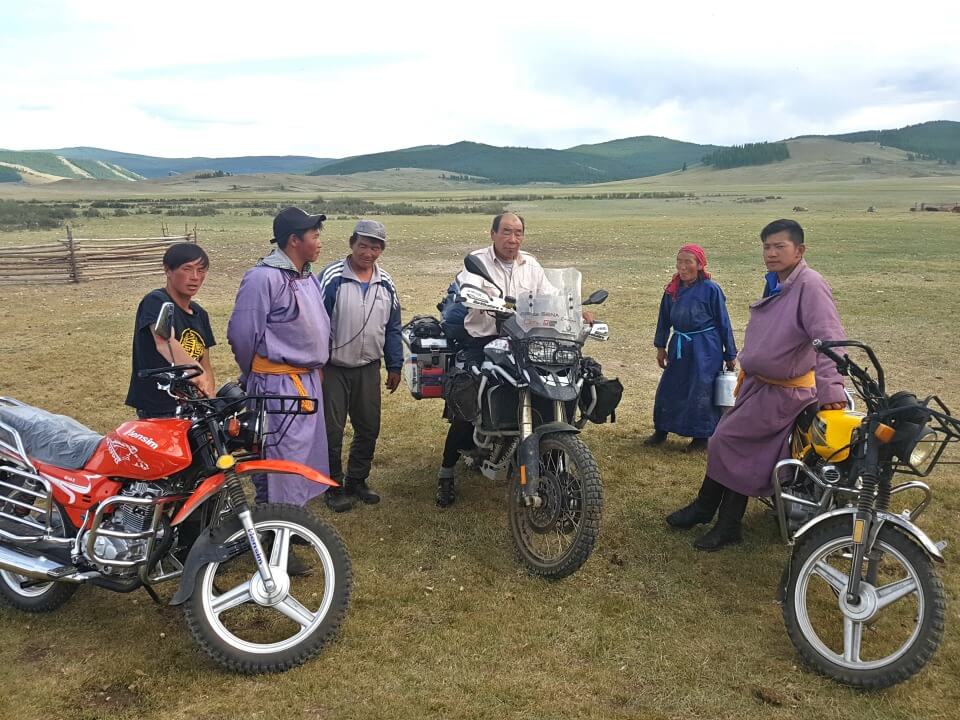 No one knew English or Russian so we tried to communicate with gestures. I pulled out my blow up globe and showed them which way I had travelled to get there.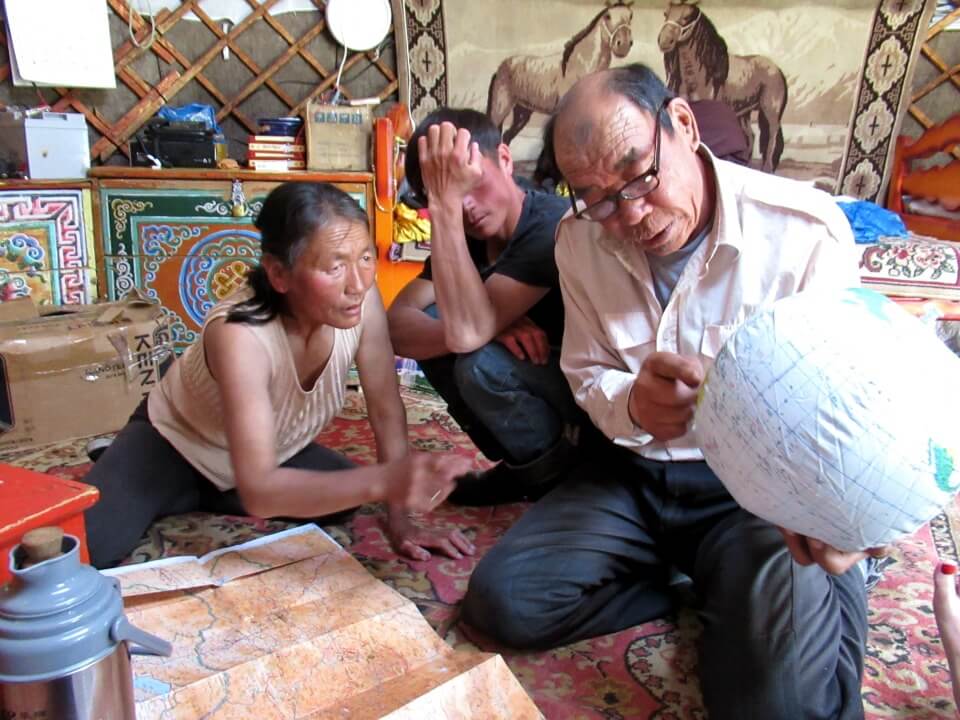 It was getting late and they could see I was exhausted and that there was something wrong with my leg, they pointed at the ground and told me I could sleep there if I wished. Thank goodness! This was exactly what I needed at that moment. I pumped up my mattress, got my bed ready, put some earplugs in and crashed.
It was still quite busy in the ger and for some time there were people coming in and out, but I was lying still with a sleeping bag over my head and finally fell asleep.
Next morning the lady of the house got up at 6am to milk the cows. I got up to join her and check out how it's gets done. Her grandson was helping her out while the husband was comfortably sitting in the ger watching TV or praying.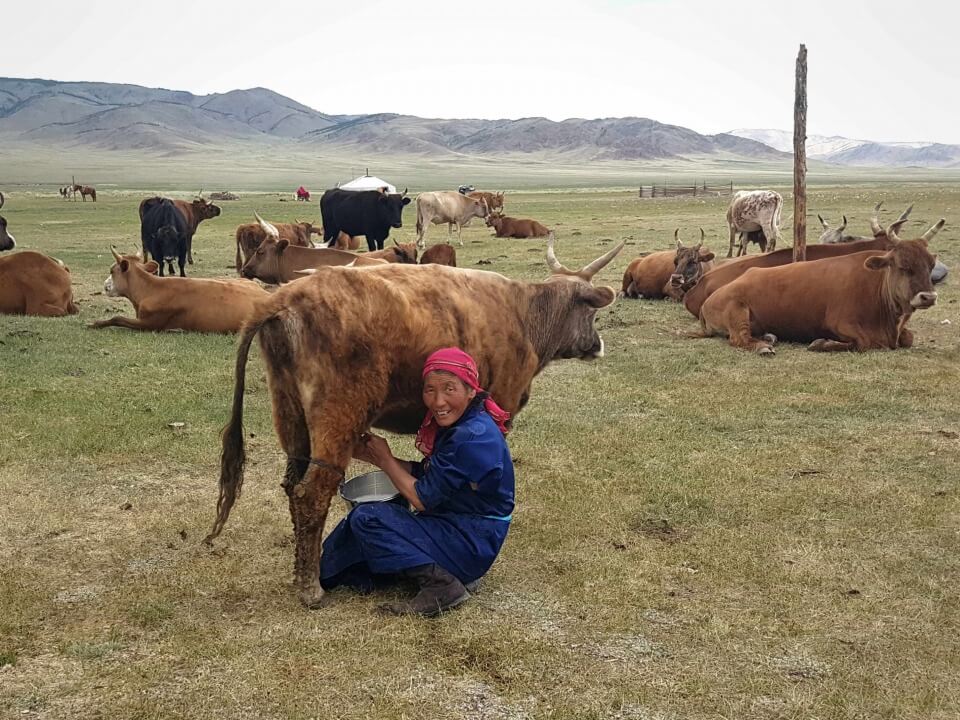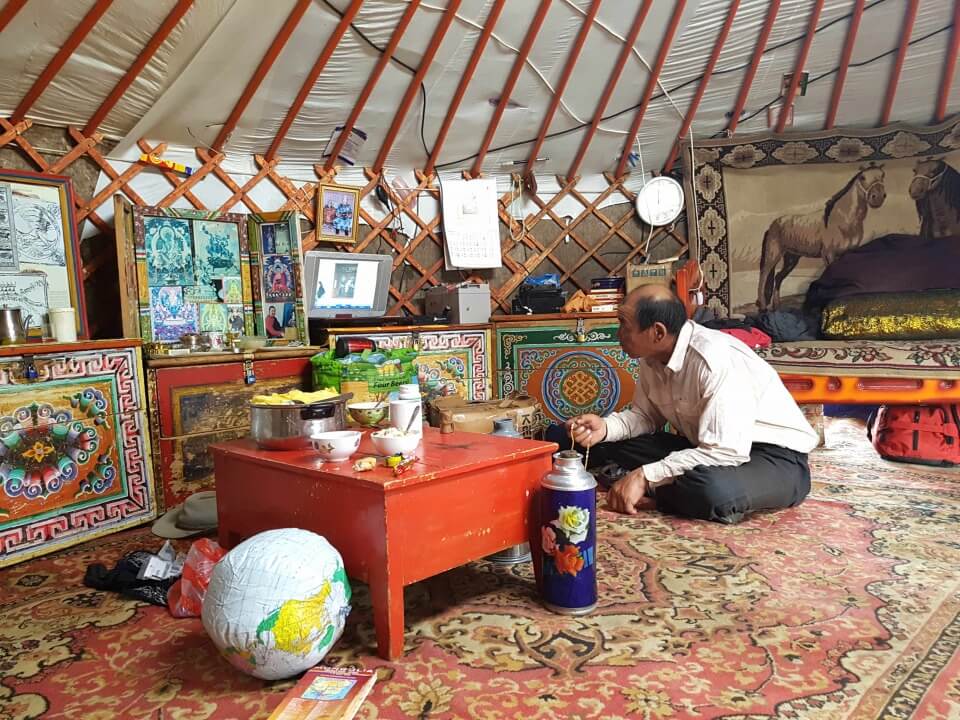 The weather turned for the worse and it started to rain, but the family offered for me to stay another night. I happily agreed, I thought this would be a great opportunity to get to know them better.
In the afternoon we had more visitors to the ger. For a moment I thought it's some sort of public holiday, but then I came to realise that they all came to meet me.
One of the first visitors were the family's relatives, a lovely couple with a cute little girl.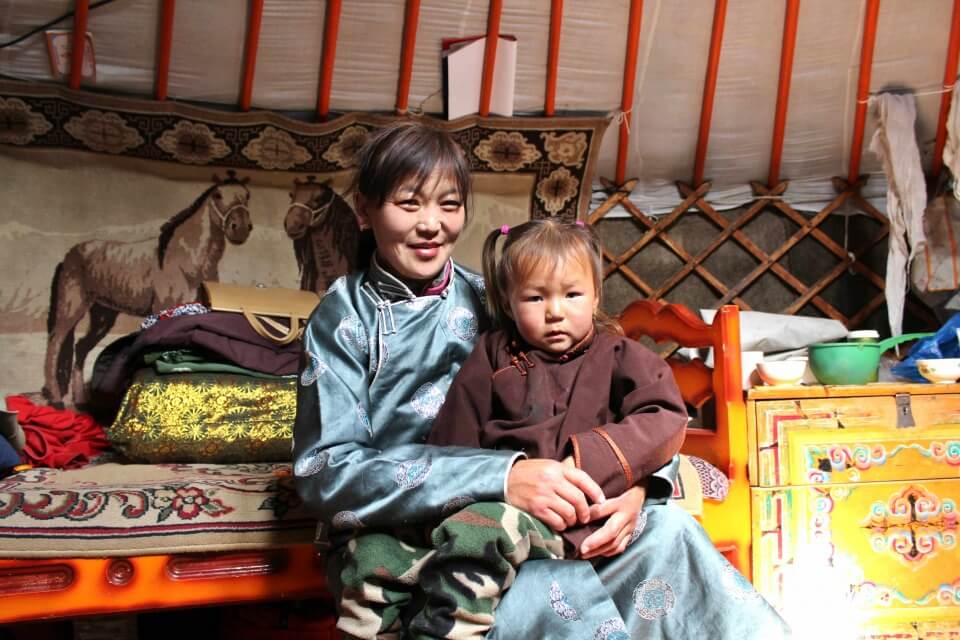 The husband seemed to be some sort of local untrained medic and wanted to have a look at my leg. He prepared a special compress made out of tea and he was confident that surgery wouldn't be necessary.
I'm a bit sceptical about natural medicine but at that moment, I really needed the hope of some healing. But my hopes were dashed soon after, when I saw how he heals the lady of the house's tooth ache. He drained her blood to release the blood tension. Oh boy, not inspiring much confidence in the tea medicine's capabilities.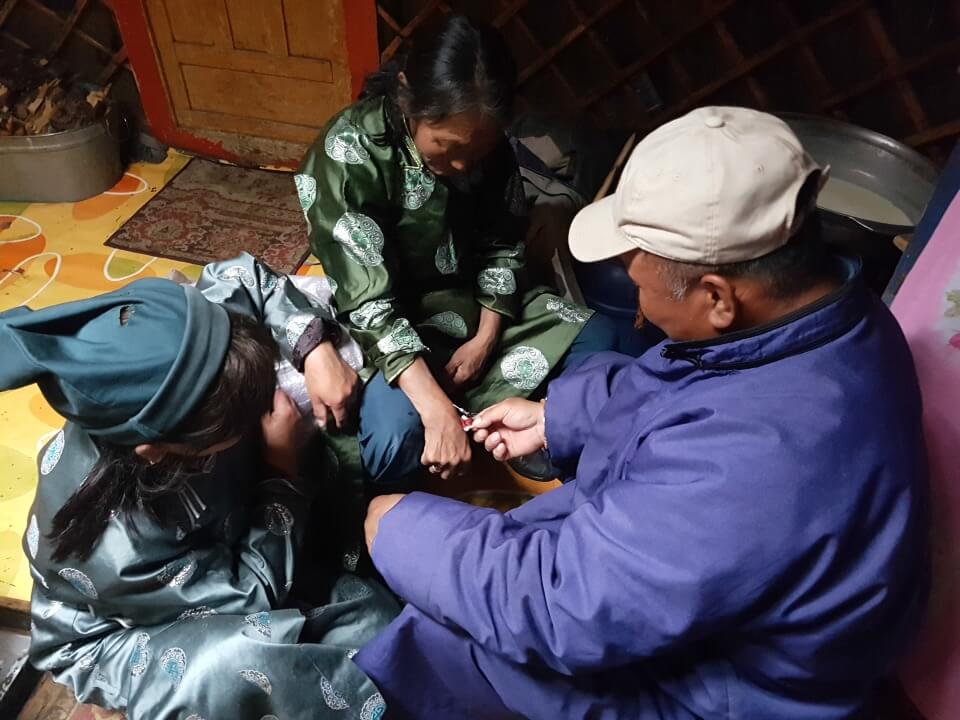 While all the men were having a drink and generally enjoying themselves, the women were cooking, doing some house work and other daily chores.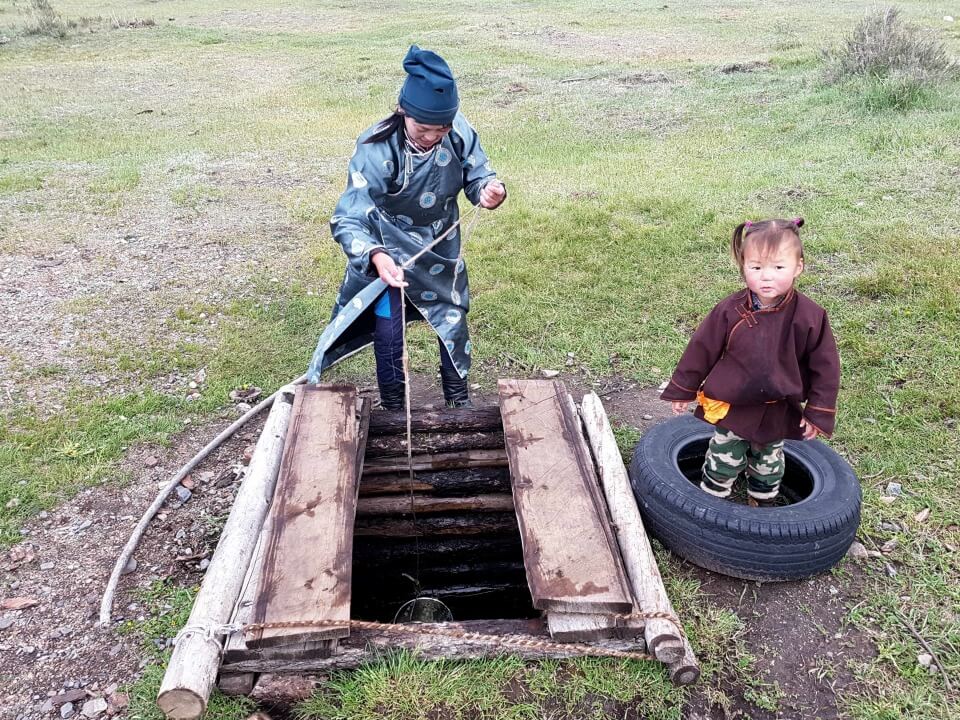 There was a moment when everyone went outside and I was left in the ger with the family medic, who after quite a lot of alcohol become way too friendly. He sat next to me and tried to kiss me. "What the f…., are you kidding me?" I thought and jumped away. But he was still insistent, so I kissed him on the cheek and moved away, luckily the others came back inside. I was so upset and disgusted, I just wanted to get out of there as soon as possible. But the weather was still miserable, I had to wait until morning.
The later it was getting the more crowded it became. The more vodka they drank, the louder they got. At some stage there were about 12 people in there and one after another they started to throw up and pass out. What a nightmare! On top of that I started to feel unwell to, I don't know if I felt sick because of the food or because of this drunk, suffocating environment. I crawled into a corner hoping to be left alone. But the party was still going and people kept tripping over me. Finally after some extended length of time it quietened down, the women were putting mattresses and coats on the ground so that all the "party animals" could lay down. I lifted myself up just to take this picture…
About 7o'clock in the morning the noise woke me up from my dozing again. "Jesus, don't they get hungover, how do they get so much energy after such a big night!" Once everyone evacuated I got up and ran outside and threw up. The family looked at me with pity and told me to go back to bed but I was very determined to leave. Although I felt terrible and the weather was still miserable, I had had enough. I couldn't possibly survive one more night like that. I thanked my hostess for breakfast, but I couldn't possibly look at any food. Packing up was a real struggle, I just had no energy but I wasn't hanging around. I finally got my bike ready and realised there was no chance I could ride like this, I went back to the ger and asked the family if I could lay down for a couple of hours to have some rest. They kindly agreed.
I woke up at midday and I could see the rain falling into the ger from the hole in the roof. I looked around and could see the wife resting in bed – she was still suffering from her toothache. I took out my first aid kit and gave her some painkillers with codeine after which we both went back to sleep. This day was a write off for both us.
It was peaceful in the ger throughout the whole day so I just kept resting. I woke up again later in the evening, I asked the wife how her tooth was, she showed me a thumb's up. I gave her the rest of the painkillers and she looked so relieved, in return she gave me some candies.
I slept through the night with no distractions and woke up in the morning in much better spirits. By 7am I was all good to go. I said goodbye to my hosts and took off.
The road was quite scenic, a bit muddy at times with lots of mountains and a few easy creeks. Every now and then I would hit short sections of sand as well. The majority of the time I could sit on 60km/h which felt super fast after these days of slow riding. No matter what speed I was doing, I was just happy to keep moving.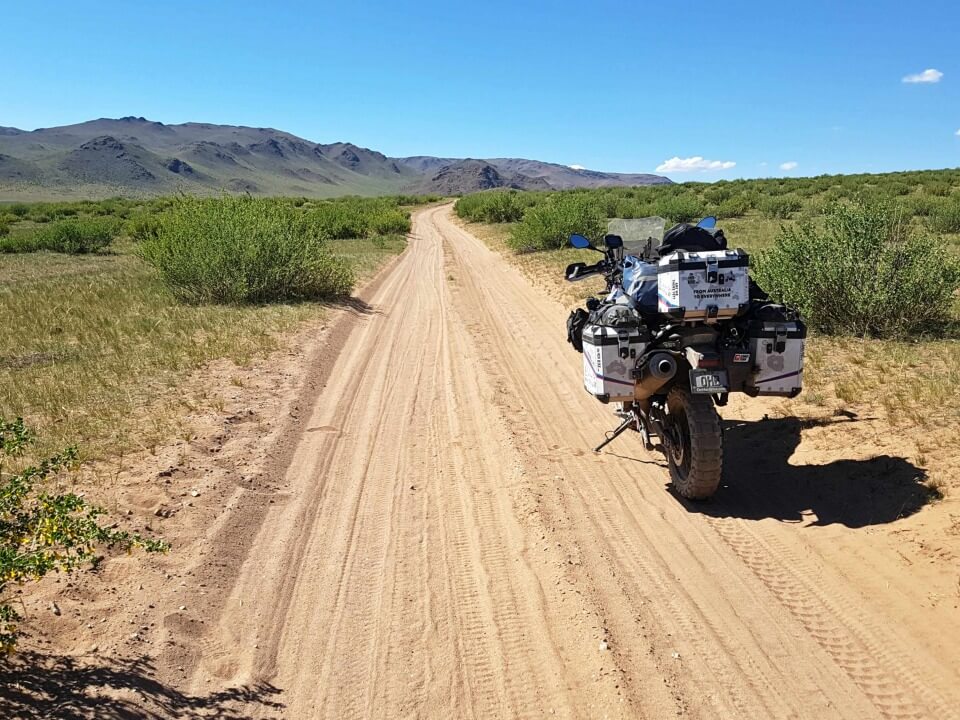 And just as I was thinking to myself "I seriously ride this sand like a pro! …for my own low standards" hahaha! …I was coming up a little hill and saw a log across the road. I instantly squeezed the front brake and down we went: "Bloody hell who put that log there?!" It took about 20 minutes to pick Chillie up, I had to take all the luggage off and of course record it all – and that normally takes some time 😉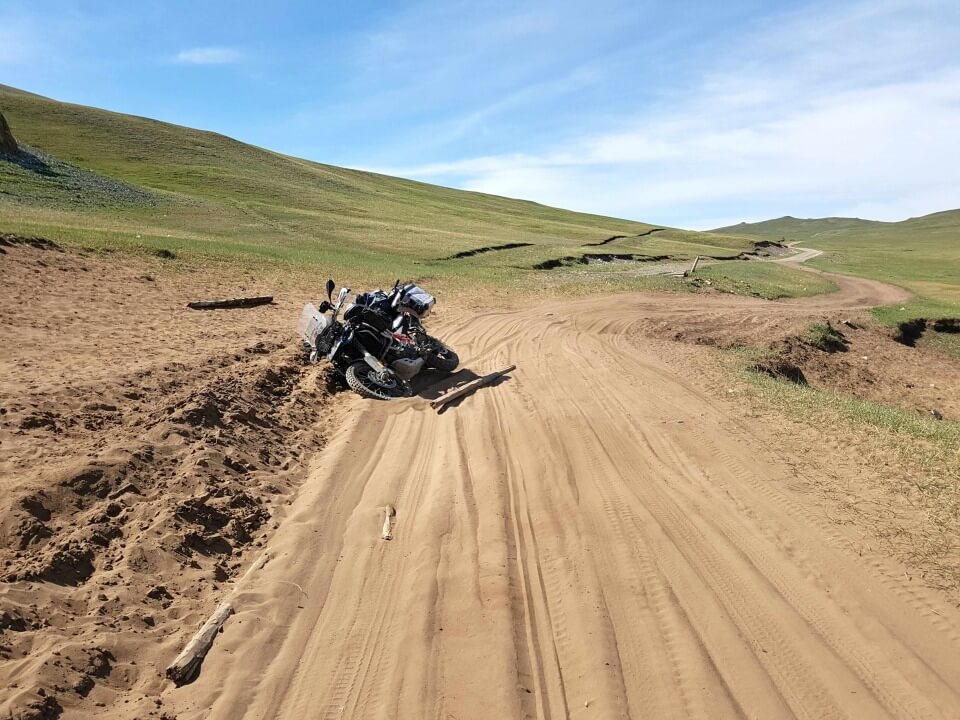 After 10hrs and 200km it was time to look for a camp site. I could see on my GPS that a little lake was not far away. It was pretty sandy on the way there, but worth it 🙂
I setup my tent near the camels and headed for the water I was dying to cool myself off. After 6 days with no shower I seriously didn't care how dirty the puddle was or how many camels had pooped in it. I just ran into it and sat down in the murky waters.
Afterwards I went back to my tent to elevate my leg as the doctor had prescribed! Later on I could hear people on their horses outside my tent asking for me to come out. There was no way I wanted to deal with anyone that day. My tent was my fortress, it never crossed my mind that anyone would disturb me in it. Luckily for me no one did, but later on I met a rider in Kazakhstan who told me a story of how two Mongolian men unzipped his tent and laid down with him inside. I'm so glad I didn't have that knowledge at this time!
The night was very windy and I woke up in the morning covered in sand. When I came out of my tent I could see a storm approaching. I think this may have been the fastest I've ever packed up. I had a feeling that if I could continue west fast enough I may just outrun the storm. On the way out of the lake I hit a large section of deep sand. But being caught in this sand storm was just magic so I stopped for a picture…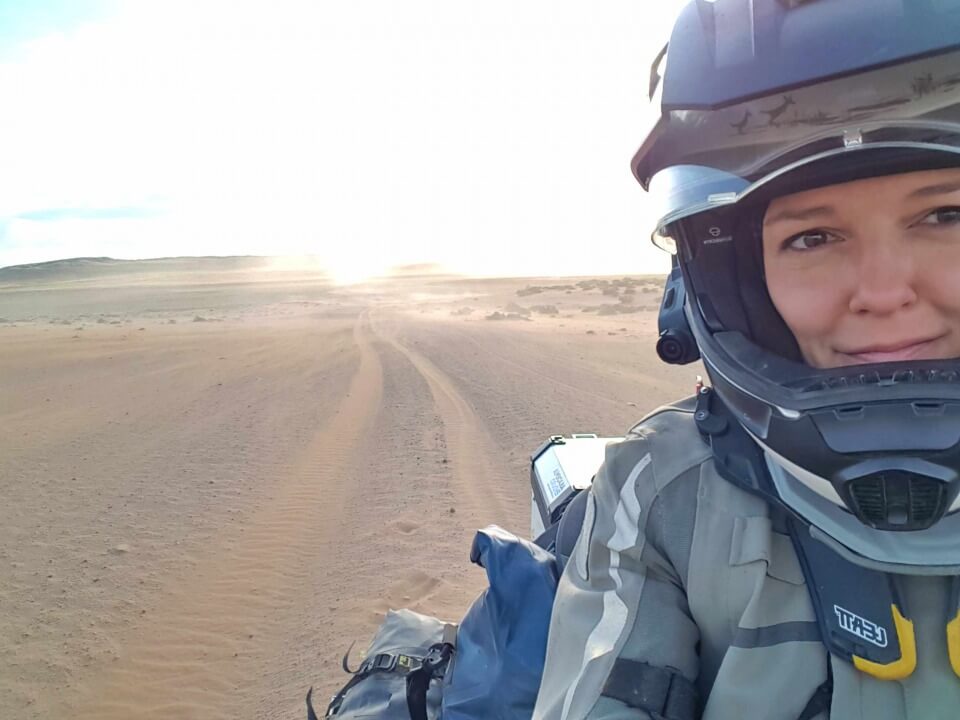 Immediately after which I seriously thought I'm bogged. Time to "Get your shit together Kinga" …I was barely halfway up the sandy hill and the road become good again… a bit corrugated, but I managed to ride at a top speed of 80 km/h. That's the fastest I've ridden for weeks! So exciting!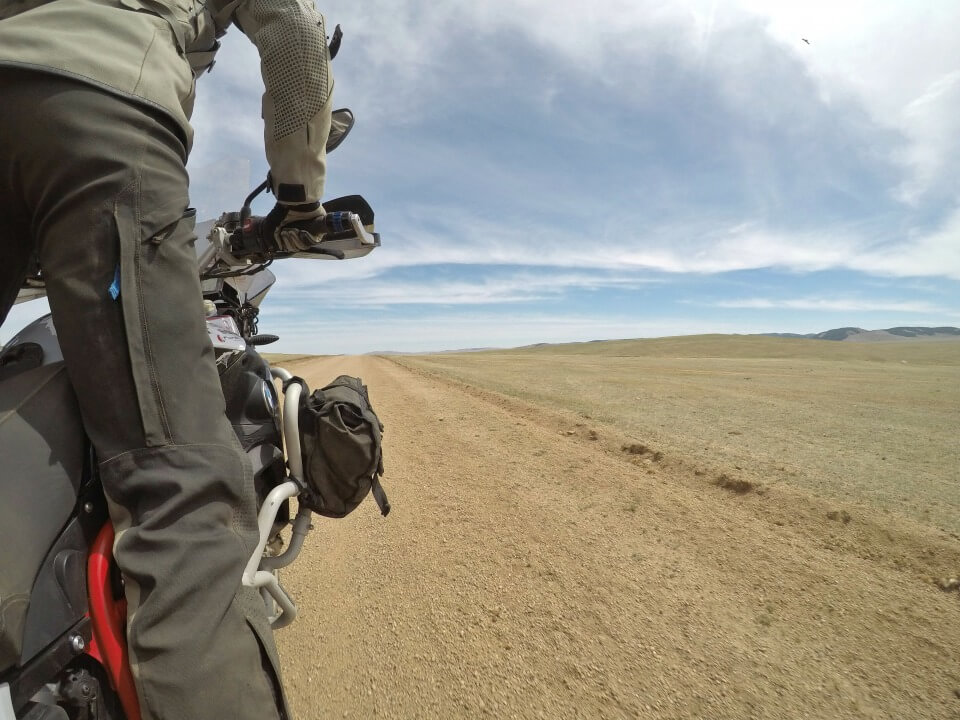 I had only 50 km left to the city, when I came across a Mongolian man grazing his cattle across the road, he was waving his hands. I though he needs some help so I stopped near him. He grabbed my handlebars and started yelling. I instantly took off thinking this is not right and watched him in my mirrors. He jumped on his bike and started chasing me. Bloody hell, this is the first time in my life I've been chased! Clearly this guy is nuts! I accelerated to 80 km/h and was confident he won't be able to get me on his little Chinese bike! Well, it was all a great escape until I hit the sandy dry river bed! If I hadn't been so nervous crossing that section it wouldn't have been a problem, but I freaked out and fell over. Soon after that the man chasing me arrived, yelling and carrying on. I didn't know any other way but to yell back at him. Picking up my bike under these conditions would normally take me about 20 min – I would have to take all the luggage off and I didn't see that happening peacefully under these circumstances. So I screamed at my assailant and told him to help me pick up my bike. I was completely surprised when he did, but of course he showed me a sign indicating that he wants money. I completely lost the plot and told him he won't be getting any money from me. He didn't like that, so he started to throw stones at me. I couldn't think of anything else to do but point at my Sena camera on my helmet and yell "Police!" He clearly understood that word and stepped back. It didn't stop him from picking up a few stones to throw at me as I was leaving though.
It took me a while to calm down but luckily Ulaangon wasn't too far away! And all the way I was thinking to myself "I'm over this adventurer shit, I'm putting myself in the best hotel in town for the night!" Turned out there weren't that many of them and the best room in town was $20! Nailed it!
Finally I had my long awaited shower and instantly felt so much better. With a cold beer in my hand I started to plan the road to the border – if I take the shortcut that goes along the Russian border – it will only be 250 km to the border crossing. Brilliant!
​The West
Soon after I completed my Mongolian travels I learnt from other riders that the short cut that goes along the Russian border is a no go, apparently everyone who does any research knows about it, but not me, I have no time for research!! I just go with the flow… literally!
It started off lovely enough… 50km of asphalt out of town looked promising. "This is very good, by lunchtime I should be at the border", I was smiling to myself. Soon it became apparent that the "main road" on my GPS turned into dirt through the mountain range. The mountains looked stunning so I was very happy with that detour.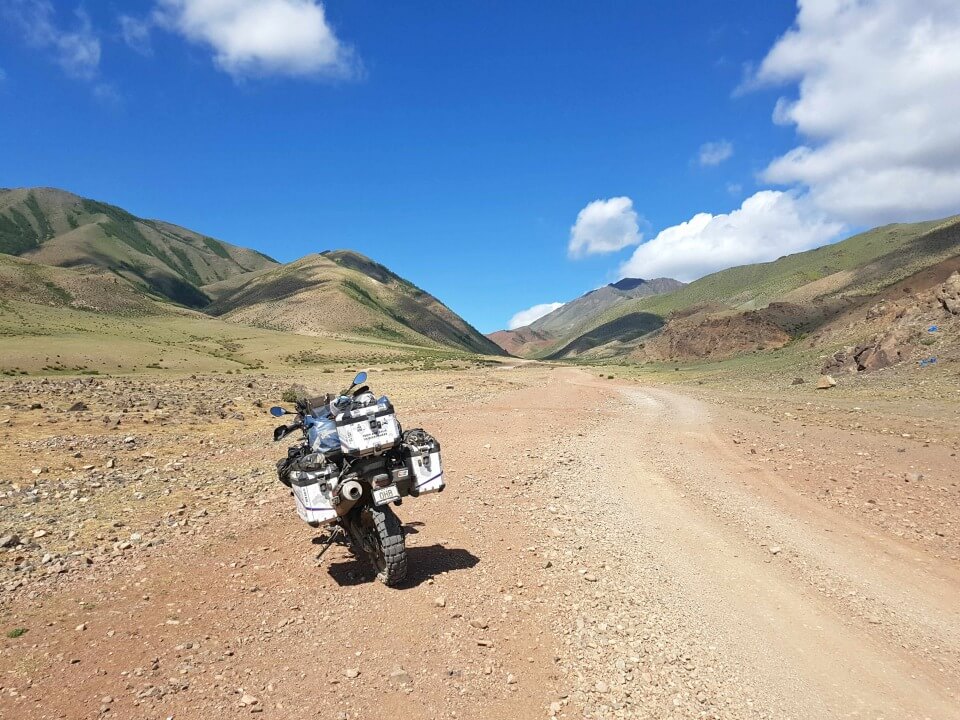 After a few km's it got even better, I reached lake Uureg. An absolutely stunning place – sky, mountains, desert! What a great farewell to Mongolia, I thought.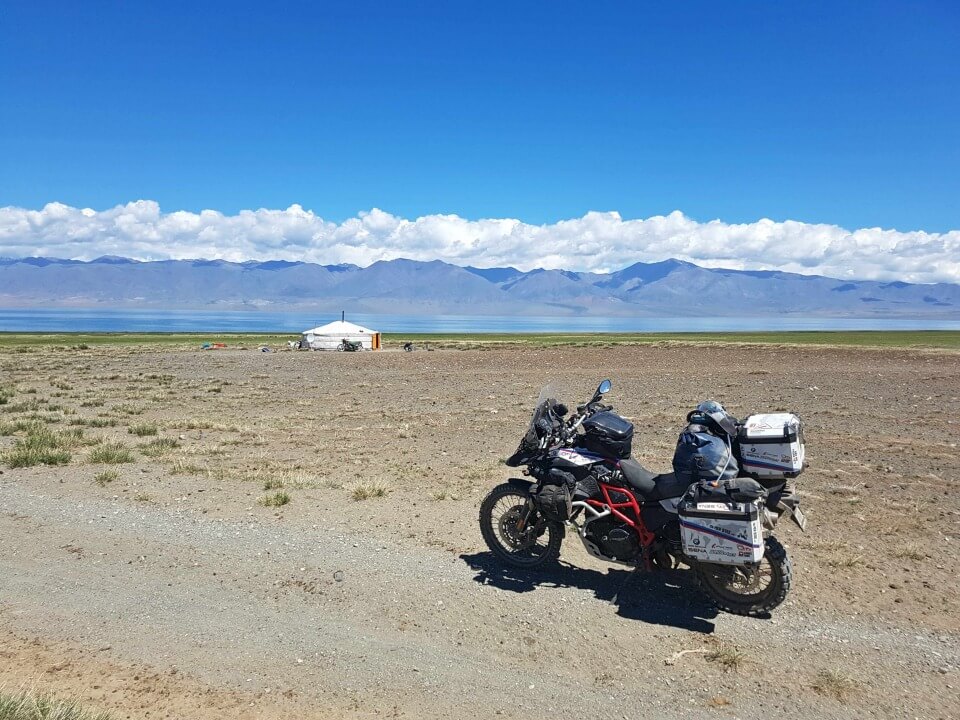 Then there was another mountain range but I didn't stop for pictures – I was on a mission to get to the border that day!
And suddenly a massive river appeared in front of me: "What the heck!" – it looked so deep! I stopped the bike and walked the river. The bottom of the river was gravel – which is the worse, it's so slippery! And the current was very strong, but there was a narrow section that was just above my knees. But I completely freaked out – if the current pushed me off in this narrow pass, I'll drown the bike.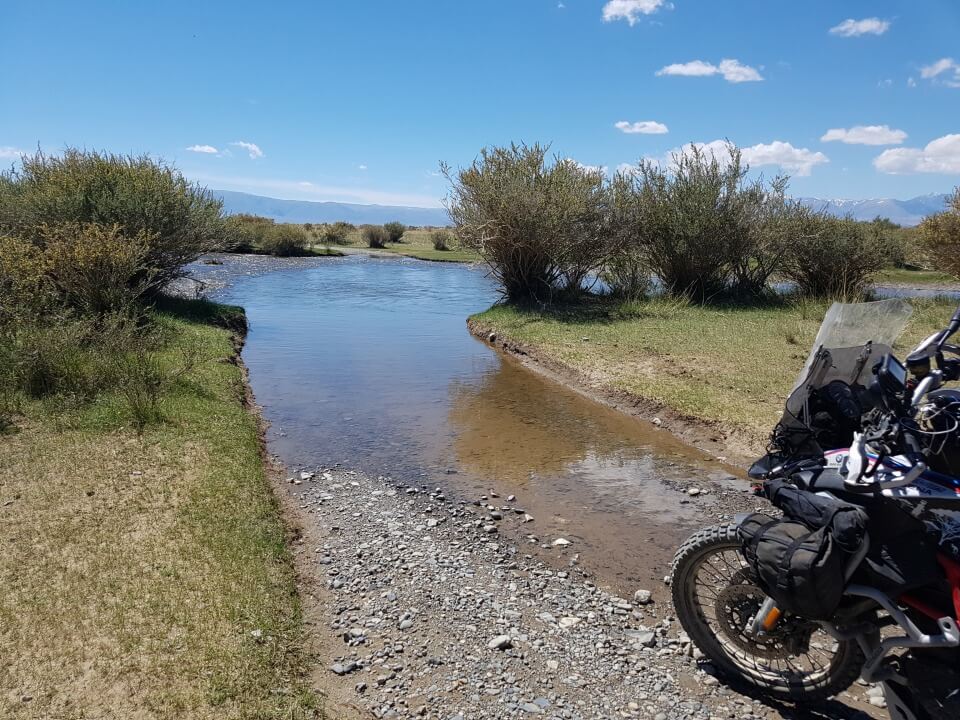 I went back and decided to checked out the rest of the river bank. I was riding up and down the river for 2h and everywhere else it seemed to be deeper. For the first time on this trip I felt like I was missing a companion, I got all teary again – if only I had someone to watch me and help me to pick up my bike if I drop it in a deep spot. But my inner rebel spirit spoke up and told me "Pfft, just go for it, you'll be fine!" I took all the luggage except for the side panniers off, and off I went. I walked the bike slowly through the river, bit by bit… and it turned out it wasn't that hard – "Well done Chillie we made it!" I did a little victory dance once we got to the other side! I went back across the river a couple of times to get my gear, packed up and took off with a smile on my face.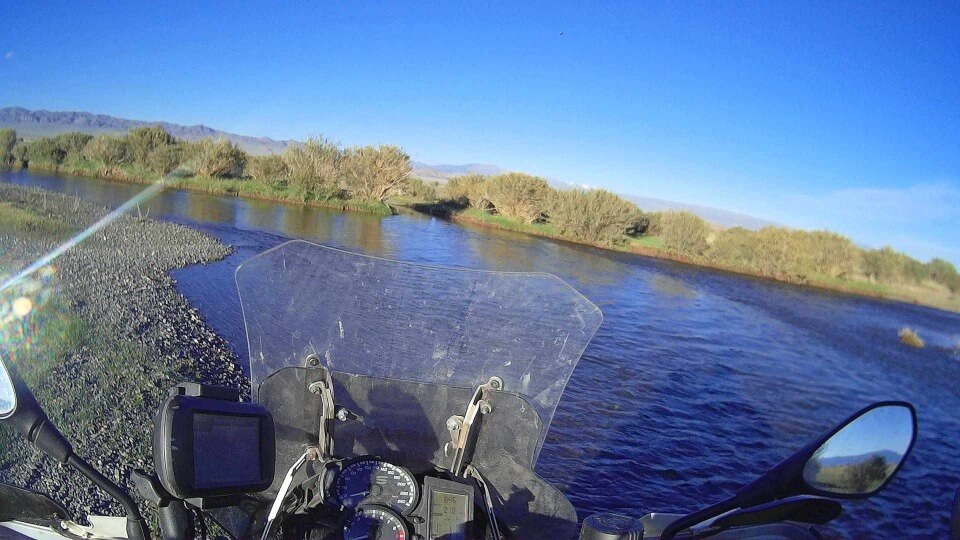 But my happiness only lasted 30km where I hit the next river. "I can't believe this, there is no way I'd be able to cross this one!" The river was so deep that even a truck wouldn't be able to make it through– I didn't even bother to walk it, I would probably have drowned! As I was riding along the bank seeking out a shallower pass, I saw a young man on a horse. I stopped him to ask if he knew of a place where I could cross the river. Luckily he spoke a little bit of Russian and he told me to follow him. We went off the road through some thick bushes with a lot of little trees. The tree branches were so low that they were hitting me and pushing me off the bike. There were a couple of little creeks with steep embankments, that my guide had to push me out of. I dropped my bike on a couple of occasions, and kept thinking that this is a disaster and where the hell is he taking me!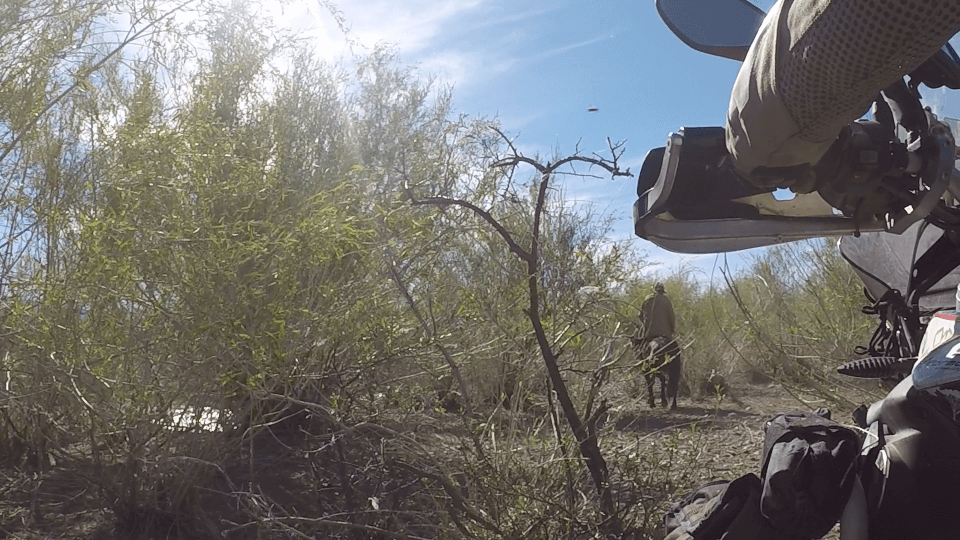 After a good 20mins of this torture he finally stopped, got off his horse and started undressing himself, he pointed at the grass and told me that we were going to lay down here! Suddenly it clicked, as to why he had taken me to this place – it was a trap! There was no way I could get out of there on my own fast enough to escape and I was too emotionally exhausted to even get angry. I started crying and told him that if he gets me to the main road I'll pay him some money. Luckily that worked. He got dressed and guided me back, once we were on the road I gave him the money straight away… I just wanted him to disappear. Once he took off I had a complete meltdown. I had no idea where to go and what to do. I pulled myself together after a few minutes and decided to go back. I checked my map again and I could see there was a road not too far from the first river that joined the main road to Ulgii after about 70km. I crossed the first river with much more confidence and followed the river bank… soon after that… there it was! A little bridge! Great, a little bit too late!
I looked at my GPS and realised I was on the wrong track, the one I needed to be on was further up North, It didn't look too far off so I decided to take a shortcut through the bushes and grass.
After 20min of riding I started to freak out. I'm riding through some bloody desert with no idea how far it is to the road. It was getting late and I started to lose my mind! I stopped the bike and started talking to myself through my tears: where the hell am I, how will I get to the main road, what if the bike breaks down – no one will be able to find me here. The sun was already very low, I knew I only had about half an hour of daylight, so I needed to hurry to set up my tent. There were tonnes of mosquitos around me so I keep my helmet, jacket and gloves on until I was ready for bed. All this time until I fell asleep, I kept saying to myself "Everything is going to be ok, one more day and you'll be out of here". I seriously lost my mind that day.
Somehow I slept through the night and woke up at 6am in much better spirits. I needed to complete my mission that day – I needed to be out of here! Quickly I packed up, hopped on the bike and took off in the direction I hoped was right. After one hour of wandering through trees I spotted a narrow line between the bushes! Woohoo, it's a road I made it! My GPS finally picked up my location and calculated 140 km to Ulgii. Oh my goodness I was so relieved – I could finally see myself getting out of here! The road was quite corrugated with a lot of bull dust but I didn't care I was riding as fast as I could! As I overtook a truck I could see from a far a motorcycle with the headlight on – must be an adv rider! And as I was getting closer I could see the rider was waving his hands at me. We pulled over onto the same side of the road. "Hi Kinga!" he said. Hearing my name from a complete stranger in the middle of nowhere in Mongolia was the last thing I expected. "It's Abi, we exchanged few messages on Instagram a couple of days ago!", "Oh, that's right, nice to meet you mate!" After nice chat about our plans and experiences we took a picture together and said goodbye.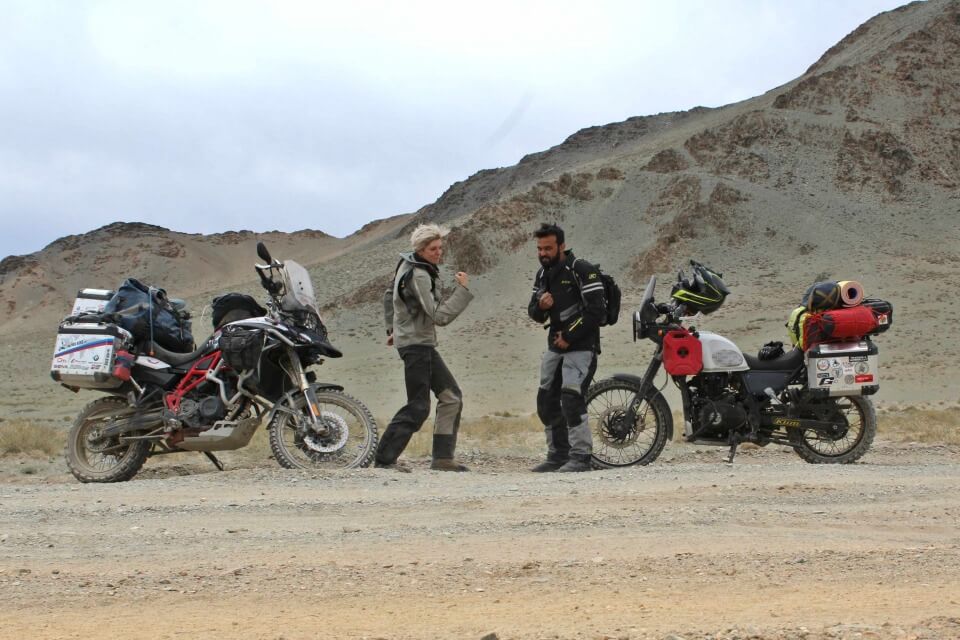 It was already lunchtime when I got to Ulgii but I had no time for a lunch, I quickly rode through the town, I had only 100km left to the border.
The border crossing took me about 4hrs – lunchtime is not the best time to do the crossing. But I didn't care, I happily waited and when I finally made it to Russia I thought I'm going to kiss Russian soil. I felt like I woke up from a bad nightmare and felt relieved like it was just a dream.
​Summary
It took me a while to shake off all the bad experiences with those Mongolian men. But despite all that it was worth it! I had dreamt about riding through Mongolia for years and riding through those remote and challenging landscapes was an unbelievable experience which gave me a great sense of achievement. With no breakdowns, no flat tires and only one small injury I made it! Dealing with some of the people was disappointing, but I guess I was unlucky to meet them on my way. Would I do it again?! Hell yeah!
Tips:
I highly suggest this map I got on Ebay. It's the most detailed map I've come across. And trust me you can't rely only on your GPS in Mongolia!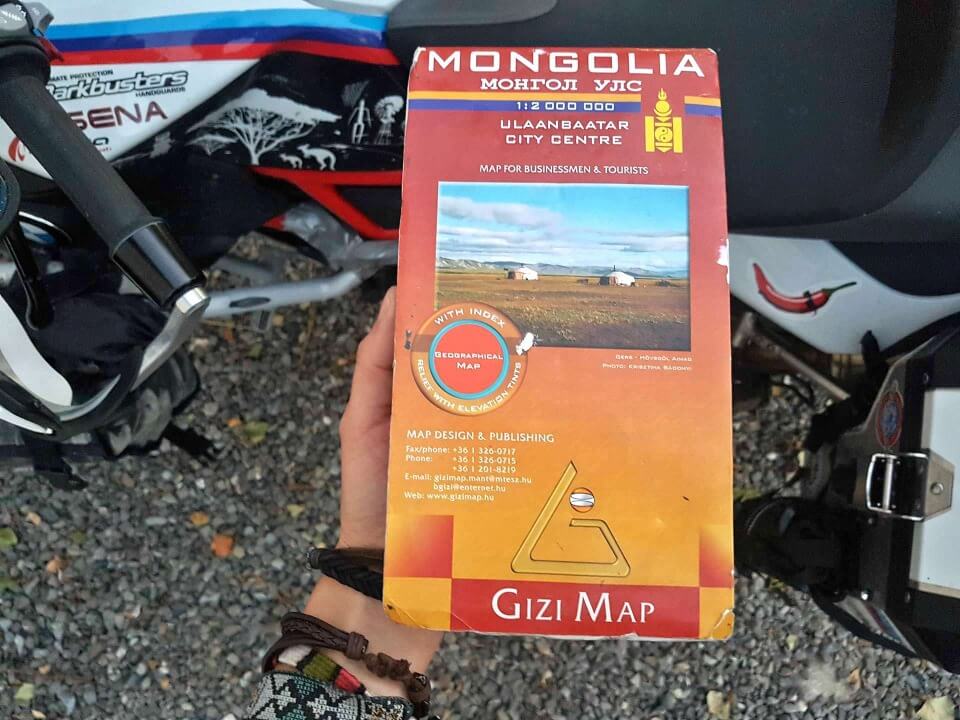 Money: Getting cash out of ATM's wasn't a problem and you can find an ATM in all the towns.
Fuel: There's no problem with fuel. Every bigger village will have a petrol station or two. The longest distance between petrol stations was 250km.
Weather: I was little bit concerned about the weather in May but I was lucky – most of the time it was a very sunny 15-30 degrees
Food: It's very basic, simple and very cheap ($2-5 for a meal). I got sick once but I suspect it was caused by the milk in my tea.
In Numbers
Duration: 27 days
Total km's: 3592 km (2000 km on dirt)
Map: https://www.google.com/maps/d/edit?usp=sharing&mid=1OrEd8AW-9vRd2bUBs6YbGQwrUno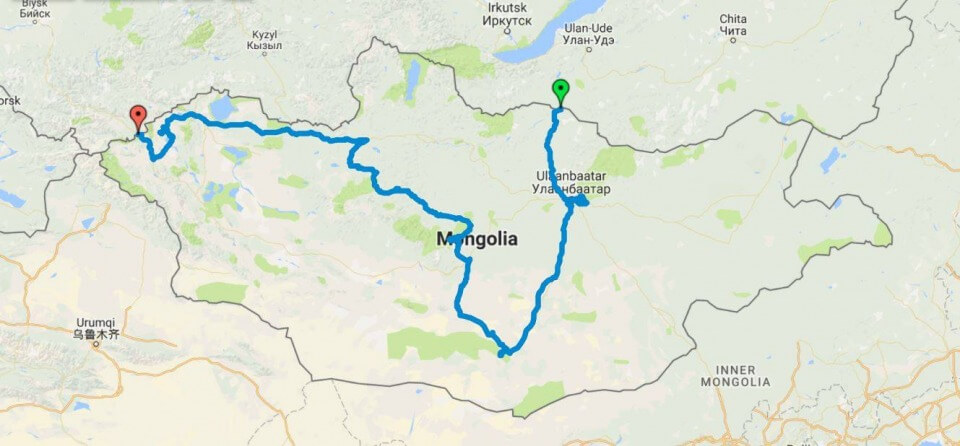 ---
The "Are We There Yet" World Tour is about more than just me seeing the world on a motorcycle. Throughout my journey I'm raising money for a young disabled child in Poland named Franek. Franek was diagnosed with cerebral palsy (weakness of the entire right side of the body) and he will require constant rehabilitation for the rest of his life. All the money raised will go directly to helping Franek and his family lead as normal a life as possible so please donate generously: www.gogetfunding.com/arewethereyet