Tajikistan
The road through the border crossing at the Kyzyl Art Pass reaches 4600m above sea level. In the previous weeks in Kyrgyzstan I'd ridden at over 3200m so I thought I would have adjusted to the altitude by now. But as soon as I reached 4000m I began to suffer shortness of breath, head spins and dizziness.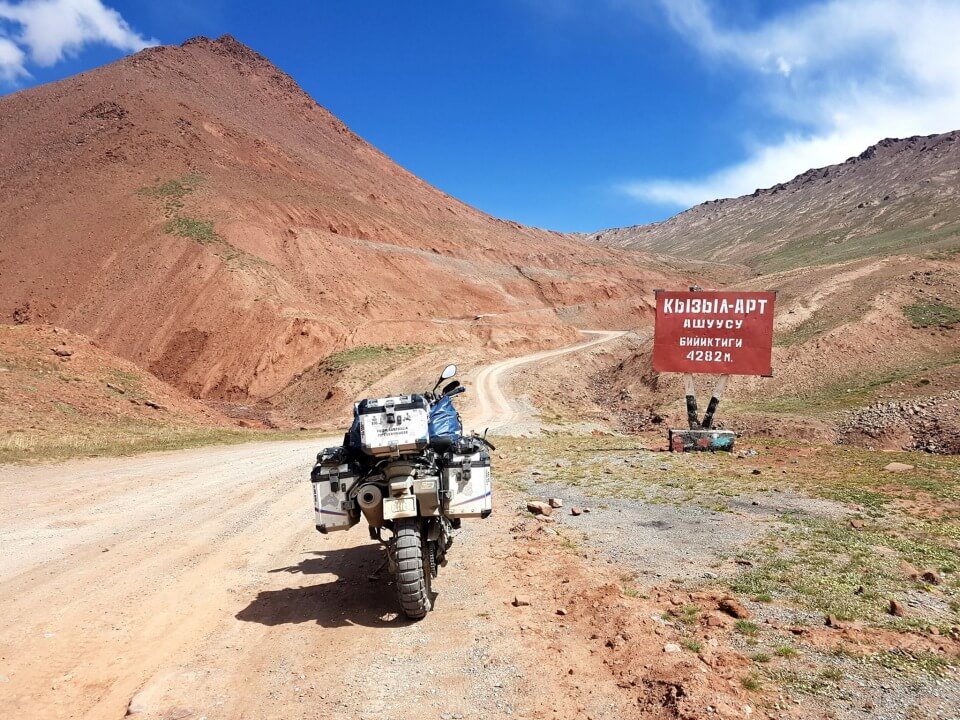 At the Kyrgyz passport control everything went nice and smooth in terms of the paperwork. But on the Tajik side it was another story. My Russian Import declarations were no longer valid in Tajikistan so I had to fill out new ones and pay 60 Tajik Somoni ($8US). On top of that they made me pay 80 Somoni ($9) for vet tax and 80 Somoni for Eco Tax. Apparently both of them are a total scam but I had no energy to argue. I was feeling worse and worse and I knew I needed to start riding down hill ASAP. I completed all the paperwork, they sprayed my bike wheels with some kid of pesticide spray (totally dodgy) and I took off.
I rode for 50km during which the altitude dropped down to 3900m and there it was Lake Karakul. Zebb was right! It was a perfect place for camping!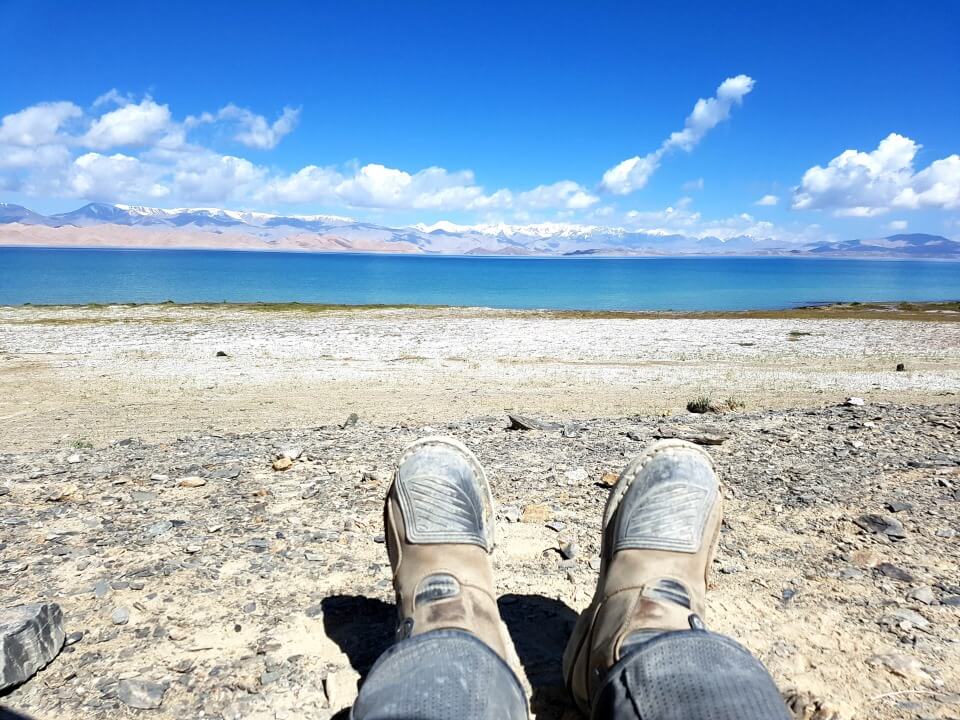 I got as close to the lake as possible, turned off the bike, took my helmet off and took a few deep breaths. The oxygen felt so thick and it was like I couldn't get enough air into my lungs. Such a strange feeling. All my movements were in slowmo. It took me ages to put the tent up. One peg in, rest, second peg in, rest.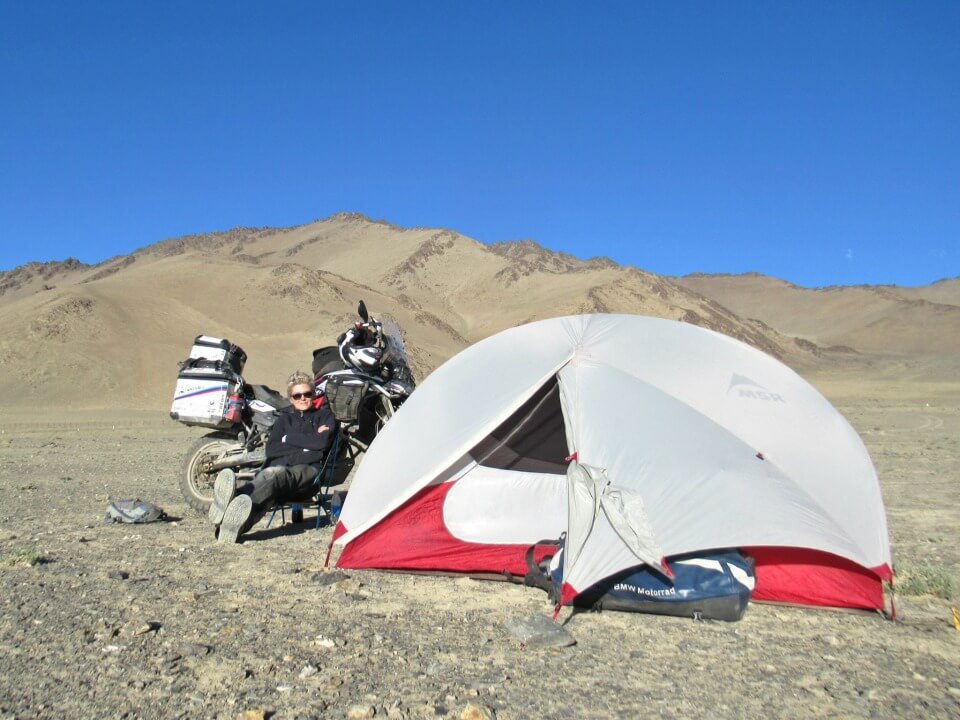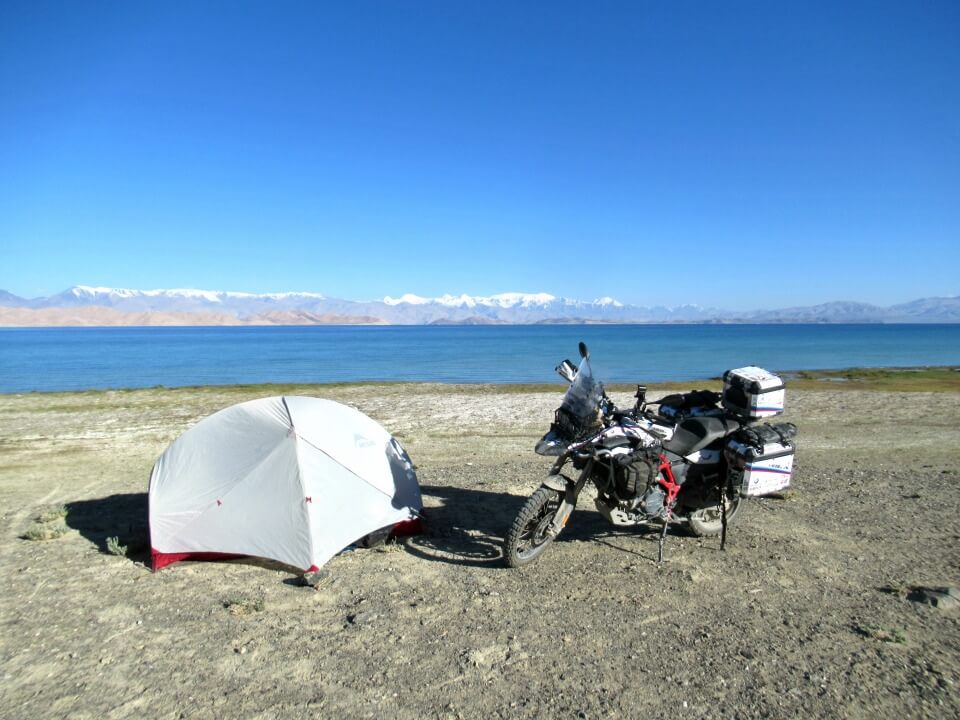 Ok, the tent was up, I stretched my legs out on the chair and heard a motorcycle getting closer. It was Zebb! Clearly he'd changed his mind and crossed the border today. "Can I camp next to you?" he asked. I happily responded, "You sure can, there's no lack of space here!"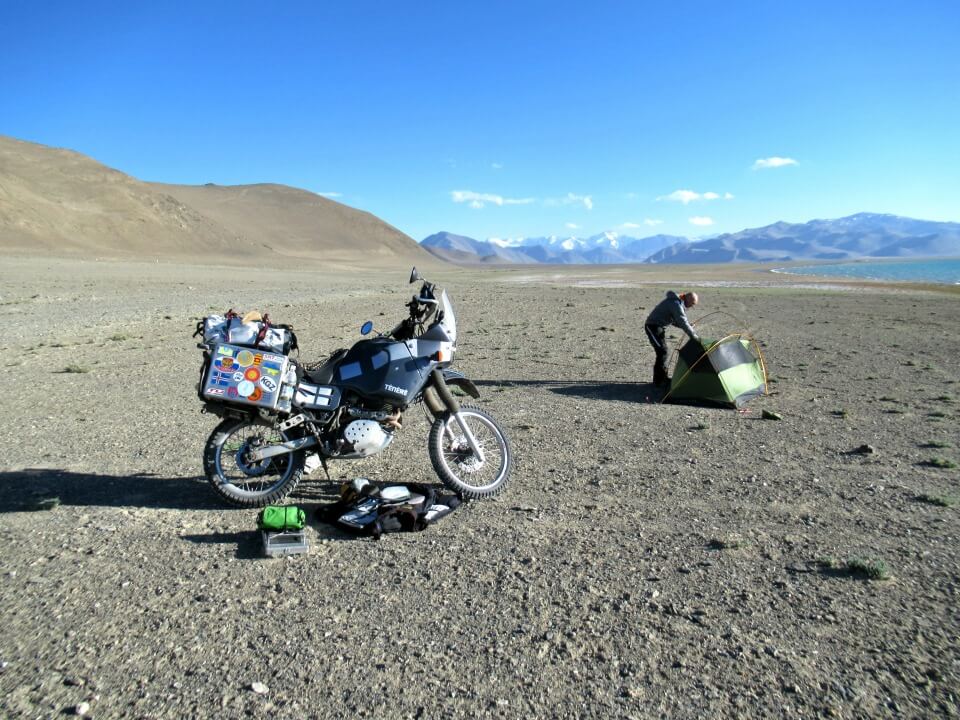 For the next couple of hours we chatted about our travels and plans. Zebb had been to Tajikistan a few times already so he gave me some good insights into what was ahead of me. It was getting cold quite quickly so we called it a night fairly early.
The next morning we had a cup of coffee together. I also took the opportunity to use Zebb as my photographer and jumped on Chillie. This was the outcome:
Zebb asked me to take a picture of him with his mobile shade. No worries man! It was a quite a comical scene 🙂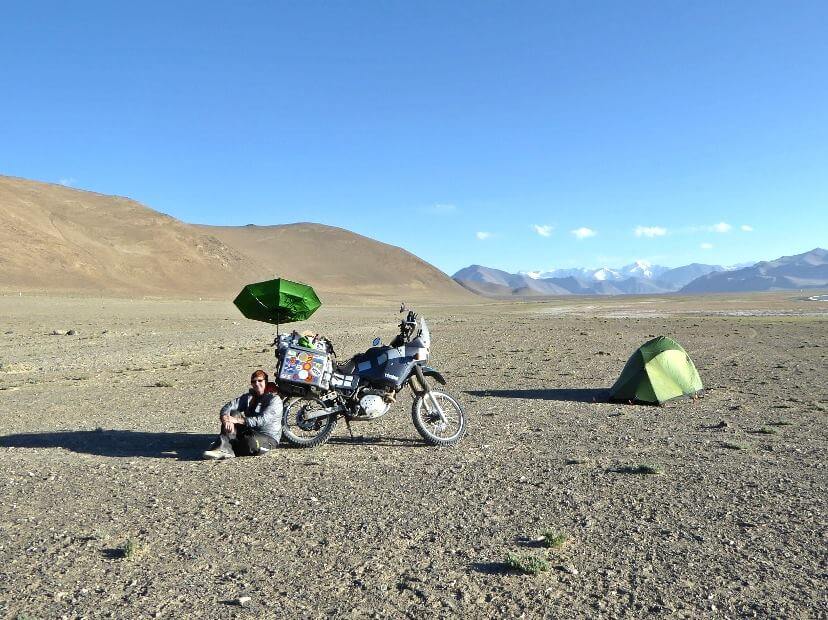 Zebb was much faster at packing up so he took off early. As for me I wanted to experience the Pamir on my own…
The Pamir Highway
The legendary Pamir Highway, known these days as M41, was established as one of the links of the ancient Silk Road trade route. These days it's developed a reputation amongst adv riders as an experience simply not to be missed. The first 180km goes along the Chinese border. This section is a mixture of paved and unpaved road. I was warned by Zebb that there are plenty of landmines on the Chinese side of the fence, which was lucky because I could just see myself going through a hole in the fence as soon as I see one just to take a selfie "Hey , I'm in China without a visa!"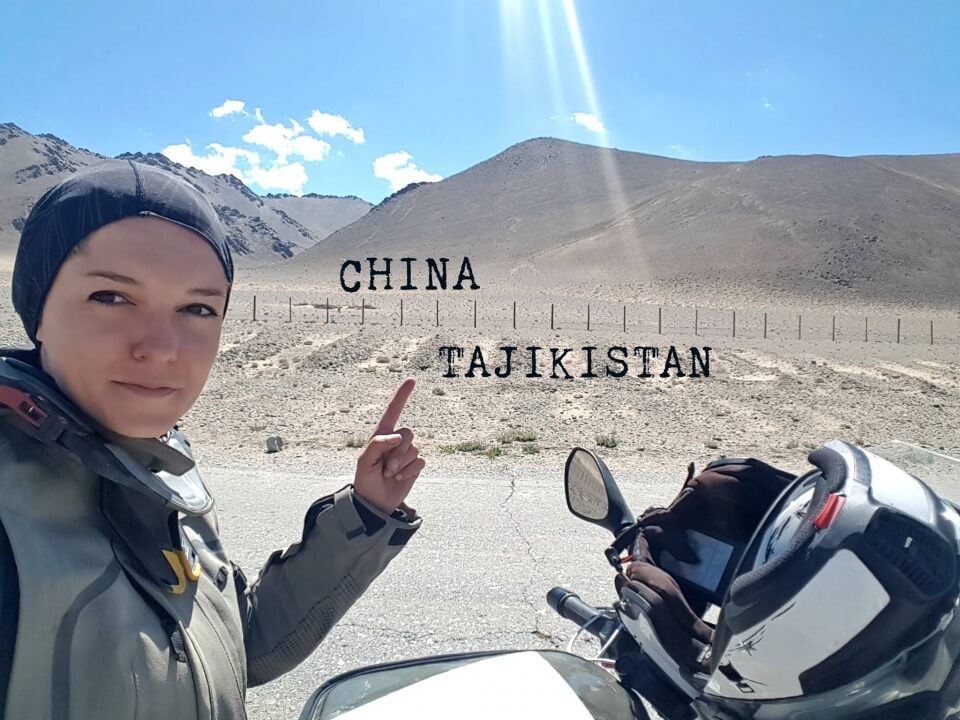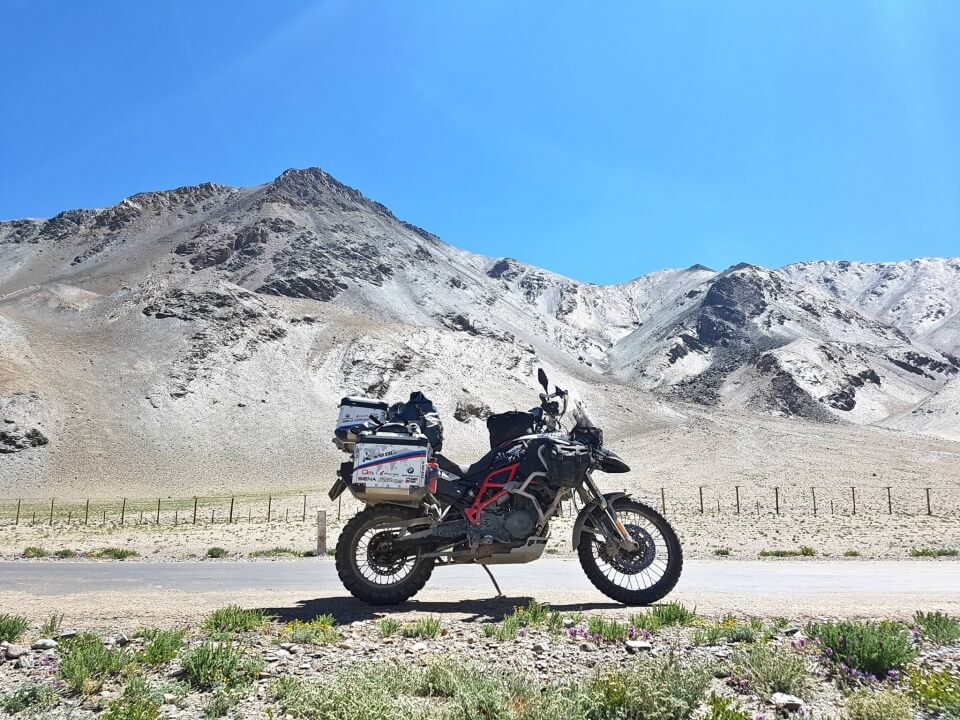 130km later I stopped in Murghab at some dodgy hotel hoping to exchange some money. And out of nowhere Zebb showed up. "Hey, it's you again". Zebb had just filled up and gave me some tips on where I could get petrol cheaper. This was the absolute last chance to get petrol before entering the Wakhan Valley. There are a couple of "petrol stations" (read houses with a big tank of fuel) in the village but all of them pour fuel from old bottles.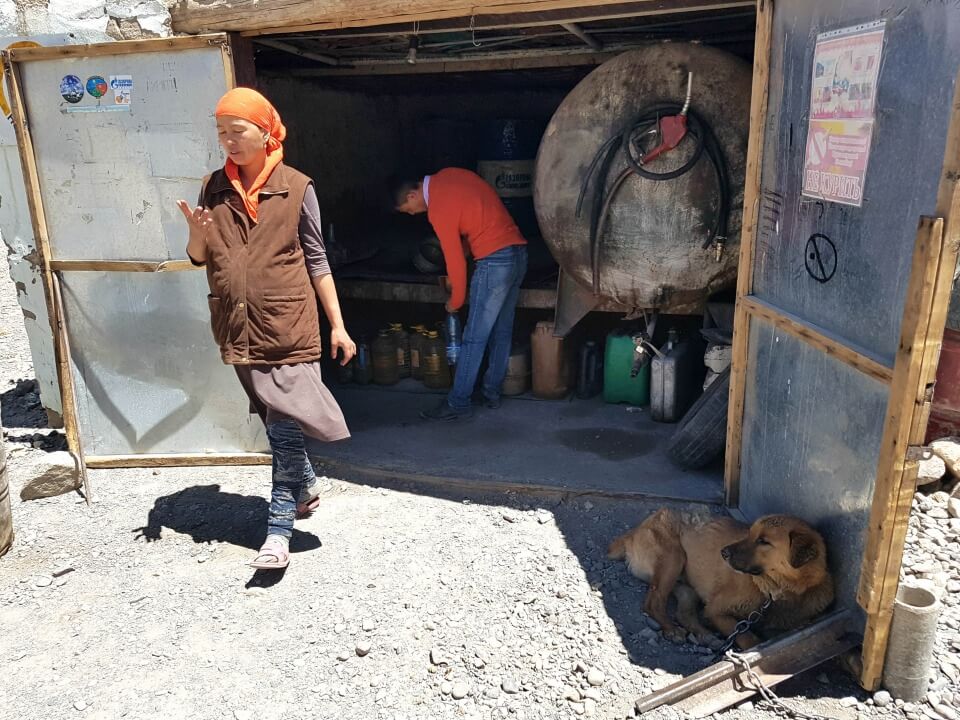 At the town exit I came across the first military checkpoint where they checked my passport and the GBAO permit.
I continued to potter along bouncing like a yoyo, and yes the suspension was annoying the crap out of me, but I didn't let that small detail put a damper on the whole experience. I'm on the fricking Pamir Highway riding my motorcycle alone and I couldn't be happier.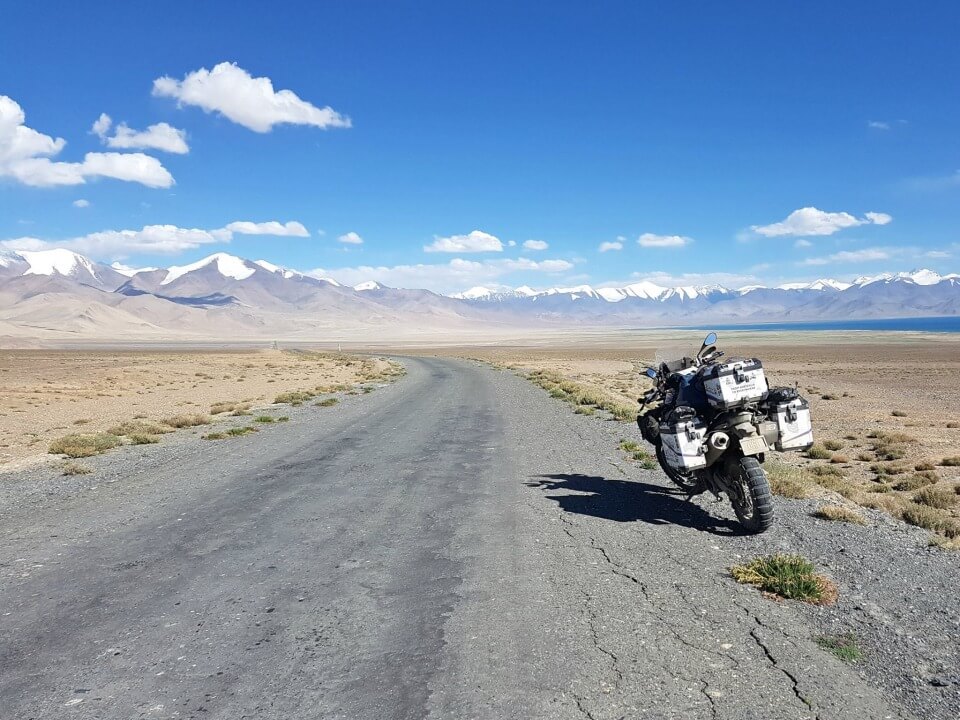 The road was quite "crowded" and every half an hour or so I'd be passing by a cyclist or motorcyclist going the other way. "Gee, this really feels like a highway!"
From afar I saw a group of bikers parked on the opposite side of the road. I stopped and asked if they were ok. Turned out one of them had snapped his clutch cable. I had a spare clutch cable with me and I was wrestling with the idea of giving it to him or not. But I thought I've got at least 700km before the nearest workshop. If I break my cable on the way I'll be in big trouble – and all on my own! These guys can help each other, they can haul the bike or just ride without the clutch. "Sorry, I can't help you with that" I said biting my tongue. I felt really guilty when I rode off and even now I wonder how they solved the problem…
As I was passing by the Alichur village I saw a group of GS's parked outside one of the houses. I thought to myself "Wow, that's a big group, I wonder where they're from", but I decided not to detour. This was one of those days where I just wanted to be alone.
A few hundred meters later I saw an F800GS rider stopped at the entry to the village, he looked a little lost and I guessed he was probably looking for the other group. I stopped and asked if he was ok. He nodded his head "yes". As I was riding off I looked back to check out his rego but it wasn't there! "I wonder where he's from"…
The pavement was really bad, a "more potholes than actual asphalt" scenario. I was still trying to keep my speed up to 80km/h because I just get bored when I ride any slower. I stood on my pegs and rocked the bike from side to side to avoid the holes.
I looked ahead and saw a rider on the side of the road waving his hands at me like it was an emergency. "Czesc Kinga" he greeted me in Polish. I looked at him and quickly recognised him "Czesc Sambor. What's the chance of meeting you here!" Sambor is a world traveller, journalist and quite a big deal in Poland. He runs a motorcycle transport and travel company ADV Factory. We've been Facebook friends for a couple of years but never had the opportunity to meet… till here on the Pamir (as you do!).
It turned out Zebb who was ahead of me by about an hour caught up with Sambor and informed him I was coming his way.
The group of riders I saw in Alichur was from Poland on an ADV Factory tour. Damn it I should have stopped and said "G'day"!
We chatted for a good half an hour about all sorts of things and tried to work out where I'd be able to fix my shock. Then just a selfie before we said "See ya".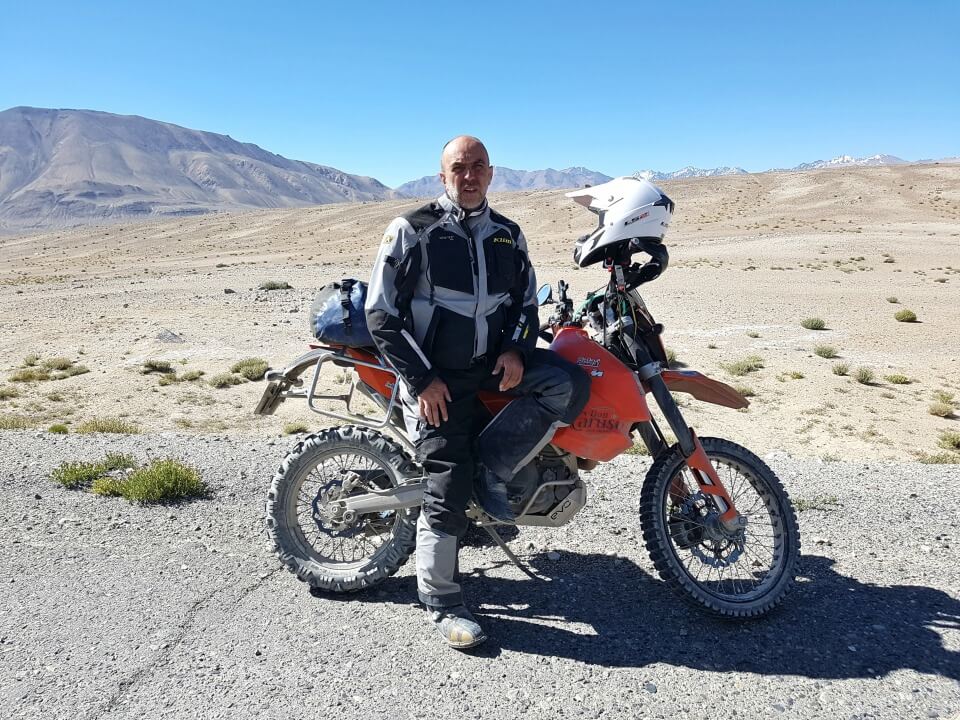 From here there were two ways to get to Khorugh: the Pamir Highway and the Wakhan Valley. The Pamir at this section is not as exciting as the Wakhan Valley so the choice was easy! The Wakhan Valley runs along the river which borders Afghanistan, some sections of the road are dug into the mountains. It's 300km of the most incredible scenery.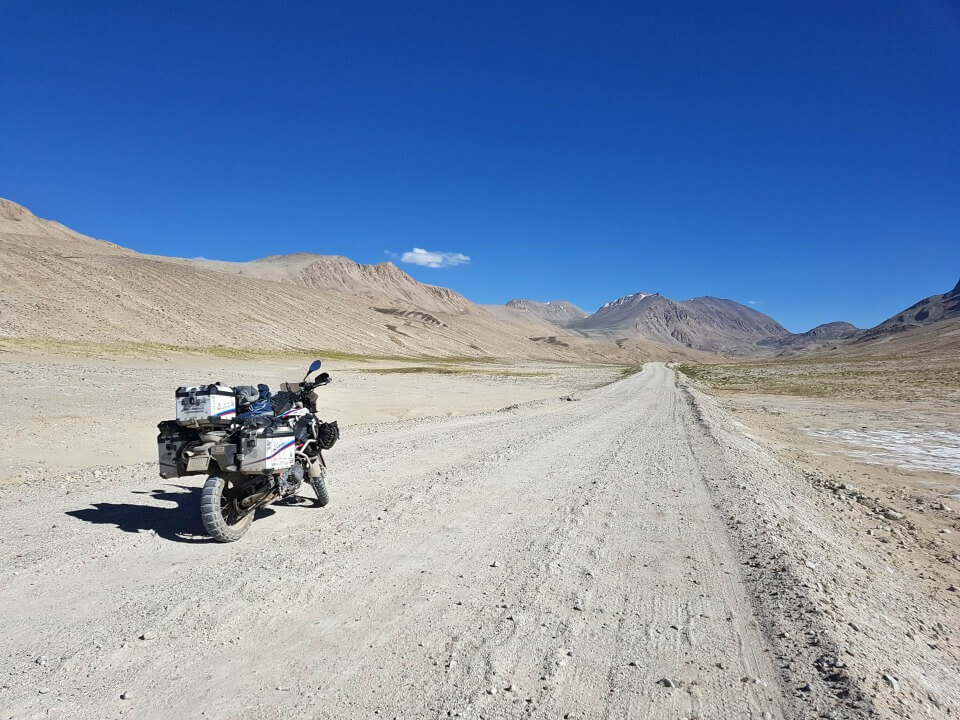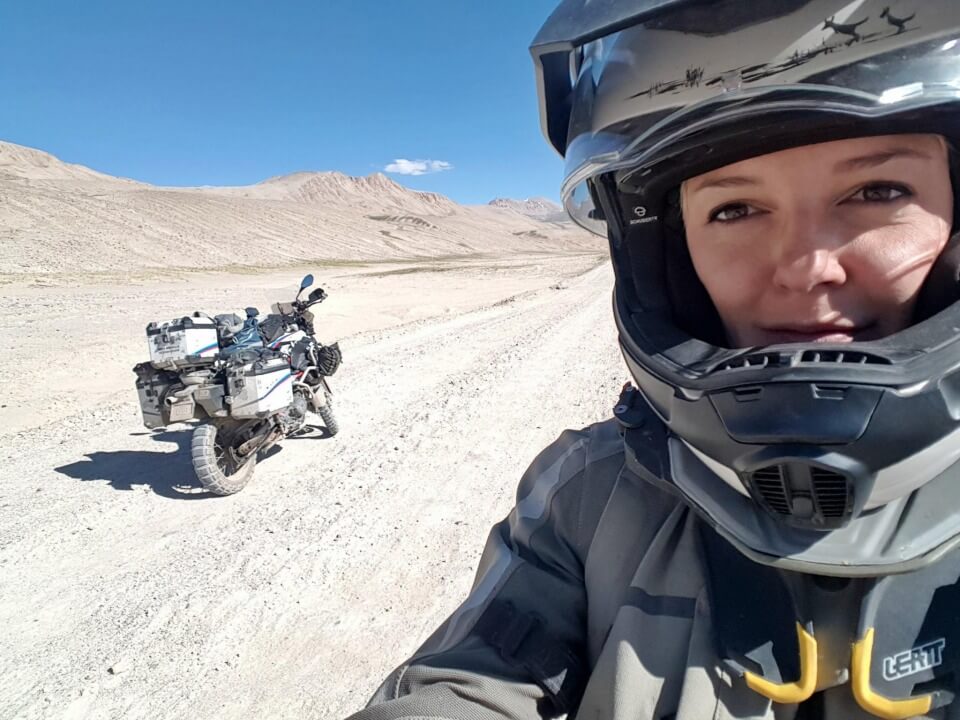 Soon after a military check in Khargush which is not even a village as I had been expecting (it's just an army base), I started to look for a place to camp. All this time I was imagining a nice shady place to camp once I got to the river. But all I saw were sheer rocks. At this section of the road, the river was way down below and I found myself on a cliff with no trees, bushes or vegetation of any kind. It was already getting late and I thought it didn't look like the landscape was going to change so here would do. I turned left to get closer to the river, when I suddenly remembered what Zebb had said about the land mines! Shit, I wasn't supposed to get close to the river. I stopped the bike and felt the sweat start to run down my face and trickle down my neck.
I cleverly guessed that there were no land mines where I was now, well I'm still alive, so I did a visual inspection of the ground, which looked clear. Ok, I should be safe here. I set up my tent as close to the bike as possible and looked in my pannier, the choice for dinner was, as always, canned fish or instant noodles. Oh what the hell, I feel like cooking today, instant noodles it is!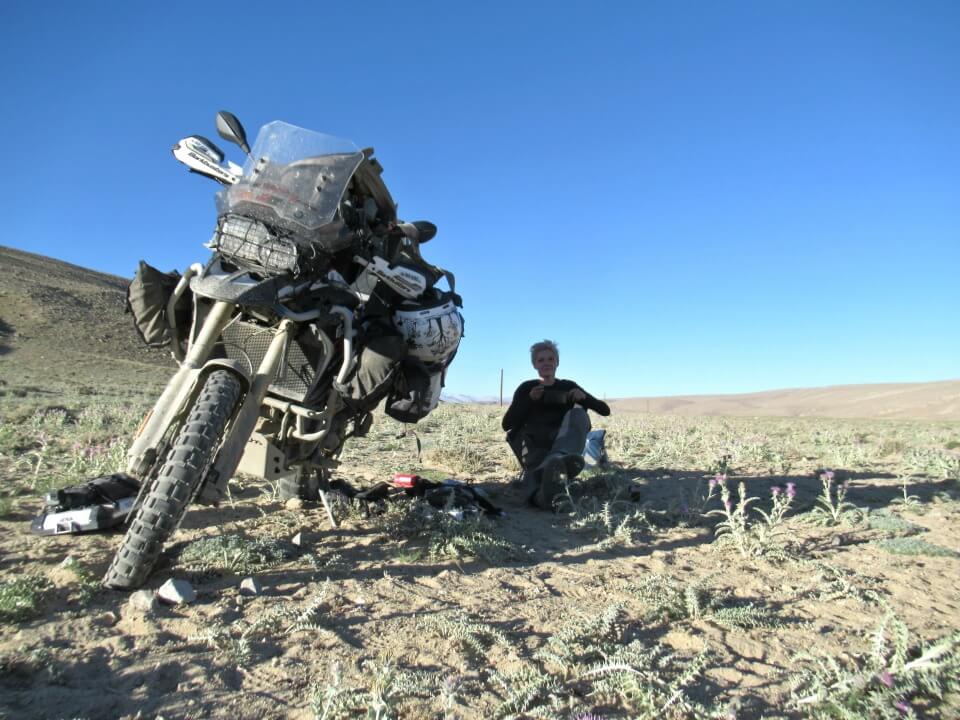 The night was quite windy but thanks to ear plugs, I slept like a baby.
In the morning as I was packing up I was thinking to myself today is an easy day – only 100km to Bibi Fatima hot springs! And it was a great day – I cruised along in no rush, taking lots of pictures along the way curiously looking at the Afghan side hoping to see some locals. In this area the river was quite wide and the mountain on the opposite side was heaps high, I could only see a road dug into the rock, but no people just yet.
When I finally got to Tuggoz I saw the turn off to Bibi Fatima. The hot springs were up high in the mountains and to get there I faced 7km of sharp corners on dirt. In some parts the brick fences of the houses were so close to the road that I nearly smashed into them as I bounced along sometimes losing control.
Phew, I finally made it to the top! There were quite a few hotels and homestays along the way. I'd chosen to stay in the hotel right at the end of the road just before the hot springs. The owner's daughter spoke English very well and she told me it was $15 per night. "How come all the other riders were paying $10?" I asked. She ummed and ahhed but agreed to this price in the end. The hotel was very basic. Again I wasn't sure when the sheets were last washed, the bed had somehow collapsed and there was no shower, just a flushing toilet and a sink to be shared by all.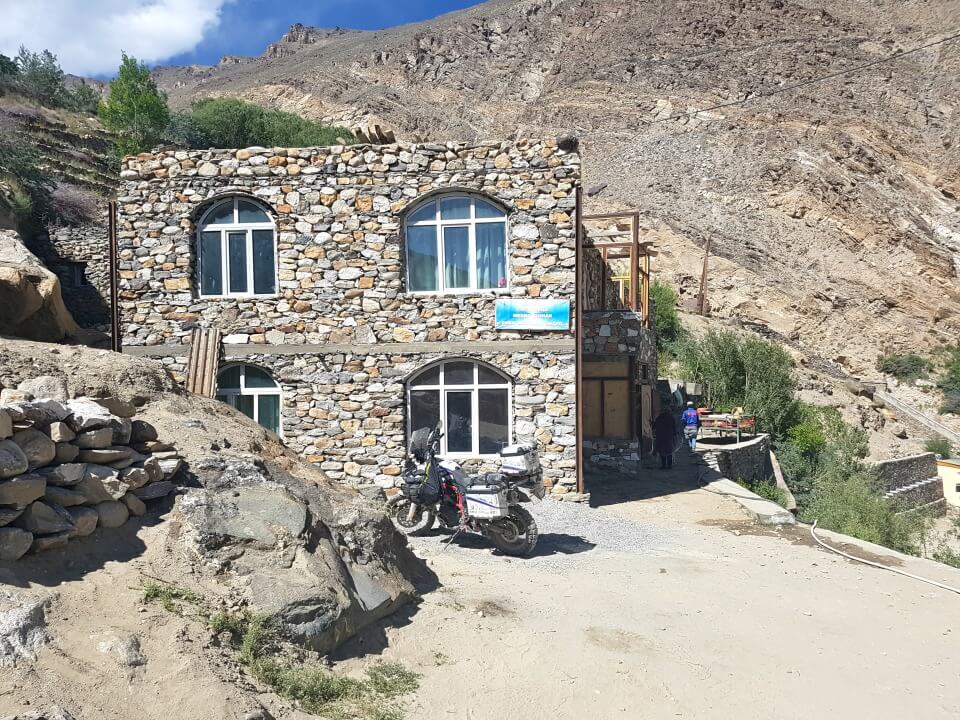 I unpacked the bike and checked out my suspension, by this time all the oil from the shock had leaked out. Well on a positive note, at least I don't have to lube my chain!
Oh, the humiliation!
Apparently soaking in natural warm mineral water at Bibi Fatima will rejuvenate a women's well-being and improve female fertility, a scary prospect! But oh well, I'll take the risk! Tajik woman come here from all over the country for this "treatment". They bath 3-5 times a day hoping to improve their chances of getting pregnant. I guess it's like an alternative to IVF treatment.
The springs themselves are just a simple concrete room built against the rock face where the hot water emerges from. The hot water comes from a fine stalactite like shower. There are separate times for men and women. There is also a rule I wasn't aware of… you have to be naked! As soon as I walked into the bathing room in my bikini I received quite a bit of attention from all the ladies. Oh dear, everybody was naked in there… awkward! I tried to hide myself in the corner and curled up into a ball. But soon afterwards I was surrounded by all the woman and all I could see was a bunch of different shaped nether regions in my face.
Nudity is just not my thing and I don't think I've ever been so uncomfortable in all my life. They tried to convince me to take my swimmers off, but there was no way I'd do that, so I politely refused and tried to move the subject on by talking about where I was from and how impressed I was with the beauty of Tajikistan… After 10 minutes I was out of there, I just couldn't handle the pressure of getting naked any longer, hahaha.
Made some new friends!
The next morning I was quite nervous about going back down the twisty hill. On the rough surface the spring was bouncing like crazy and there was nothing I could do to control the bike. And again I had a couple of close calls with the fence and one time I nearly drove off the cliff. But I made it. Phew!
For the next 180km I took it easy, the bouncing made me somewhat seasick, but I was trying to focus on the views – I was in the most beautiful place in the world…
Every now and then, someone would pass me and stop for a little chit-chat..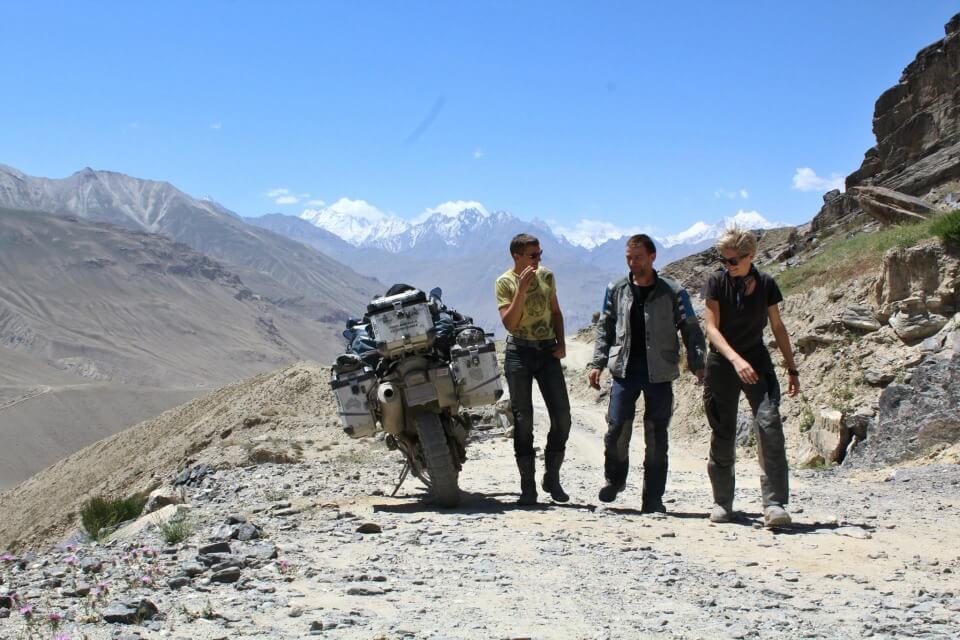 After 180km I finally reached Khorugh, I set my GPS to head for the Parmir Lodge where all the overlanders meet, or so I'd heard and boy, it was so true!
I stopped at reception and I spotted all the bikes parked nearby 'Yay Zebb is here too' and got all excited! Zebb greeted me and introduced his new mates Graeme and Katrina from Australia and Carey and Kevin from Canada.
For the next two days we all hung out together, in the day time we were doing some maintenance on the bikes and at night we downed tools and chilled out over dinner and beers.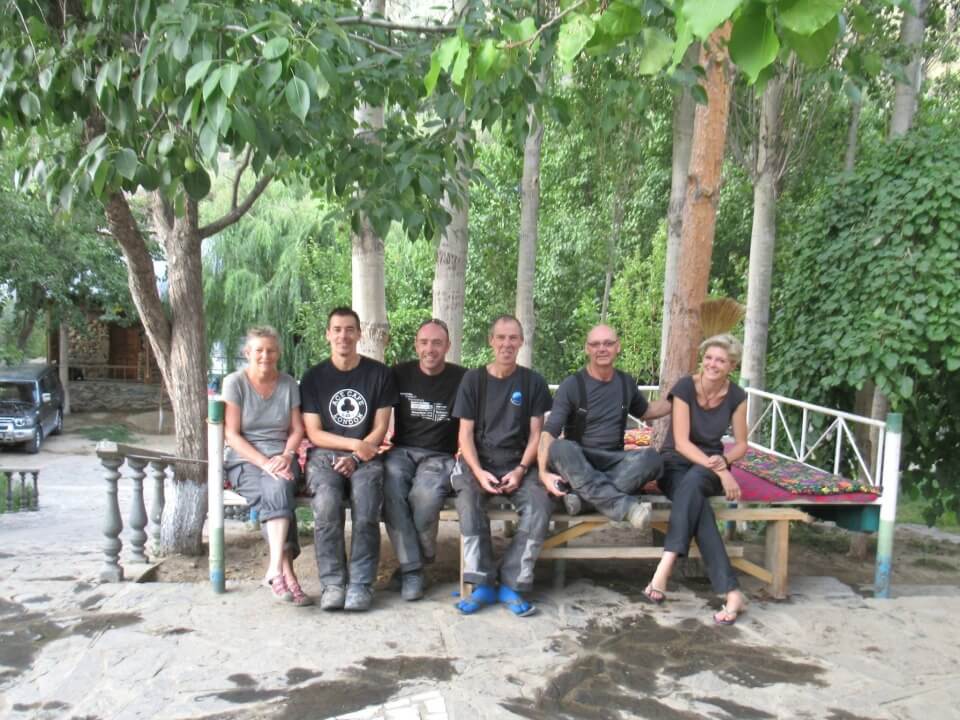 The guys came up with a temporary solution for my shock! Attaching bicycle tyre rubber to the spring. Sure it didn't fix the problem completely but it limited the amount of travel in the spring. Thanks Zebb for fixing it!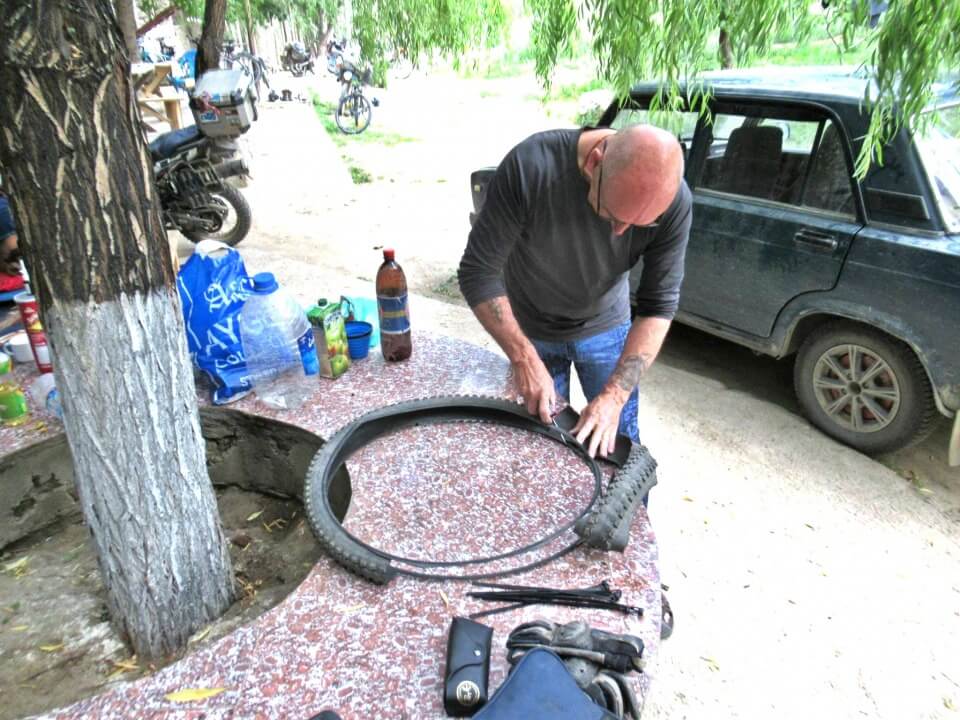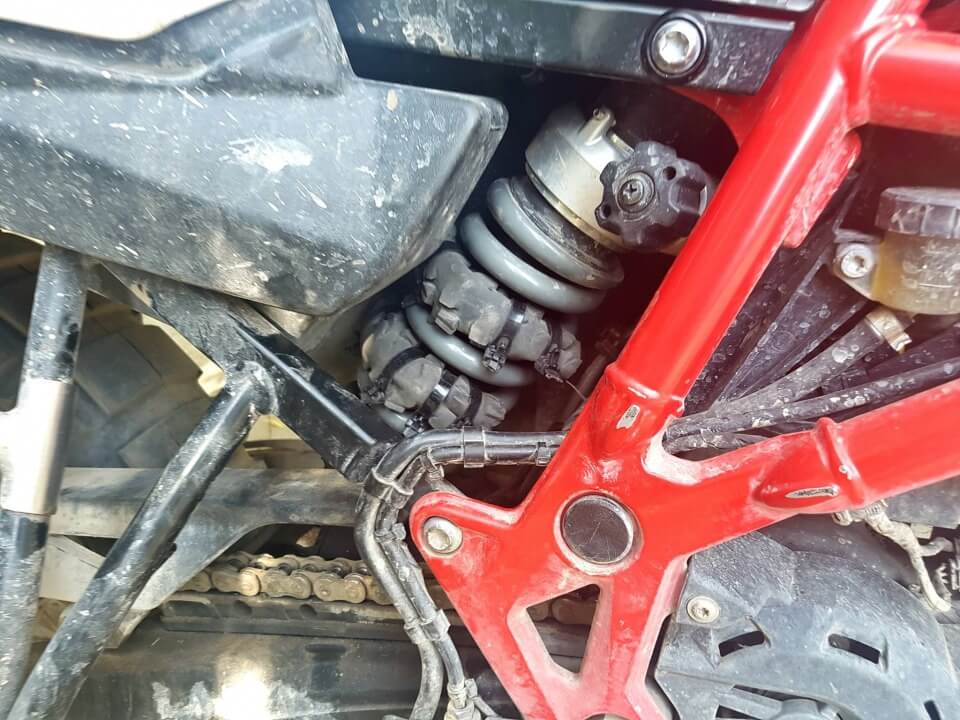 Now, I must say I was very impressed with the Pamir Lodge facilities. There are lots of options with the accommodation: private rooms, dorms, camping or just sleeping on the veranda which was my preferable option for $3 with breakfast! How good is that?
And the breakfast was just wow. It's was simple and everything so super-fresh, I may have made a little piggy of myself.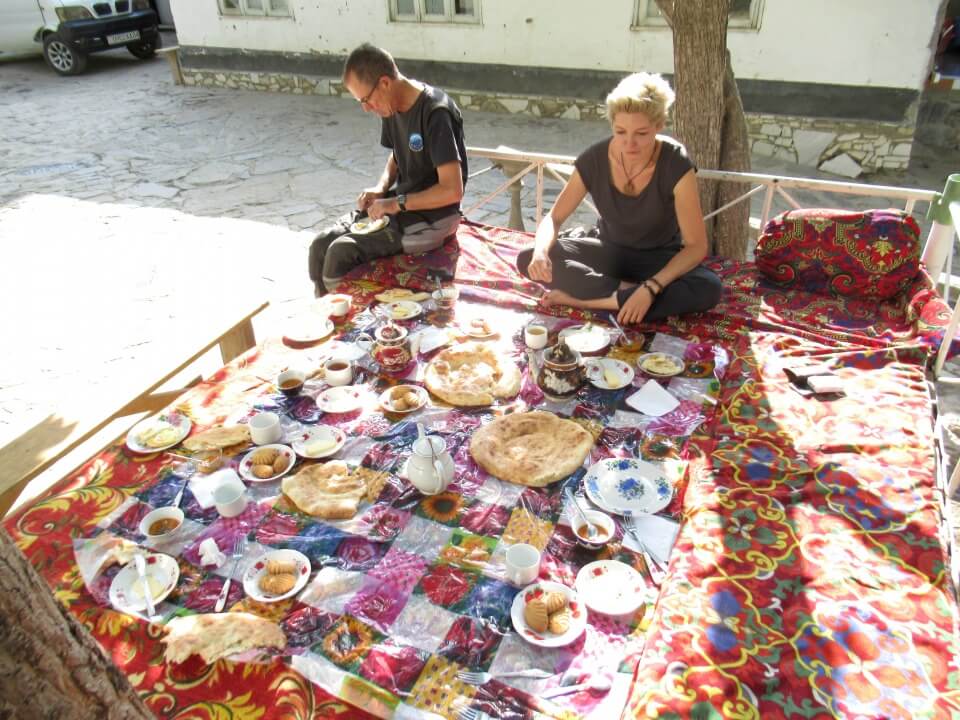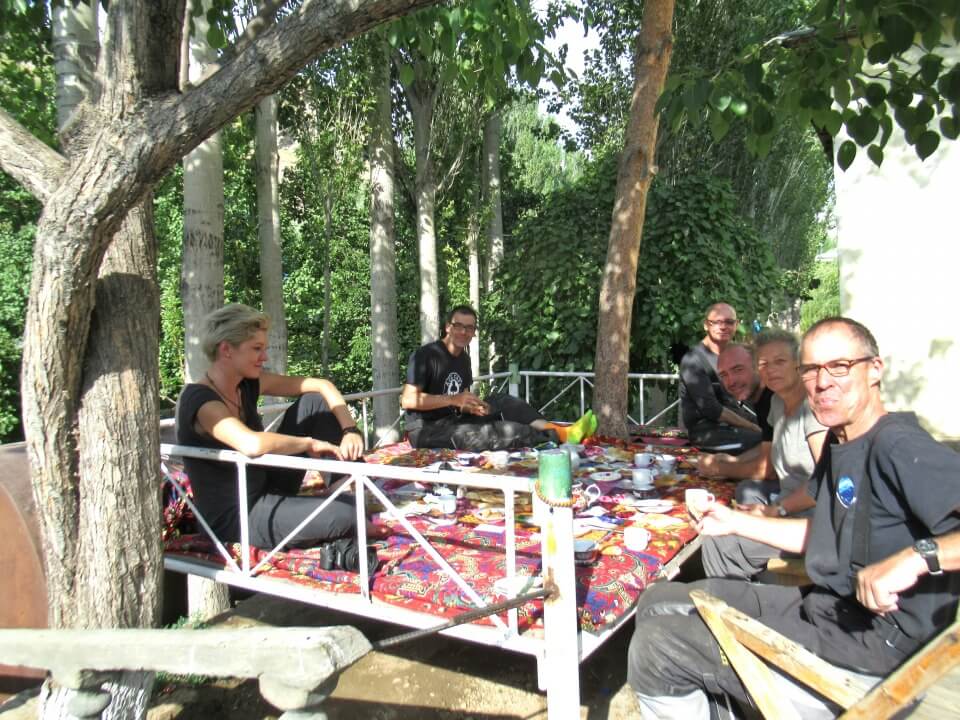 Also, whilst here I got the opportunity to gather all the important information about the region. I found out so much about Afghanistan and Pamir from the other overlanders. So this part of Afghanistan is separated from the rest of the country with a massive range of mountains which makes it difficult to get to and that's why it's never been occupied by the Taliban. This region is also where the Afghans grow opium and export it to the world (with the assistance of some local armed forces but I'm not going to go into details on this topic).
There are two bridges on the river that allows you to cross to the Afghan side if you have the right visa. Such a visa can only be obtained here in Khorugh. And again I swore at myself for not doing any research beforehand. If only I had a double entry visa to Tajikistan I could've applied for an Afghan visa and crossed to the other side. I've probably missed my only opportunity to visit Afghanistan. Not a happy camper!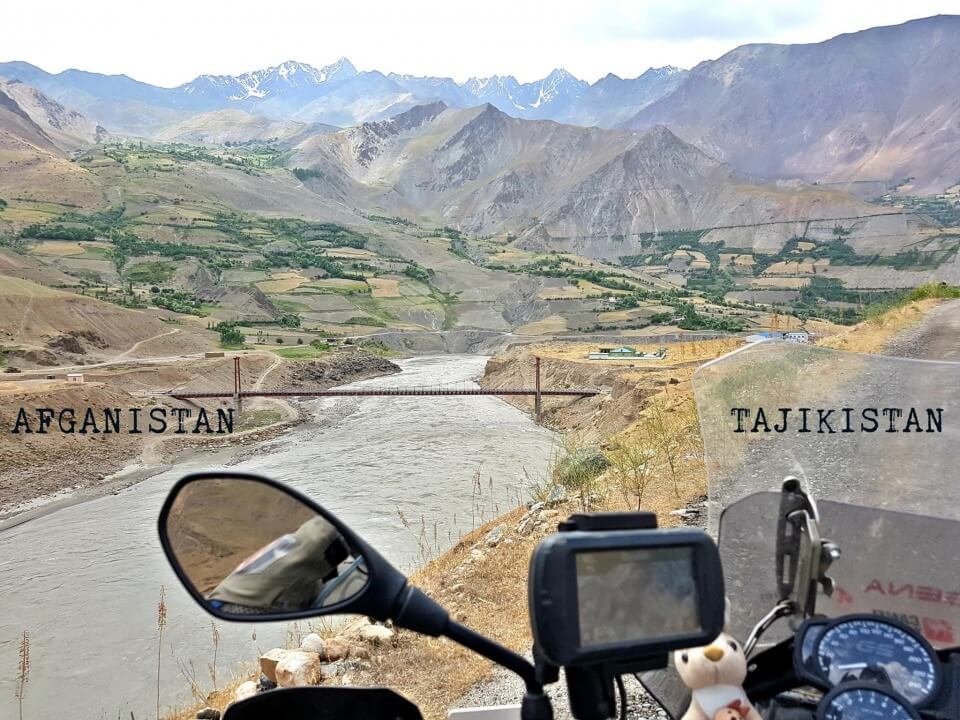 A few years back there was a market on an island in the river where you could go with just a passport, but for safety reasons it's been closed down. The fact that Afghanistan was just on the other side of the river, fascinated the hell out of me and I desperately wanted to get to the other side, just out of curiosity. But unfortunately it wasn't to be.
After two days we were all good to go. Zebb, Carey and Kevin were heading to Kyrgyzstan and Graeme, Katrina and I were going to Dushanbe. We all left at the same time after giving one another big hugs. I told Graeme that I'd be stopping heaps for pictures so if he sees me disappearing in the mirrors not to worry and continue on without me.
And so I did, the river was getting narrower as we went along and every time I spotted houses or people I would stop the bike and watch them. I told you I got quite obsessed with the fact that Afghanistan was so close! Hahaha.
20km later I hit a big traffic jam and I caught up with Graeme and Katrina. "A truck broke down and blocked the whole road. The estimated time for getting the parts in was two days, but I think we'll be able to sneak through" said Graeme as he greeted me. I got off the bike and went for a walk to asses the situation. Yep, he was right, we just had to take the panniers off, overtake all the cars on the edge of the cliff and then sneak through between the rock face and the truck. No problem.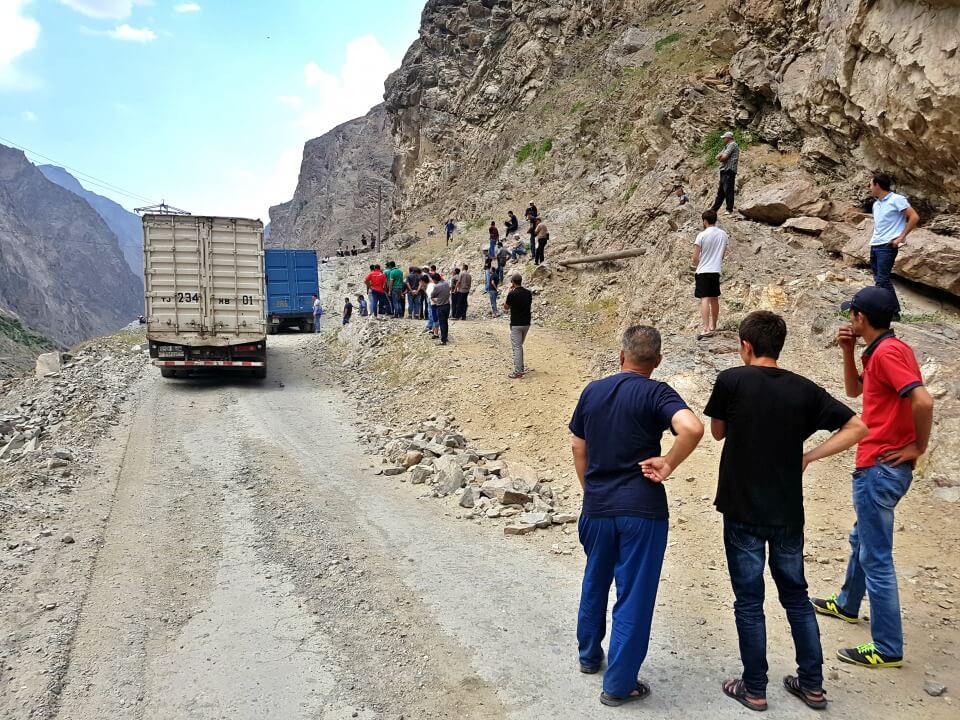 As soon as we started taking the luggage off, people started to help us out by carrying it all passed the truck. Graeme went first, the section where we had to overtake the truck was quite tight and on a slope. Graeme revved up, sped past some rocks and passed through. Right, I guess it's my turn now! By this time everyone had got out of their cars to check out our struggles. I started the ignition "Show them what you're made of Chillie!" Maybe it wasn't the smoothest ride as my back wheel kept sliding on the slope and the spring was just going crazy but we passed the truck. Phew, I made it without embarrassing myself!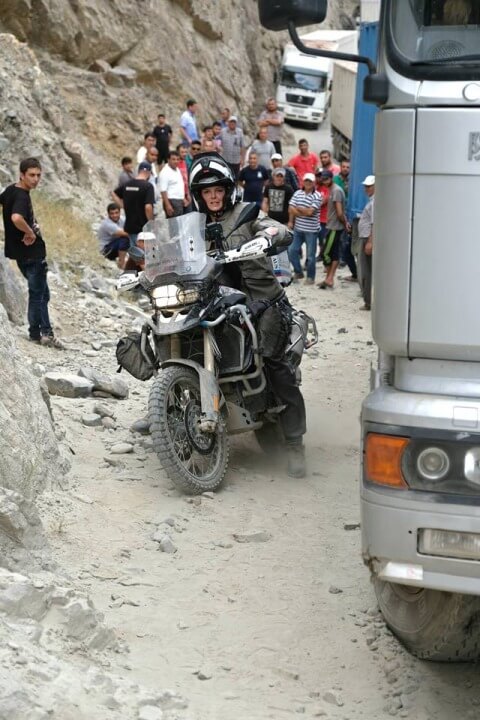 We put all the luggage back on and rode off elated by our success. We had just saved two days of waiting, motorcycles are just the best! I went ahead of Graeme as by this point I was going mad with the frustration of my suspension. So every now and then where the gravel was fairly even I had to speed up to get that frustration out of my system and almost every time nearly I ended up being shot into the air.
The worst moment was after passing one of the villages. I opened up the throttle on a long stretch when some sand popped up unexpectedly out of nowhere. If it had just been sand that wouldn't have been such a drama but underneath the sand was dried mud corrugations, on which I completely lost control and opened up the 'whisky throttle'. I could only see a fine dust cloud around me. The bike was pulling to the side of the road straight towards a cow. 'Fuck!' (excuse my French) I finally manage to jump on the brakes and sit down to drop my legs and get ready for a fall. I literally stopped one foot from the cow – she gave me a look of "What the hell are you doing" and I looked at her like "Why the hell are you here, do you want to kill us both?!"… after which she took off as fast as she could. I looked into the mirrors and saw a big dust cloud behind me and a red Africa Twin on the ground. "Oh no, I hope they're ok". I put Chillie on the side stand and ran to help them out. Graeme looked irritated and I don't blame him, but the most important thing was they were ok. We picked up the bike, Graeme had some problems with starting it at first and after folding the side stand back again the Africa started once more. "Ok, I'm going to take it easy from now on" – I thought to myself.
We were hoping to camp for the night but there was really no suitable place for it along the way, we were riding on the edge of sheer mountain cliffs.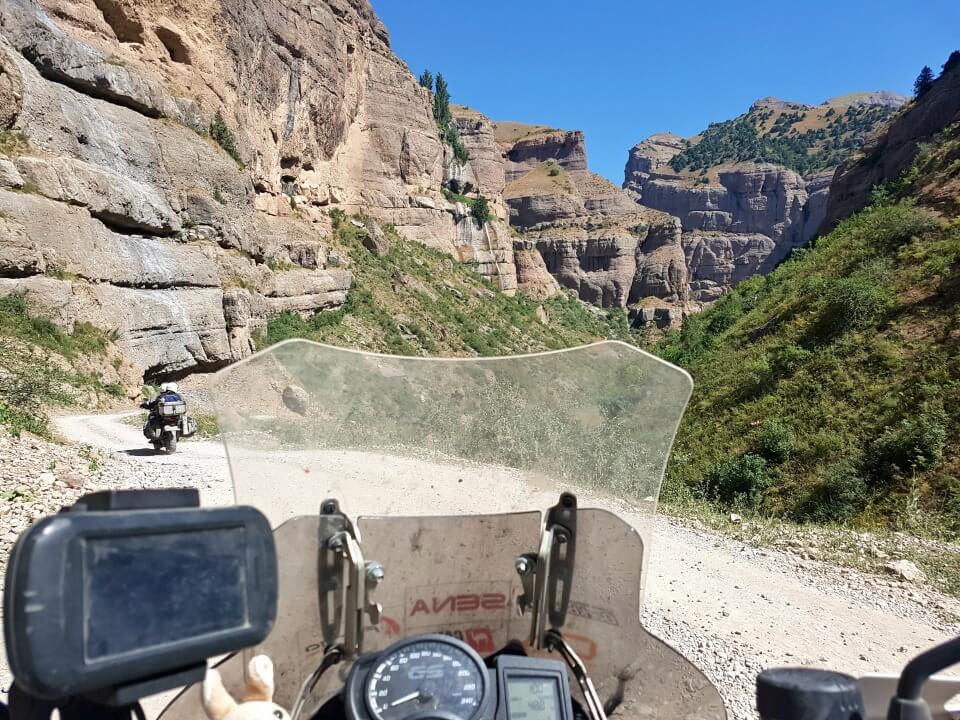 As we got close to Qalai Khumb, a big back cloud was forming in front of us. "Screw tents, lets find a hotel here" I said to my fellow Aussies. "Sounds like a good idea" they answered. We stopped on the main road and numerous locals surrounded us. One of the guys spoke English and invited us to the homestay right in front of us for $15 per night. I haggled him down to $10, basically $10 is the rate pretty much anywhere on the Pamir and if you're paying more than that you getting ripped off.
We parked our bikes in the garage and carried the luggage into the hotel. And again, the facilities were very basic but there was a hot shower so we were happy as Larry!
After getting cleaned up we had a look around at the surrounding area and witnessed a local wedding. It was a great experience and we got to appreciate the local customs surrounding this universal celebration.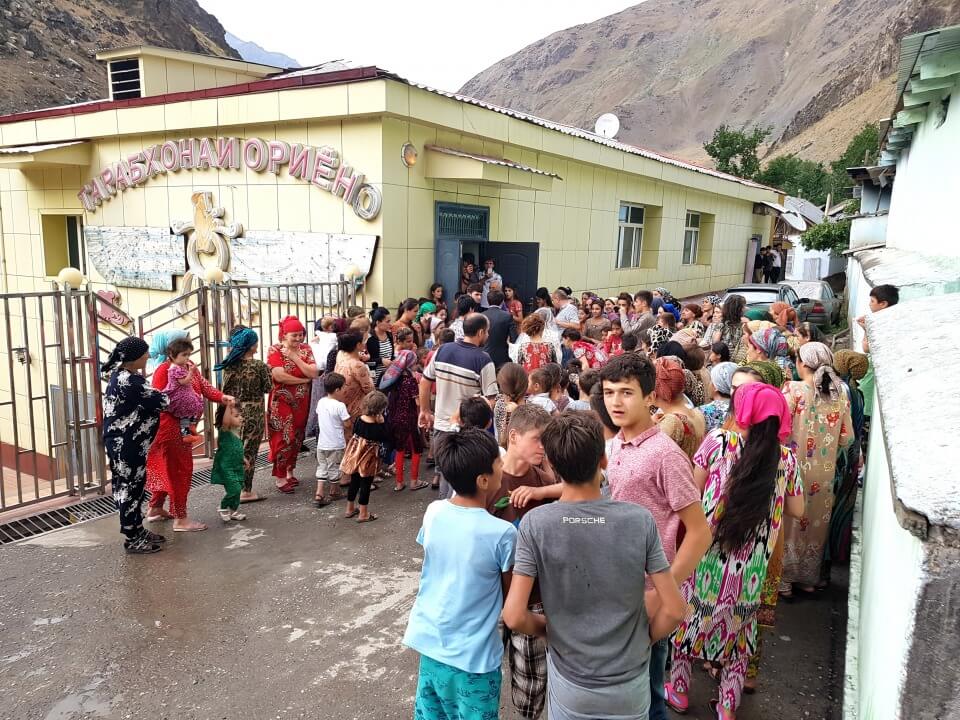 The next day was emotionally a real struggle for me, we had 300km to go till Dushanbe which was a mixture of asphalt and dirt but my patience for dealing with my suspension was on a level of -10. I thought this day and my pain would never end.
The last 150km was supposed to be all highway but the nice asphalt surface was on and off due to roadworks. Oh the humanity!
I asked Graeme to go first as I'm absolutely hopeless when it comes to speeding and and I have no patience to deal with corrupt cops anymore. Graeme was leading us at a perfect speed, but regardless the cops jumped out onto the road to stop us. Graeme pulled over and I turned my head the other way and pretended not to see them. I drove for half a kilometre and felt really guilty for leaving my companions behind but I knew "Graeme's got this!" I sat on the side of the road for 15 minutes until I saw the Africa's headlights. As soon as Graeme stopped I could hear him cursing inside his helmet "I'm over these bloody cops. I told them it's bullshit and I'm not going to pay". I laughed , "I knew you'd handle this!". We had a couple more stops for a little rest and a chin adjustment and in the late afternoon we finally reached Dushanbe.
Dushanbe
Firstly we visited the local motorcycle club with the hope that they would be able to help me out with my shock and organise a new chain for Graeme. The guys greeted us warmly out the front of the club and invited us in for coffee. They had quite good facilitates that allowed getting a basic service done. But there was no hope of fixing my suspension! They told me the best way is to send the part to Uzbekistan as courier services don't work too well in Tajikistan.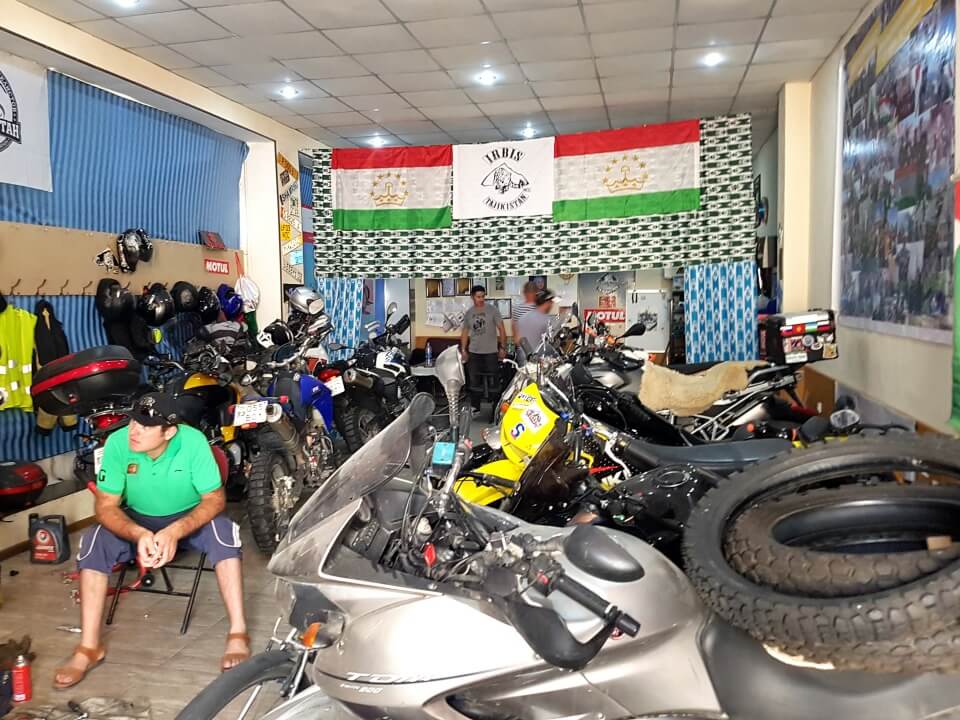 After saying goodbyes we headed to the Greenhouse Guesthouse – another "place to be" for overlanders!
We walked through the door and we saw this…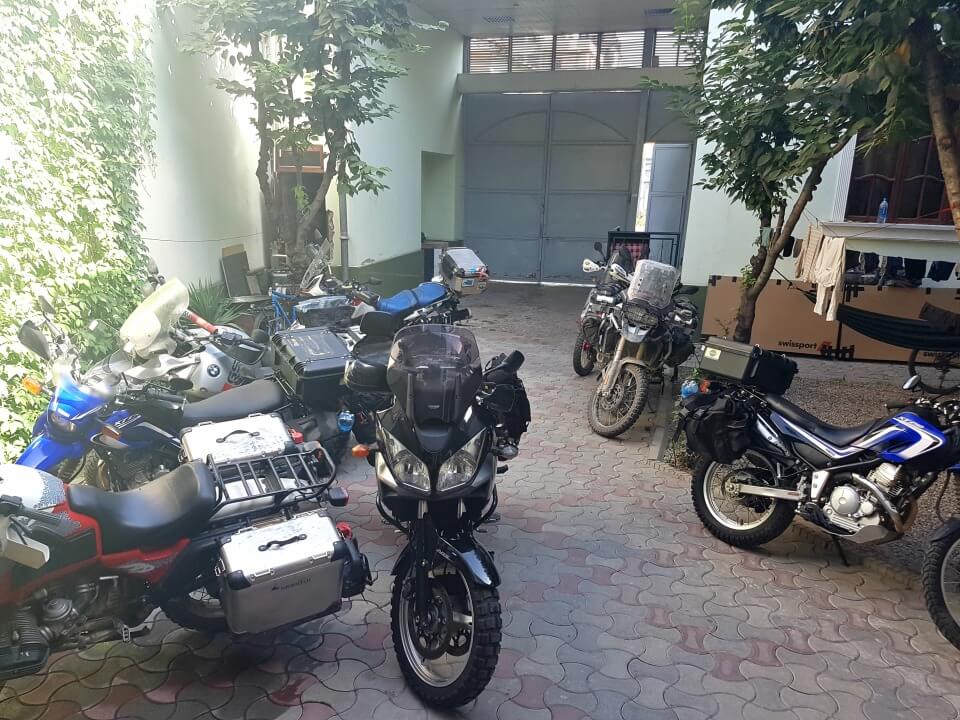 Yep, it certainly is the place to be! Motorcycles were coming and going everyday. I stayed there for a week – I had to sort out a lot of stuff and everyday I would meet another rider with an incredible story to tell. We went out, we laughed and with some of them I'm still in touch!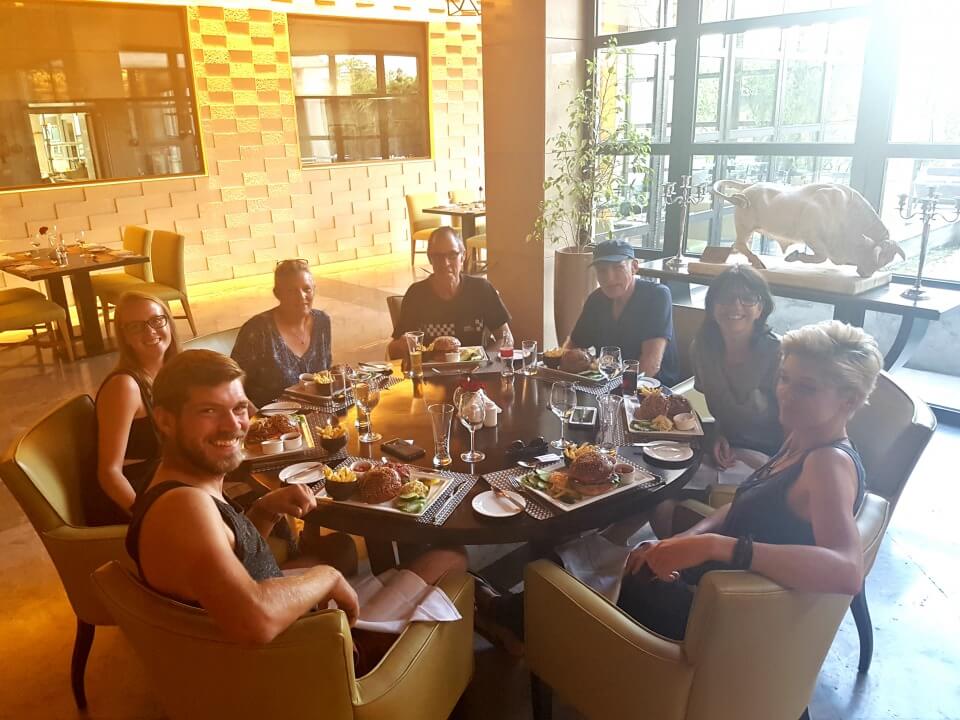 I also finally got to meet one of the peeps I dig – Sinje Gottwald. Read all about her in my Peeps I Digg page.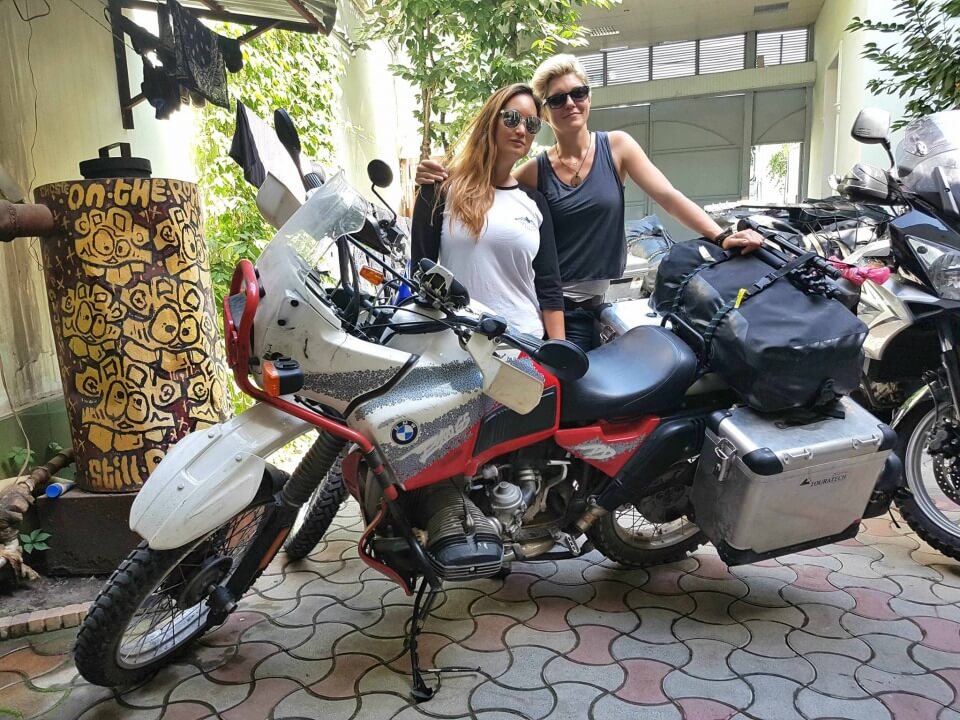 But first things first – I need to fix my suspension! I had a quick look online "Holy crap" a new shock costs $1000 – $2000 depending on the brand and durability. That sort of expense wasn't budgeted for in my trip finances, I started to get quite stressed out. I desperately needed help so I decided to contact BMW Australia, maybe I'd be able to do it under warranty or at least they might give me some sort of discount. I received a prompt response from BMW Australia "Where is the best place to send the suspension to". OMG! I already had a contact In Tashkent Uzbekistan, so they sent it there. Parcels from Russia have the highest priority and I can get it within 4 days so BMW Australia contacted BMW Germany so they could contact their Russian counterparts. And before I could blink within 4 days my new shock was already waiting for me in Tashkent :). And for that I'd like to say a massive thank you to BMW and all the kind people who made it possible.
But before I left I had to sort out a couple of my visas. My Uzbek visa was ready to be picked up in the Embassy. I wasn't expecting that "OMG, this will take all day!"
Apparently Uzbekistan is not keen on giving the Tajik people visas and everyday the Embassy is full of frustrated people. After the Soviet Union broke up a lot of families were separated and now both governments make it very hard for them to see each other.
The whole crowd lined up in a complete mess, but some woman pushed me through it "You can go in straight away" they said and yelled at the men in the front to let me in. Somehow I got through. The security guards asked me if I was from America, I said no I'm from Australia. "You don't have to line up, see the man on the right" he said in Russian. The man on the right was raising his voice to an older woman, refusing her her visa, she was crying that she needed to see her kids. When he saw me behind her he shouted "Enough, our application is not complete, your visa is not approved". She walked away in tears. "Where is your paperwork?" he asked me. I gave him all my documents and paid $50 for a double entry visa. "Wait outside" he said. So the rest of the procedure was waiting outside until they call your name though the speaker. I was a bit nervous that I'd miss my turn because I couldn't understand the voice on the speaker. "Don't worry, they will call out AUSTRALIA so people will let you know" said the guy next to me.
I waited about an hour outside and finally heard "AUSTRALIA, AUSTRALIA". Yay, It's me! I knew exactly what to do this time: "I'm from Australia, please let me in" I repeated it in Russian as I was pushing myself through the crowd. The grumpy man on the right gave me back my passport and I thanked him "Spasiba!" Phew, I'm glad that's done, now I need to submit a visa application at the Turkmenistan Embassy!
I caught a cab again to save some time. Thank goodness there was only one person waiting on the chair next to the security guards. Soon after that the gates opened and the consul drove out , the guards stopped him and asked if he'll have time to see me today. The consul looked at me and said to come back at 3pm. Great, now I have time to prepare all the documents. One of the guards dropped me off at the market where I printed the application in colour, had some lunch before going back to the embassy. After a little wait the consul let me in.
After the Soviet Union breakdown Turkmenistan separated themselves from the world and getting a visa to this country is like winning the lottery. I didn't hold out much hope of getting the visa, but I thought I had to give it a go. Tourist visas can only be organised by agencies so I applied for a 5 day transit visa. Much to my surprise the consul was very kind and very helpful with freeing up the paperwork. He informed me the visa would be ready in two weeks, "Where would you like to pick it up". I requested to pick it up in Tashkent. He made it sound very promising, actually he sounded like I already had it. But later on in the hostel other travellers told me not to get too excited. Apparently all the Turkmeni consuls are always very nice but only 50% of applications get approved. Well, I guess we'll wait and see…
In between all of that I got sick – a stomach problem and for 5 days there was no way I could go anywhere. A good majority of travellers get sick in Tajikistan and it leaves them immobile for the duration of their illness.
I had all the visas sorted, my stomach had settled down and 7 days later I finally had my energy back. As I was putting all my stuff back on the bike, I thought "This is the last 450km on this bloody suspension. We can do it Chillie, hang in there! It's not long to go!" The road to the border at Buston lead through the mountain range and it was magnificent. Even the road surface didn't give my shock too much grief, but the tunnels were a killer! I can't remember how many of the tunnels there were, but there's a lot! And some of them are over 10km long. It was a nightmare – they were pitch black without any ventilation, the smoke and fumes battered my eyes, providing only limited vision. I seriously thought I'd suffocate. I was thinking to myself "If you broke down in there, you'd die within 30 minutes!"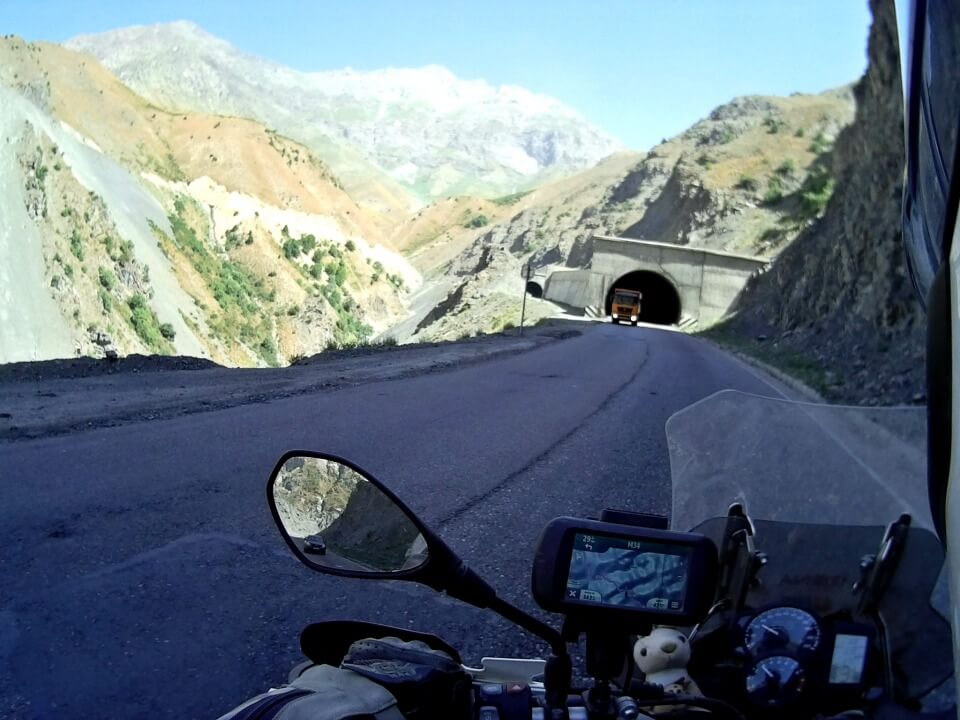 ​Tajik Tropics!
There is plenty to see in this part of Tajikistan but I couldn't put up with my bouncy suspension any longer than I had to. I did decide to check out Lake Iskanderkul. I slowly bumped along bouncing my way up this epic road: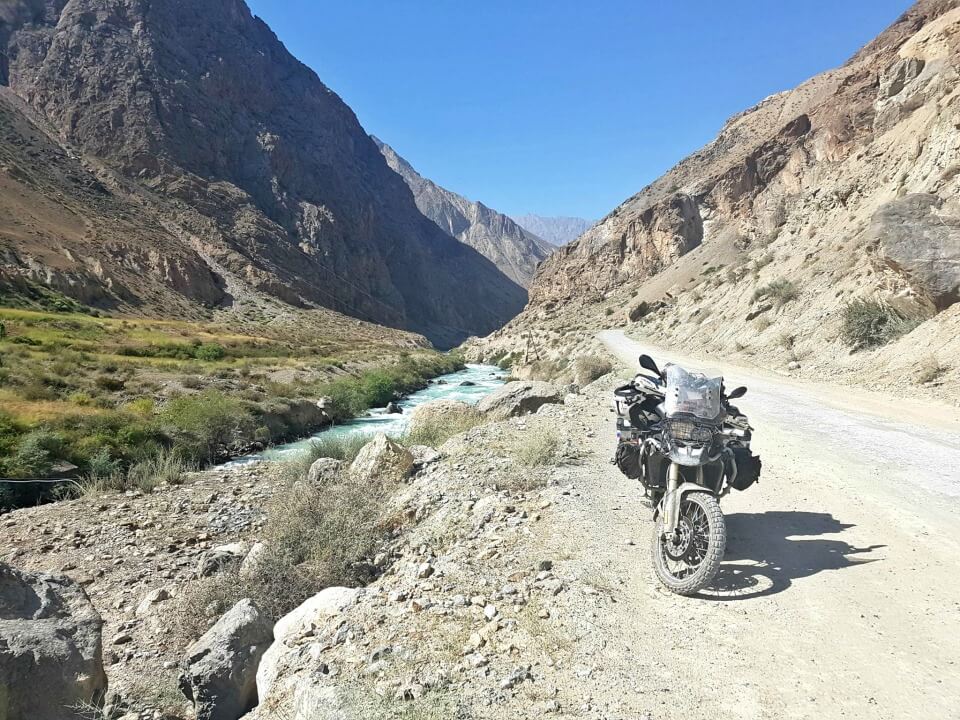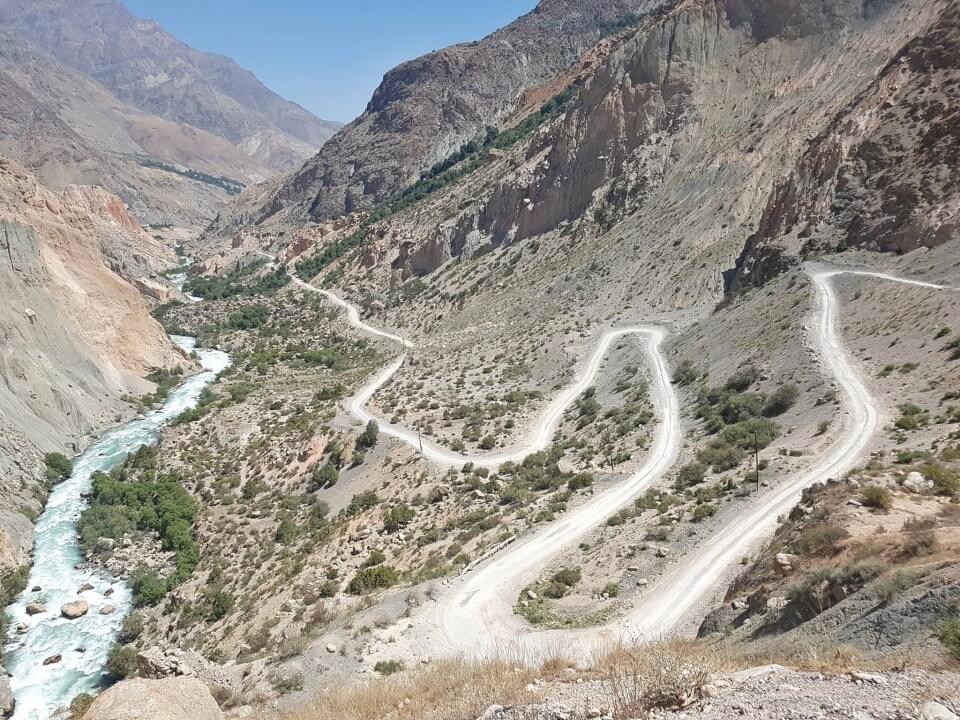 All my efforts were so worth it I thought when I finally saw the lake! I paid the fee at the gate and followed the road looking for a place to stay. I picked a resort closest to the lake. Little cottages were dirt cheap but quite disgusting too. Camping was the best option here!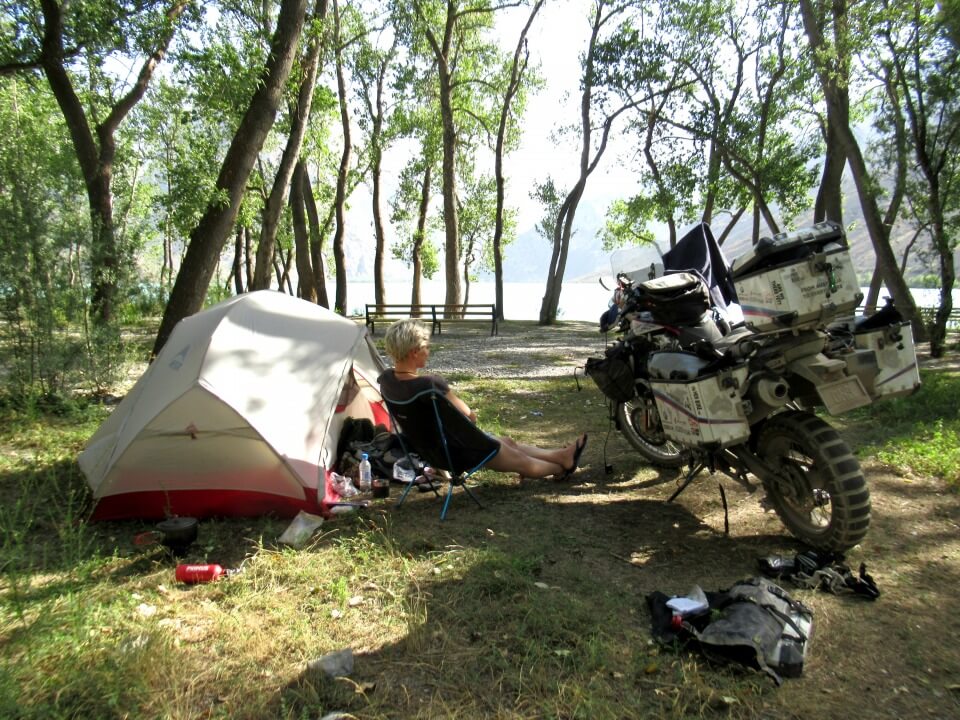 After a quick lunch (read instant noodles again) I was ready to have a swim! The water was surprisingly warm despite being over 2000m above sea level. It felt like being on a tropical island but without the cocktails and palm trees.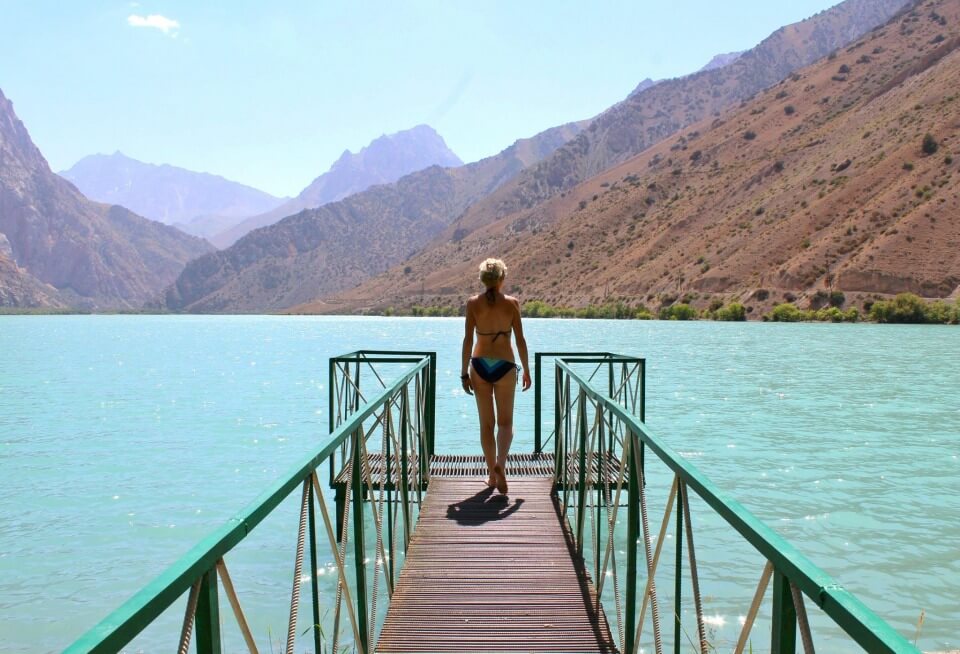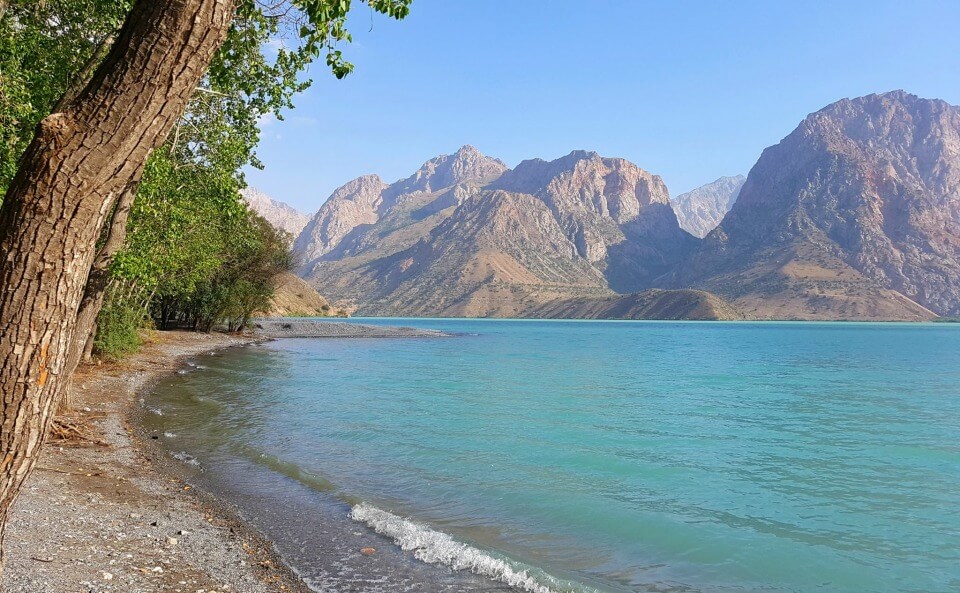 In the evening I had some company – A few Russian riders had turned up. We had dinner together and enjoyed a few laughs before I retired back to my cosy tent for a much needed night's sleep.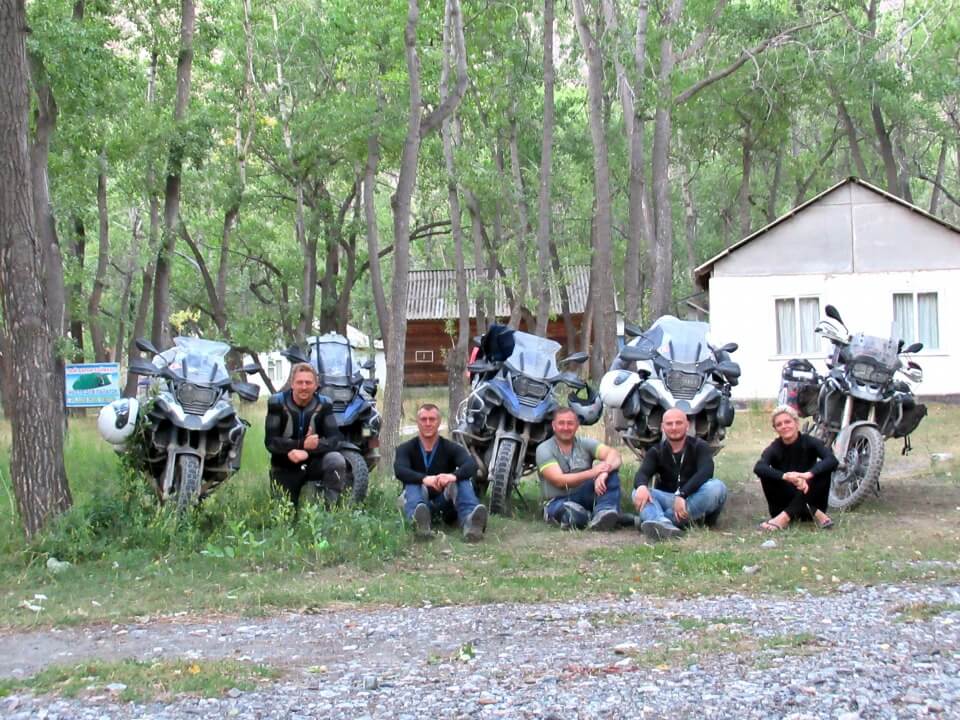 The next morning I bounced my way towards the border with Uzbekistan to make my way to Tashkent and Chillie's new Shock. Just before the border in the town of Buston I made my last stop for fuel. So long 92 octane! The fuel from here would get a little interesting.
Chillie has about 85 horsepower and manages to move all my luggage pretty easily so I was very interested to see how much luggage one horsepower could move. My curiosity was satisfied when I witnessed these girls and their donkeys…
After bouncing my way through some amazing scenery and enjoying many wonderful experiences it was time to say "So long Tajikistan".
In Numbers:
Duration: 13 days (19th July – 31st July 2017)
Total km's: 1560km
Map: https://drive.google.com/open?id=1cXFWLLv5wFJ3Q9c5iKjIOUxH7i20laEV&usp=sharing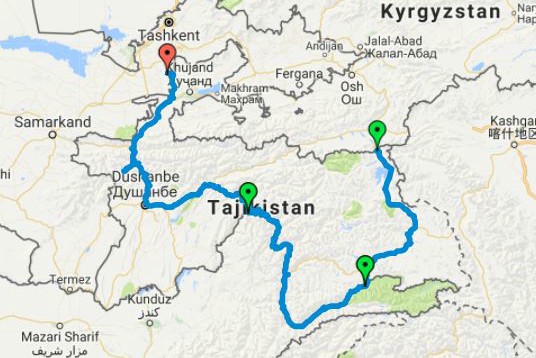 ---
The "Are We There Yet" World Tour is about more than just me seeing the world on a motorcycle. Throughout my journey I'm raising money for a young disabled child in Poland named Franek. Franek was diagnosed with cerebral palsy (weakness of the entire right side of the body) and he will require constant rehabilitation for the rest of his life. All the money raised will go directly to helping Franek and his family lead as normal a life as possible so please donate generously: www.gogetfunding.com/arewethereyet