Turkey
I rushed on the way out of the border crossing – I quickly hopped on the bike and rode off without putting my helmet on, hoping there would be parking or a place to stop past the gate so I could gear up properly. But it was a crowded road and… police! Damn, why me? Why now?
The policeman pulled me over immediately, he didn't speak English so I just smiled and said that I didn't understand Turkish. He made a few phone calls – probably was looking for an interpreter, but after few conversations he gave up and let me go! Phew, I was lucky again!
Kaçkar MountainsAhmet and I met in Iran and we had been in touch since, he invited me to stay with his family in Trabzon and said he would like to show me his region and the Kaçkar Mountains and that he would greet me near the border with his friend Fahrid.
We decided to meet-up 60km from the border in a little town called Hopa. I got up very early that day to get there on time, I hate being late. And I made it… a little bit too early, 1.5 hours too early. I hadn't realised that I had gained an hour in Turkey. And at that moment I realised that I'd crossed 8 time zones in the last 5 months. Well, I've got 16 more to go 😉
I waited for my companions in a café, had a lovely breakfast, caught up on my social media stuff and in no time they had arrived!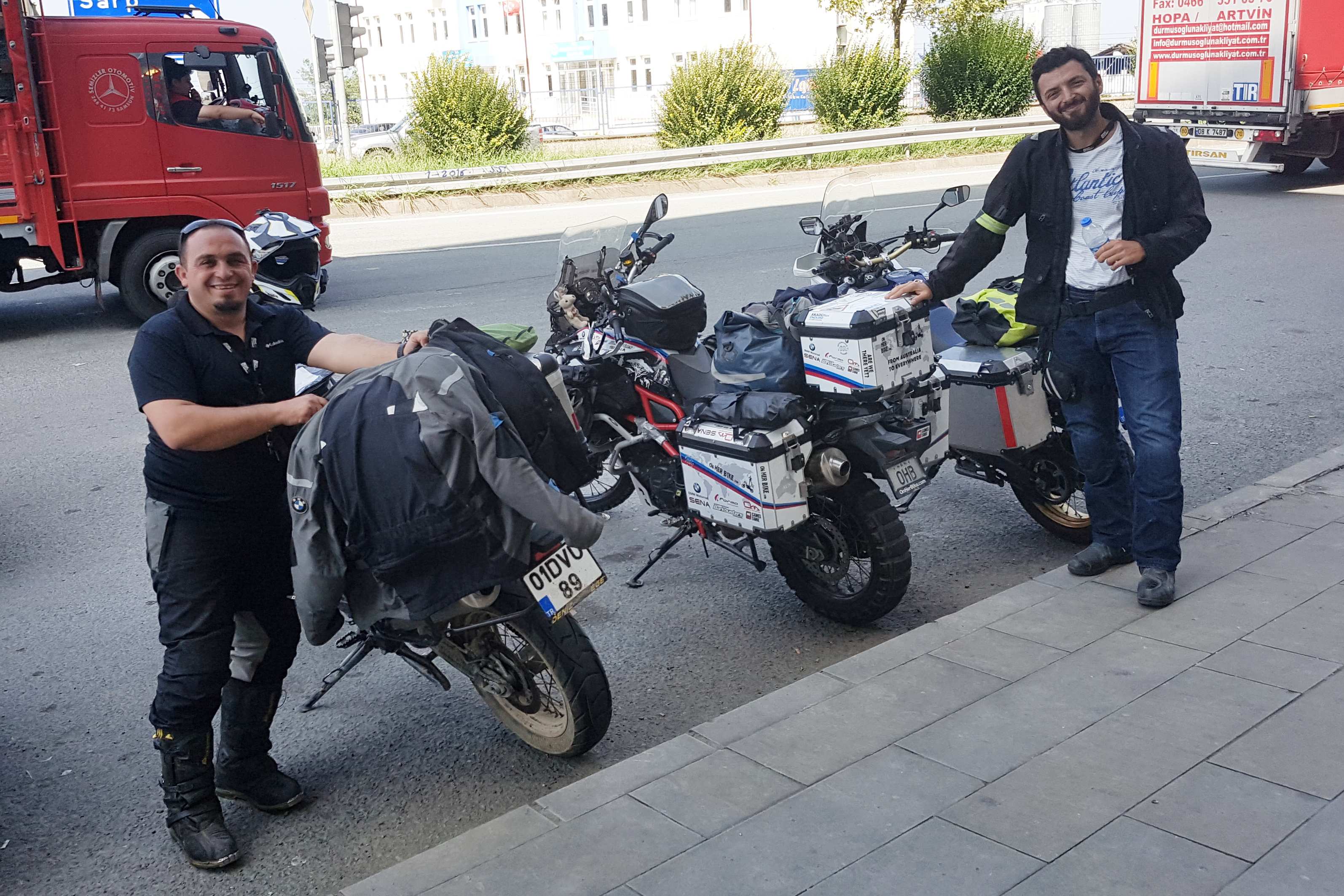 …and off we went! We stopped at a mountain view lookout and soon afterwards a bus with tourists pulled over with some very loud music. Everyone rushed out of the bus and started dancing. This scene was so spontaneous and random that it made me smile.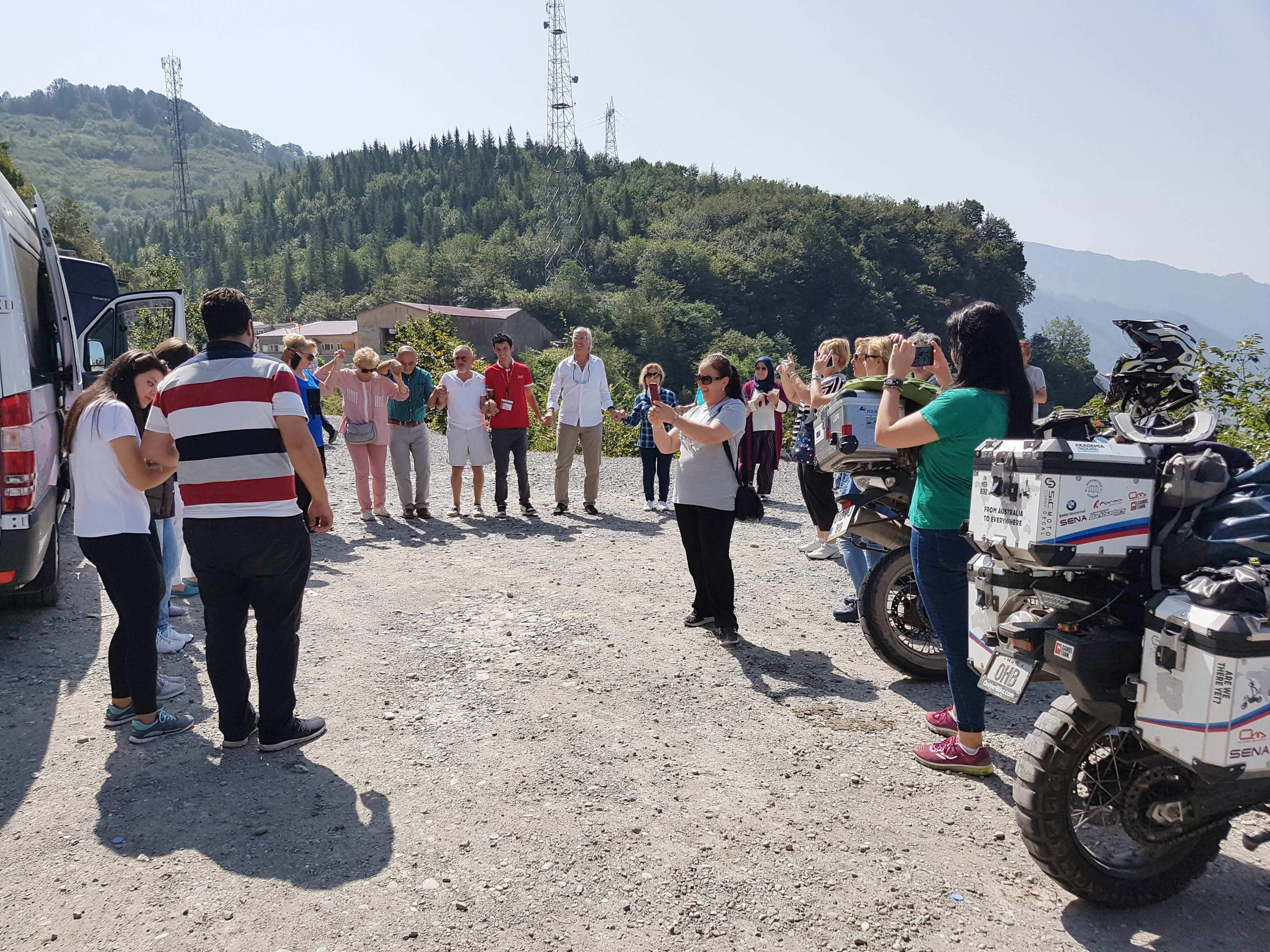 We didn't join in the dancing, but used the opportunity to have our picture taken together 🙂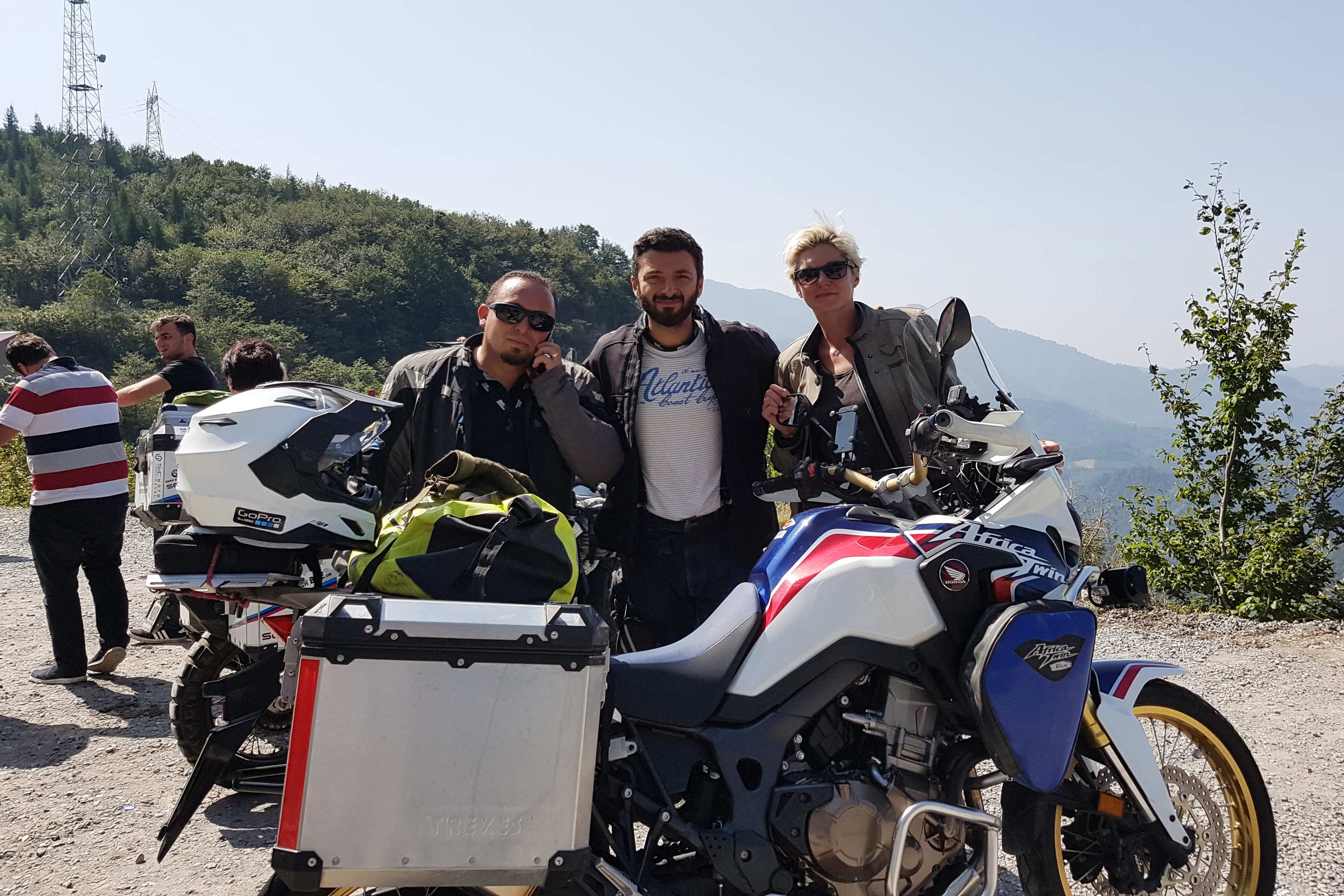 We ended up going to Borçka Karagöl Lake for the night. The camping is free near the lake but the bikes had to stay in the parking area. A few round trips up and down the hill and we were ready to set up our camp. Ahmet had never camped before, well better late than never 😉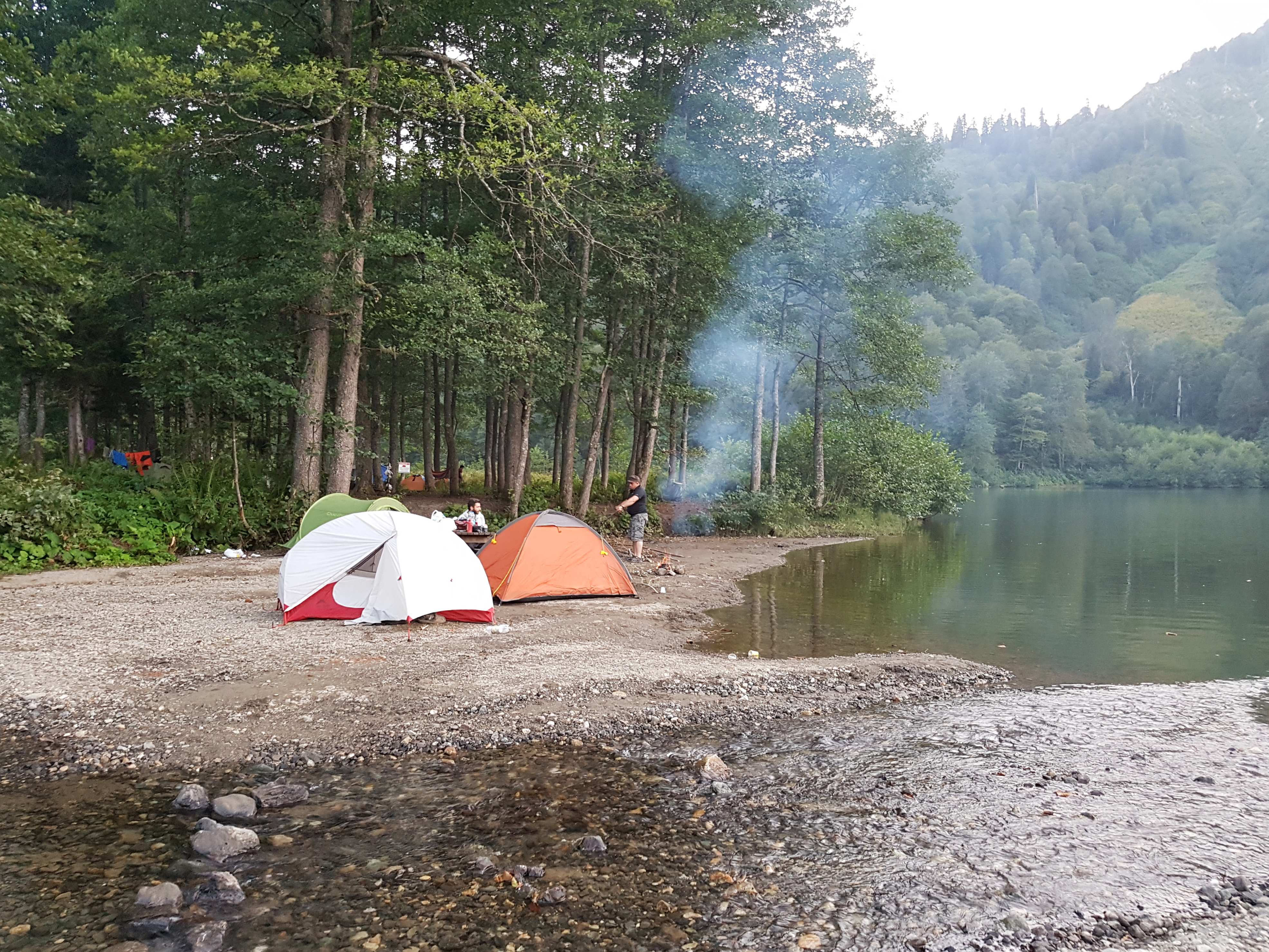 Nothing like a fire by the lake!
The next morning we stopped for a traditional Turkish breakfast…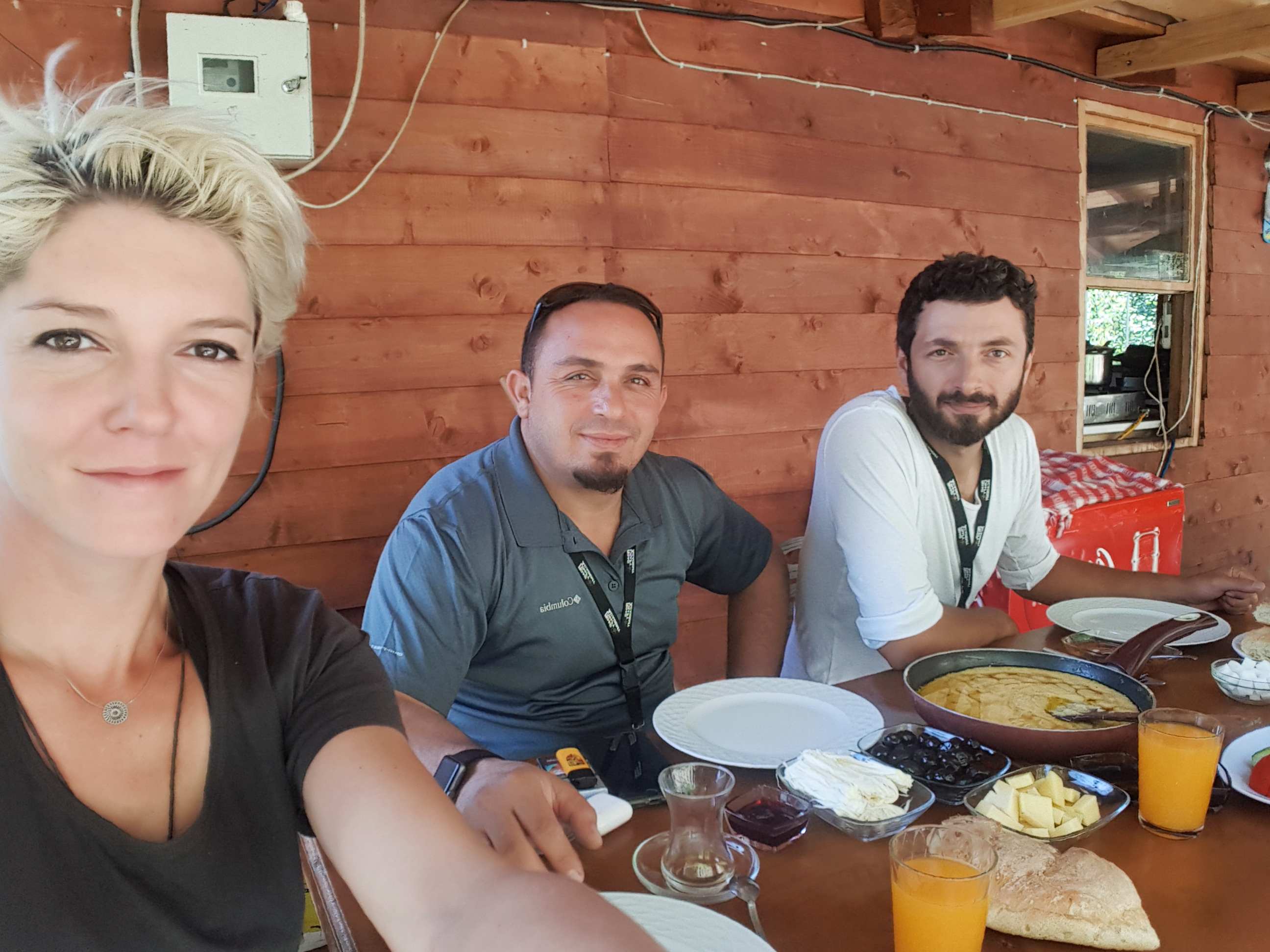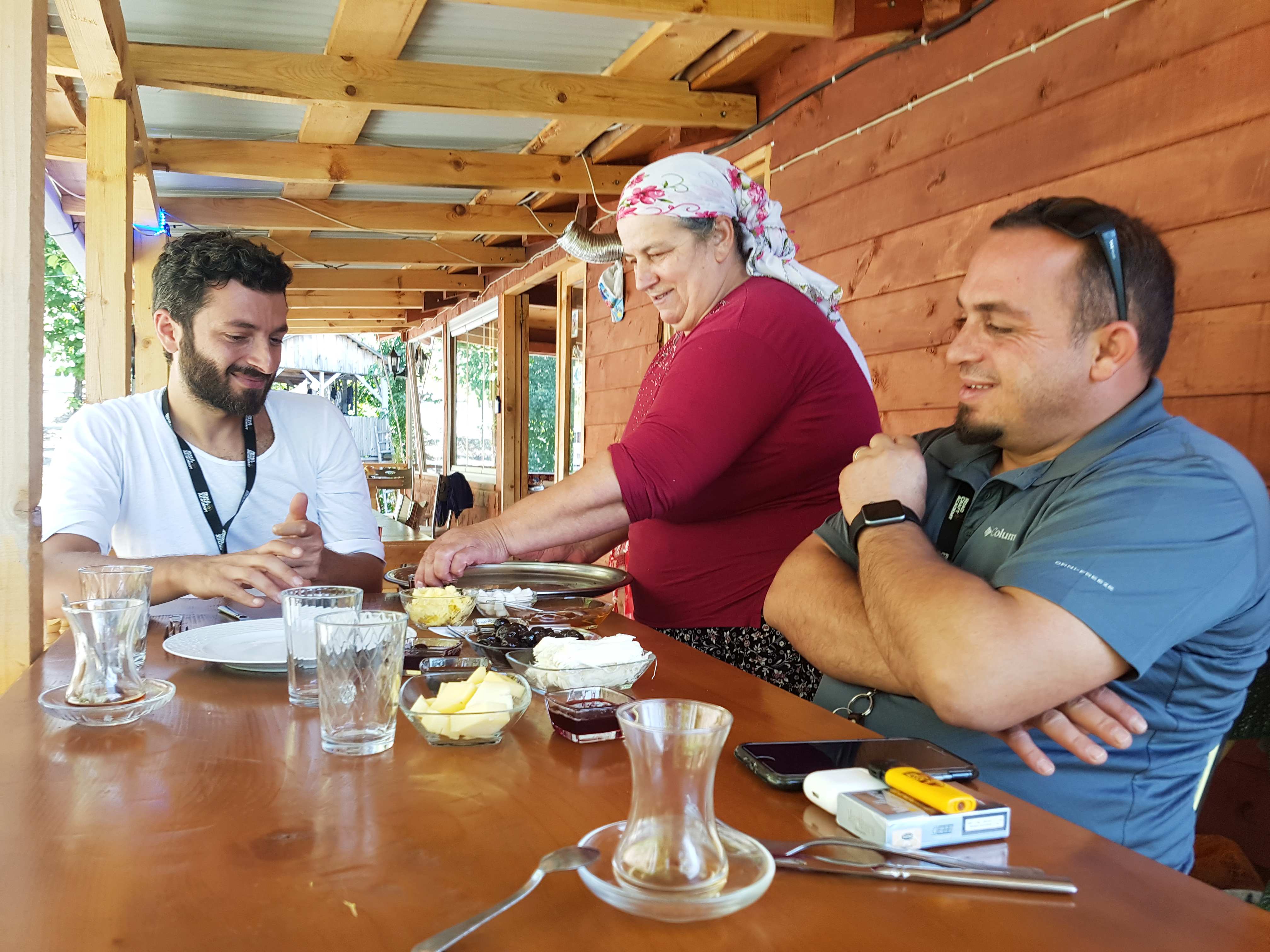 …which may not be very healthy but it is so yummy! This is Muhlama: cheese, corn flour & butter.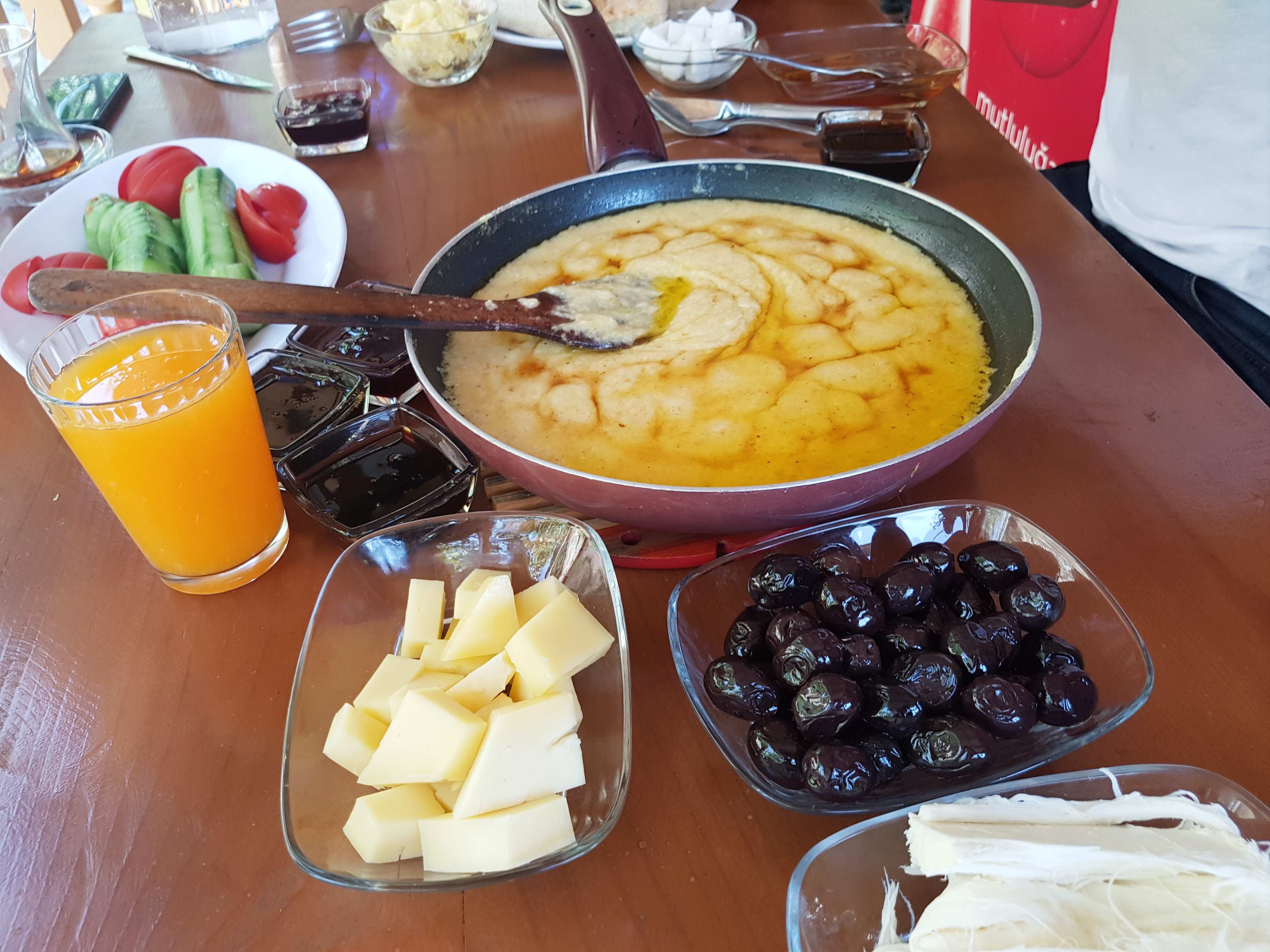 Lucky we were pumped up full of energy from breakfast because we had a workout ahead of us! For the first time on this trip, after over 24 000km Chillie suffered her first flat tire. The previous training came in handy, but so did Ahmet and Fahrid! Teamwork makes the dream work!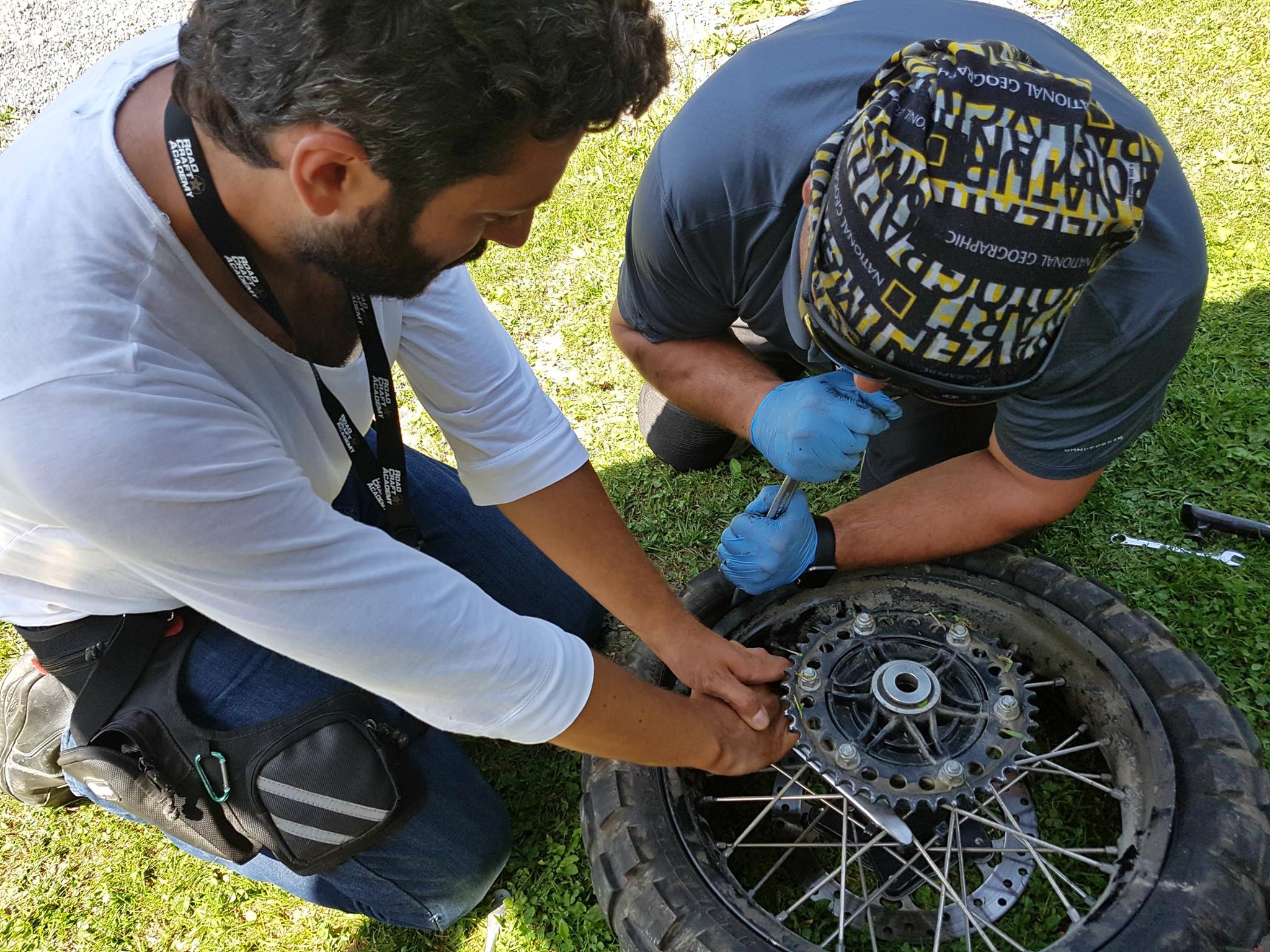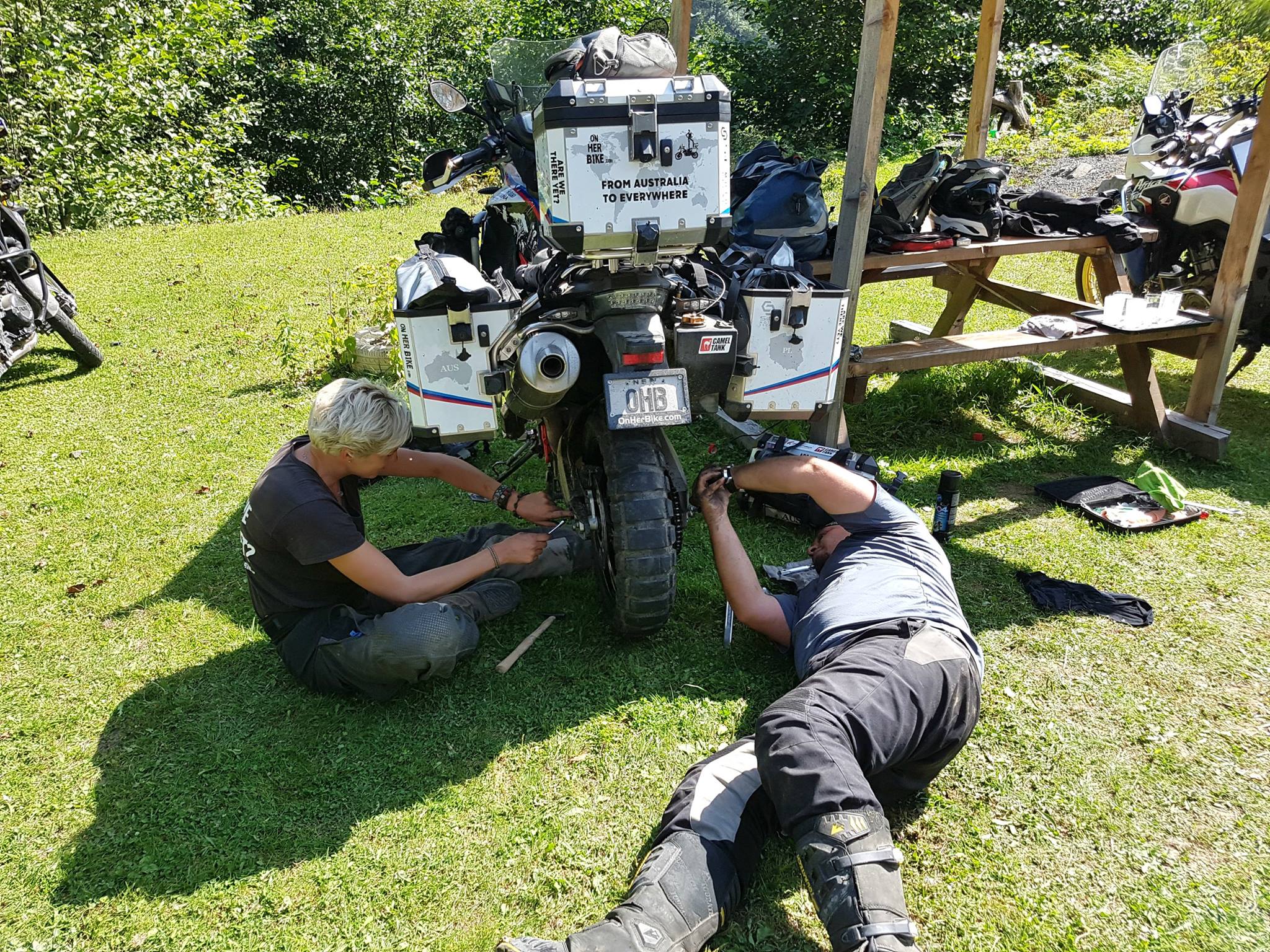 After fixing the flat, I didn't want to risk riding more than I had to – we were still 150 km to Trabzon and unfortunately we had to skip what is apparently the gem of this region – which is called D915 (a gravel winding road, bordered by a drop of hundreds of meters completely unprotected by guardrails) which is apparently one of the most dangerous roads in the world. Sounds really scary I thought – I wish I'd got to know if it was true! Next time 😉
But I couldn't complain about the route we took – it was still very scenic and not too challenging 😉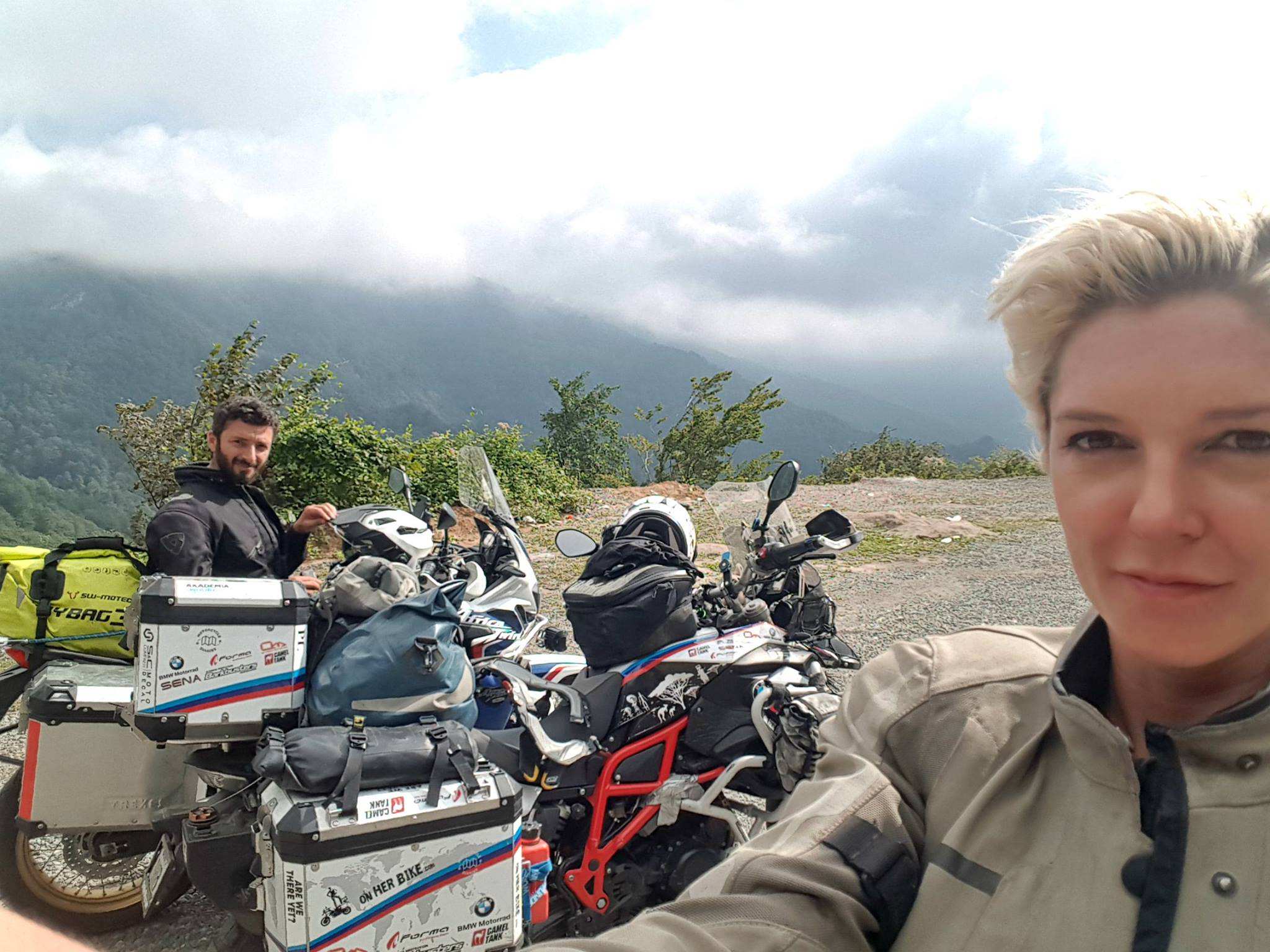 Along the way I also learned something about tea. We stopped near one of the tea gardens near Rize. Ahmet convinced me that it's absolutely fine to enter someone's property and check out the plantation. Sure, why not! I'd never seen "living tea" before!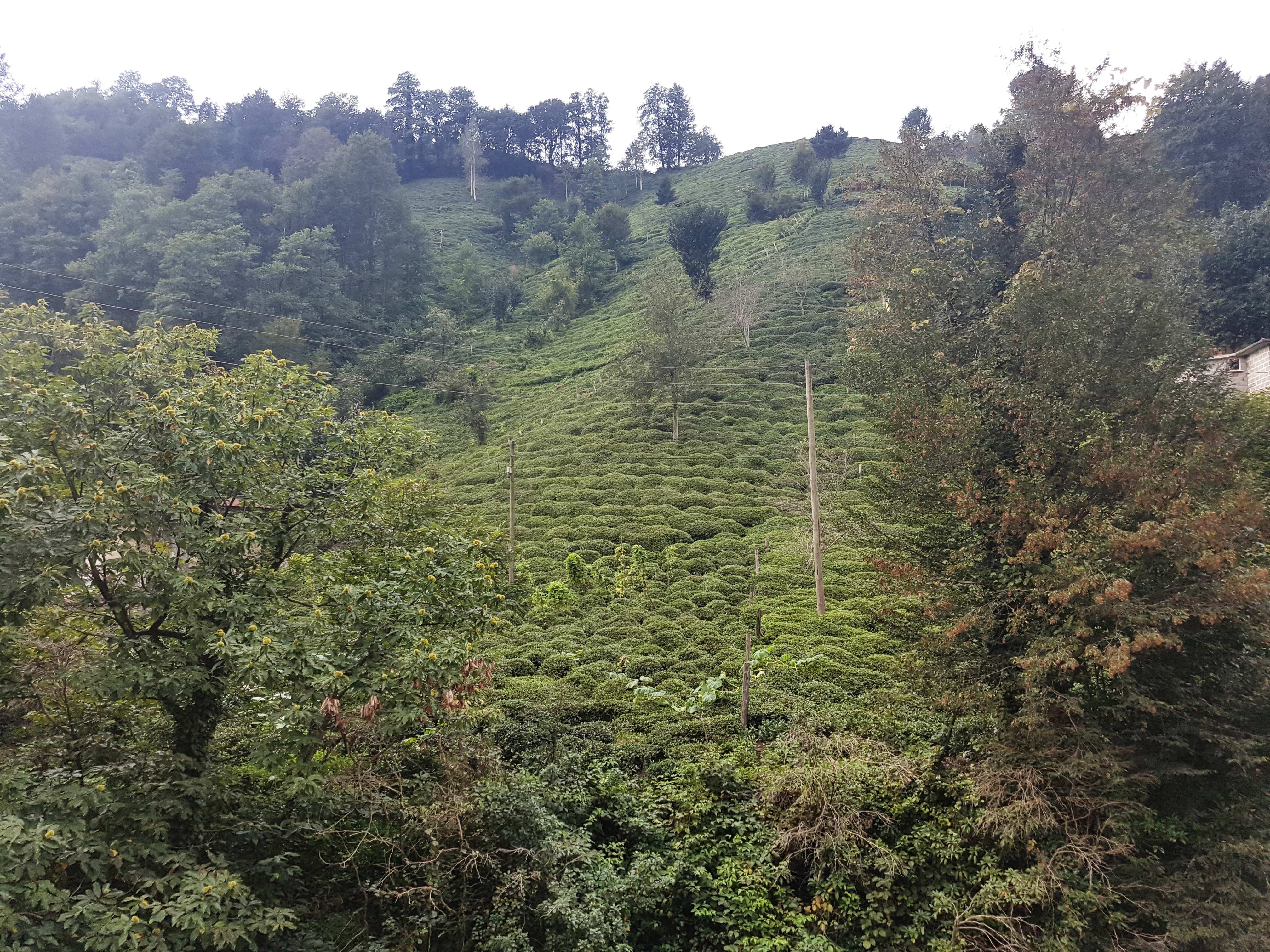 Turkey is the largest consumer of tea in the world (per person) and seriously everywhere you go people are drinking tea: in restaurants, shops or special cafes in the parks. Tea is everywhere. I'm a big tea lover and normally I consume a lot of tea, but the amount of tea I had during my stay in Turkey would fill a bath, a big bath.
In Trabzon a new set of tires was already waiting for me, Ahmet helped me out with this as well. He took me to a bike shop where the guys changed them in no time… and finally I could just sit back and relax 😉
I stayed at Ahmet's parents house, enjoying their hospitality for a couple of nights, but I also got the chance to catch up with his wife and kids for tea.
​Fuel Pump grrr….
From Trabzon to Cappadocia I rushed like hell – I just couldn't wait to get there!
After a couple of hours of riding at 140km/h and 38 degrees of heat and with my fuel finally getting low, Chillie started playing up and her engine would cut out every now and then. I pulled over and turned the ignition off. I tried to start her again but she wouldn't comply. I checked the time – it was still early evening in Australia – I quickly dialled the only person I could think of at that moment that might be able to help me. Miles Davis a former BMW marketing manager, all-round riding expert and good mate.
Phew, he answered! I described to Miles all the symptoms, "It sounds like the bike isn't getting fuel, maybe there's something wrong with your fuel hoses?" he said. I tried to start the bike again and this time it worked! Yay! I thanked Miles and told him I'd have a look at the hoses when I got to the hotel.
I filled Chillie up down the road and she got a little bit better, she didn't cut out the whole way to Ürgüp.
Cappadocia
The moment I arrived in Cappadocia I just couldn't believe the scenery. Turkey's land of fairy chimneys! It's quite a surreal sight and for forever people have taken advantage of the soft stone, seeking shelter underground and leaving the area scattered with fascinating cavernous architecture.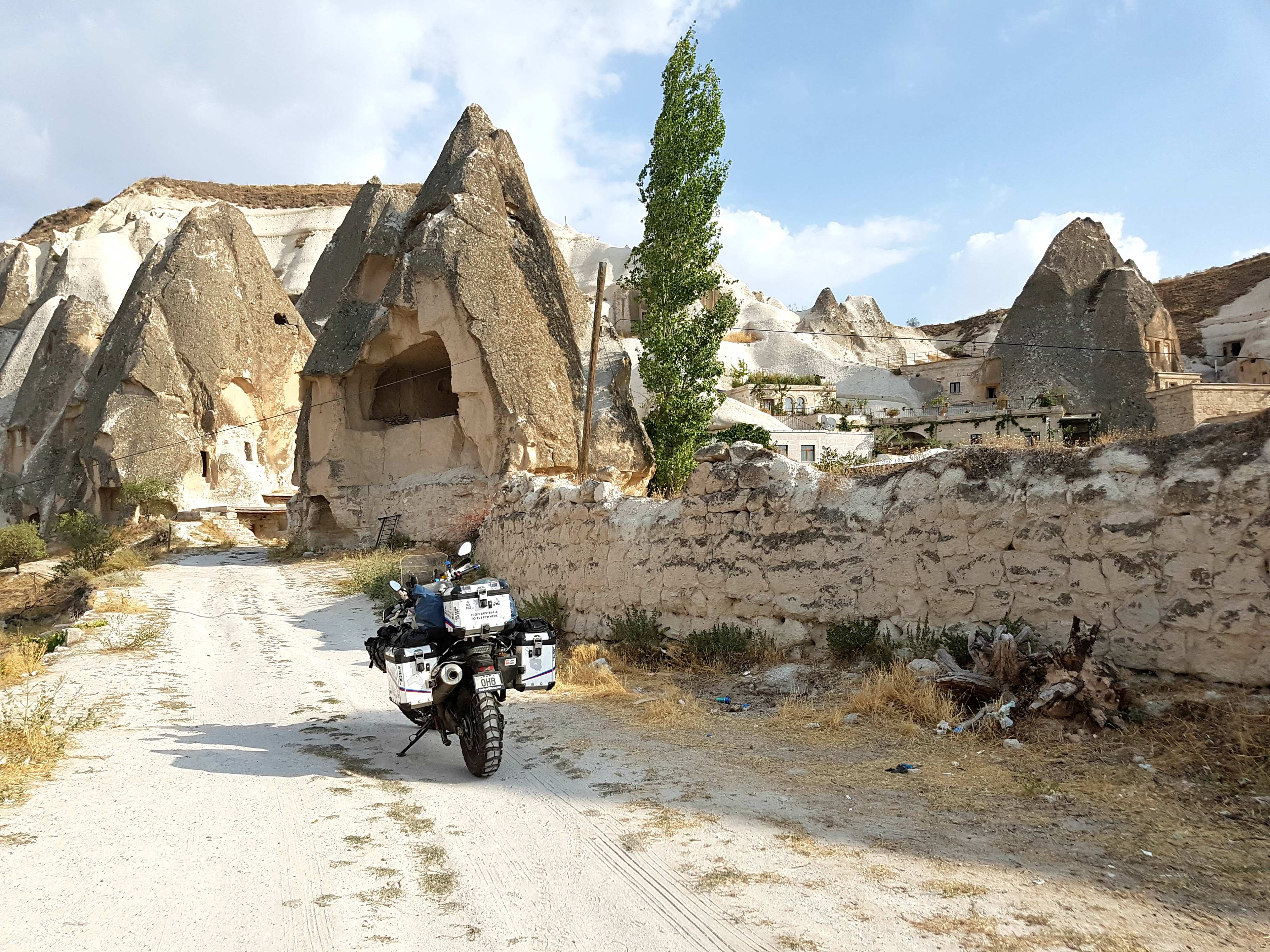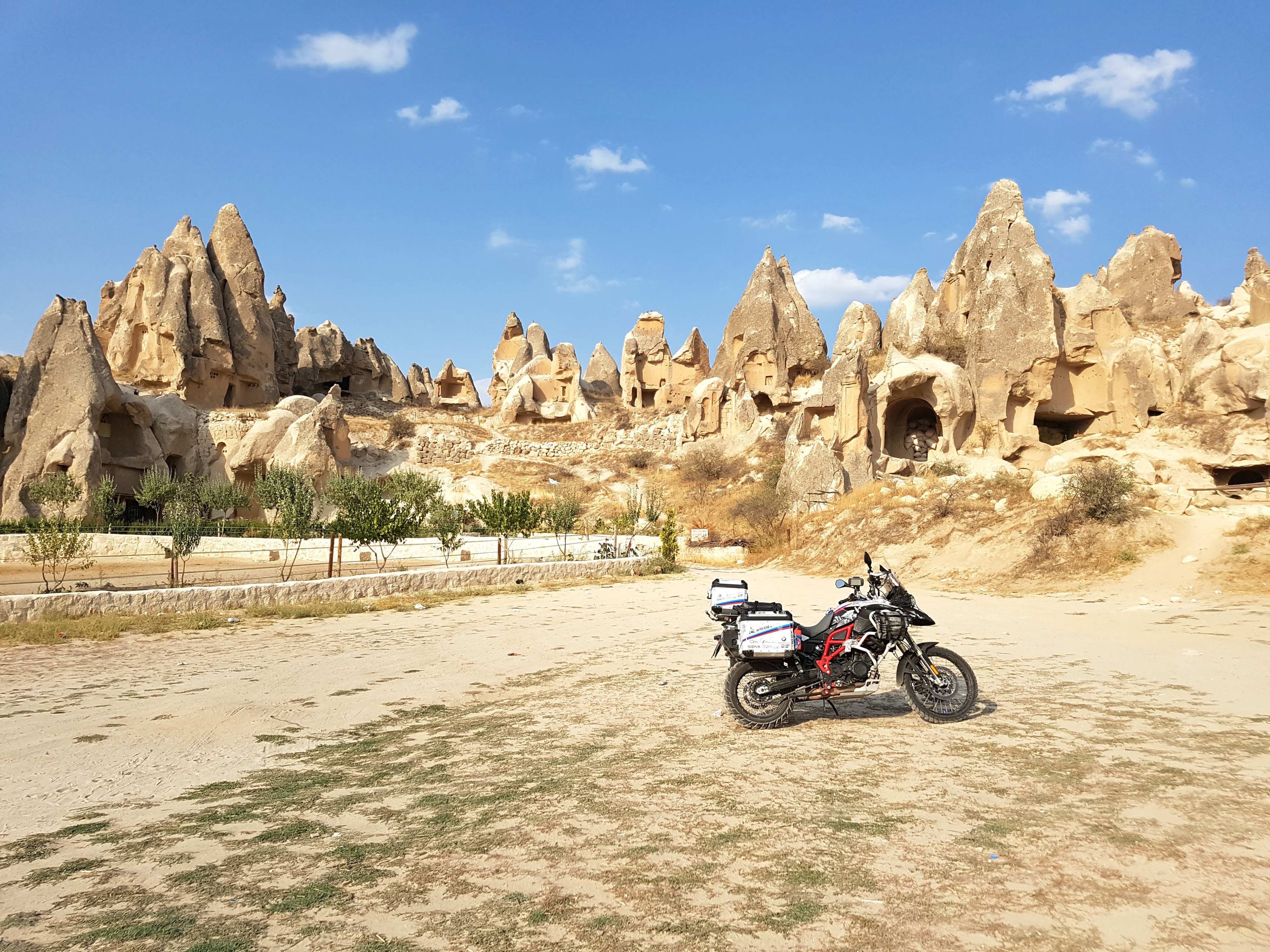 Accommodation in Cappadocia can be quite pricey but I managed to find a very affordable hotel in Ürgüp for $12 with my own bathroom and all. Bargain!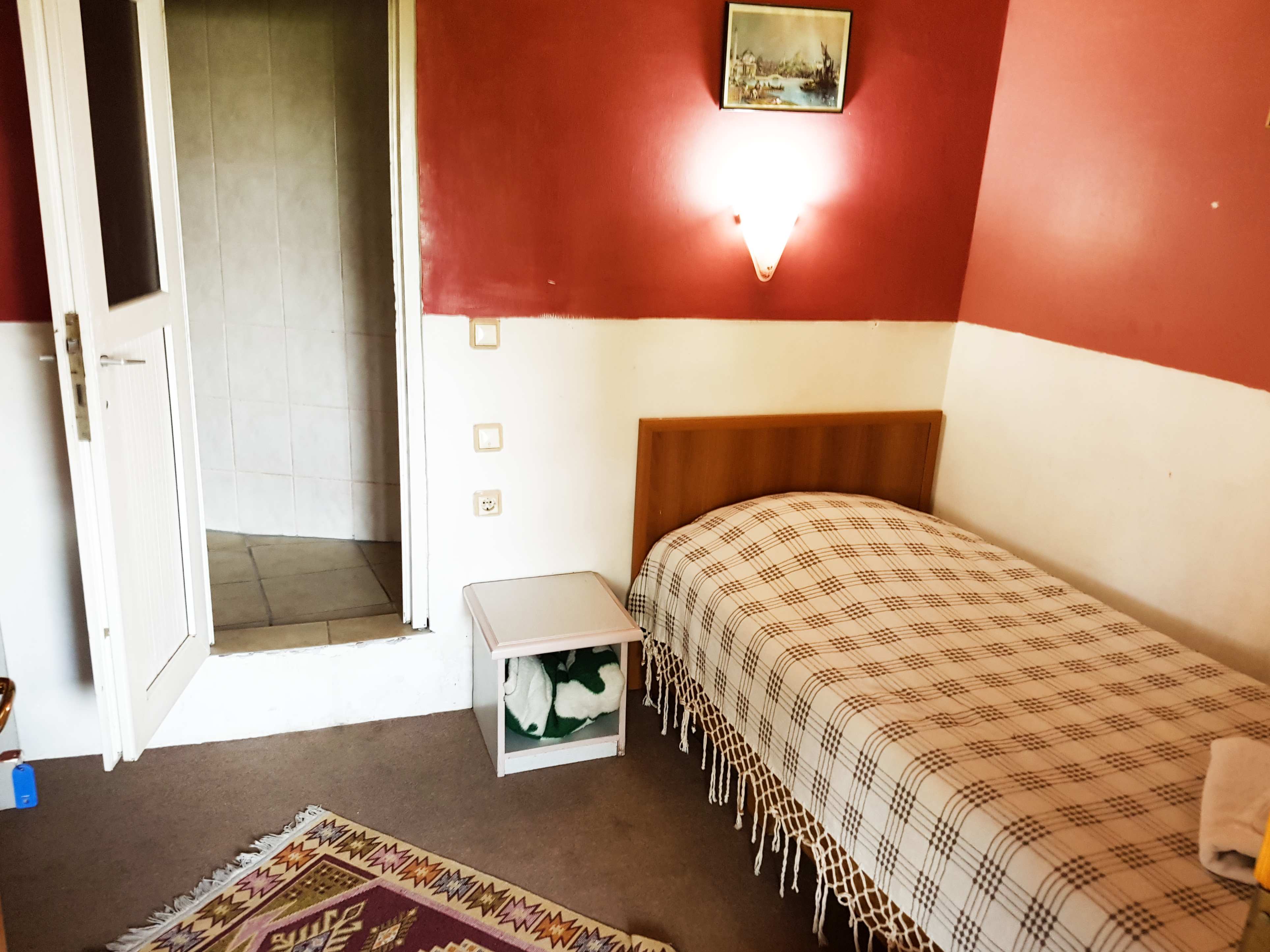 A balloon flight over Cappadocia was on the very top of my bucket list for Turkey. The moment I arrived I booked it right away for the next morning and just couldn't wait… one sleep to go!
The rest of the afternoon I spent going through Chillie's fuel hoses and trying to work out what had gone wrong.
I contacted Cory – the designer and producer of my Camel Tank. There is no one like him who would know more about fuels systems! Cory indicated that it could be the fuel pump. Oh no, the humanity!
The next morning I was picked up from the hotel at 5:15am so we would just make it in time for sunrise. We arrived at the location and it was still dark and a little chilly. But the organisers didn't waste any time, everywhere in the valley there were balloons rising up….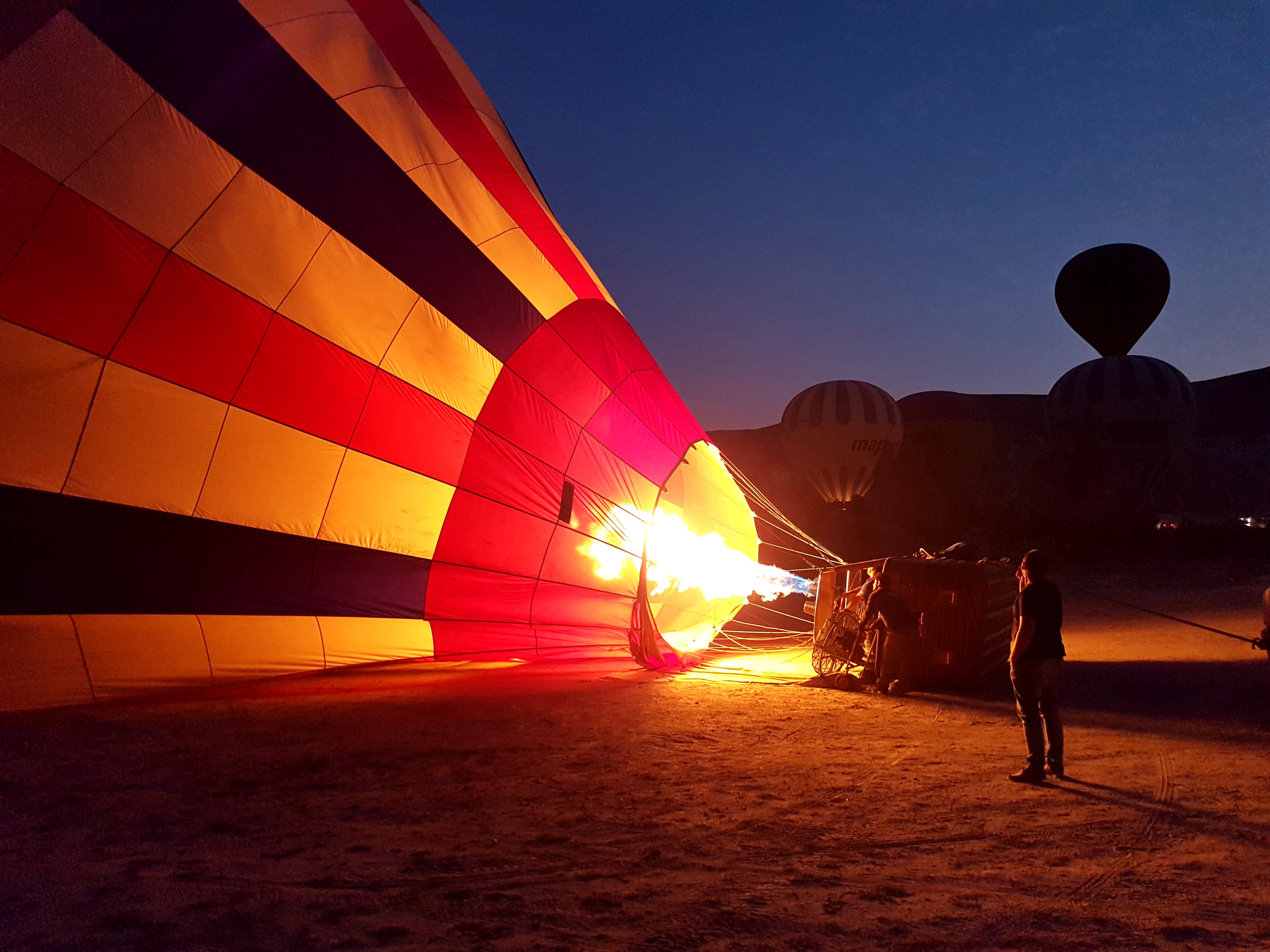 I didn't expect the balloon basket to be so big – our one could take up to 12 people! And I made some friends to 😉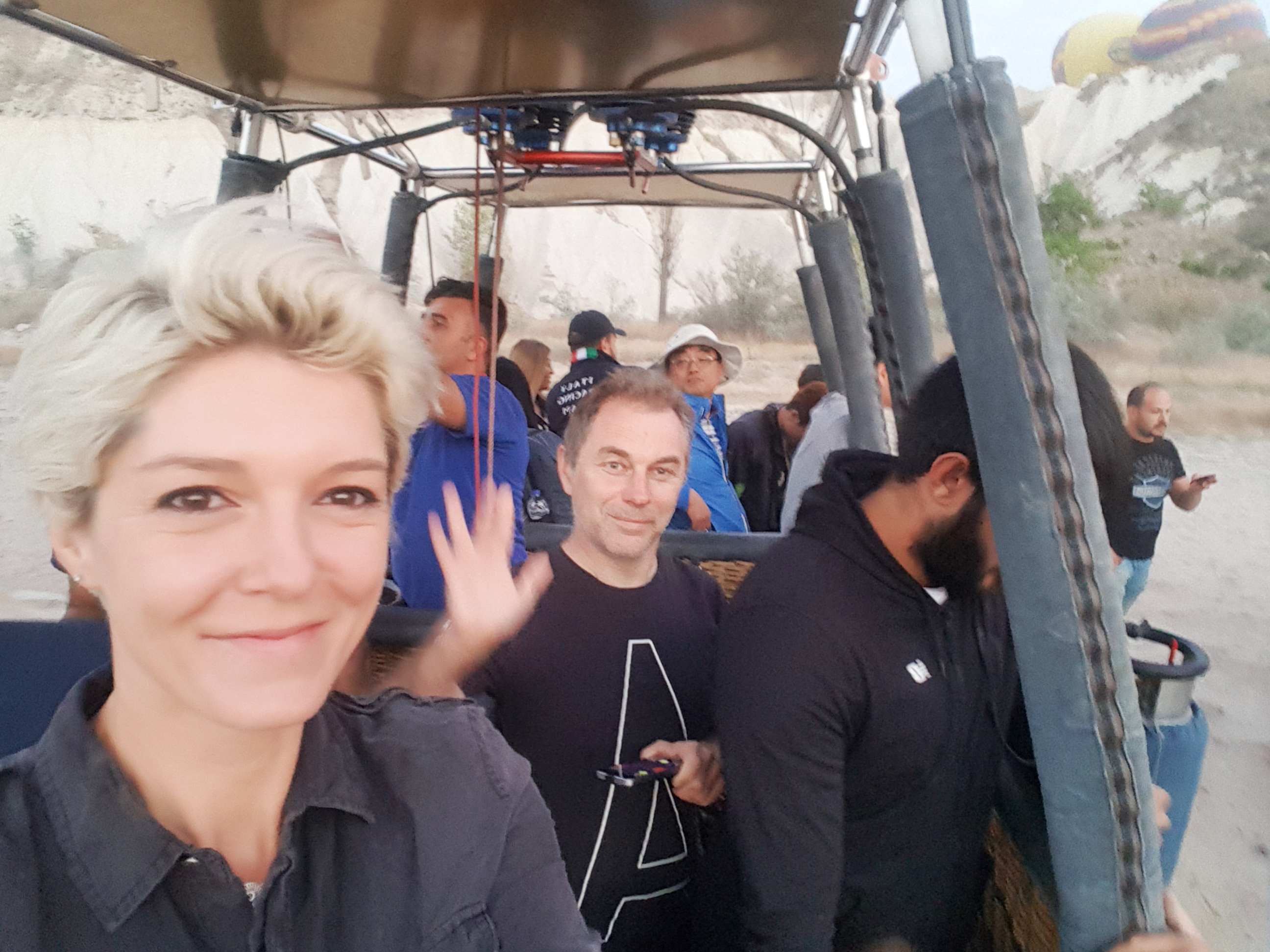 The balloon flight was indescribable, I was amazed at how smooth and peaceful it was. You cannot fully appreciate the beauty of this area by just riding through it, from the air it takes on a whole new perspective that is simply breathtaking.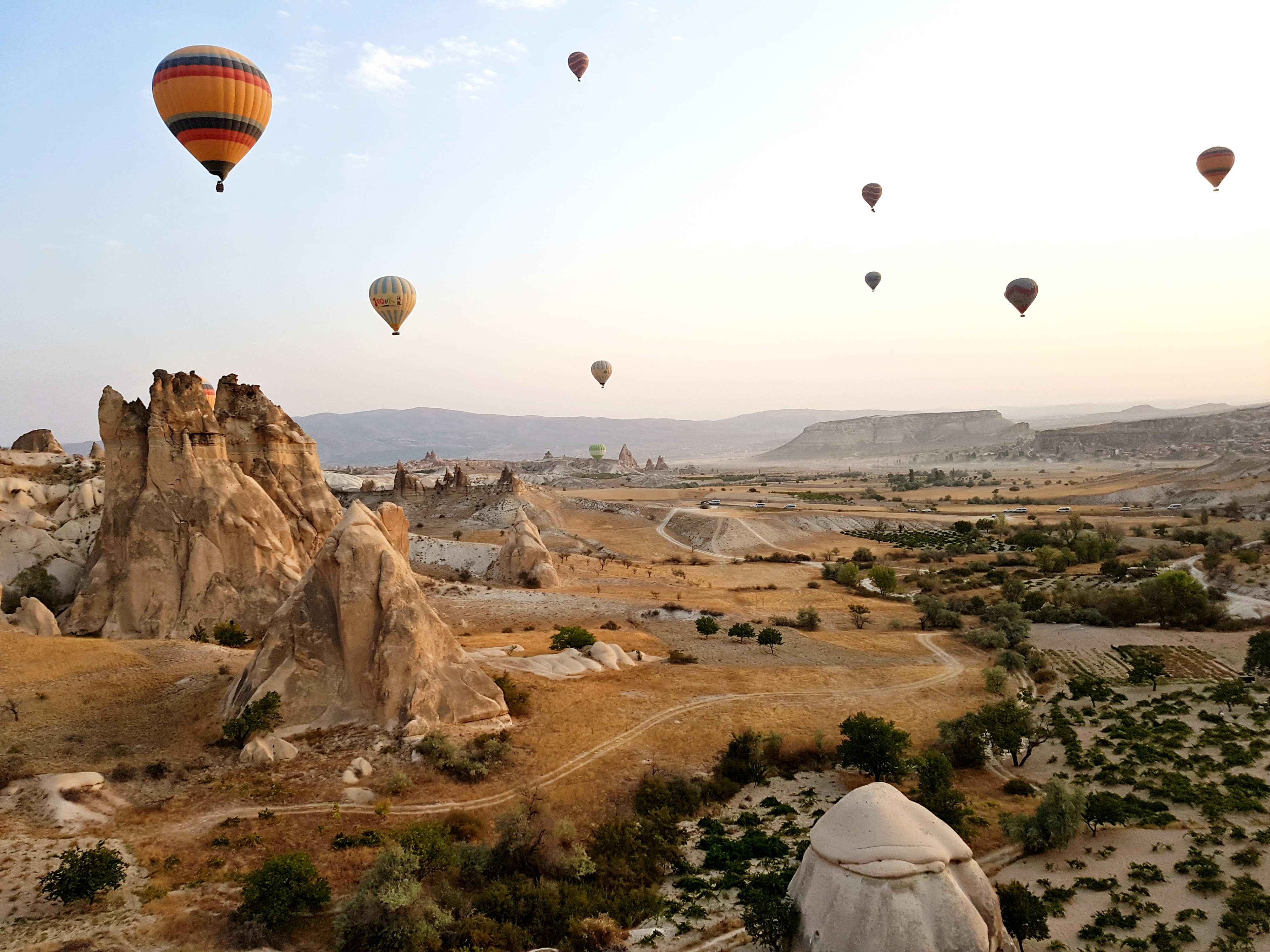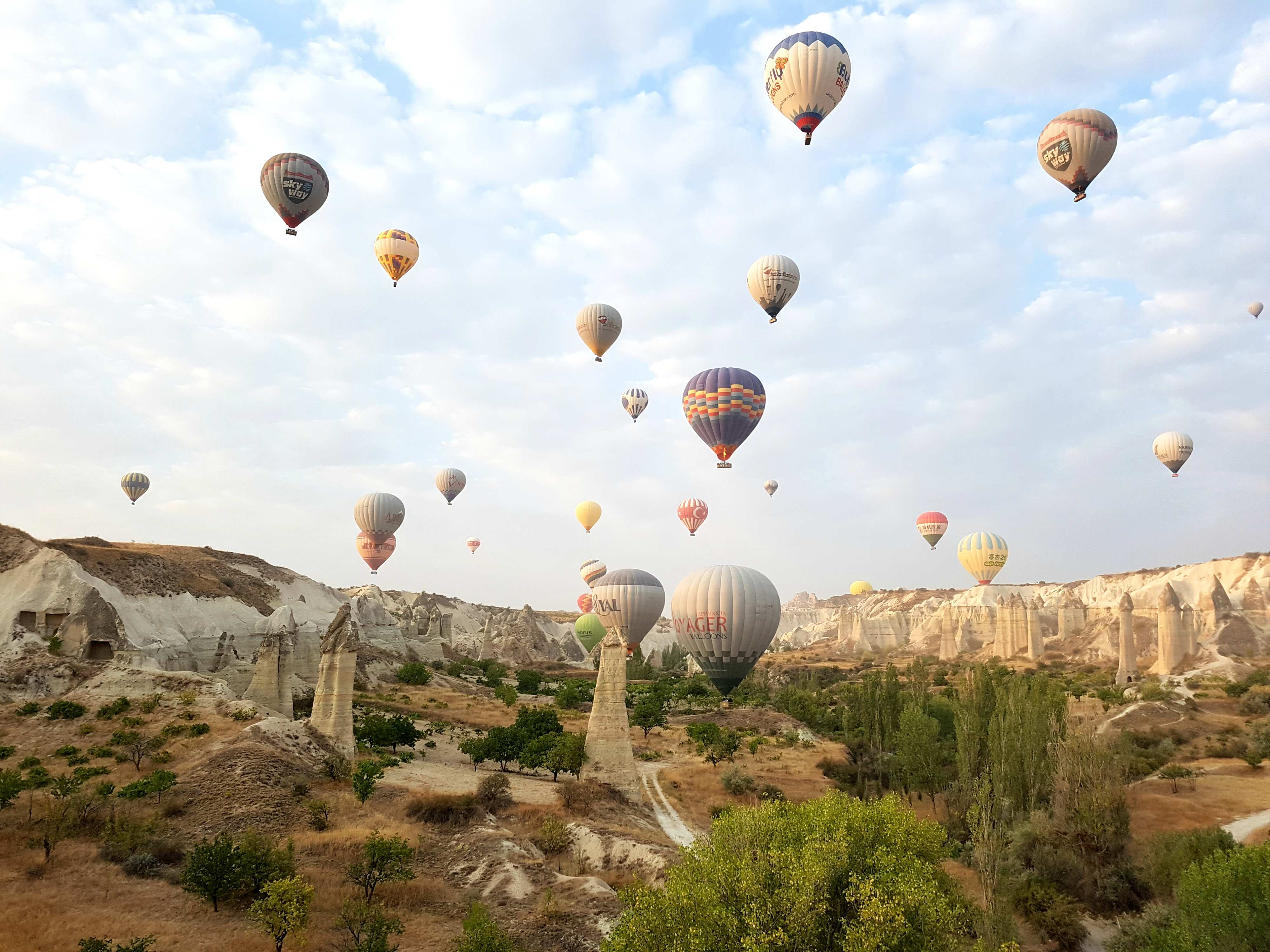 And we safely made it back onto the ground, I was very surprised at how smooth the landing was.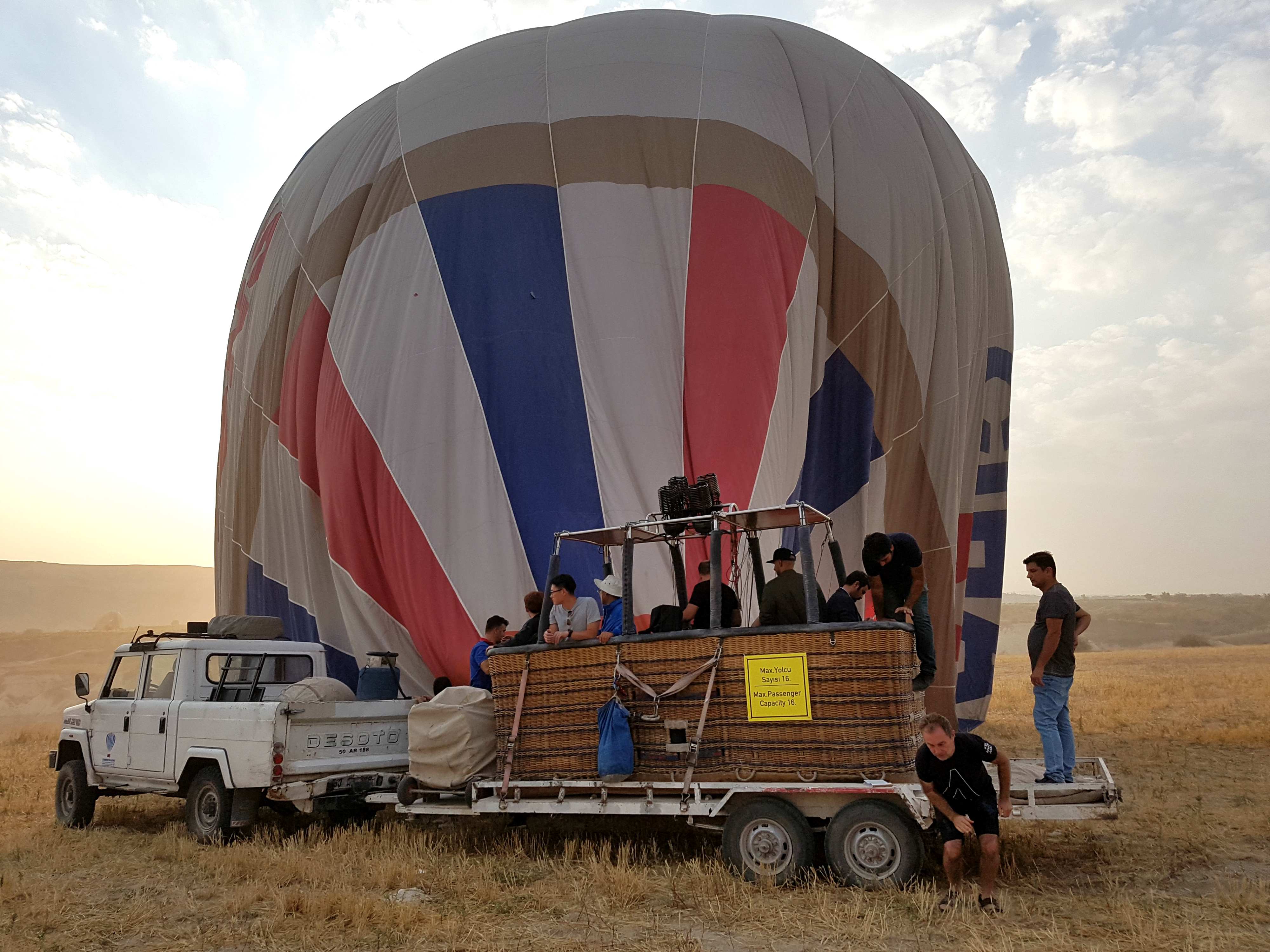 …we had a little happy landing party! An absolutely unforgettable experience. I'll drink to that!
After one of the best sunsets of my life I went back to the hotel to work out what I was going to do with Chillie. All this time I was in touch with Asil Özbay whom I had met via Instagram. Asil is the real deal – solo rider, blogger, lecturer, motivational speaker and an amazingly inspirational person. And I've said it before, but I'm going to mention it again… having a blog and trying to keep up to date with all of my social media channels is a lot of work and frustrating at times, but in moments like this you realise it's worth all the pain – the kindness and help you receive along the way is priceless.
Asil contacted Tankut from Ankara to let him know I was in some trouble. Tankut insisted on picking me up with a trailer later that night. Ankara was 300km away and he didn't want me to take the risk of riding such a long distance with a broken fuel pump. He picked me up at midnight with his mate Tolga – I'll be forever grateful for all your help.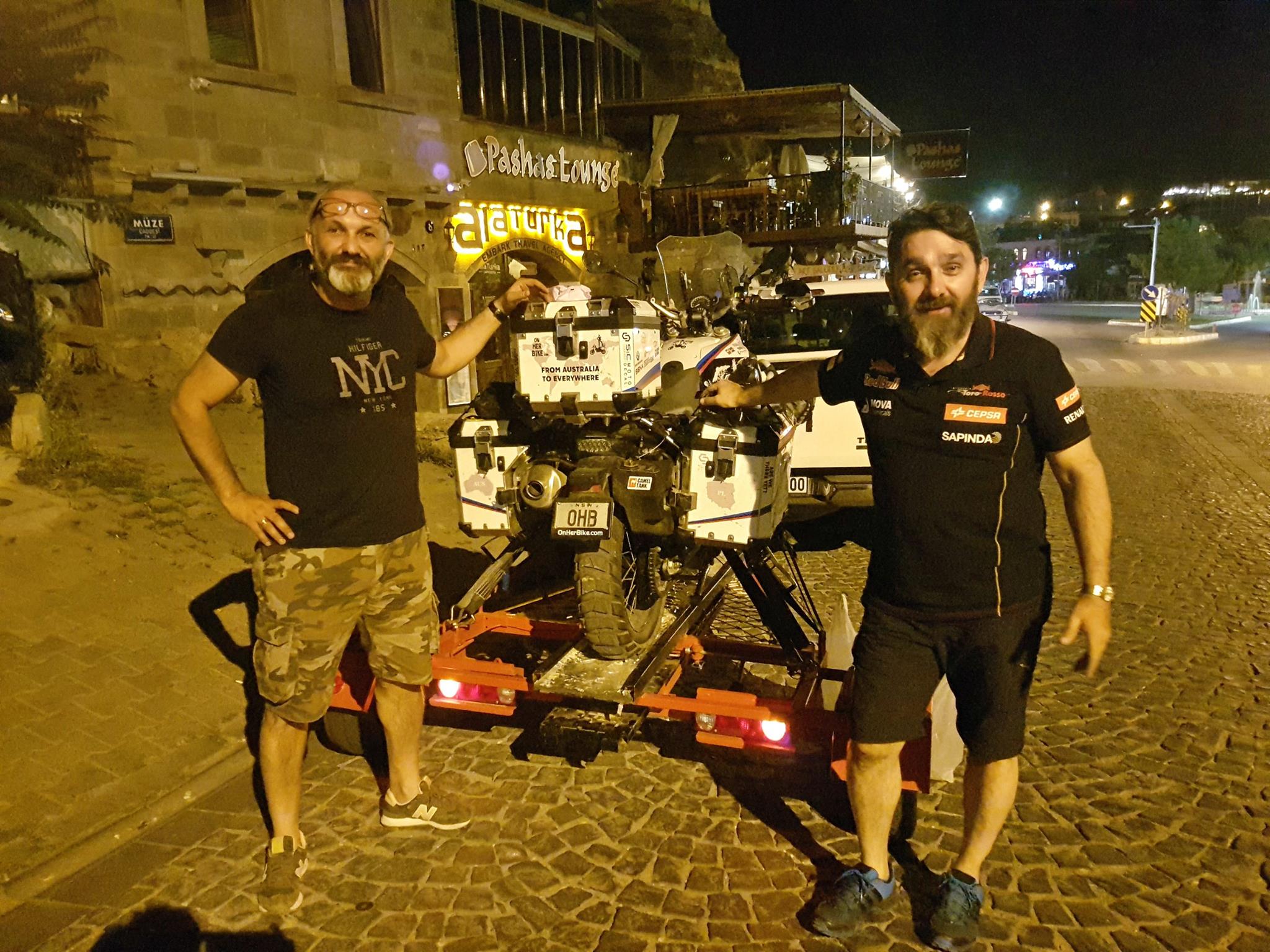 ​Ankara
While Chillie was getting all fixed up at a BMW dealer I had the time of my life in Ankara! Tankut and Seden invited me to their house and said I could stay there for as long as I wanted.
Firstly I couldn't believe I had been invited to such a beautiful home… my bed was bigger than my room the previous night, let alone the tent I'm used to. And I'm not a person who craves luxury, I truly enjoy the simple life on the road, but damn it was so good to finally have some creature comforts and feel a little spoilt.
Tankut had to go away for a week so his wife Seden and her family were looking after me for few days. Seden and I got on like a house on fire and we had the best time hanging out together. We drank a lot of tea and met a lot of people…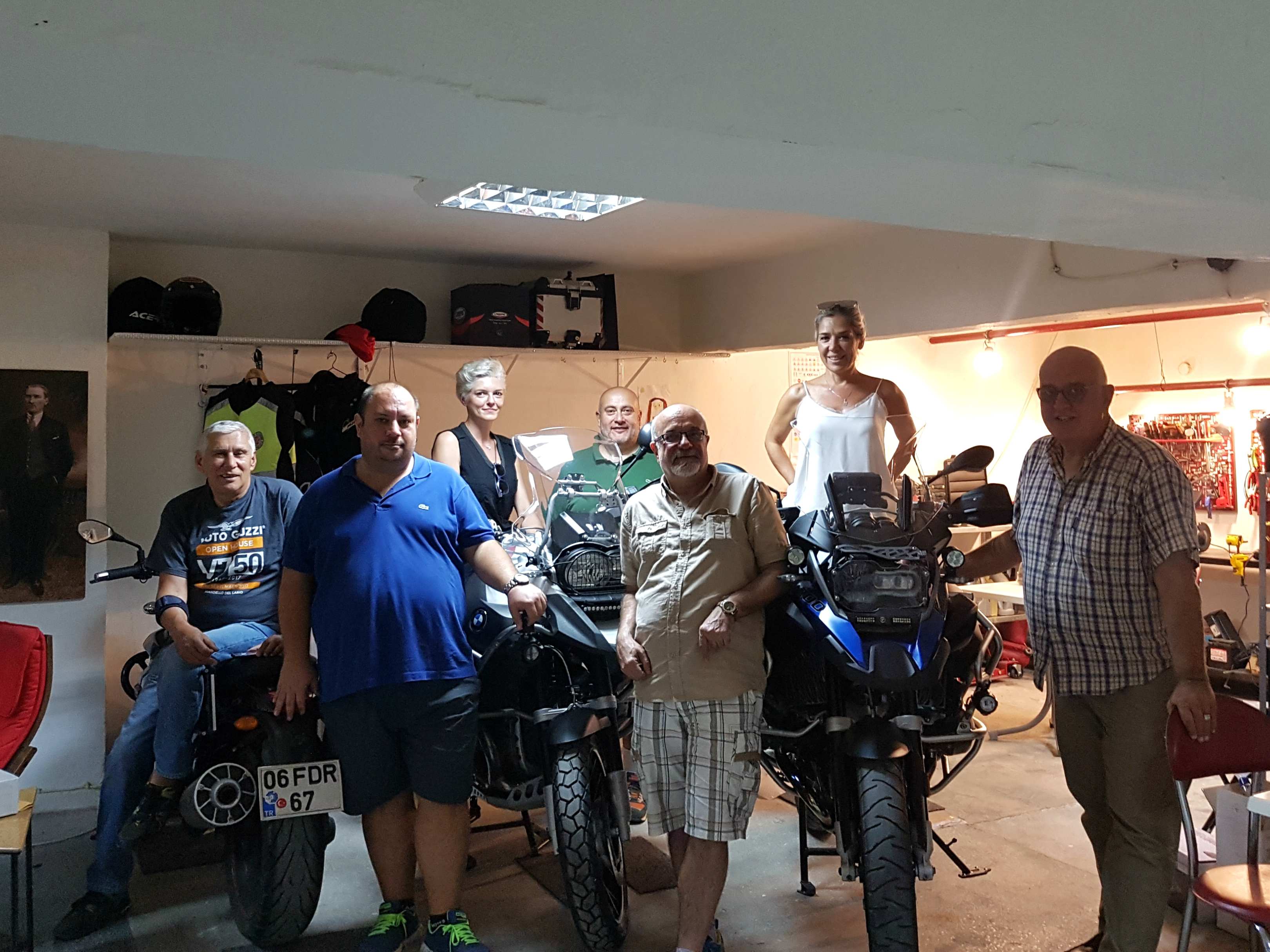 We rode some weird bikes too! Turned out Seden's brother Necati is a clever inventor and has a very impressive collection of bikes he's made himself, some of them came with a matching helmet (which I really really wanted to take home if only I knew how!)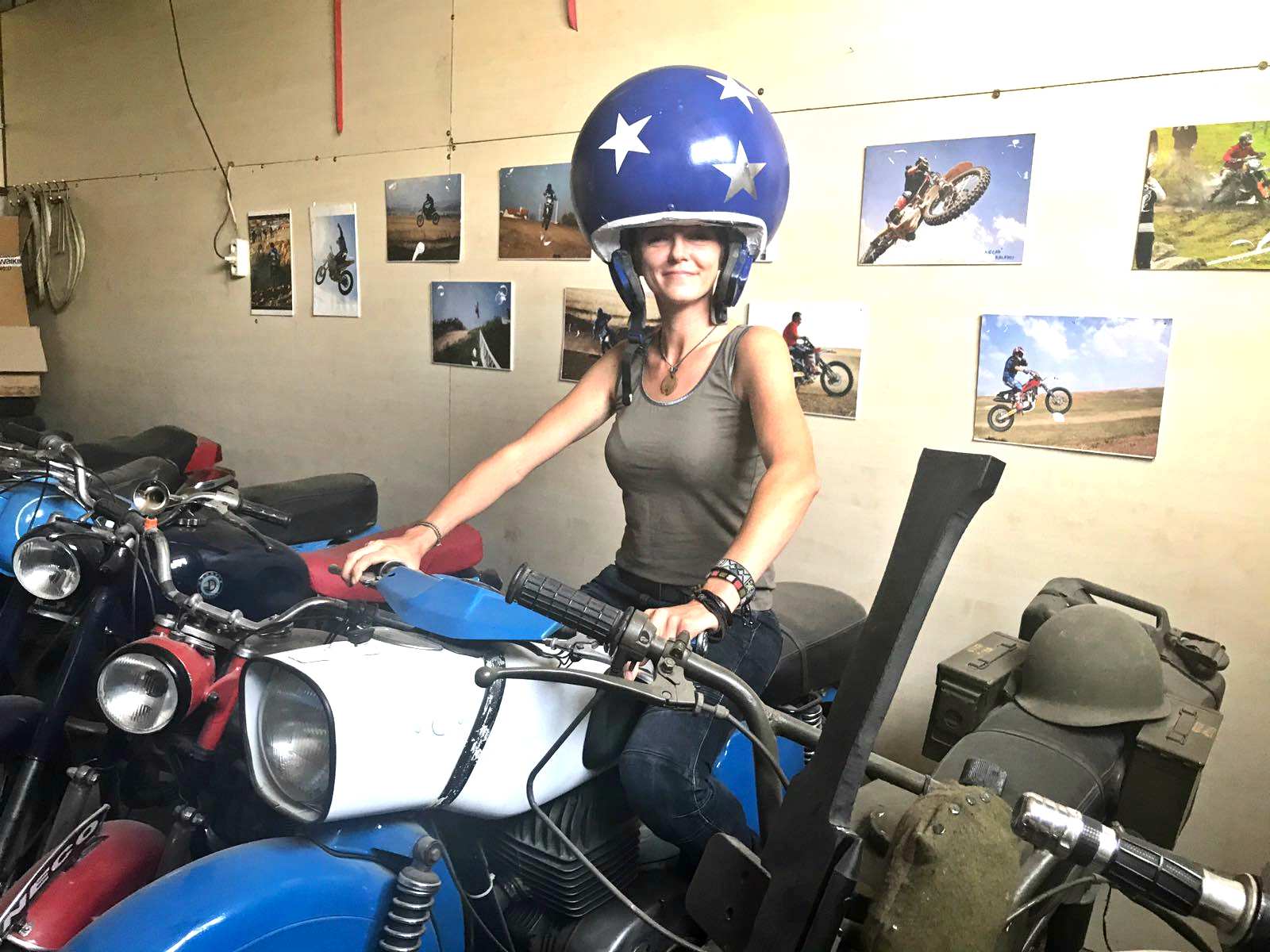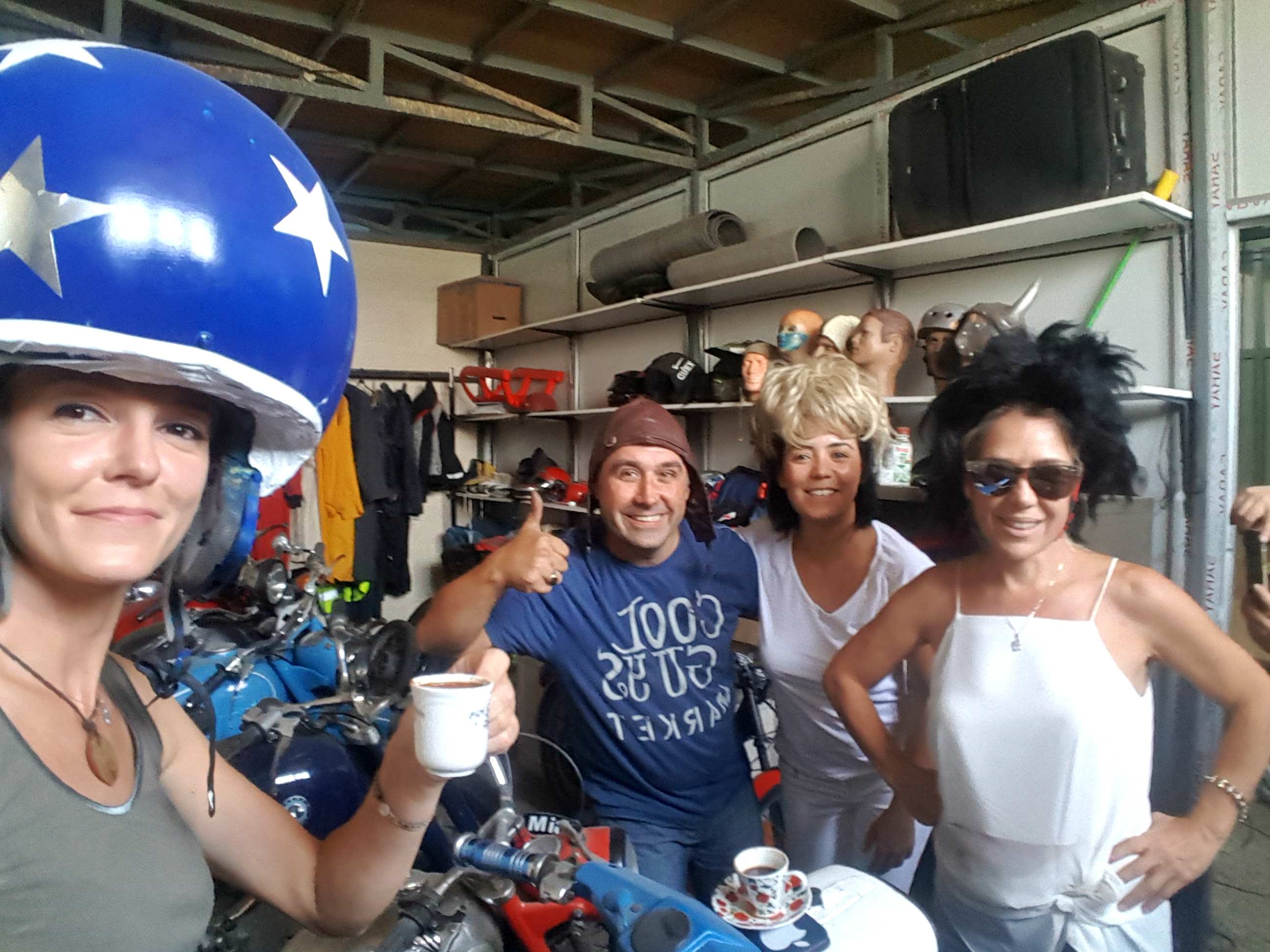 This XXXL scooter was my favourite!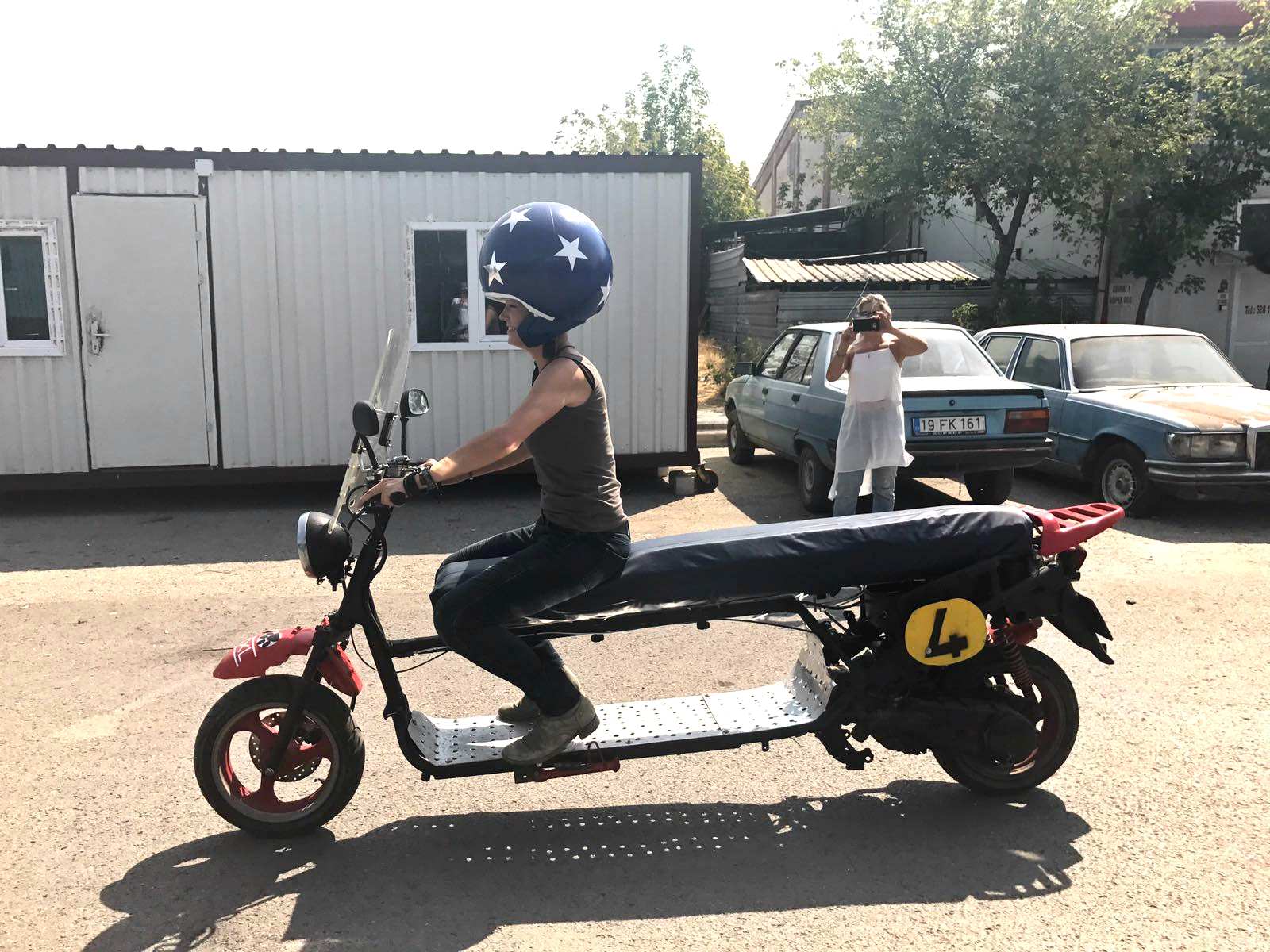 … and this one was quite a challenge!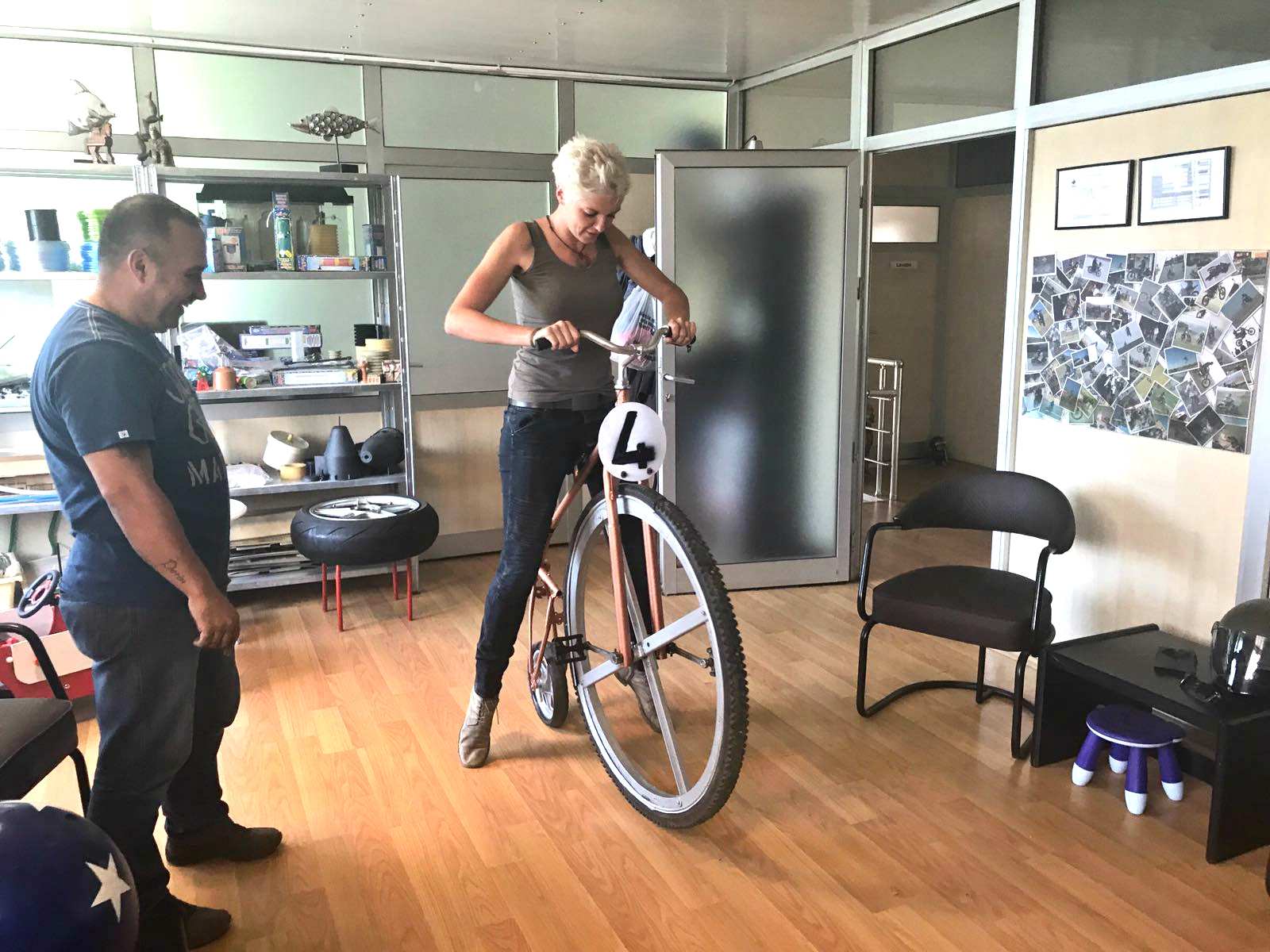 And in no time Chillie's pump was replaced and she was good to go! Again, a massive thank you goes to BMW Motorrad Turkey and Australia for fixing it all up so quickly for me. Here's a picture of the great team from Ankara!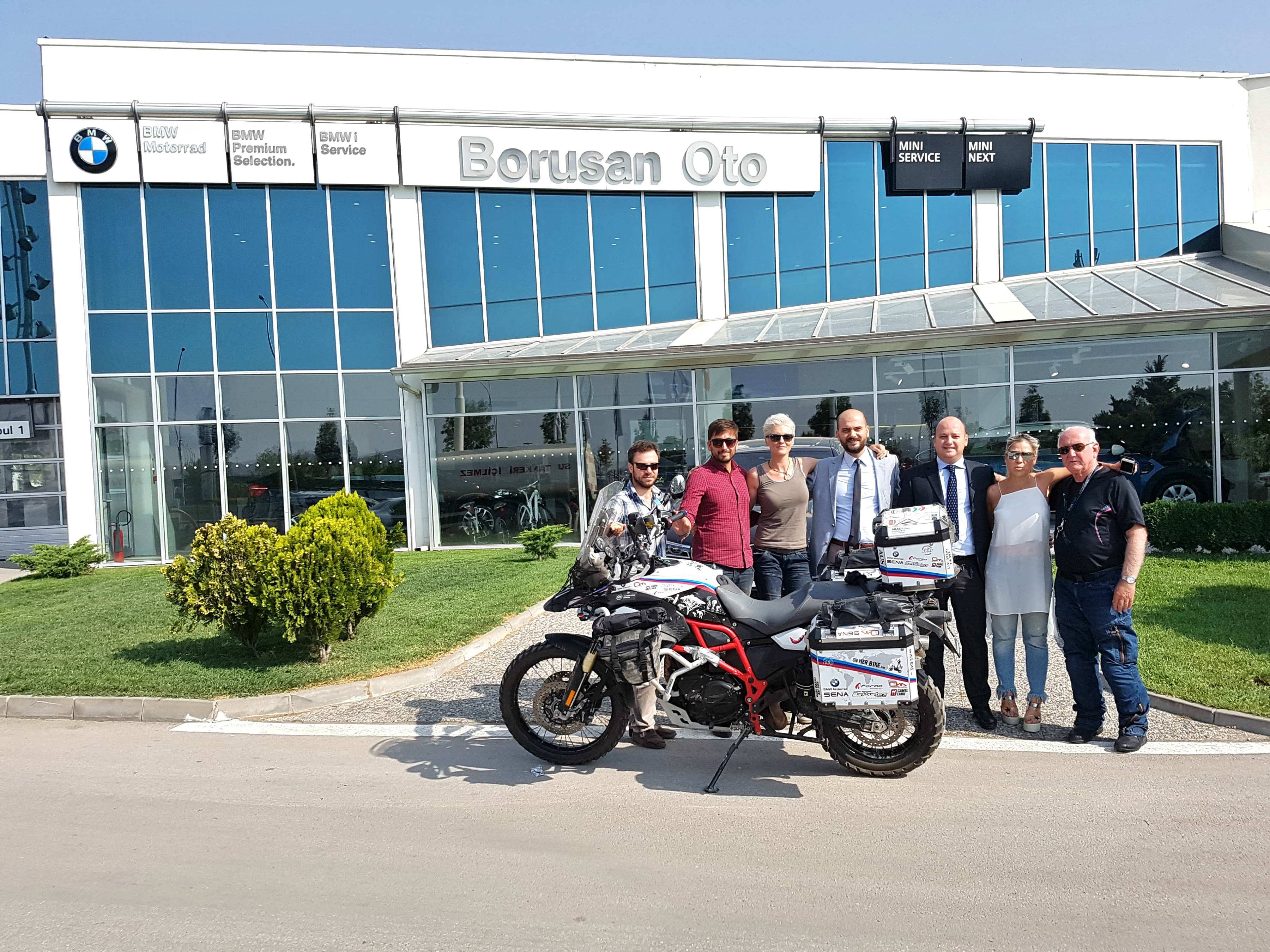 Tolga (my saviour with the trailer) invited me to do a little presentation at his school – Beysukent College. Thank you Tolga for the invitation, it was a great experience to be able to chat to all the students!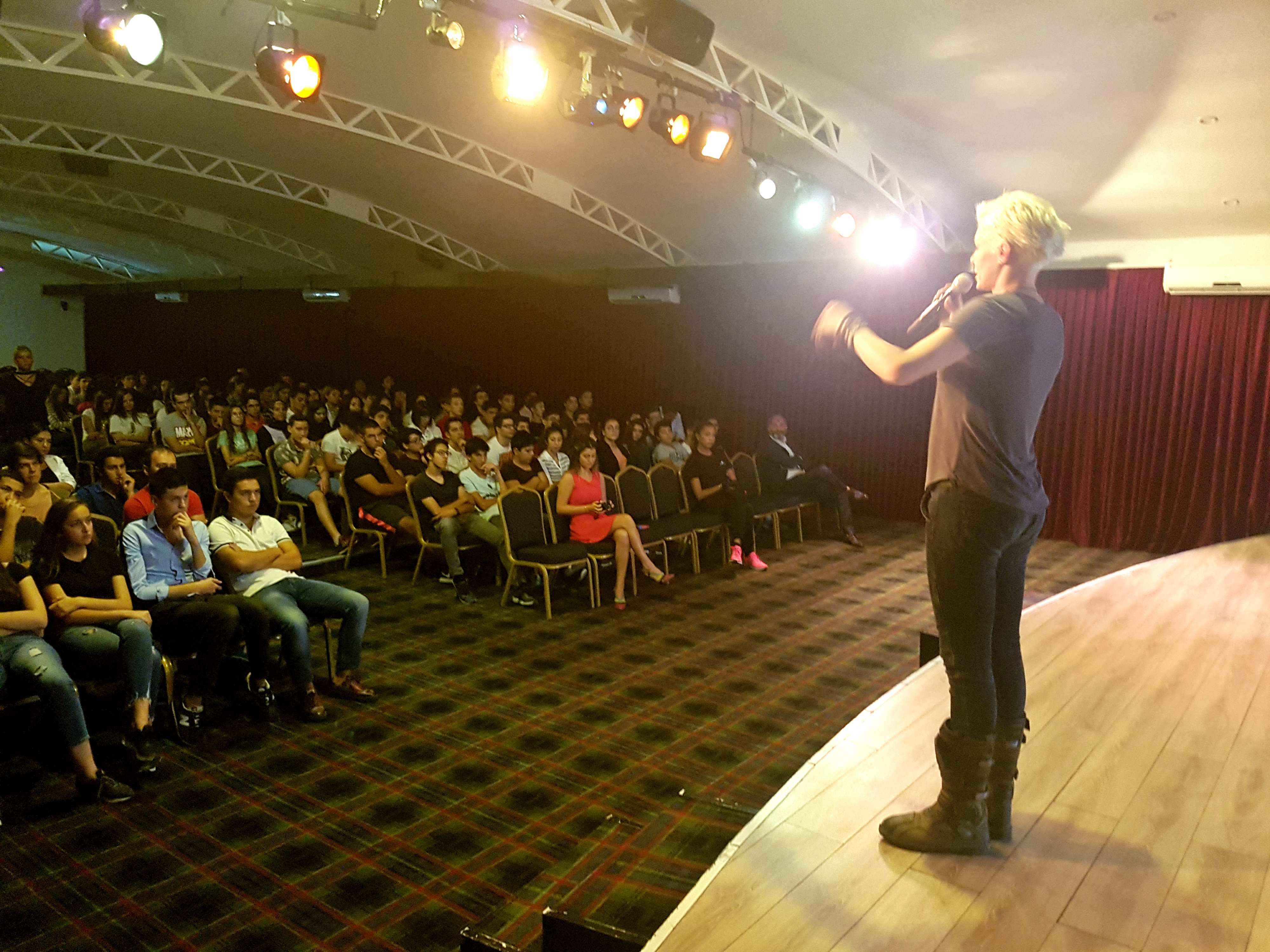 Meanwhile there was another problem with Chillie – her forks had started to leak quite heavily. BMW had no seals in stock so we had to work with what we had. Necati came up with this solution! I wasn't too worried about how long it would last, I just needed to get to Istanbul.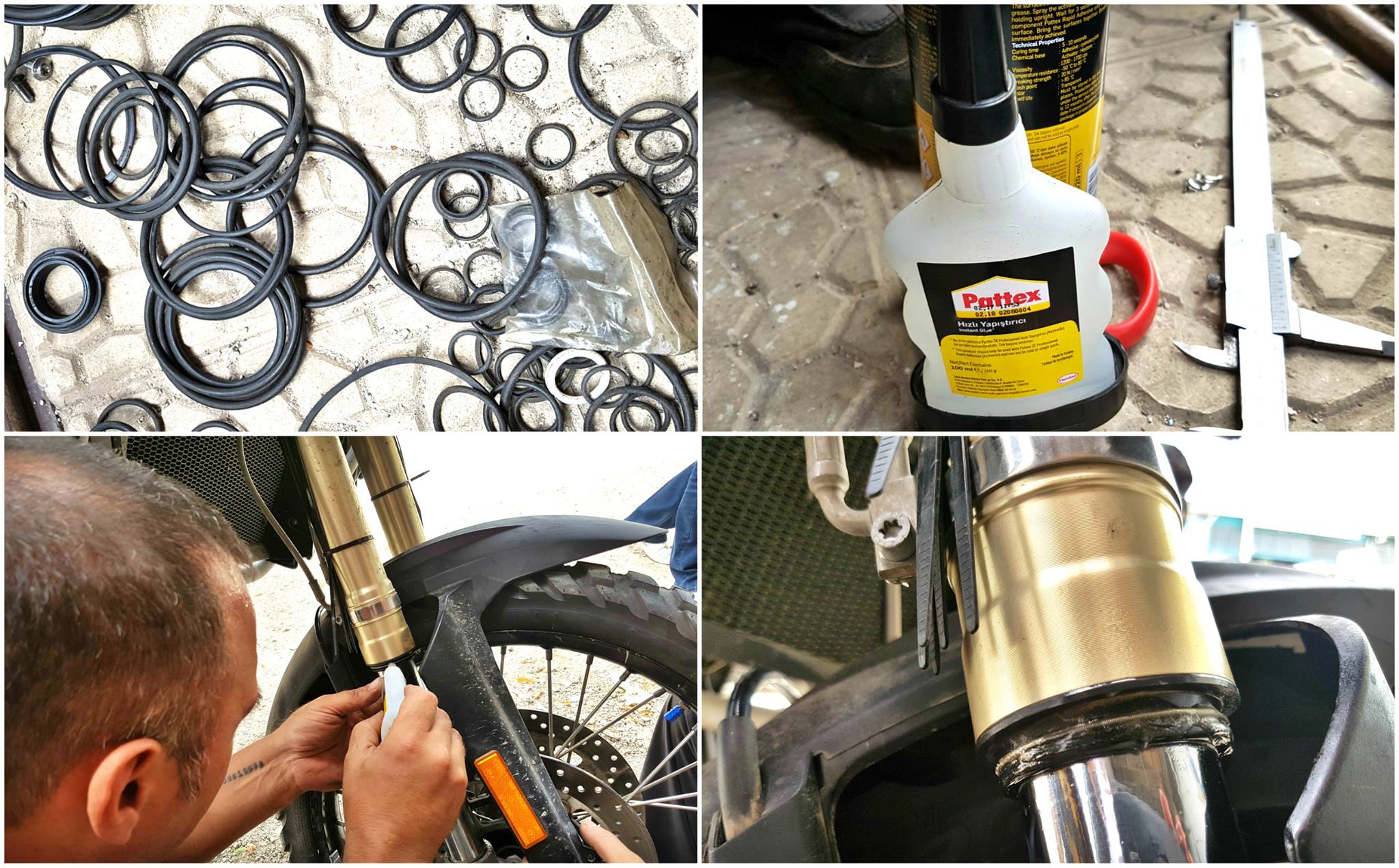 ​Safranbolu
After 5 days it was finally time to go but it was very hard to leave all these new friends behind. Seden said she would ride with me for the first 100km and then she'd wave goodbye. I stopped for a last lunch on the way and Seden spontaneously decided she'd come all the way to Safaranbolu with me for the night. She had no change of clothes and no cosmetics or toiletries with her. I just love her spontaneous nature!
Safranbolu is a lovely little town famous for it's Turkish Delight! We walked from shop to shop taste testing. I ended up buying 2kgs of Turkish Delight to take home for my family in Poland. Chillie was just getting heavier and heavier with every kilometre as we got closer to home.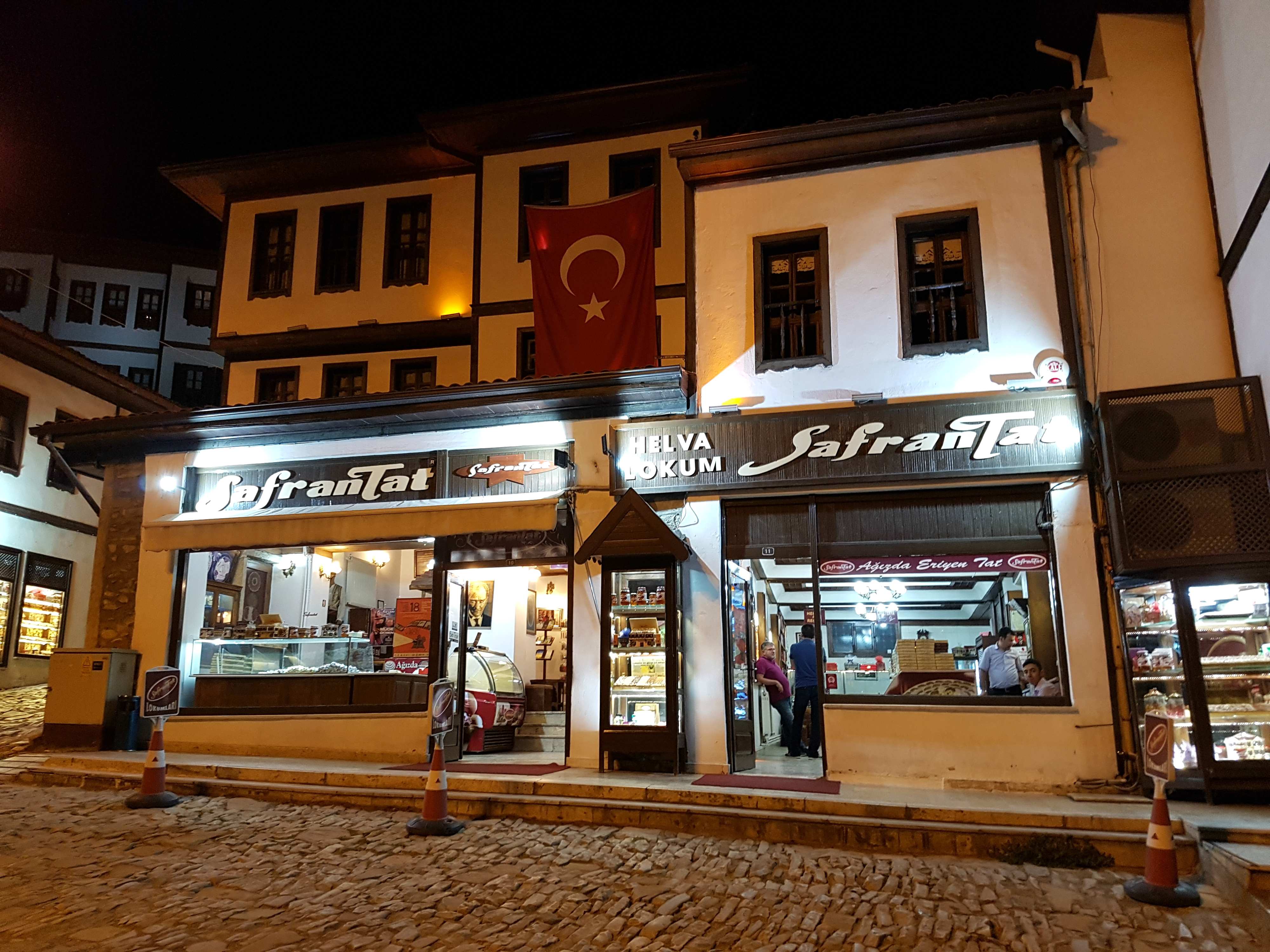 Accommodation in town can be quite pricey, but there is a Bike Post run by Celil Özdemir, which is a base for the Muzekent Motorcycle Club. The facilities are great and any traveller on a motorcycle, bicycle or a car who passes by Safranbolu is welcomed to stay there for the night.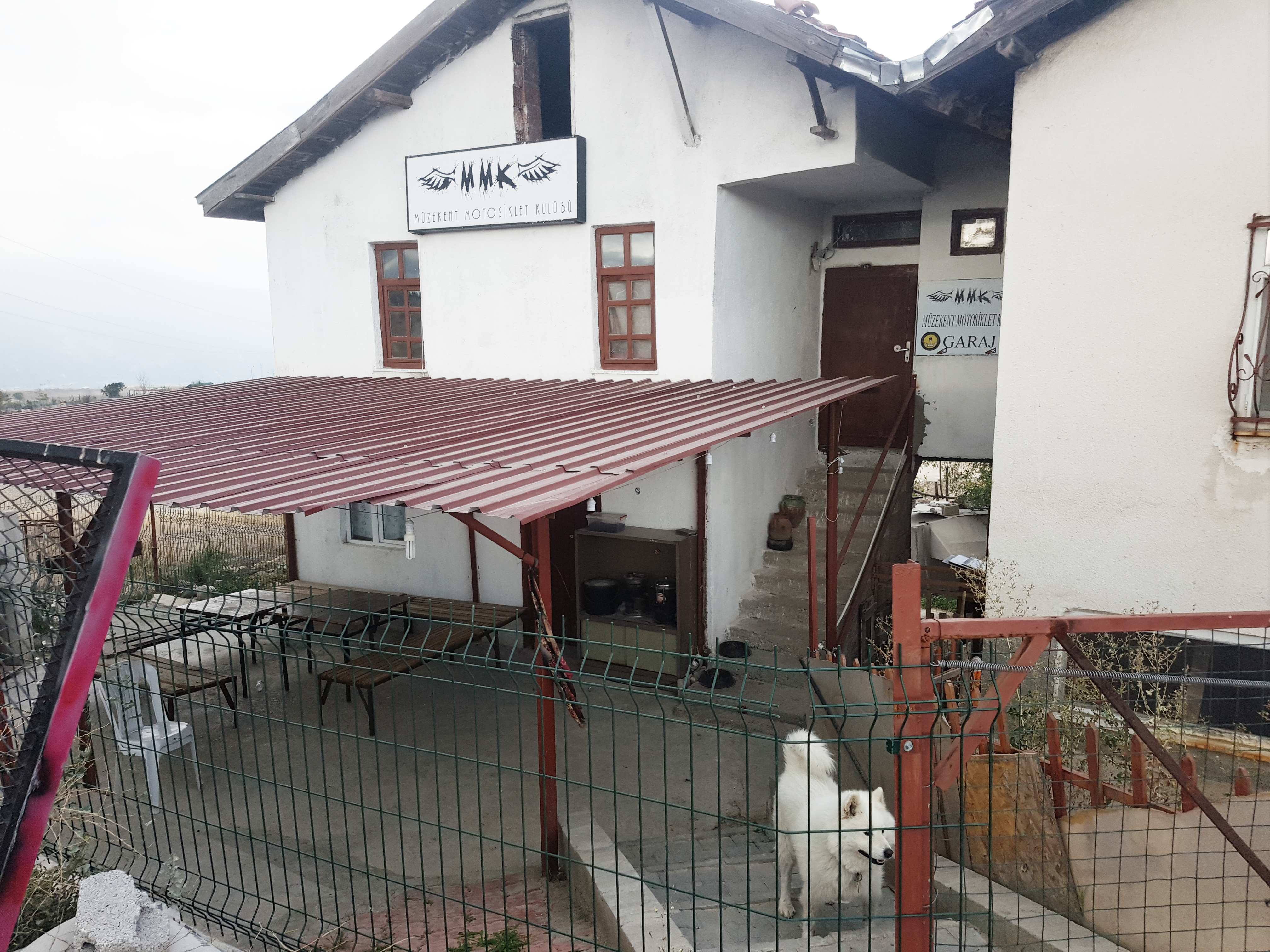 We made it right on time for the club meeting. Discussing such serious subjects, required lots of sunflower seeds and tea!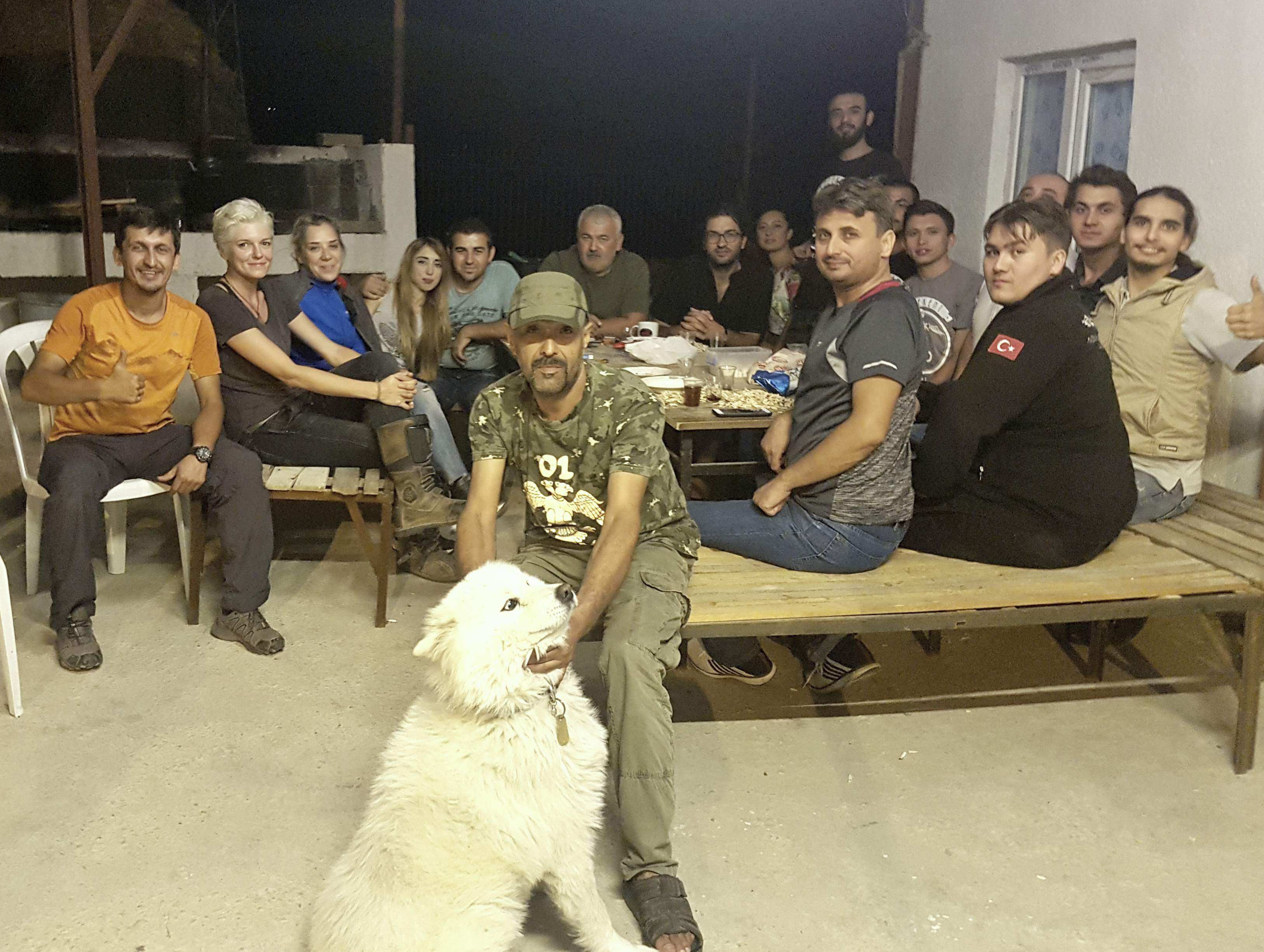 Celil took us to one of the main attractions in town the Crystal Glass Terrace in Tokatlı Canyon. Although it was already dark the view was magnificent and walking on that glass terrace was quite scary!
Celil's parents invited us for dinner so how could we say no! It's very obvious that the Turkish pride themselves on their generous hospitality.
The next morning with tears in my eyes I had to say goodbye to Seden. Although I should have learnt how to say goodbye by now, some people you just have an instant connection with, that creates a friendship that belies the short amount of time you've actually known each other and that makes these goodbyes so hard.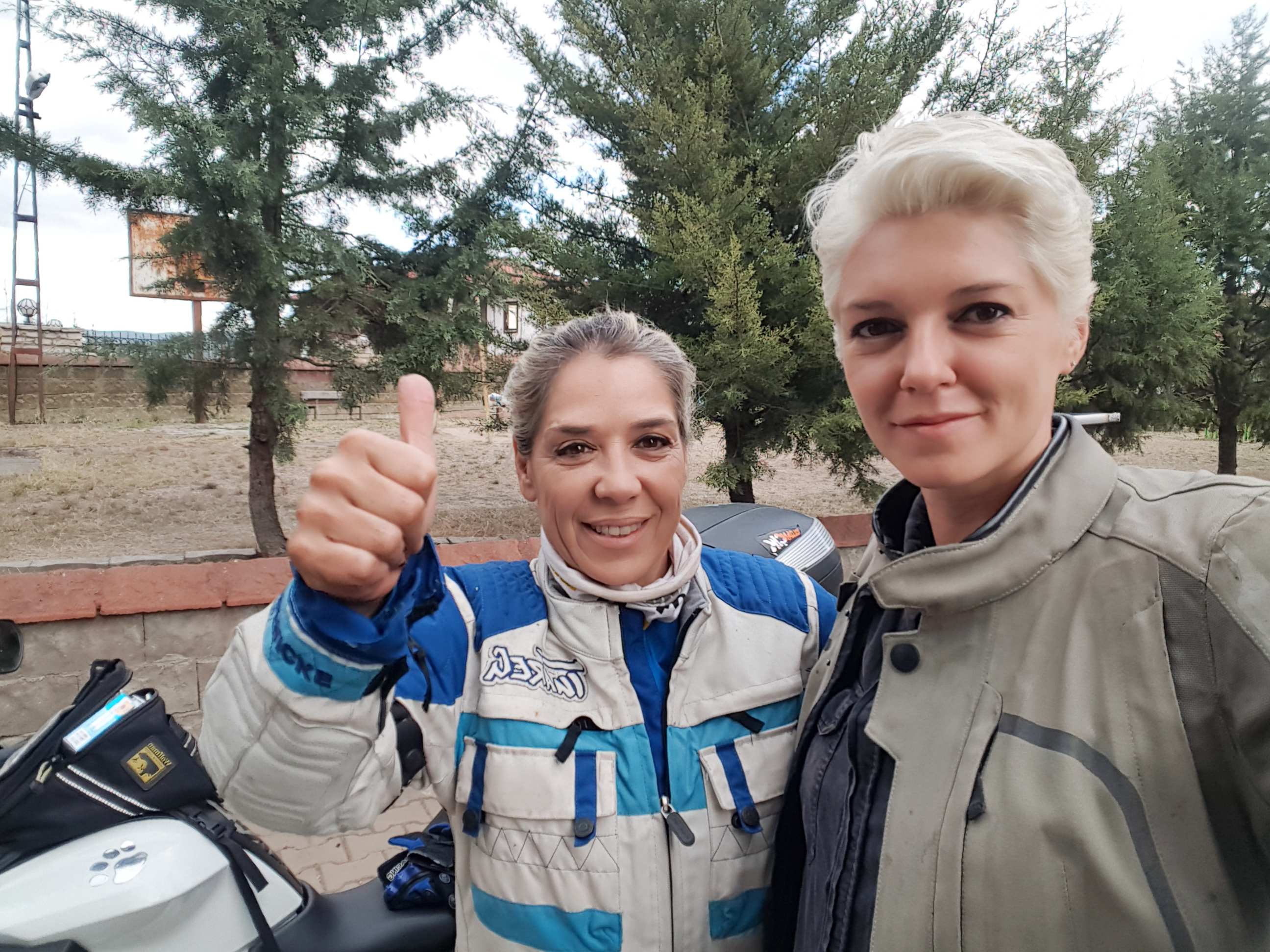 ​Istanbul
Istanbul is incredibility big. Istanbul has a LOT of traffic. Thank goodness I didn't have to find my way around on my own! I had the best tour guides you could hope for – Asil and Onur, who looked after me for the whole weekend and thanks to them I made it to everything on time. My schedule was quite busy and not at all in the one part of town – we did over 400km in 3 days!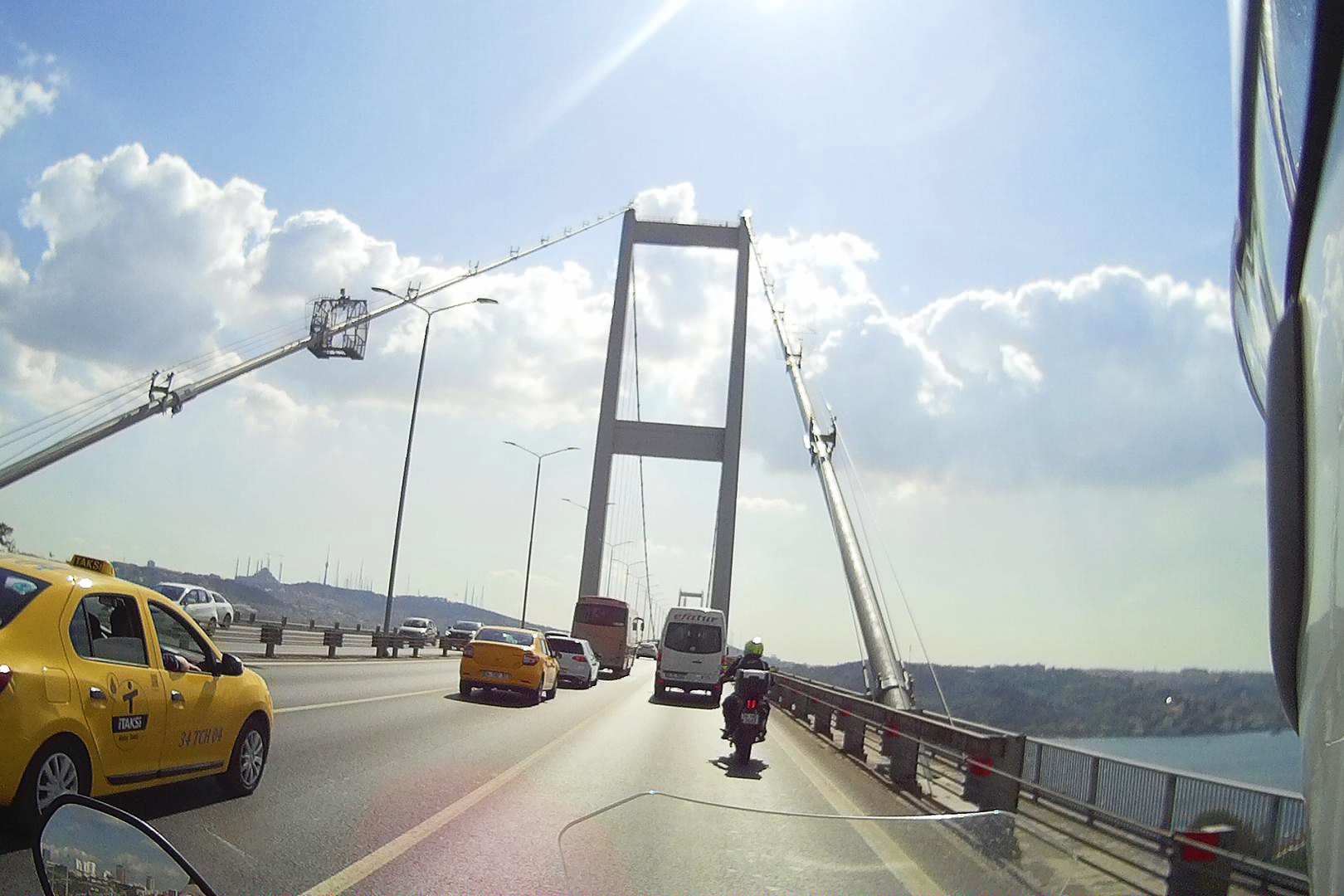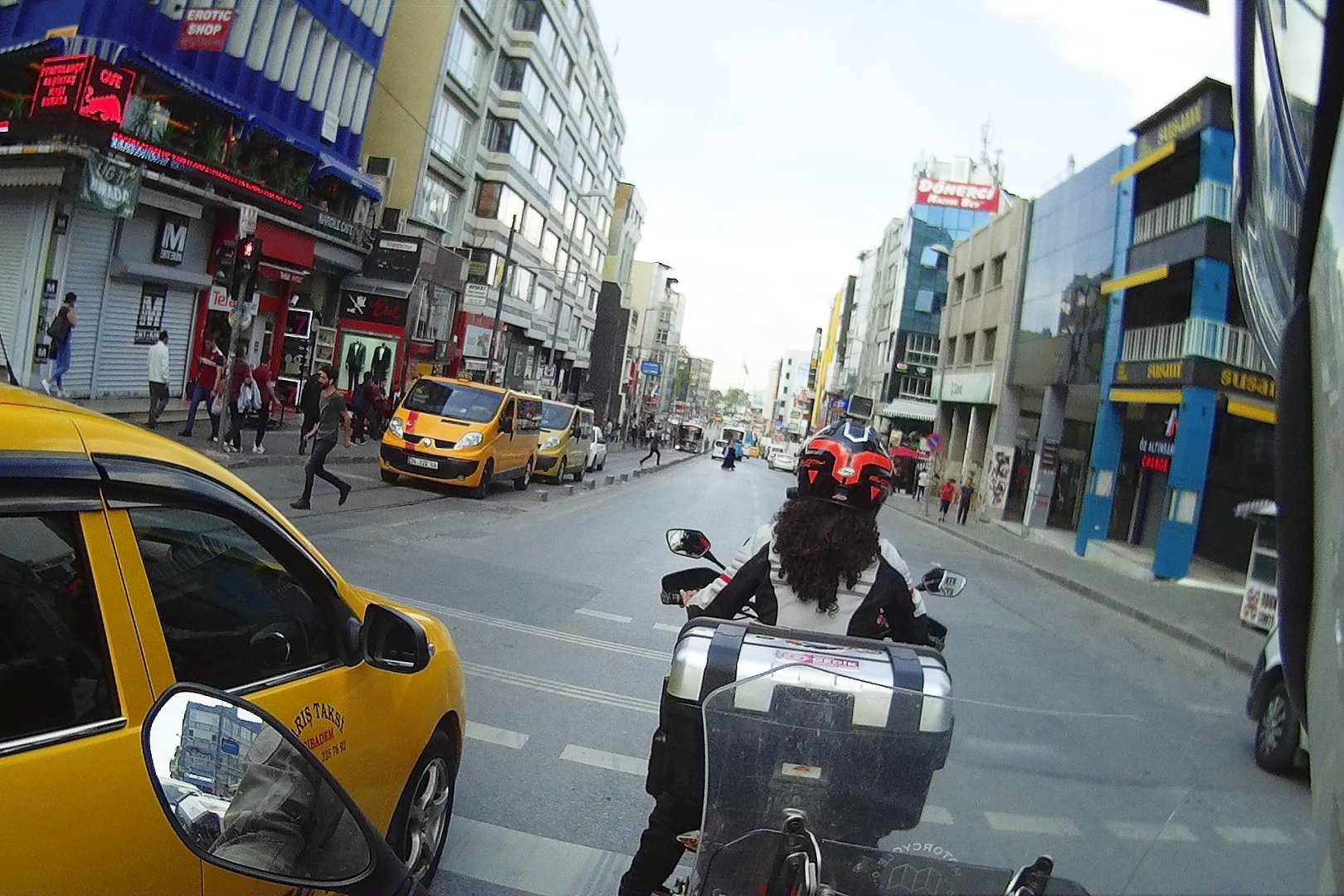 There was a lot going on! Chillie and I got some media attention. We caught up with journalists near the iconic Kiz Kulesi (Maiden's Tower) which sits on a tiny island in the inlet between Bosphorus and Üsküdar. Regarded as floating between the two continents of Europe and Asia.
It was a great background to be just natural like that 😉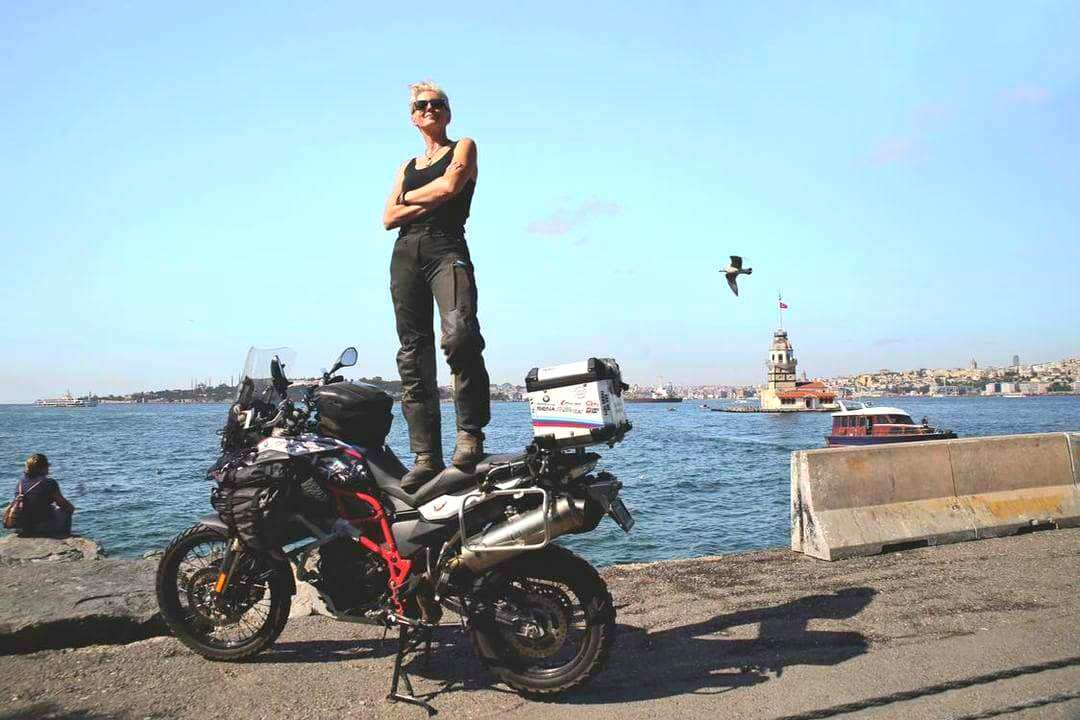 There's always time for selfies!
The next stop was Touratech where I received a very warm welcome! The guys did a top job servicing Chillie's forks and she was once again bouncing like new.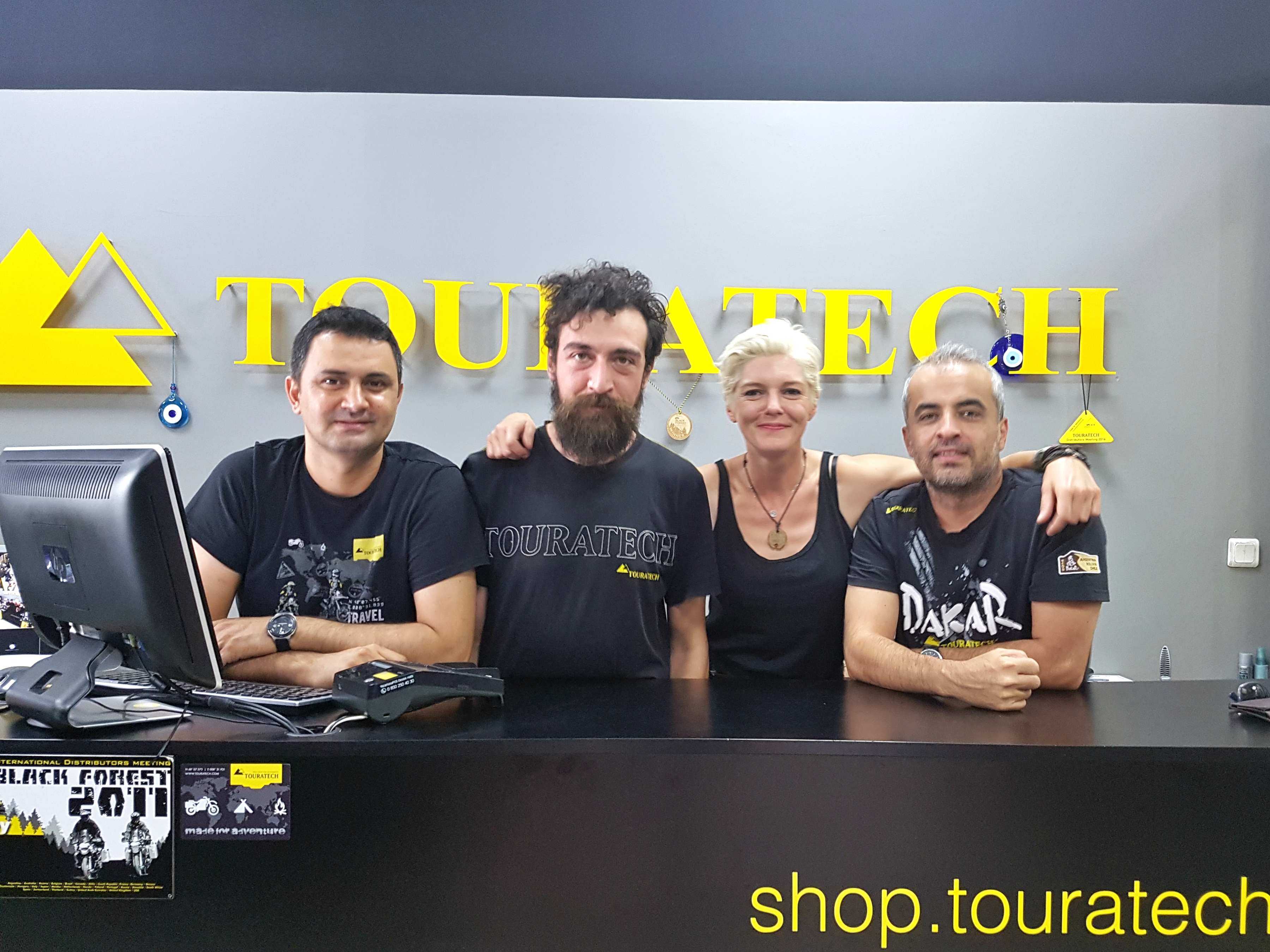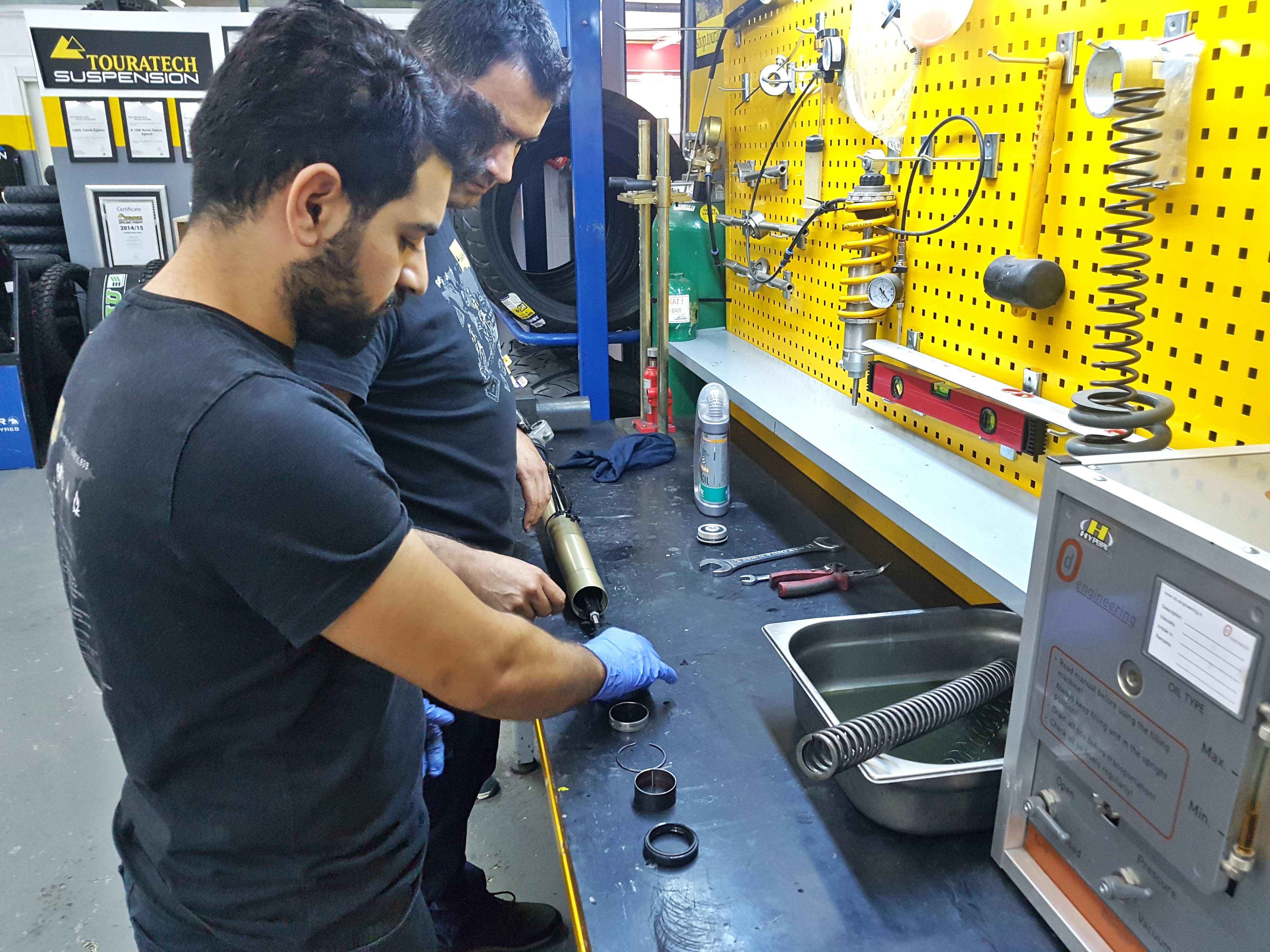 We didn't waste our evenings either… we left our bikes at home and explored Istanbul by night…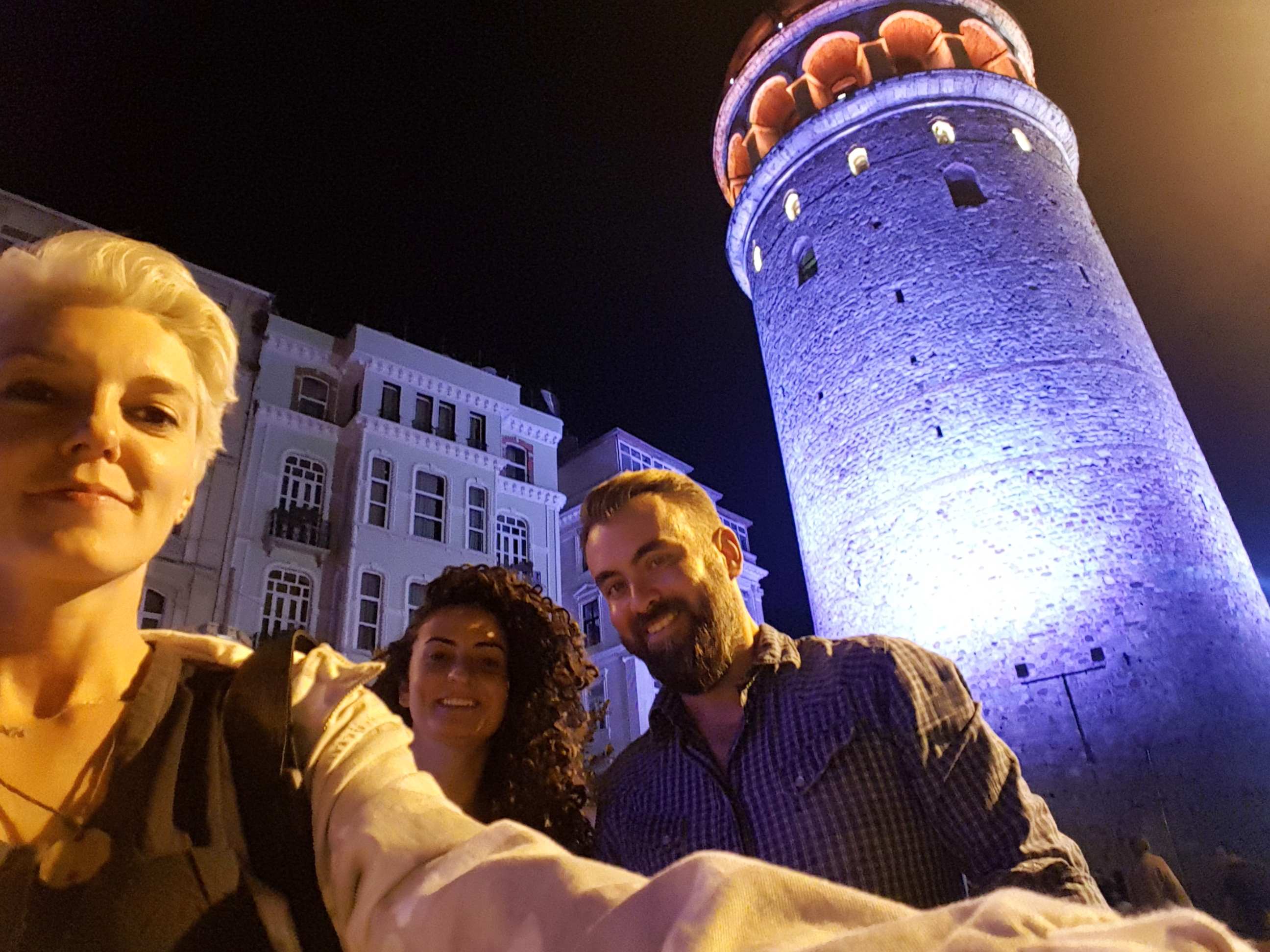 Ah, ha, ha, ha, stayin' alive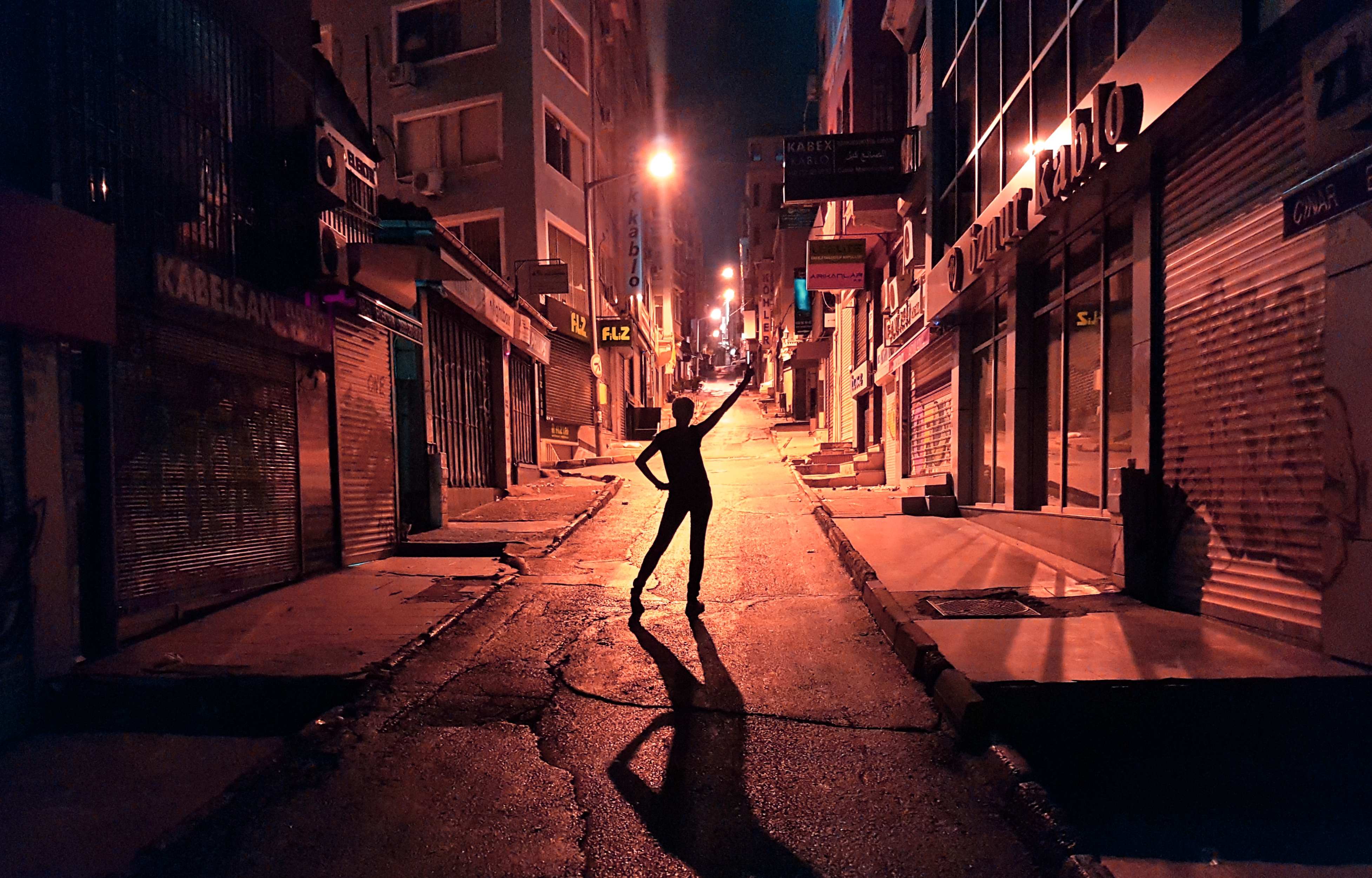 The Turkish are very welcoming – before I even entered the country I had 200 messages in my inbox with offers of help and invites to meetup. It was impossible to meet all of these people on the road, but I thought it would be great to at least do a little get together in Istanbul. Asil and Onur suggested the Rider Cafe in Moda. All morning people were coming and going and I got to meet some of the nicest and most interesting people with some truly wonderful stories.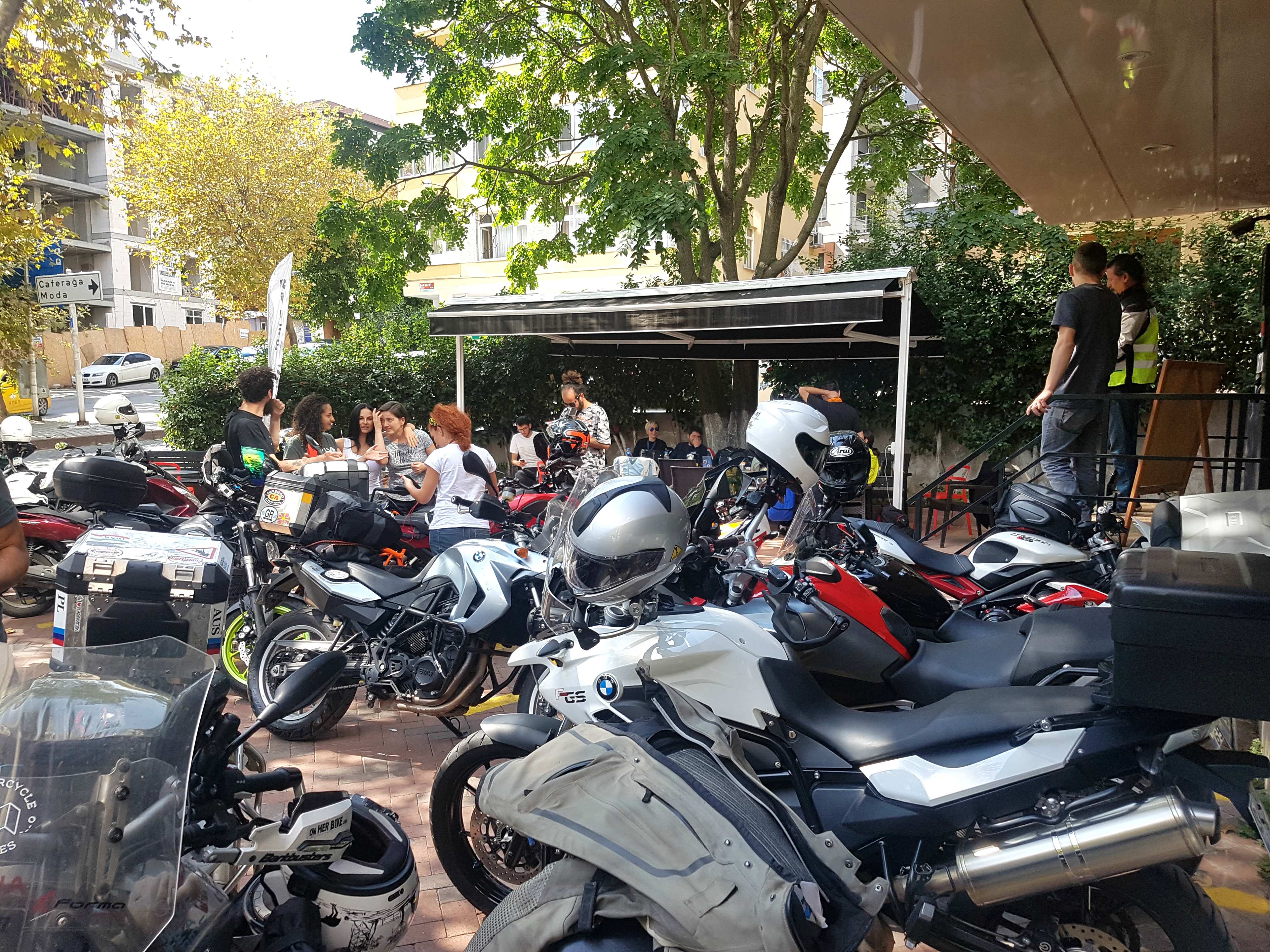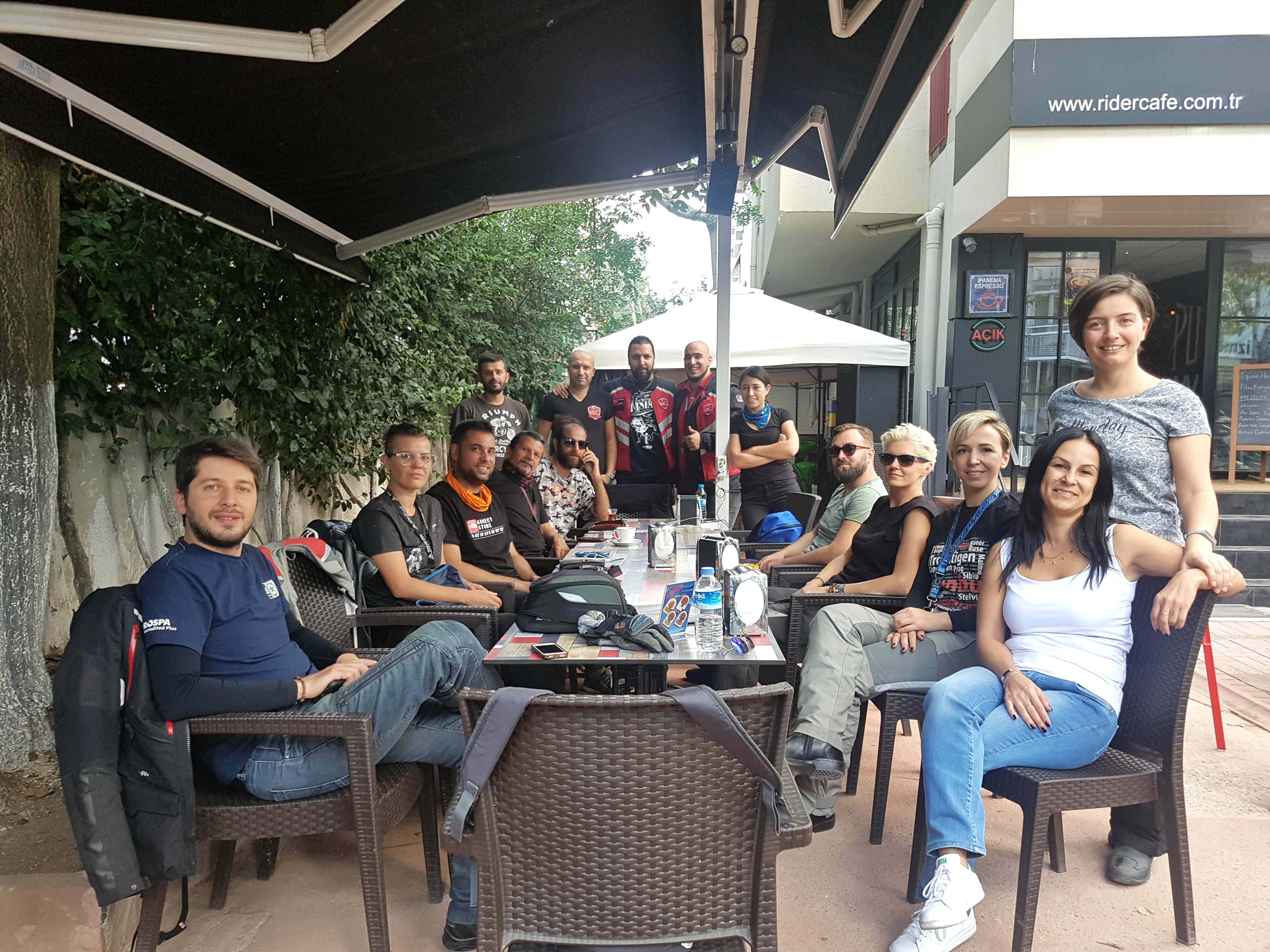 I also got my first haircut on Chillie. Seyyah Berber is a motorcyclist who cuts people's hair whilst travelling. Being about due for a trim I jumped at the chance to sport the latest in Turkish hairstyles.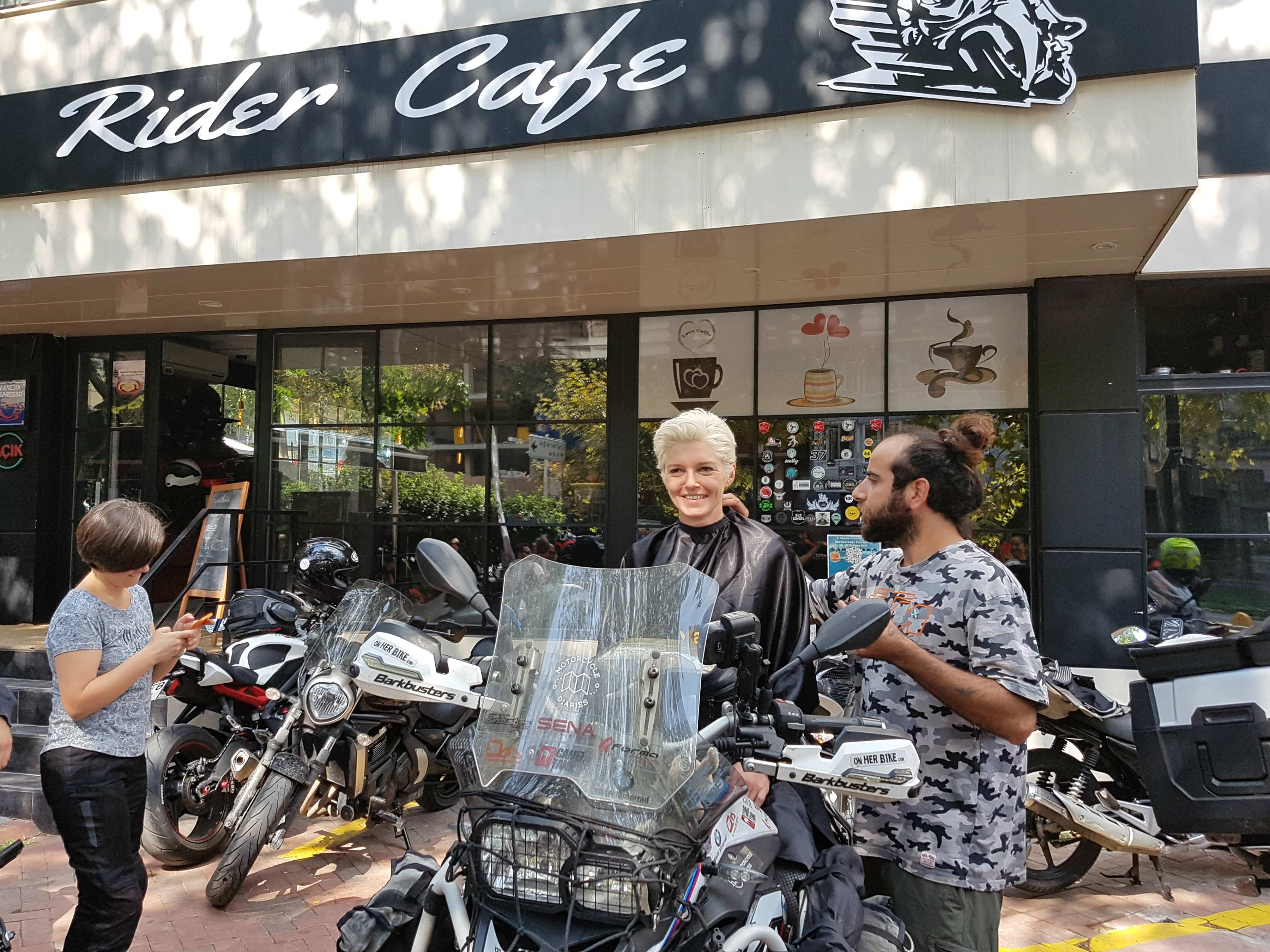 ​Summary
13 days in Turkey wasn't nearly enough and due to Chillie's hiccups I didn't get to see all the locations I had wished to see. But I'll be back and next time round I'll make sure not to rush through.
Turkey spoilt me with kindness and hospitality. In a way it reminded me of Iran but the hospitality here is a lot more European in nature. I made friendships here that will last a lifetime and to all of you whom I crossed paths with in this beautiful country, I would like to say thank you – you all made my stay there unforgettable. So I'm not saying goodbye but see you later 😉
In Numbers:
Duration: 13 days (12- 25th September 2017)
Total km's: 2613