Ukraine, Moldova, Romania, Poland
My first stop in Ukraine was Kiev where I stayed for around a week. After such an intensive social time in Belarus I desperately needed to have some time on my own and to catch up with my online work. In between I did manage to explore the city on my own, mostly on my bike. I visited Kiev Pechersk Lavra an Orthodox Christian monastery. The complex has a long history, it's listed as a UNESCO World Heritage Site and it's one of the most popular sights in the city.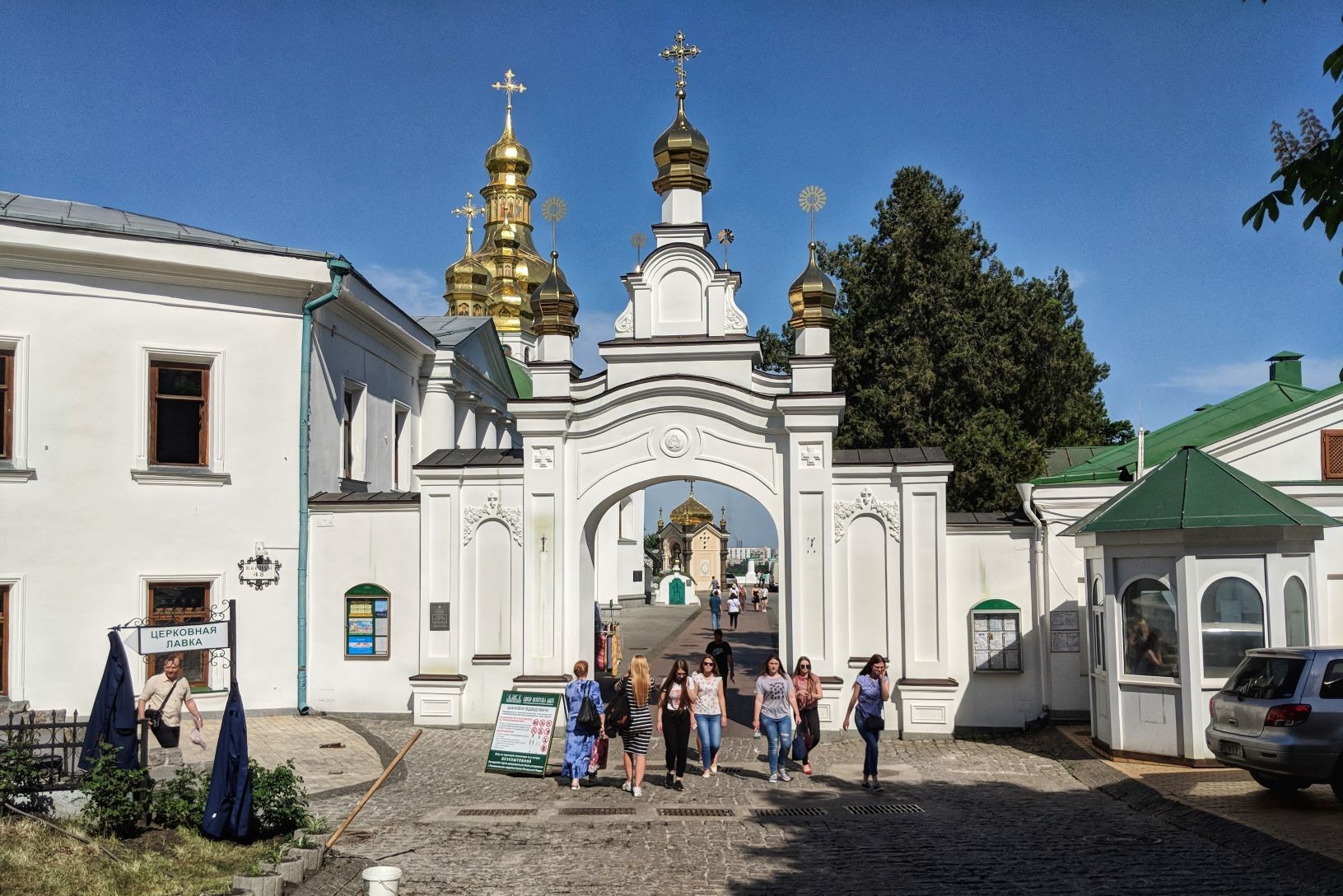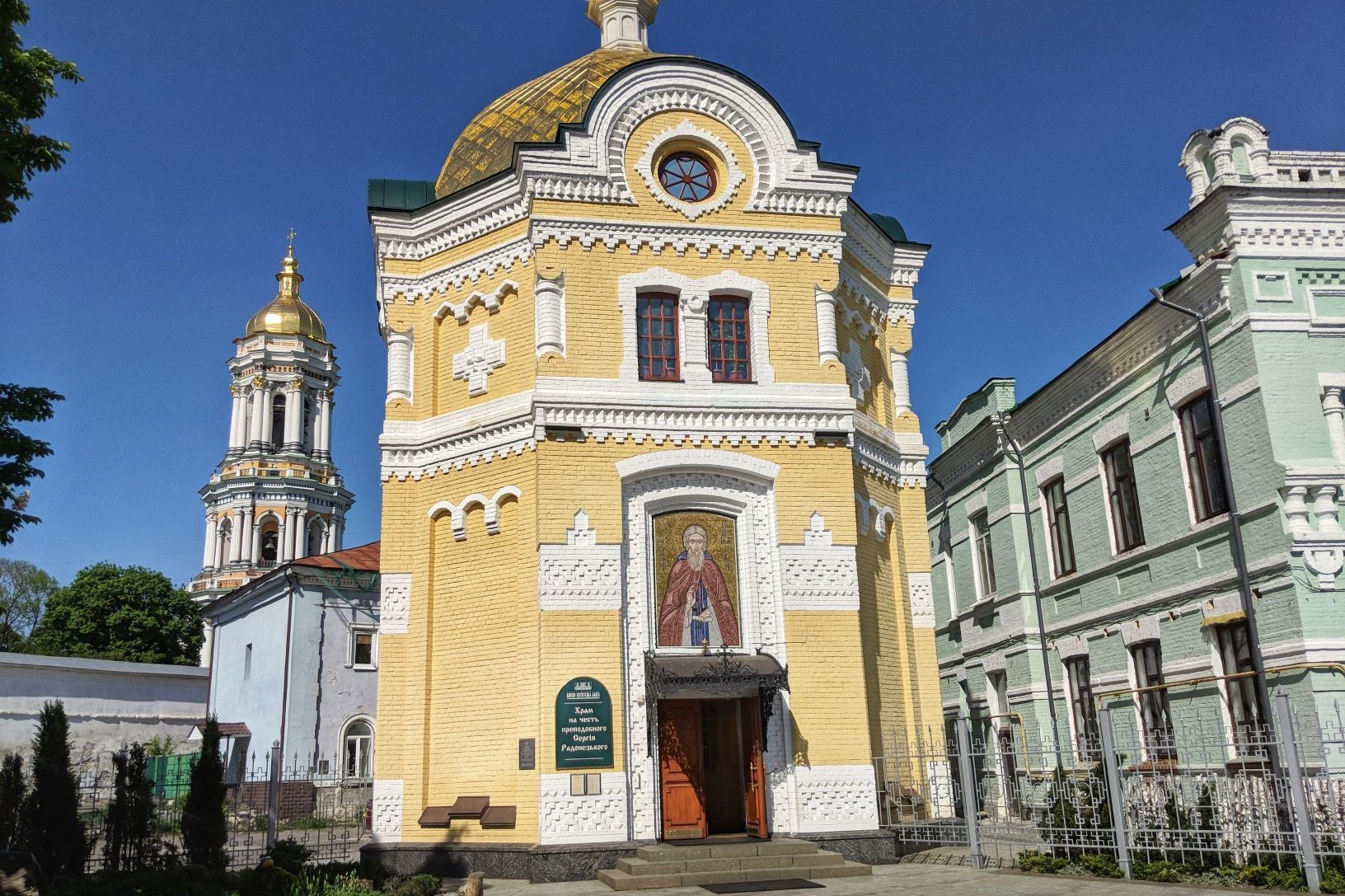 After one week I got itchy feet again and I just couldn't wait to get out of the city. My plan was to reach Odessa in a couple of days, but first things first, I needed to camp! I rode for 300km, a mixture of paved and unpaved roads in the direction of Odessa and stopped at the Kremenchug reservoir.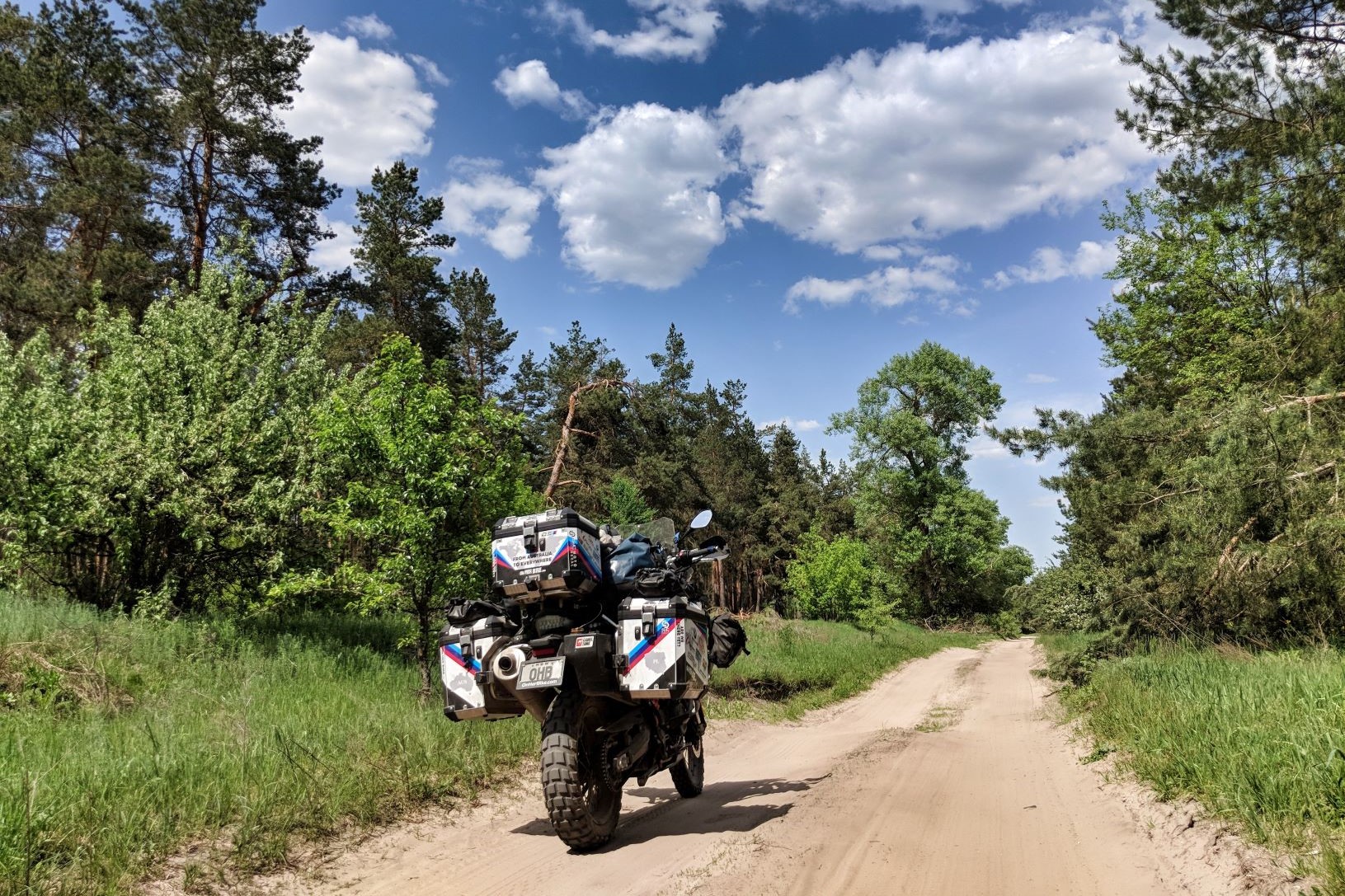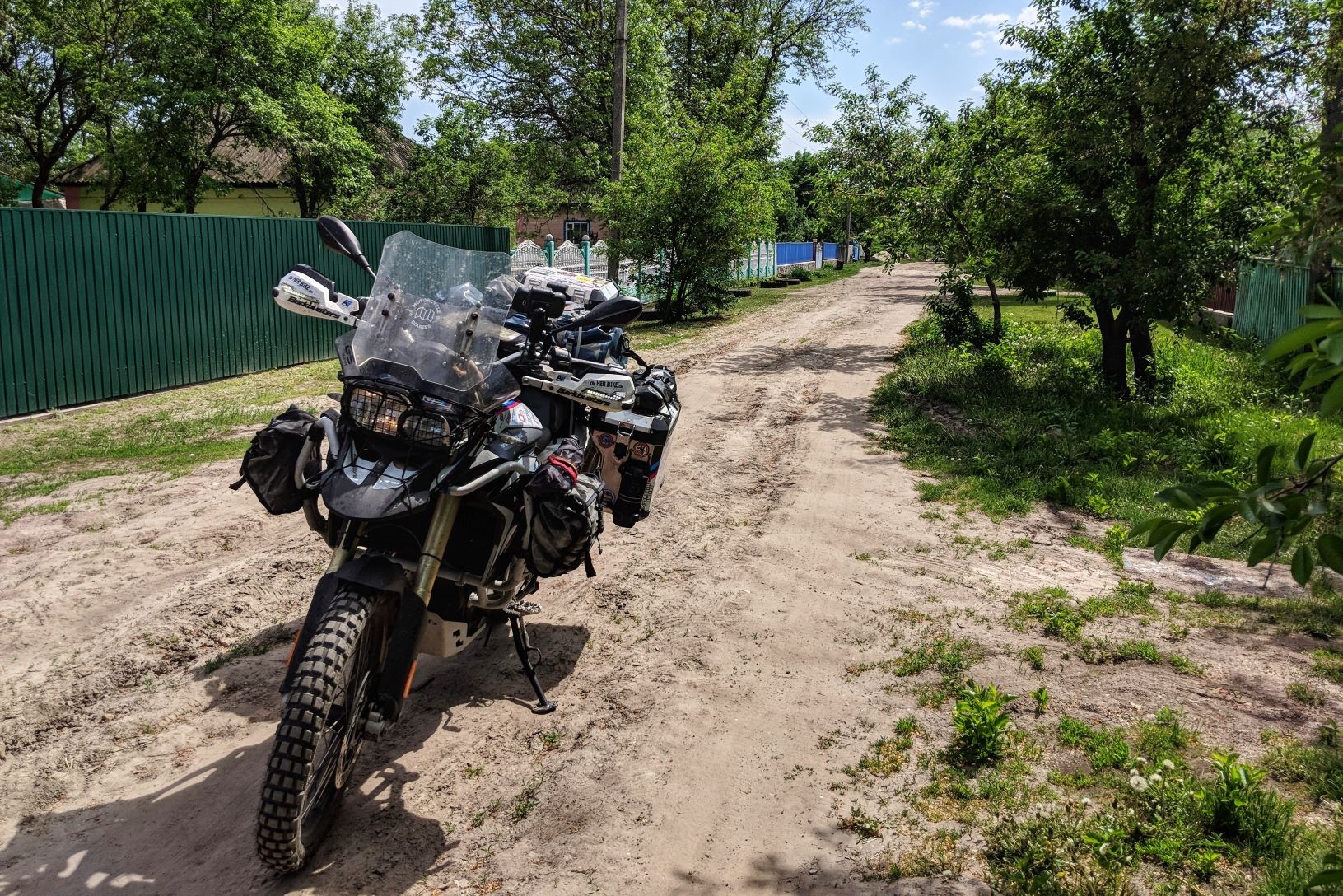 I was looking for a wild camping spot for a while and finally managed to find a good position next to a government fish farm located in a lake. There are no such facilities in Poland or Western Europe so I was quite surprised to see such a place. So the way it works is, the fishermen are employed by the city authorities, they come here every morning, go out on their own boats and catch fish. At the end of the day they weigh in and get paid for their catch.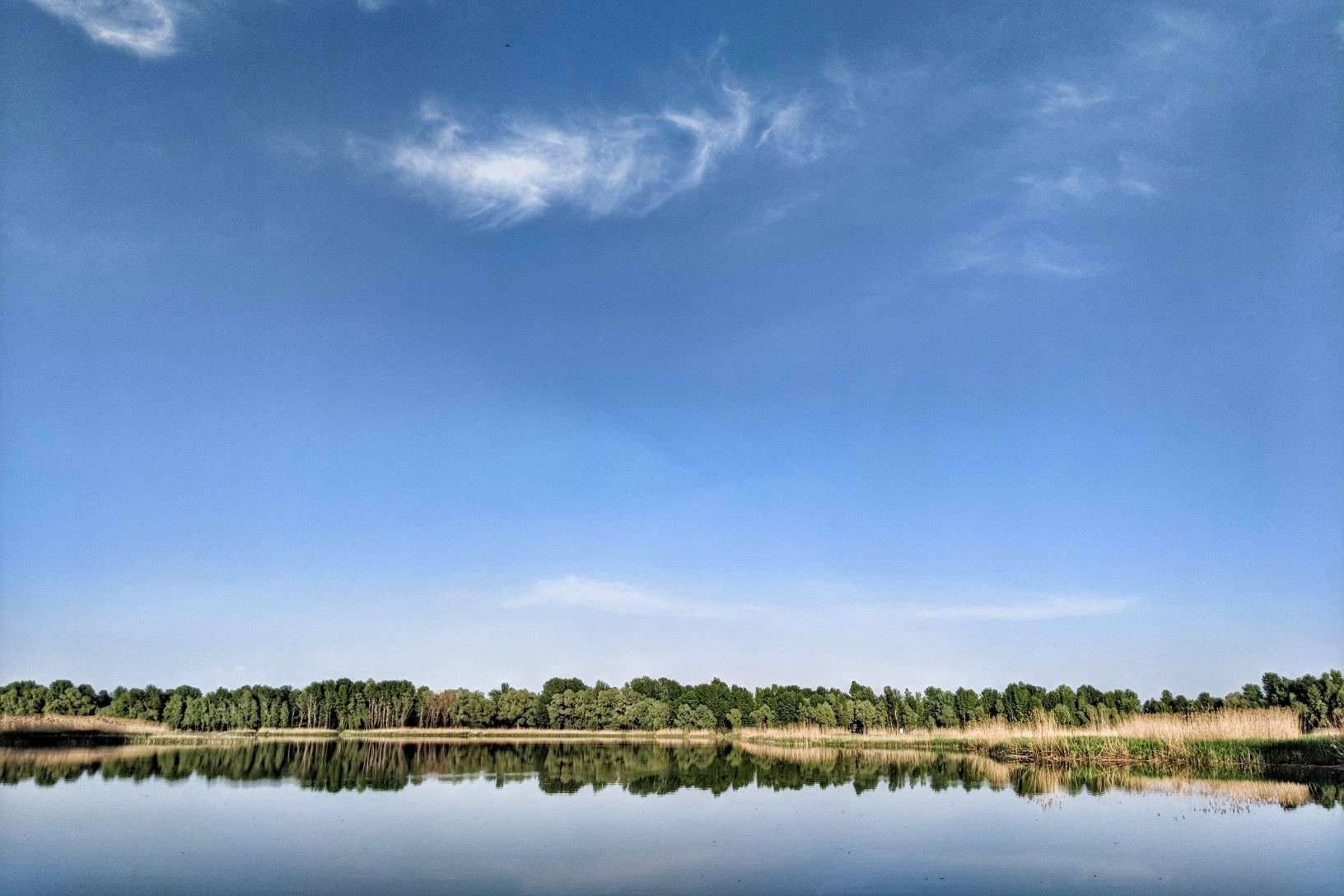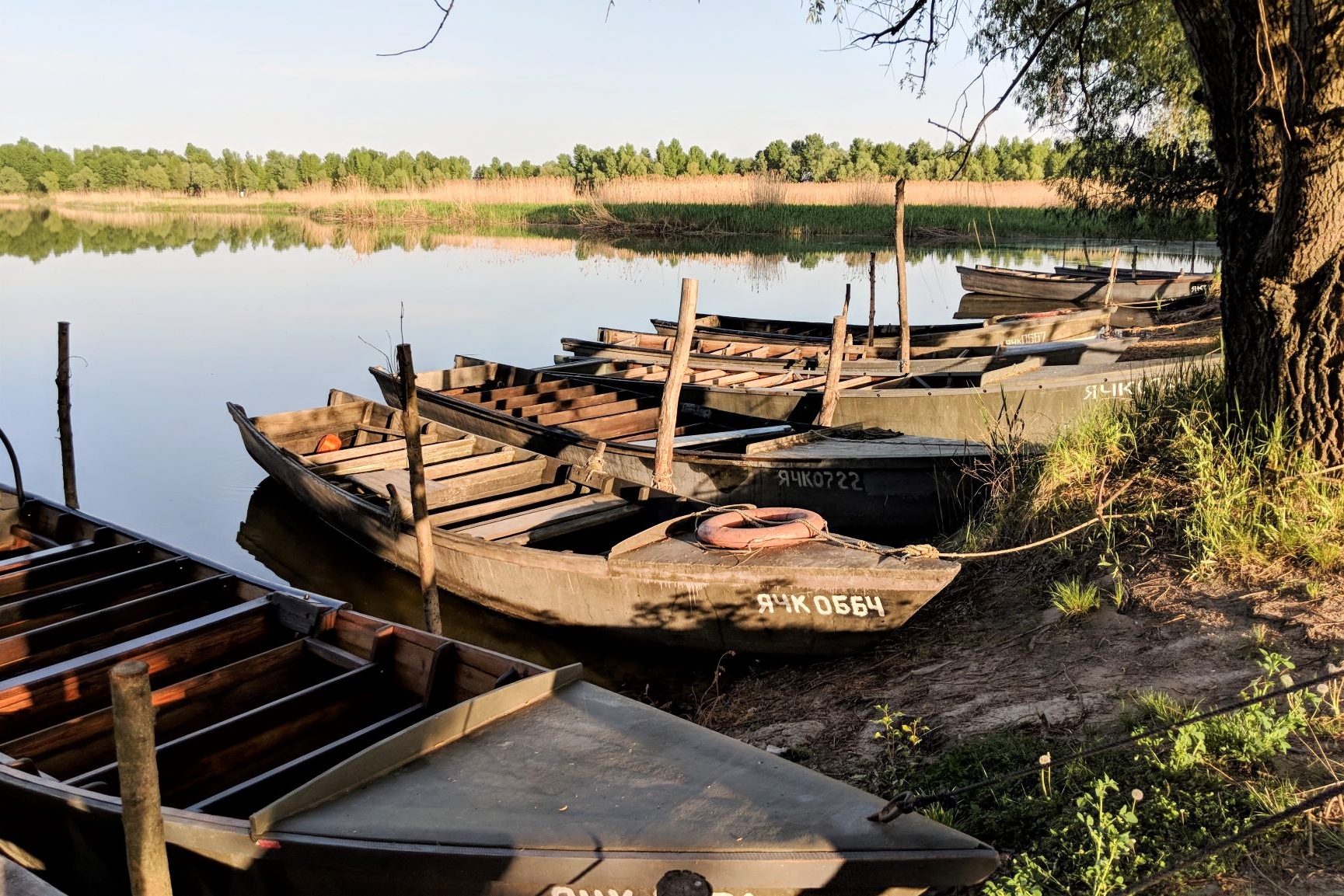 The security guard only let me in to show me the fishing facilities, but he wouldn't let me sleep on the property. "You can set your tent up outside the gate" he said. And that was good enough for me…
It was such a lovely spot. I went for a swim and stretched my legs. That's the life for me.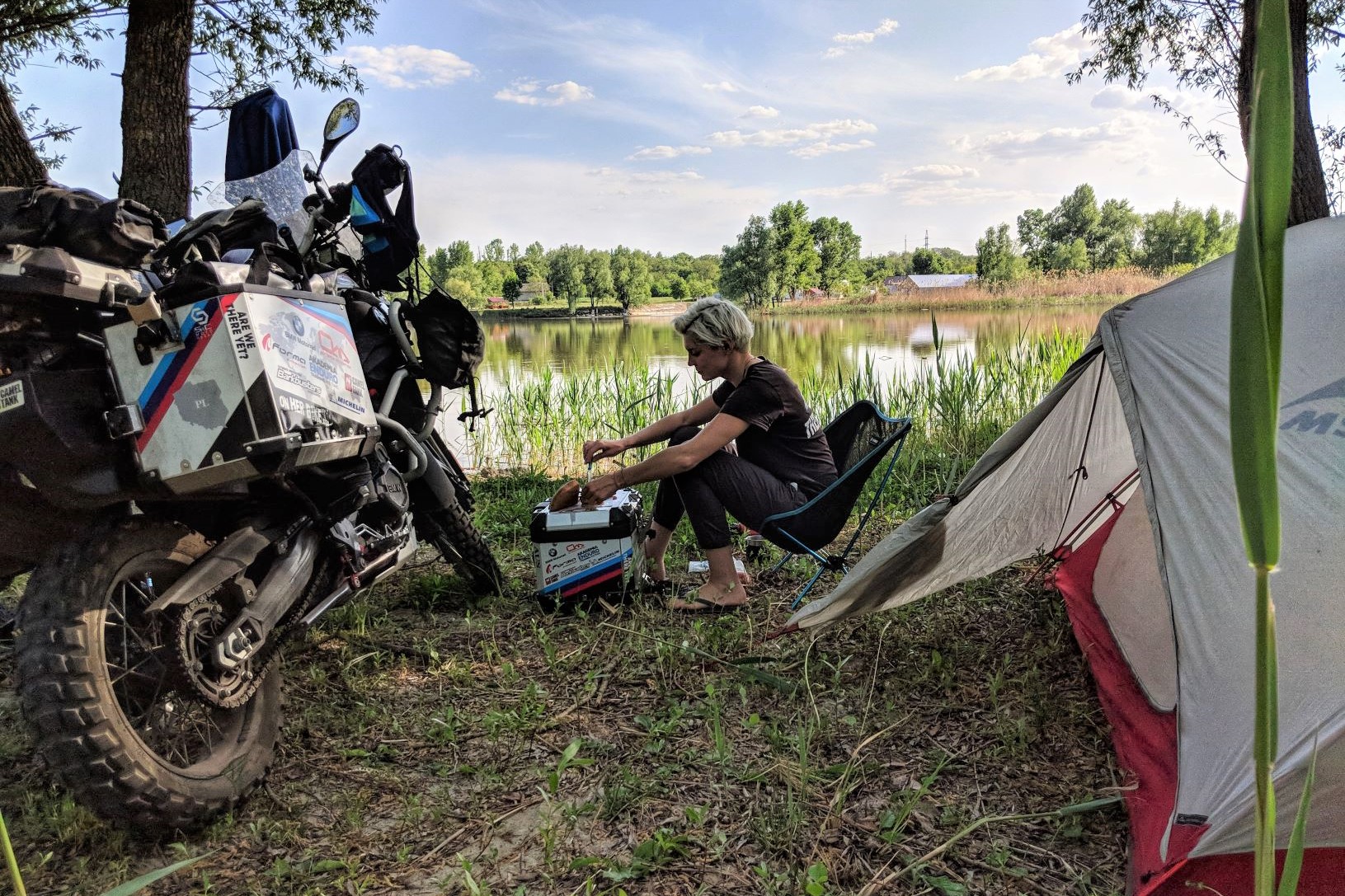 In the morning I headed to Odessa, I still had 450km to ride. For the first hour I was taking some shortcuts though the villages, got lost a few times, but hey, I can't complain, I love travelling through places like these…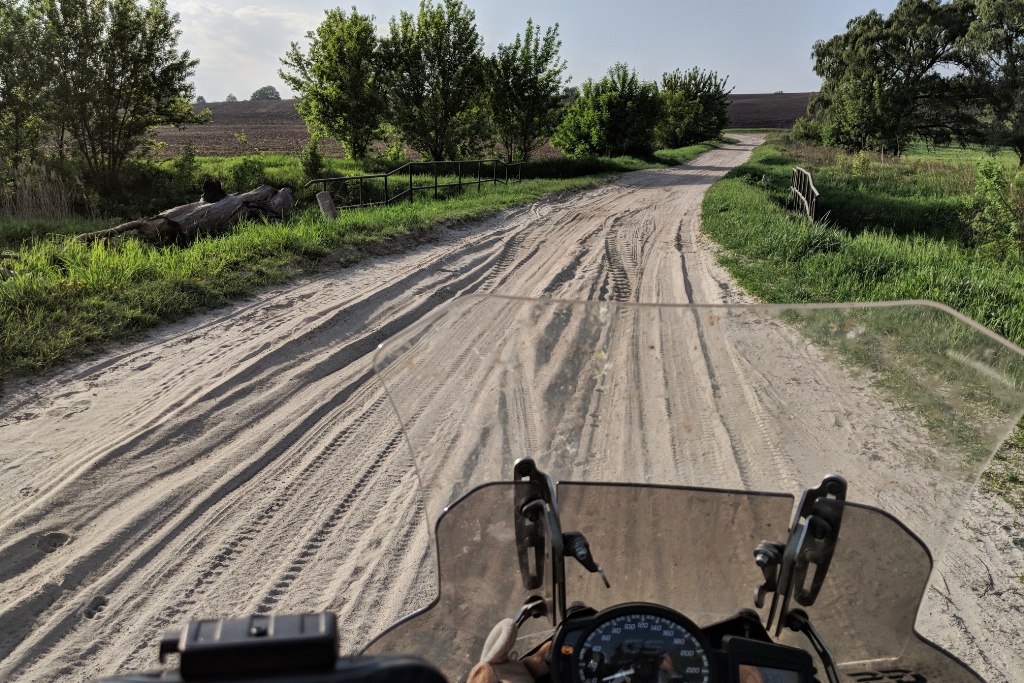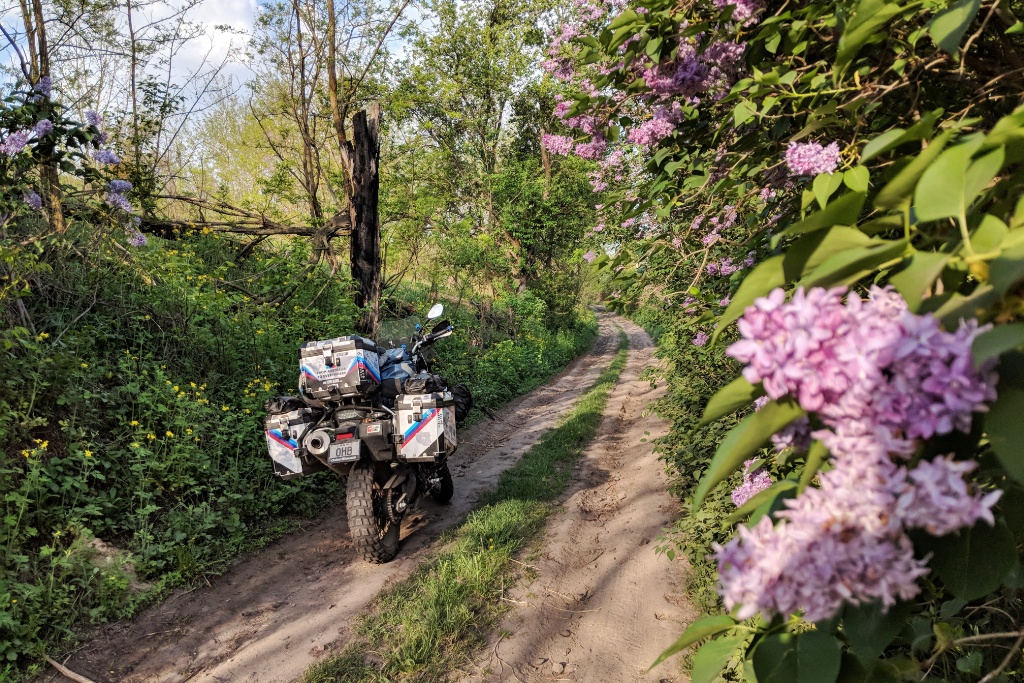 The unpaved roads are sometimes in better shape than the main roads. The majority of roads in Ukraine are in bad shape. Riding long distances here can be very tiring as you have to stay alert the whole time.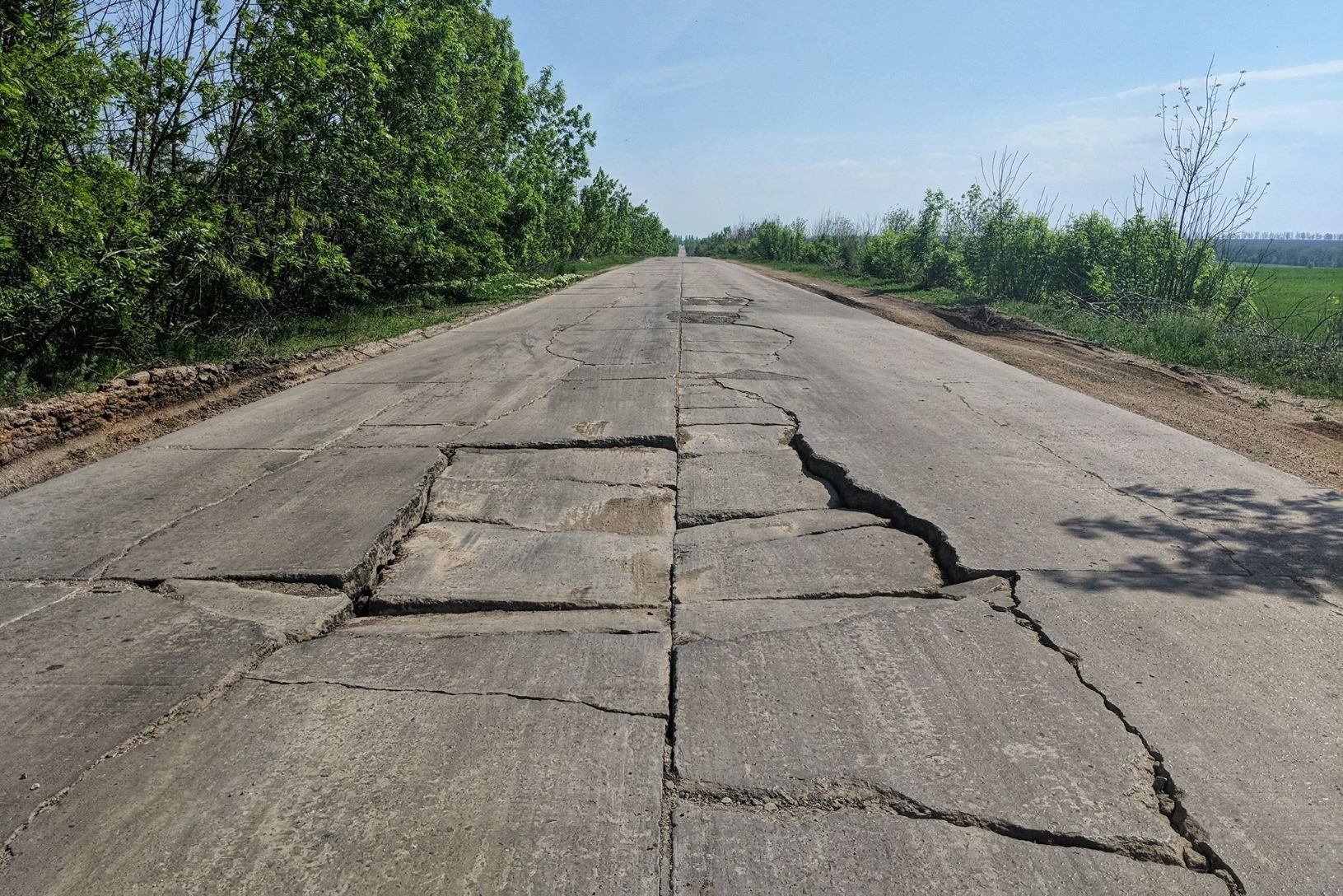 And suddenly out of nowhere I see a turtle in the middle of the road! I thought that he was lost and belongs to someone, I was like: "Wow, how did you get here?" There was a guy next to the place where I was parked so I went to him and showed him the turtle: "Is it yours?" – I asked. He looked at me like I was out of my mind "No" – he said. I thought maybe I should bring the turtle to Odessa and give it to someone. How was he going to survive the winter? But on second thoughts I didn't want to put him through the torture of being enclosed in my tank bag for 300km of bumpy road. I had to put this cutie back in the bushes "See you later, turtle!" Later on in Odessa some locals told me that these turtles are native to Ukraine and there are quite a few of them living in the wild.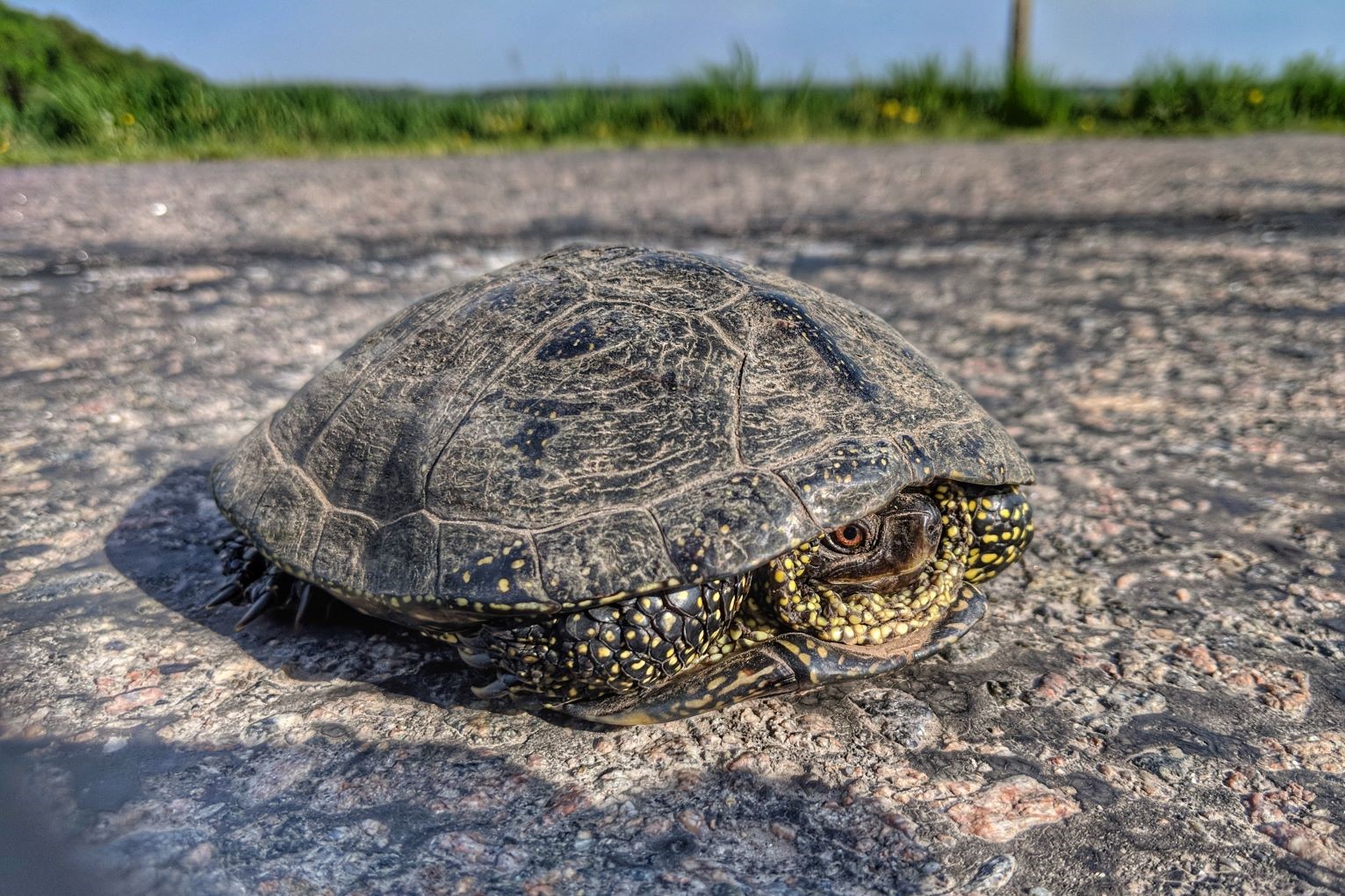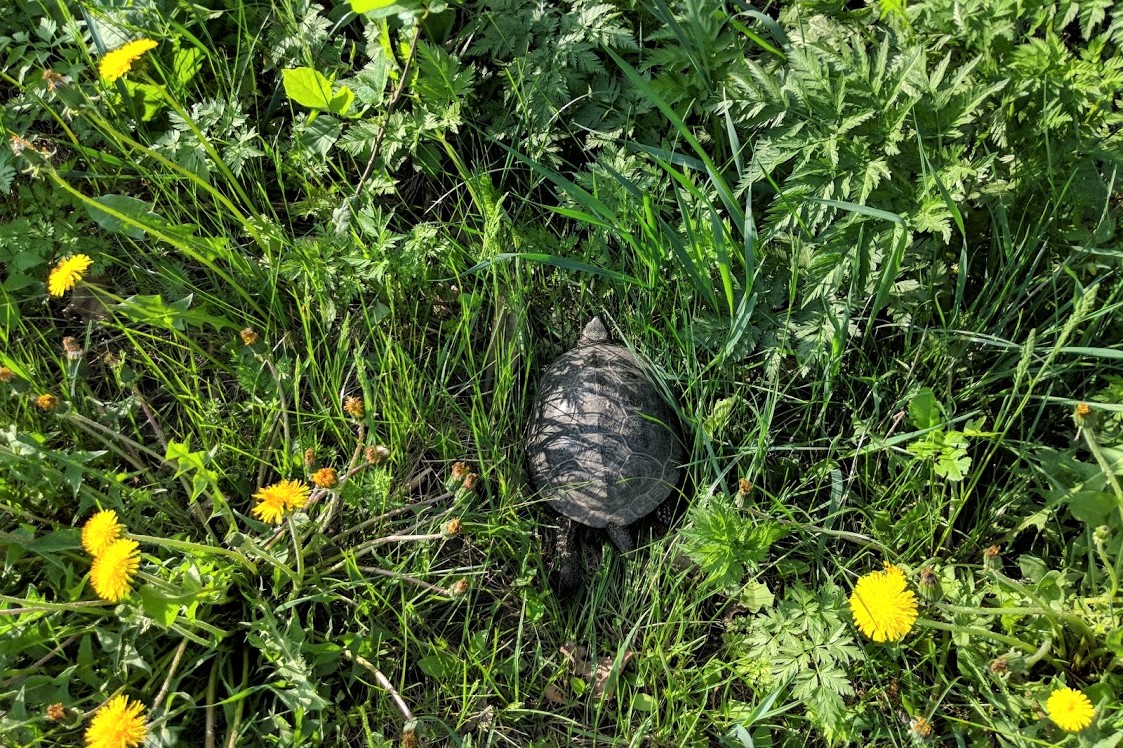 Odessa
Sardar and Yana contacted me via Instagram earlier on, with an offer of hosting me. Sardar is originally from Turkey, he moved here years ago to study medicine and met his girlfriend Yana. I was so impressed with Sarder's Russian and Yana's Turkish. They learnt each other's language as they fell in love.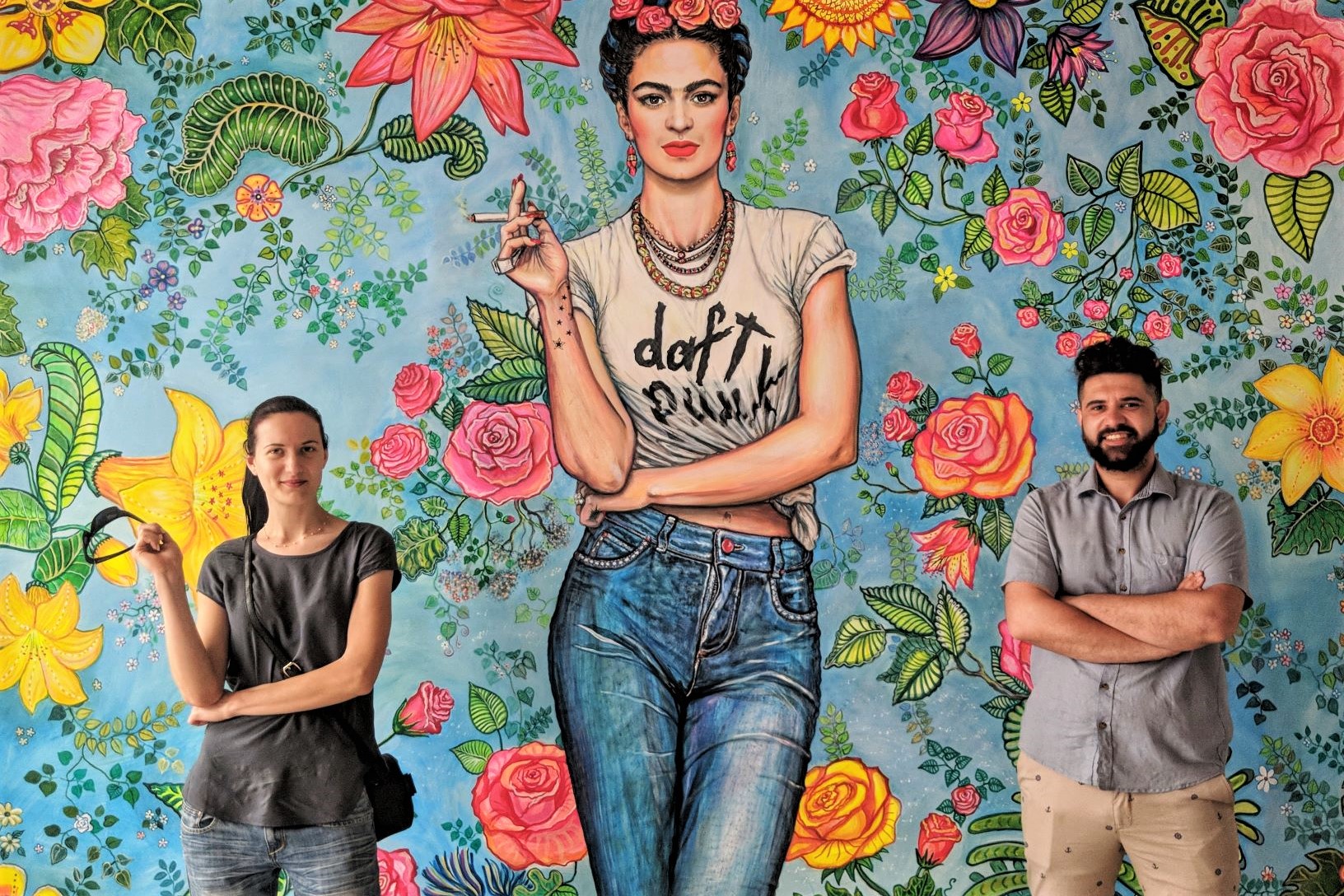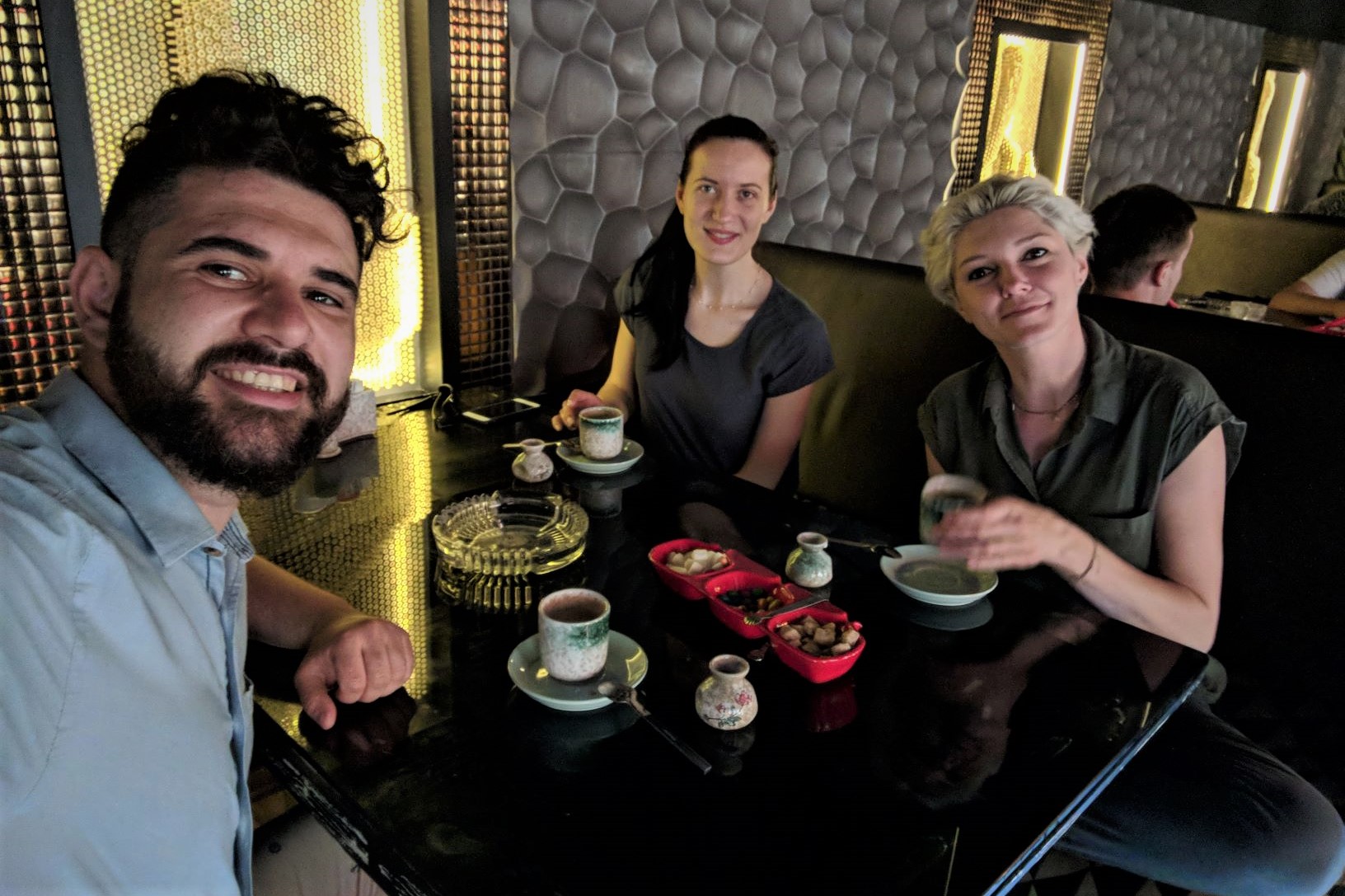 My hosts showed me around Odessa and I absolutely fell in love with it! Odessa is different from western cities where everything looks fresh and renovated. The architecture here is amazing, but still it's a little rundown due to the lack of funds for renovations. But the city creates such a great environment with a very special vibe.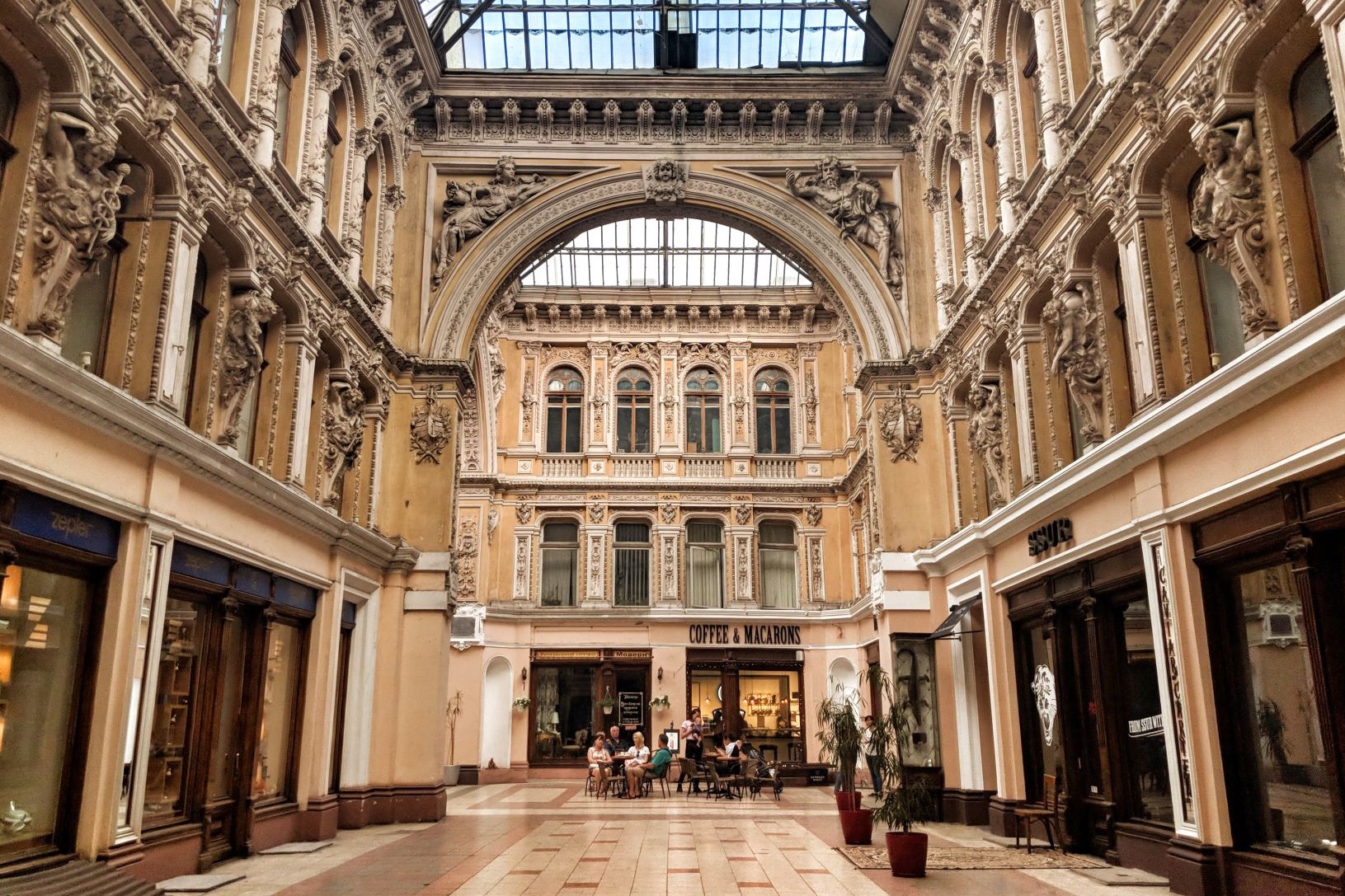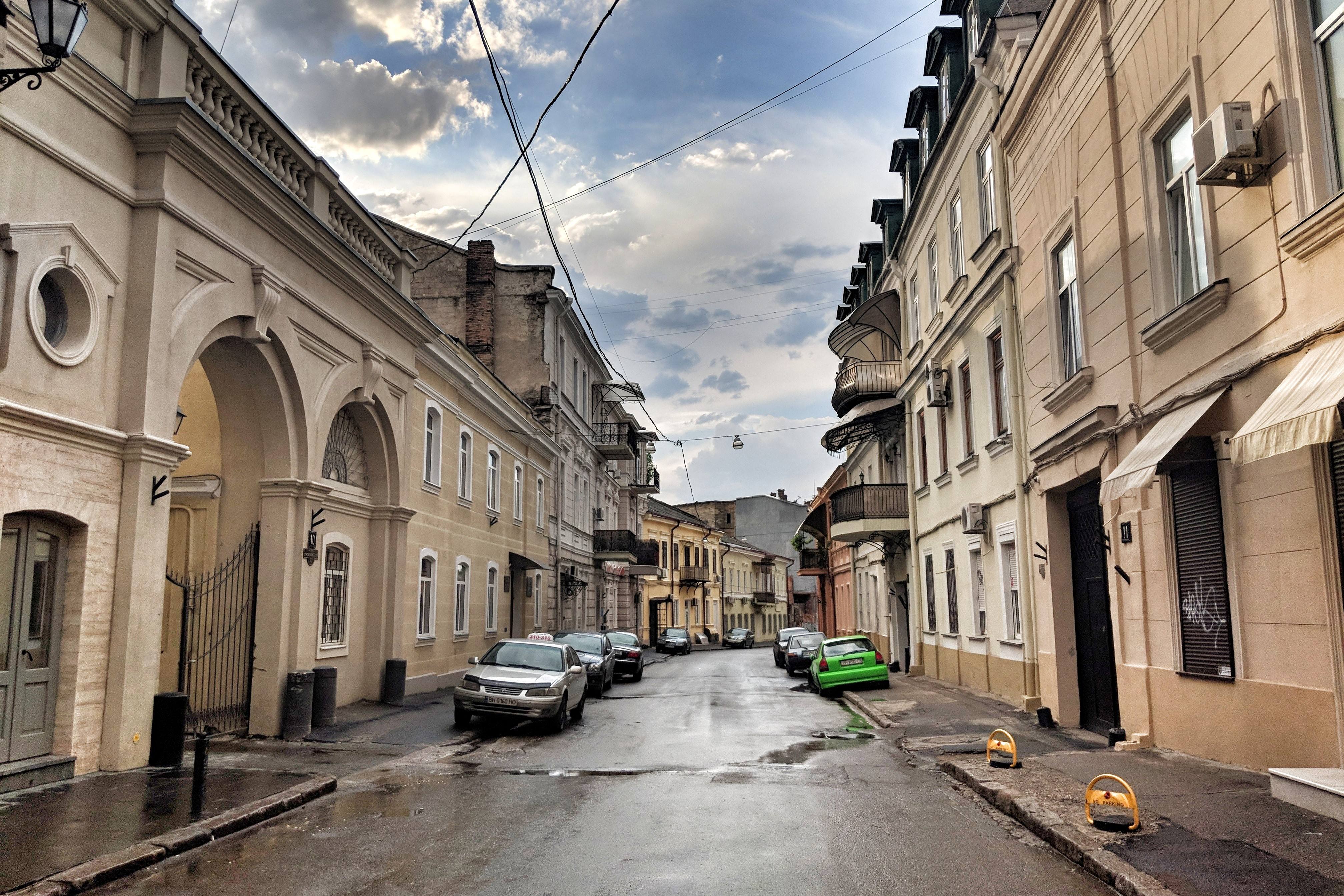 Finally my friends Gonzo and Wojtek that I'd been waiting for, arrived from Poland. The guys took a week off to join me for a ride, we didn't really have any concrete plans, so we just went with the flow and as it turned out we visited 4 countries during that week.
But first we had to explore some more of Odessa with Sardar. We squeezed in a lot of the iconic locations and learned a lot about the history of the town. The beach, the port and of course the most famous and best known symbol of Odessa The Potemkin Stairs …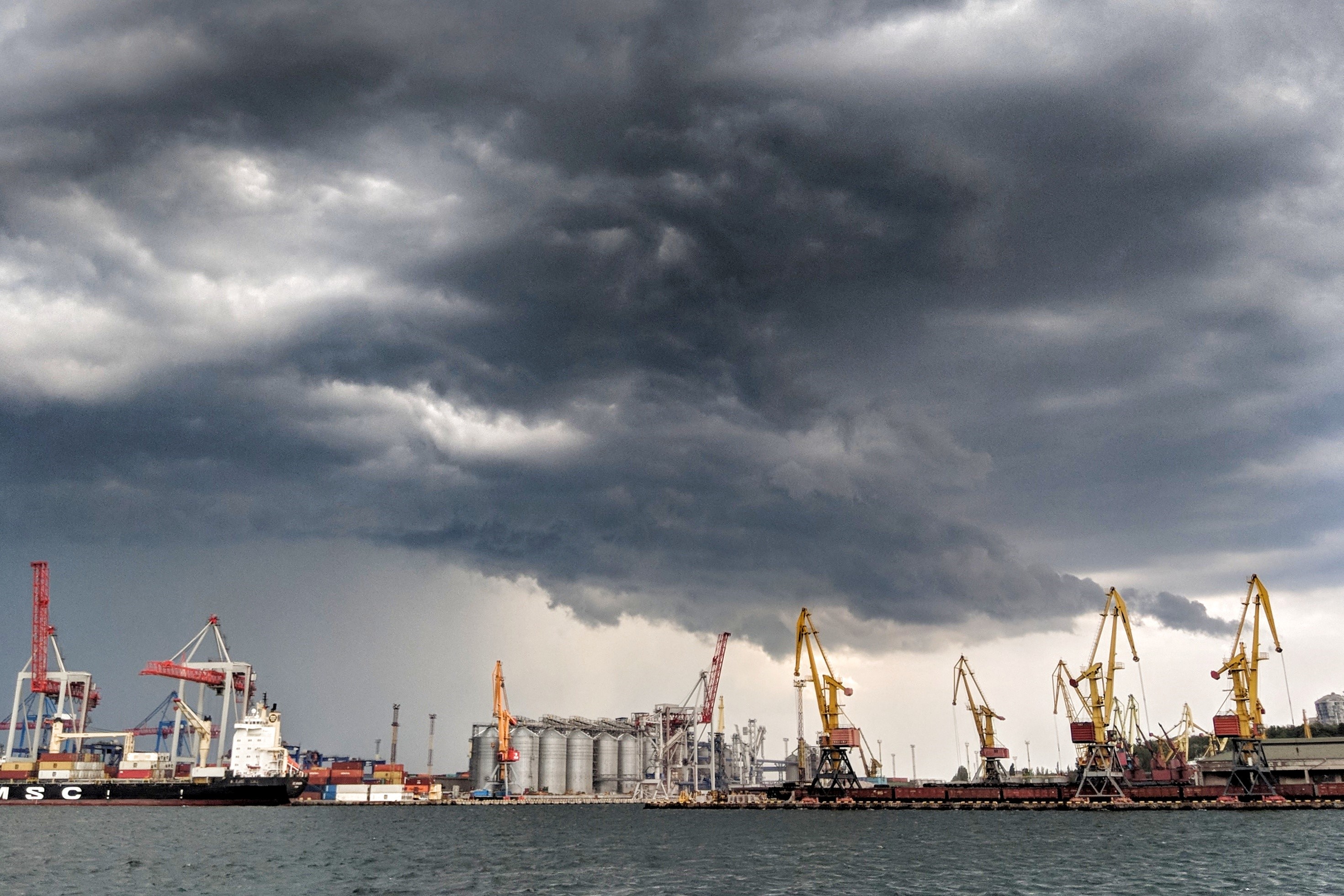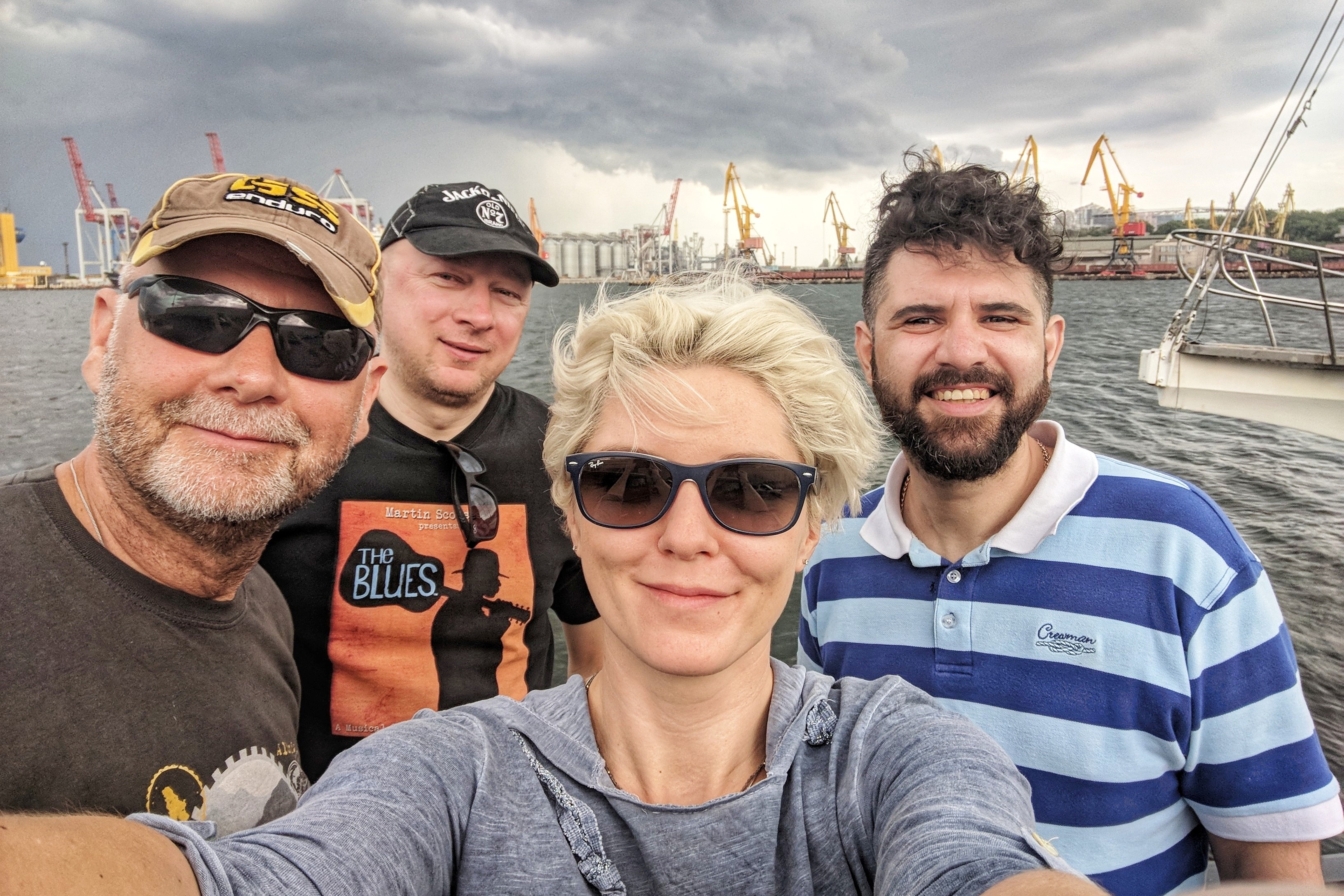 And in the evening we tried some local liqueurs as you do!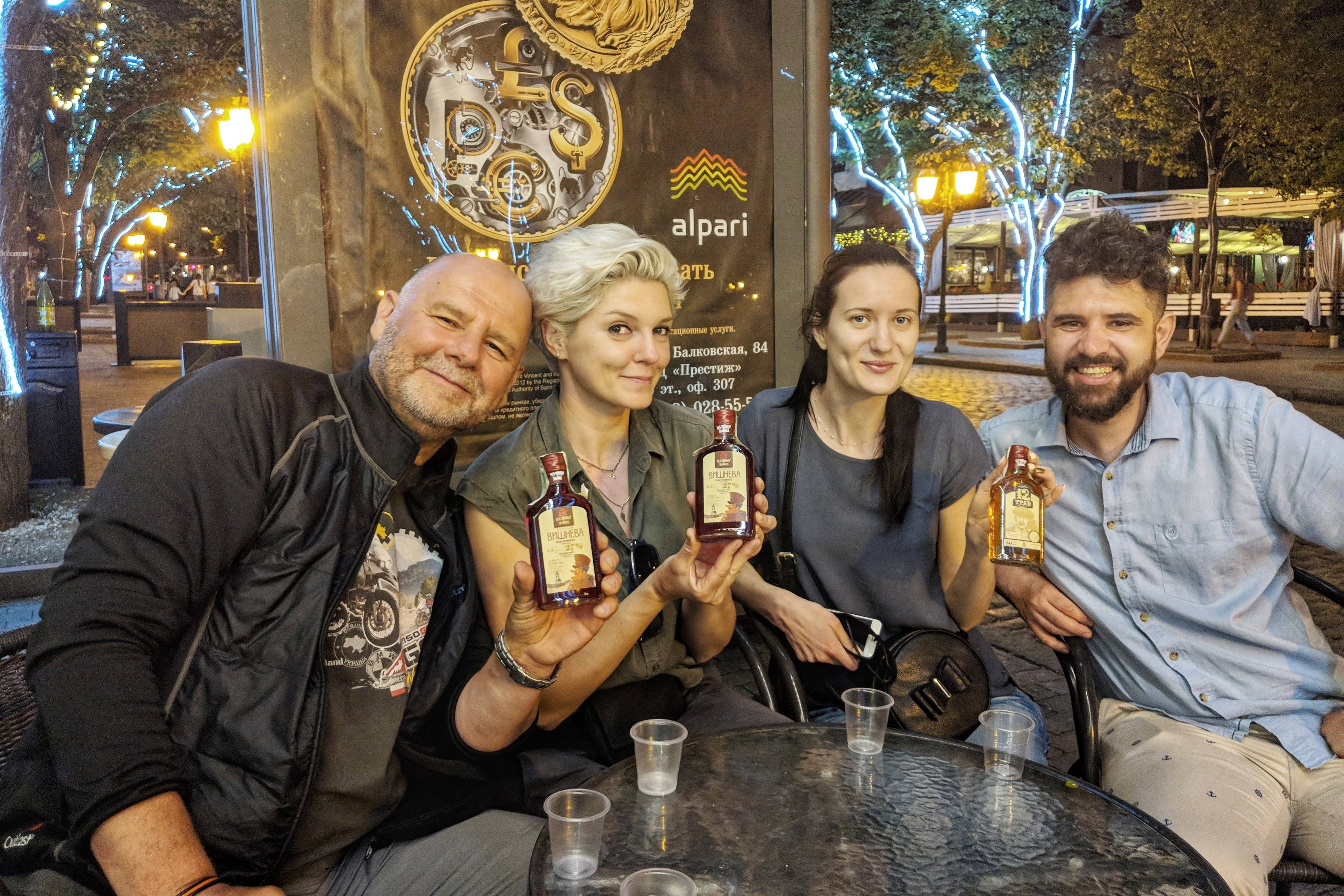 We left Odessa in the rain and we rode along the coast to look for a cool camping spot. It was April so most of the tourist places were still closed. But that worked out even better… we were totally up for wild camping!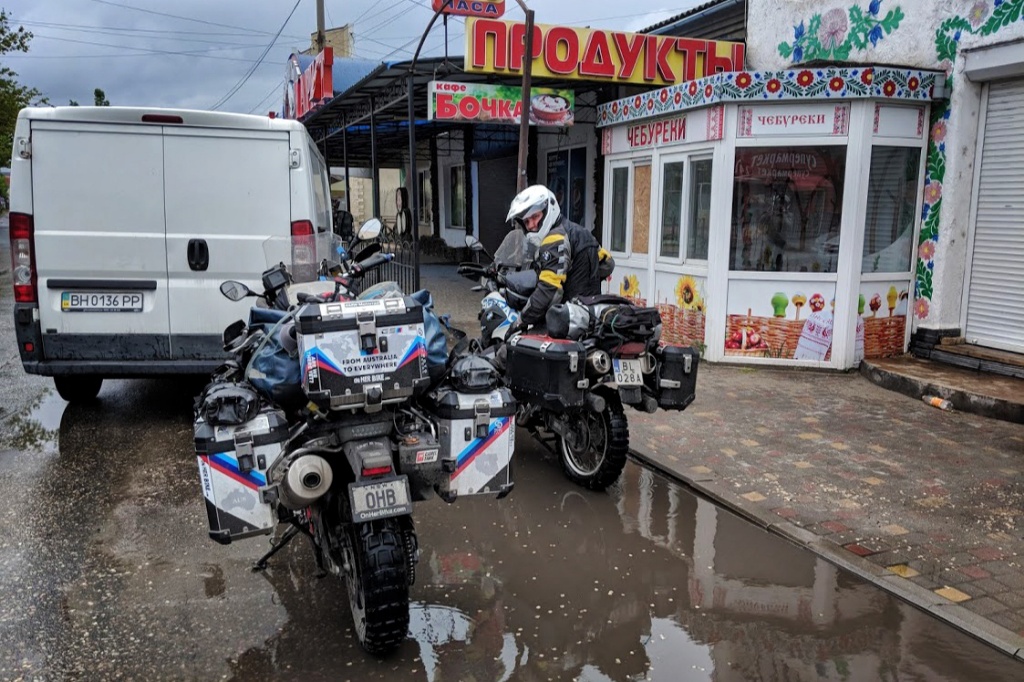 And we found one! On the beach!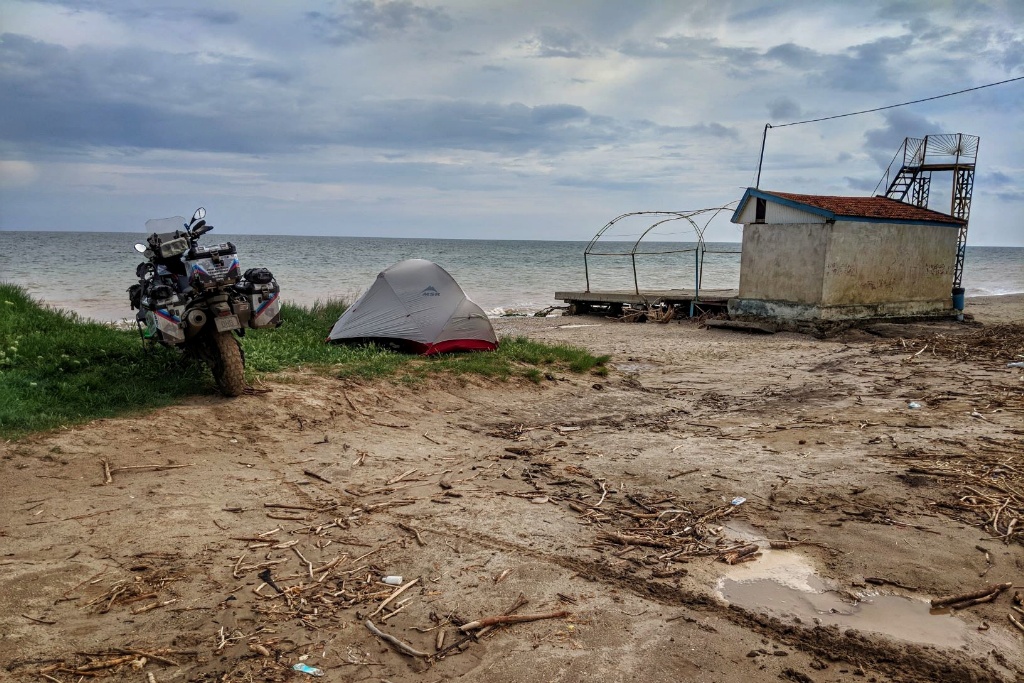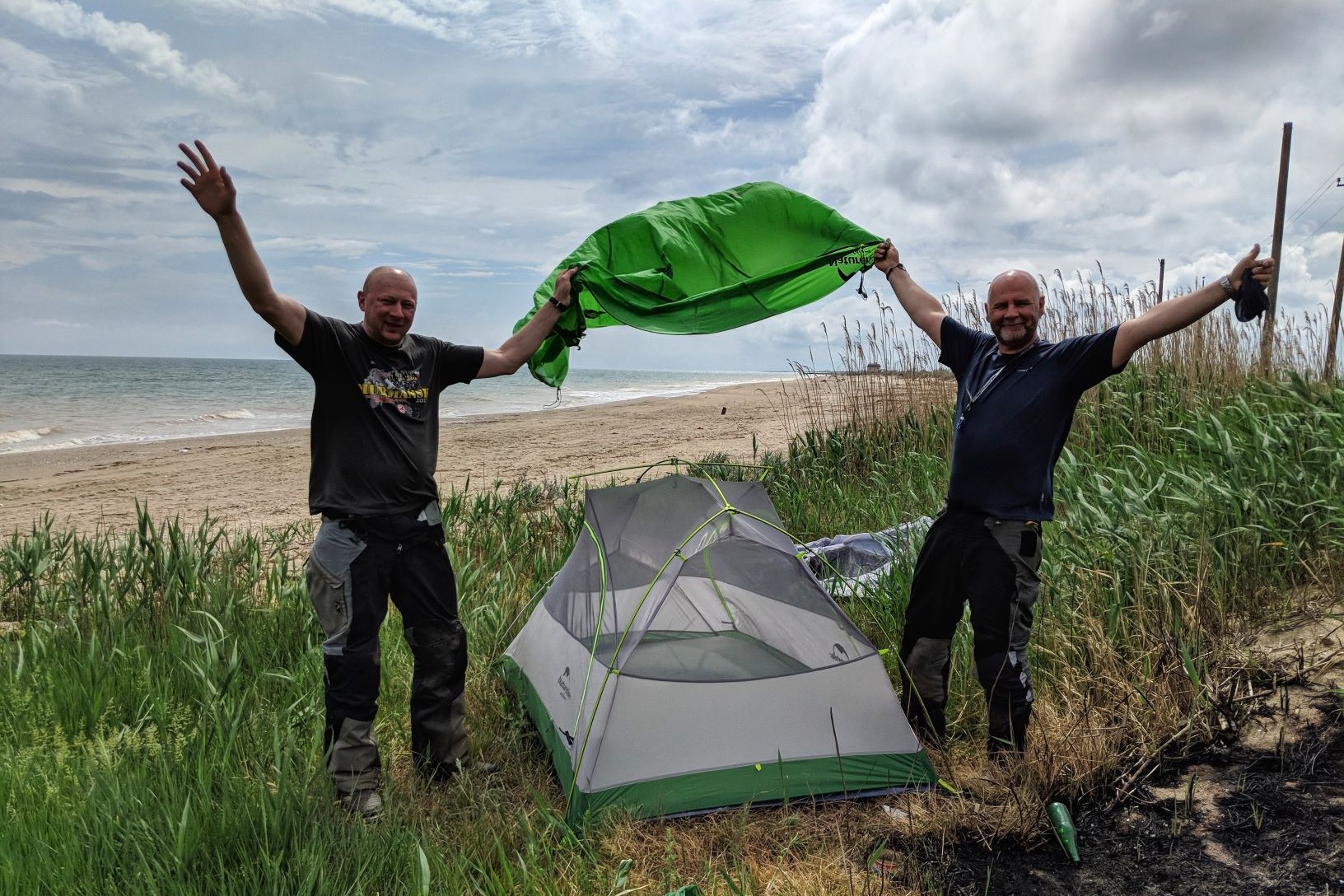 We set up our tents, had a fire on the beach, a few beers… Just perfect!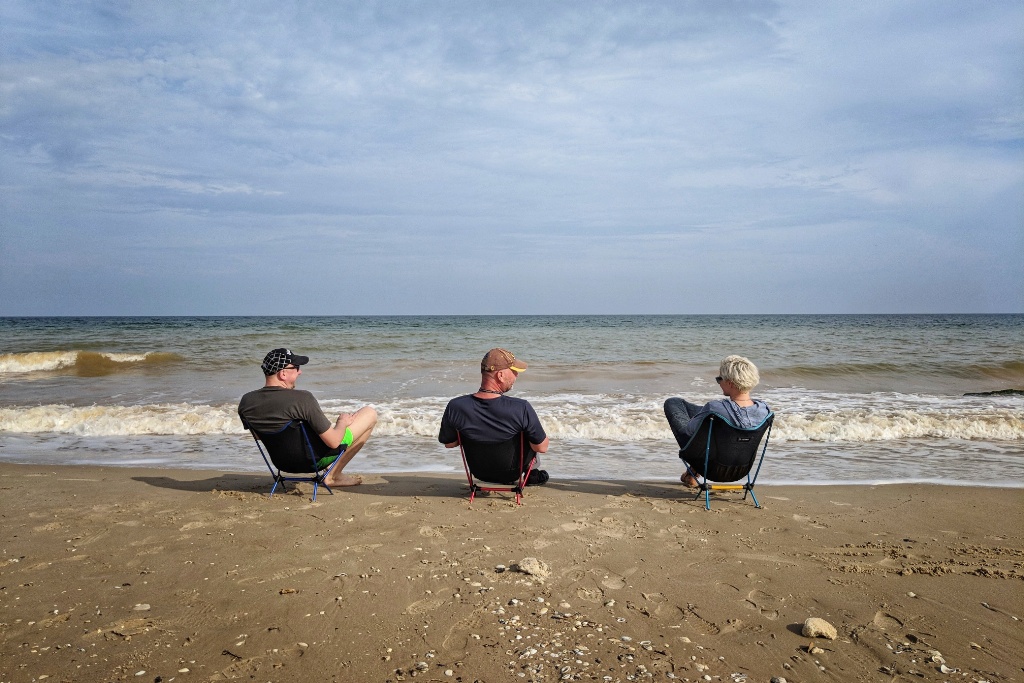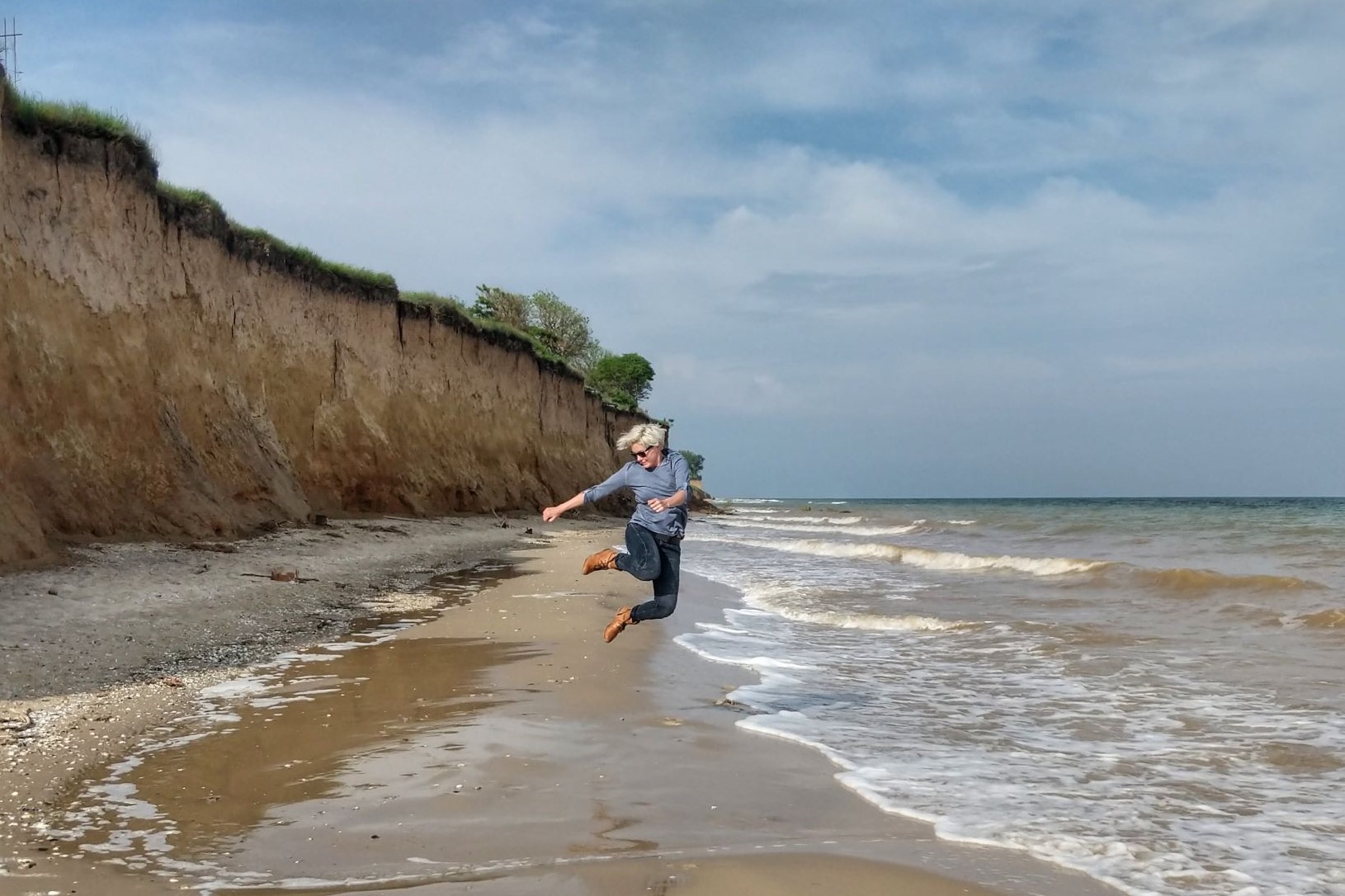 The next day we were heading to Moldova. It was raining again so it took us 4 hours to ride the 150km to the border. That wasn't so much because of the rain, but because of the potholes in the road. Eh, riding in Ukraine can be quite tiring, you need a lot of focus here and good suspension!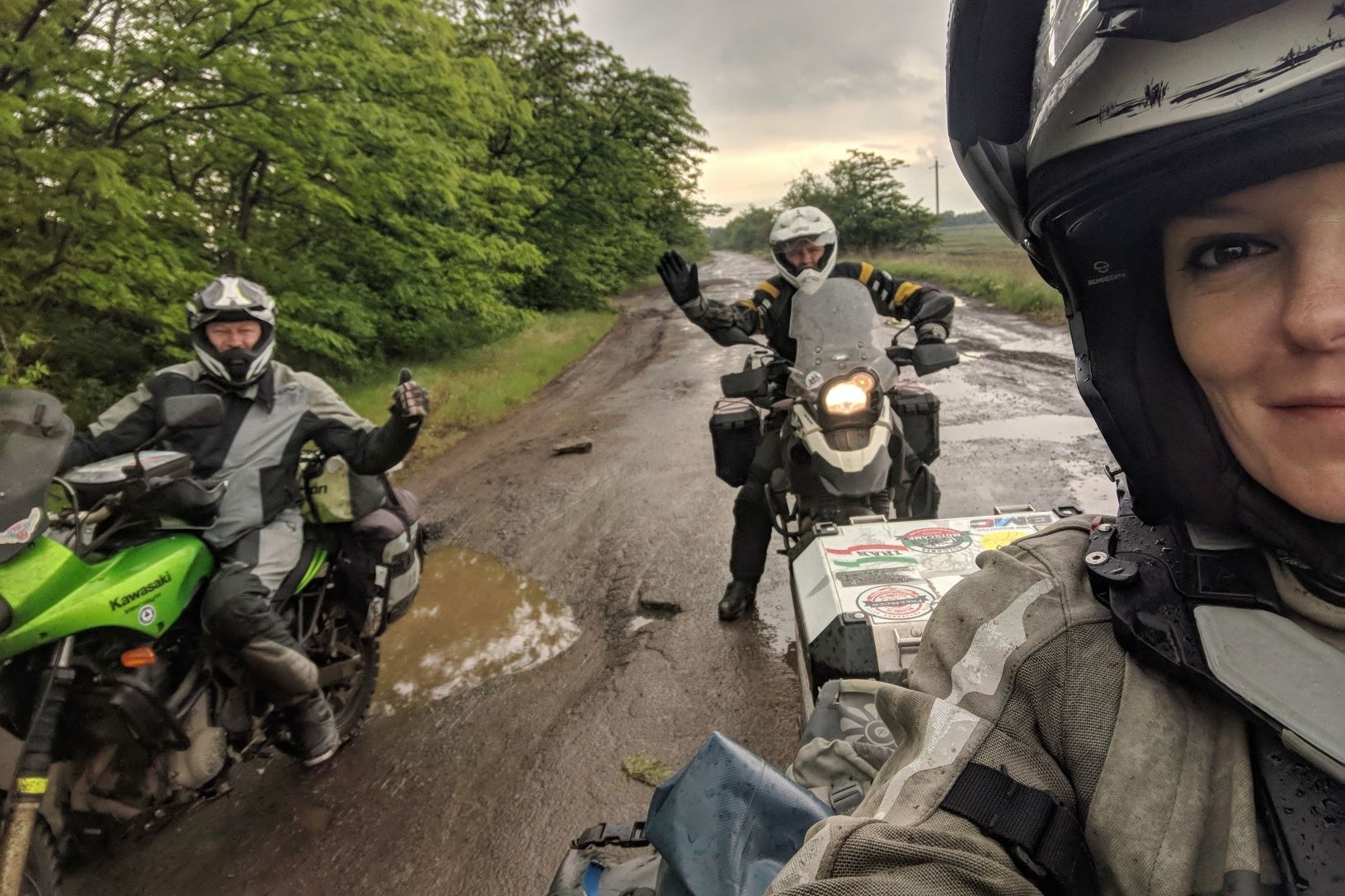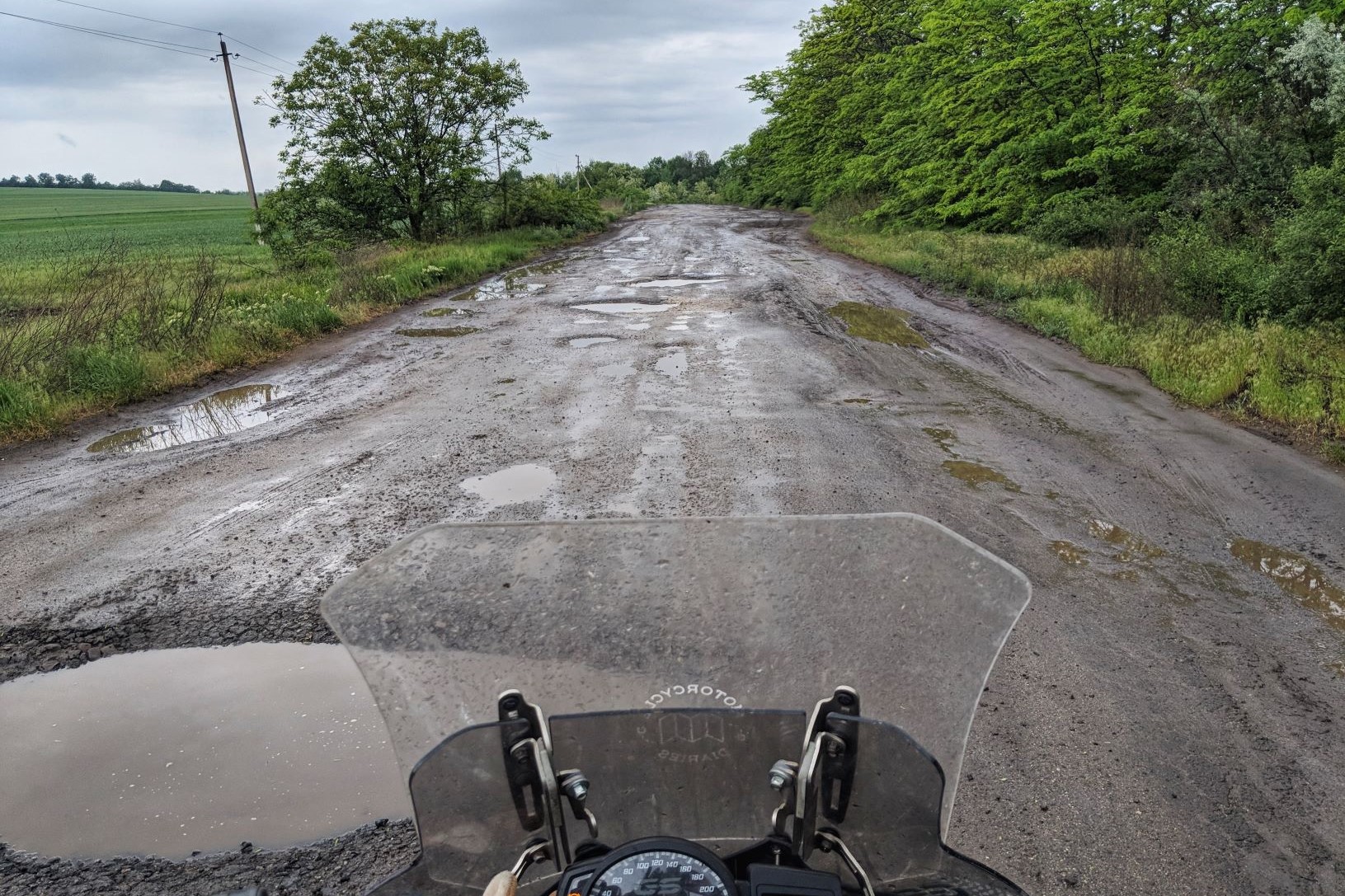 Moldava
So coming back to our trip, it was a slow ride and we finally entered Moldova in Serpene. It was such a small border crossing that we were a bit concerned it was just for locals. But we got in without any issues and straight away we headed to Cricova, which is also known as The Underground City of Wine.
In the morning I left the guys in the hotel and went for a tour to see these legendary wine tunnels. I'd never seen any winery like this before!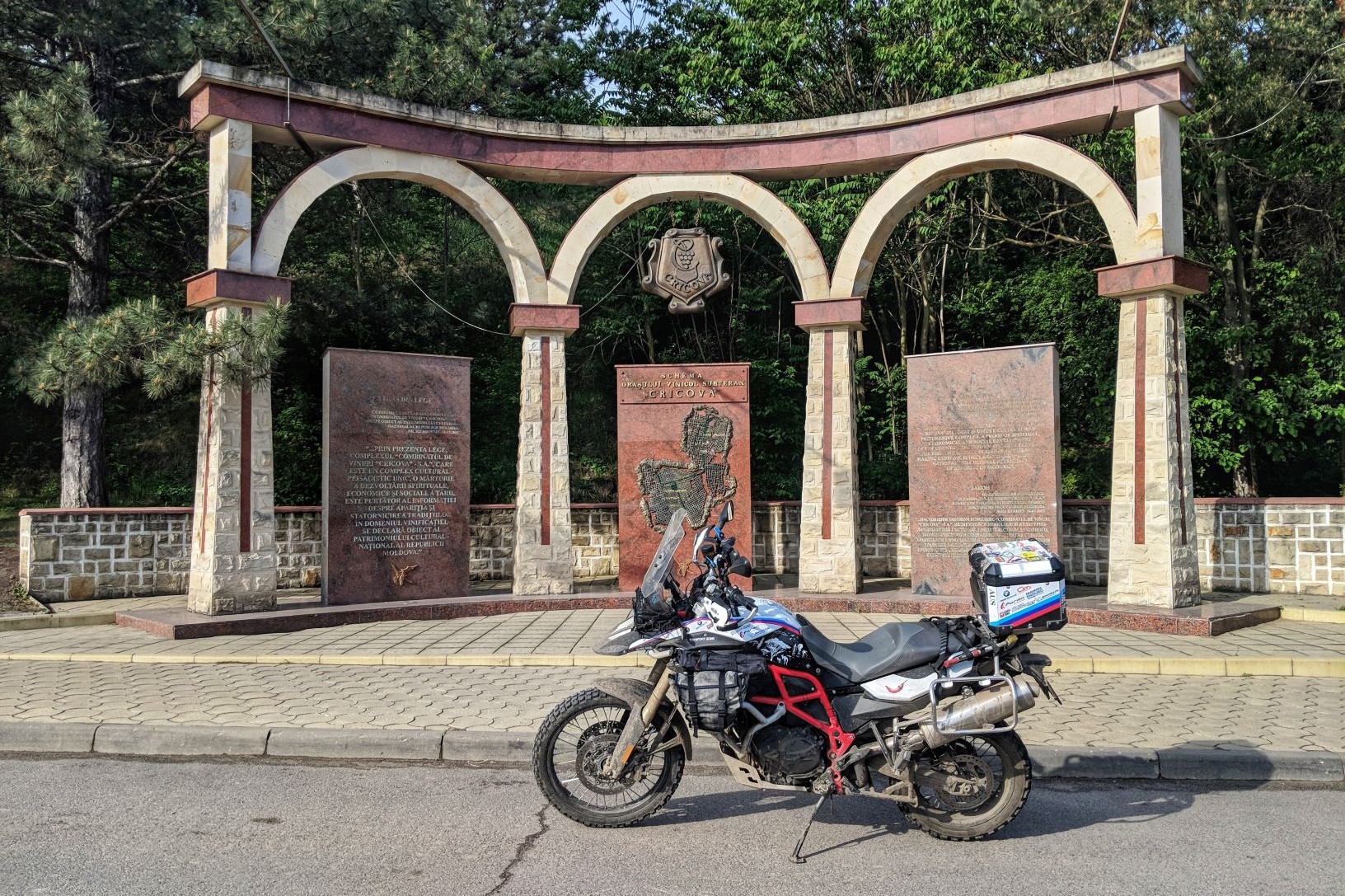 The tunnels under Cricova were dug out in the 15th century to excavate the limestone which was used for building the capital city. There are about 120km of underground tunnels these days. Cricova's authorities realised that the temperature in the tunnels is stable all year so it's perfect for storing the wine and now it's the second largest wine storage in the country.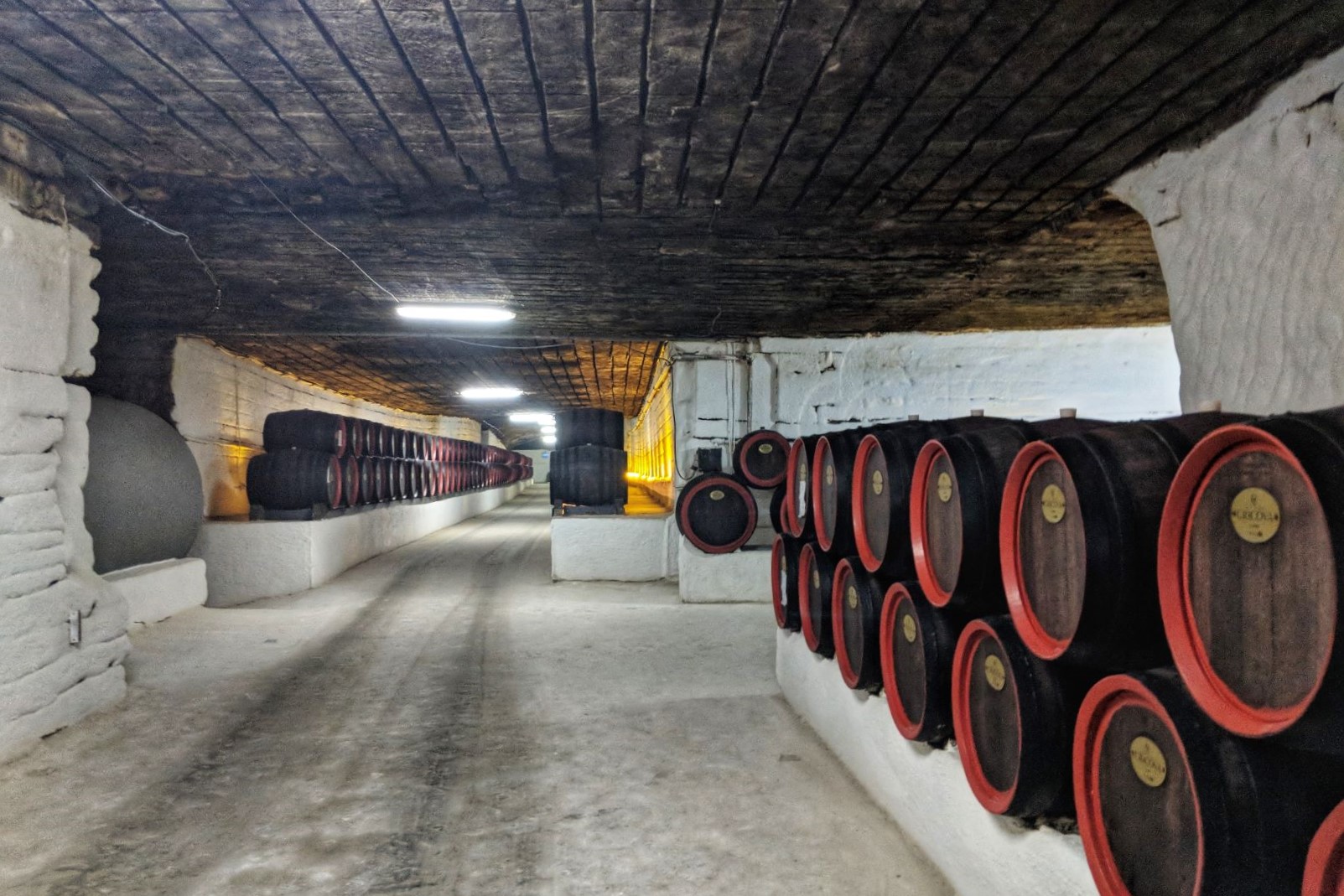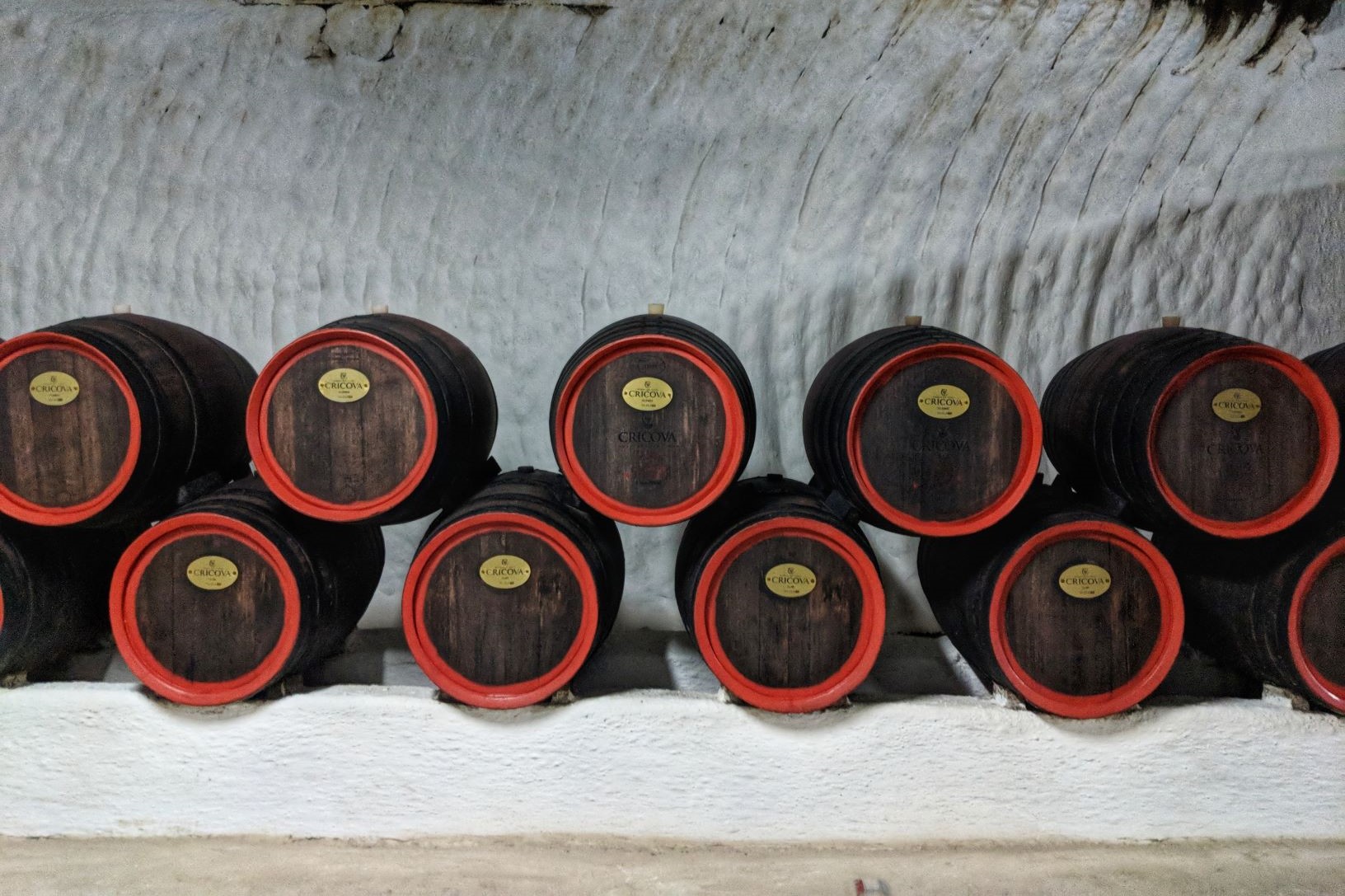 Half of the tunnels are used for wine storage but there are also warehouses, tasting rooms and other facilities underground.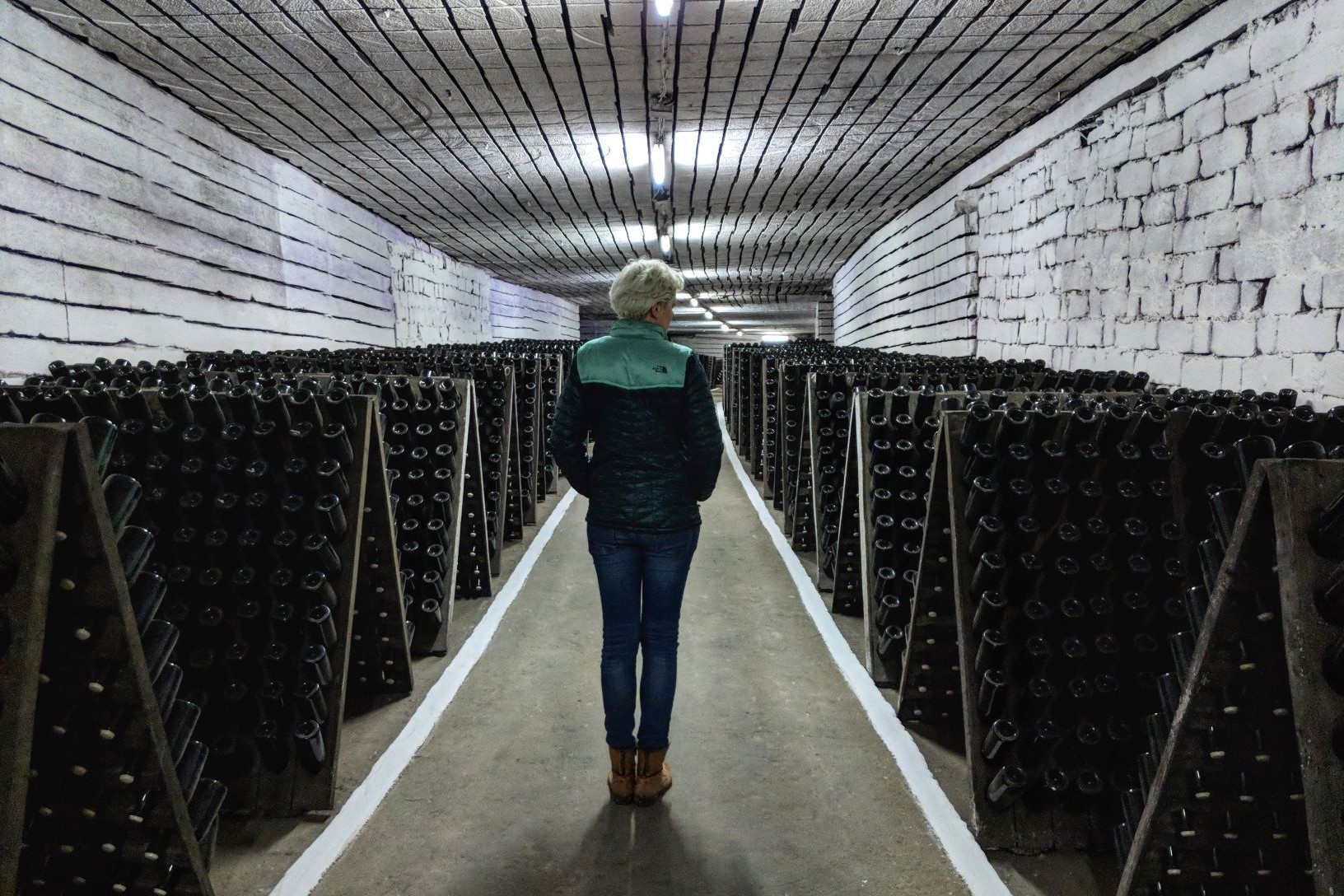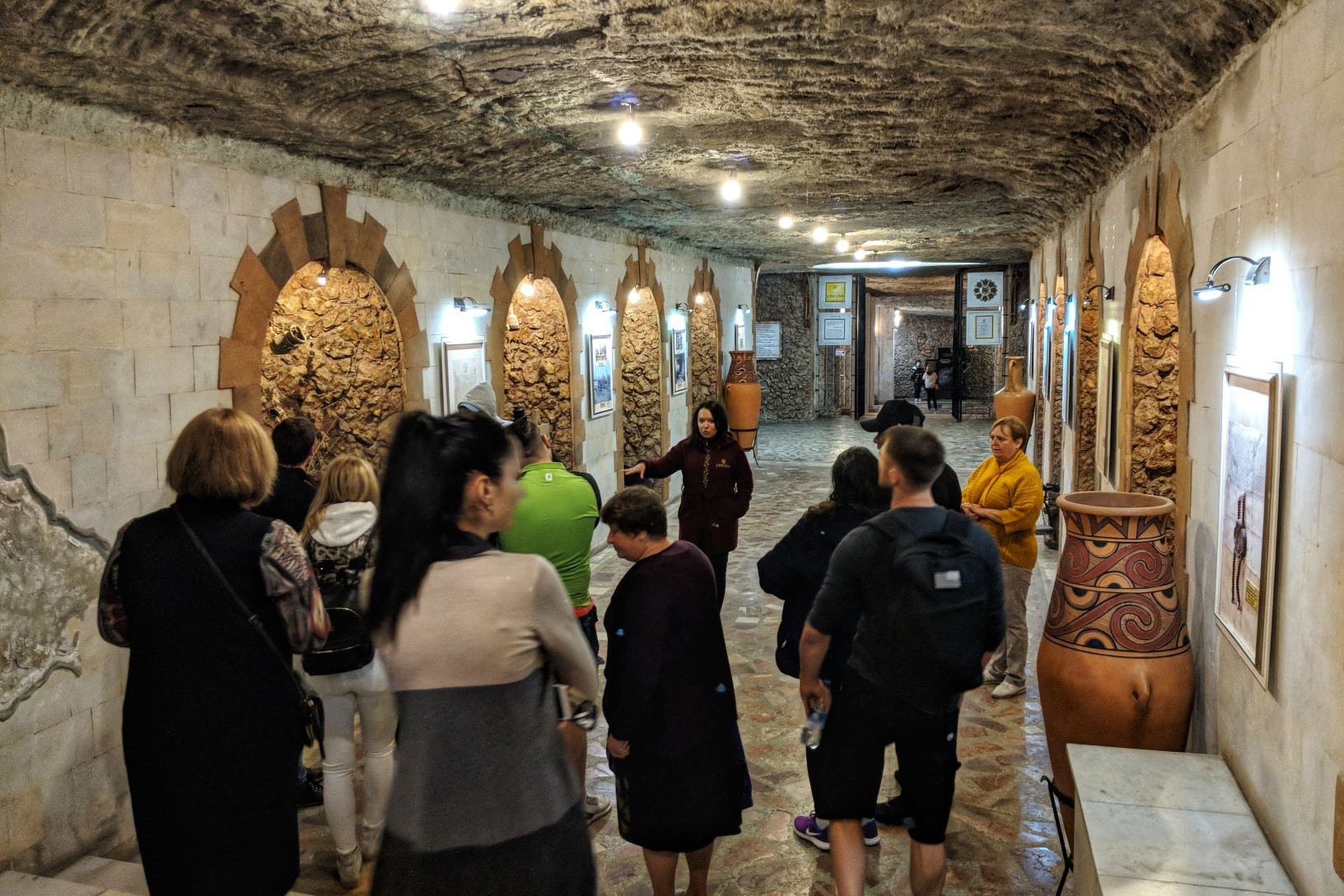 Cricova produce sparkling wines and of course I had to buy a bottle to go with me!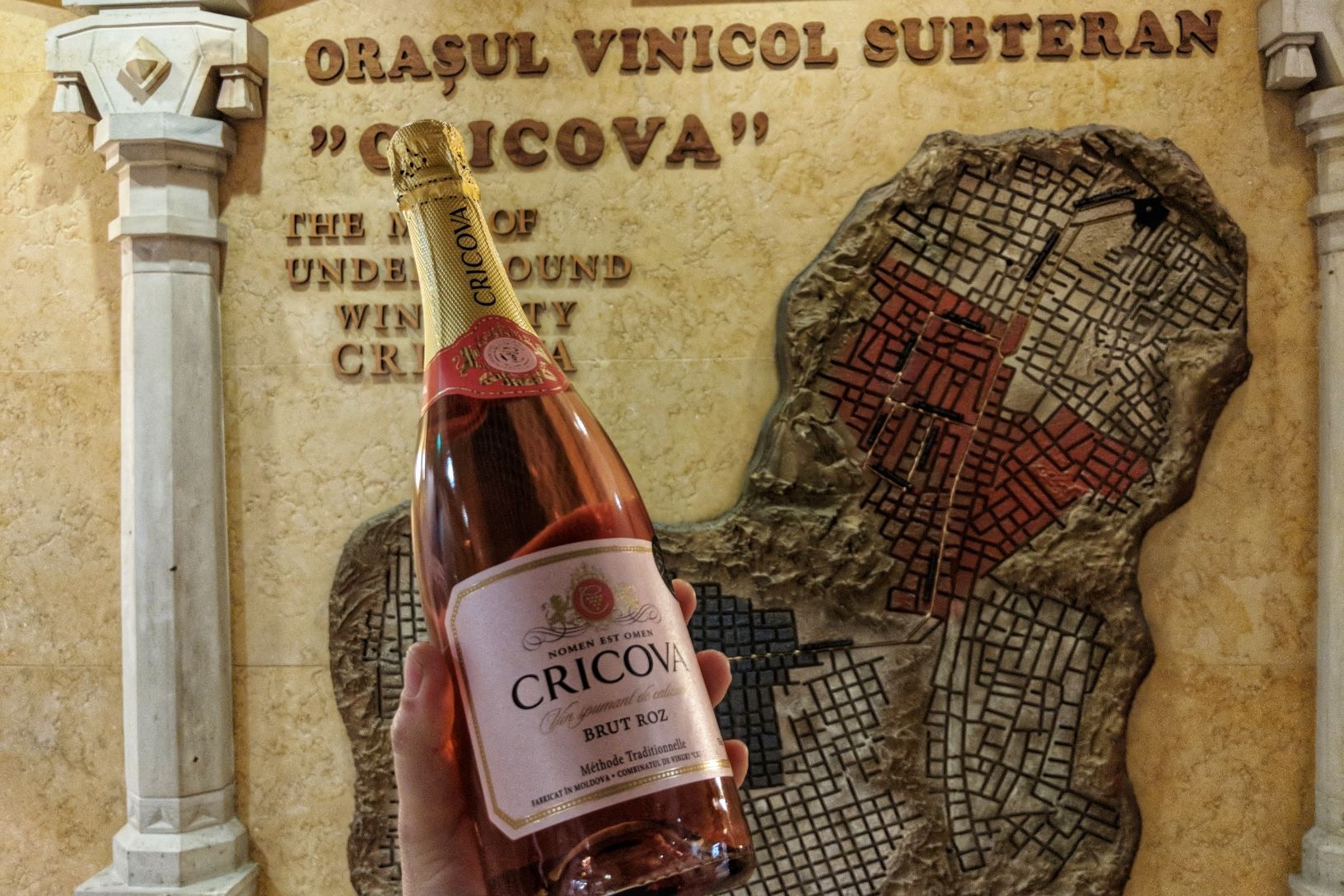 Romania
We wanted to get to the Ukrainian Carpathian Mountains ASAP so I'd decided to do a shortcut through Romania. And that was the best decision – it was so nice not to have to ride the bumpy roads again and just be able to admire the views. This time I didn't have any expectations of Northern Romania and I must admit I prefer it much more than the Transfagarasana or the Transalpina.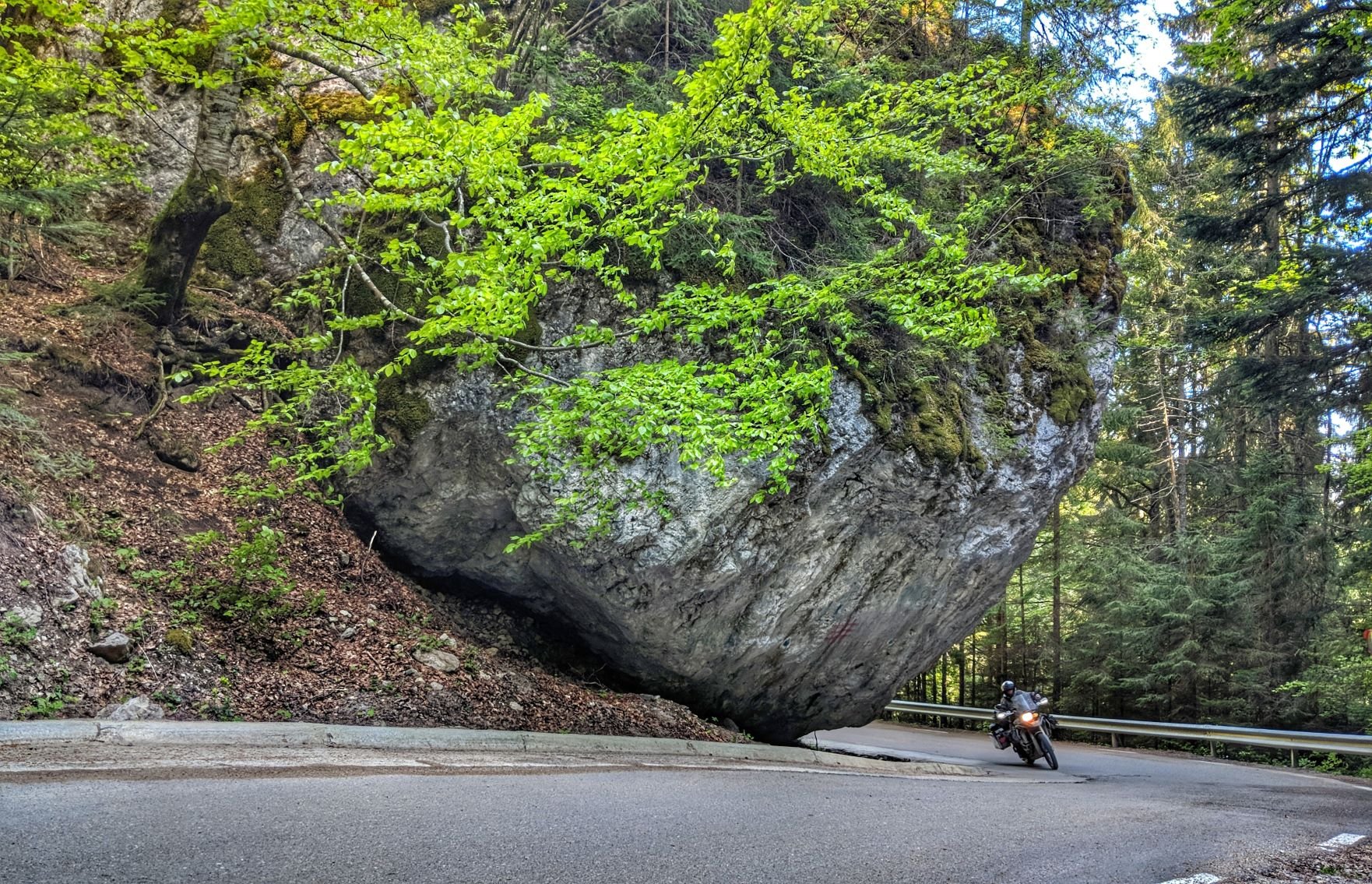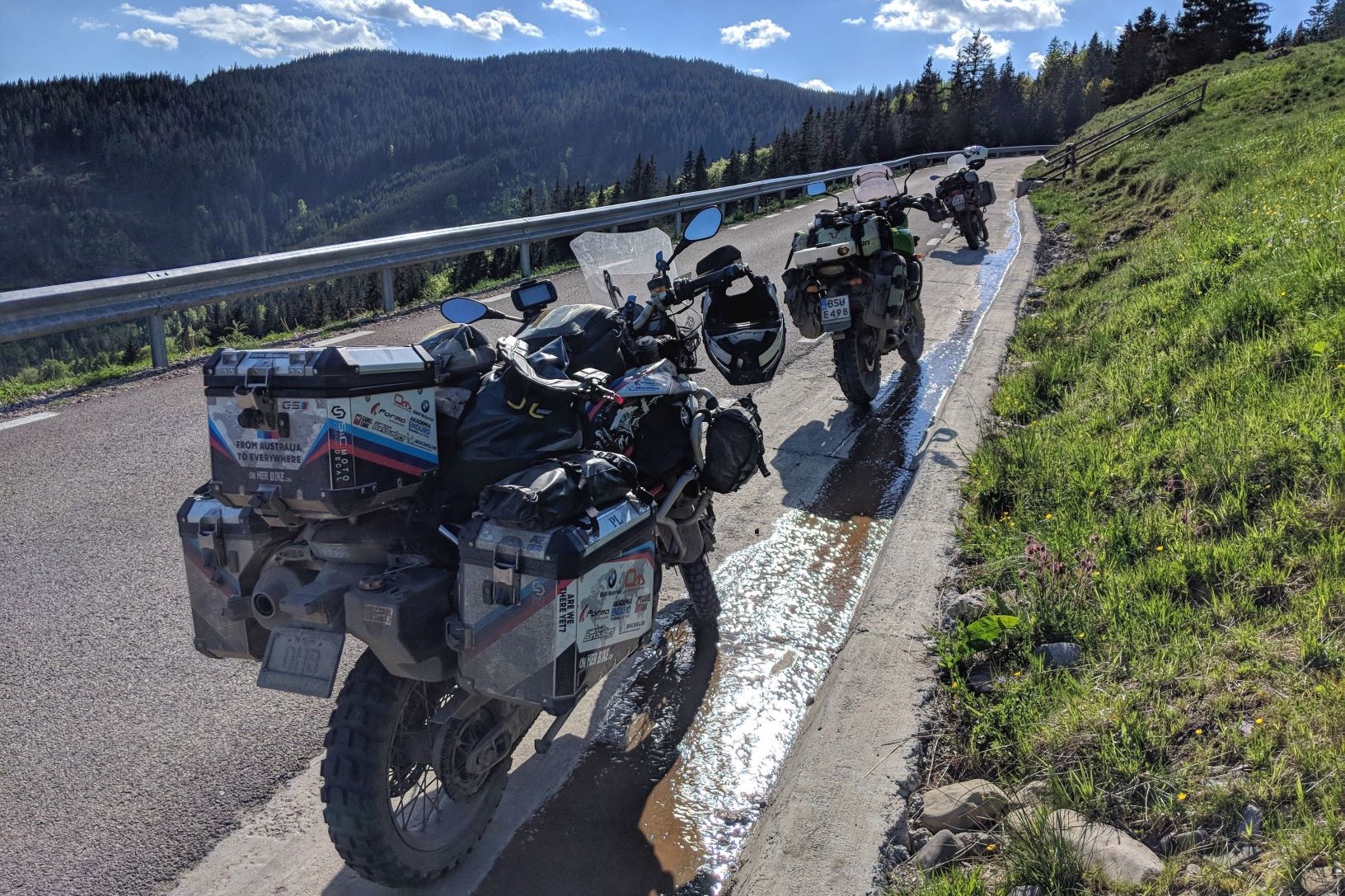 After a 10h ride we had some difficulties finding a campsite in the area – again the tourist season here hadn't started yet, but we finally found the open Motel Cristina near the Colibița Lake. There were also little chalets available for 30 Lei ($7) per person. Bargain, we're in!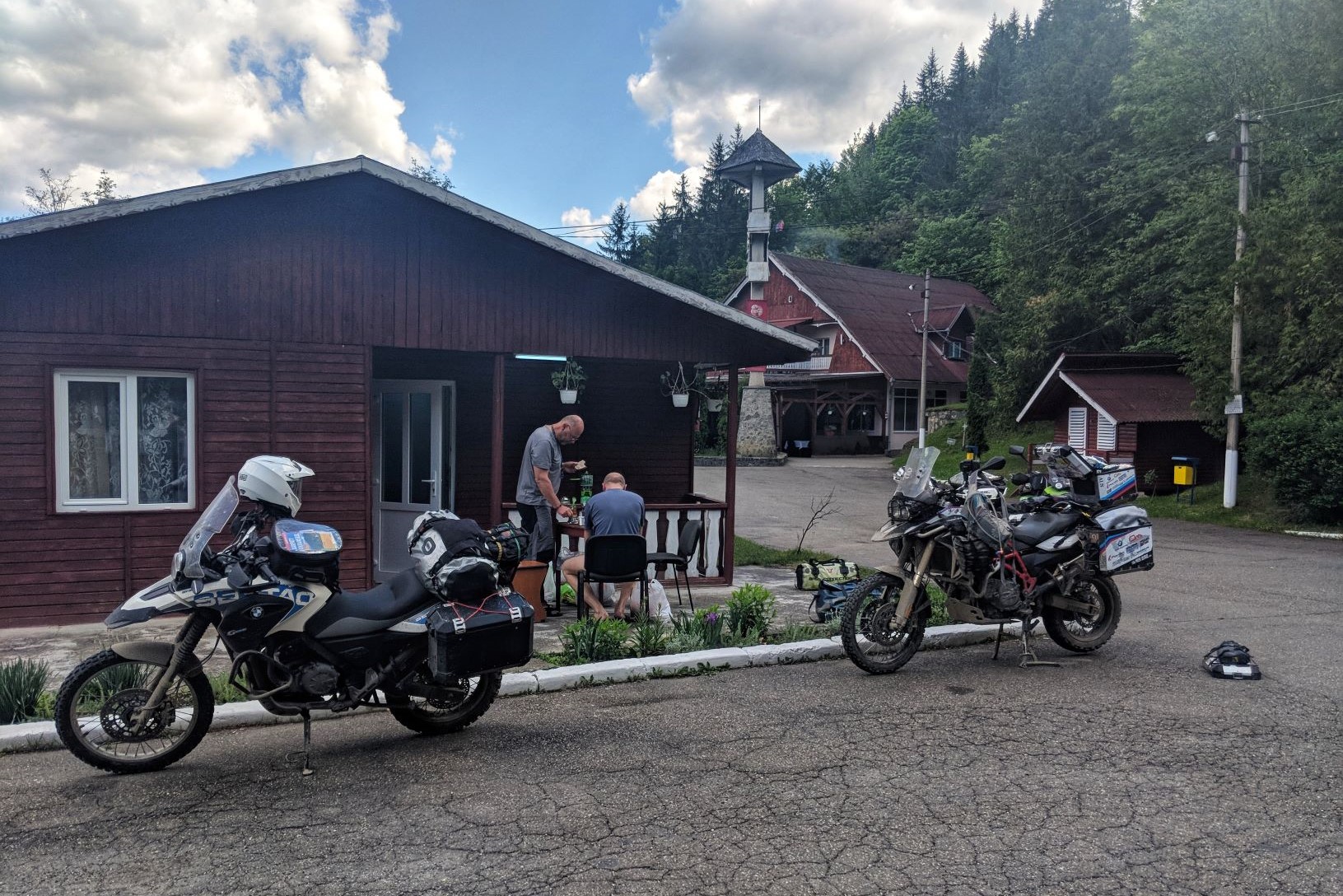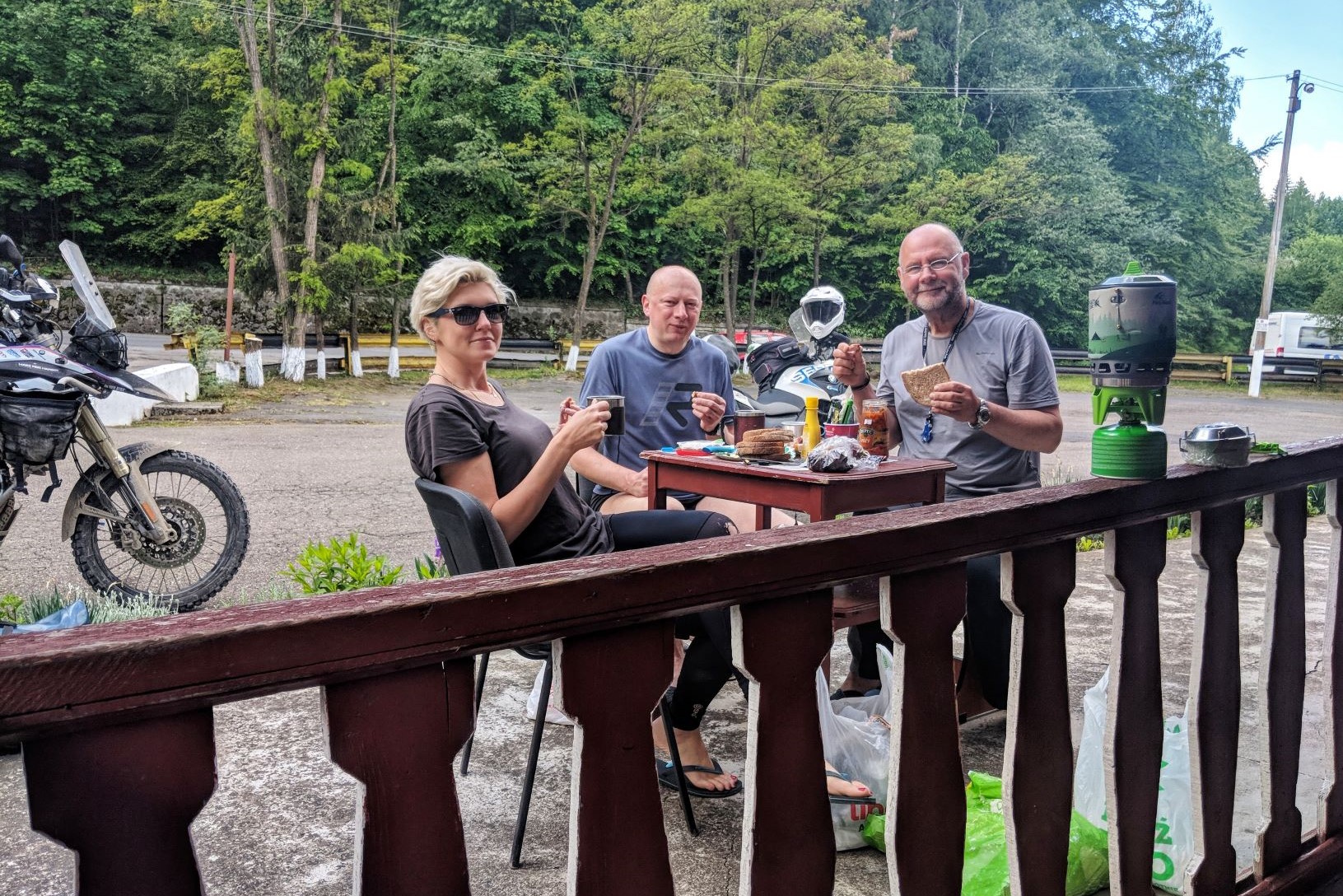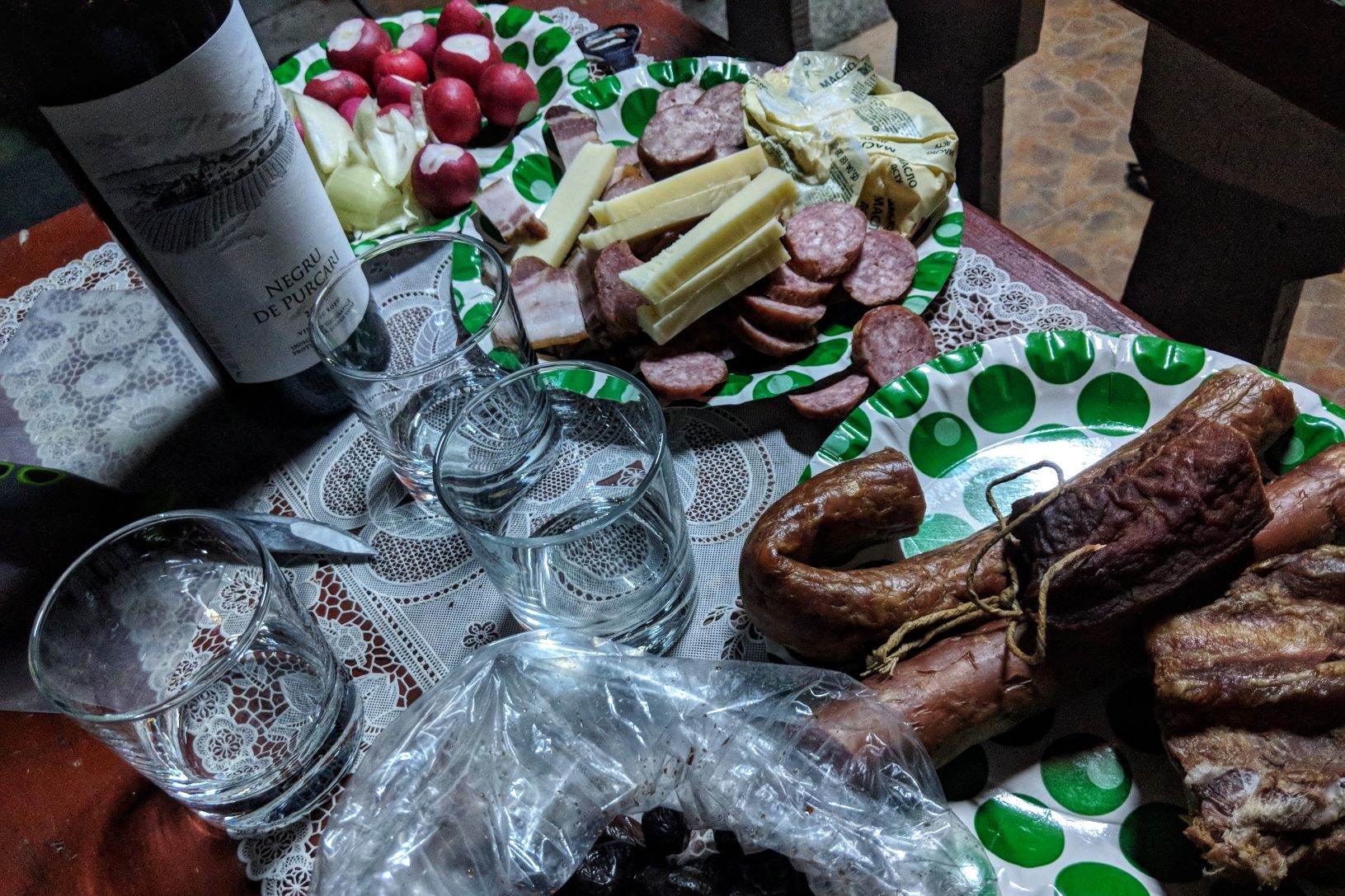 The next day arrived and with it more breathtaking scenery, including Hell's Gate – not sure what this pass is named, but it's definitely worth visiting!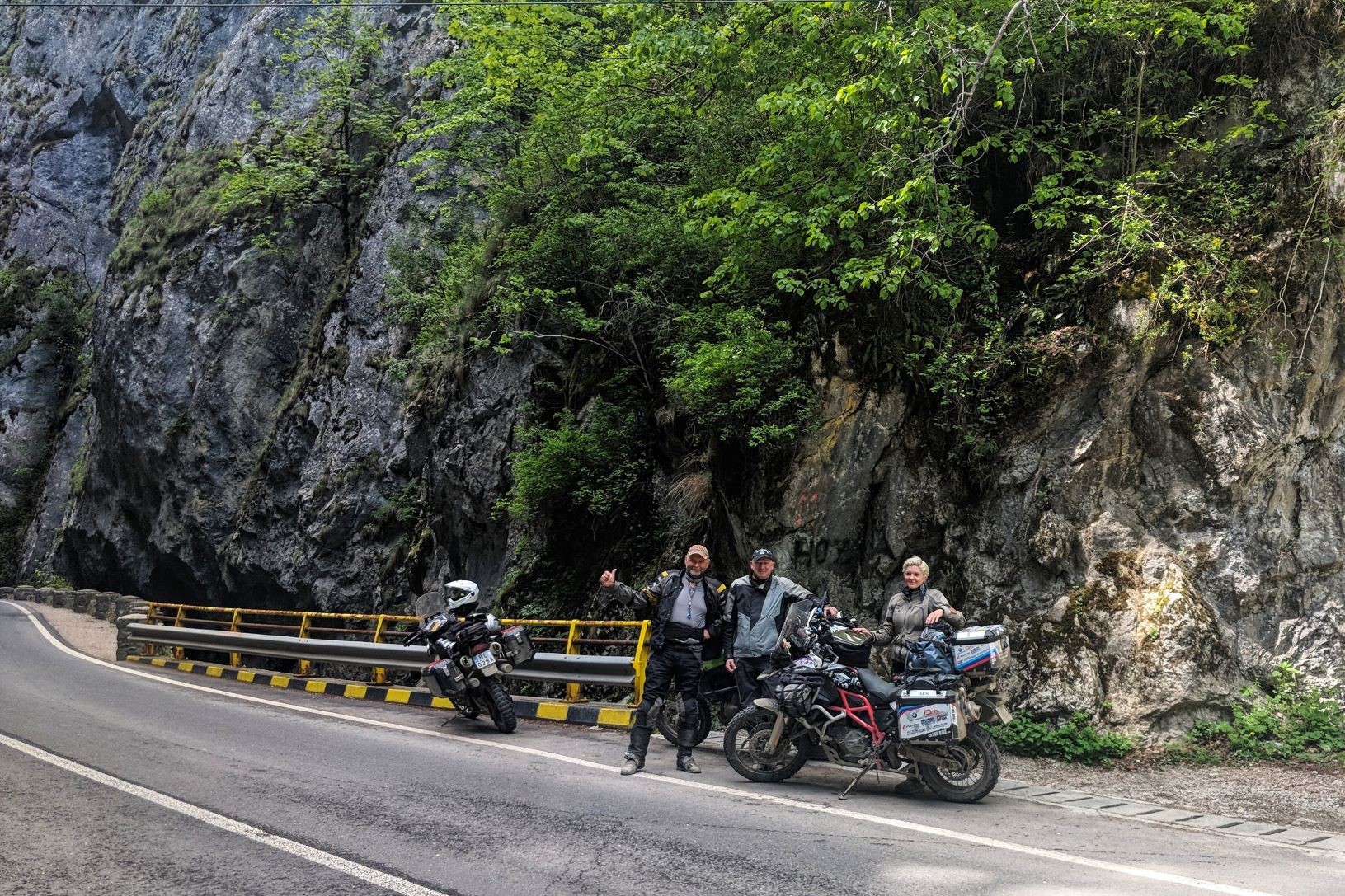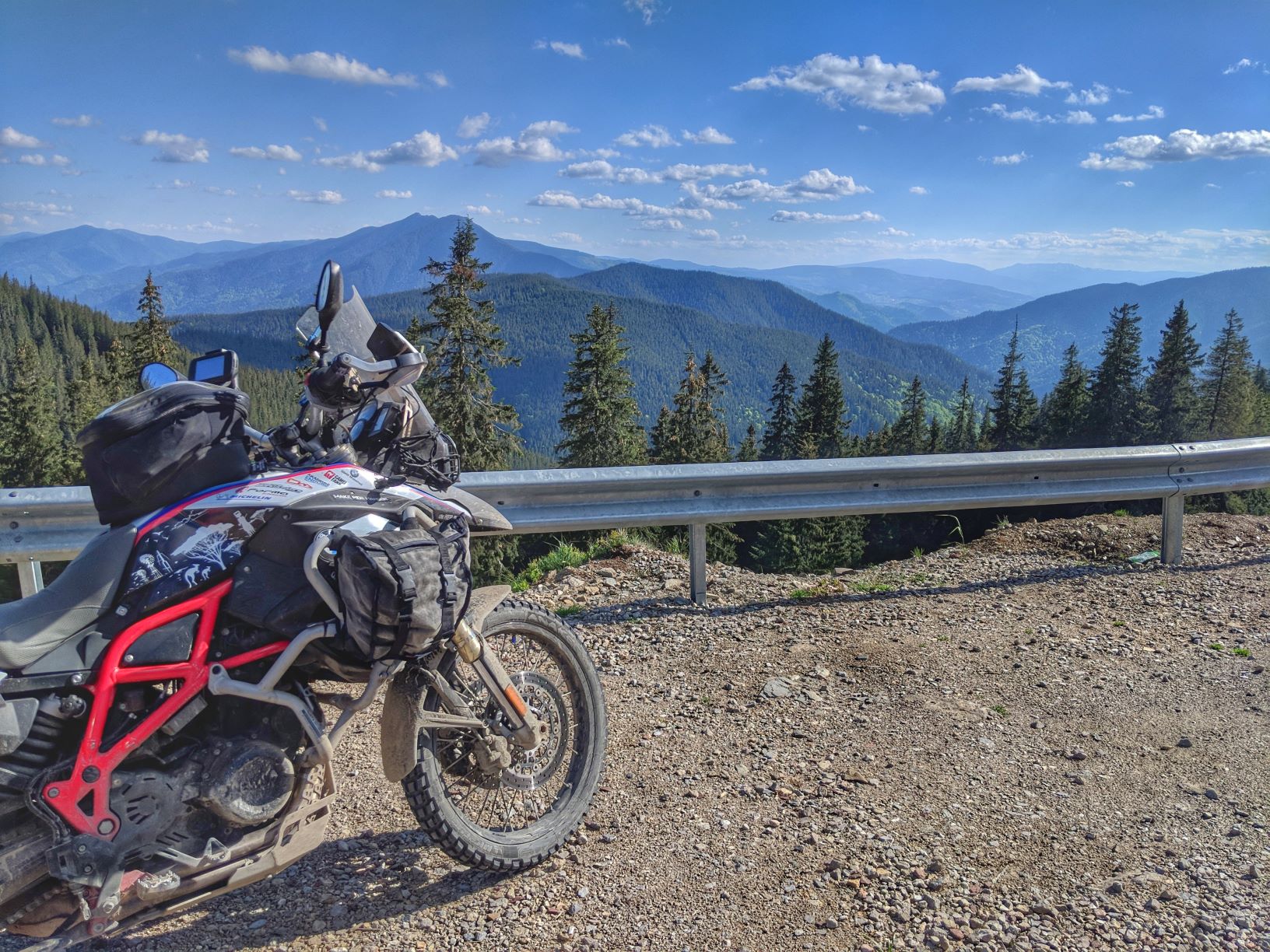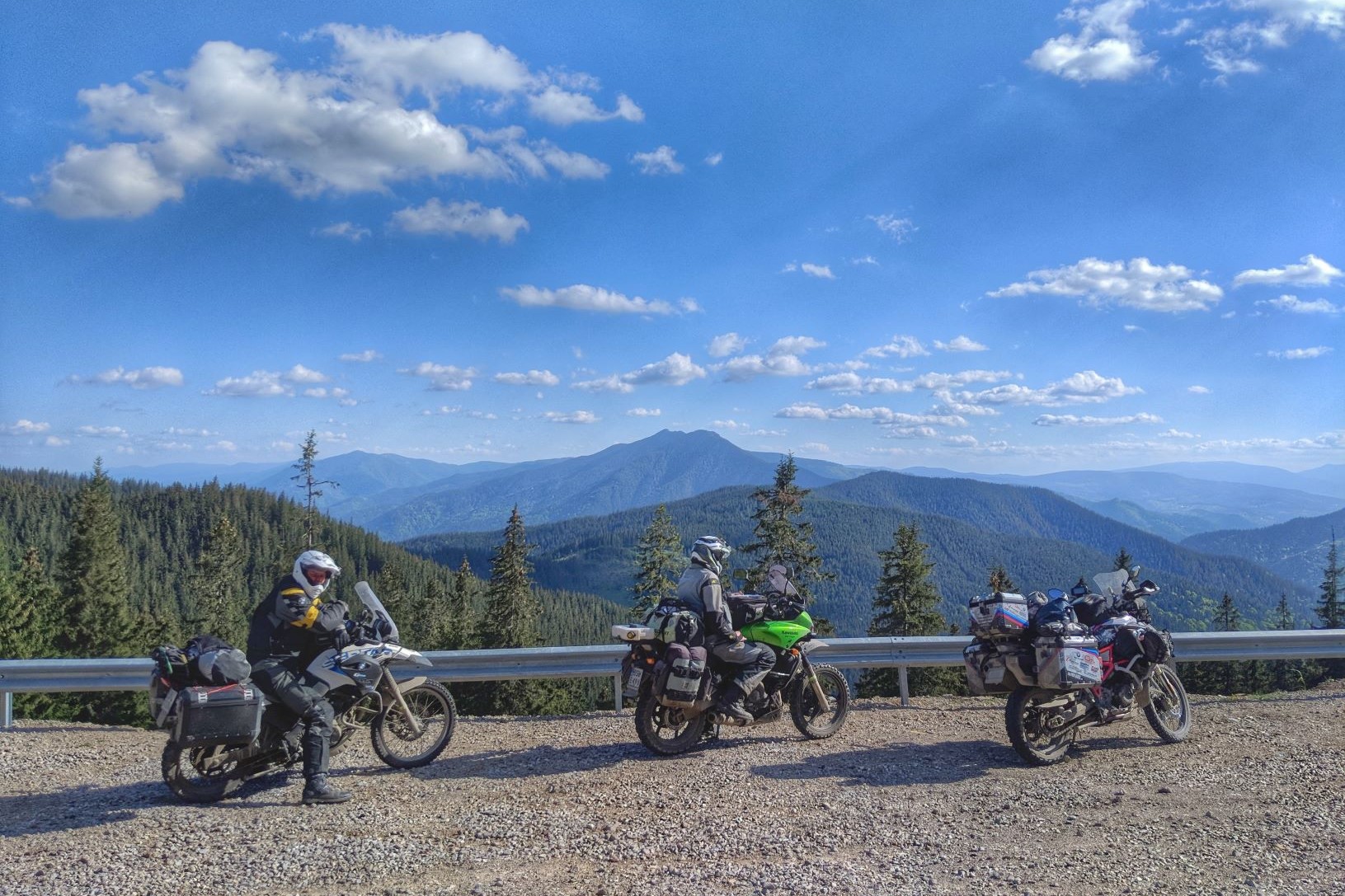 And on the second night we had more luck finding a camp in Borsa….
Ukraine Again!
It's one of the beauties of Europe that you can find yourself in a different country every second day!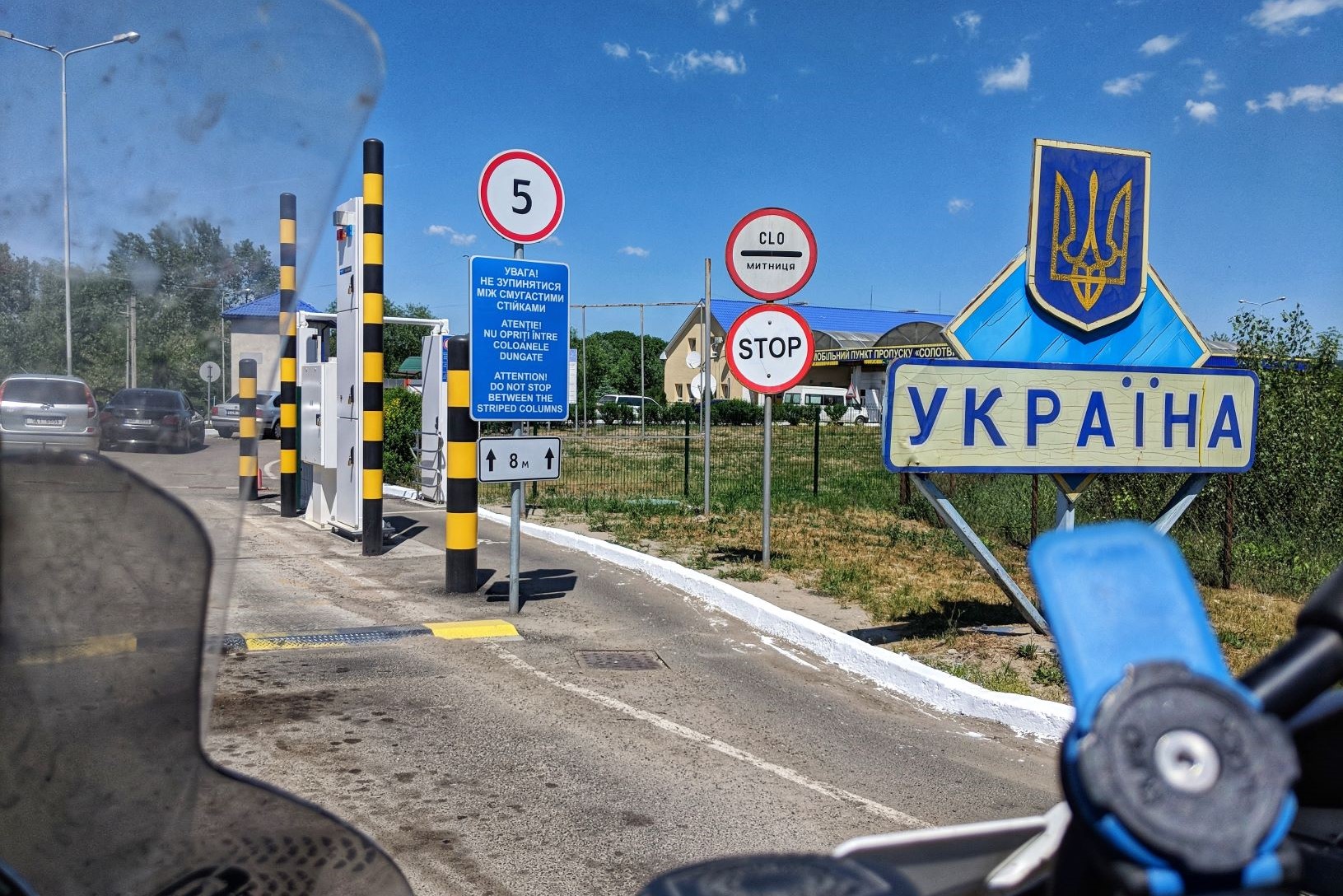 We crossed back to Ukraine through Sighetu Marmației and again we hit the bumpy roads and spent a long day in the saddle before we reached Lumshory in the Carpathian Mountains. Gonzo had been there before and he promised to show us a very special place. And indeed when I saw the "Chan" in front of me I thought "What the heck is this?" It looked like a big pot to make human soup! And I wasn't very far off – a Chan is a very large cast iron bowl filled with herbs and extremely hot water with a fire underneath, so you just sit there and are literally being cooked!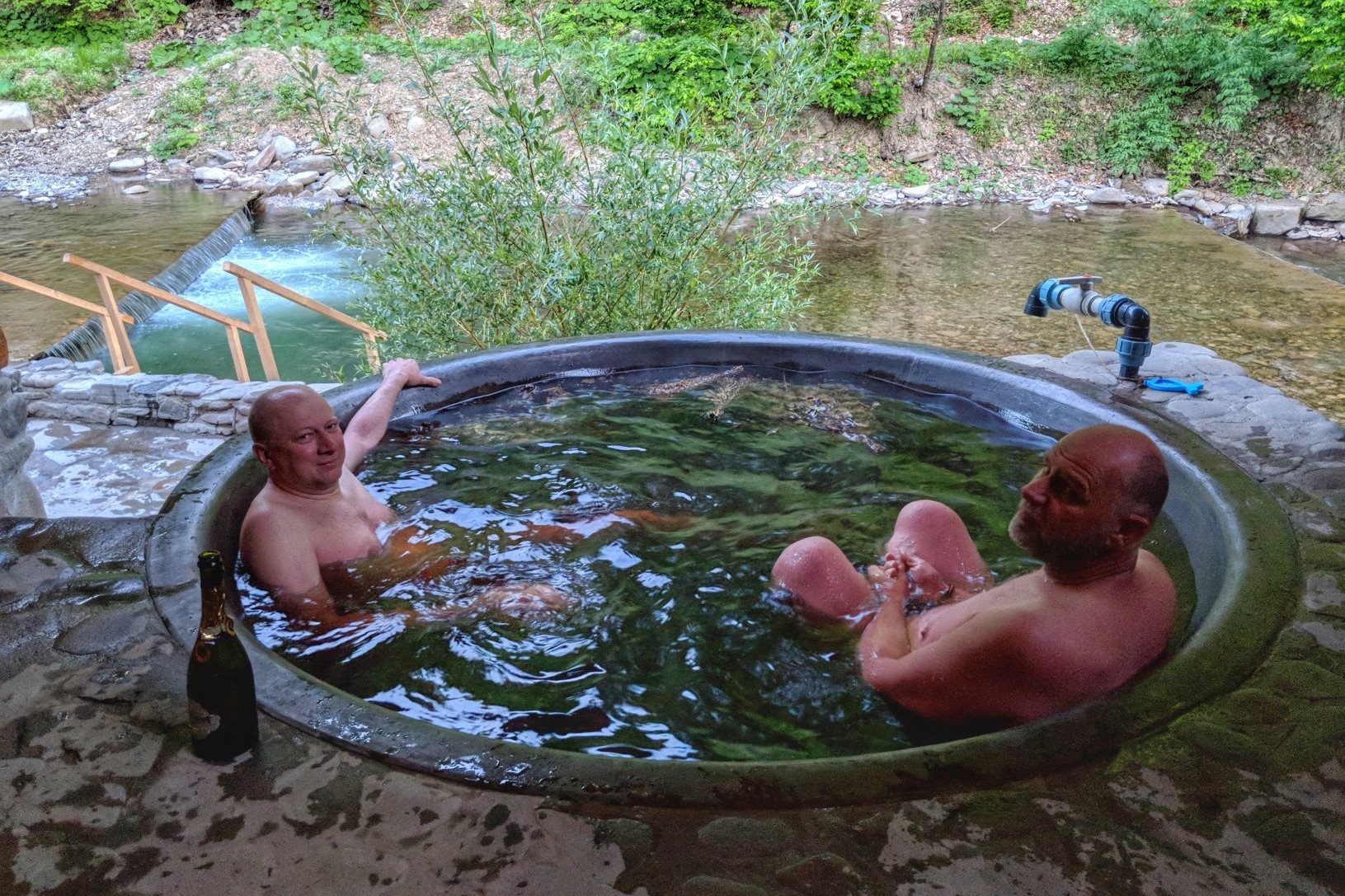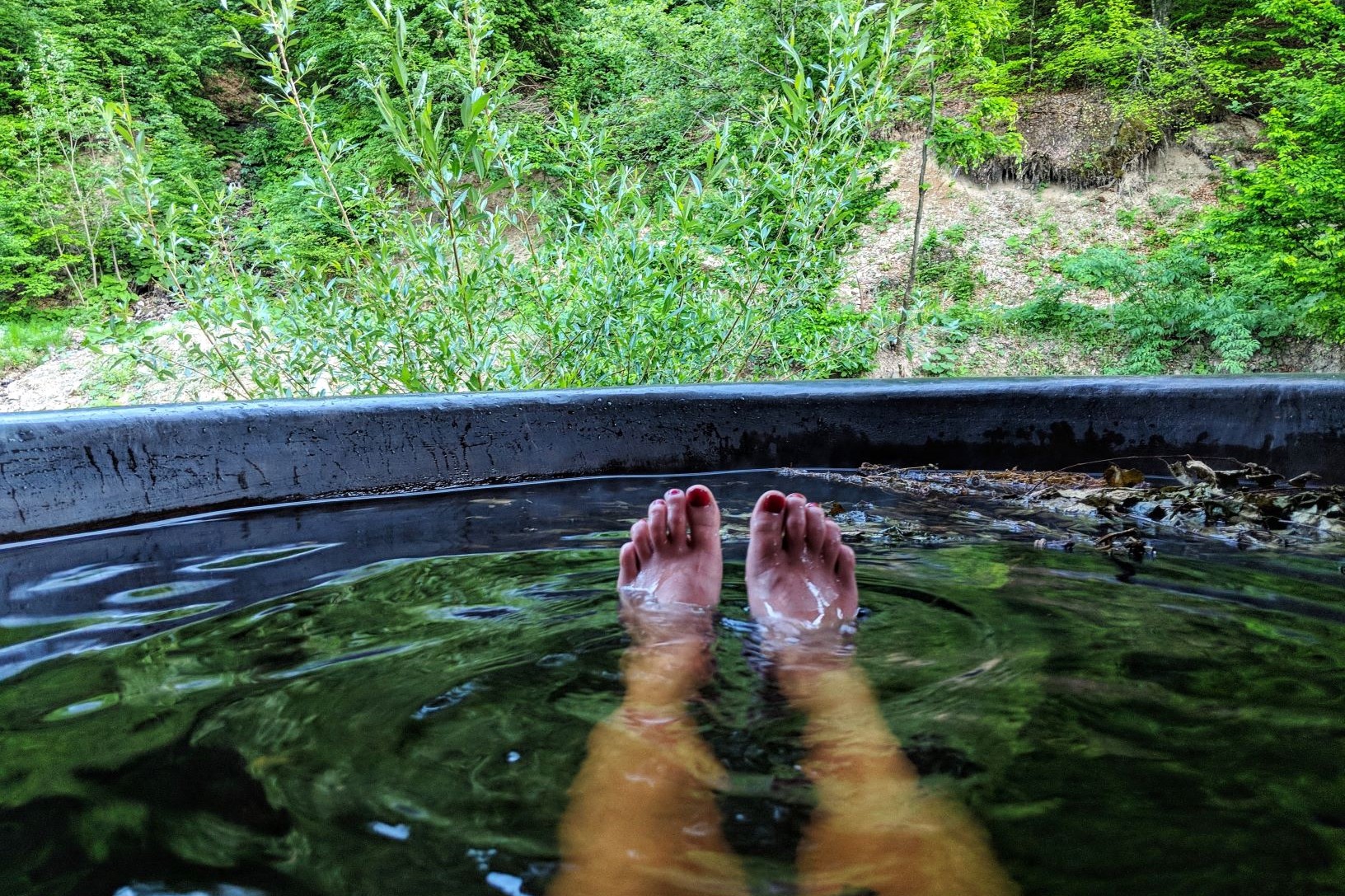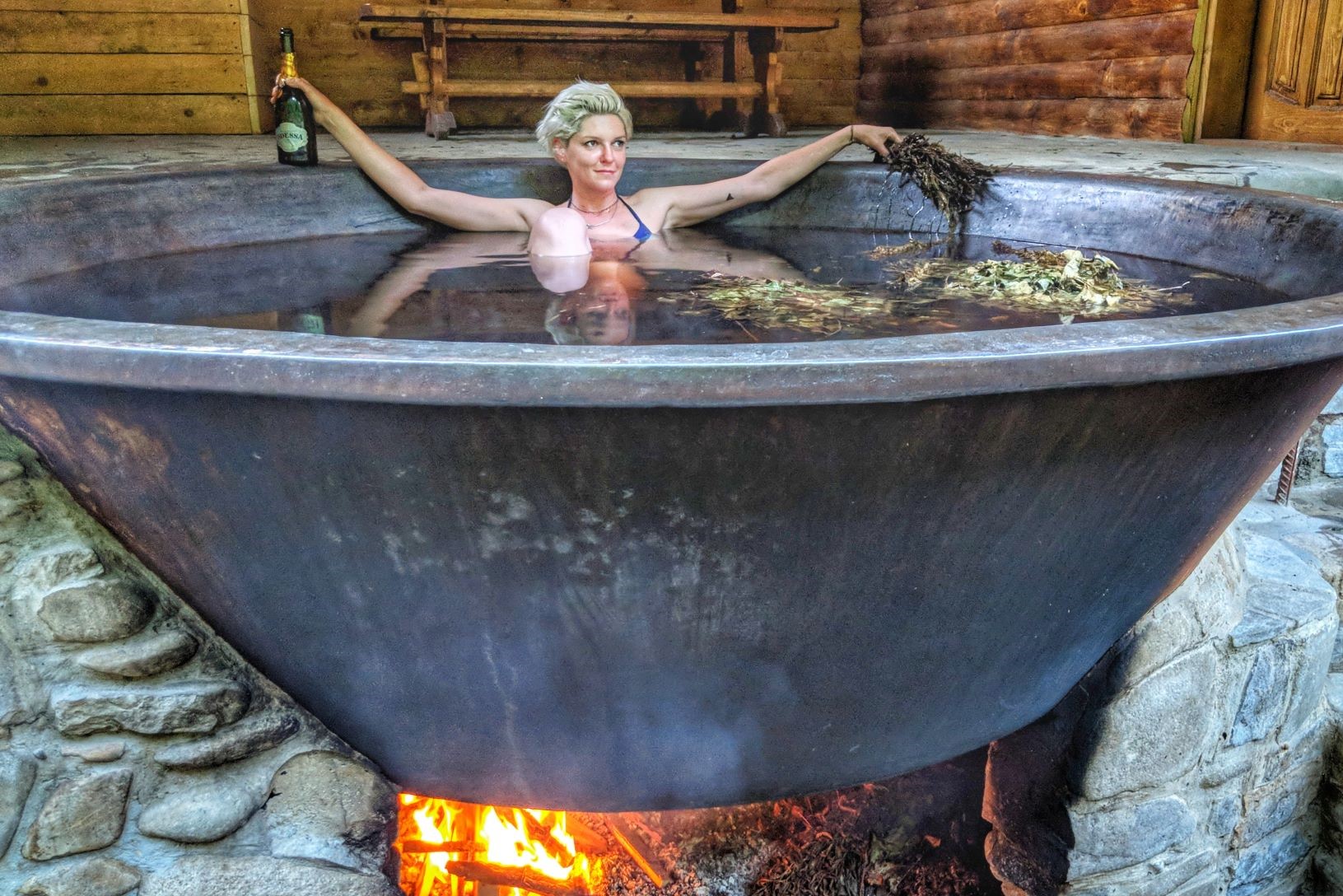 You can't spend too much time in there even with cold champagne, so every 10 – 15 mins (for me was more like 5mins) you jump in the creek nearby to cool yourself down. An unbelievable experience.


There were no room available for the first night, but the owner of the Chan let us sleep near it. I slept on this comfy bed outside and the boys squeezed into the changing room.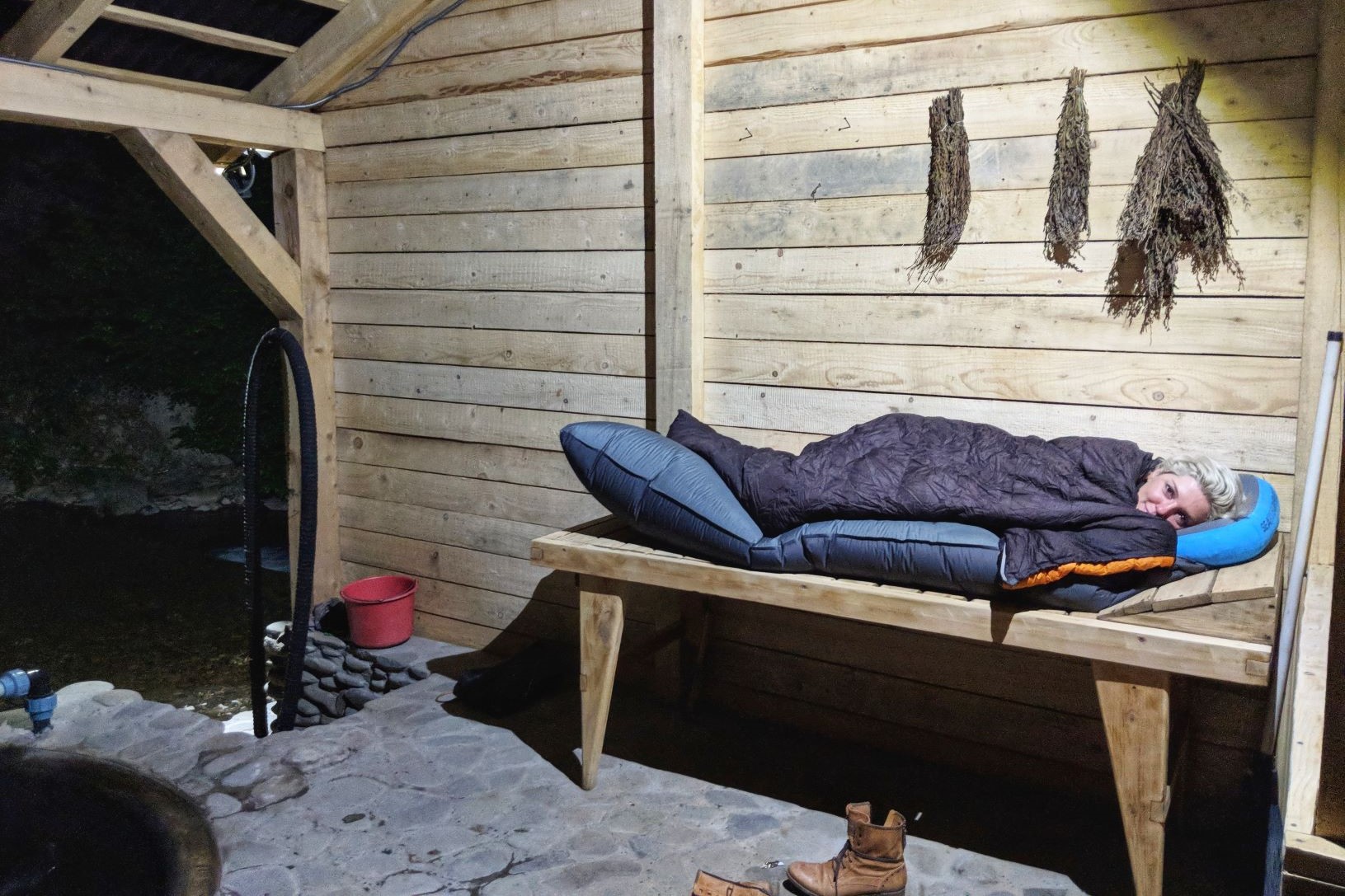 The next day we moved into a room, left all our gear and headed off for a little mountain ride.
Everything seemed to be going great…
Ouch!
Gonzo wanted to show us another great location. It was only 12km off to Polonina Runa – a bit of off road, bit of gravel and bit of concrete blocks .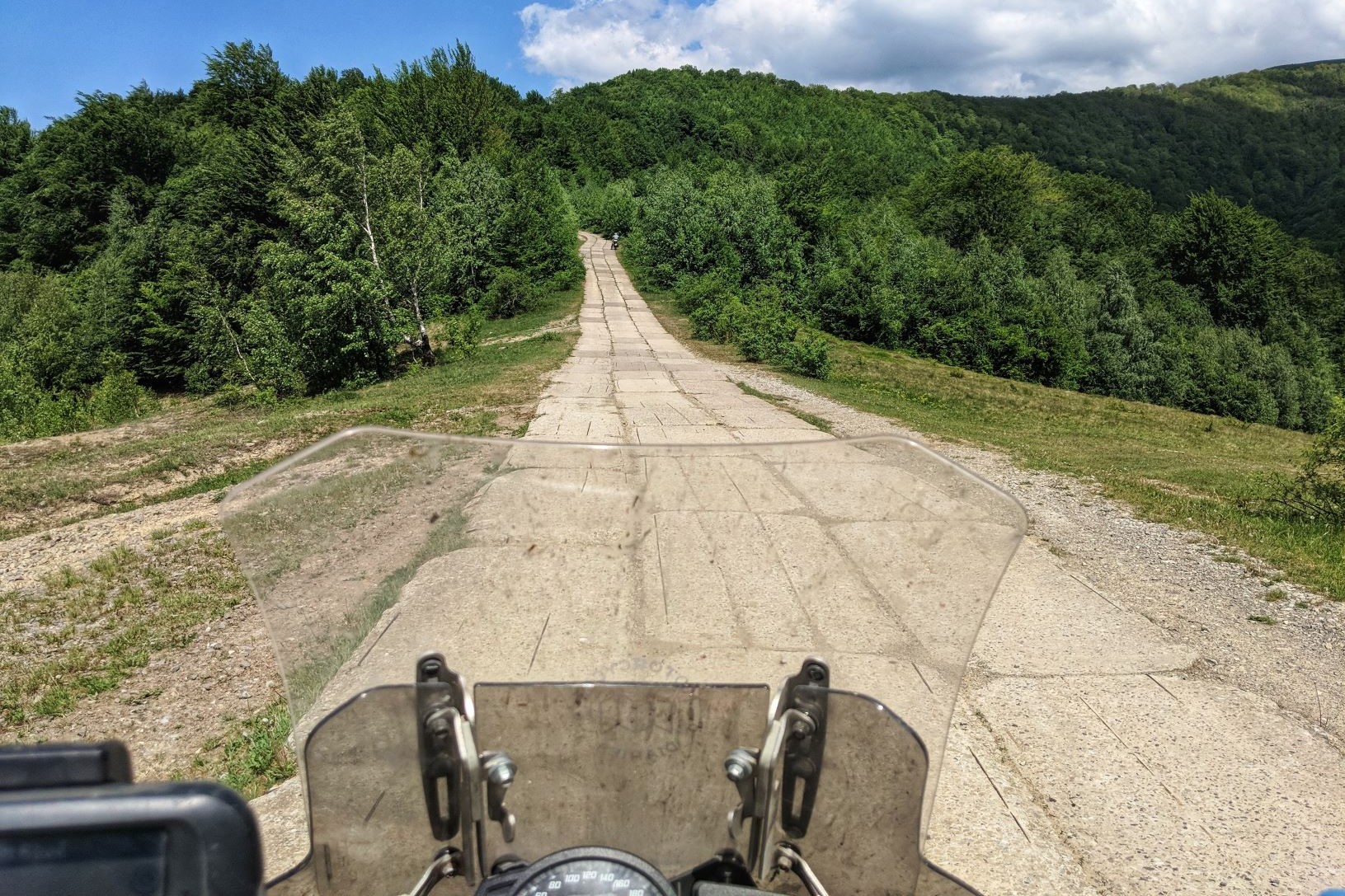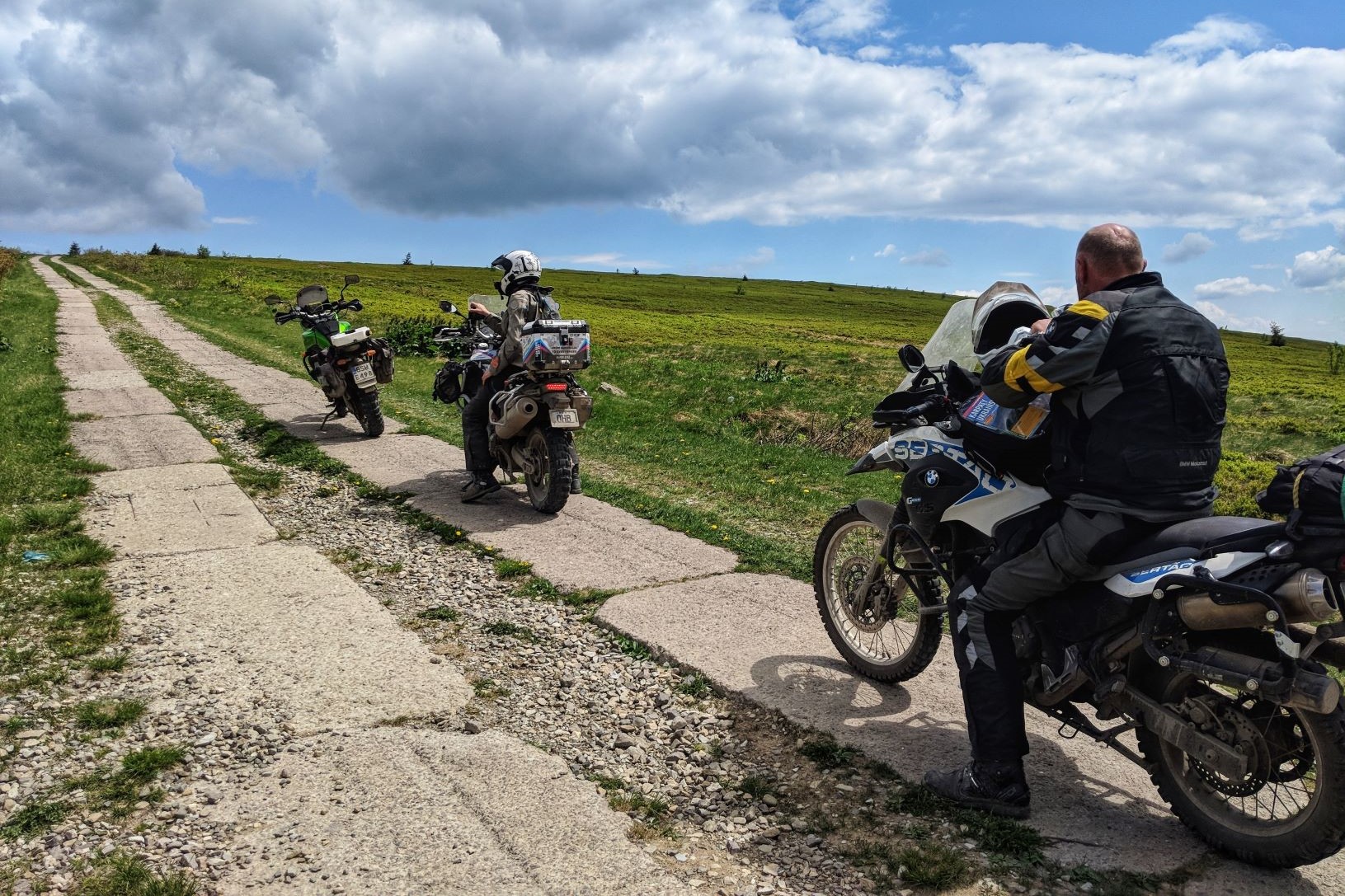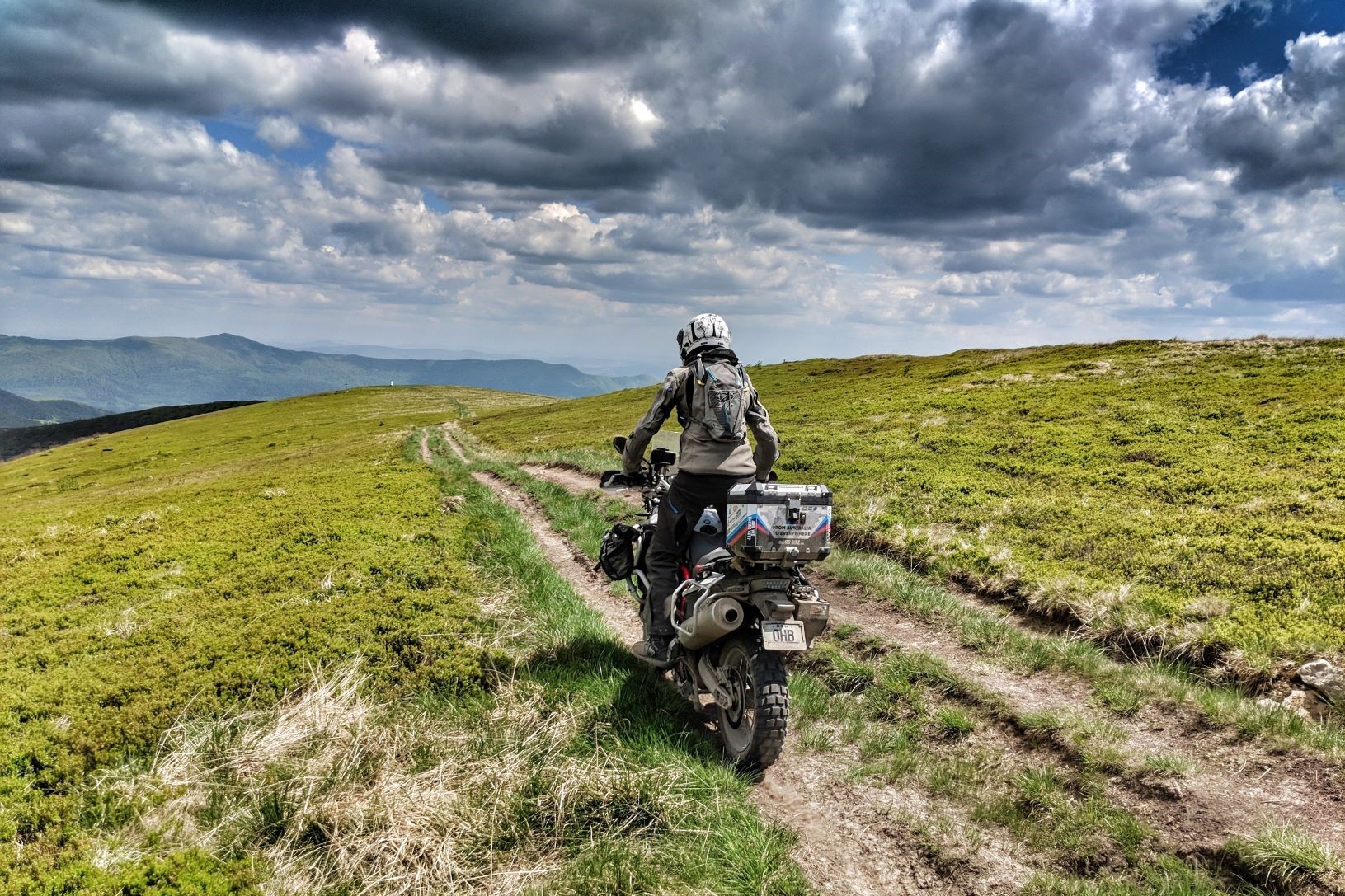 Great ride with absolutely amazing views at the top!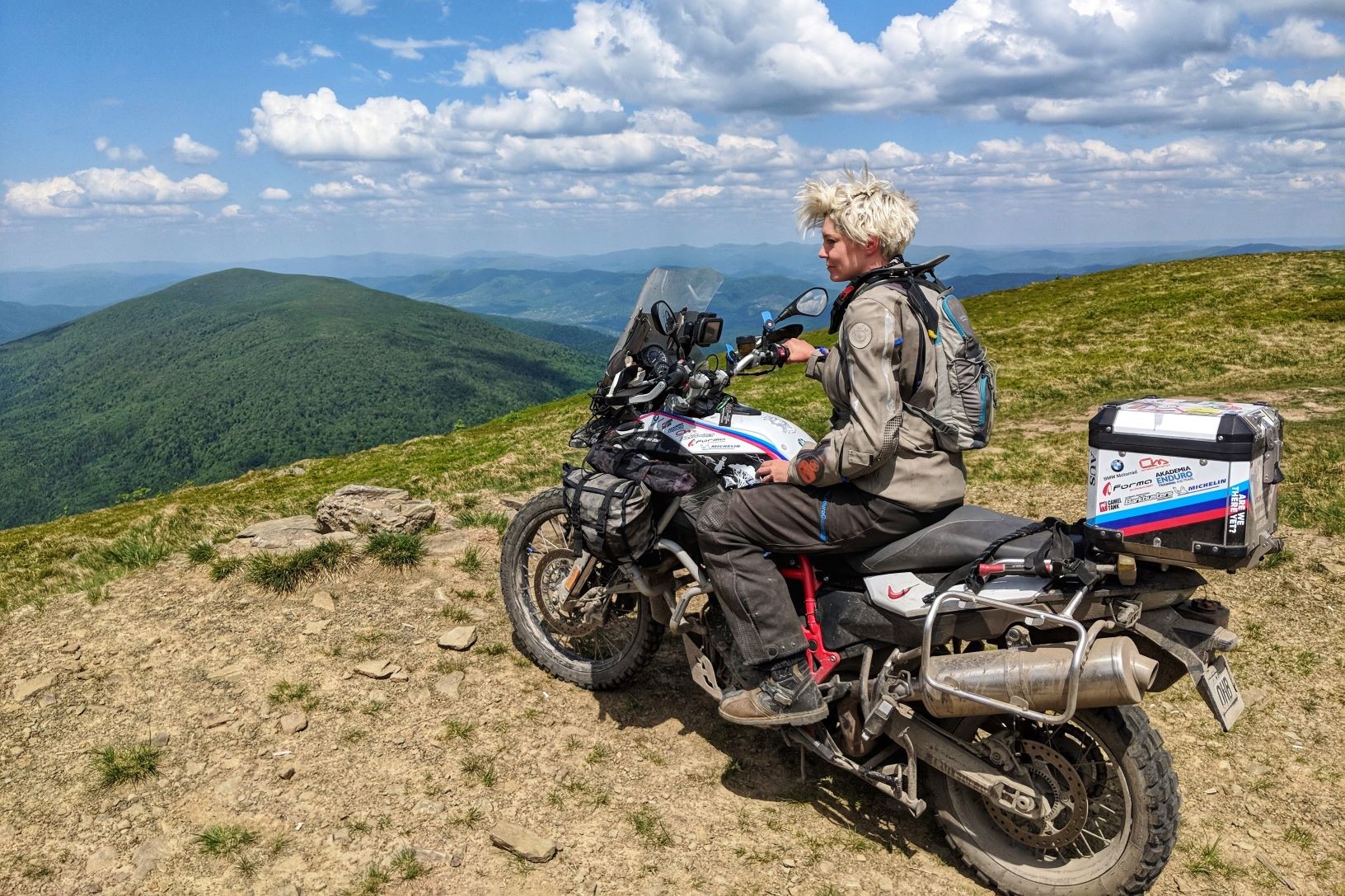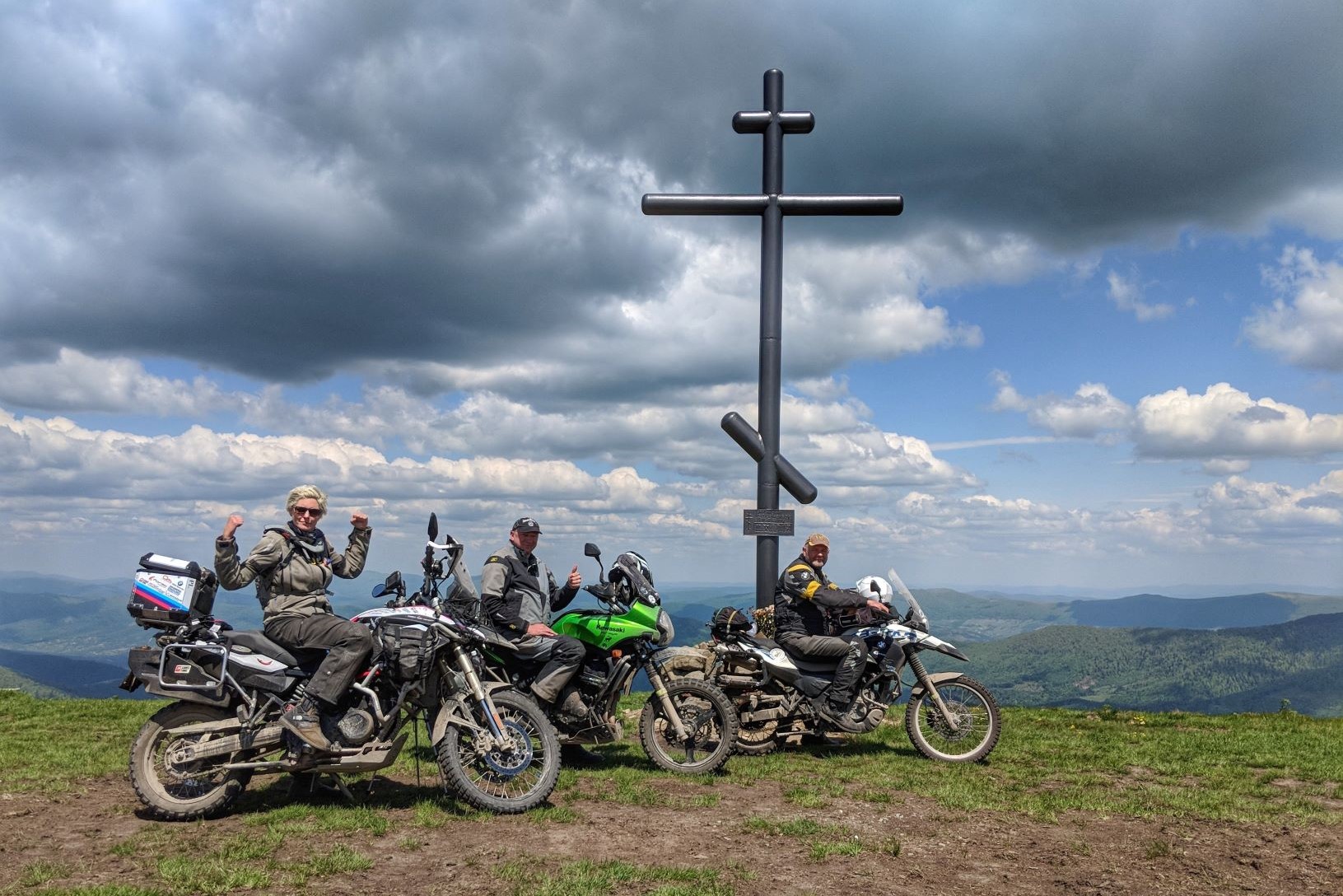 I couldn't help myself and gave Chillie a little bit of a rest…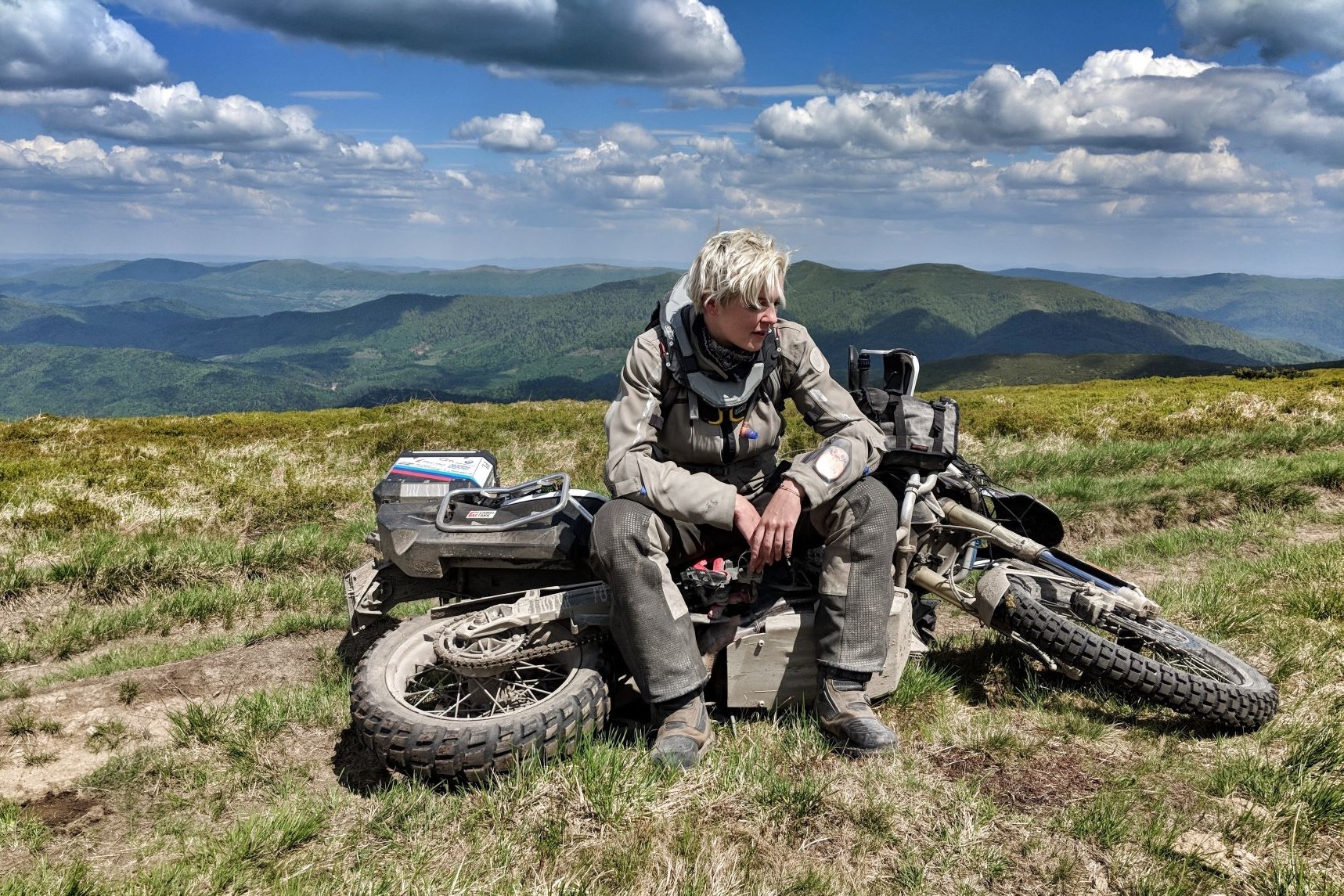 There was also an old soviet bunker at the top… with freaky painting inside!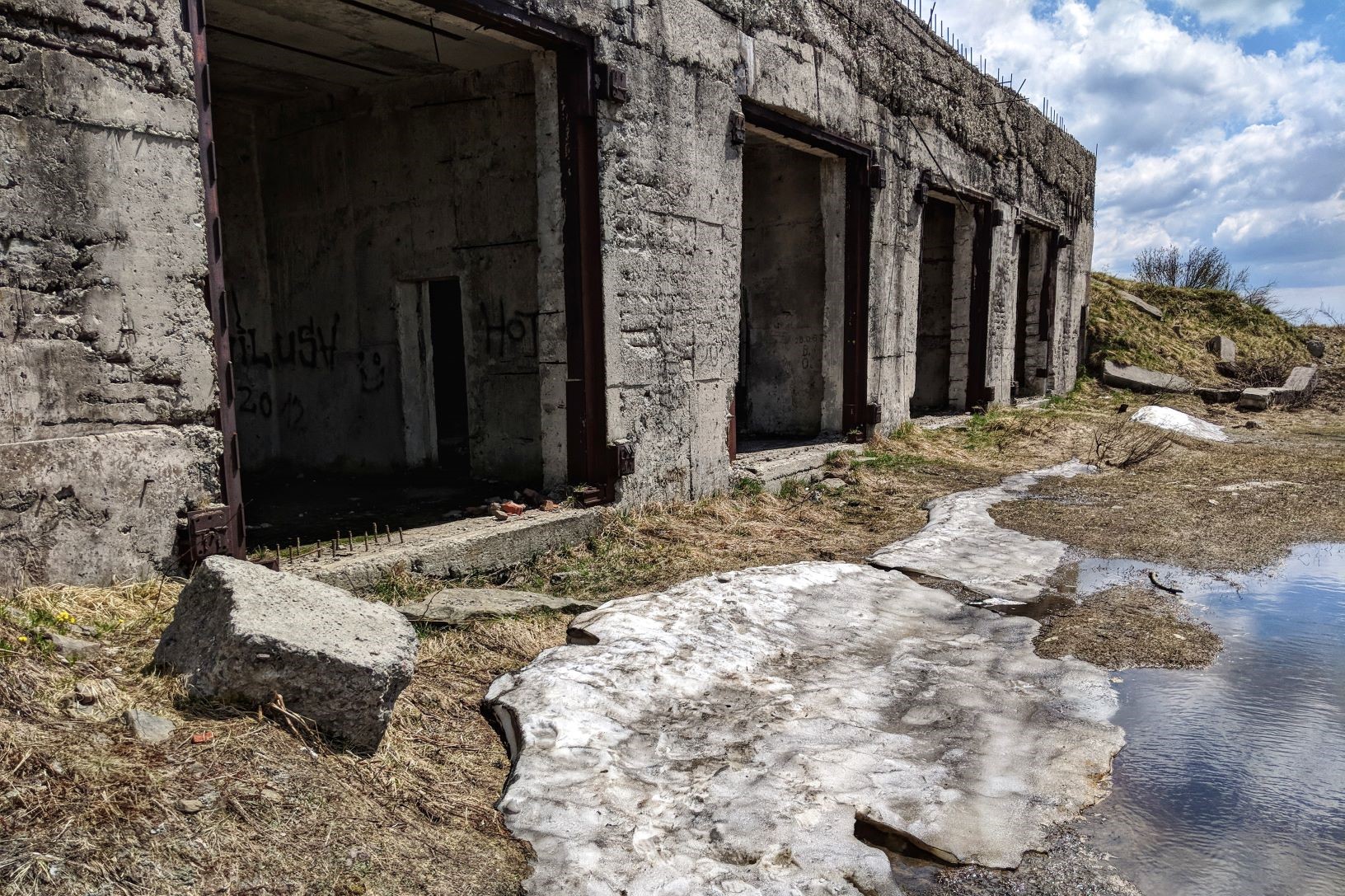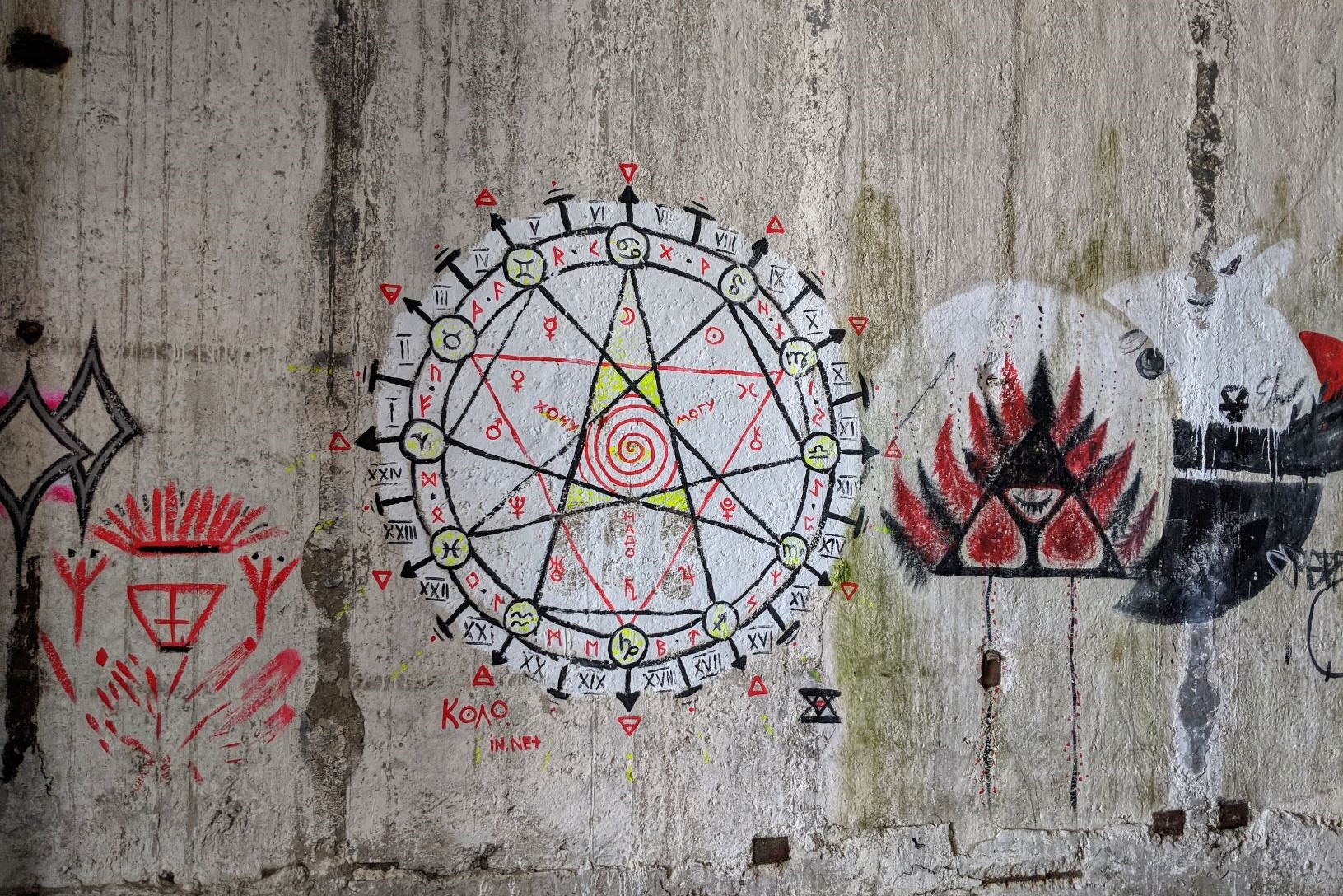 On our way back I had a brilliant idea! Wouldn't it be great to have an action shot while I came swooshing down the hill. I asked Gonzo to grab a camera and film me. I got a little bit too excited and forgot to turn my helmet camera on. I started the bike and off I went, I was going so fast that Gonzo didn't even capture it. As I was hammering down I underestimated the corner at the bottom of the hill I tried to brake, but it was already too late – the bike went sideways through the bushes and off the road. All I remember is that while I was rolling down the steep embankment, Chillie at some point was above me and I was just wishing I'd survive this.
Turned out the road was on the edge of the river and I rolled with Chillie for about 10m down to the water. I couldn't believe that I was in one piece – I didn't hit any trees and Chillie didn't land on me. So lucky! And thank goodness for the neck brace!
Although the moment I saw Chillie I thought my RTW trip was over. She had dropped down from quite a height and landed on a big rock.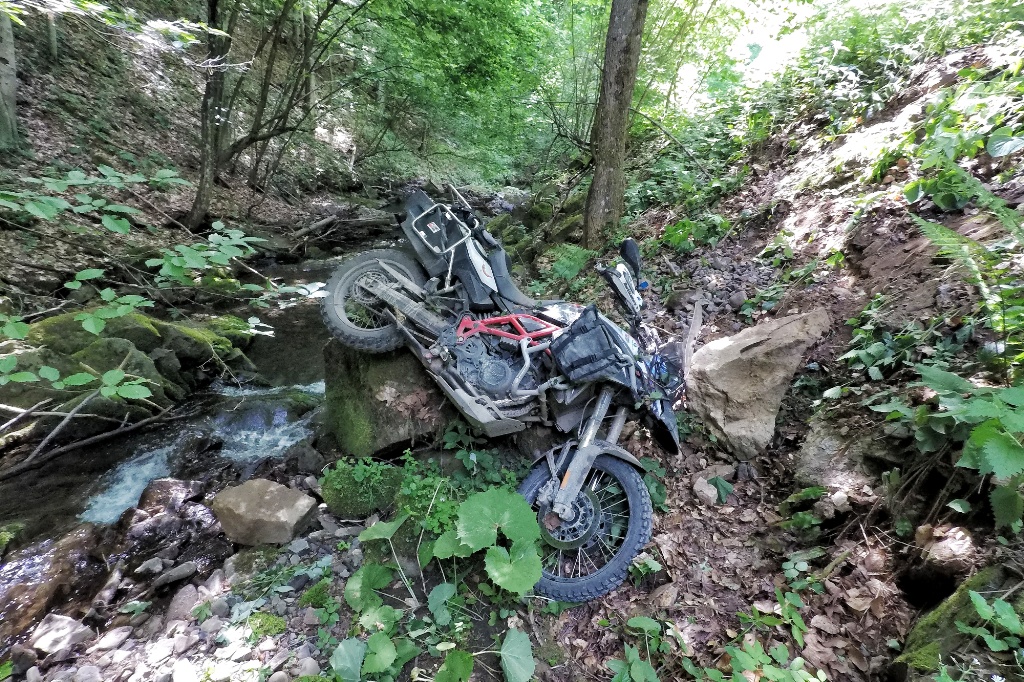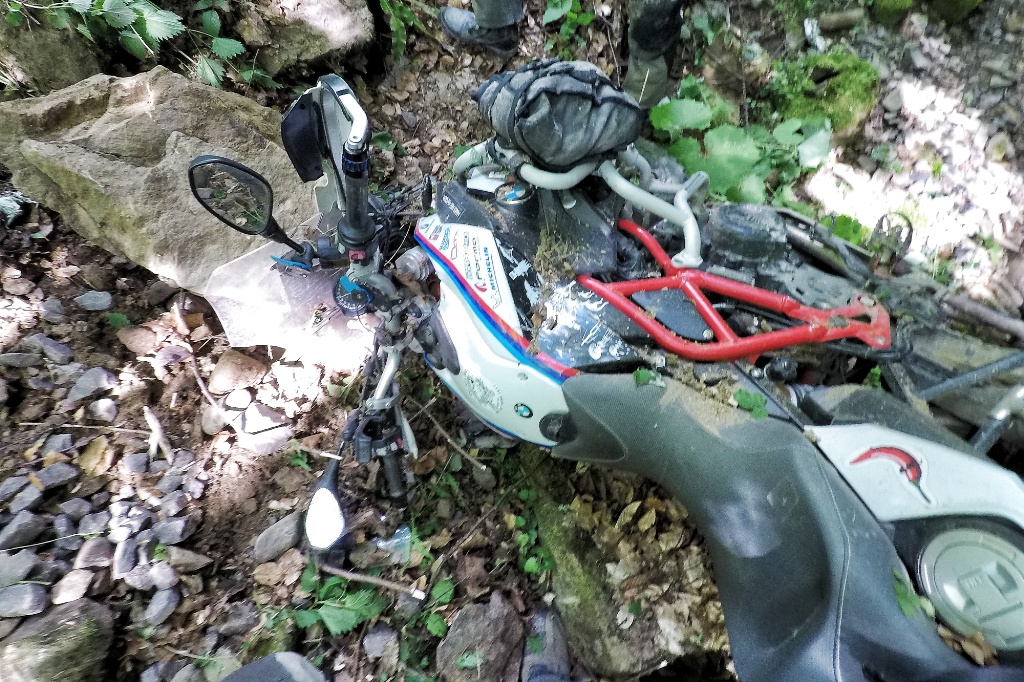 Everything happened so fast that Wojtek who was riding behind me didn't even see me going off the road past the corner – he just continued riding to the hotel thinking I was ahead of him. As for Gonzo he looked like a white piece of paper – I thought he was about to have a heart attack. He looked at me and said
"I thought you were dead!"
"Nah, I'm fine, can you hold my camera for me? I need to record this."
"Are you out of your mind? How can you record now?" Poor Gonzo, his hands were shaking and he was really worried and surprised I was in one piece.
Don't get me wrong I was in shock as well, every crash is a traumatic experience… but if it's not on camera, it didn't happen! hahaha
It was too hard for the two of us to get the bike out of there by ourselves, but luckily some locals were passing by and soon after that a quad bike rocked up. It took 7 of us to get the bike out and having the quad bike to pull Chillie was a massive help. I offered the locals some money to thank them, but they refused.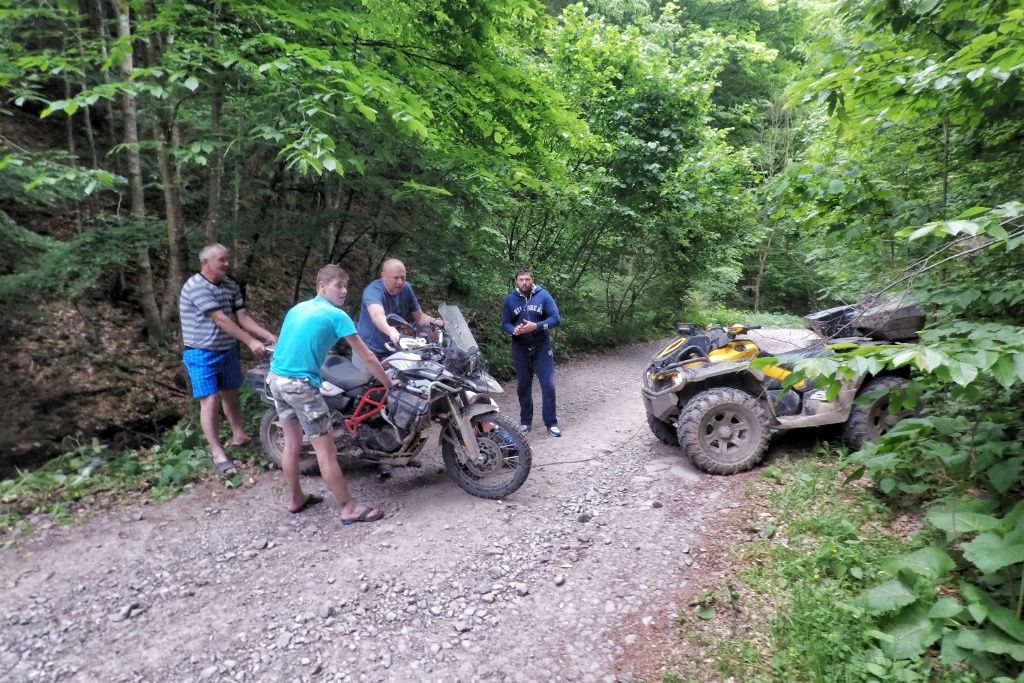 I looked at Chillie – she was in quite good shape considering the aerobatics she'd just done. Windscreen, indicator and fairings broken, but the engine and frame looked fine. Thank goodness for the Outback Motortek crash bars! It it wasn't for them Chillie would be a write off for sure. I started the engine, everything seemed to be okay. On the way back to the hotel it turned out that the camel tank was rubbing the rear tire and the handlebar was a bit bent.
After a few kms we caught up with Wojtek, he couldn't believe he missed out on so much action. And when we finally arrived at the hotel we had a beer. "To your second life", Gonzo said.
After all the emotion disappeared we grabbed the tools and some rope to straighten Chillie out a bit.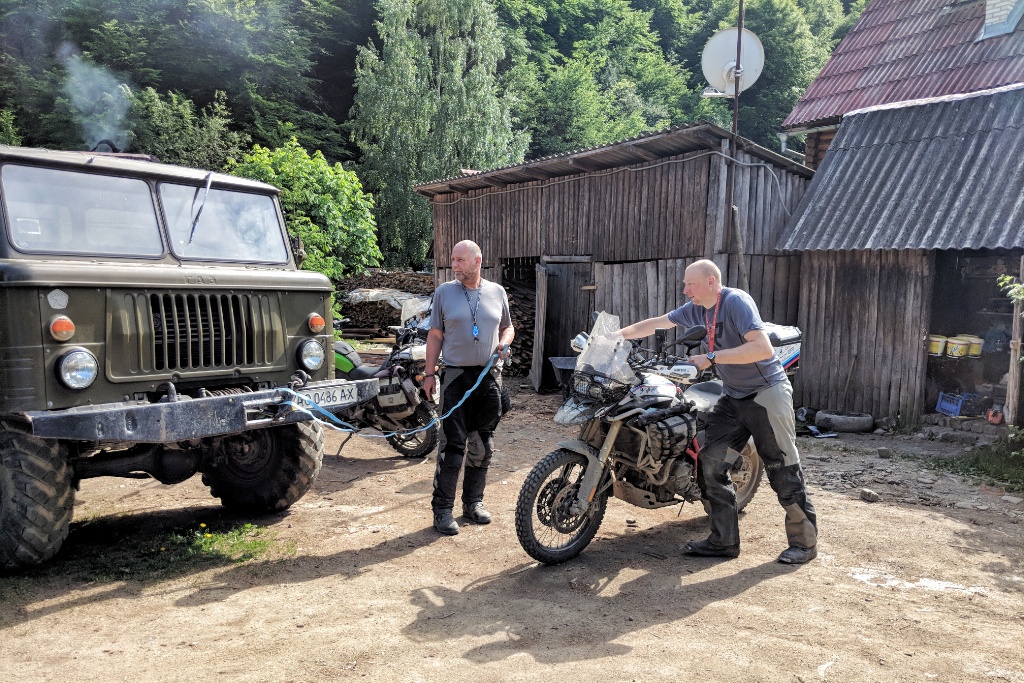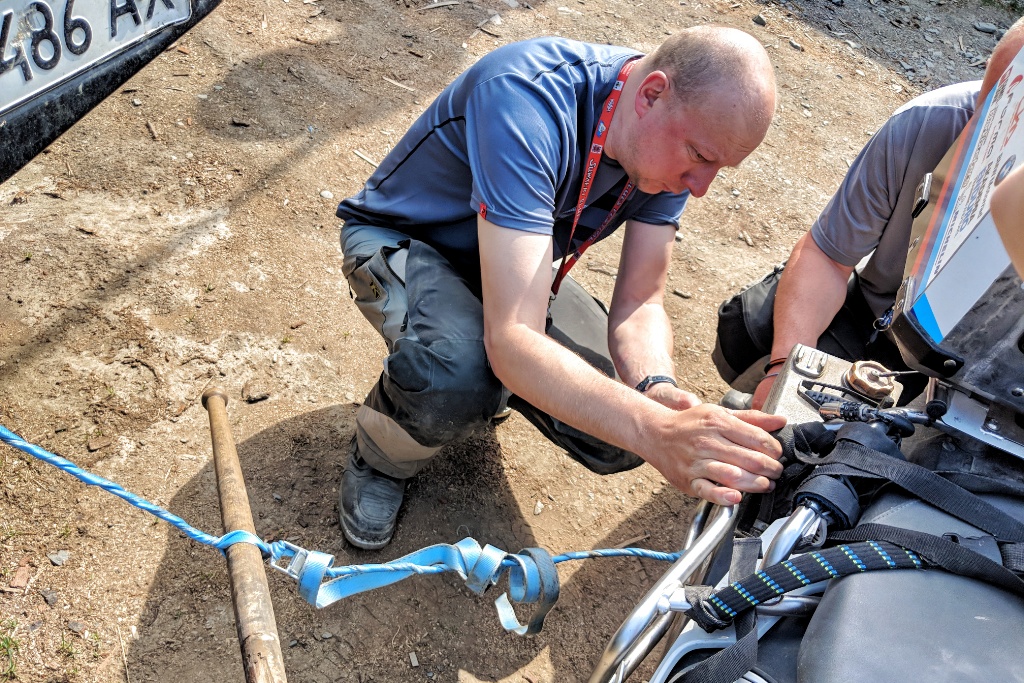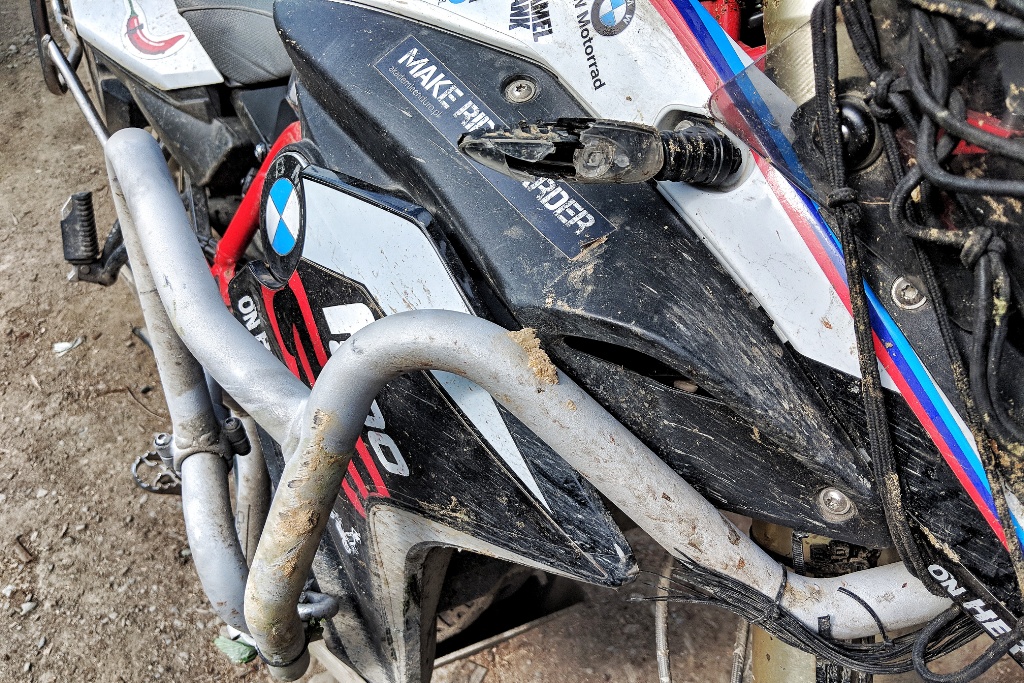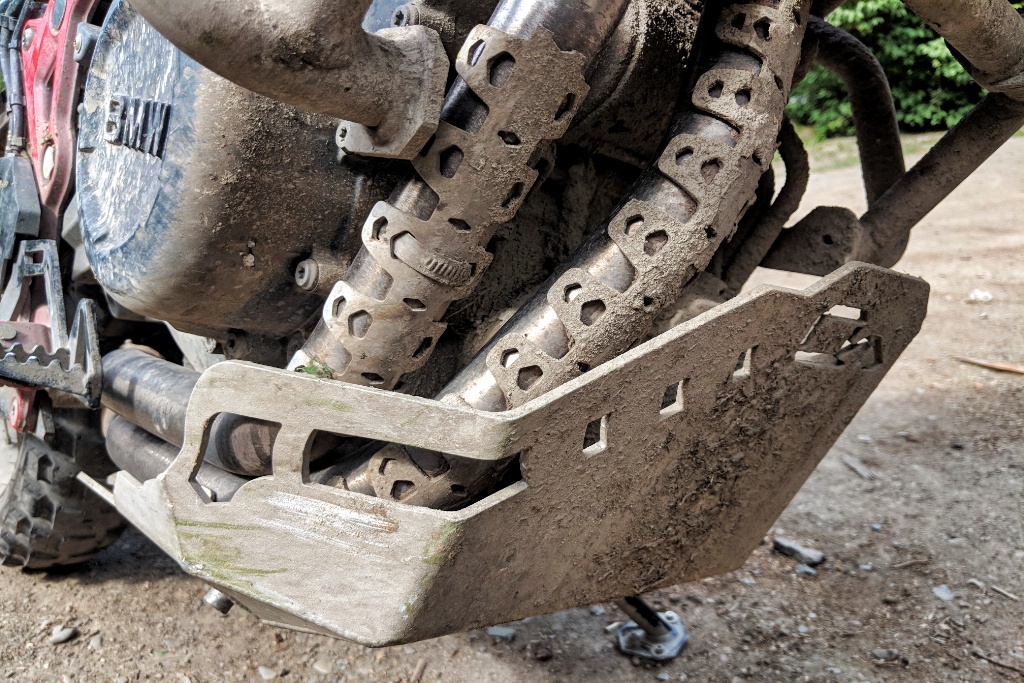 Our original plan was to go our own ways the next day – I was heading to Germany and the boys were going back to Poland. But I was little bit concerned about Chillie and wanted to test her and see if everything was ok, so I decided to ride with the guys for one more day, just in case I needed their assistance.
Poland
We didn't go too far into Poland, but we visited quite an iconic Motocamp, Bieszczadzka Przystan Motocyklowa in the Bieszczady Mountains. They have a great set up there – these cool little shelters where you can park your bike and sleep above.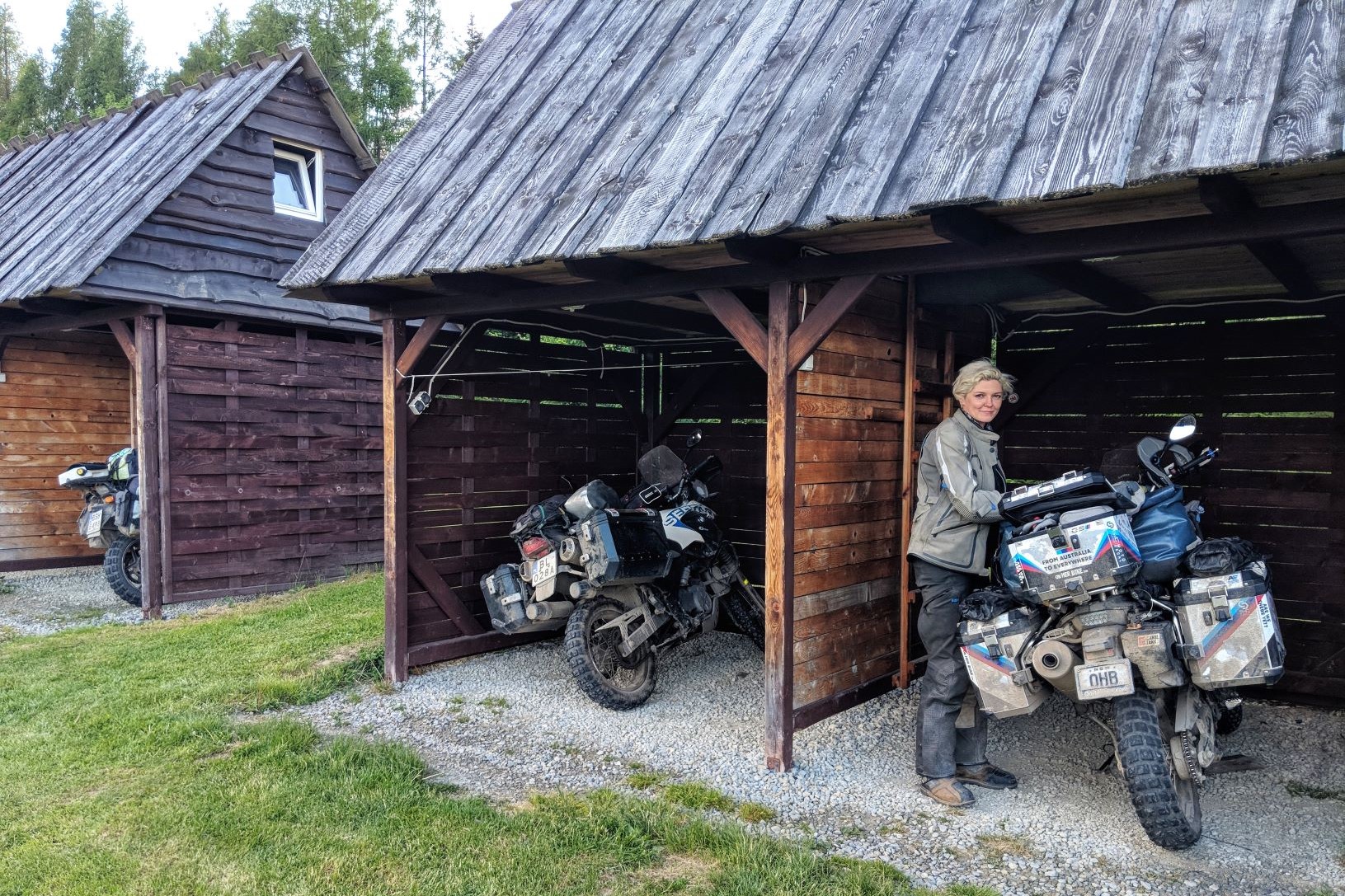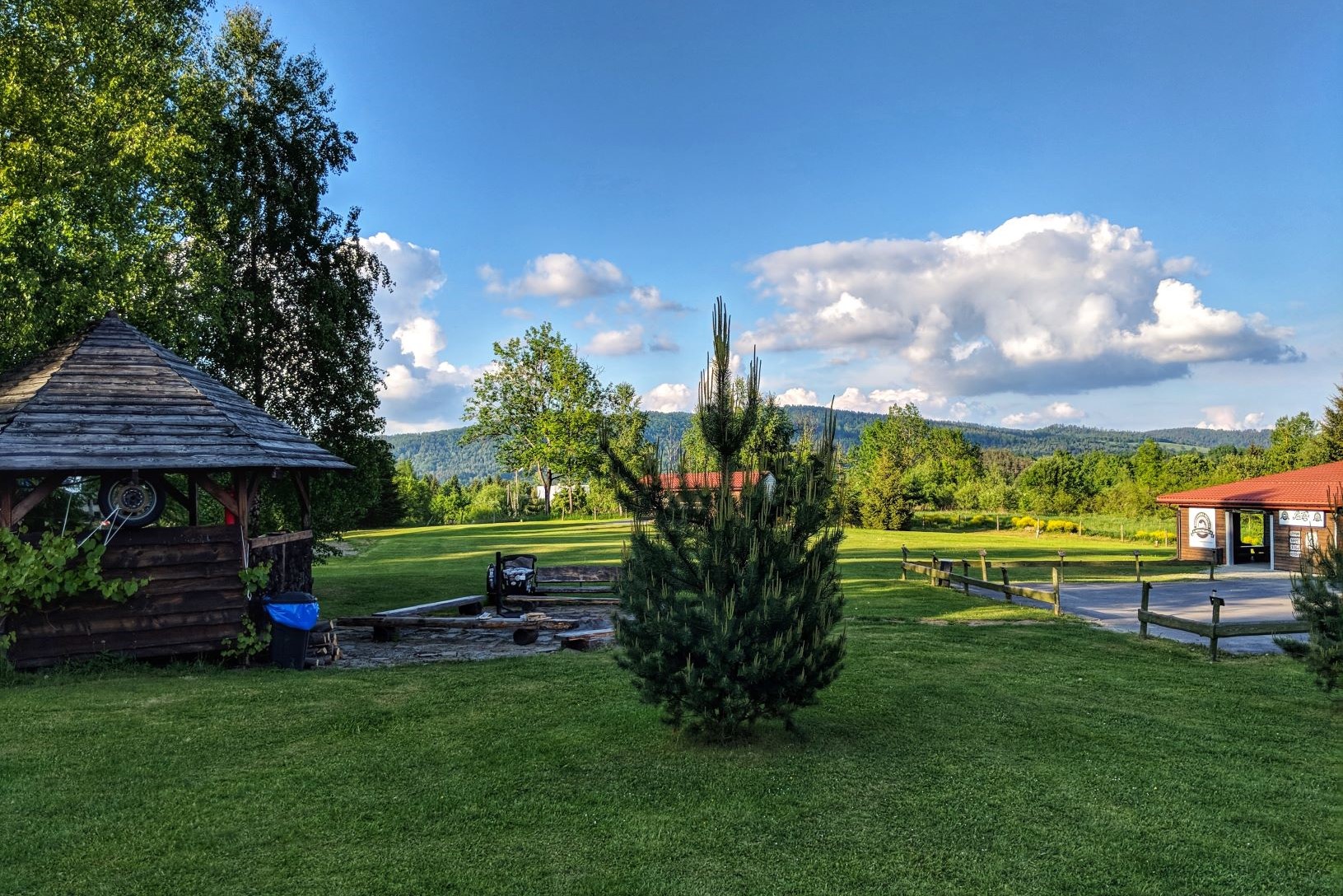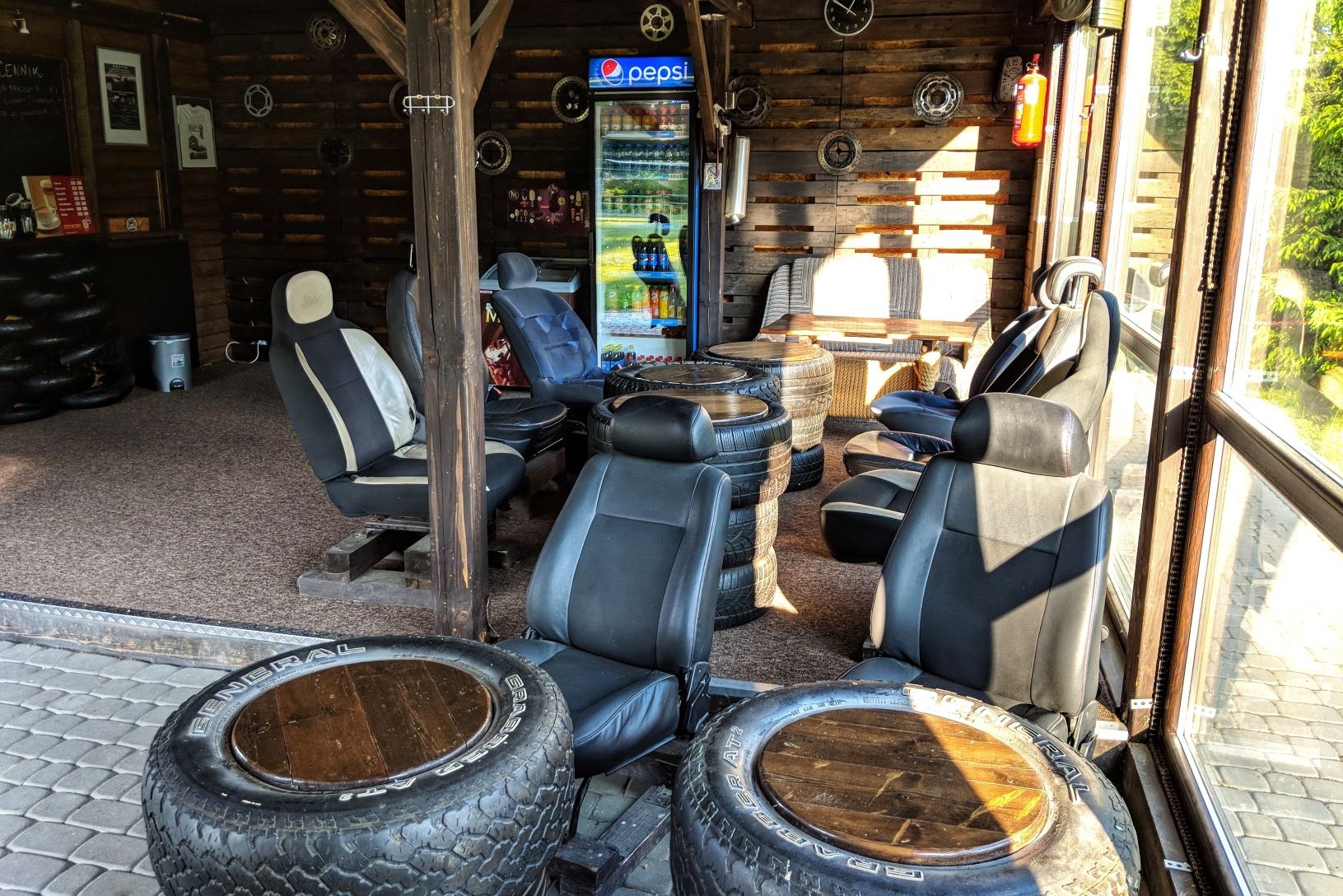 We had one last fire, a few last beers and in the morning we said goodbye…
What a full on week that was!
In Numbers:
Duration: 14 days (1-15th 2018)
Total km's: 2636km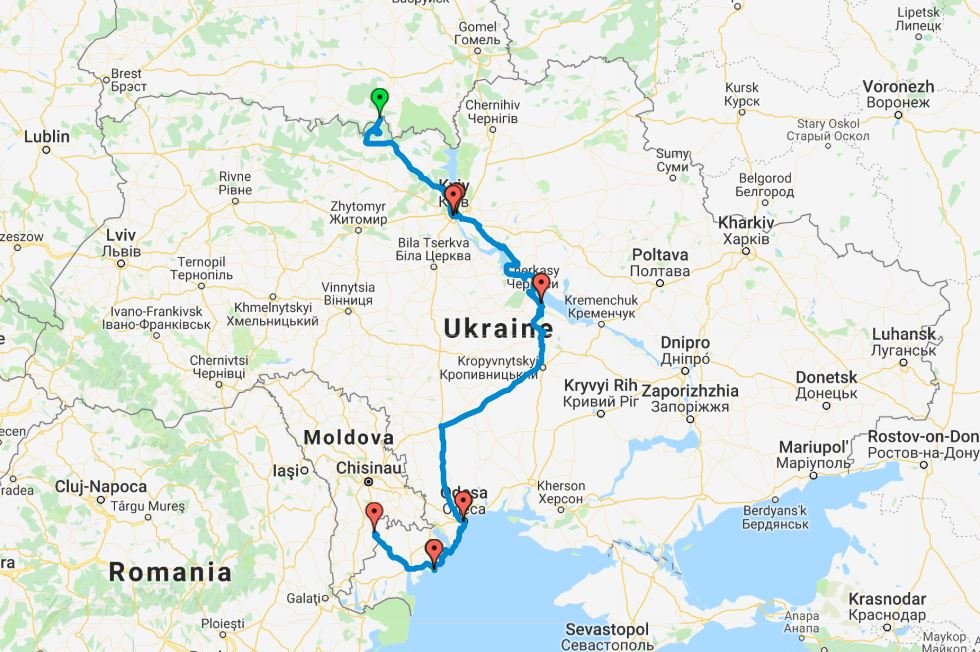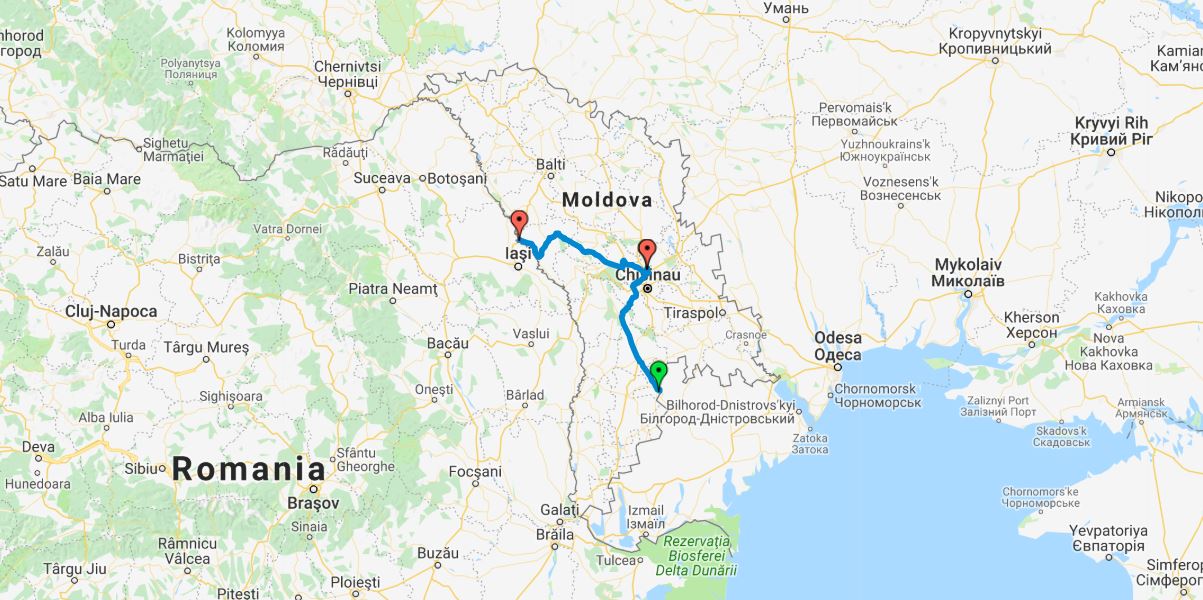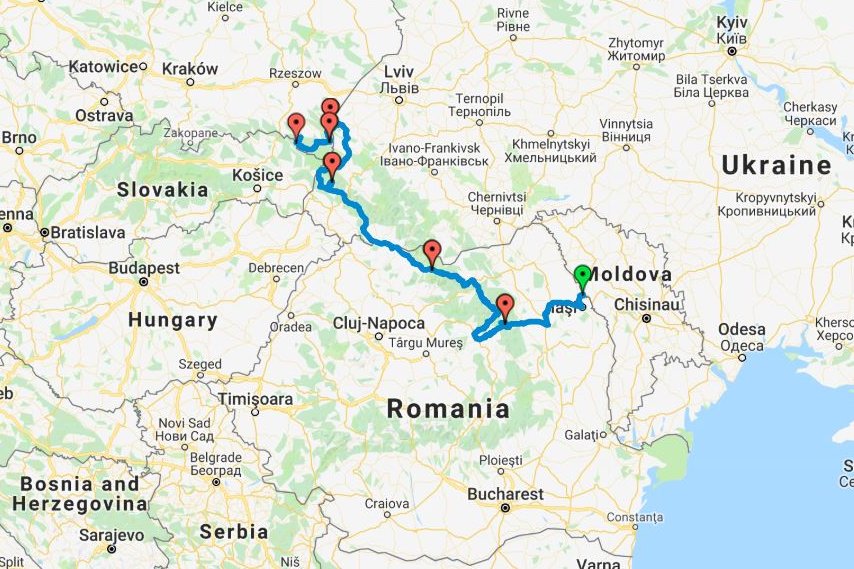 The "Are We There Yet" World Tour is about more than just me seeing the world on a motorcycle. Throughout my journey I'm raising money for a young disabled child in Poland named Franek. Franek was diagnosed with cerebral palsy (weakness of the entire right side of the body) and he will require constant rehabilitation for the rest of his life. All the money raised will go directly to helping Franek and his family lead as normal a life as possible so please donate  generously:
www.gogetfunding.com/arewethereyet